This post contains affiliate links
If you're someone who is trying to balance your budget and still maintain a healthy lifestyle, then you're at the right place. Getting into the ketogenic diet doesn't have to mean splurging on your grocery bill. Cheap keto meals can be as delicious, fulfilling, and nutritious as their more expensive counterparts. With a little knowledge, creativity, and some smart shopping tips, you can whip up cheap keto meals that will keep you satisfied and help you save some of your hard-earned money!
There seems to be a misconception out there that diets are expensive, especially low carb diets. In this round up I'm going to give you 21 cheap keto dinner recipes to show you that eating keto doesn't need to break the bank. (pssst – once you're done here, there's even more cheap keto recipes at the link below!)
Cheap Keto Dinner Recipe Tips
The ketogenic diet has gained widespread popularity for its remarkable health benefits and impressive weight loss results. By drastically reducing carb intake and embracing healthy fats, the body enters a state of ketosis, where it burns fat for energy instead of glucose.
However, some skeptics argue that following a keto diet can be expensive, as it often relies on high-quality ingredients and specialty products. Fear not! Contrary to this belief, achieving ketosis on a budget is not only feasible but surprisingly easy with a bit of creativity and smart meal planning. In this article, we aim to dispel the notion that keto is reserved for those with deep pockets and explore an array of delicious, cost-effective keto recipes.
The keys to saving money on keto, or on any diet are simple:
Buy in Bulk: Purchasing food in bulk is often cheaper than buying in small quantities. Foods like eggs, cheese, meat, and low-carb veggies can often be bought in bulk, stored properly and used over time.
Opt for Cheaper Cuts of Meat: You don't always have to go for the expensive cuts of meat. Cheaper cuts are not only budget-friendly but also have a higher fat content, making them perfect for cheap keto meals.
Use Frozen Vegetables: Frozen vegetables can be a cheaper and more convenient option than fresh ones. They're often flash-frozen right after harvest, so they maintain their nutritional value.
Prepare Your Meals at Home: Making your meals at home gives you total control over what goes into your food, helping you avoid any hidden carbs that could be lurking in packaged foods.
Plan Your Meals: Meal planning is a fantastic way to save both time and money. It prevents you from impulse buying and helps you utilize the ingredients you already have in your kitchen, reducing waste and over-spending.
Avoid long ingredient lists, which only fill your cupboards with half-used spice jars etc. The fewer ingredients the easier to make, and the easier to shop for
Cook using cheaper ingredients, think chicken thighs instead of chicken breast, or ground beef instead of steak.
Avoid wasting food!, which is literally money down the trash. If you're only cooking for one, and get bored easily, cooking up 8 servings of a casserole may not be the best idea if you can't bring yourself to eat it all before it spoils!
Cook in bulk, which allows you to buy in bulk too, for better savings. Check out suppliers like Butcher Box who offer meat and fish subscriptions.
For more detailed advice on how to cook and how to shop for a keto diet on a budget, check out our keto on a budget guide.
Cheap Keto Meals – Part 1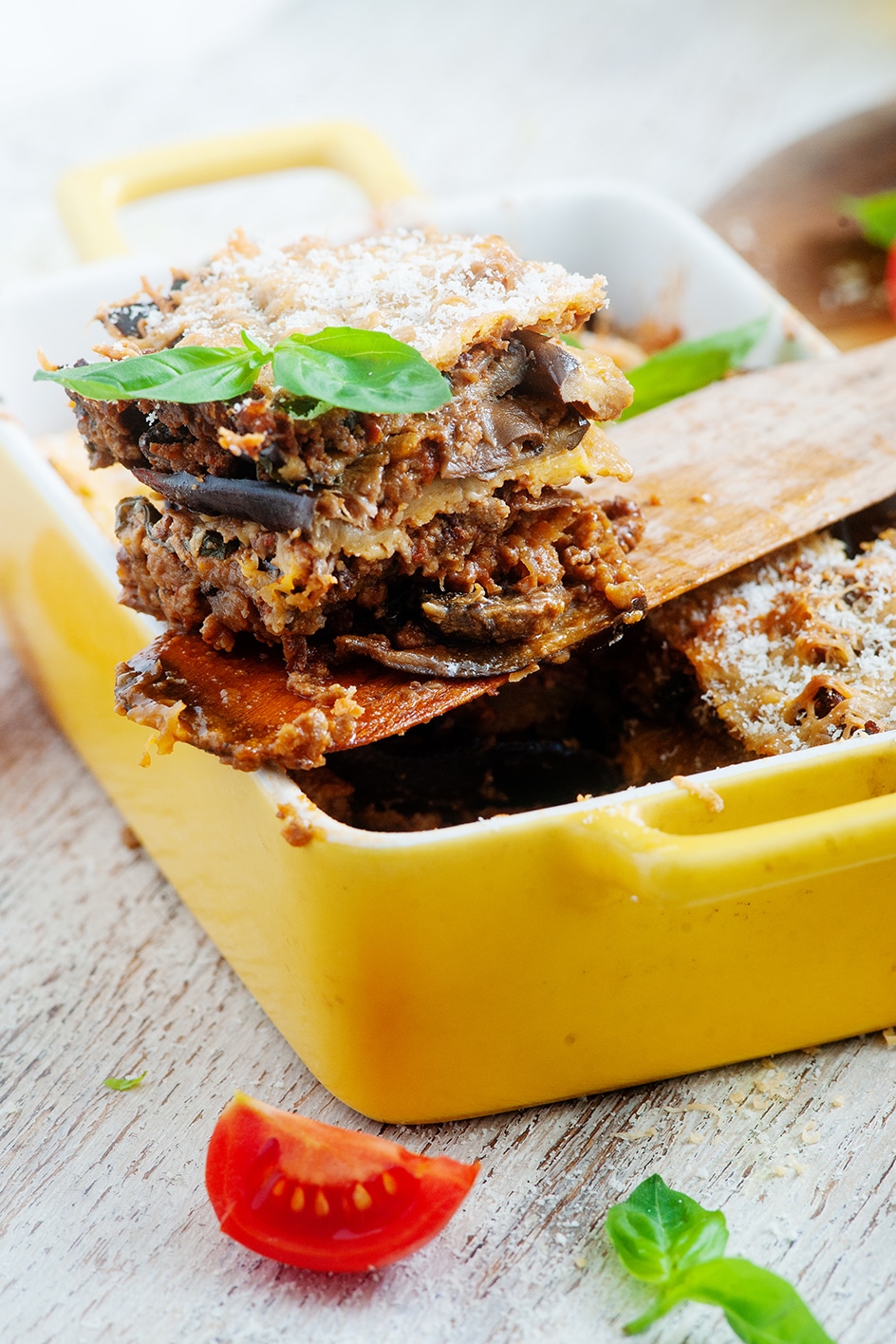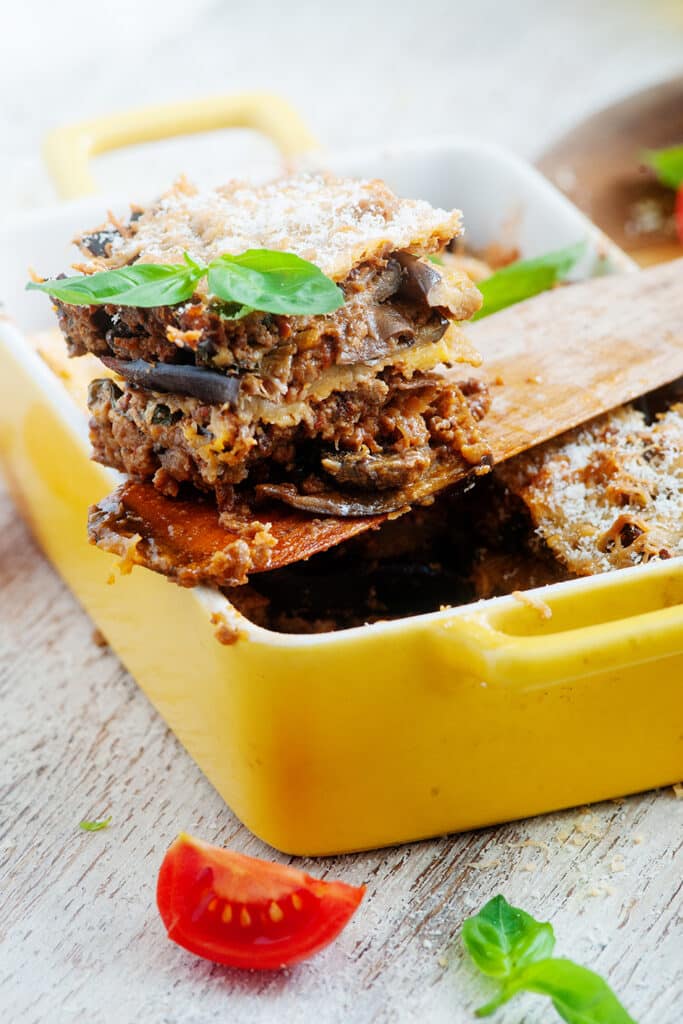 This is an extremely flavorful, savory keto dish, a 'lasagna' of ground pork, mushrooms and eggplant.
This can easily be made in bulk, and uses ground pork, a great, cost-effective ingredient, that can taste great when you cook it right. The key is to make sure you really brown the meat properly for a deeper savoury flavour.
Give this one a try, you won't regret it!
Get the recipe here.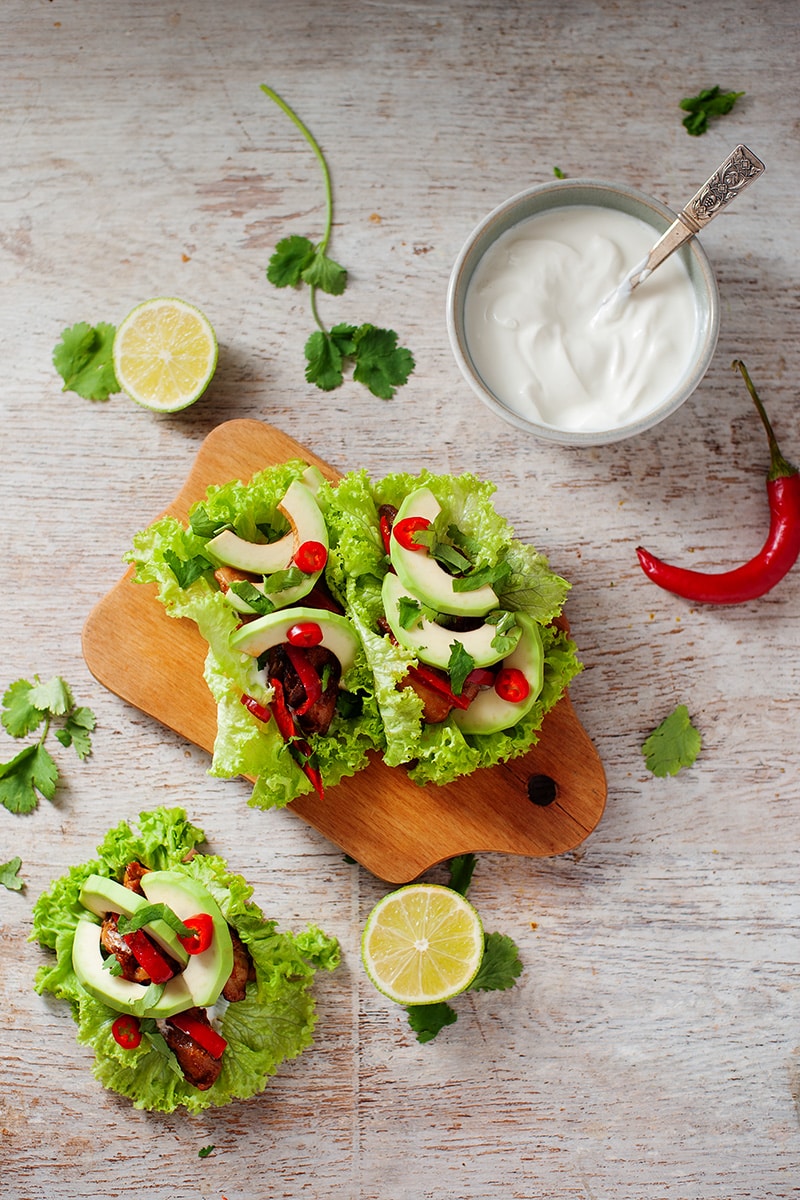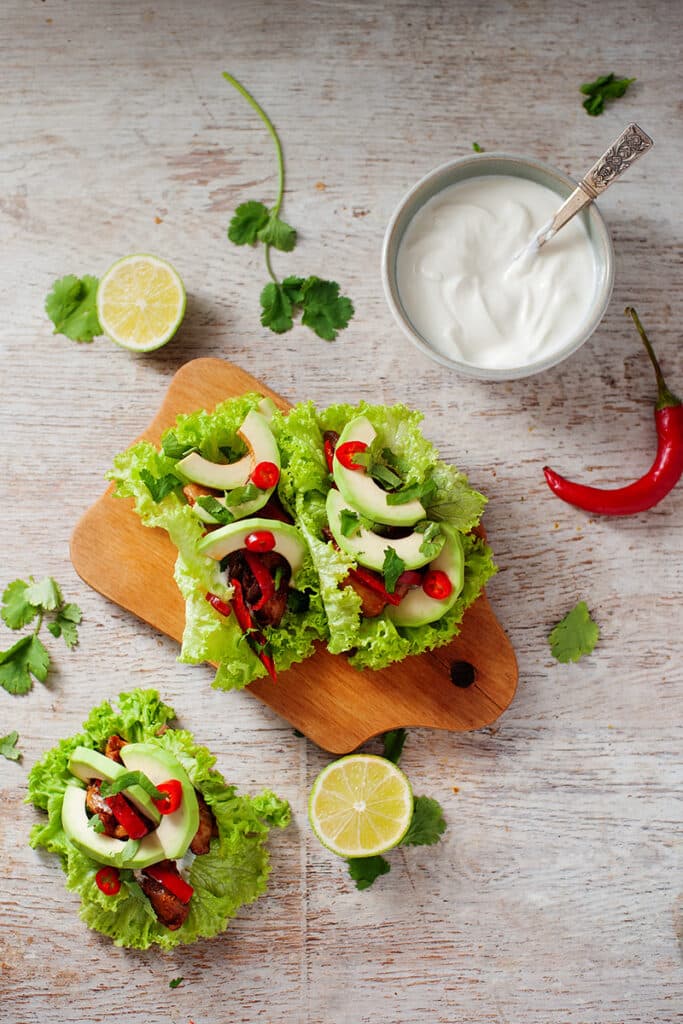 One of my favorite go to keto meals, and if you're using chicken thighs, a cheap one too! Avocado on these is an optional extra, the creaminess from the sour cream is enough on it's own to balance the dish.
Using lettuce for the wraps is super cheap and super low carb, perfect! Most importantly you can have these cooked up and on the table inside 15 minutes!
Get the recipe here.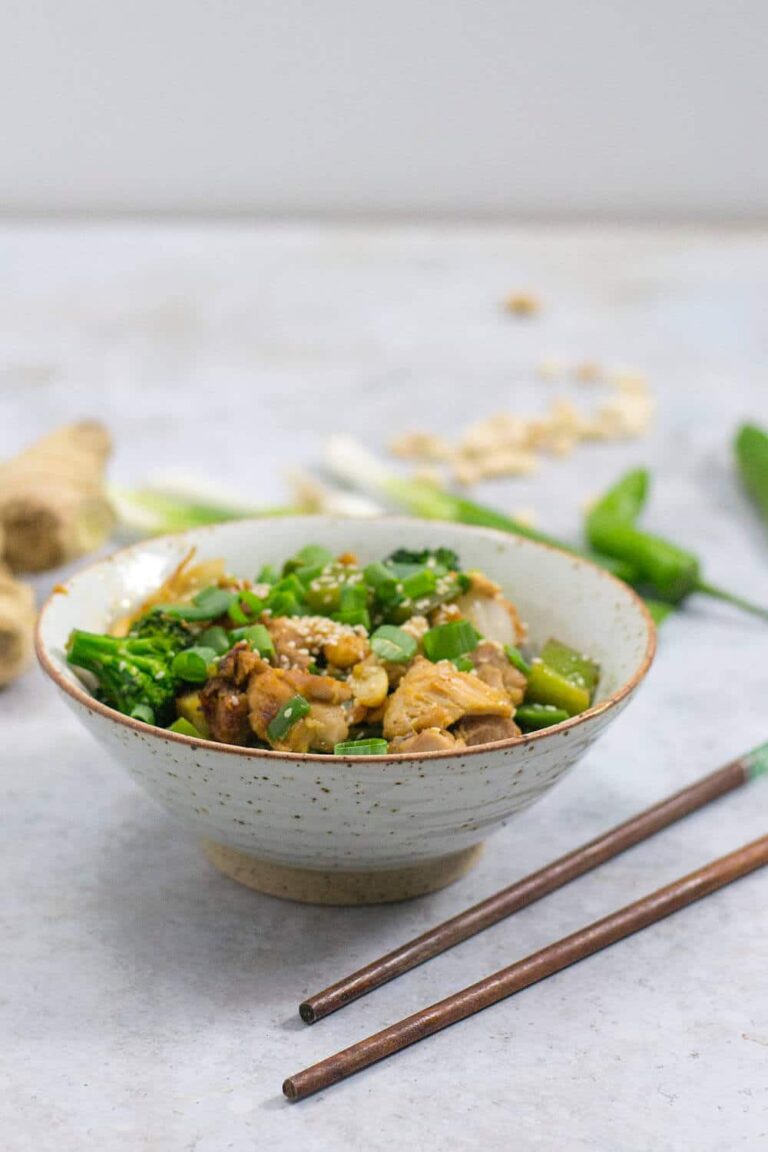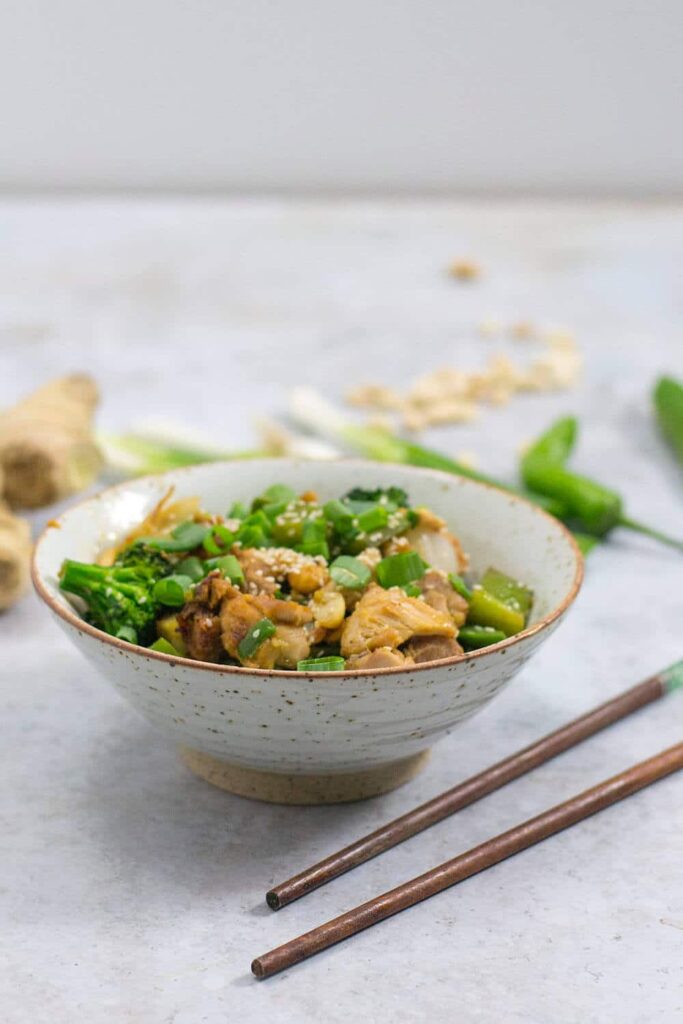 This delicious dish can be ready in no time and is packed with flavor. Peanuts give some healthy fats, and chicken thighs taste great and are much more forgiving than breast, and most importantly – cheap!
The best thing about this dish is how fast it can be put together. If I'm in the zone I can have this one on the table inside 15 minutes!
Get the recipe here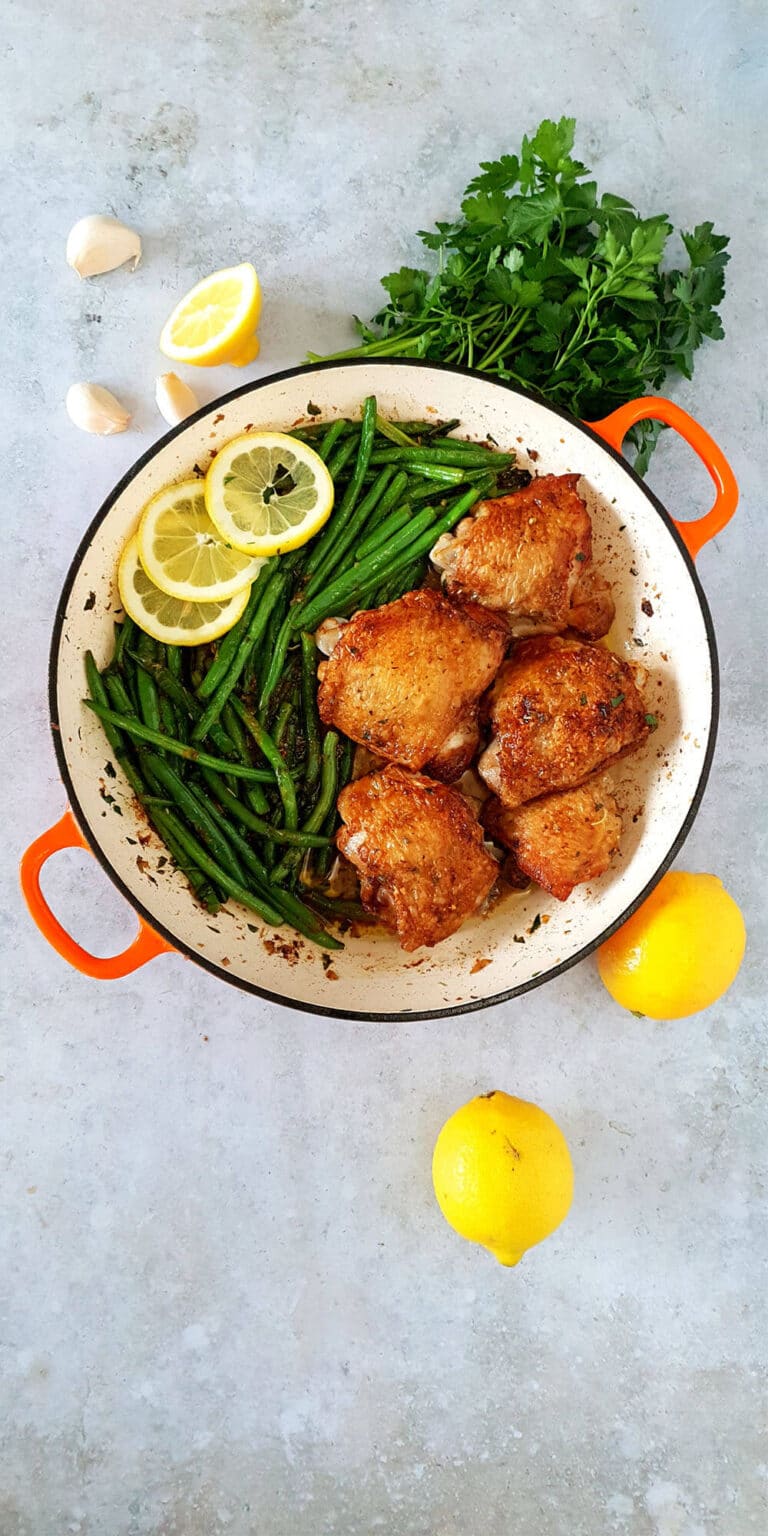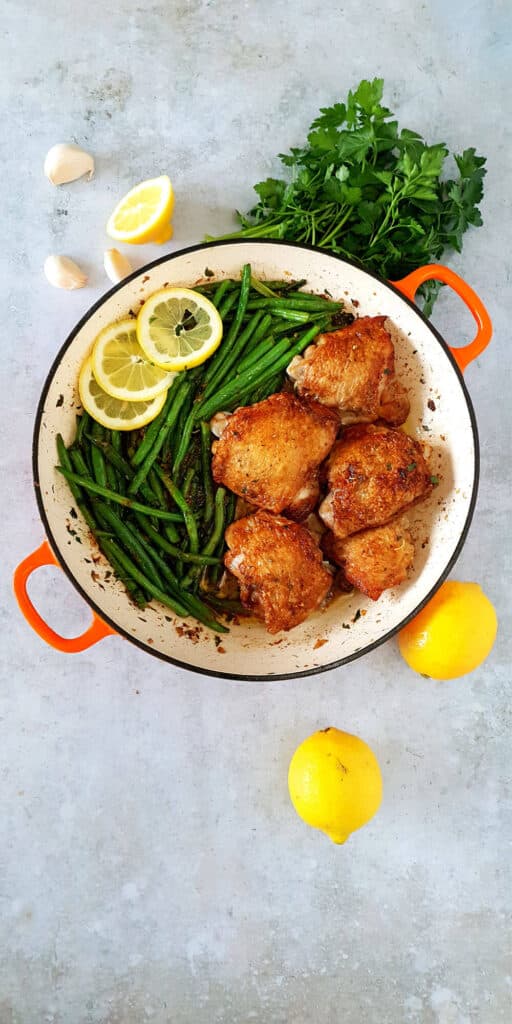 This is one of my go to meals and couldn't get much easier. This is a great cheap keto chicken recipe to add to your repertoire for lazy days as it's done in one skillet and ready in no time.
Crispy skin, garlic butter, lemon and herbs, what is there not to like! – this is a delicious meal that anyone can put together and is highly recommended.
For more chicken based recipes we've got this round up of easy keto chicken dishes that would be worth a read once you've finished with this post.
Get the recipe here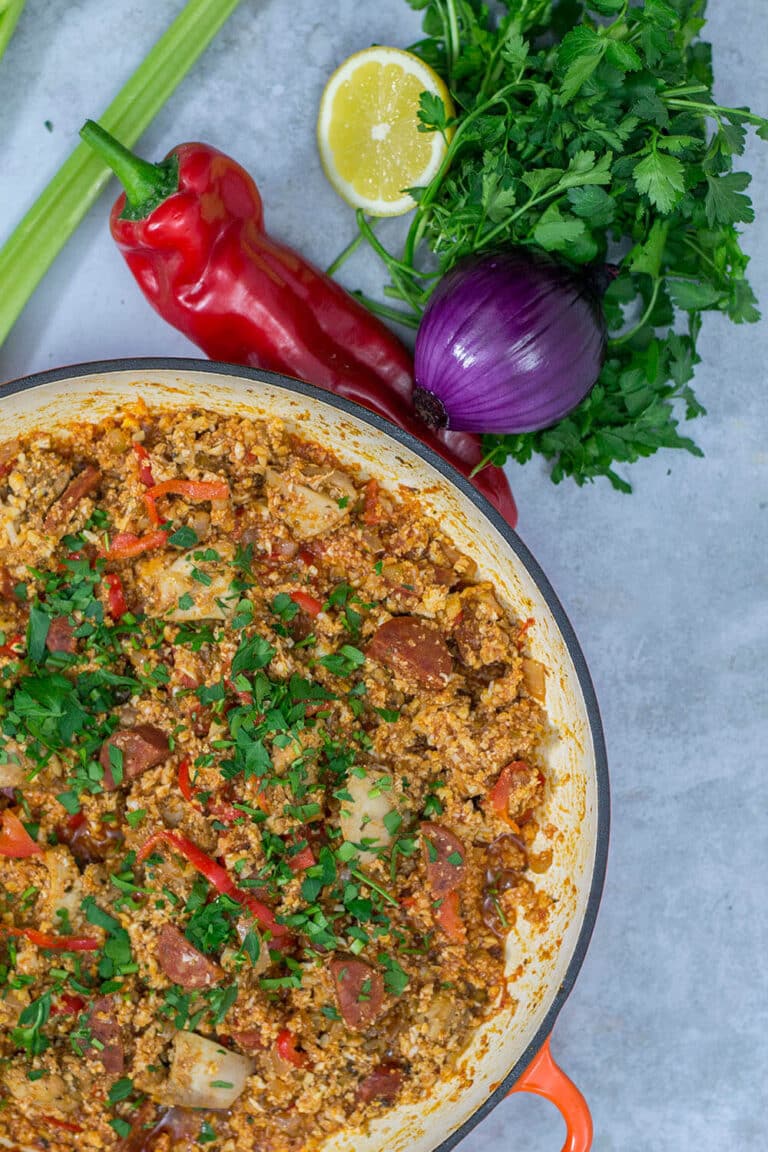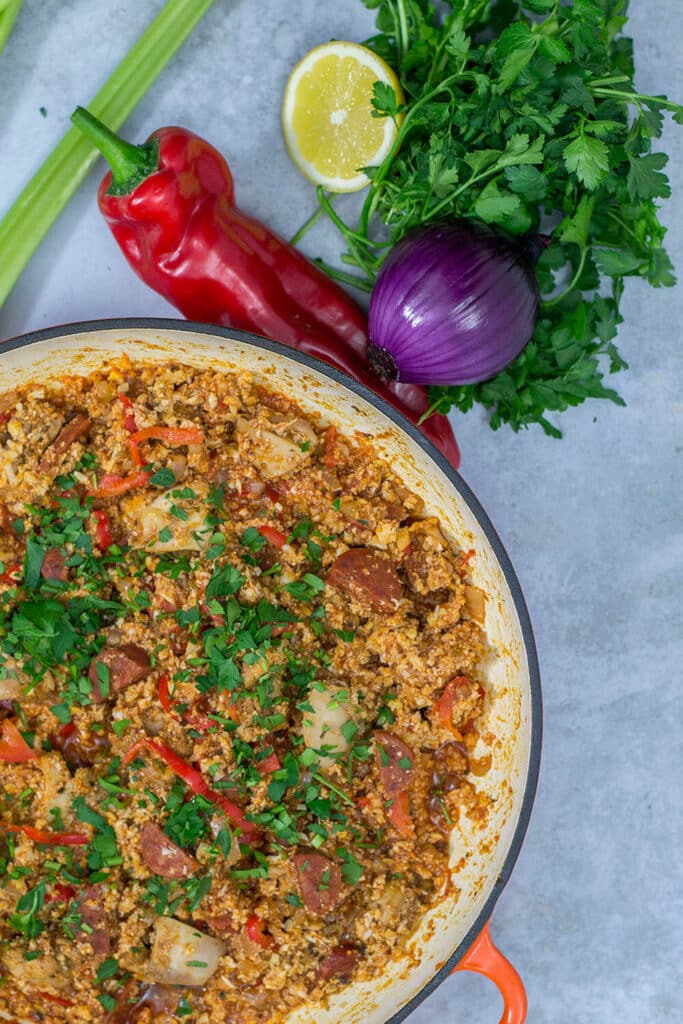 Keto goes cajun here with this delicious, super quick to make keto jambalaya. This is made with chicken and chorizo, the shrimp can be a bit more expensive but throw those in too if you want to.
Cauliflower rice is a great, inexpensive way to bulk out a meal and does a great job of filling the gap left from starchy carbs like rice – you'll barely know you're on a diet. It sucks up all the flavor of the spices in this dish too which is great.
This can be knocked up inside 30 minutes which makes it ideal for a weeknight dinner.
Get the recipe here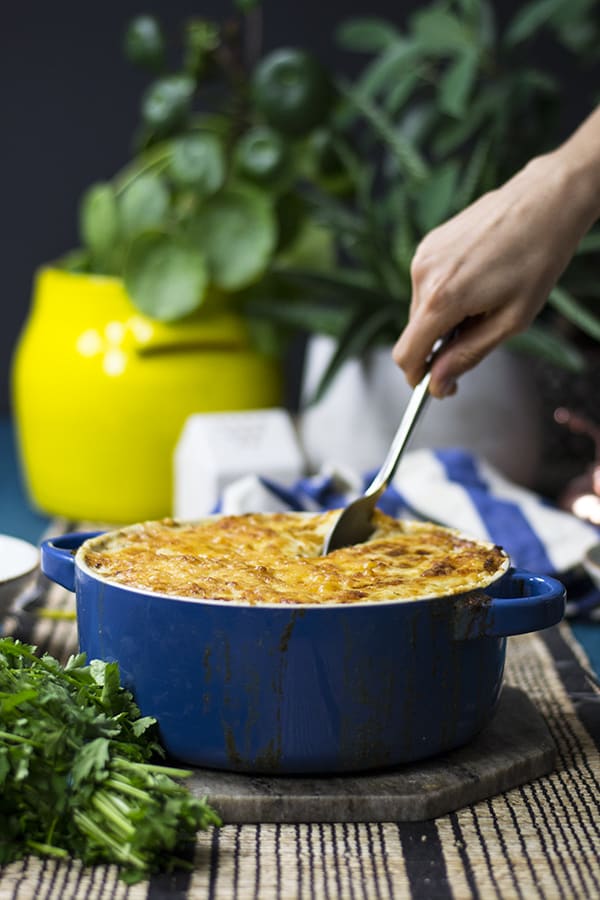 This cheap keto dinner is a great crowd pleaser, and brilliant on a cold winter's eve. Look for fish off cuts at the fishmonger (all the parts they haven't cut into perfect fillets) or a specific fish pie mix which keeps this cheap and just as delicious. A lighter cauliflower crust keeps this keto (and beats potato in my opinion!)
Get the recipe here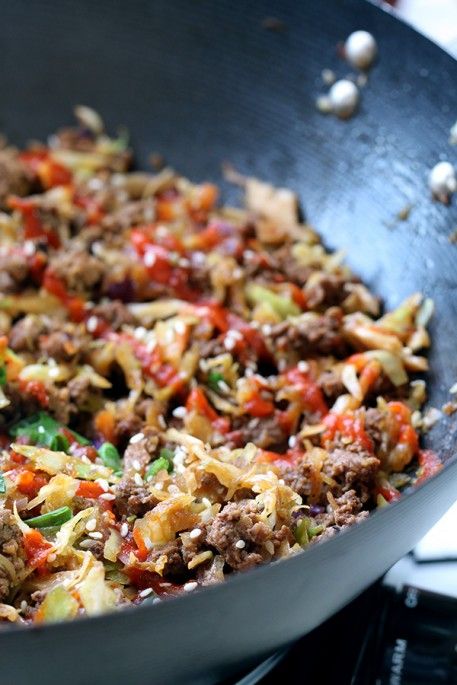 This is a keto classic, 'crack' slaw!
This recipe from Tasteaholics is quick and easy to put together, ideal for a mid-week dinner. The main ingredients in this low carb stir fry are ground beef and sliced veg which keeps this an affordable keto meal.
Sriracha and soy sauce are great to keep in the store cupboard and pack huge flavour. I use sriracha all the time when putting together quick, simple keto meals.
This is such a great keto meal to incorporate into your repertoire and you can easily mix it up with whatever's leftover or in your pantry, great for a cheap keto meal.
Get the recipe here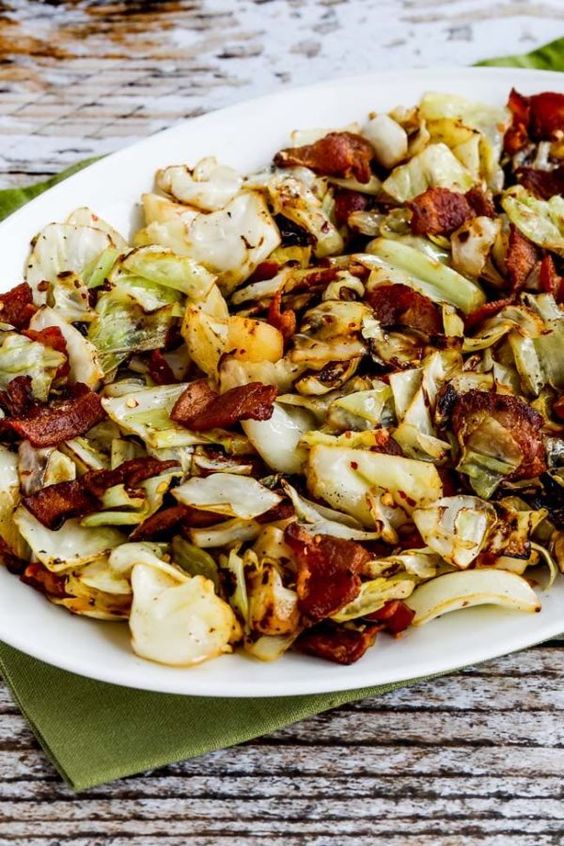 This recipe from Kalyn's Kitchen is a great cost saving dish to rustle up in no time. I usually pick up bacon in bulk anyway so this is great to have in the repertoire.
Best of all this recipe has essentially 2 key ingredients making it a great budget keto meal. Simplicity is key!
I love ingredients like bacon, or chorizo which pack huge flavour even when used quite sparingly. Of course those are both processed meats so it's best not to make them the base of your keto diet, pair them with plenty of healthy veg.
Get the recipe here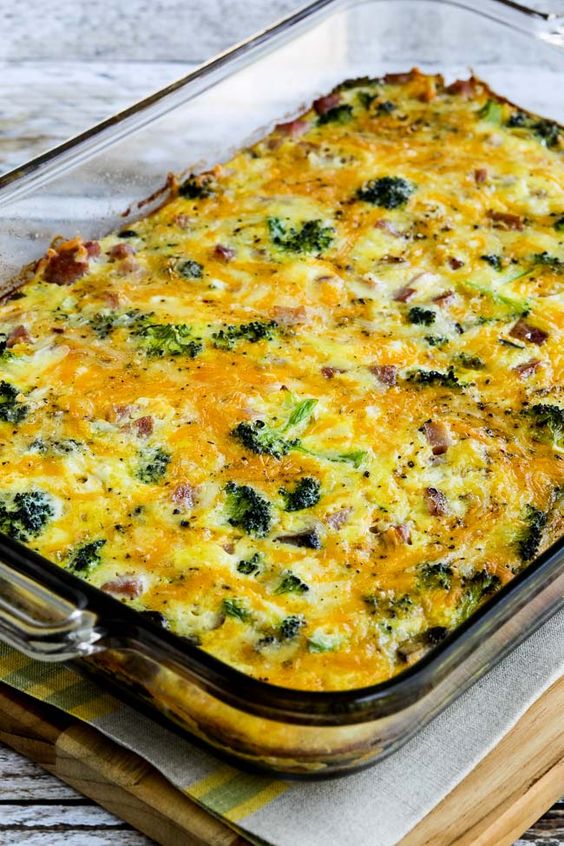 Another from Kalyns Kitchen here, she sure knows how to make budget friendly keto meals! This keto bake is a classic combo of ham and mushroom, with a healthy hit of broccoli to make sure this is nutritious.
Bakes, pies and stews are great cheap keto meals. You can easily cook and buy in bulk which is great for saving money on a keto diet.
What's great about a meal like this is that you can really mix it up, using leftovers, things in the cupboard, anything that needs using and goes together can be thrown in.
Get the recipe here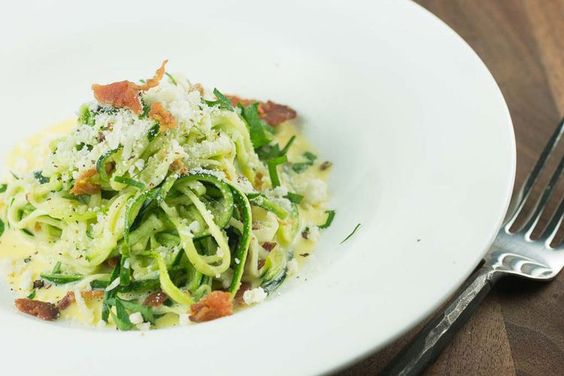 Zucchini Carbonara is a favourite in my house. Not only is this dish from Skinnyms a delicious, quick keto meal, it's also quit cheap to make per serving (depending on how mad you go with the parmesan!)
This goes on the cheap keto meals list because of the short ingredient list, making shopping a breeze. To save money, you don't need to get the very best parmesan, aged for half a decade or whatever. The grated stuff will be fine for a dish like this.
You can save money on bacon by looking for bacon 'odds and ends' or offcuts. These are the same the very same bacon as the perfectly shaped rashers only the parts they weren't able to cut to shape. Same taste, much lower cost!
Get the recipe here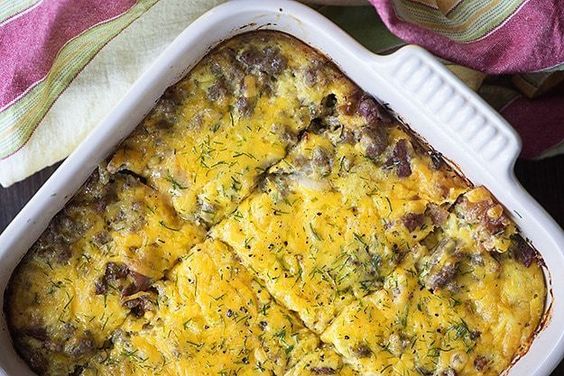 Another easy, batch cooking dish here from Buns In My Oven. Cheeseburger casserole ought to fulfil certain cravings without breaking the bank. Just promise me you'll eat a decent salad or the greens on the side!
Ground beef and other mince is great for putting together cheap keto dinners and cooking in bulk. It also freezes well helping to avoid food waste, which is literally money down the trash. Check out Butcher Box for some great, grass-fed mince delivered to your door.
Get the recipe here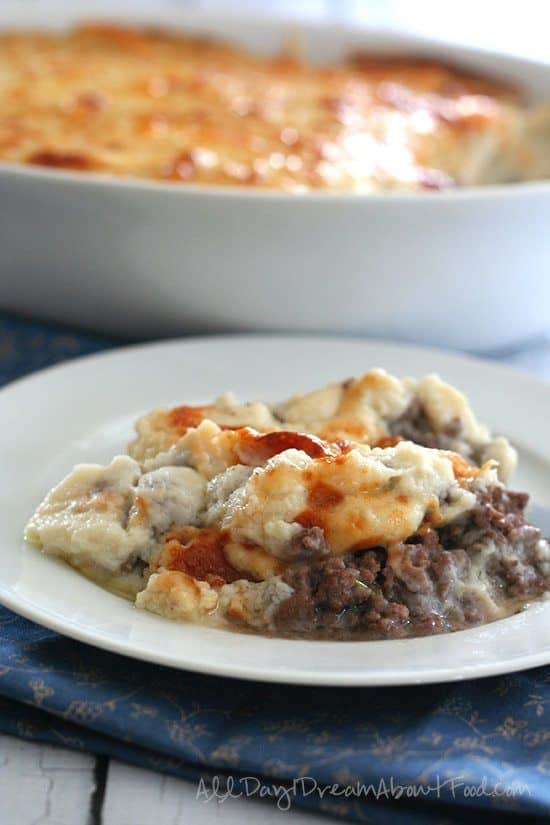 Shepherds Pie is a classic, money saving crowd pleaser, and this keto version from All Day I Dream About Food is no different. Ground lamb packs huge flavour and is much cheaper than cuts of meat.
A cheesey cauliflower topping makes this into an indulgent family dinner, ideal for a cold winters day. You can scale this up as much as you want too to save for another day. My baking tray does about 8 portions of any pie I cook which means I can buy in bulk and cook in bulk to save money on keto.
Get the recipe here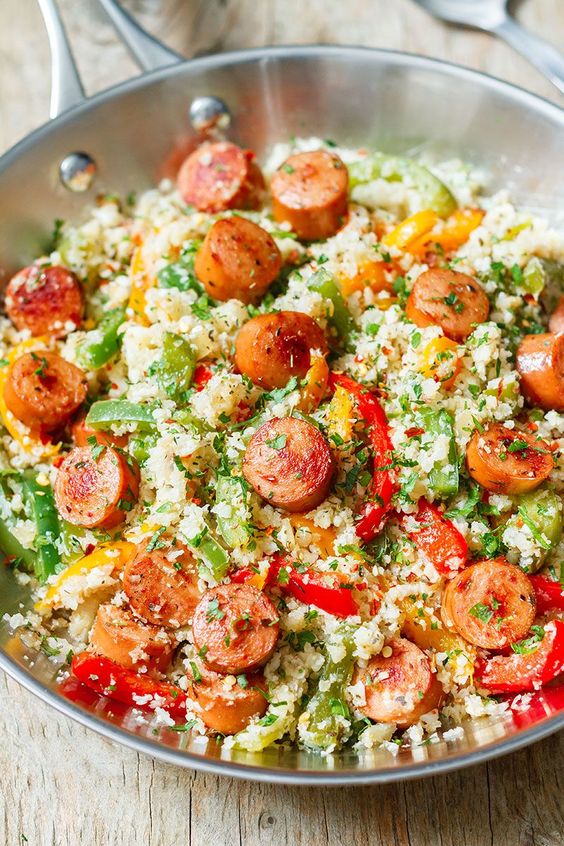 This quick keto dinner from Eatwell 101 can be ready in no time, and uses a short list of simple ingredients to keep things cheap.
A cauliflower rice stir fry is an ideal way to use up leftover ingredients and items in the store cupboard. The cauliflower is a neutral canvas for you to add other flavours to, whist bulking this out into a satisfying meal.
Get the recipe here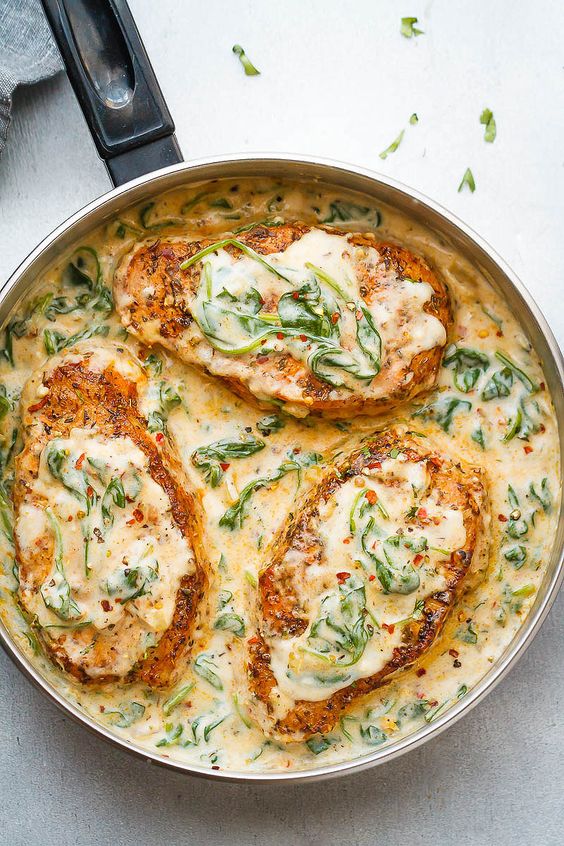 This looks like such an indulgent and luxurious meal, but it doesn't need to be expensive. These creamy pork chops from Eatwell 101 taste delicious and go well with a side of buttered greens.
Pork chops tend to be quite cheap compared to most other meats but are much more interesting than say, a chicken breast. The ingredient list is kept short on this recipe, which again, I think helps keep meals cheap reducing leftover spare ingredients and the need to buy items you'll rarely use.
Get the recipe here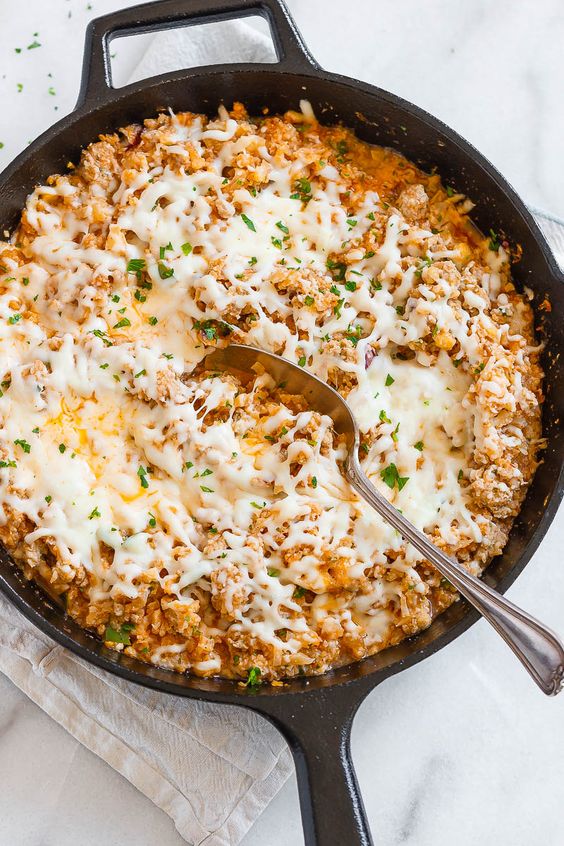 Anything you can cook in one skillet always gets my seal of approval and this sausage taco cauliflower rice from Eatwell is no different.
Cheese, sausages, ground meat etc. Can all be bought in larger quantities to keep the cost down and if stored properly can keep for a while. Having a couple of your favourite spice mixes at hand is a great way to quickly put together cheap keto meals in a hurry.
Get the recipe here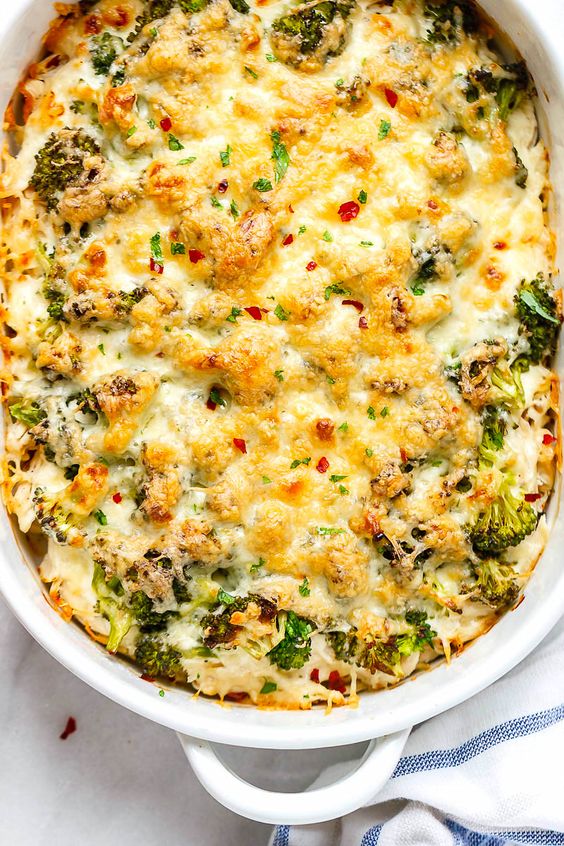 This broccoli chicken casserole can be cooked in large quantities to portion up for multiple dinners to keep things cheap and simple.
I tend to use and prefer chicken thighs over chicken breast in most dishes. I find it has better flavour and texture, and it a lot cheaper too.
The important thing when buying chicken is making sure you cook it all fairly quickly after opening the pack, as it spoils fast. A big casserole like this is ideal to cook chicken in bulk to keep for multiple servings.
Get the recipe here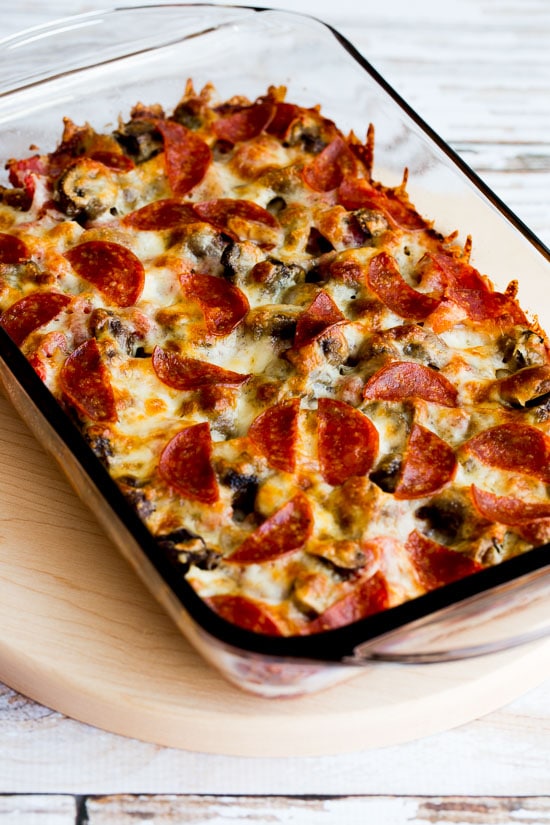 Sometimes, you just want pizza, but 'fathead' dough and other low carb pizza bases feel like too much work. Enter this pizza casserole from Kalyns Kitchen. All the key pizza flavours without the extra prep of a low carb base.
Get the recipe here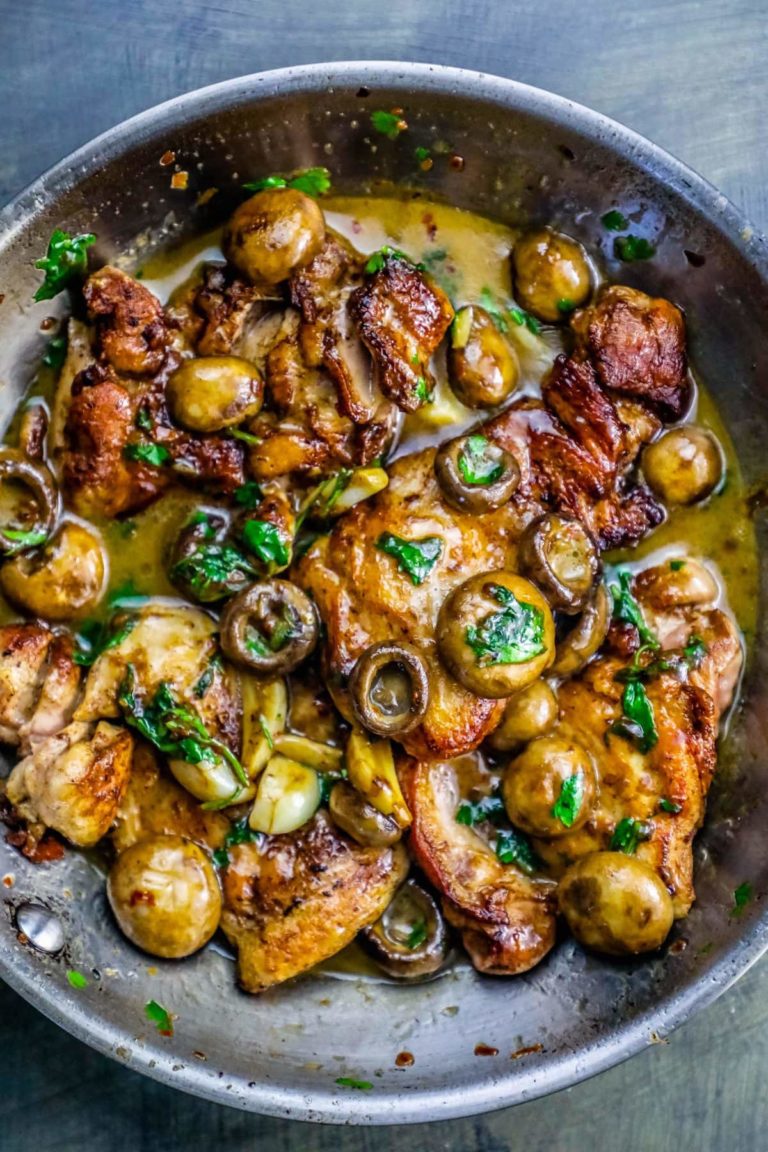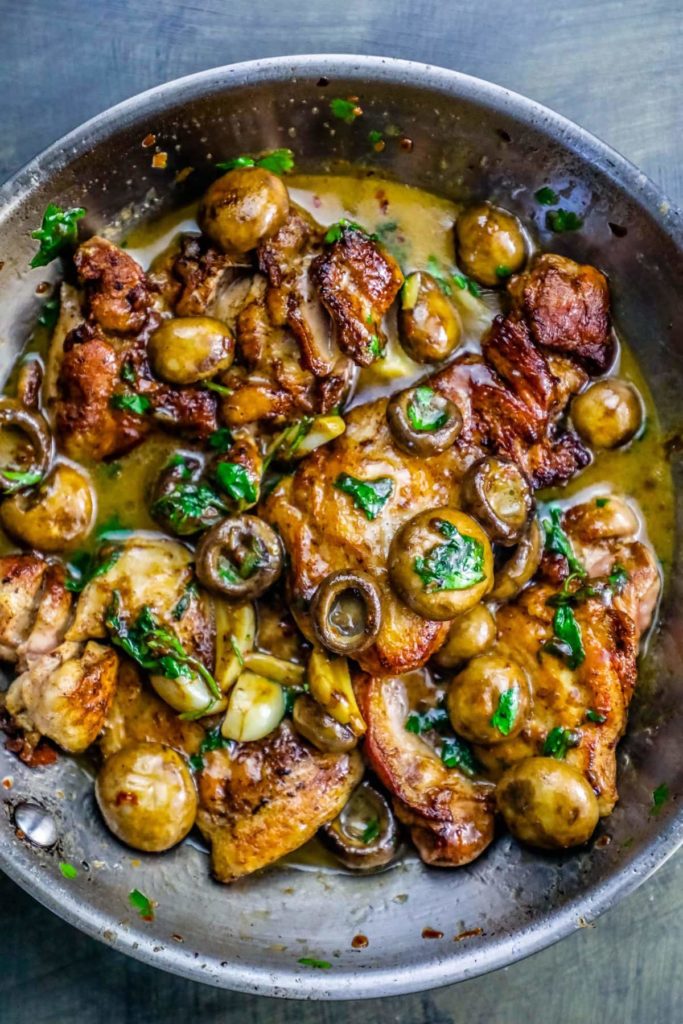 Another great one pot chicken dish here, using cost effective chicken thighs. A short ingredient list should also help keep this a cheap keto meal.
I love garlic, and always have a few bulbs in the kitchen. You get so much flavour out of something so small, and cheap. Garlic butter on just about anything will elevate it into an indulgent keto delight!
Get the recipe here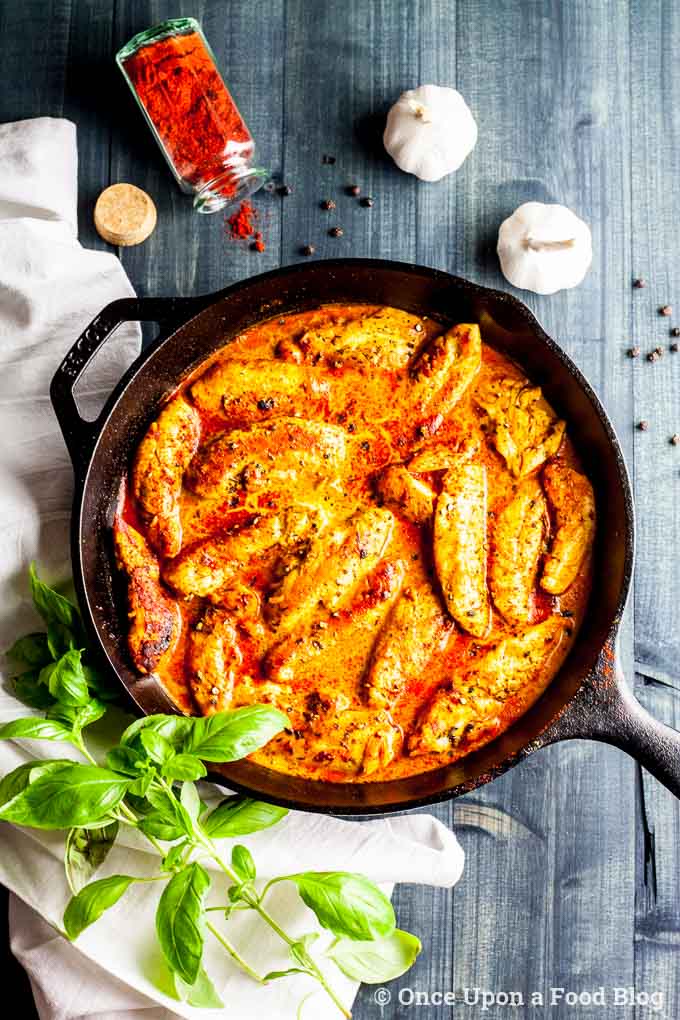 This creamy chicken dish from Once Upon a Food Blog is quick and simple to make, not least due to its short ingredient list. This dish is bright and flavourful without breaking the bank. Have with a side salad or some buttered greens.
Get the recipe here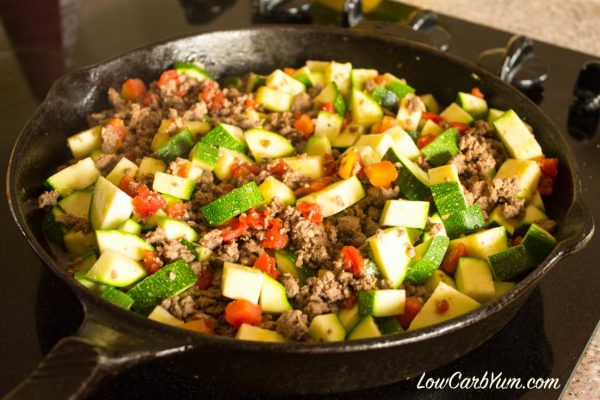 Any sort of one skillet, stir fry dish can be great for putting together a cheap keto dinner. This fry from Low Carb Yum is a great example of a flavourful cheap meal just about anyone can put together.
Ground beef is really inexpensive, and you can be pretty flexible with all the other ingredients based on whatever you've got available or needs using up.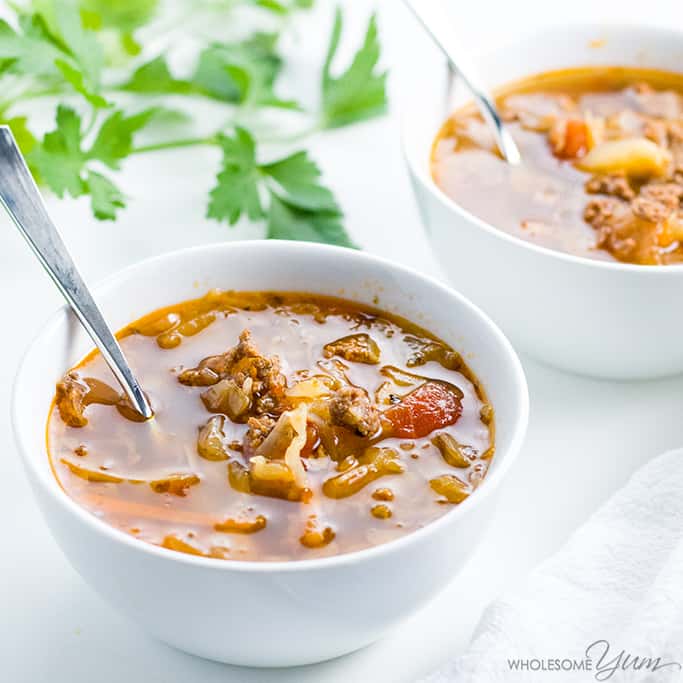 This warming soup from Wholesome Yum is a great, cheap winter dish that's simple to put together with tonnes of flavor!
Ground beef is an unusual addition to a soup buts gives some extra texture and richness to this hearty keto meal.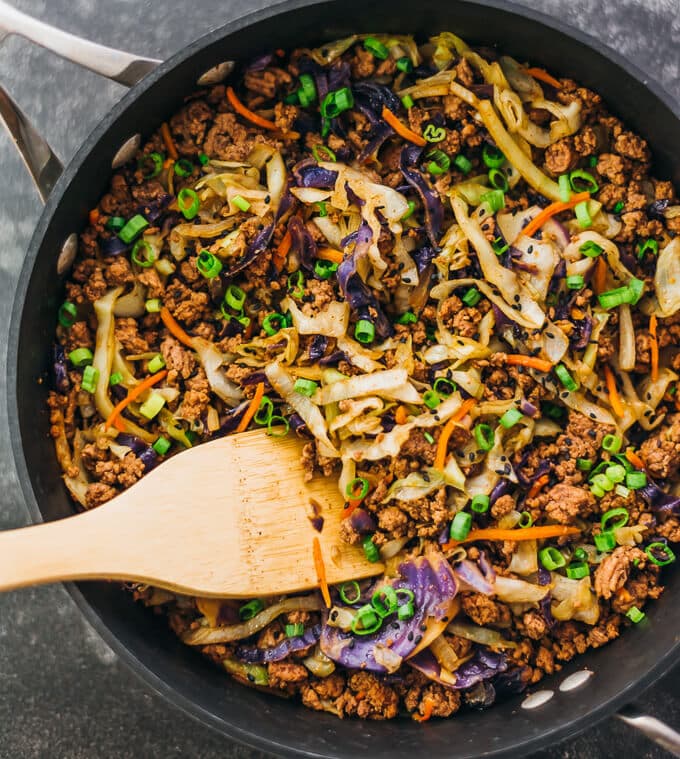 Quick, and most importantly cheap! This delicious stir fry from Savory Tooth can be ready in just 15 minutes! (For more 15 minute keto meals, check out this post!)
Dishes like this are great staples to build your repertoire. It's always good to have the ingredients in the house for a couple of super fast, cheap dishes like this!
Get the recipe here.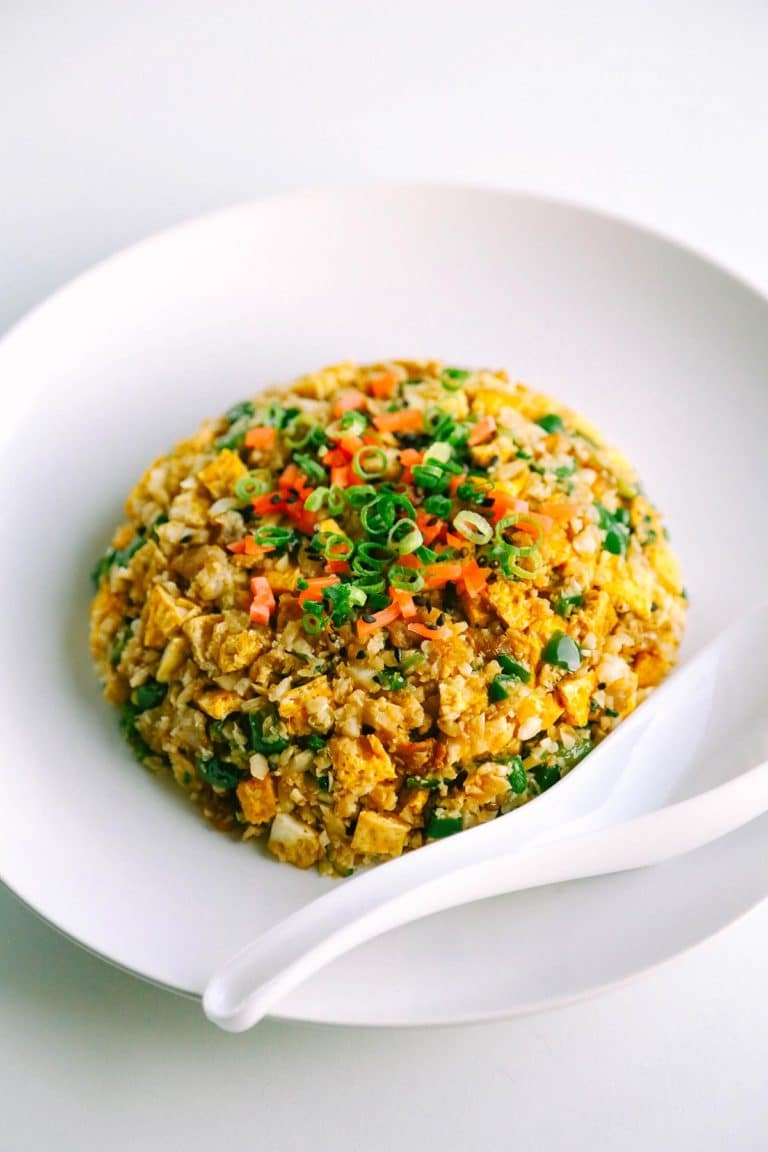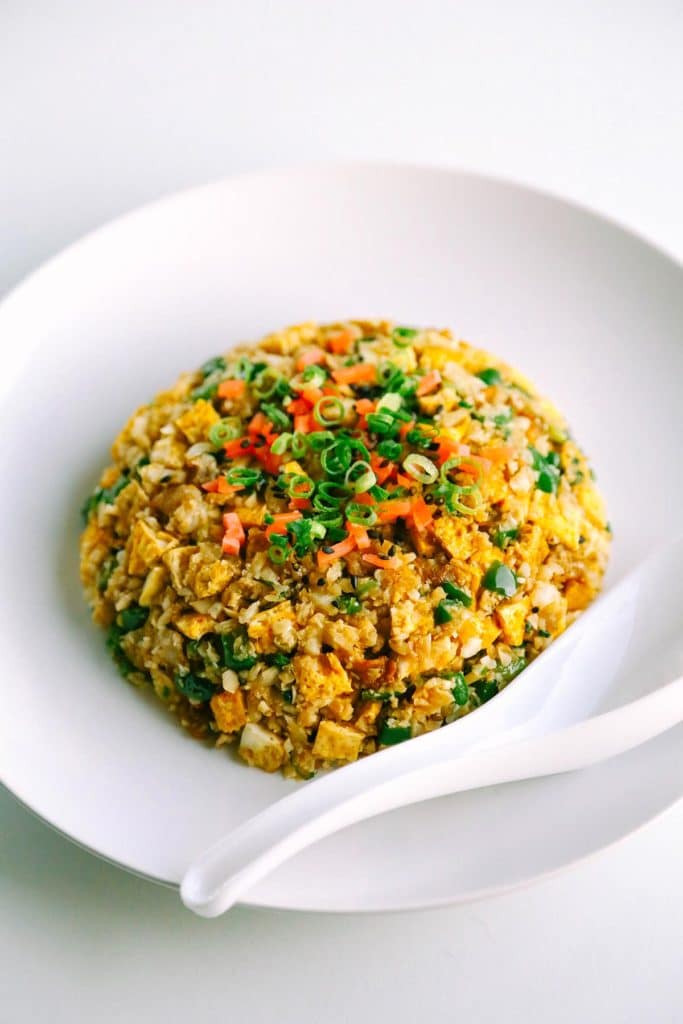 Pork belly is a great, cheap cut of meat with great flavour and richness. This fried 'rice' dish from Happy Keto makes use of this cheaper cut and the classic keto staple of cauliflower rice for a filling, quick and cheap keto dinner, a perfect combo!
Get the recipe here
Cheap Keto Dinners – Keto on a Budget
So I hope you've found some inspiration amongst these examples of how to keep the cost down on keto. Keep your ingredient list short, try to buy or cook in bulk, and avoid expensive ingredients in favour of better value items like ground meat etc. and hopefully you'll be able to lose weight without losing your hard earned cash!
If you've not found your perfect affordable low carb recipe here, then check out part 2 for even more cheap keto ideas, link below:
In a hurry? Then why not check out these great quick keto dinner recipes next?
If you're looking for a great resource for some more cheap, quick and easy keto meals then I can definitely recommend the Try Low Carb range of Keto in Five books. I picked up their Dinner in Five book when I first started keto which was great with it's 5 ingredient limit to keep meals cheap and easy, check them out!
Be sure to read our guide on how to do the keto diet on a budget for more tips on what to cook, and how to shop to keep keto cheap. If you're in a hurry then I'd recommend checking out these great dinner ideas you can have ready in 15 minutes or less!
Cheap Meal FAQ
What are cheap keto meals?
A: Cheap keto meals are dishes prepared on a budget that adhere to the principles of the ketogenic diet, which typically includes low carbohydrate, high fat, and moderate protein foods.
Can I still eat nutritious and tasty food on a budget while following a keto diet?
A: Absolutely! It's a common misconception that healthy, tasty, and keto-friendly food has to be expensive. By smartly shopping and creatively cooking, you can prepare delicious, nutritious, and cheap keto meals.
What kinds of foods should I be looking for when shopping for cheap keto meals?
Look for high-fat, moderate protein, and low-carb foods. Eggs, cheese, cheaper cuts of meat, and low-carb vegetables are great options. Buying in bulk and choosing frozen vegetables can often be more cost-effective.
Can I eat out and still maintain my budget keto diet?
While it's possible to find keto-friendly options when eating out, it's usually more cost-effective and reliable to prepare your own cheap keto meals at home. This way, you have complete control over the ingredients used and the preparation process.
How can meal planning help in making cheap keto meals?
Meal planning helps you avoid impulse buying and over-spending. It allows you to strategically use the ingredients you have, reducing waste. Plus, it saves you time during the week as you know exactly what you're going to cook and when.
What are some cheap keto-friendly sources of protein?
Eggs, canned fish like tuna and sardines, chicken thighs, and ground beef are all cost-effective sources of protein that are great for a keto diet
What if I get bored of eating the same cheap keto meals?
The key is variety and experimentation. There are countless keto recipes out there that use budget-friendly ingredients. Mix up your meals, try new recipes, and you'll find your keto journey much more enjoyable!
Are frozen vegetables as good as fresh ones for cheap keto meals?
Yes, frozen vegetables can be a great part of cheap keto meals. They are usually flash-frozen right after harvest, which helps maintain their nutritional content. Plus, they're often more cost-effective and less perishable than fresh veggies.
What should I look for when buying meat for cheap keto meals?
Choose cheaper cuts of meat, which are usually high in fat, making them perfect for keto. Think chicken thighs over chicken breast, or chuck roast over sirloin. Also consider buying meat in bulk for extra savings.
How do I make sure my keto meals are balanced and nutritious?
Variety is key. Make sure your meals include a mix of proteins, fats, and low-carb vegetables. Regularly switch up the types of food you eat to ensure you're getting a wide range of nutrients.
Are there any cheap keto-friendly snacks I can have?
Absolutely! There are many budget-friendly keto snacks you can enjoy. Consider options like boiled eggs, cheese cubes, nuts and seeds, or sliced veggies with a high-fat dip like guacamole or cream cheese.
Can I make cheap keto meals that are also quick and easy to prepare?
Yes! Many cheap keto meals can be prepped in advance or require very little preparation or cooking time. Meals like stir-fries, omelets, or salads with a protein can be whipped up in no time. It's all about finding recipes that suit your taste and your schedule.
Where to next on your keto journey?
1. Find out how to get into a deeper state of ketosis with our 6 steps for optimal ketosis
2. Learn more about working out on the keto diet with our keto exercise guide
3. Discover the signs and symptoms of Ketosis
4. Check out these tips and tricks to save money and lose weight with our keto on a budget guide
5. Stock up your keto cupboard with this list of ready to eat keto snacks
6. Keto in a hurry? Make one of these keto friendly smoothies to fuel your day
7. Learn more about the keto diet with our beginners guide to keto
8. Cook keto in a hurry with these great quick keto dinner recipes
9. Make great meals without blowing the bank with these cheap keto meals