Last year we travelled to Spain, a country with an incredible cuisine and some brilliant ingredients. My lingering memory is of eating tapas, with some chorizo, a little manchego and a nice dry sherry…heaven! This spanish inspired salad makes use of that most wonderful spanish ingredient – chorizo! And at only 5g net carbs per serving this makes a brilliant lunch or lighter dinner.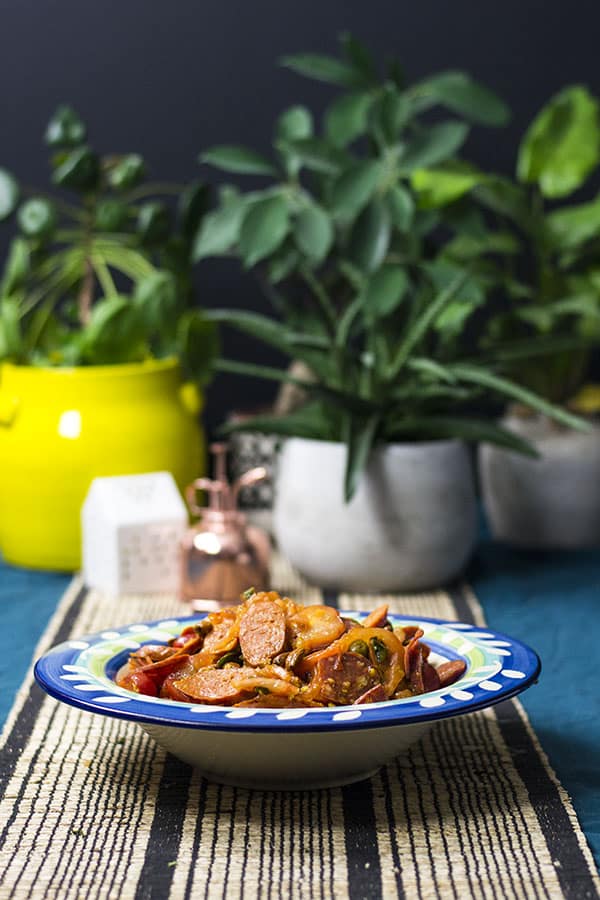 I love using chorizo in keto dishes, there's so much flavor that often you don't need to use much to give a dish a real boost. In many dishes I use it as more of a flavoring, than as the main protein in the meal, but not here! Chorizo is front and centre, and in this I'm using two types! This is a pretty meaty salad but combined with fresh, acidic tomatoes it's not overly heavy, ideal for a cool day in fall.
The key here is to serve the dish whilst the cooking chorizo and the olive oil dressing are still warm, and make sure your tomatoes are at room temperature (cold tomatoes don't have much flavor). This is neither a hot nor cold salad, just something soothing on a cool day. The dressing here is more to coat the ingredients than to be a dominant flavor, meaning the flavors of the individual ingredients are more important. In particular try to get the freshest tomatoes you can.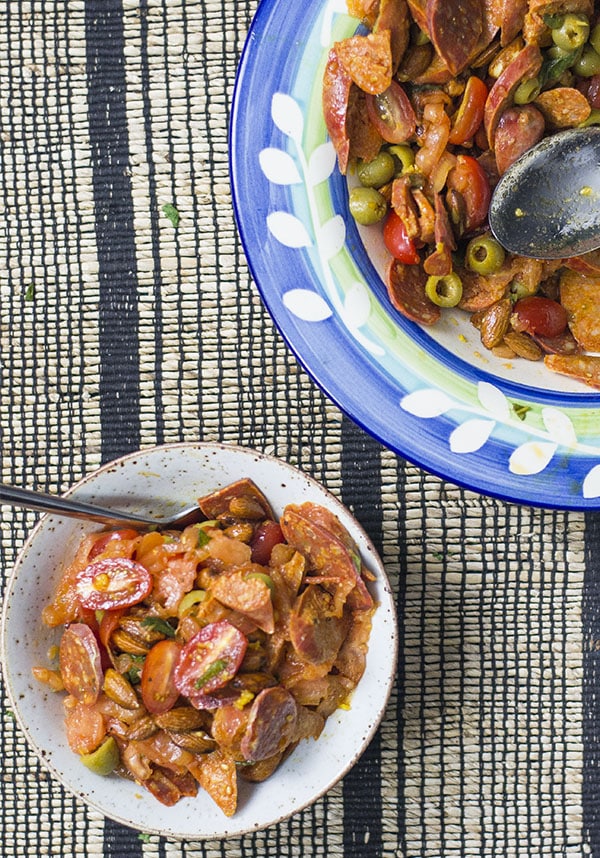 Saffron, being expensive, is an optional extra, I'd leave it out for those doing keto on a budget. It'll add a little more depth of flavor to the dressing but it's not a make or break situation. Likewise I'm using two types of chorizo here, which may not be so easy to find. The dry-cured chorizo, which is finely sliced, should be easier to find. More supermarkets nowadays stock cooking chorizo too which is uncured, but if you can find it, then you could slice and fry some of your dried stuff.
Roasted almonds are eaten a lot in Spain, and here they give a welcome crunch to the dish. It's important to try to get a mixture of textures, flavors and acidity in a salad, and keto salads can often be lacking in crunch.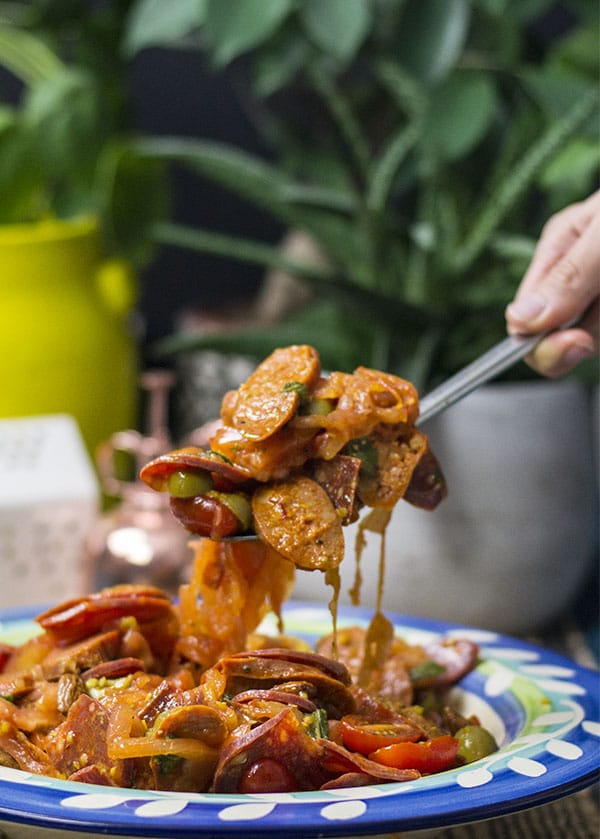 Serve this dish up as either a light lunch, or as part of a more substantial meal alongside some other tapas type dishes. This recipe works out at about 5g net carbs with a good amount of fats and protein.
Let me know what you think if you've tried it in the comments below. If you liked this, then please give it a share, you can follow me on pinterest here.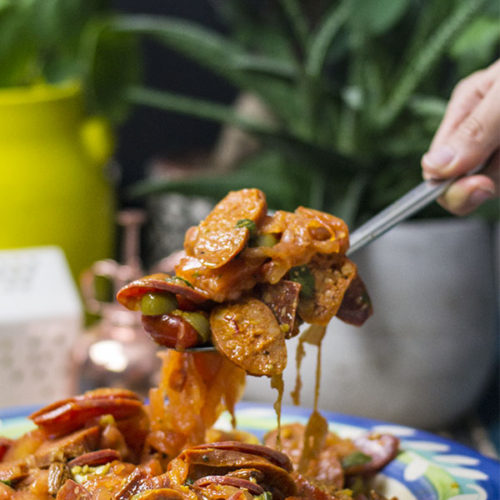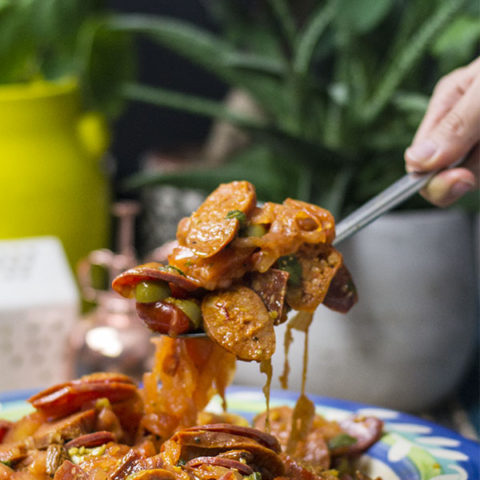 Spanish Chorizo and Tomato Keto Salad
A spanish inspired keto chorizo salad, with tomatoes, olives and almonds. To be served with warm chorizo and a warm dressing.
Ingredients
2 Beefsteak Tomatoes
100g Cherry Tomatoes
100g Olive Oil
4 Cloves Garlic
100g Roasted Almonds
150g Green Olives - Sliced
1 bunch of Sage (15g)
200g dry cured chorizo
200g Cooking chorizo sausages
Salt
Pepper
(optional) pinch of saffron
50ml dry white whine
Instructions
Slice your tomatoes thinly, sprinkle lightly with salt and set aside
Heat the wine in a small saucepan (Optional extra: add saffron, mix and warm for 5 minutes to release saffron flavour)
Add the olive oil to the saucepan and heat to a medium heat
Add the garlic and half the sage, heat for 1 minute then set aside to cool slightly
In a non-stick pan fry the chorizo sausages (the cooking sausages, not the dry cured) Turn as necessary until cooked.
Whilst chorizo is cooking, finely slice the dry cured chorizo and combine with the roasted almonds, olives, remaining chopped sage and the tomatoes.
Once cooked, slice the cooking chorizo sausages on an angle and combine in bowl with the rest of the salad ingredients. Pour over the warm dressing and serve immedietely.
Nutrition Information
Yield

6
Amount Per Serving
Calories

553
Total Fat

50g
Saturated Fat

11g
Trans Fat

0g
Unsaturated Fat

27g
Cholesterol

28mg
Carbohydrates

8g
Fiber

3g
Sugar

3g
Protein

19g
Where to next on
your keto journey

?

1. Learn more about working out on the keto diet with our keto exercise guide

2. Find out how to get into a deeper state of ketosis with our 6 steps for optimal ketosis

3. Discover the signs and symptoms to know for sure when you're properly in ketosis

4. Check out these tips and tricks to save money and lose weight with our keto on a budget guide

5. Stock up your keto cupboard with this list of ready to eat keto snacks

6. Keto in a hurry? Make one of these keto friendly smoothies to fuel your day

7. Learn more about the keto diet with our beginners guide to keto