In this post I'm going to give you all the tips and recipes you need to kickstart your keto diet with delicious, low carb high fat keto smoothies.
For someone just starting out on the keto diet I always suggest making things as simple as possible. The easier it is to reach your macros, to get full, to prepare meals, the better.
The easier you make sticking to keto, and the more complexity you can cut out of it, the better you'll be able to stick with it in the long term. In the short term this is even more important, as most people tend to drop out pretty quickly when hunger pangs and cravings kick in.
When I'm hungry and feeling lazy, those are the times I come closest to cheating and reaching for some carby snacks. They're just too easy, I can be eating in seconds, putting hunger at bay and satisfying my cravings, but now I've fallen off the keto wagon…
That's where keto smoothies come in! They're easy too, and delicious, and most importantly keto friendly. With a half decent blender and a few of the right ingredients in the fridge I can beat my keto cravings and be drinking a low carb snack in seconds.
How to Make a Keto Smoothie
So many smoothies people love nowadays are sugar bombs in disguise. Often people pack smoothies with fruit, which are of course full of great minerals, vitamins and nutrients. But they're also packed full of sugar!
Making a decent keto smoothie without the sugar hit takes a little different thinking, and results in some delicious high fat, low carb smoothies and shakes still packed with flavor and nutrition.
It's definitely worth investing in a high powered blender rather than a regular mixer if you're going to be making a lot of smoothies. Especially if you'll be making some vegetable laden green smoothie's, you're going to want something with a bit more power. A lot of people go for the classic Nutribullet for these purposes but I personally went for this Nutri Ninja AutoIQ, mainly because I'm lazy and like being able to walk away whilst it blends (these things get noisy!)
1.Begin with a fat base
The ingredient in a keto smoothie has got to be the fat base, as we're trying to reach specific keto macros over the course of the day, aiming for 70%+ of our days calories to be coming from fats.
You've got a few good options to get a big hit of fat into your smoothie. My personal favorite is nut butters, like peanut butter and almond butter. This comes down to my previous chocolate milk addiction pre-keto and my desire to find a keto alternative. Chocolate and nut butters just go together so well!
Coconut milk is another great choice, with a delicate sweet flavour and creamy consistency. I always suggest watching the calories with coconut milk in your smoothie, as putting in a whole can in your smoothie equates to about 750 calories! For a woman trying to lose weight that could amount to more than half of your days calorie intake in one hit!
You can also add heavy cream or even cream cheese in a similar manner, although I personally try to avoid too much dairy (I eat a lot of cheese….) Cream cheese really thickens and gives a creamy texture to a smoothy although does have a distinctive taste, which is why I save this addition for my 'cheesecake' flavor smoothie recipes.
Avocado is a brilliant addition for some added fats, and I'm not just saying that because I'm a born again avocado fanatic (I am). Avocado's are a great, healthy fat to add to just about anything, with a bunch of healthy monounsaturated fats, as well as plenty of minerals, vitamins and fibre. I'm always trying to add more avocado to my diet, here's a list with some great keto avocado recipes you could try adding to yours!
Finally for an extra boost without affecting the flavor or texture of your keto smoothie, you can add in some MCT oil like this one for an easy macro boost.
2.Pick your primary flavor combo
This is where you can really go wild!
It's best to think about what will go well with your fat base. Most of the fats above are relatively neutral but it's best to think about what will pair well. For instance if I want go for a vegetable based, green smoothie, I probably wouldn't pair it with a milky/creamy fat base. Instead I'd go for either avocado or some MCT oil.
To keep things as healthy as possible I'd add as many veggies as possible, spinach, kale etc. Or if you're trying to combat your sweet tooth go for some low carb fruit such as blueberries, blackberries, strawberries or raspberries, although you will need to keep an eye on how much you add.
If you're after something a little more indulgent then chocolate and nut butter go hand in hand, my personal favorite! Using 100% raw cacao powder actually brings some good health benefits, combine that with some almond butter and you're golden!
3.Try adding some flavor/health/texture enhancers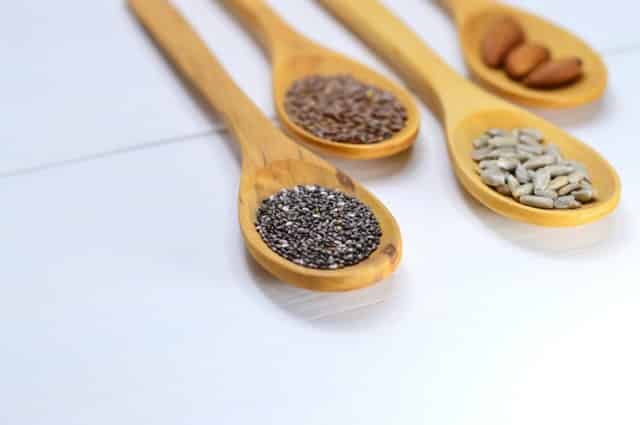 There are a hundred extra additions you can add to a smoothie once you've got the bulk ingredients in. I often like to add cinnamon in place of extra sweetener in a lot of smoothies, and it comes with a bunch of health benefits. Ginger and other spices are great too (try adding a little chilli tot he turmeric smoothie below…)
Adding in some texture is a good idea, in particular try to add some fibre to your smoothie where possible (not getting enough fibre is often one of the main criticisms for a keto diet). That's why I love adding avocado, but you should also try adding seeds (especially chia seeds), coconut flakes, chopped nuts, cacao nibs and anything else high in fibre but low carb.
Other healthy additions include turmeric (I based a whole smoothie around this extra healthy spice), spirulina, cacao, herbs.
4.Add protein if you're working out on keto
The answer is so long as the macros make sense, yes! Whilst you don't want to over consume protein on the keto diet (due to the risk of it bumping you out of ketosis) you do need about 15% of you calorie intake to come from protein. If you're exercising and working out whilst on a keto diet, then you may need more protein. Check out this keto exercise guide for some advice on how to tweak your macros to suit your exercise level.
If you do want to add some protein into the mix, watch the label on whatever protein powder you're using for added sugar or excessive use of artificial sweeteners. Collagen peptide protein powder is a great addition, this Collagen Protein Powder from Perfect Keto (get 15% off with code APERFECT15) is an ideal protein +fat combo to add with a focus on being keto friendly. Click the image below:
The Best Keto Smoothies
Here are some of my personal favorite keto smoothie recipes, many built using the principles above. If your looking to keep your fat intake high but don't have much of a sweet tooth then try something like these Savory Fat Bombs instead! Enjoy!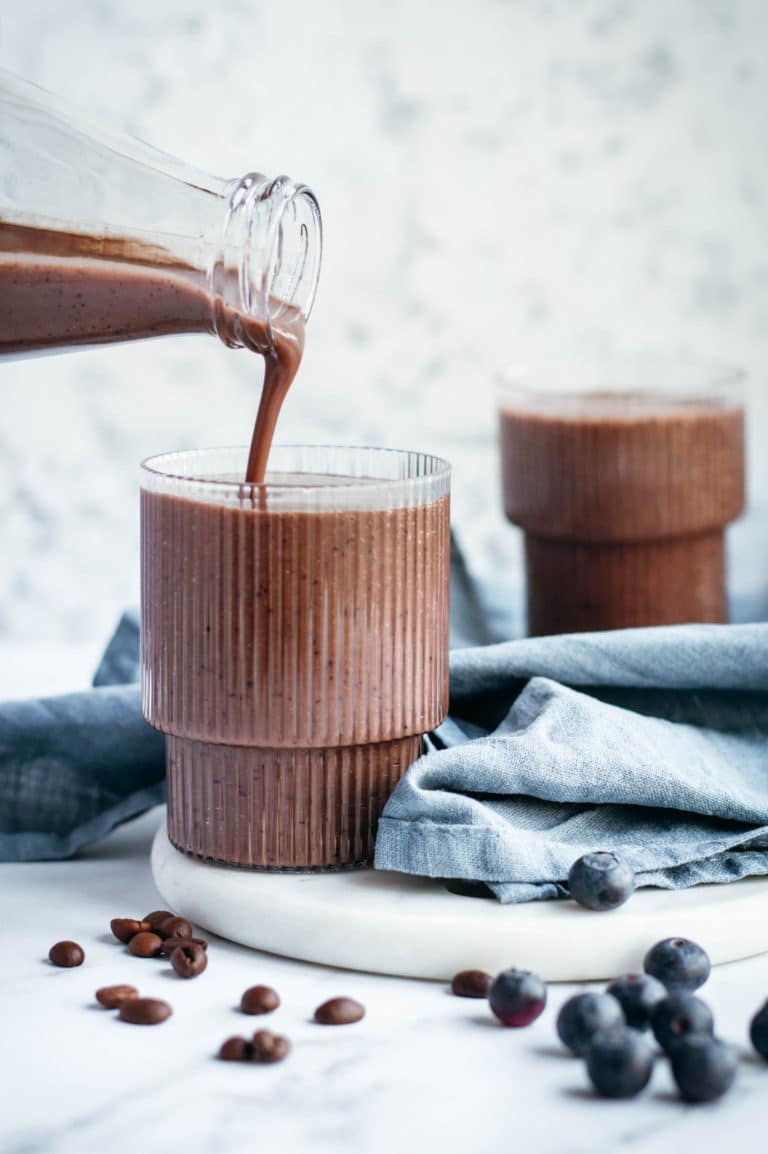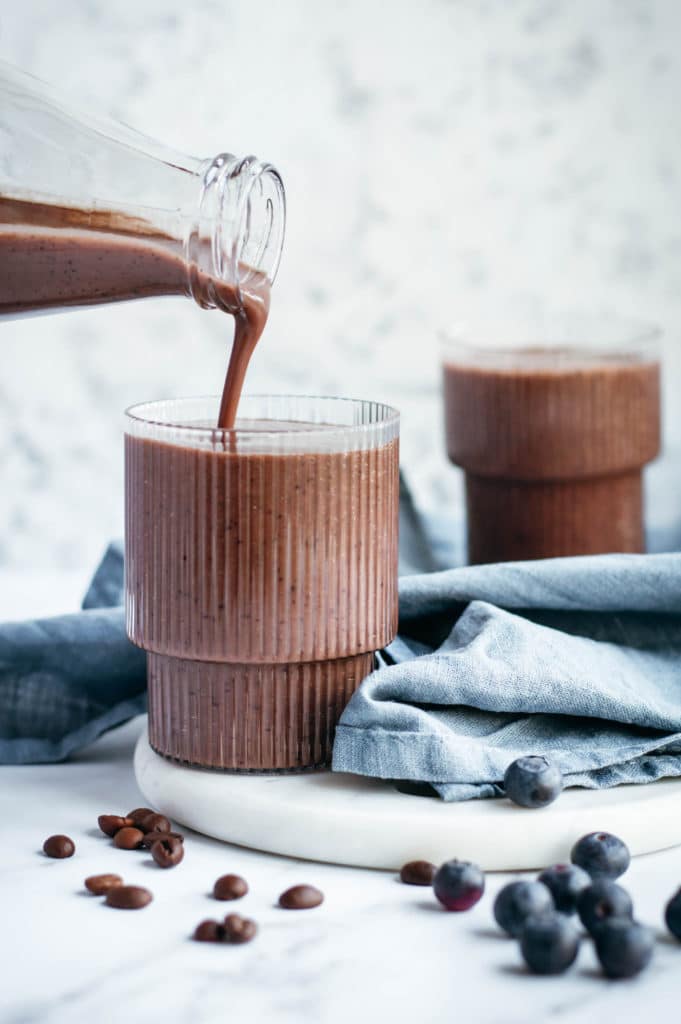 This is the perfect way to start your day – our keto mocha smoothie. We use blueberries to naturally sweeten this delicious low carb drink rather than artificial sweeteners.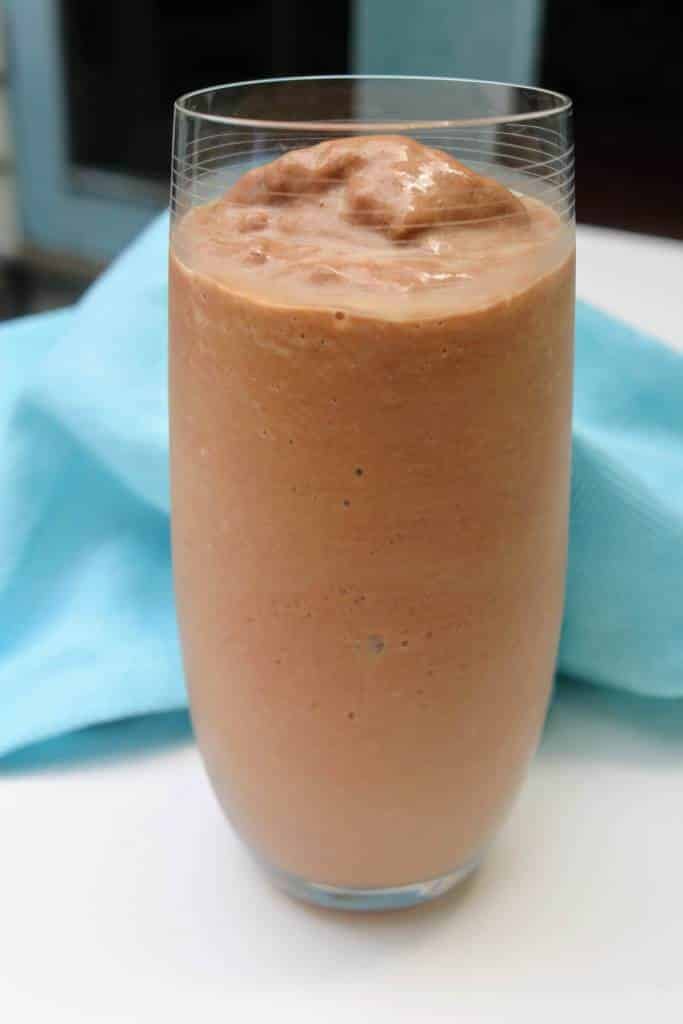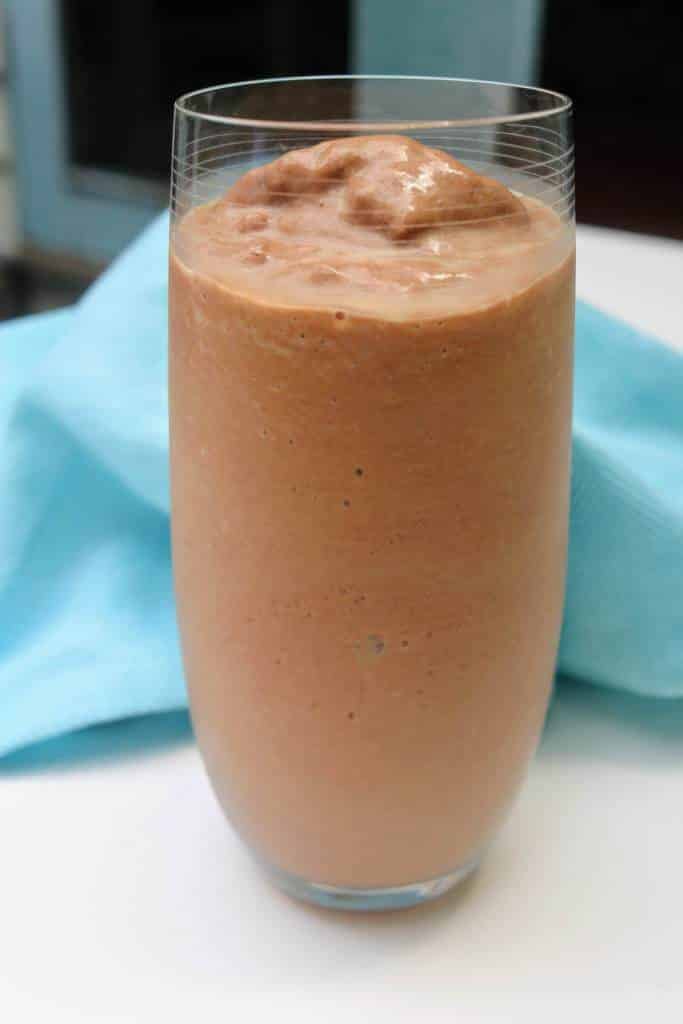 This powerhouse of a smoothie from Have Butter Will Travel makes use of chocolate and Collagen Protein Powder from Perfect Keto for a delicious keto smoothie that's especially great after exercise, with the added benefit of collagen protein. This powder comes with a bunch of extra nutrition as well as MCT oil to help keep this smoothie fat heavy.
Avocado is a great extra addition here to thicken the drink and give a little boost to the fats, nutrition and fibre content of the drink.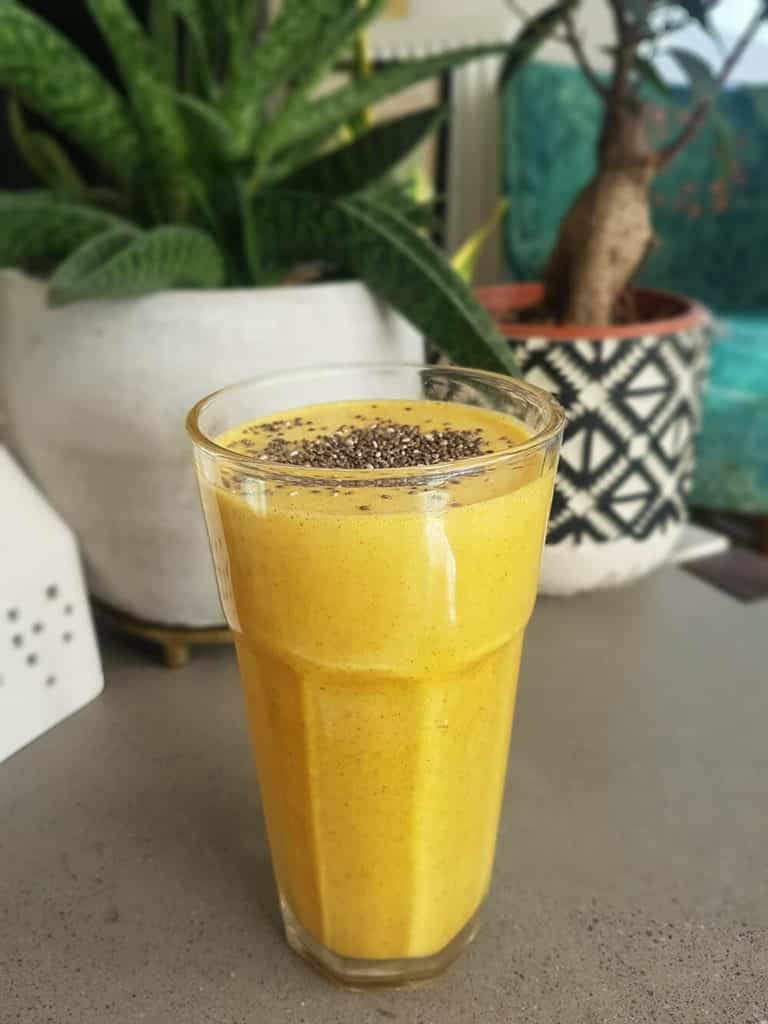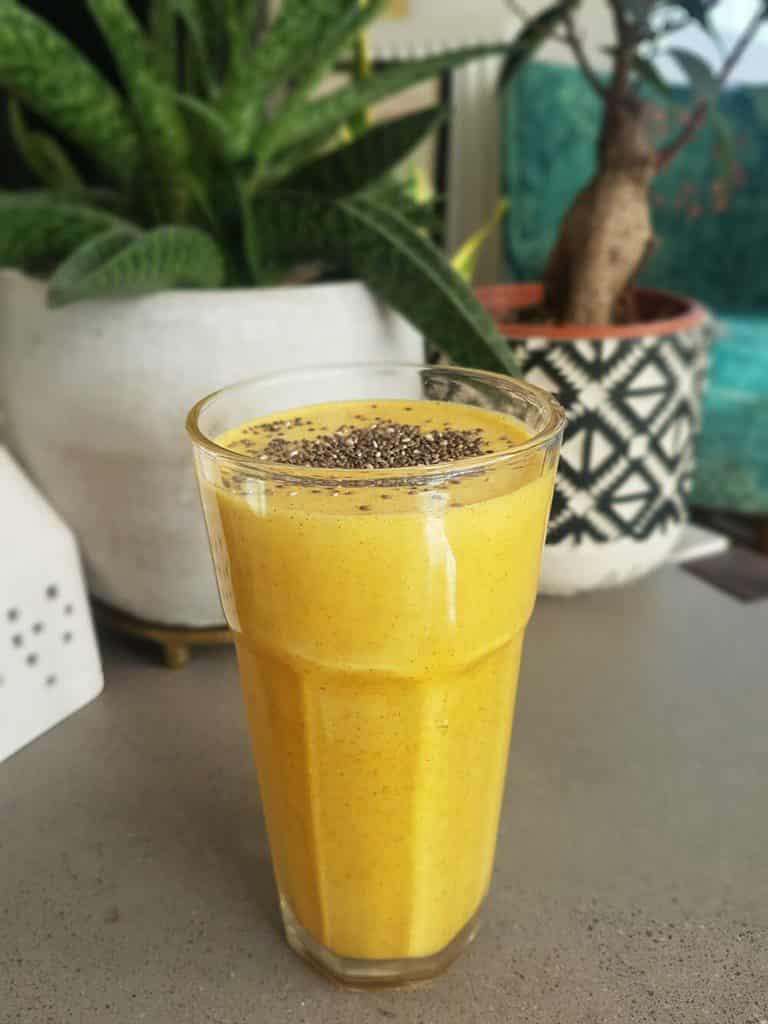 This is one of my own favorite keto smoothies from here on IEatKeto.Com. Turmeric is a brilliant, healthy addition to your diet, with it's active ingredient Circumin being particularly beneficial as an anti-inflammatory and anti-oxidant. I use coconut milk as the fat base for this as it compliments the spiced flavor. You can even blend a tiny touch of chilli into this to boost your metabolism.
As with all meals on the keto diet, it's important to consider the amount of fibre you're consuming, as people tend to get a lot of fibre from the carbs they eat. That's why a generous sprinkling of Chia Seeds is a good idea for any smoothie for good digestive health.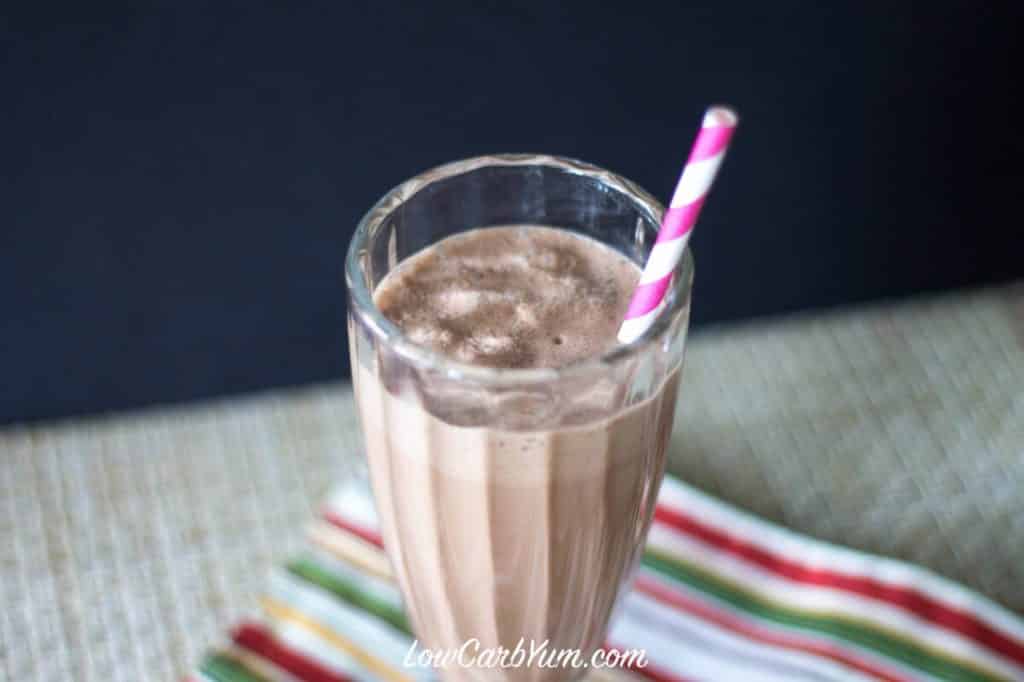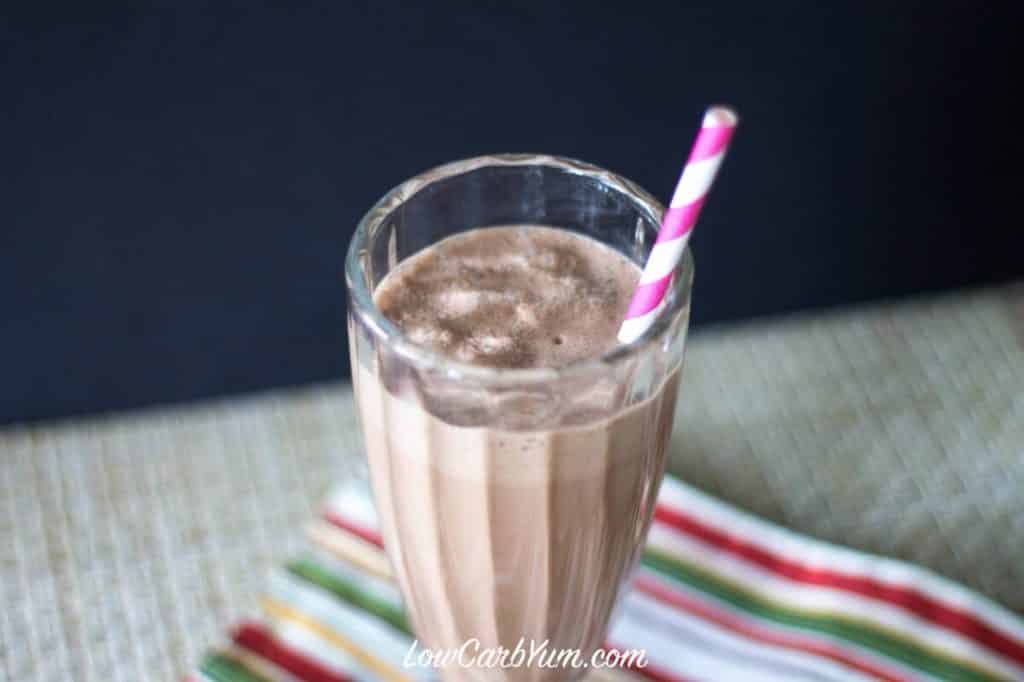 Chocolate and peanut is probably my favorite combo of all, and this simple low carb smoothie from LowCarbYum fits the bill perfectly. It's a combo that conjures up childhood treats (or in my case, treats at all ages…) but made with 100% raw cacao and a good quality peanut butter powder this is indulgent without the sugar hit.
Be sure to use a good quality unsweetened peanut powder as per the recipe, or like me go for the real deal with some palm oil free, unsweetened peanut butter for a better fat to carb ratio.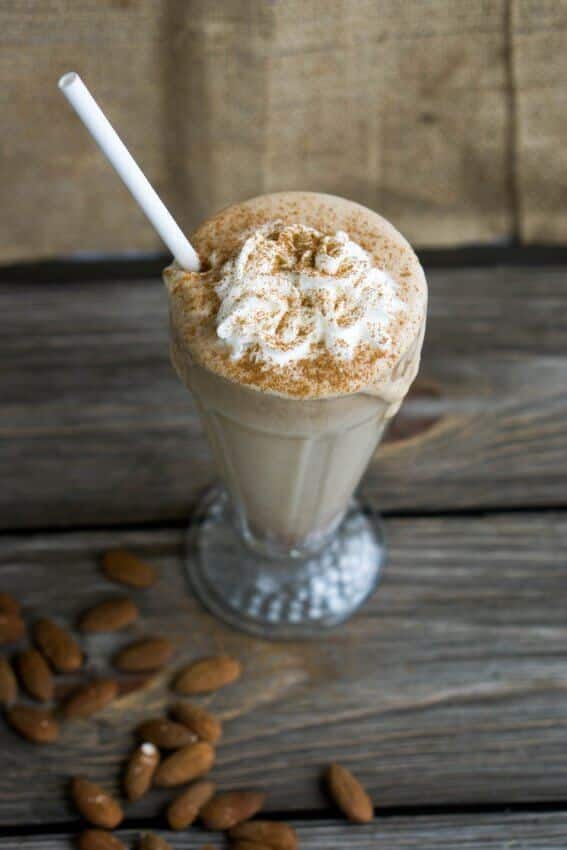 Following on from peanut butter and chocolate, this almond butter breakfast shake from KetoConnect is another great nut butter combo. This one uses collagen peptide protein making it great for a post workout keto shake, and uses golden flax meal for a fibre boost. They also recommend using a little salt in your keto smoothies, which is a great tip to really enhance the flavor.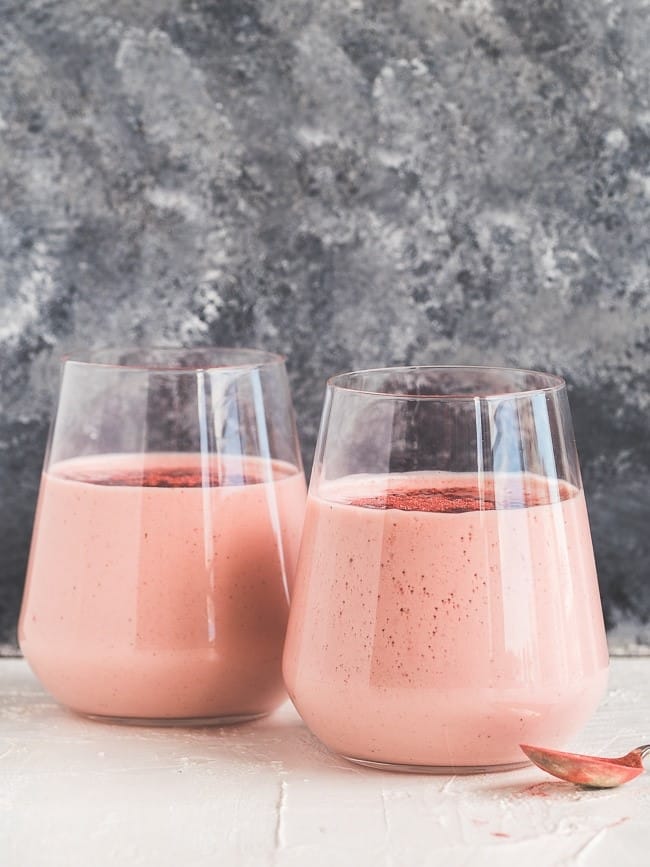 This brilliant beetroot keto smoothie from Fat For Weight Loss uses beetroot powder, mct and coconut milk for a delicious keto shake. The nitric acid in beetroot is proven to improve endurance on long runs, as seen in this paper. Try drinking this smoothie 30 minutes before a long run for a performance boost. Go for a good quality beetroot powder for this such as this one.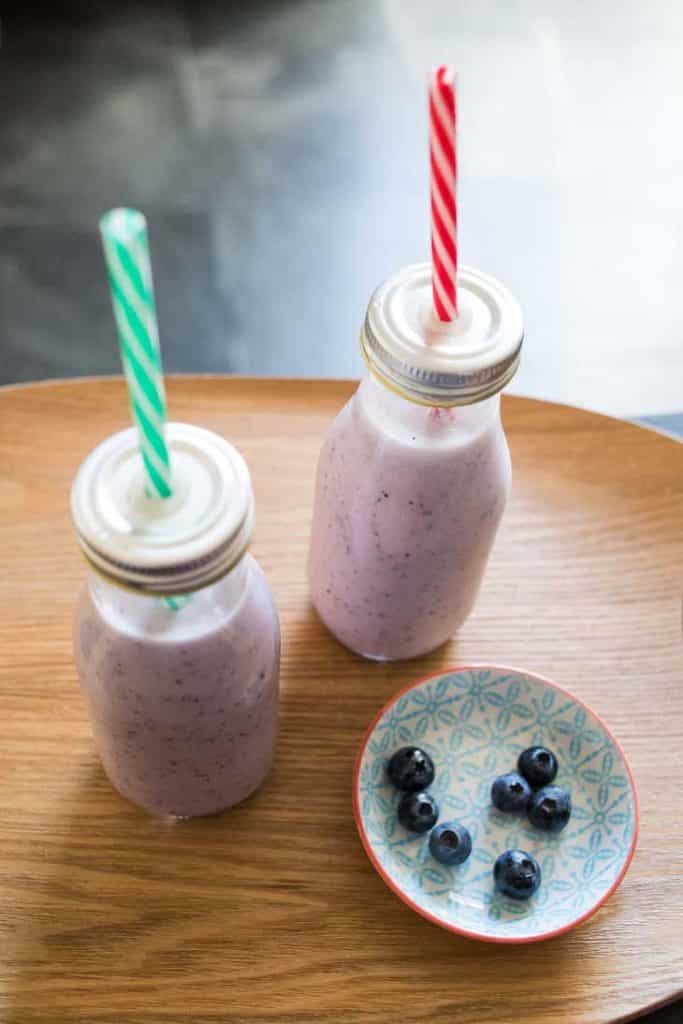 This blueberry keto smoothie from Keto Summit goes great with ginger, with both ingredients being great superfoods packed with nutrition, anti-oxidants and other health benefits. This uses coconut milk and mct oil as the fat base which go great with most fruits.
If you're including fruits in your smoothies you need to be mindful of the extra sugars found in certain fruits. Stick with berries like blueberry, blackberry and raspberry to keep the carb count down.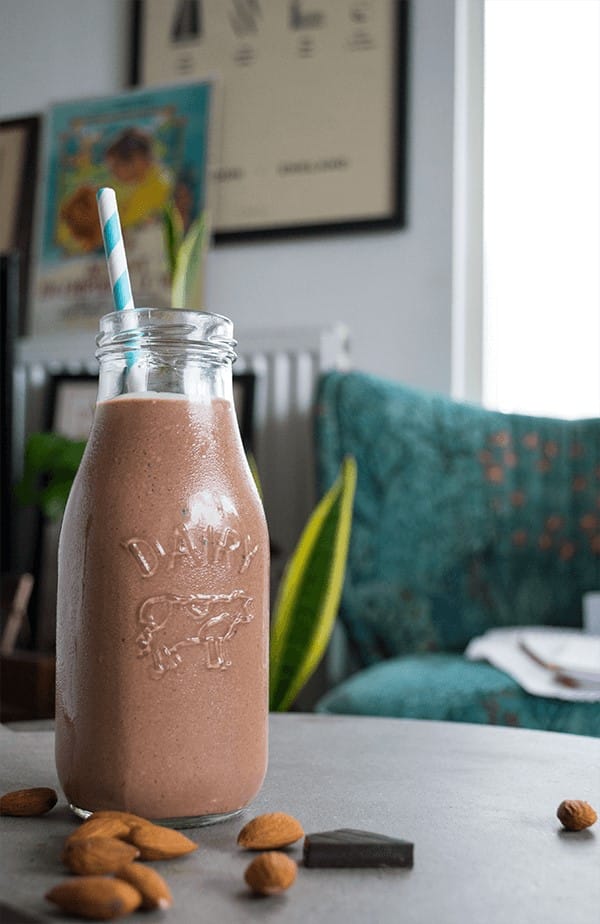 This is one of my own keto smoothies that I go back to time and time again. I pretty much have all these ingredients in the house at all times in the store cupboard, an make this most mornings if I'm not fasting for a quick breakfast. Good quality cacao powder is the key and I like to stay stocked up at all times, be sure to avoid any with added sugars!
A trick I use to thicken this smoothie into more of a shake is to put in a really, really tiny pinch of xanthum gum. Totally optional but I quite like a thicker shake!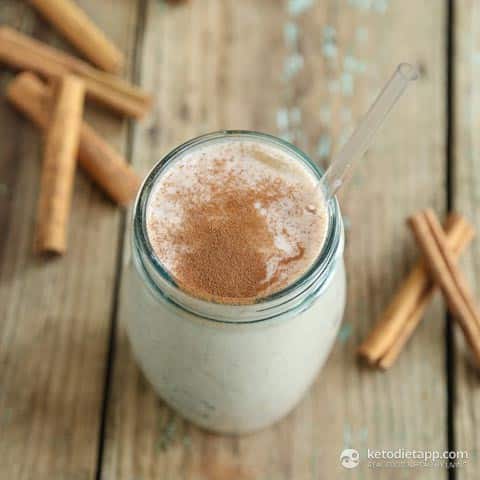 This tasty smoothie from Keto Diet App includes one of my favorite spices, cinnamon. Cinnamon has a host of health benefits that make it a great addition to a keto diet. It's a potent anti-oxidant, improves insulin sensitivity and help regulate blood glucose levels when you eat, all great for keeping weight under control. I like to add cinnamon to coffee sometimes instead of sugar, give it a try!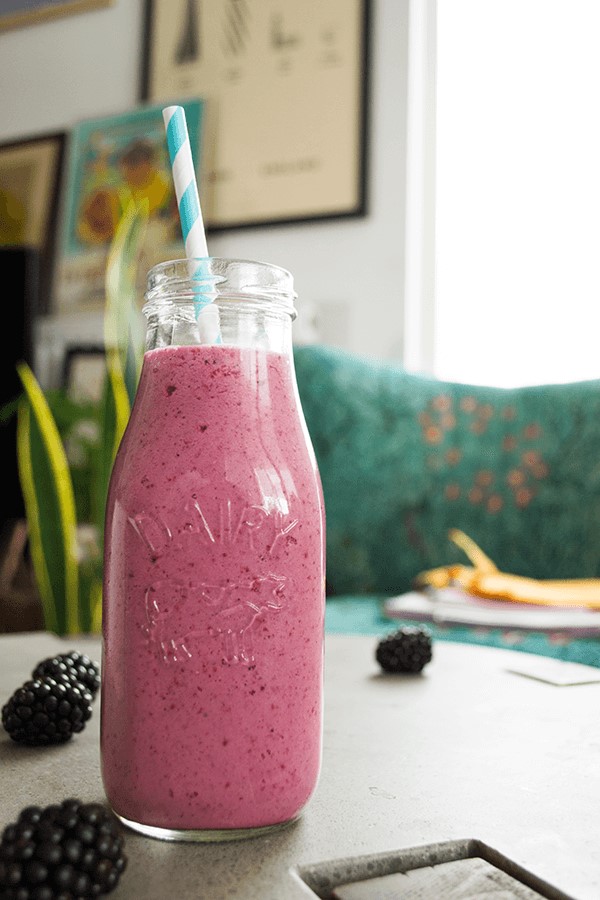 This blackberry cheesecake keto smoothie is a great way to make use of cream cheese in a smoothie, playing on the classic dessert. This tastes indulgent but still light as a way to get more fat into you keto diet. Blackberries are an ideal fruit addition being one of the lowest carb fruits around, at only 6g of carbs per 100g.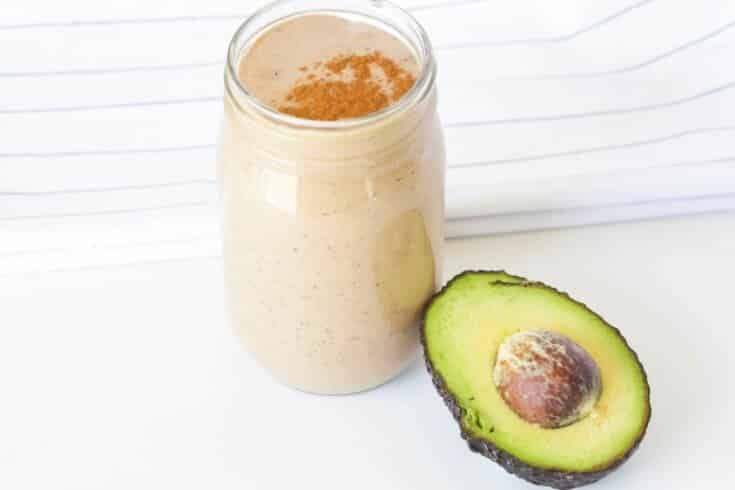 This keto smoothie from DrAxe is a well balanced combo of fats, protein and fibre to see you through the day. This uses a whole range of fats to get your macros up with coconut milk, avocado, nut butters and coconut oil. I think this is pretty flexible so if you're missing one of those ingredients just sub in more of another.
Cacao Nibs are a great source of fibre and nutrition, whilst bringing a chocolate flavour, go raw organic nibs, preferably Peruvian Criollo such as these.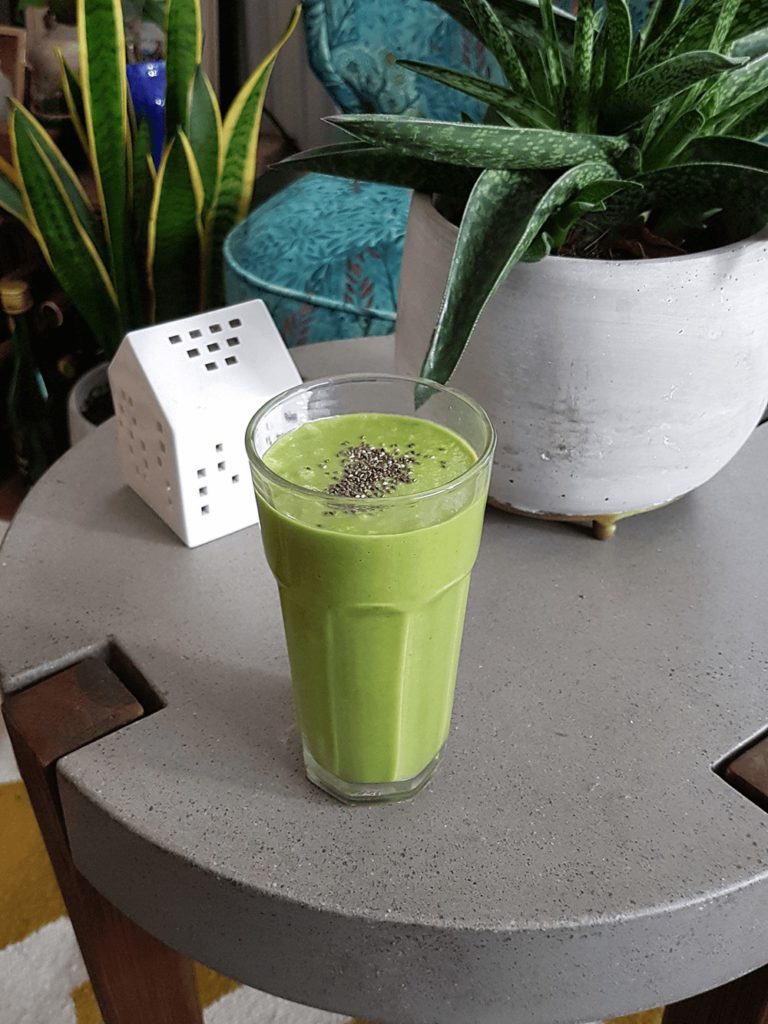 I've saved this to last, but this is actually my favorite on here! This green keto smoothie is a nutritional powerhouse in smoothie form. Avocado and coconut milk form your fat base, with spinach and matcha tea added for a hit of minerals and vitamins. Add in some chia seeds for fibre and you've got a healthy keto smoothie to add to your diet as often as you like. The great thing with this smoothie is you can add in any other low carb fruits and veggies that you like, as well as any healthy powdered supplements like this spirulina powder which I often add.
Keto Smoothies – The Ultimate Keto Fat Bombs?
I certainly think so! They're so quick to make, and so easy to pack with healthy fats once you know what goes with what. I love a keto fat bomb, having come up with a bunch of recipes like these chocolate pistachio truffles, or these ferrero rocher style hazelnut fat bombs, but for convenience, nothing beats a smoothie. Figure out which 2 or 3 are your favourites and make sure you've got all the ingredients in the house to rustle up a quick fix whenver you get hungry.
Adding protein to any of these shakes can make them a great post workout shake – if you're working out on the keto diet you need to fuelling yourself properly, check out this guide for exercising on the keto diet for more tips on keto macros for exercise.
I hope you've enjoyed this post, if you did, give it a Pin! Or you can follow me on pinterest here!
Where to next on your keto journey?
1. Learn more about working out on the keto diet with our keto exercise guide
2. Find out how to get into a deeper state of ketosis with our 6 steps for optimal ketosis
3. Discover the signs and symptoms to know for sure when you're properly in ketosis
4. Check out these tips and tricks to save money and lose weight with our keto on a budget guide
5. Stock up your keto cupboard with this list of ready to eat keto snacks
1. Learn more about the keto diet with our beginners guide to keto
*This post contains affiliate link(s). An affiliate link means I may earn advertising / referral fees if you make a purchase through my link, without any extra cost to you. It helps keep this blog up and running 🙂 Thanks for your support!