No matter how long you've been on a keto diet, the occasional craving will still turn up for some of your old comfort foods, for me these mini mushroom keto pizzas help fight off one of my biggest carb filled weaknesses.
Pizza is definitely one of my most missed foods on the keto diet, not that it's something I used to make myself! Ordering a pizza was so convenient and tasty, but also one of the least healthy options I could make. Pizza for me was a pick me up, something I would get on the days I was feeling lazy, or had had a long day at work and just wanted something delicious, fast.
There are plenty of keto recipes out there to recreate the pizza dough base and get as close to the real thing as possible. But for me it's the flavors and that convenience that I crave most. These portobello mushroom mini keto pizzas are great to get that fix, with minimal effort on my part.
The great thing here is how simple these are to make, needing virtually no cooking experience and very little time in the kitchen. I can put these together in a couple of minutes of actual work, and then go off and do something else until they're ready. All the flavors of keto pizza without all the work that comes with trying to replicate the pizza dough base.
In terms of toppings I've gone for the classic pepperoni pizza here, keeping the ingredient list very short, which is great for doing keto on a budget too. You can go mad of course with whatever toppings you like! I'm thinking of doing a blue cheese and sage pizza next…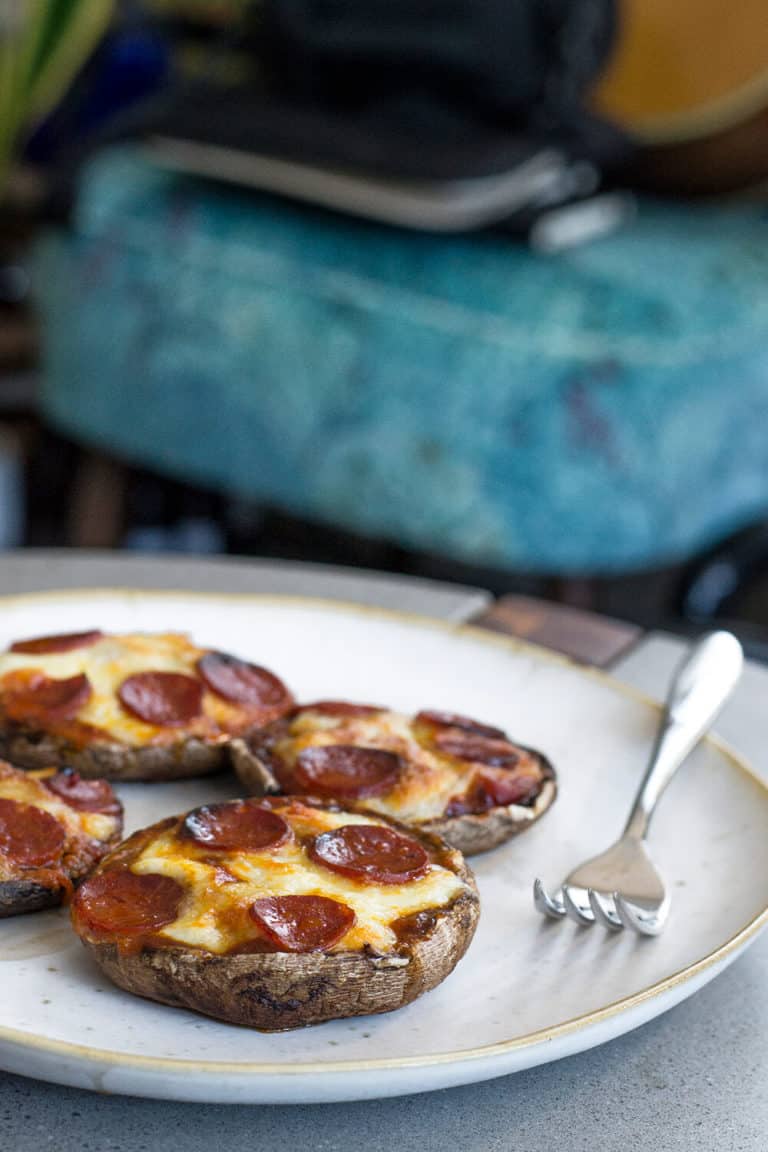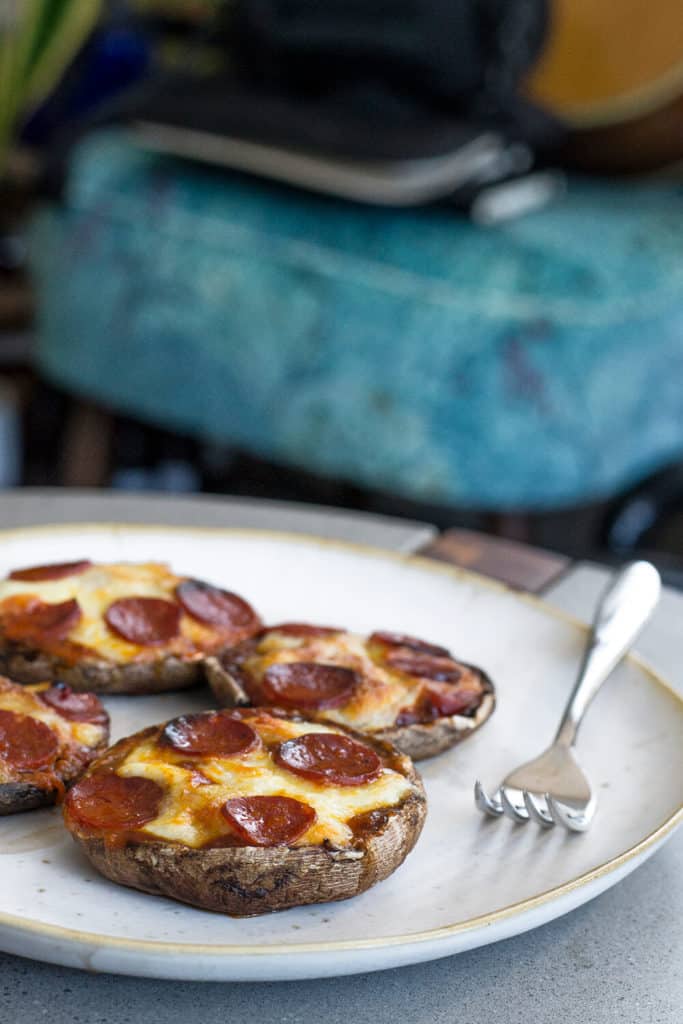 For me, one of the most important ways to keep people on the keto diet and not fall off the wagon is to make eating keto as simple and easy as possible. That means keeping the ingredients list for meals short and avoiding complex cooking methods where you can.
If you're new to the keto diet, don't jump in trying to make difficult dishes when you can build a repertoire of 3-4 quick and easy meals like this one instead. Once eating keto becomes second nature and you know you can quickly rustle up a low carb meal then move on to the harder stuff. I've listed out 10 really simple 15 minute keto dinners that I think make a great start for anyone beginning a keto diet.
Low Carb Mushroom Keto Pizza
The steps to make this one couldn't be simpler! As an optional first step, pre-cook the mushroom to get the majority of their moisture out before adding toppings, and drain the pan and the mushrooms. Portobello mushrooms hold a lot of water which we want to get out. If you're in a rush you can skip this step and just drain the pan at the end but personally I think it's worth it, this adds maybe an extra minute to your total time working in the kitchen (plus 20 mins of cooking…)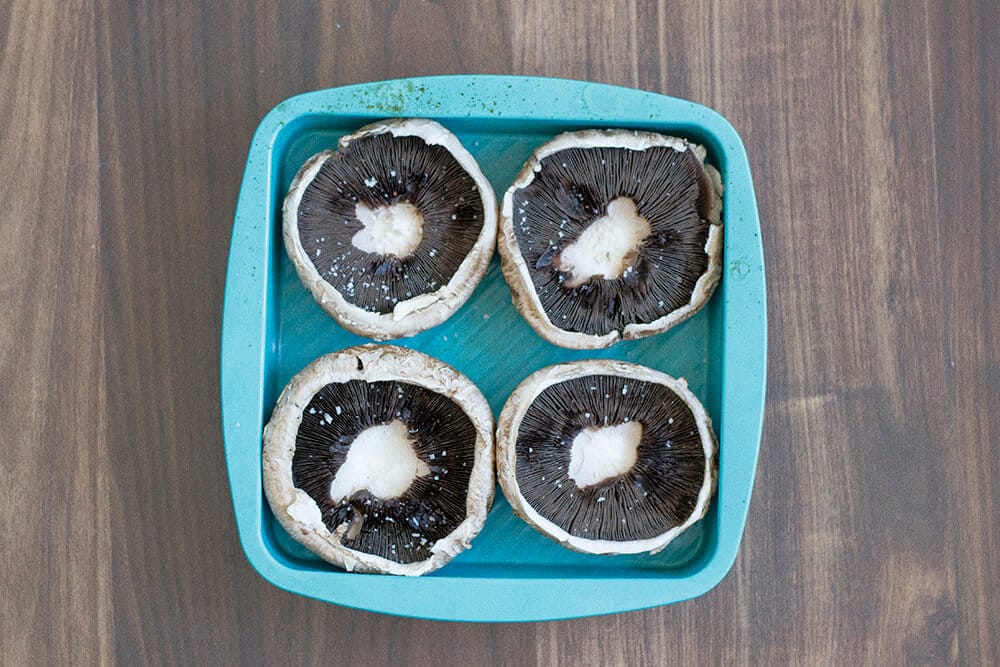 Once you're ready to add toppings you'll first need marinara sauce (or any other low carb sauce that goes well with your chosen toppings). It's important to check labels here as so many products contain lots of extra sugars and ingredients. If possible look for a specifically low carb product to really keep the carb count down. Alternative toppings like low carb alfredo sauce are great, and sometimes if I don't have any sauce I'll just make the whole think extra cheesy!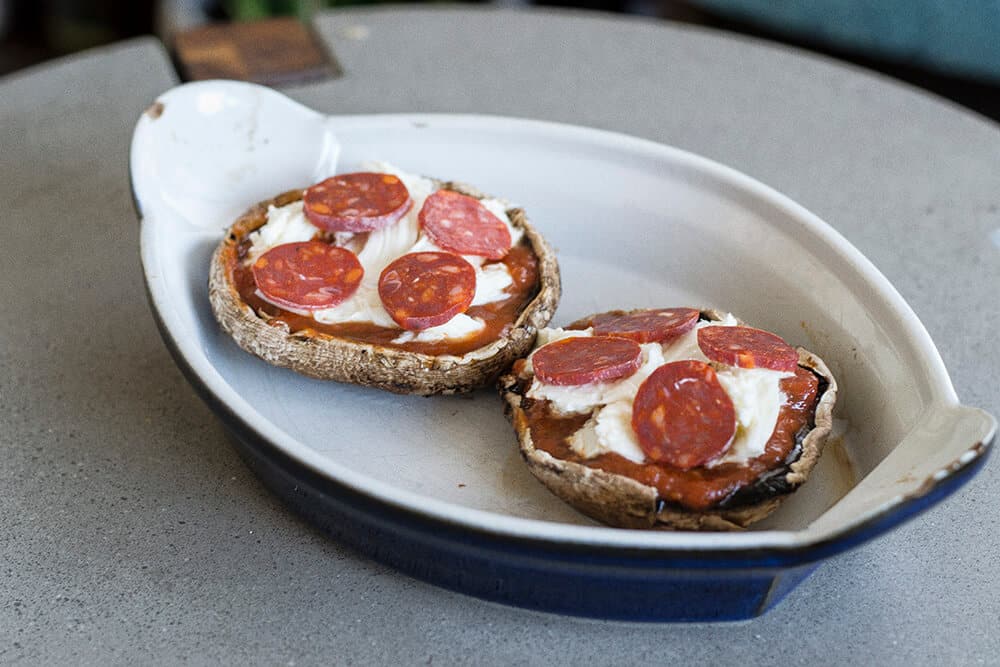 For the cheese and other toppings, feel free to go wild! Here I'm using sliced pepperoni, although chorizo is another favorite that's very similar. Mozzarella is the classic cheese topping, I'm using fresh mozzarella here but the grated stuff works fine too. To be honest, I often just use whatever's in my refrigerator, cheddar, blue cheese, feta. These are great for using up bits of leftover ingredients so do experiment.
Once you've piled your toppings on top, you can store the prepped mushroom keto pizzas in the refrigerator for later if you're not planning to eat them right away. This is a great idea to have something easy at hand for those times when you can't be bothered with cooking (my biggest trigger for eating non-keto foods and take aways!)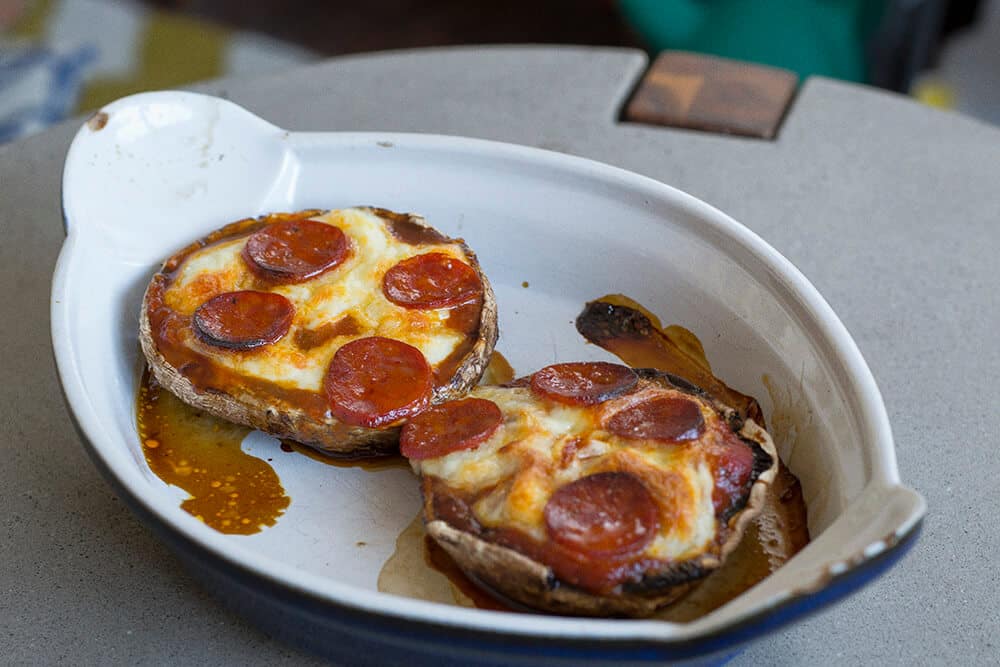 You can cook and eat these keto pizzas right away, or cool down to reheat later for an emergency snack or meal.
Let me know your thoughts on mushrooms as a low carb pizza base alternative, and what other combinations you like in the comments below.
If you liked these then please share them on Pinterest of Facebook, you can follow me on pinterest here!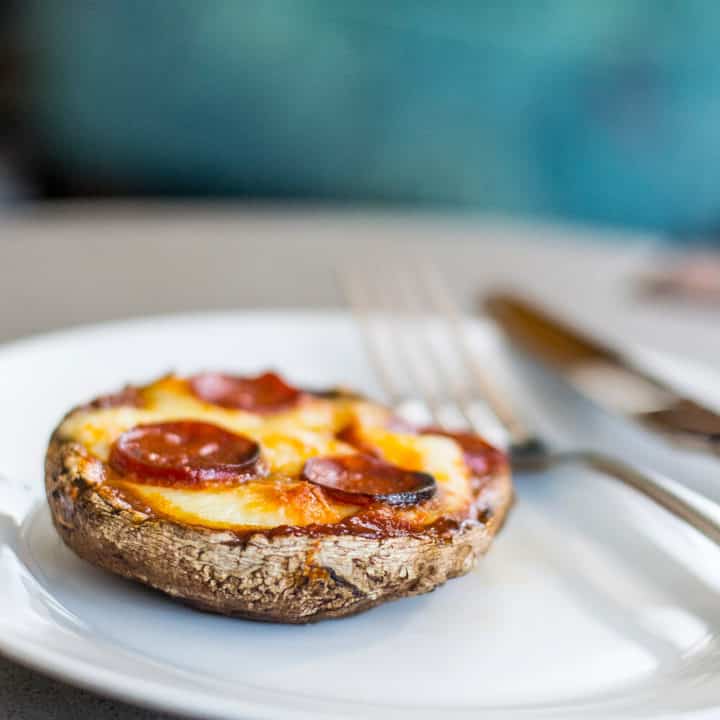 Portobello Mushroom Mini Keto Pizzas
Additional Time:
20 minutes
Quick and easy low carb keto pizzas made with portobello mushrooms
Ingredients
4 Large Portobello Mushrooms
100 g Low carb marinara sauce (1/2 Cup)
80 g fresh or grated mozzarella
20 slices pepperoni or chorizo sausage
Instructions
(Optional First Step) – Arrange mushrooms onto ovenproof tray, gills up. Sprinkle with salt and cook in oven heated to 375°F (190°C) for 20 minutes. Remove from oven and drain away liquid from pan and mushrooms
Arrange mushrooms onto baking tray, gill up. Spread 2 tbsp marinara sauce onto each, followed by 1/4 of the mozzarella (approx 20g or 2 tbsp). Finally arrange 5 slices of pepperoni onto each pizza
Bake in the over for 20 minutes at 375°F (190°C) until cheese begins to turn golden and bubbly. Serve immediately.
Nutrition Information
Yield

4
Amount Per Serving
Calories

132
Total Fat

9g
Net Carbohydrates

4g
Protein

8g
Where to next on
your keto journey

?

1. Learn more about working out on the keto diet with our keto exercise guide

2. Find out how to get into a deeper state of ketosis with our 6 steps for optimal ketosis

3. Discover the signs and symptoms to know for sure when you're properly in ketosis

4. Check out these tips and tricks to save money and lose weight with our keto on a budget guide

5. Stock up your keto cupboard with this list of ready to eat keto snacks

6. Keto in a hurry? Make one of these keto friendly smoothies to fuel your day

7. Learn more about the keto diet with our beginners guide to keto