Perfect for a family get together, a dinner with friends or a special treat after a long day: these vegan keto Portobello mushroom burgers are delicious and rich in nutrients. They only require a few ingredients and most of them are probably pantry staples for many of you!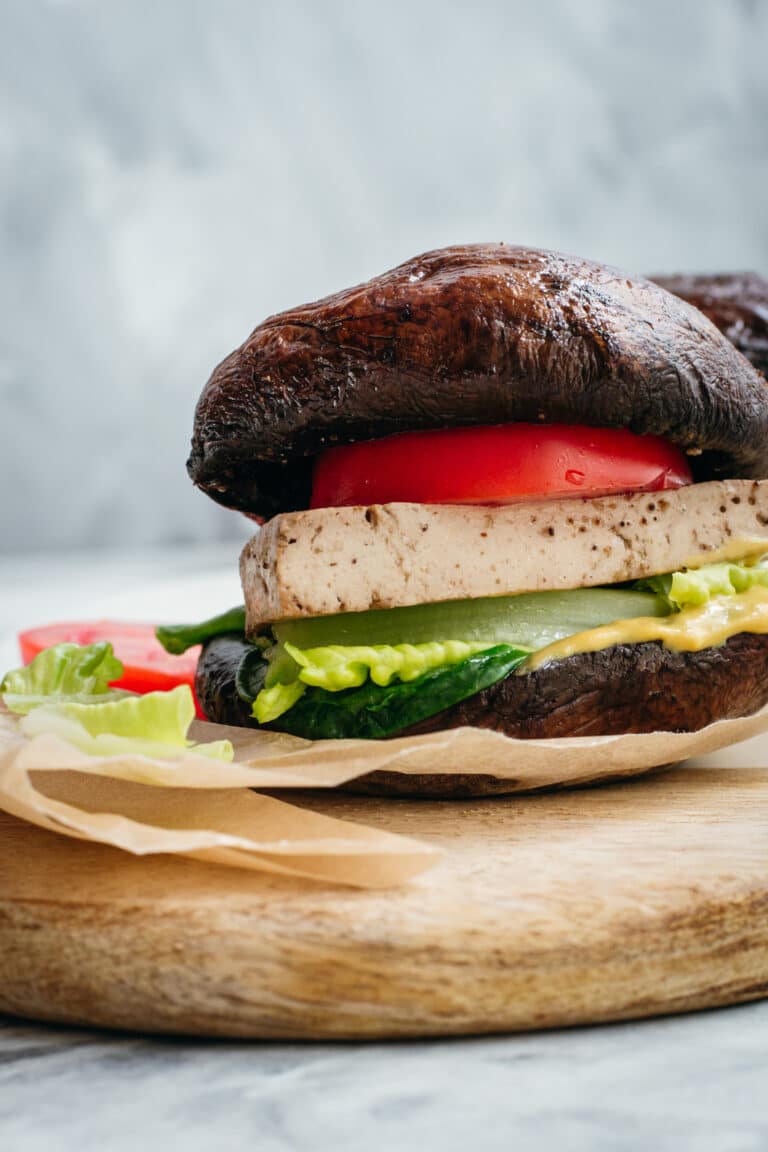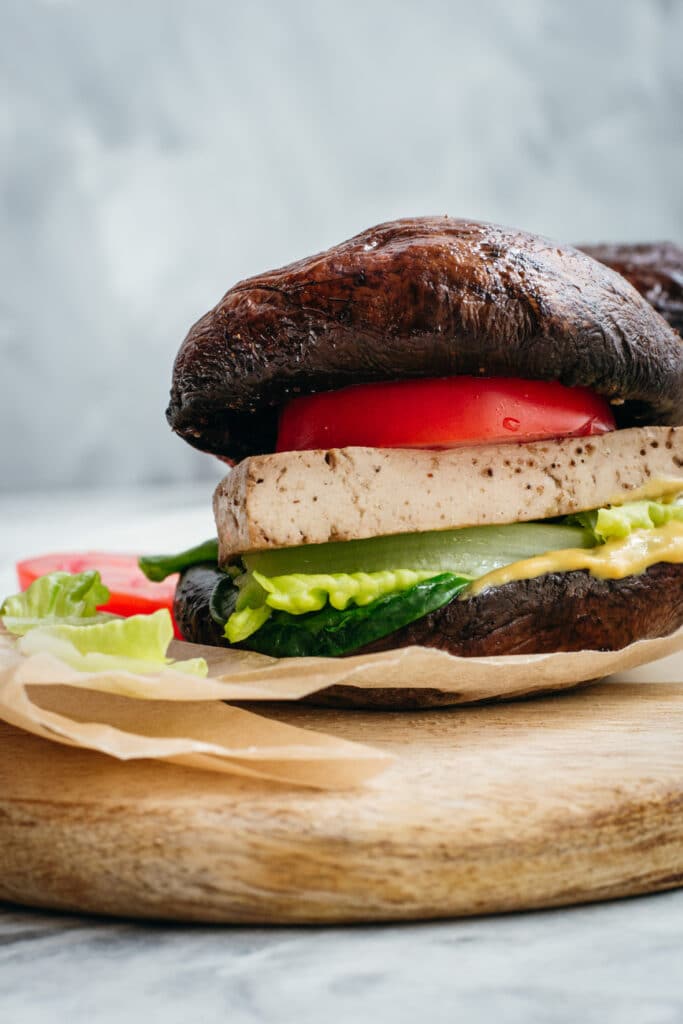 This is a really simple recipe that ticks all the boxes: easy to make, vegan, low-carb and naturally gluten-free. Use these Portobello burgers as an appetizer or pair them with a tasty salad for lunch or dinner.
These vegan keto Portobello mushroom burgers are quite different from the more common low-carb options made with a patty and a couple of leaves of lettuce. Here you have all the flavours coming from the mushrooms and the marinade that literally hug the other ingredients. Basically, the bread-substitute becomes a very important part of the burger.
Portobello mushrooms are quite different from most of the other mushrooms. They are more flavourful compared to Chestnut, white or flat mushrooms. Portobello may also seem quite fragile the first time you handle them but you'll soon realise that it's just a matter of cooking them properly. This kind of mushrooms is absolutely perfect as a substitute for bread in burgers or sliders: simply start with fresh mushrooms, don't overcook them and ensure they are not watery before assembling your burgers.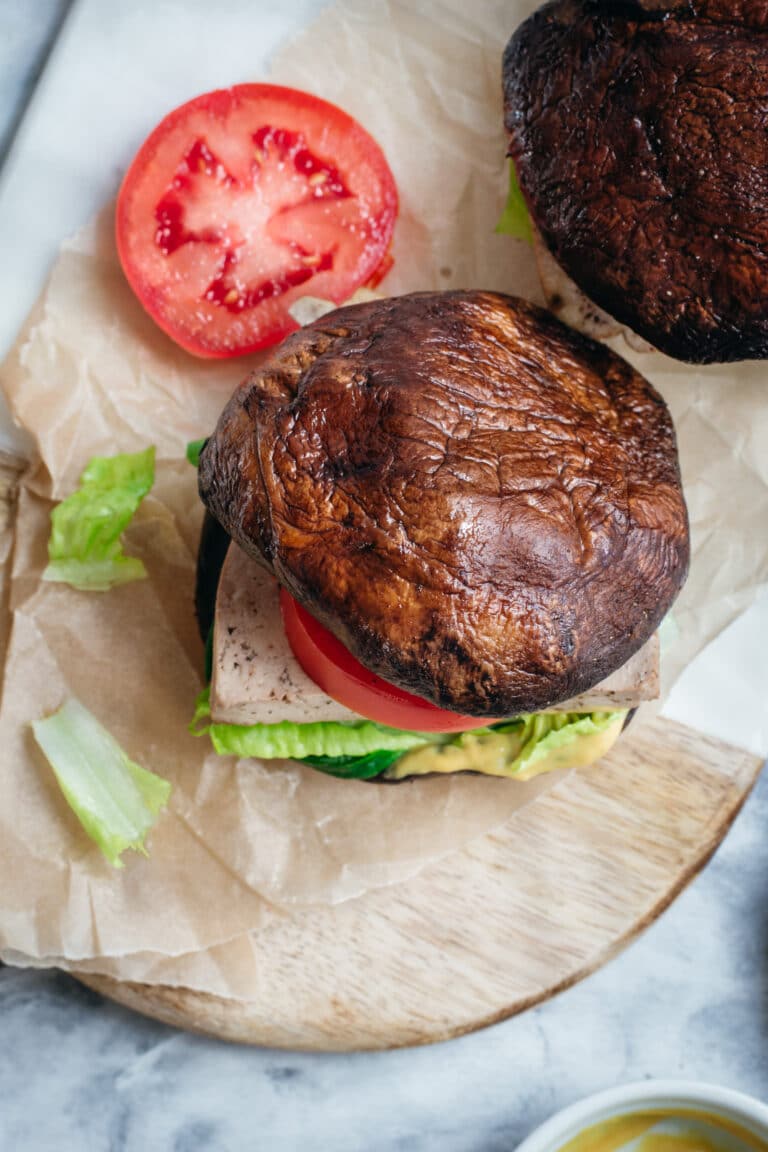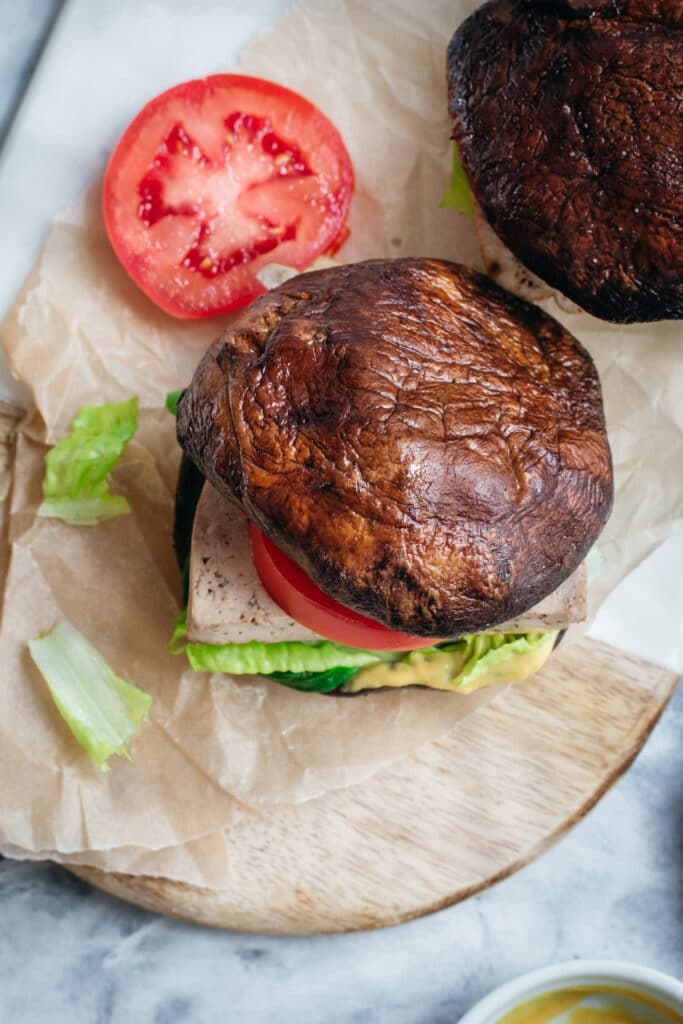 Tips and tricks about these vegan keto Portobello mushroom burgers
What can I use instead of Portobello mushrooms? If you can't find them, don't worry because you can still find a way to create something similar to this keto recipe. While taste and consistency are not exactly the same, you can use flat white mushrooms (increase the time for the marinade for some extra flavour). You could also use Chestnut mushrooms to make some mini sliders.
Can I skip the marinade? The marinade is an important step to make these Portobello burgers richer in flavour, so it's better doing it. What you can do to speed up the process a little is relying on a quick marinade. Simply mix the clean mushrooms with the ingredients for the marinade (use your hands) and cook them immediately. The result will be a bit less flavourful but still delicious.
How to ensure the mushrooms are not watery? Bake them for the last few minutes with the door of the oven slightly open. A simple trick but works every time!
Do you have any suggestions for different fillings? If you don't have to keep them vegan, you could try to use a dip with red peppers and feta instead of the mustard. You could also swap the tomato with some roasted peppers or caramelised onions.
Can I swap tofu for something else? You could use tempeh to keep the recipe vegan (but remember that the amount of carbs in tofu and tempeh are different) or grilled halloumi if you prefer to opt for cheese.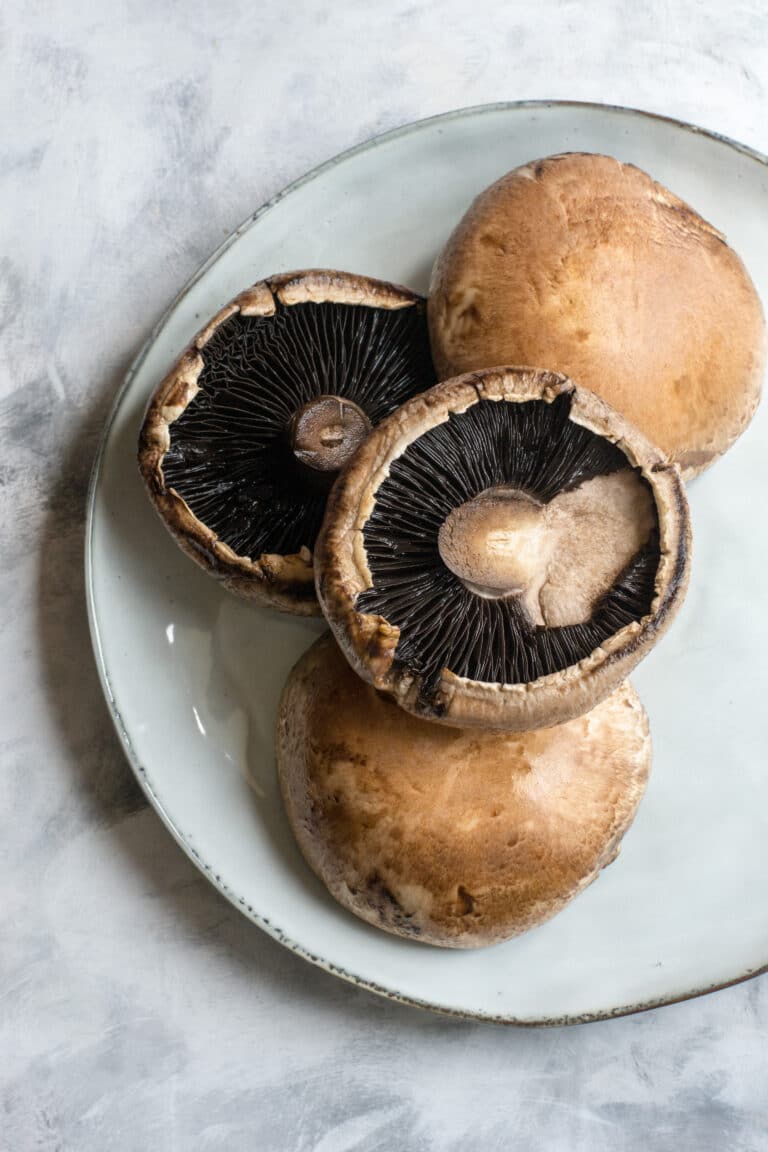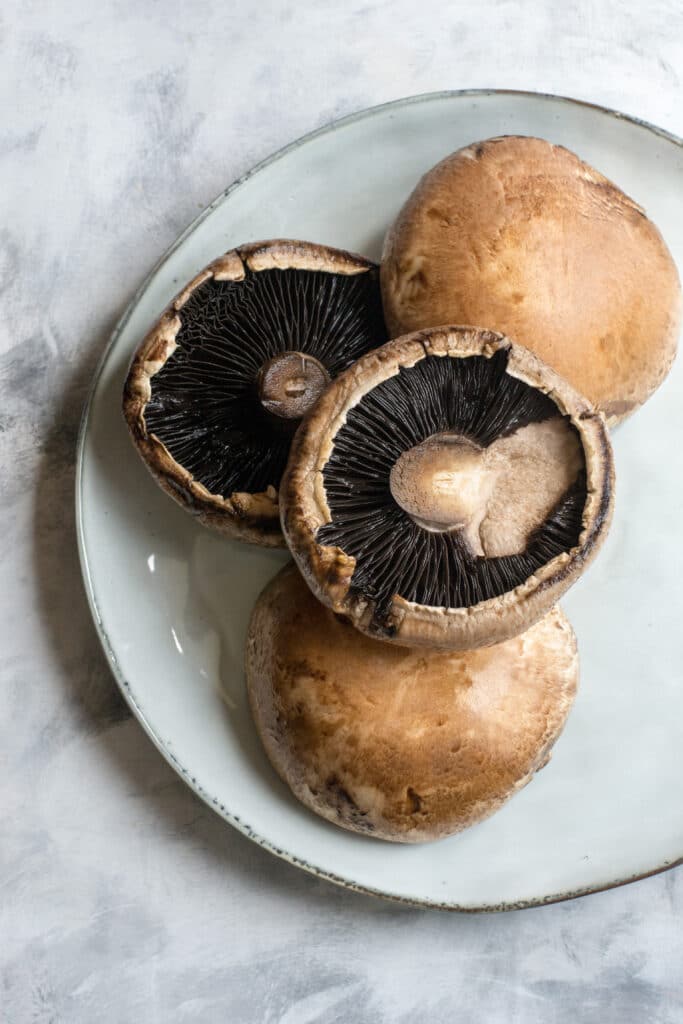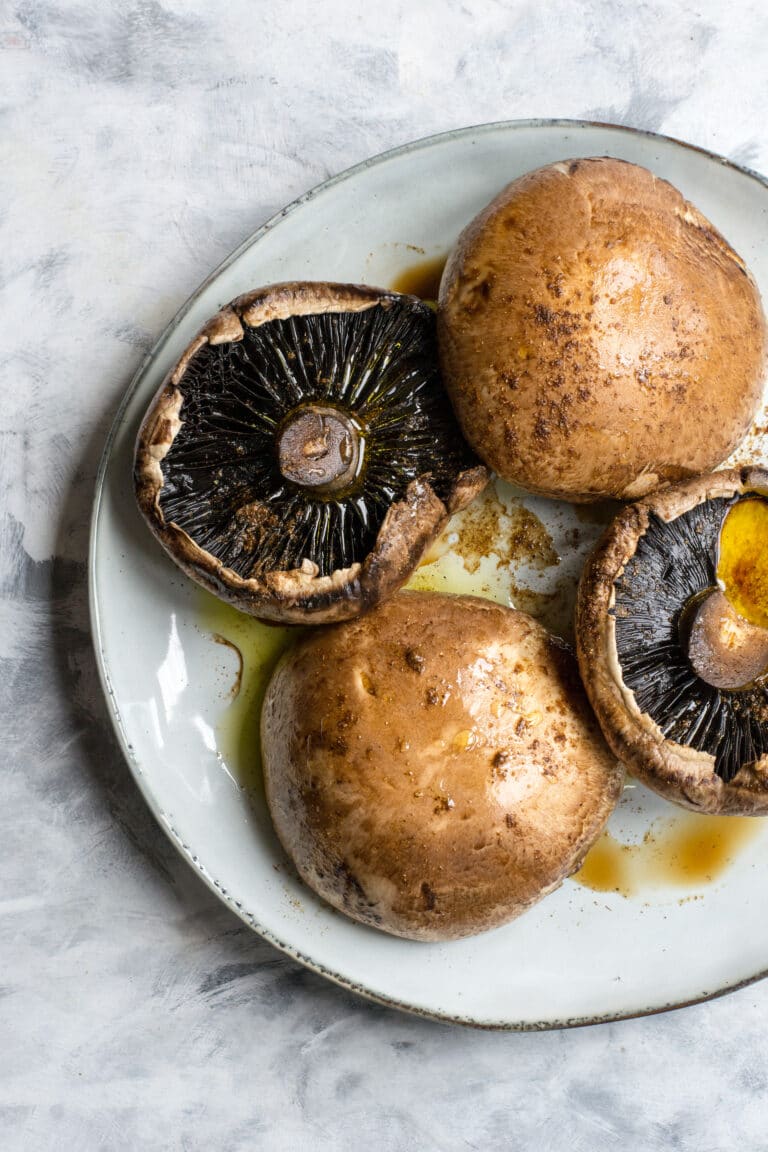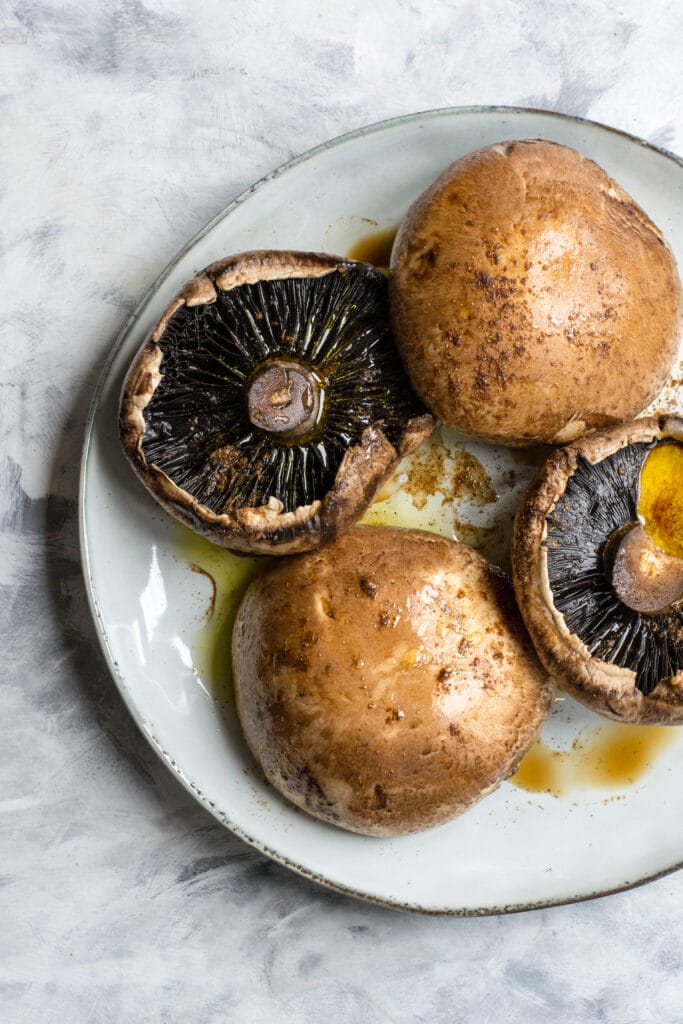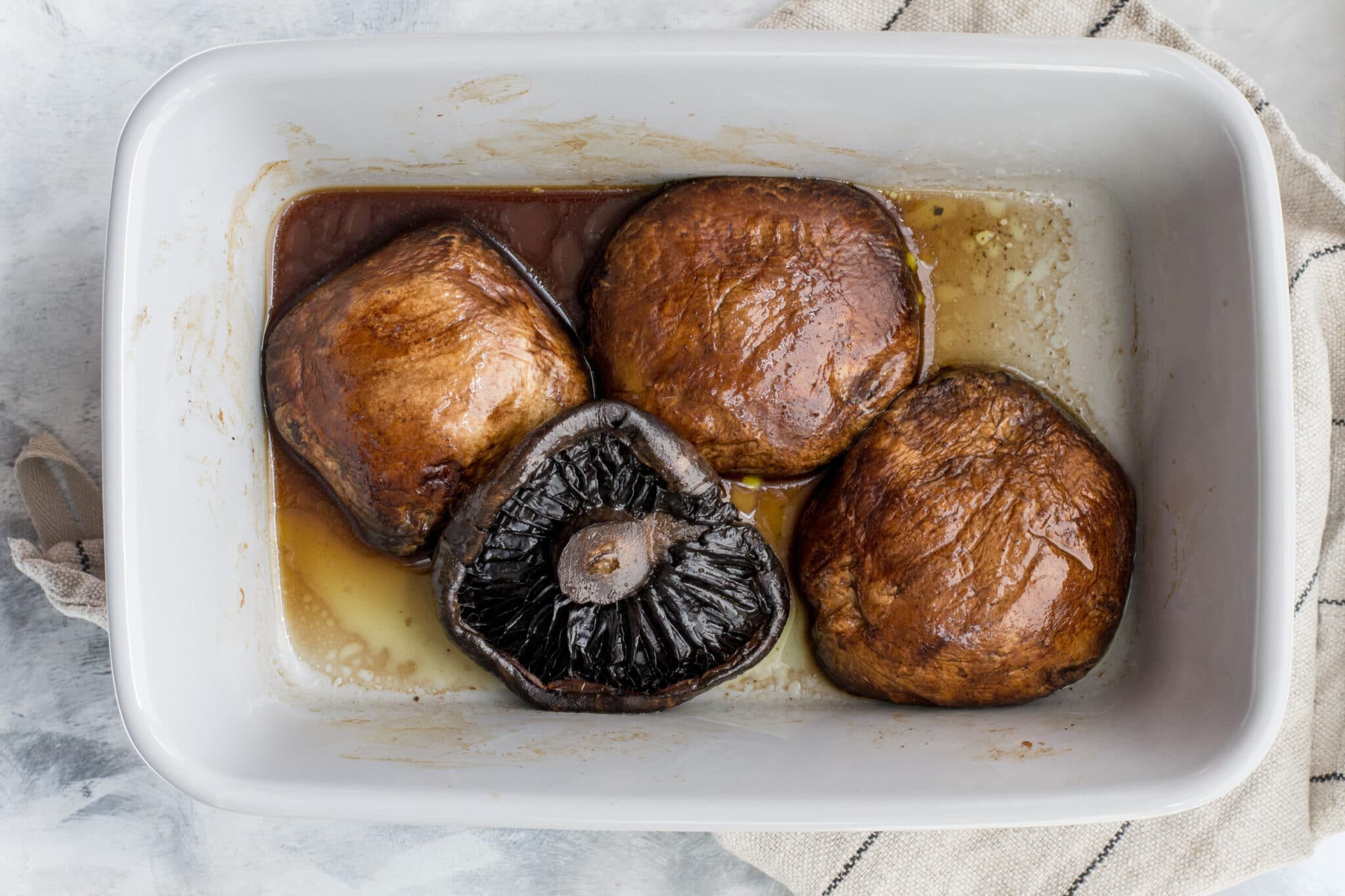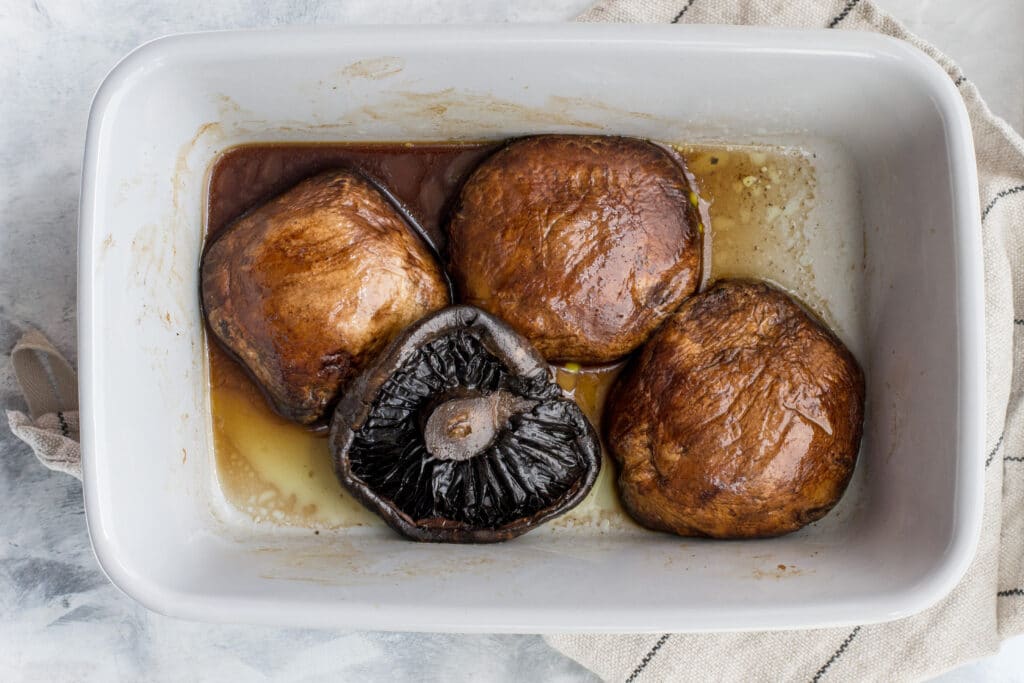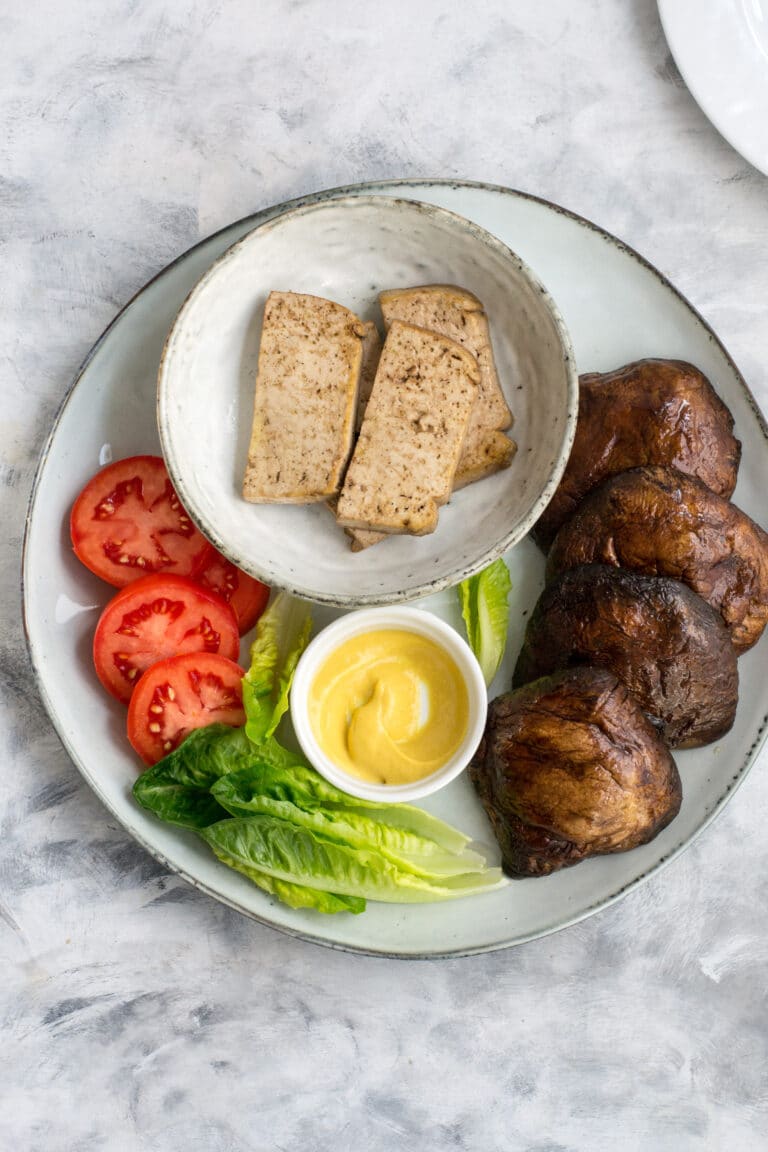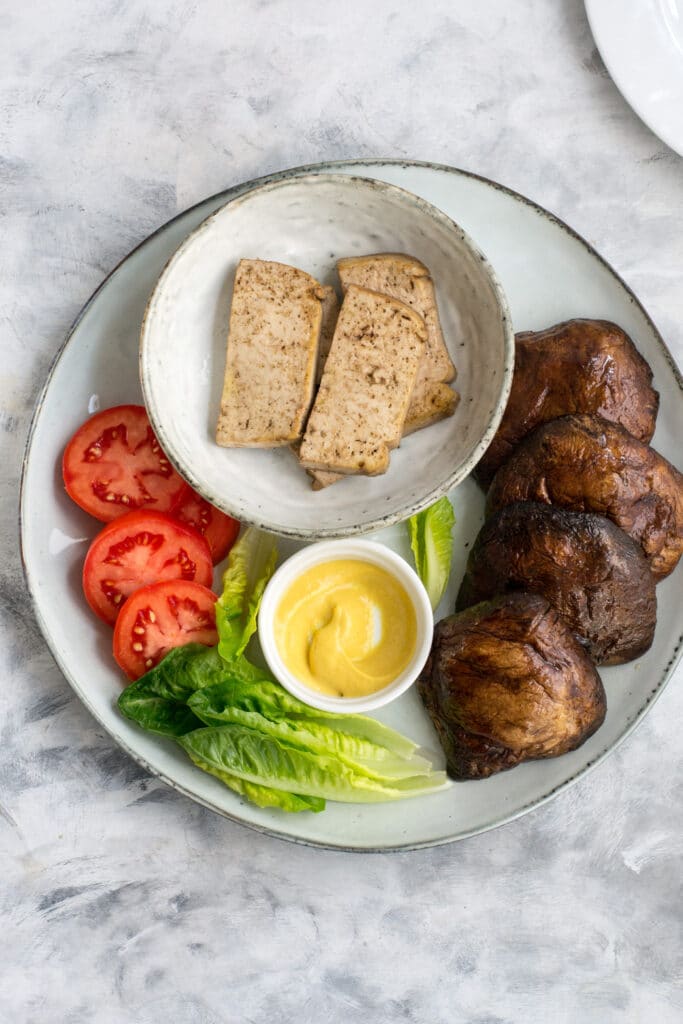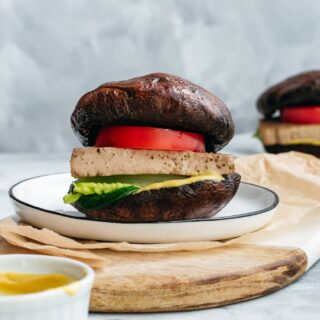 Vegan keto Portobello mushroom burger
Perfect for a family get together, a dinner with friends or a special treat after a long day: these vegan keto Portobello mushroom burgers are delicious and rich in nutrients.
Ingredients
4

Portobello mushrooms

120

g

plain tofu

½

medium-sized tomato

2

large salad leaves

3

tsp

sugar-free mustard

2 ½

tbsp

olive oil

2

tbsp

tamari

or soy sauce

a pinch of black pepper

a pinch of ground cumin

optional
Instructions
Mix the clean Portobello mushrooms with 1 tablespoon of tamari, 1 1/2 tablespoon of olive oil, a pinch of black pepper and ground cumin. Combine the ingredients together using your hands but be careful with the mushrooms because they tend to break easily. Now you can cook the mushrooms straight away or place them in the fridge for approx. 15 minutes.

Slice the tofu into 2-4 thick slices. Prepare the same marinade for the tofu using 1 tablespoon of olive oil instead of 2 1/2. You can cook it immediately or leave it to rest in the fridge for approx. 20 minutes.

Wash the other vegetables required for the recipe and cut them according to your preferences.

Bake the mushrooms for 10-15 minutes in a preheated oven at 180°C. Turn them a couple of times so they won't be too dry. Keep the door of the oven open for the last 5 minutes to ensure the cooked mushrooms are still soft but not watery.

You can bake the tofu with the mushrooms. Adjust the cooking time to your preferences: leave it in the oven for 8-10 minutes to keep the tofu soft or until golden for a crispy result.

Assemble the burgers when the mushrooms and the tofu will be just slightly warm and serve immediately. You can prepare the ingredients in advance but it's better to put together the burgers just before serving.
Notes
Due to the high content of salt in tamari (and soy sauce), there is no salt listed in this recipe.
Nutrition
Calories:
253
kcal
Carbohydrates:
10.5
g
Protein:
10.3
g
Fat:
20.5
g
Fiber:
3.4
g