Who doesn't love a creamy dip? Even better if it only requires 4 ingredients and a bunch of spices! This smooth red pepper keto dip with feta ticks all the boxes: it's simple, easy to make, keto-friendly and delicious.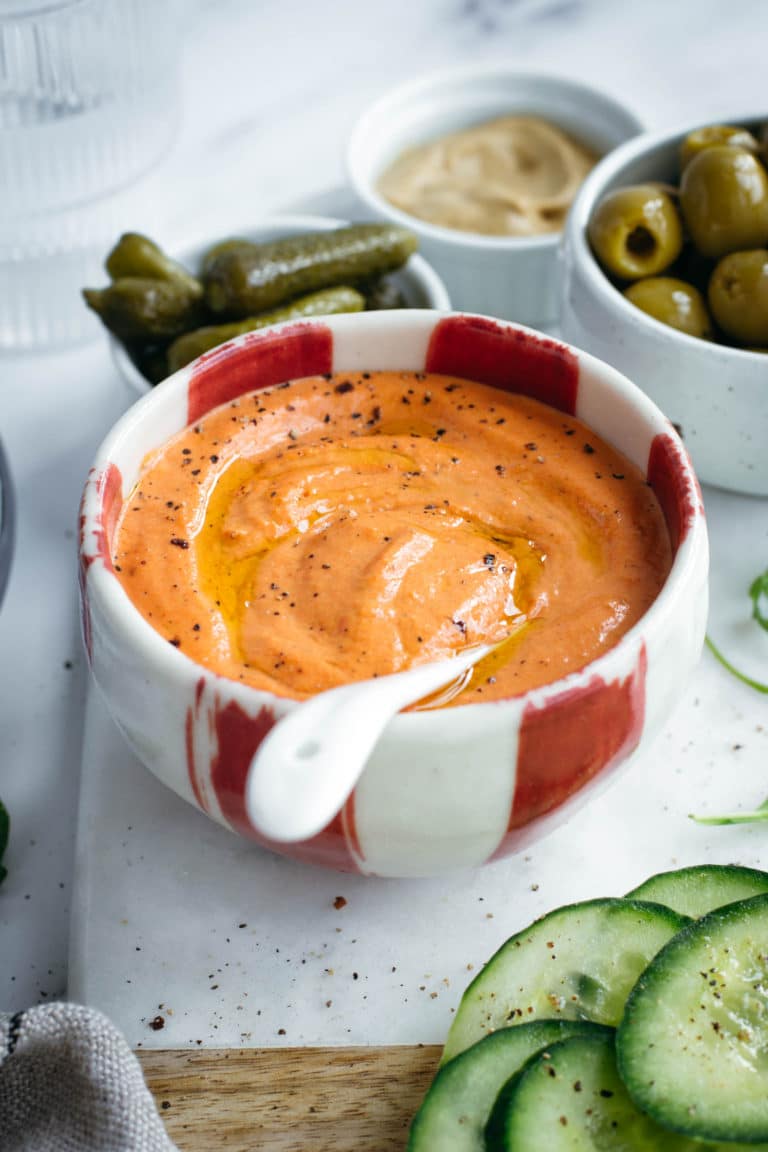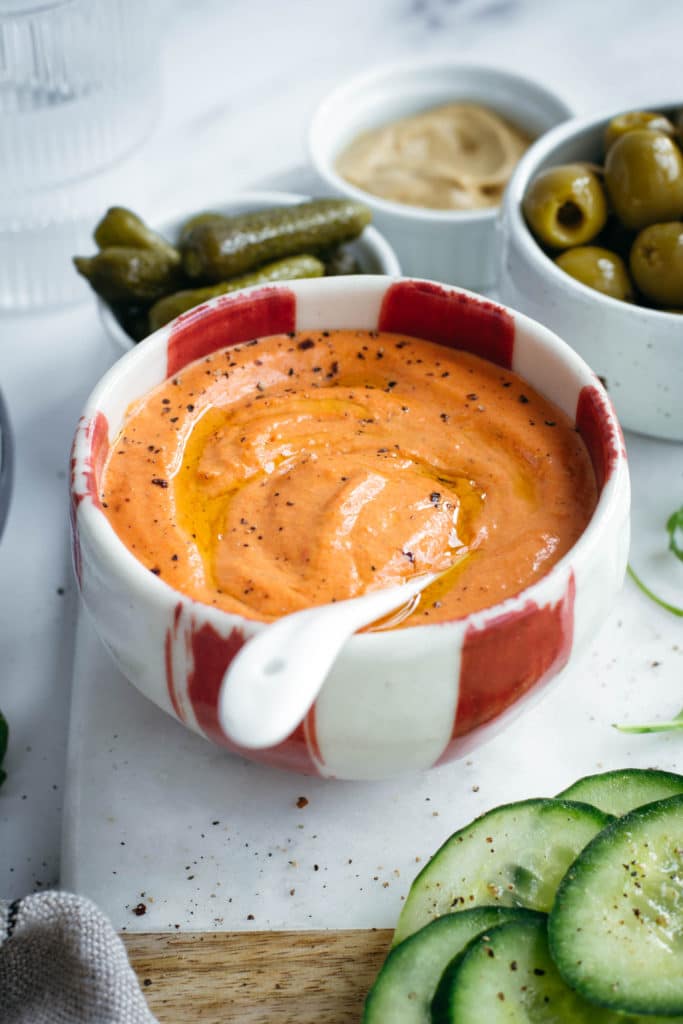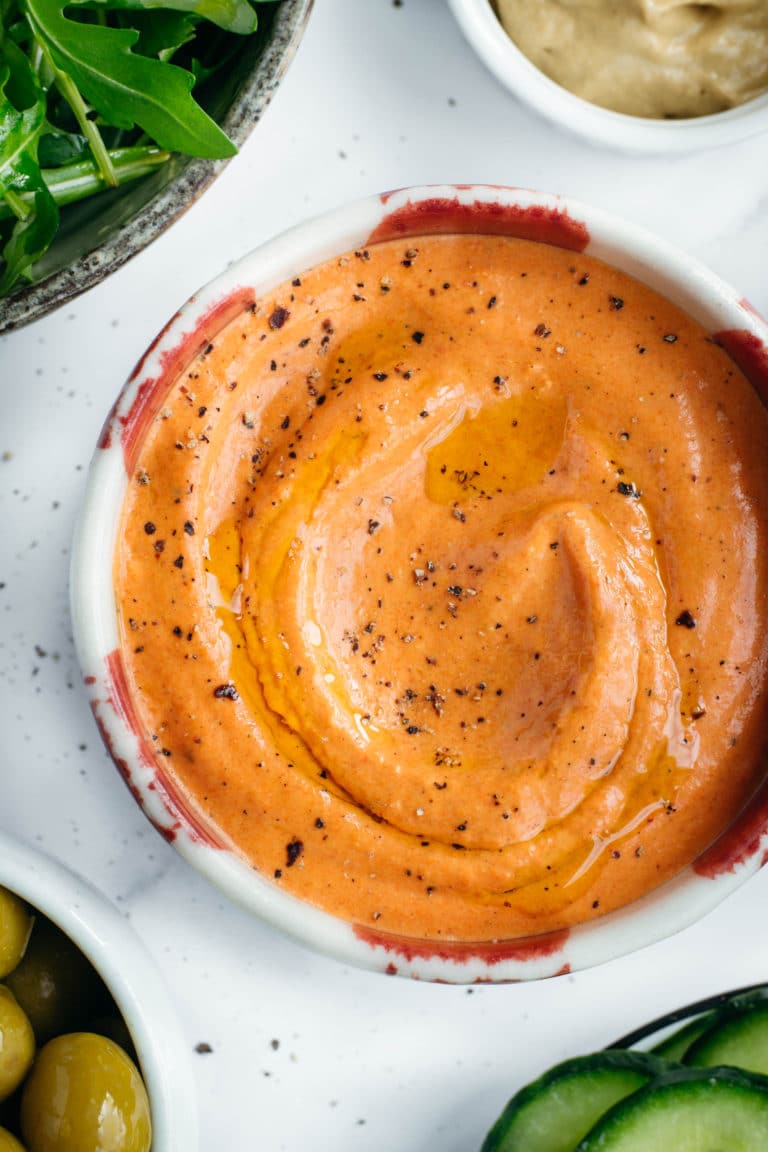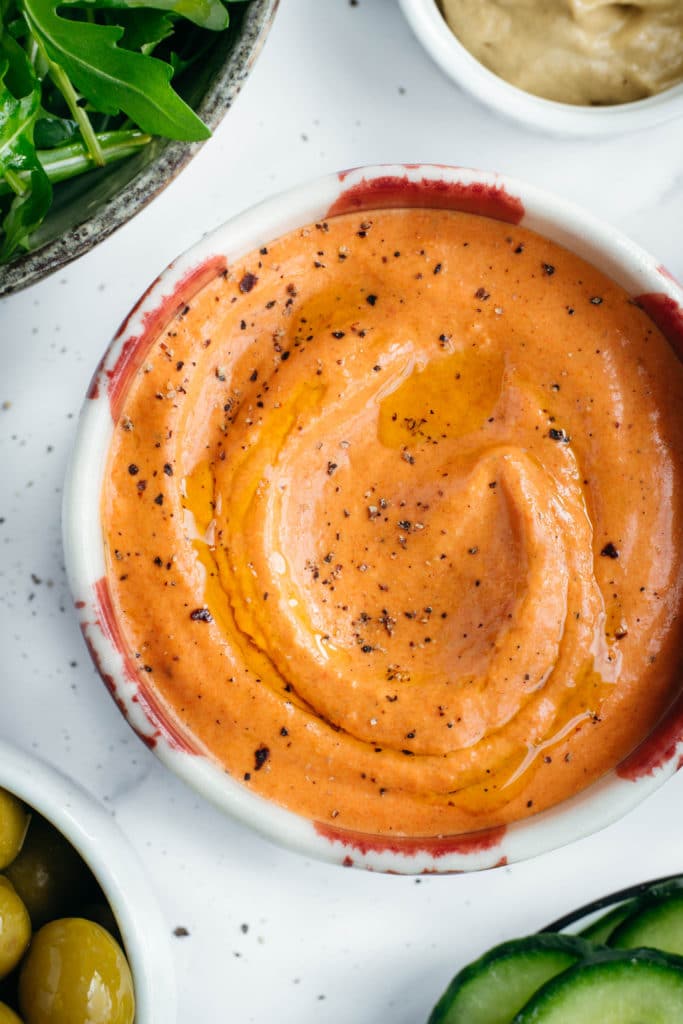 The complex flavour of roasted red peppers may remind you of a dip called "Muhammara" found in Turkish and Levantine cuisines or of a Greek spread called "Htipiti": this recipe has been inspired by both of them, getting the importance of spices from the first one and the deliciousness of the combination feta/red peppers from the second one. But, if you had the chance to try or prepare them, you'll notice that the taste of this red pepper dip is quite different and the ingredients' list is way more simple.
This keto-friendly dip would be perfect as a snack or appetizer: to keep the meal low-carb, pair it with fresh vegetables such as celery, cucumber, rocket or radishes. Add some olives, capers, mustard or pickles for the ultimate snack board! (add our keto smoked mackerel dip for a feast!)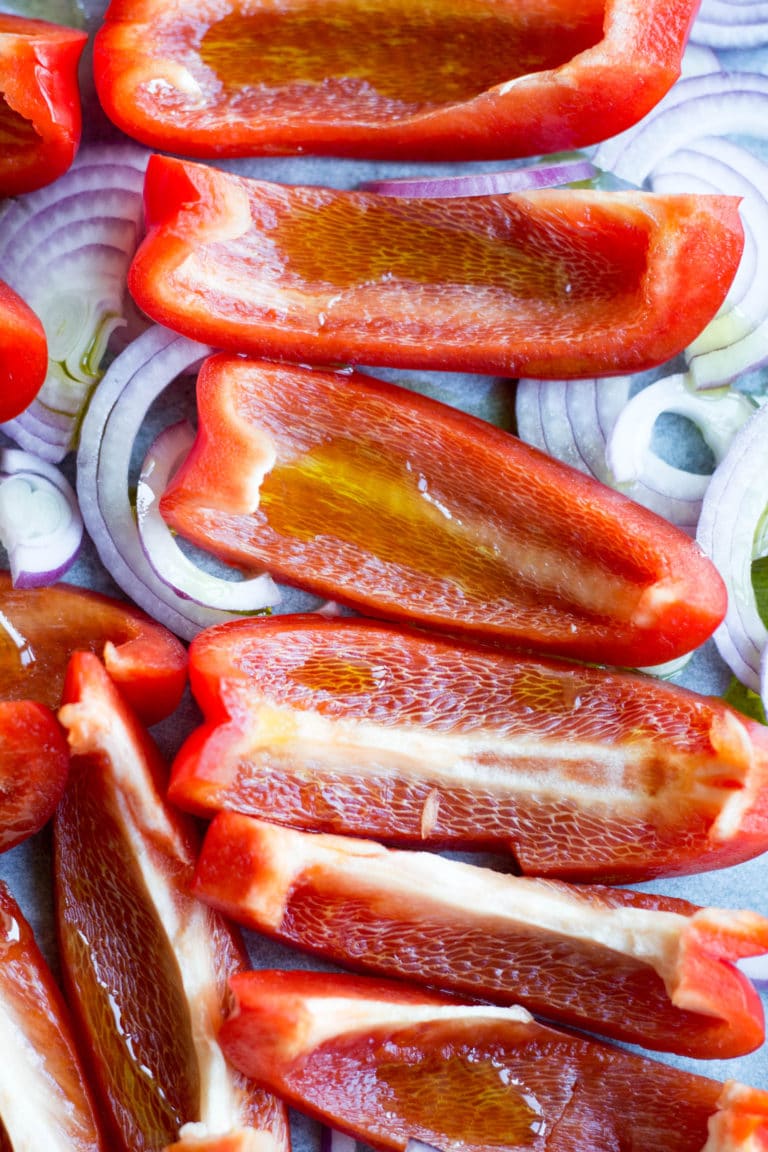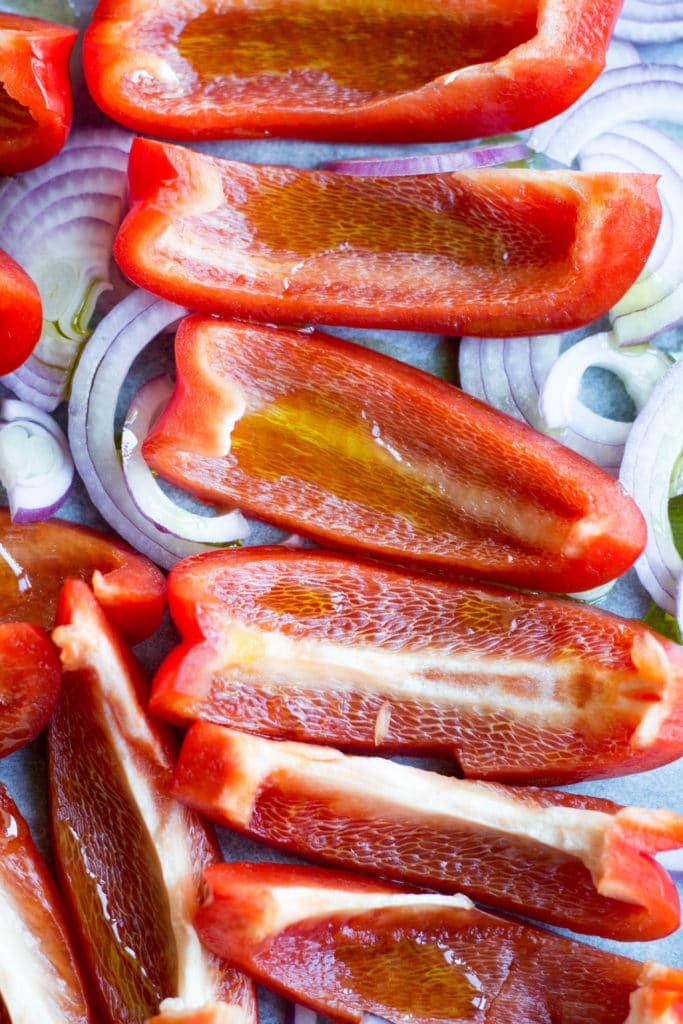 SOME QUESTIONS YOU MAY HAVE ABOUT THIS SMOOTH RED PEPPER DIP:
Can I adapt the spices according to my preferences? Absolutely. You can add more cayenne pepper to increase the spiciness or avoid it completely if you don't like it. For the other spices, you can add some extra black pepper instead of the smoked paprika. Honestly, the combination of roasted red peppers and feta makes this dip so rich in flavour that it's delicious even without spices!
I couldn't find any red peppers, can I use the yellow ones instead? Yes, the result would be completely different but it will be tasty anyway. Prepare the base with roasted pepper, feta and olive oil, then taste it and adapt the spices accordingly: you'll definitely need more help from these extra ingredients to balance the sweetness of this kind of peppers.
What if I don't have a blender? To get a smooth dip, it's definitely better to have a blender or a food processor but you could make a tasty dip even without them: all you have to do is following this recipe, chopping into small pieces the roasted vegetables and mix everything in a bowl with a fork; it may take a while but the result is worth it! Removing the skin from the cooked peppers may be helpful.
Are the red peppers hot? No, the ones used in this recipe are those called "bell peppers" with a rich and sweet taste. Cayenne pepper is the ingredient that adds a spicy note to this smooth dip but you can add as much (or less) of it as you want.
Why there is no salt in the ingredients' list? If you have ever tried this kind of cheese, you know that feta has a characteristic salty taste; it should be enough to get a flavourful dip but you still have the chance to try it before serving and adjust the taste.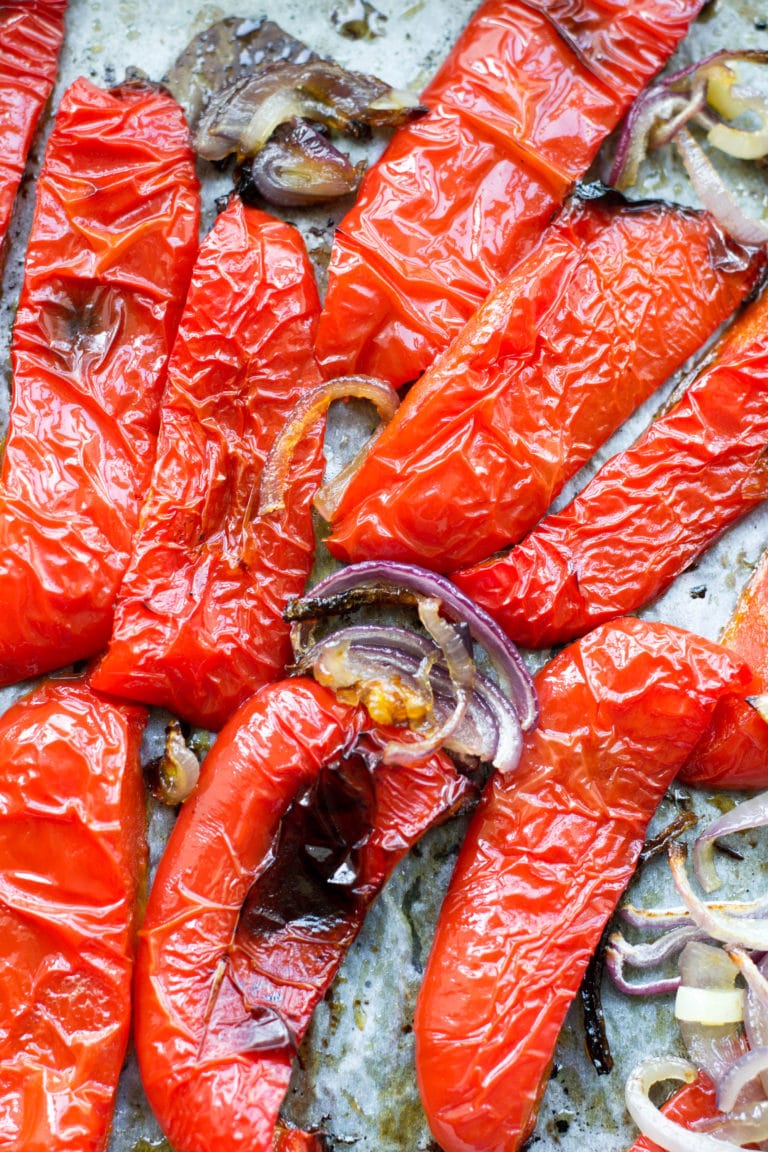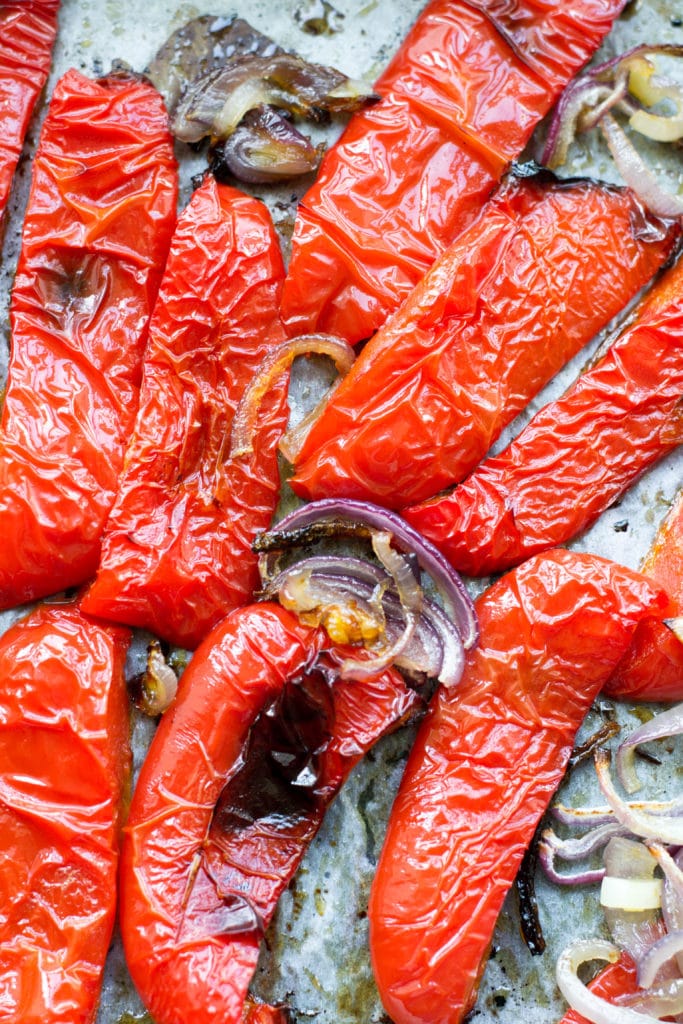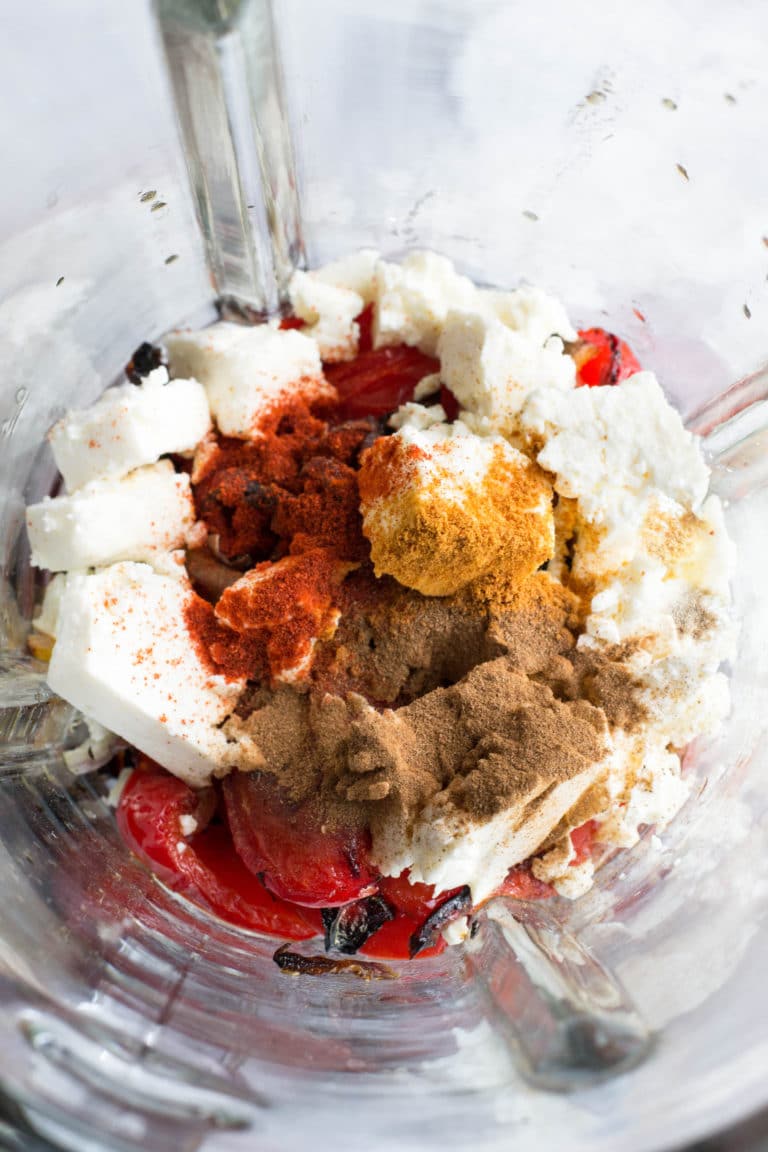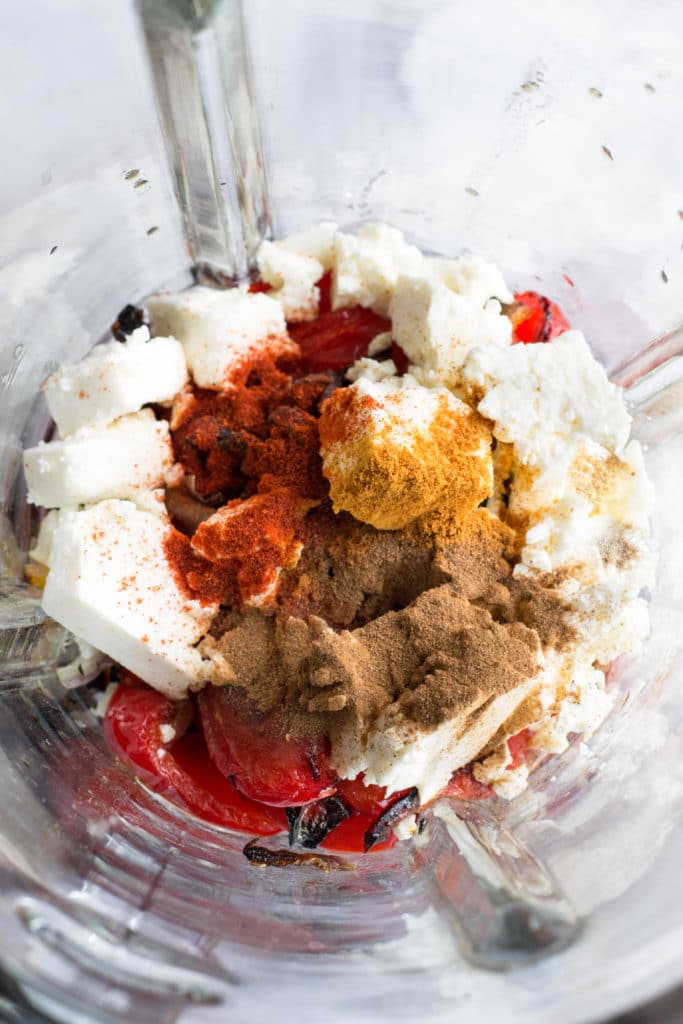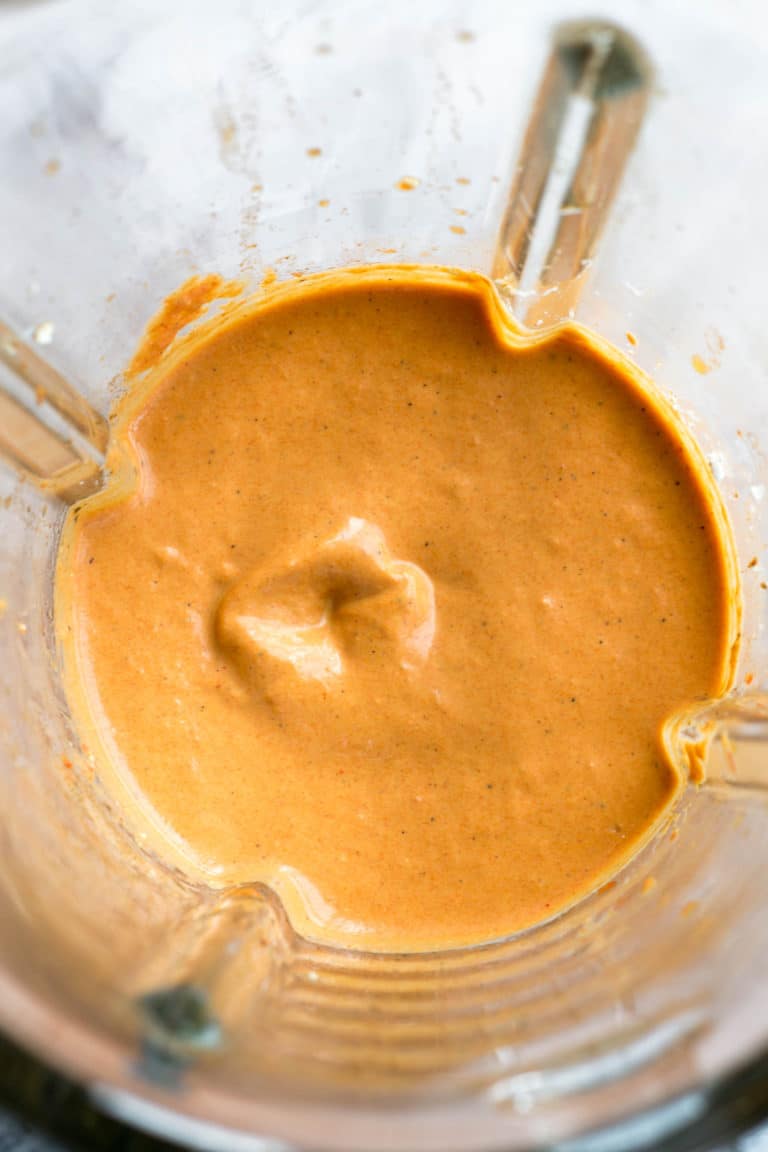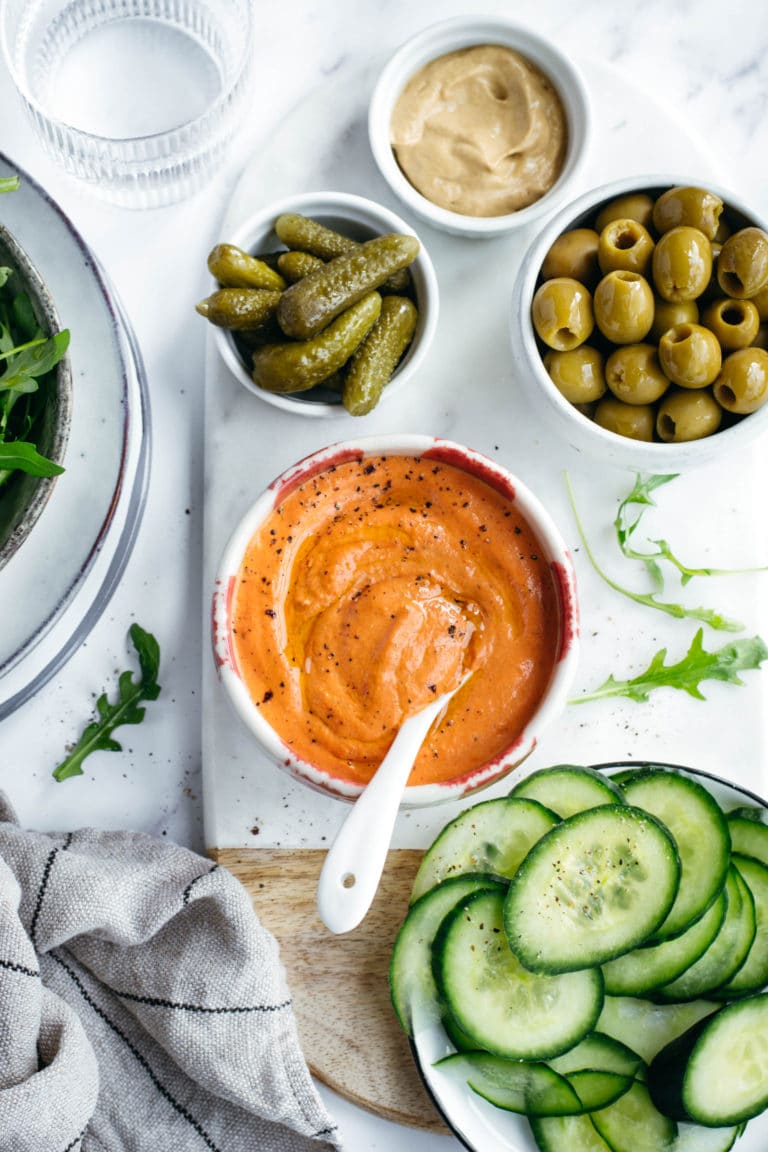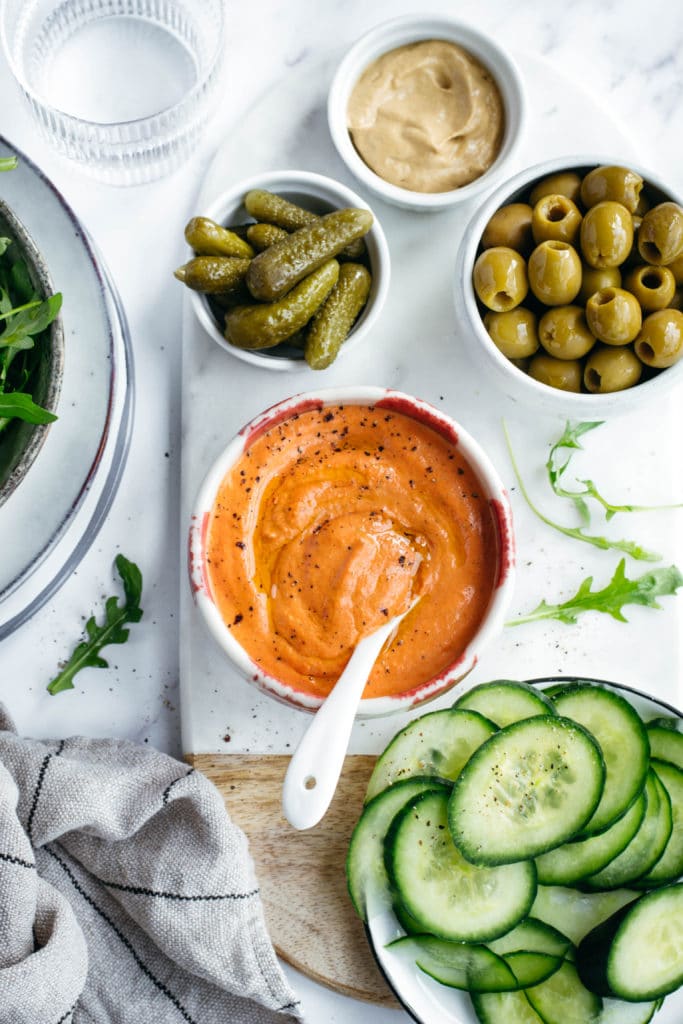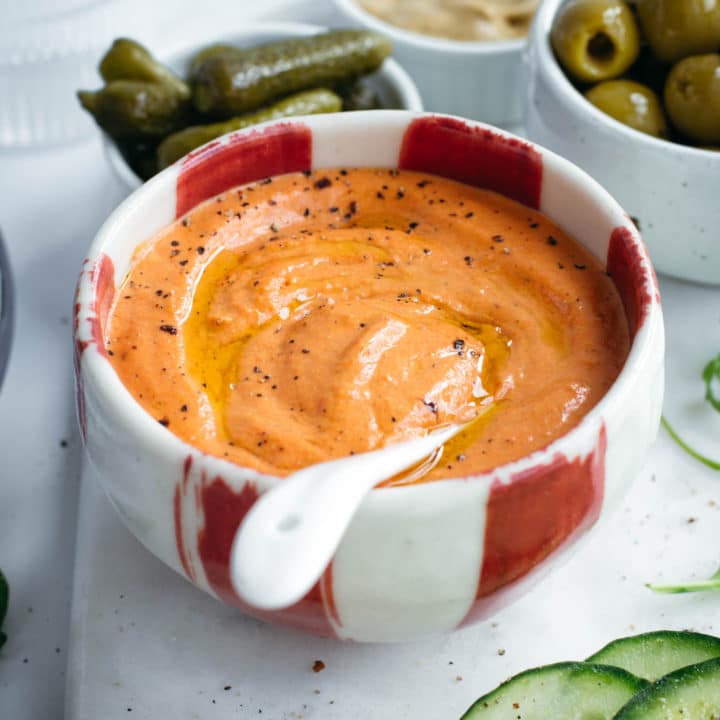 Smooth red pepper dip
This smooth red pepper dip with feta ticks all the boxes: it's simple, easy to make, keto-friendly and delicious.
Ingredients
2 medium-sized red bell peppers
70 g feta cheese
1 medium-sized red onion
2 tbsp extra virgin olive oil
1/3 tsp ground cayenne pepper
1/3 tsp smoked paprika
1/4 tsp ground cinnamon
Instructions
Cut each pepper into 6-8 pieces, place them on a baking tray, add a drizzle of olive oil (approx. 1 tbsp) and roast them in a preheated oven at 180°C for 20-30 minutes; it's better to check them after 20 minutes because they tend to burn quite easily. You can roast the finely sliced onion along with the peppers, just remember that the onion will be ready in less time compared to the other vegetables.
Remove the peppers and the onion from the oven and leave them to cool down before blending all the ingredients together.
Roughly chop the red peppers and the cheese; add them into a blender, then add the olive oil (2 tbsp) and all the remaining ingredients. If you prefer, you can add fewer spices at this stage and adjust the amount later. Blend until smooth.
Notes
Serving suggestion: add a pinch of black pepper and a small drizzle of olive oil on top.
You can store this dip in the fridge for up to 3 days in a closed container.
Nutrition Information
Yield

3
Amount Per Serving
Calories

222
Total Fat

18.8g
Carbohydrates

9.6g
Net Carbohydrates

7g
Fiber

2.6g
Sugar

5.9g
Protein

4.6g