Keto Tex-Mex Stuffed Avocados: A Flavor Fiesta on Your Plate
Embark on a culinary adventure with Keto Tex-Mex Stuffed Avocados, a dish that promises to deliver the zest and zeal of Tex-Mex cuisine while adhering to the keto lifestyle. This delectable recipe is not only a feast for the eyes but also a powerhouse of nutrients, making it an ideal choice for anyone looking to indulge in a low-carb, high-fat meal that doesn't skimp on flavor.
Packed with creamy avocados and a spicy beef mixture, this dish is a perfect harmony of taste and health. So, let's dive into the world of keto-friendly Tex-Mex and discover why this recipe is a must-try on your meal plan.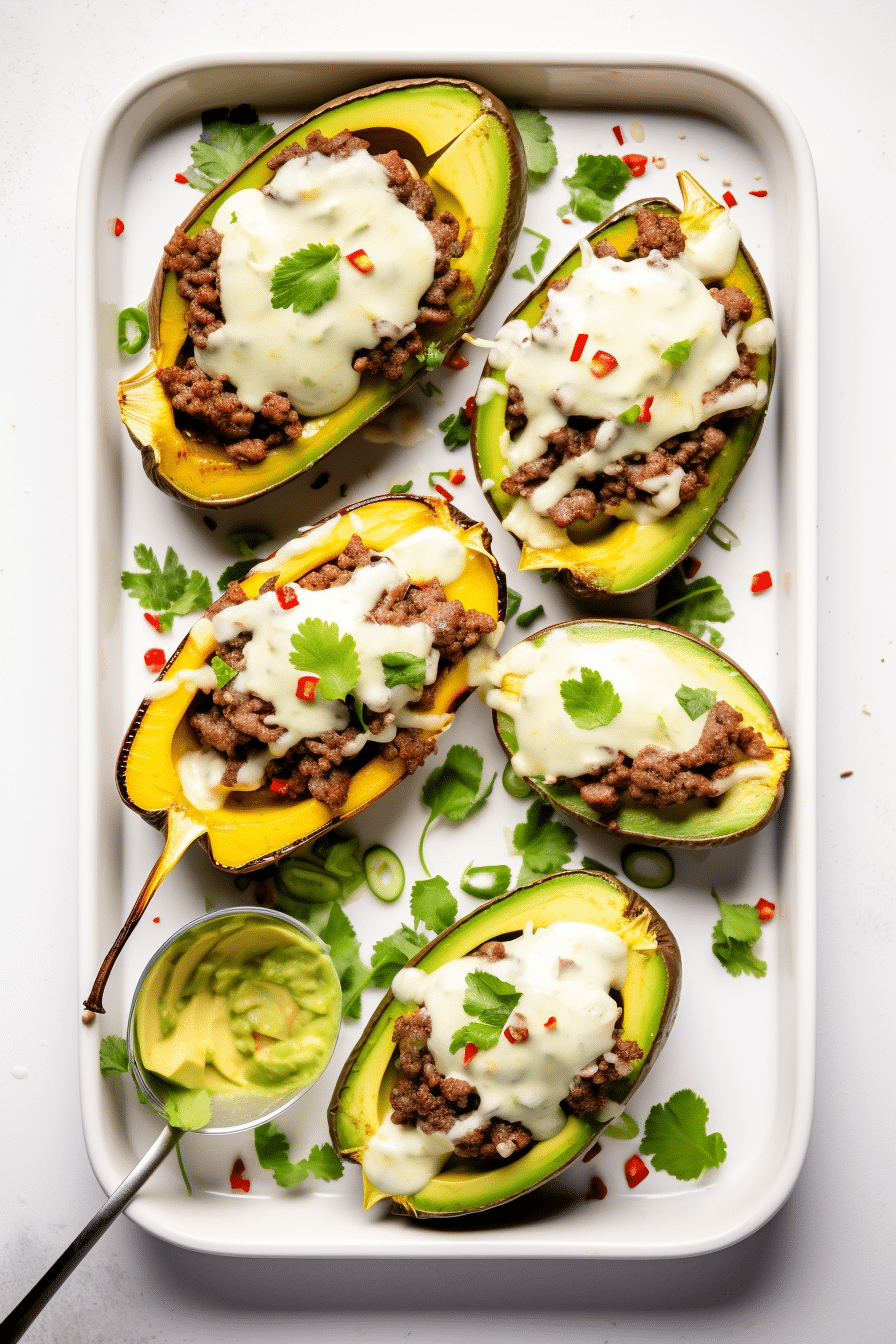 The Origin and Keto Benefits of Tex-Mex Stuffed Avocados
The inspiration behind Keto Tex-Mex Stuffed Avocados comes from the vibrant street food scene of Texas, where Mexican culinary traditions blend seamlessly with Southern hospitality. This recipe captures the essence of both cultures, offering a low-carb twist to a classic favorite. Avocados, the star of this dish, are a keto superfood, loaded with healthy fats that help maintain ketosis, while the protein-rich beef filling keeps you satiated.
Avocados are not only rich in monounsaturated fats but also full of fiber, vitamins, and minerals, which are essential for a balanced keto diet. The addition of high-quality ground beef provides a substantial amount of protein and fat, crucial for muscle maintenance and overall wellbeing. The Tex-Mex spices ignite your metabolism, offering both flavor and a boost to your digestive system. This dish is a testament to the versatility of keto cooking, proving that you can enjoy the robust flavors of Tex-Mex cuisine without compromising your dietary goals.
Mastering the Art of Stuffed Avocados
Creating the perfect Keto Tex-Mex Stuffed Avocado is an art form that combines simple preparation with a few chef's tricks to elevate the dish. Begin by gently sautéing onions and bell peppers until they reach a soft, caramelized state, which will infuse your beef with a sweet and savory depth. As you brown the ground beef, ensure that it's fully cooked to a safe internal temperature, which also maximizes flavor and texture.
When seasoning with taco mix, do so generously to ensure each bite is packed with the bold Tex-Mex profile. For those who enjoy a creamy texture, consider folding in some of the reserved avocado into the beef mixture. This not only reduces waste but also enhances the dish's richness. Broiling the cheese-topped avocados requires vigilance; keep an eye on them to achieve a perfectly melted topping without burning. These steps are simple, yet they make all the difference in crafting a dish that's both visually appealing and delectably satisfying.
Variations to Spice Up Your Stuffed Avocados
Chicken Fiesta
For a poultry twist, replace the ground beef with diced chicken breast. Cook the chicken thoroughly before adding your Tex-Mex seasoning. This variation provides a leaner protein option while still keeping the dish keto-friendly.
Seafood Sensation
Seafood lovers can substitute beef with shrimp or crab meat. Sauté your chosen seafood with the same aromatic veggies and seasonings, and stuff the avocados for a taste of coastal Tex-Mex cuisine.
Veggie Delight
Vegetarians on keto can enjoy a mixture of sautéed mushrooms, zucchini, and spinach as a hearty filling. Add a sprinkle of cumin and chili powder to keep those Tex-Mex flavors alive.
Ingredient Substitutions for Every Keto Kitchen
Not everyone has the same pantry items, but that shouldn't stop you from enjoying Keto Tex-Mex Stuffed Avocados. If you don't have sour cream on hand, a dollop of Greek yogurt can provide a similar tang and creaminess. No cheddar cheese? Try Monterey Jack or Pepper Jack for a similar melt and a hint of spice. And for those who prefer a different oil, avocado oil is a fantastic keto-friendly substitute for olive oil, providing a higher smoke point and a neutral taste.
Frequently Asked Questions
| | |
| --- | --- |
| Can I make this recipe dairy-free? | Yes, simply omit the cheese and sour cream, or use dairy-free alternatives. |
| Is this recipe suitable for meal prep? | Yes, you can prepare the beef mixture ahead of time and reheat when ready to serve. |
| How can I store leftovers? | Store the beef mixture separately from the avocado to maintain freshness. |
| Can I use a different type of meat? | Absolutely, any ground meat or meat substitute works well with this recipe. |
| What can I do with the leftover avocado flesh? | Use it to make guacamole, or add it to salads and smoothies for extra creaminess. |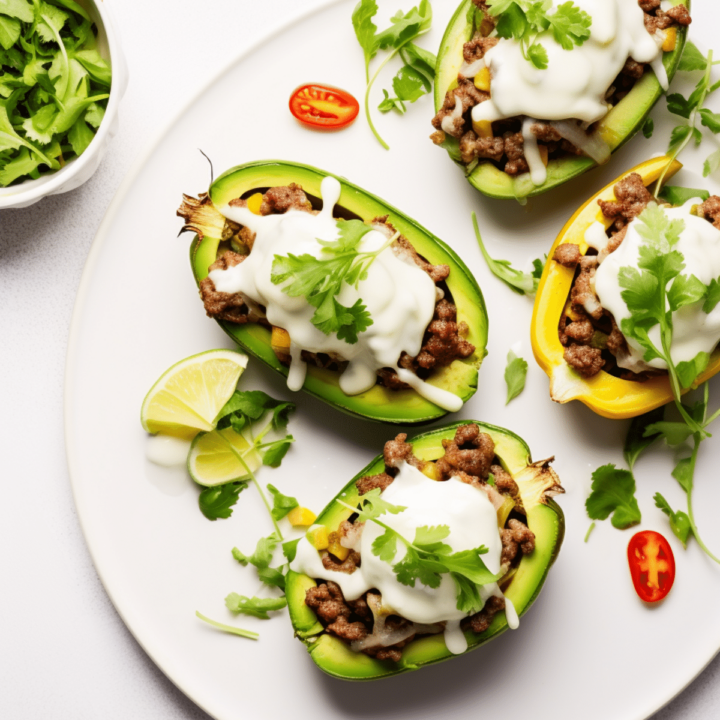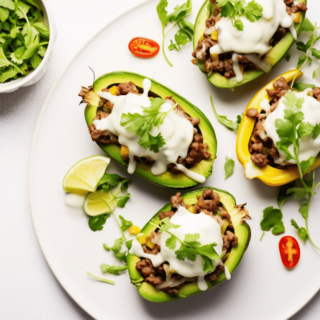 Keto Tex-Mex Stuffed Avocado
A tantalizing blend of creamy avocado stuffed with a savory, spicy mix of Tex-Mex flavors, these Keto Tex-Mex Stuffed Avocados are a perfect low-carb meal that's both satisfying and bursting with nutrients.
Ingredients
- 4 medium avocados

about 200g each

- 1/2 lb

225g ground beef

- 1/4 cup

60g diced red bell pepper

- 1/4 cup

60g diced onion

- 1/2 cup

120g shredded cheddar cheese

- 1/4 cup

60ml sour cream

- 2 tablespoons

30g taco seasoning

- 1 tablespoon

15ml olive oil

- Salt and pepper to taste

- Fresh cilantro for garnish

optional

- Lime wedges for serving

optional
Instructions
Preheat a skillet over medium heat and add the olive oil.

Sauté the diced onions and red bell peppers in the skillet until they're soft and translucent, about 3-5 minutes.

Add the ground beef to the skillet, breaking it apart with a spatula. Cook until the beef is browned and no longer pink, about 5 minutes.

Sprinkle the taco seasoning over the beef mixture, stir well to combine, and cook for another 2 minutes. Remove from heat and set aside.

While the beef is cooking, slice the avocados in half and remove the pits. Scoop out a bit of the avocado flesh to create a larger cavity for the filling, and set the scooped-out flesh aside for another use or mash it and mix into the beef filling for extra creaminess.

Season the avocado halves with salt and pepper.

Spoon the beef mixture into the carved avocado halves, distributing it evenly among them.

Top each stuffed avocado with shredded cheddar cheese.

Place the stuffed avocados under a broiler for 2-3 minutes or until the cheese is melted and bubbly. Watch closely to prevent burning.

Serve the stuffed avocados warm, garnished with fresh cilantro and a squeeze of lime juice if desired.
Notes
- For a vegetarian option, substitute ground beef with crumbled tofu or a plant-based meat alternative, adjusting cooking times as needed.
- Adjust the level of spice by adding more or less taco seasoning to suit your taste.
- The nutritional information is based on one serving, which is a half of a stuffed avocado.
- The remaining avocado flesh can be used to make a quick guacamole or saved for another dish.
Nutrition
Calories:
450
kcal
Carbohydrates:
14
g
Protein:
22
g
Fat:
35
g
Fiber:
10
g