Welcome to a culinary journey where indulgence meets health—the Keto Pecan-Crusted Rack of Lamb. If you're on the hunt for a decadent keto-friendly dinner option, you've just struck gold.
This recipe is a testament to the versatility of keto cuisine, offering a symphony of textures and flavors while keeping carbs to a minimum. Let's dive into how this dish can elevate your dining experience without compromising your dietary goals.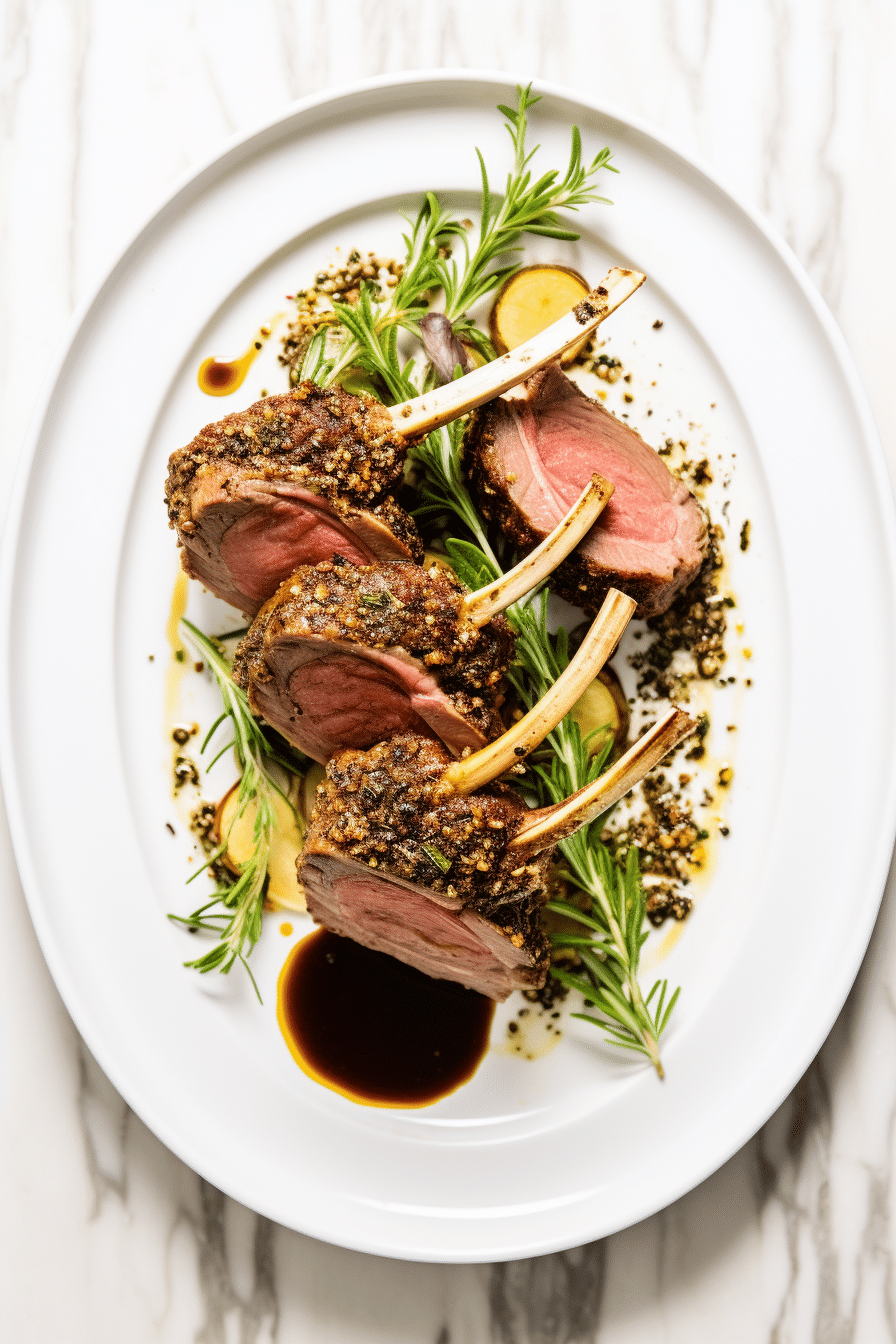 Recipe Details
The Keto Pecan-Crusted Rack of Lamb is a dish that speaks volumes about the richness that keto-friendly meals can offer. I stumbled upon this gem while experimenting with ways to incorporate more healthy fats into my diet without sacrificing flavor or texture. The result? A main course that's as nourishing as it is satisfying.
The keto diet focuses on low-carb, high-fat foods that help your body enter a state of ketosis, where it burns fat for fuel instead of carbohydrates. This recipe is a prime example of how you can enjoy sumptuous meals while adhering to this dietary principle. The pecan crust provides a delightful crunch and nutty flavor, while the lamb offers a tender, juicy bite that's rich in protein and essential fatty acids.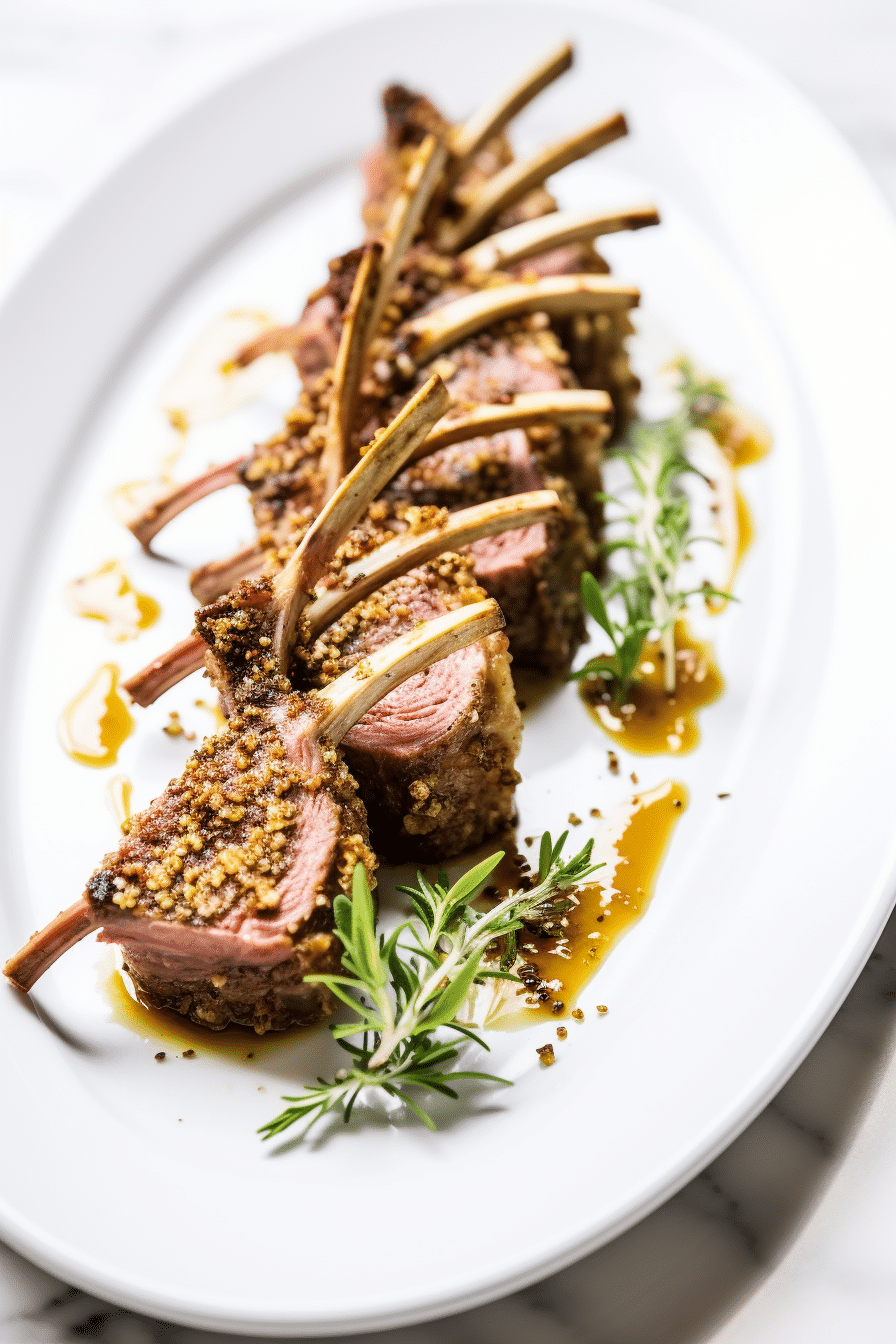 The Method
Mastering the Keto Pecan-Crusted Rack of Lamb is all about precision and attention to detail. Here's a step-by-step guide to ensure your lamb is cooked to perfection, encased in a beautifully golden pecan crust.
Start by preheating your oven to the ideal temperature of 400°F (200°C). This ensures a hot environment for the lamb to cook evenly and develop a crisp exterior. When seasoning the meat, don't be shy with the salt and pepper—it's essential to building layers of flavor. As you mix the pecan crust ingredients, aim for a consistent, fine chop to guarantee an even coating that adheres to the mustard.
Variations
Herb-Infused Crust
For an aromatic twist, incorporate a blend of dried thyme and oregano into your pecan crust. The herbs will infuse the lamb with a Mediterranean flair while keeping the dish keto-friendly.
Spicy Kick
If you're a fan of heat, consider adding a dash of cayenne pepper to the pecan mixture. This will give your crust a subtle, fiery punch that complements the rich taste of the lamb.
Cheesy Delight
For cheese lovers, mix in some grated Parmesan with the pecans. The cheese will melt slightly during cooking, adding a savory depth to the crust that's irresistible.
Substitutions
Understanding that dietary needs and pantry stocks vary, here are some substitutions you can make to suit your preferences without straying from the keto path.
For the pecans, walnuts or almonds make a suitable substitute, offering a similar texture and healthy fats. If rosemary isn't your herb of choice, try sage or marjoram for a different yet complementary flavor profile. And for those who don't consume mustard, an egg wash can serve as an effective binder for the crust.
FAQ Section
Let's address some common questions to help you navigate through the recipe with ease and confidence.
Can I use a different cut of lamb?
While this recipe is designed for a rack of lamb, you can use lamb chops or a leg of lamb. Adjust cooking times accordingly.
How do I know when the lamb is done?
The best way to ensure your lamb is cooked to your liking is to use a meat thermometer. For medium-rare, aim for an internal temperature of 145°F (63°C).
Can I prepare this dish ahead of time?
Yes, you can season and coat the lamb in the pecan mixture up to a day in advance. Keep it refrigerated until you're ready to cook.
Is this dish suitable for meal prep?
Absolutely! Cooked lamb can be stored in the fridge and enjoyed within 3 days for best quality.
Can I make this dish nut-free?
For a nut-free version, try using a mix of seeds like pumpkin or sunflower seeds for the crust.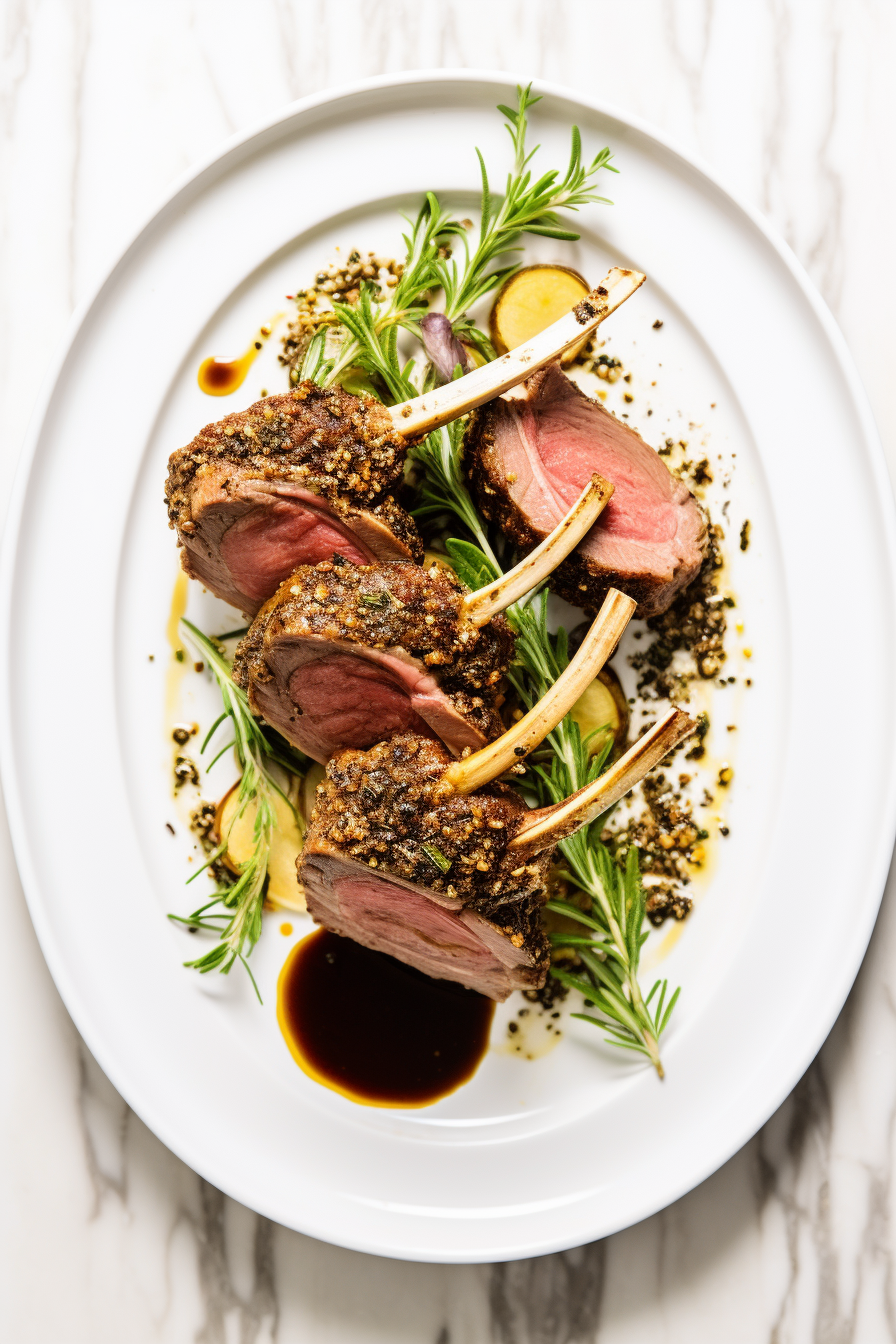 Keto Pecan-Crusted Rack of Lamb
Succulent rack of lamb, encased in a crunchy pecan crust, perfectly embodies the keto ethos of low carb indulgence. This dish is not only visually striking but also packed with rich flavors that are sure to impress at any dinner table.
Ingredients
Rack of lamb

8 ribs - 1.5 to 2 pounds (680 to 907 grams)

Raw pecans

finely chopped - 1 cup (4.2 ounces / 120 grams)

Fresh rosemary

minced - 2 tablespoons (0.35 ounces / 10 grams)

Fresh garlic

minced - 2 cloves

Dijon mustard - 2 tablespoons

1.05 ounces / 30 grams

Olive oil - 2 tablespoons

1.05 ounces / 30 grams

Salt - 1 teaspoon

0.2 ounces / 5.69 grams

Ground black pepper - 1/2 teaspoon

0.1 ounces / 2.84 grams
Instructions
Preheat the oven to 400°F (200°C). Position a rack in the middle of the oven.

Pat the rack of lamb dry with paper towels and season generously with salt and pepper.

In a bowl, mix together the chopped pecans, minced rosemary, and minced garlic to create the crust mixture. Set aside.

Heat olive oil in a large ovenproof skillet over medium-high heat. Sear the rack of lamb for 2 minutes on each side until browned.

Remove the skillet from heat. Brush the rack of lamb with Dijon mustard, then press the pecan mixture onto the mustard coating, covering all sides except for the bones.

Transfer the skillet to the preheated oven and roast the lamb for 20-25 minutes, or until the internal temperature reads 145°F (63°C) for medium-rare.

Let the lamb rest for 5-10 minutes before slicing between the ribs and serving.
Notes
For a more pronounced flavor, allow the lamb to marinate with the mustard and pecan crust for up to an hour before cooking. Ensure your pecans are finely chopped to adhere to the mustard coating and create a uniform crust. Leftovers can be stored in an airtight container and consumed within 3 days for optimal freshness.
Nutrition
Calories:
760
kcal
Carbohydrates:
6
g
Protein:
38
g
Fat:
68
g
Fiber:
2
g