Keto Huevos Rancheros with Cauliflower Tortillas
Embark on a culinary adventure right in your kitchen with Keto Huevos Rancheros with Cauliflower Tortillas. This dish is a low-carb spin on a beloved Mexican breakfast, offering a symphony of flavors and textures while adhering to the principles of a ketogenic diet.
With a focus on high fat and protein with minimal carbs, this recipe is designed to kickstart your day without a carb crash. It's a perfect combination of nourishing ingredients and bold flavors that will keep you satiated and energized.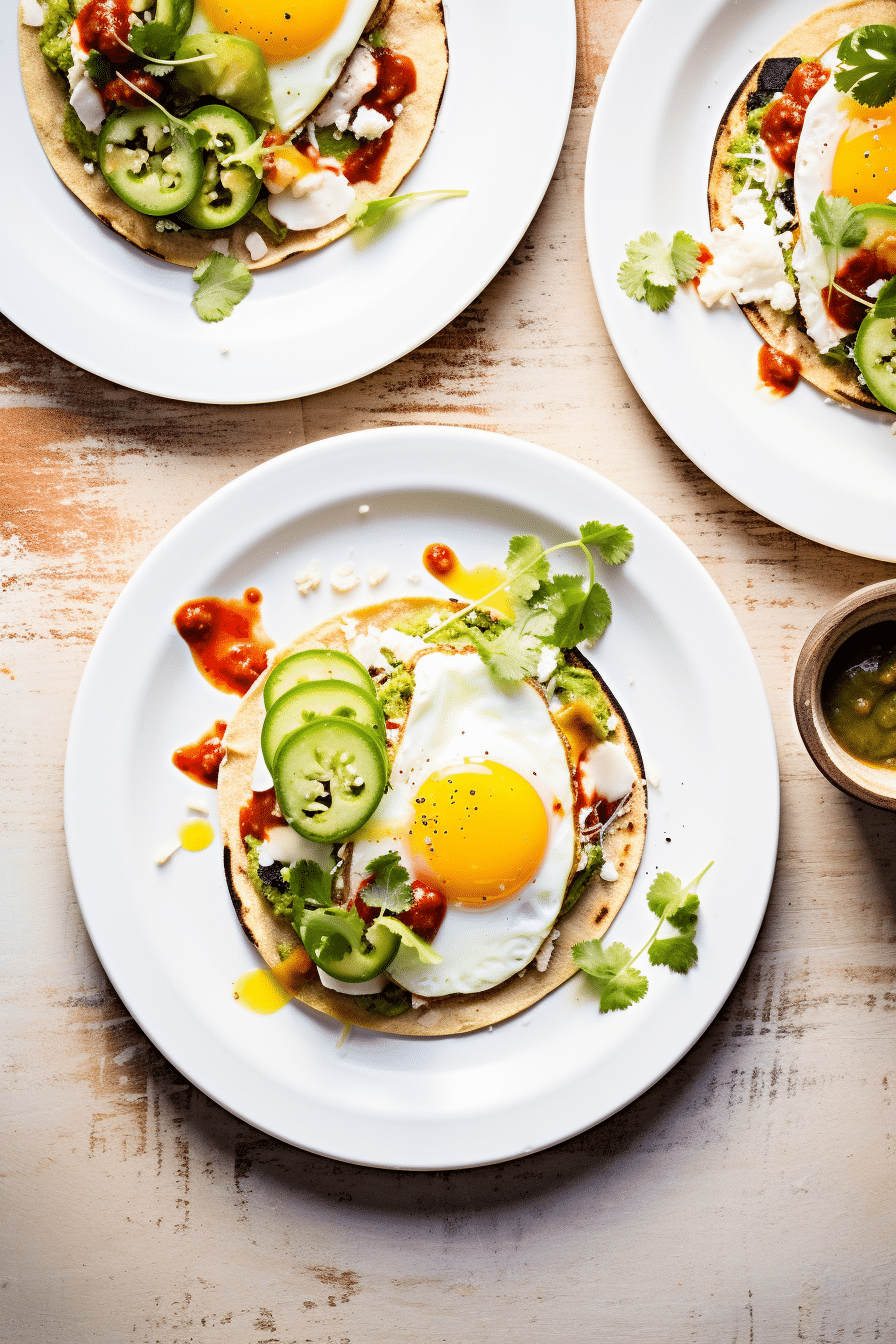 Recipe Details
There's something incredibly satisfying about starting the day with a hearty, flavorful breakfast. That's where this Keto Huevos Rancheros with Cauliflower Tortillas comes into play. It's a dish that pays homage to traditional Mexican cuisine while staying true to keto principles.
The origins of huevos rancheros are rooted in the heart of Mexico, traditionally consisting of corn tortillas, fried eggs, and a tomato-chili sauce. It's a breakfast that has fueled generations. However, when adapting this classic for a keto diet, one must get creative to maintain the essence of the dish while cutting back on the carbs.
Cauliflower, the chameleon of the keto world, steps in to replace the traditional corn tortilla. When processed and baked, it provides a sturdy base with a pleasant texture and mild flavor that complements the bold toppings. The inclusion of eggs not only adds a quality protein source but also helps bind the cauliflower to create a flexible tortilla-like vessel.
The toppings are where the dish truly shines. The combination of a perfectly fried egg with its runny yolk, the creaminess of the avocado, the tang of the salsa, and the richness of the sour cream creates a balance that is both indulgent and nutritious. This dish is a testament to the versatility of keto cooking, proving that with a bit of ingenuity, even the most carb-heavy dishes can be transformed into keto-friendly feasts.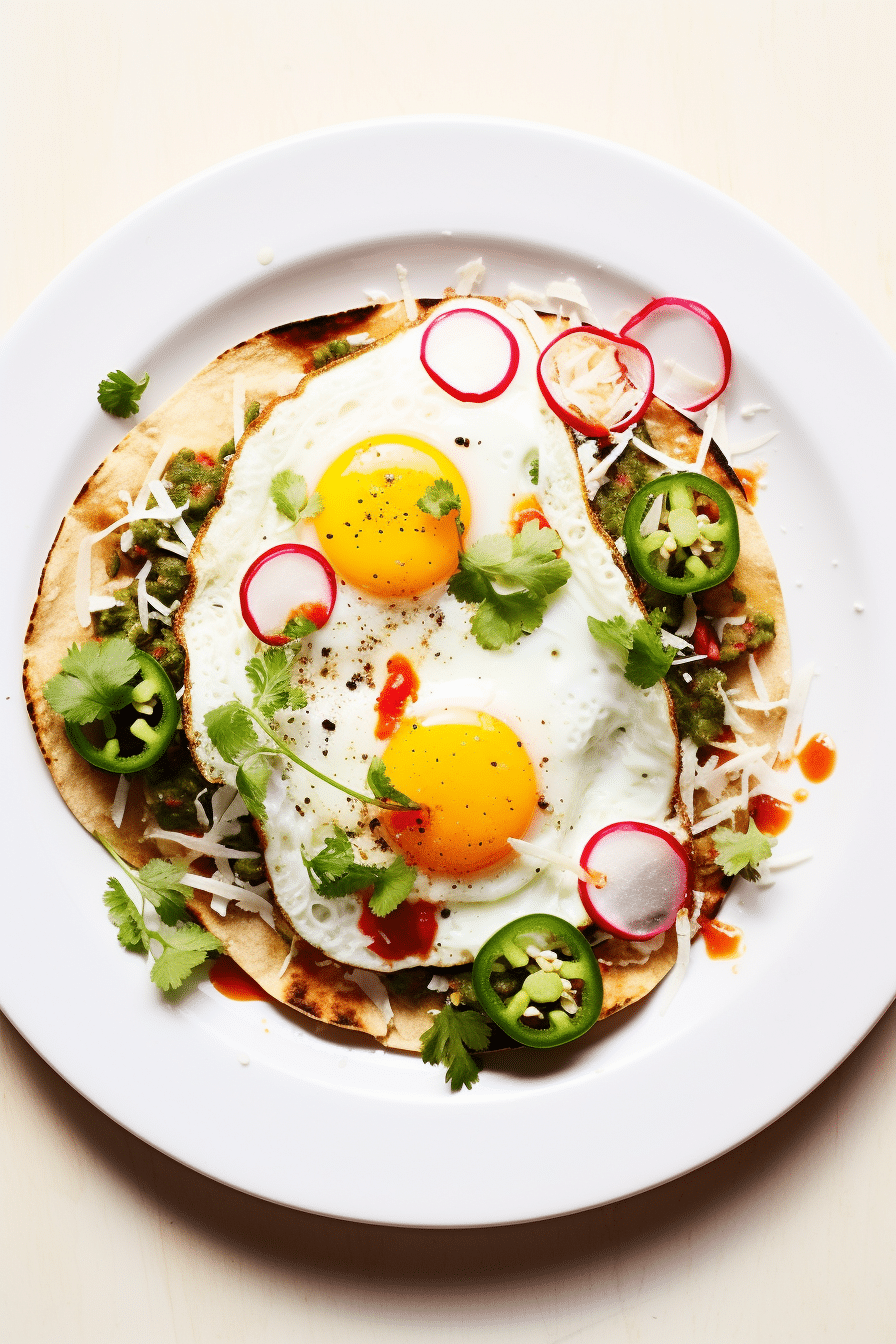 The Method
Creating the perfect Keto Huevos Rancheros with Cauliflower Tortillas is an art. The key to success lies in the details of the preparation. Let's dive into the step-by-step process that will lead to a delicious and visually stunning breakfast.
Step 1: Prepare the Cauliflower Rice: Begin by preheating your oven to ensure it reaches the right temperature for baking the tortillas. Transforming cauliflower into 'rice' is a straightforward process with a food processor, but achieving the right texture is crucial. It should resemble grains of rice, not a puree. Microwaving the riced cauliflower softens it, making it more pliable for our tortillas.
Step 2: Make Cauliflower Dough: Removing excess moisture from the cauliflower is perhaps the most critical step. Too much liquid and your tortillas will be soggy; too little and they may crumble. Achieving the right balance will give you a tortilla that holds together well and has a pleasant chew. Combining the cauliflower with eggs and cheese creates a dough that's rich in flavor and has a sturdy texture.
Step 3: Form Tortillas: Consistency is key when shaping your tortillas. Aim for even thickness to ensure uniform cooking. A well-formed tortilla should be thin enough to mimic the texture of a traditional tortilla but thick enough to support the toppings without breaking.
Step 4: Bake Tortillas: Keep a watchful eye on the oven as the tortillas bake. They should achieve a golden hue, indicating a crispy exterior while maintaining a tender interior. Flipping them halfway through the baking process ensures even cooking and the perfect texture.
Step 5: Cook Eggs: The eggs are the crowning glory of huevos rancheros. Cooking them to your preferred level of doneness is a personal choice, but a runny yolk adds a luxurious sauce to the dish.
Step 6: Assemble Huevos Rancheros: Assembly is more than just putting components together; it's about layering flavors and textures. The optional black beans add a heartiness, while the salsa brings a zesty freshness to the dish.
Step 7: Add Toppings: Each topping plays a role in the final dish. The avocado adds creaminess, the sour cream introduces a tangy richness, and the cilantro offers a burst of freshness. The lime wedge is more than a garnish; a squeeze of lime juice can brighten the entire dish.
Step 8: Serve Immediately: Huevos rancheros are best enjoyed fresh from the skillet and oven. Serve them hot to appreciate the contrast of the warm, soft tortilla with the cool, creamy toppings.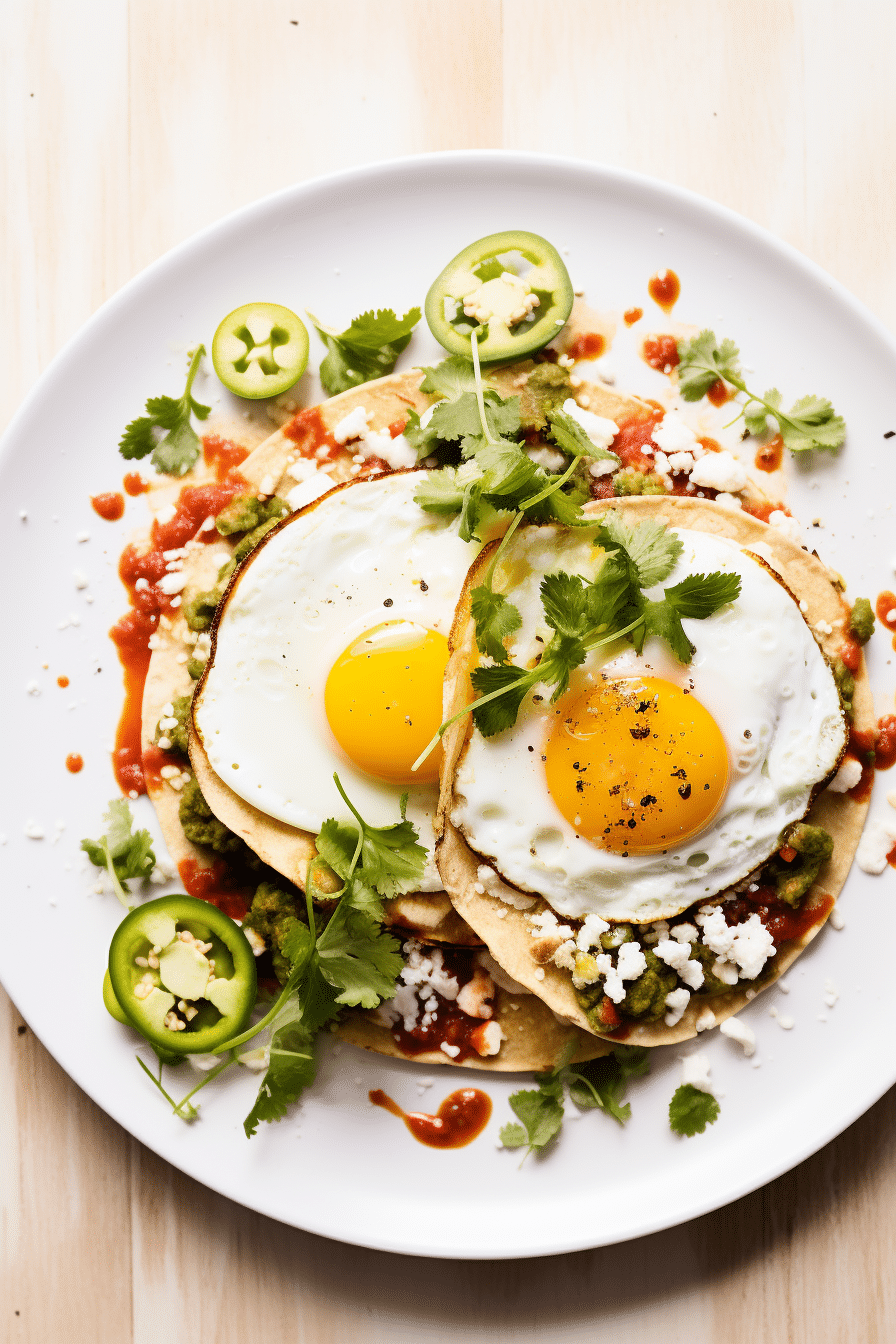 Variations
Spicy Chorizo Keto Huevos Rancheros
Add a spicy kick to your breakfast with crumbled chorizo. Cook the chorizo in a skillet until it's crispy and sprinkle it over the tortillas before adding the eggs. The spice from the sausage will infuse the dish with a bold, robust flavor that's perfect for those who love a little heat in the morning.
Vegetarian Keto Huevos Rancheros
For a vegetarian twist, omit the black beans and add sautéed spinach or kale. You can also include grilled portobello mushrooms for a meaty texture without the meat. This version is just as satisfying and is packed with greens for an extra nutrient boost.
Cheesy Keto Huevos Rancheros
Cheese lovers can add a sprinkle of shredded cheddar or pepper jack on top of the tortillas before placing the eggs. The cheese will melt into a deliciously gooey layer that complements the other flavors and adds an extra dimension of richness to the dish.
Substitutions
When cooking for specific dietary needs or preferences, substitutions can be a game-changer. Here are some keto-friendly swaps you can make in this recipe:
Cheese: If mozzarella isn't your favorite or you're looking for something with a bit more flavor, try substituting with a different cheese such as cheddar or a Mexican blend. Just ensure that it's a variety that melts well and complements the other ingredients.
Salsa: If you prefer a milder taste or have specific preferences, consider making your own salsa to control the spice level and ingredients. A simple mix of diced tomatoes, onions, cilantro, and lime juice can be a fresh, keto-friendly alternative.
Sour Cream: For those who are dairy-free or simply looking to cut down on dairy, coconut cream with a squeeze of lime can mimic the tang and creaminess of sour cream. It's a subtle change that maintains the integrity of the dish's flavors.
FAQ Section
Can I make the cauliflower tortillas ahead of time? Yes, you can prepare the tortillas in advance and store them in the refrigerator for up to a week. Reheat them in the oven or on a skillet for a quick breakfast.
How can I ensure my cauliflower tortillas don't fall apart? The key is to remove as much moisture as possible from the cauliflower. Wring it out thoroughly in a kitchen towel after microwaving, and make sure the dough is well mixed.
Is this recipe suitable for a strict keto diet? Absolutely, just omit the black beans to lower the carb count further, and ensure that all your toppings, especially the salsa, are sugar-free.
Can I use frozen cauliflower rice? Yes, frozen cauliflower rice is a convenient alternative. Just thaw it completely and drain any excess liquid before using it in the recipe.
How can I add more protein to this dish? Consider adding cooked bacon, sausage, or ham to increase the protein content. You could also add an extra egg or some cheese for a protein boost.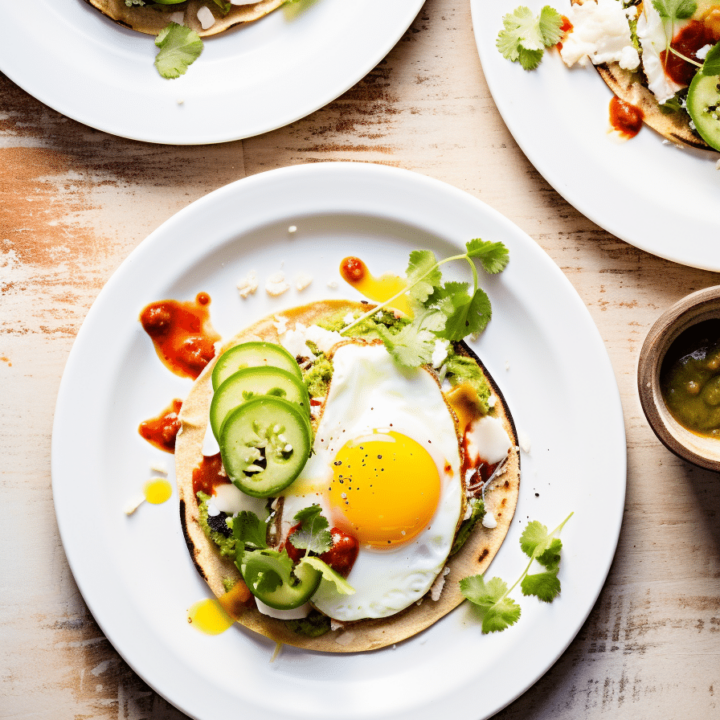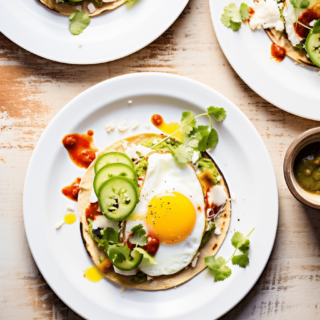 Keto Huevos Rancheros with Cauliflower Tortillas
A classic Mexican breakfast gets a low-carb makeover with these Keto Huevos Rancheros, served on freshly made cauliflower tortillas. It's a flavorful, nutritious start to your day, packed with protein and healthy fats, and without the carb overload.
Ingredients
***For the Cauliflower Tortillas:***

- 1 medium head of cauliflower

approximately 600g/21oz, riced

- 2 large eggs

- 1/2 cup

56g/2oz shredded mozzarella cheese

- 1/4 teaspoon salt

- 1/4 teaspoon black pepper

***For the Toppings:***

- 4 large eggs

- 1 cup

240ml canned black beans, drained and rinsed (optional for strict keto)

- 1 avocado

sliced

- 1/2 cup

120ml salsa or pico de gallo, sugar-free

- 1/4 cup

60ml sour cream

- Fresh cilantro

chopped (for garnish)

- 1 lime

cut into wedges (for garnish)
Instructions
Preheat your oven to 400°F (200°C). Remove the cauliflower florets and pulse in a food processor until a rice-like texture is achieved. Transfer to a microwave-safe bowl and microwave on high for 5 minutes, or until soft. Allow it to cool slightly.

Place the softened cauliflower in a clean kitchen towel and wring out the excess moisture. Combine the drained cauliflower, eggs, mozzarella, salt, and pepper in a bowl. Mix until a dough-like consistency is formed.

Divide the mixture into four equal portions and shape into tortillas on a baking sheet lined with parchment paper.

Bake in the preheated oven for about 10-12 minutes or until golden. Flip and bake for an additional 5-7 minutes.

While the tortillas are baking, fry the eggs to your preferred doneness in a non-stick skillet.

Place a cauliflower tortilla on each plate. If using, spread a quarter of the black beans on each tortilla. Top each with a fried egg, then spoon over the salsa or pico de gallo.

Garnish with sliced avocado, a dollop of sour cream, chopped cilantro, and a wedge of lime.

Notes
- For those strictly following a keto diet, omit the black beans to reduce the carb count further.
- Ensure that your salsa or pico de gallo is sugar-free to maintain ketosis.
- The moisture content in cauliflower can vary, so make sure to wring out as much water as possible for the best tortilla texture.
- These cauliflower tortillas can be made in advance and stored in the refrigerator for a quick breakfast option during the week.
Nutrition
Calories:
350
kcal
Carbohydrates:
15
g
Protein:
17
g
Fat:
25
g
Fiber:
6
g