Homemade keto fried rice with a secret ingredient: cauliflower! A tasty recipe that is naturally gluten-free, rich in nutrients and easy to make.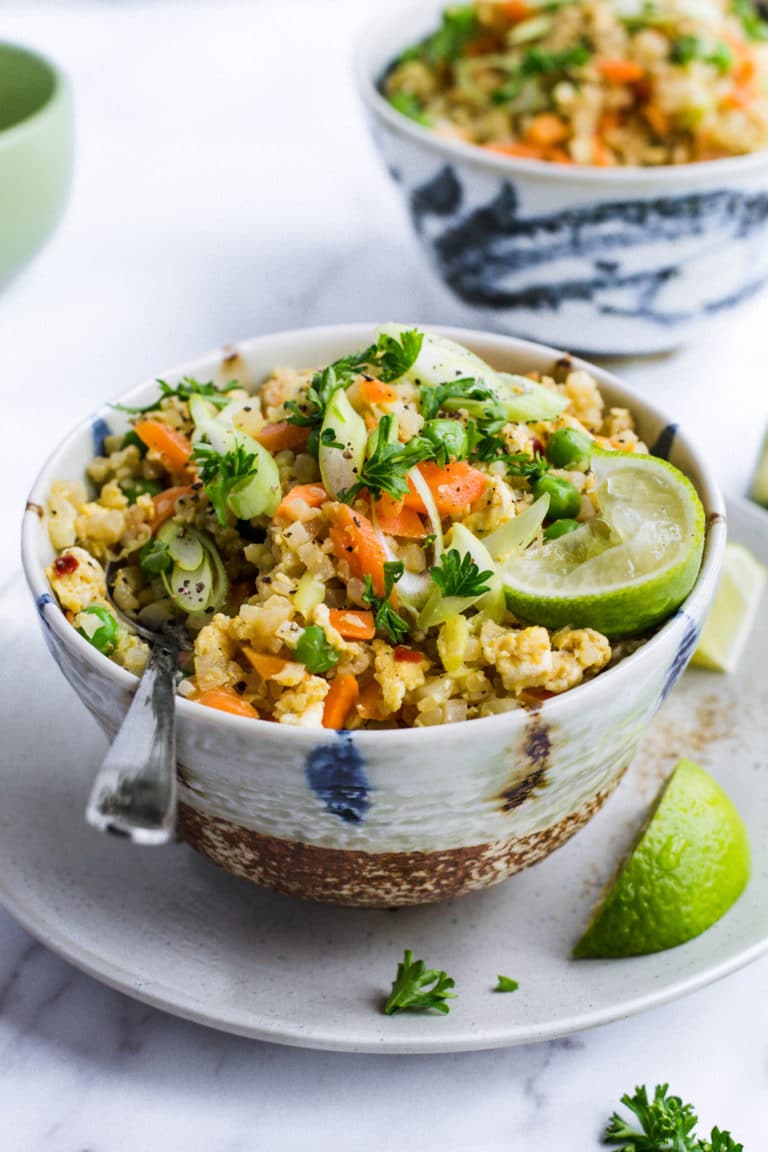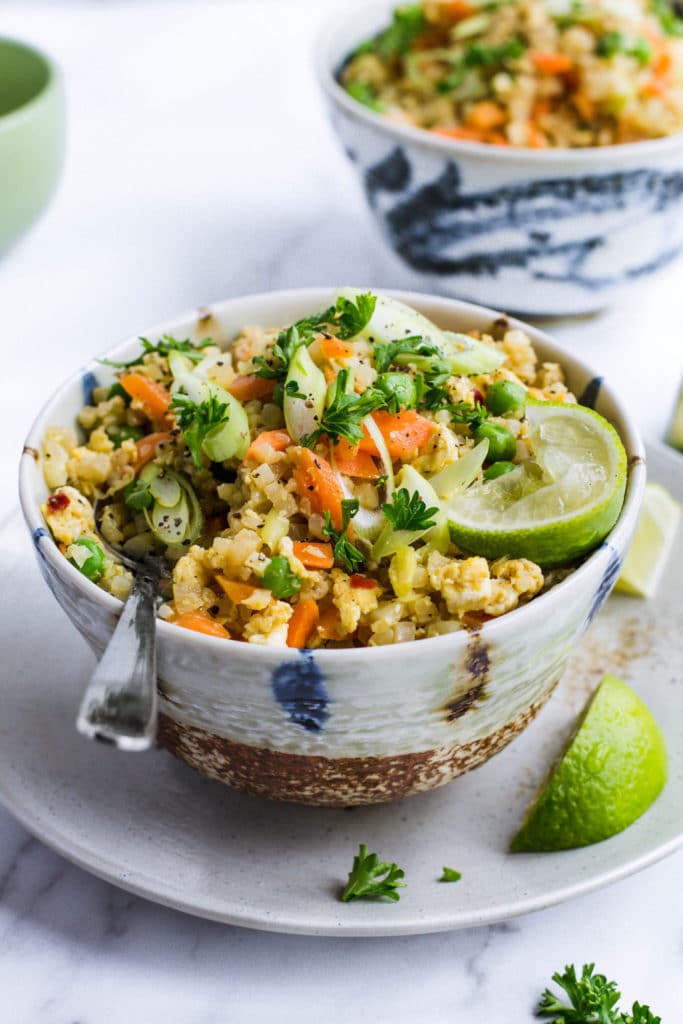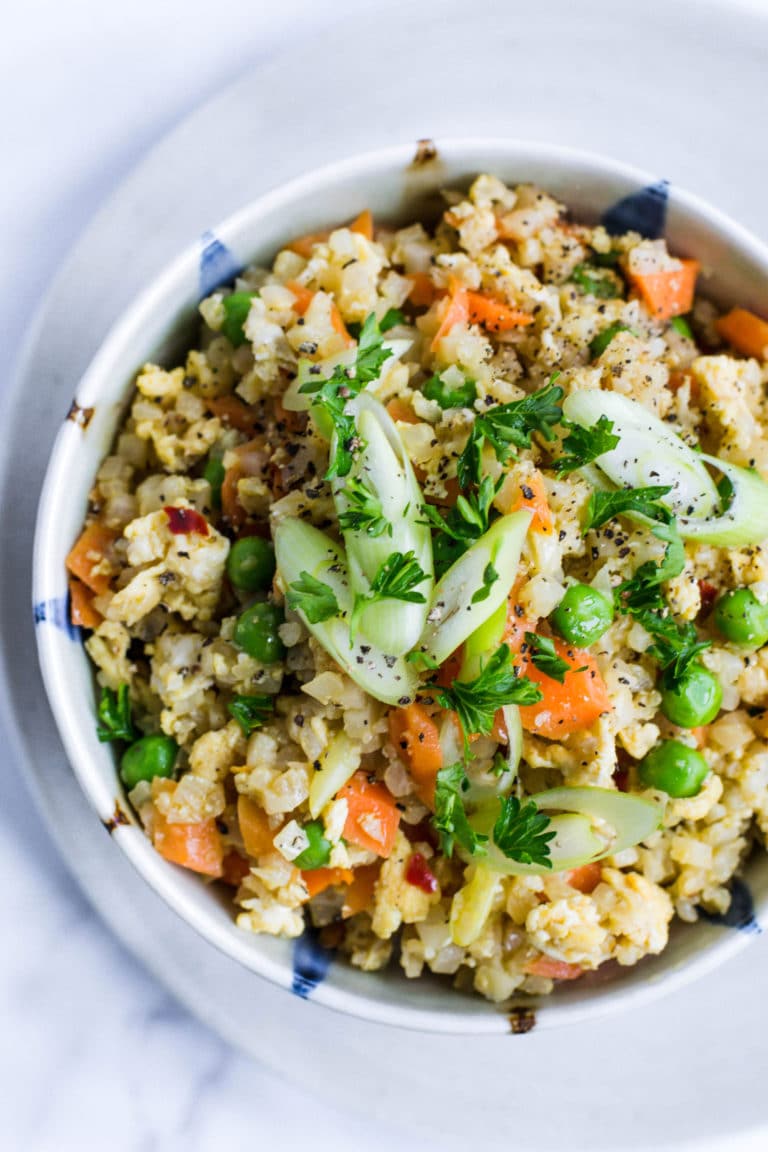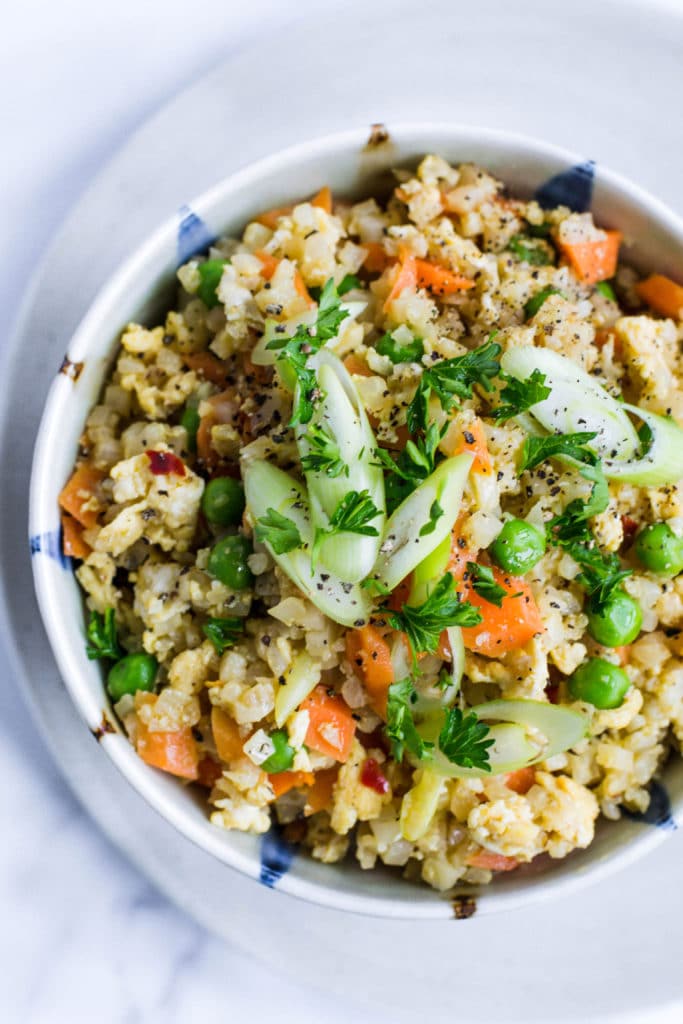 Cauliflower rice is the ultimate low-carb substitute for so many rice-based recipes: if you have never tried it, you'll be surprised by its consistency and taste. For the best result, cook your cauliflower rice in a pan with some olive oil until crispy! Think about it like plain white rice: both the spices and the ingredients that you choose to pair it with play a big role in helping you to create a delicious meal.
This keto-friendly fried rice takes less than 20 minutes to make so it would be perfect for a quick dinner or lunch. It's also a great example to remind you that you don't have to give up your favourite recipes or flavours just because you want to choose a low-carb alternative!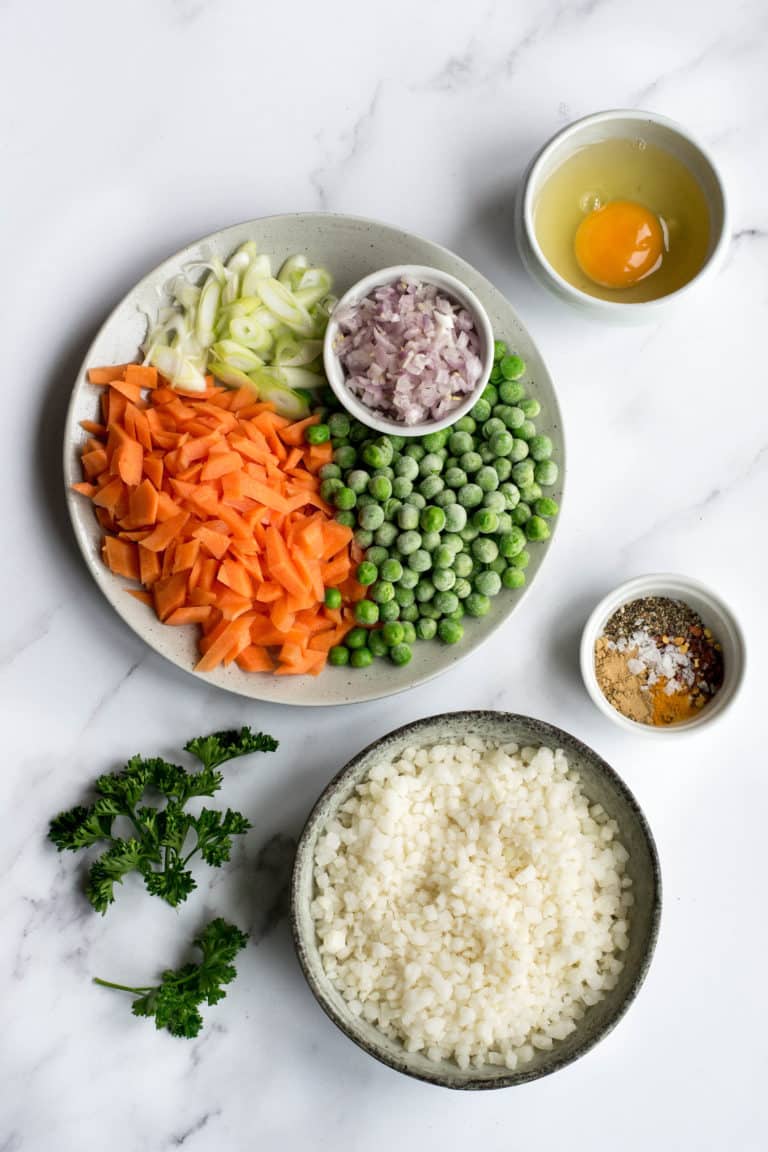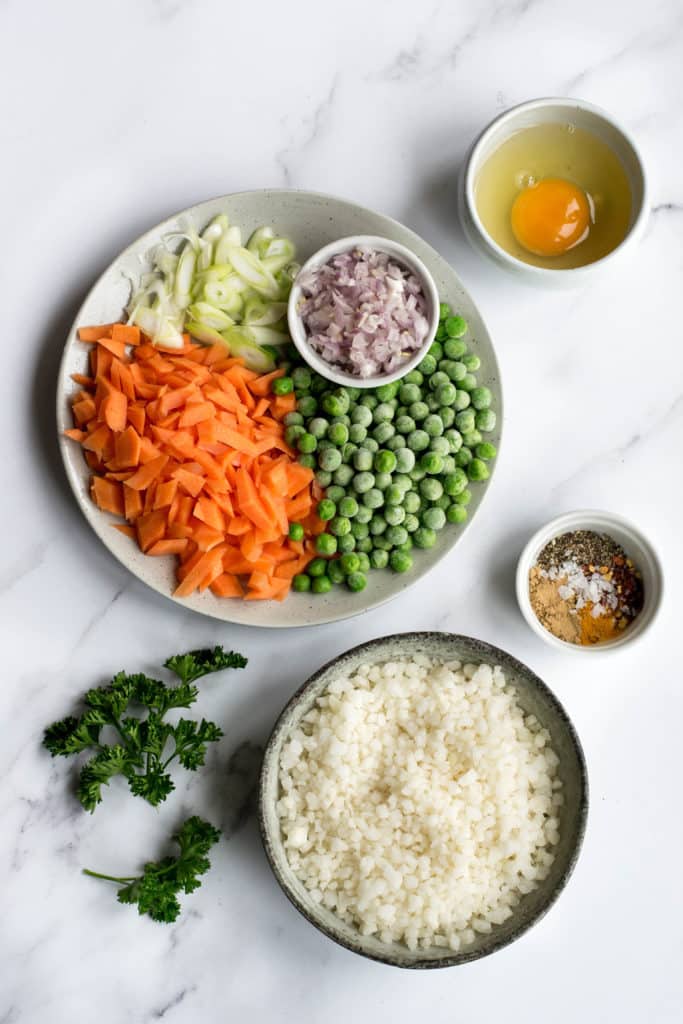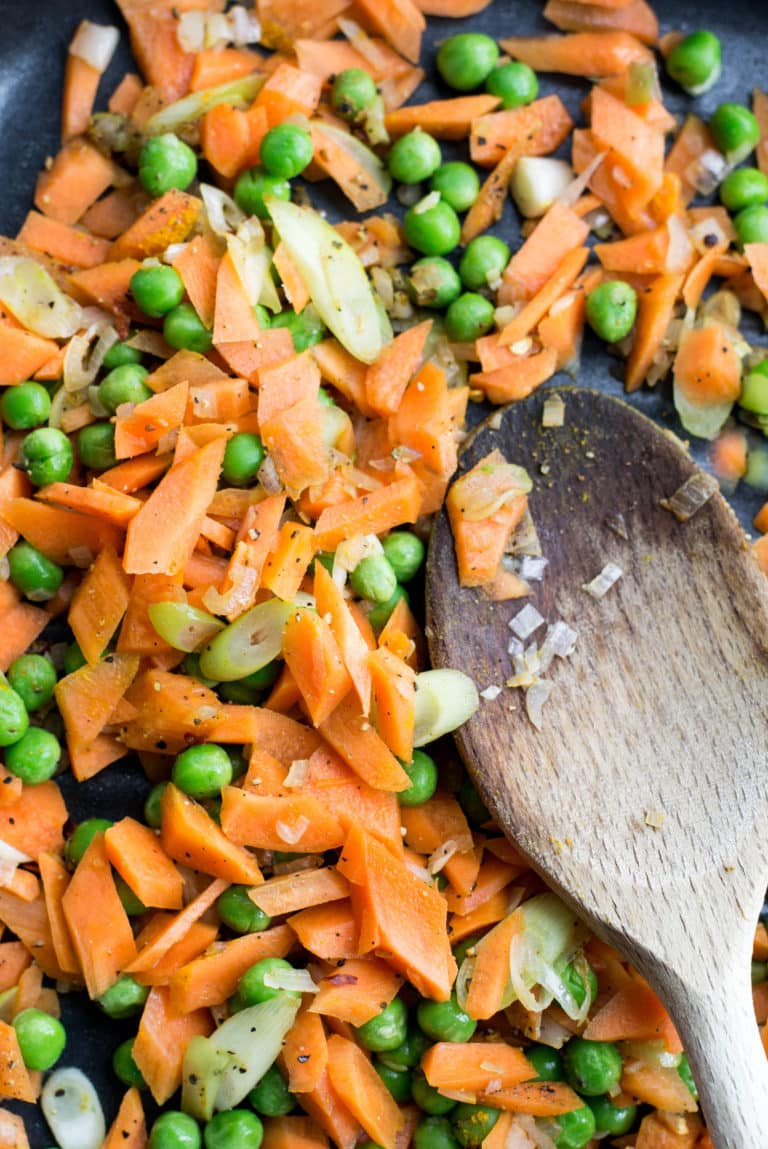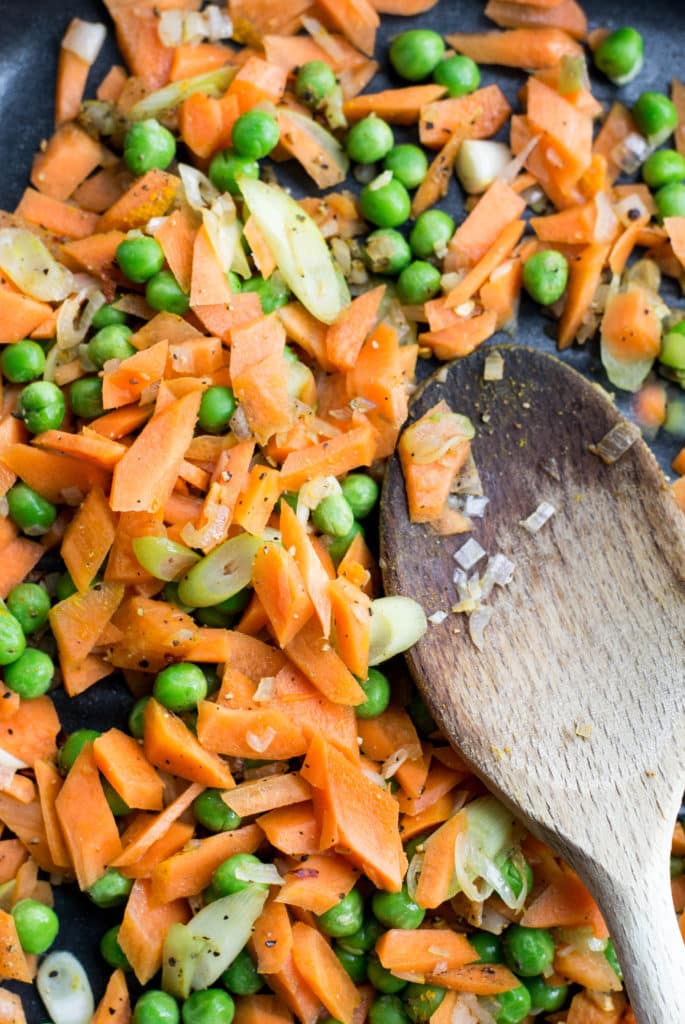 Common questions about this keto fried rice:
Can I make cauliflower rice at home? This recipe is based on store-bought frozen cauliflower rice that nowadays is widely available and it's a handy option but you can absolutely make your own cauliflower rice at home (the texture might be slightly different but the taste will be delicious anyway).
Can I change some of the ingredients? Sure, you can adapt the recipe to your preferences in terms of spices or vegetables. You could also add one extra egg or some crunchy toasted peanuts to make the meal more filling and increase the content of nutrients. In order to keep this meal keto-friendly, don't add ingredients with a large amount of carbohydrates (an example: choose spinach or bell peppers instead of pumpkin or beetroots).
My fried rice turned out a bit soggy, what can I do about it? Try to cook the vegetables for a longer time in order to remove more moisture before adding the eggs; even 1-2 extra minutes might be enough.
Can I use sesame oil or some soy sauce to change the flavour of this fried rice? Yes, they are both good options to change up the flavour of this meal. Try using a 1:1 mix of toasted sesame oil and olive oil for the best combination in terms of taste and nutrients!
Can I add some meat or fish? Sure, this recipe is vegetarian but feel free to add meat or fish if you want; try it with chicken or shrimp for the best combination of flavours.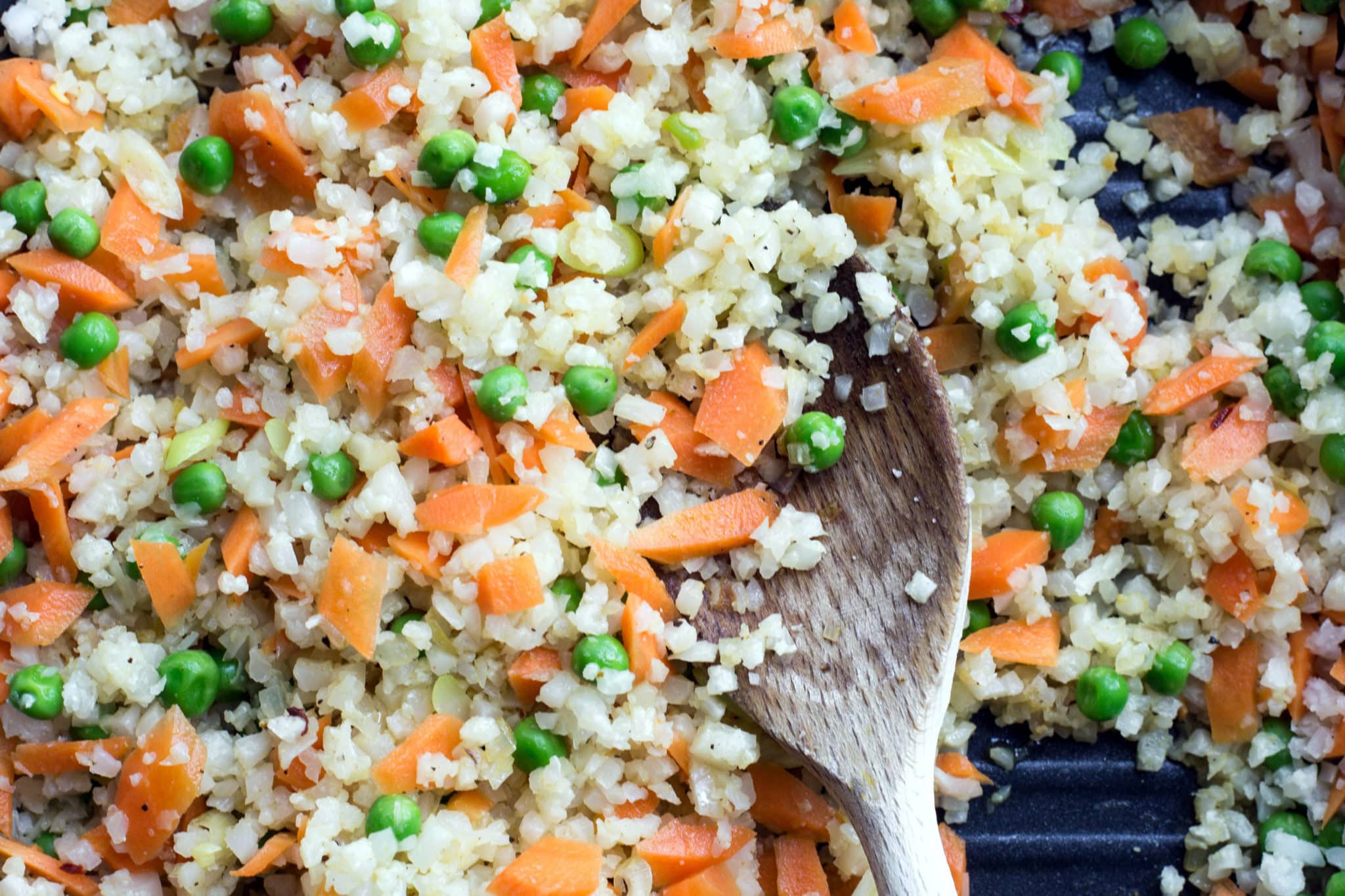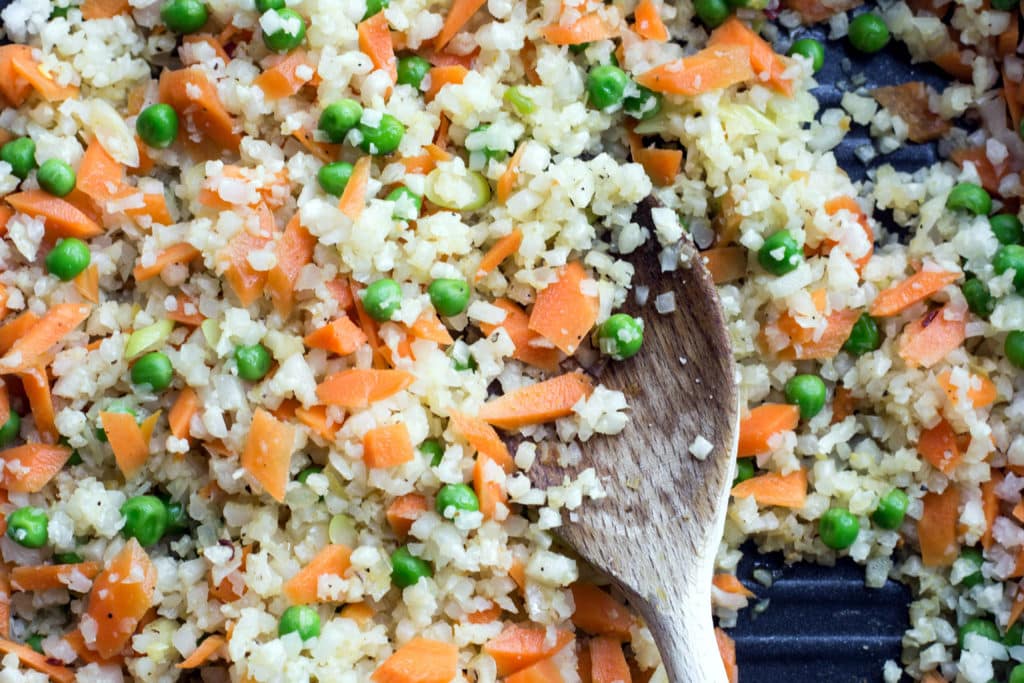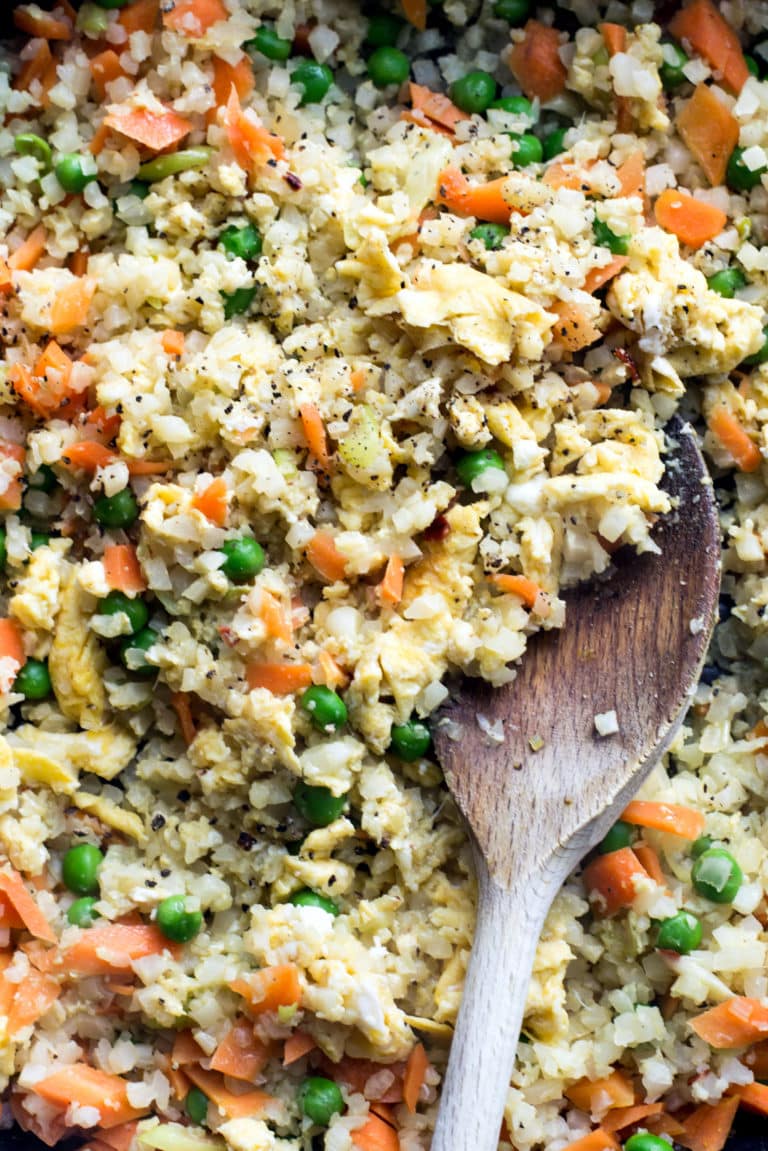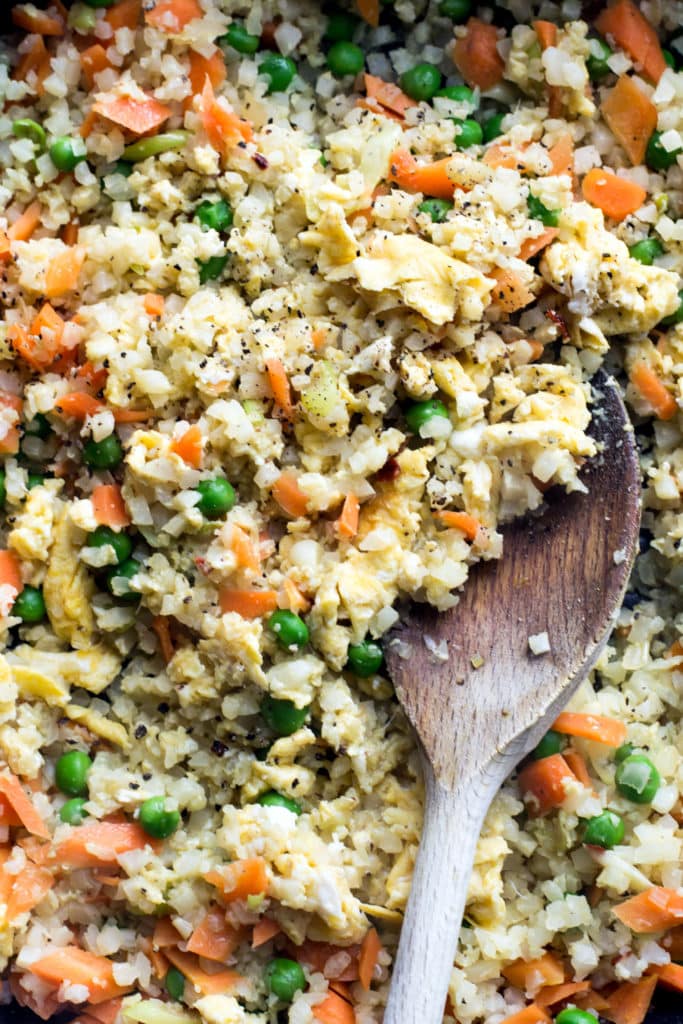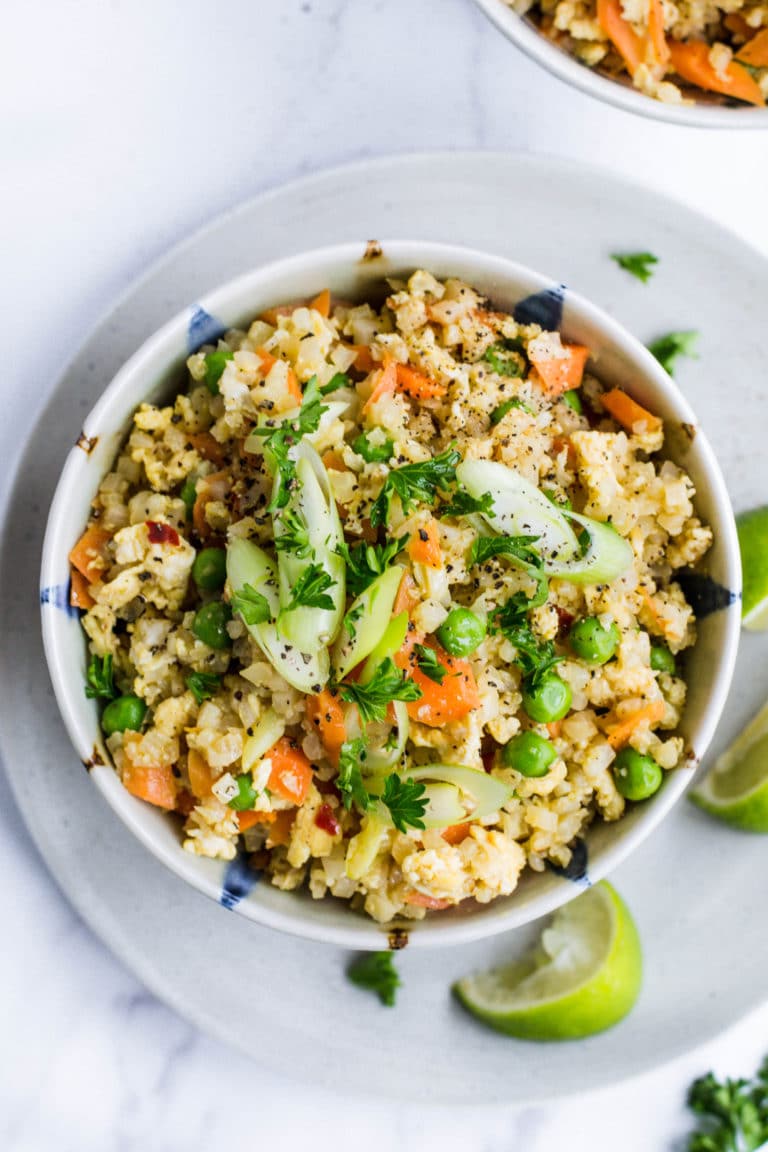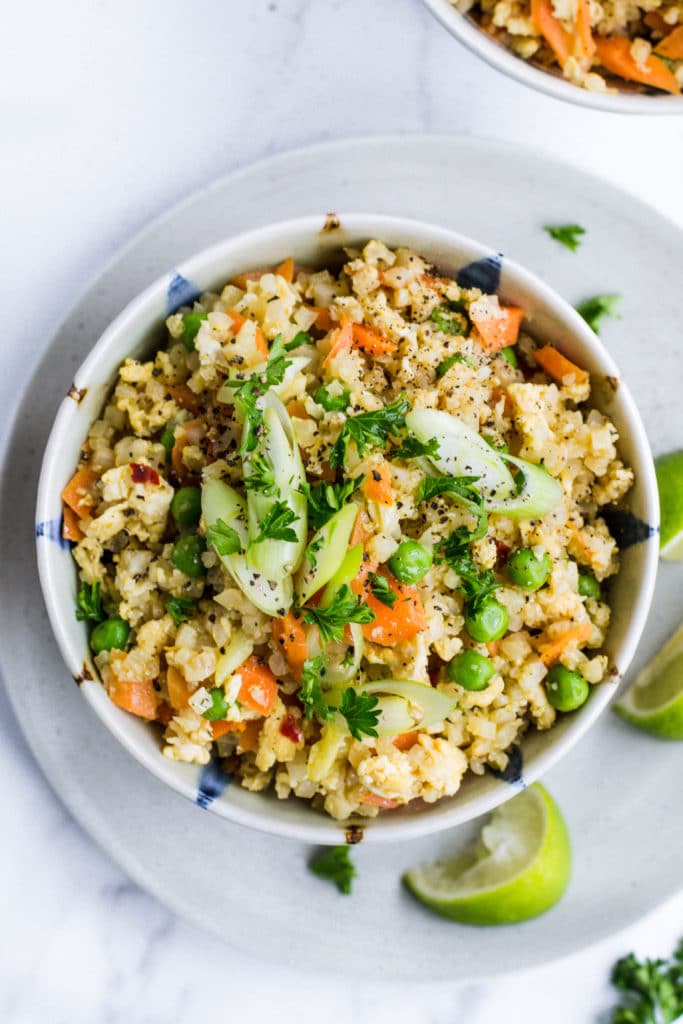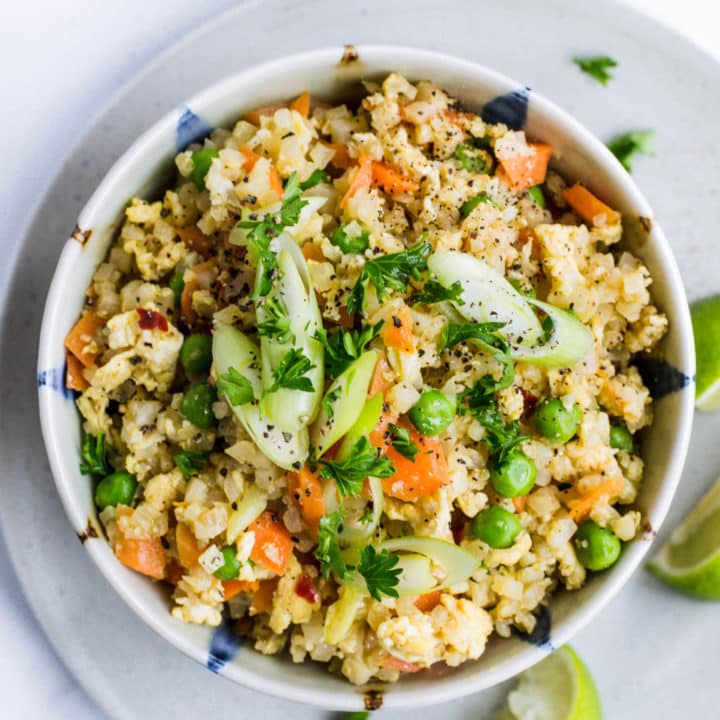 Keto fried rice
Homemade keto fried rice with a secret ingredient: cauliflower! A tasty recipe that is naturally gluten-free, rich in nutrients and easy to make.
Ingredients
300 g frozen cauliflower rice
2 eggs
3 spring onions
1 medium-sized carrot
1 medium-sized shallot
70 g frozen peas
3 tbsp extra virgin olive oil
1/4 tsp chilli flakes
1/3 tsp ground ginger
1/3 tsp ground turmeric
1/3 tsp ground black pepper
1 tbsp fresh parsley
a pinch of salt
Instructions
Prepare the finely chopped vegetables and keep 1 spring onion in a separate bowl because you'll use it raw as a topping.
Heat 1 tbsp of olive oil in a large pan or wok over medium heat. Add the shallots, spring onions, carrots and spices first, stir for approx. 1 minute, then add all the other vegetables, keep stirring and cook for 4-5 minutes or until there is no water left.
Create some space in the middle of the pan for the eggs. Add the eggs (previously beaten with a fork) and cook them exactly like you would do to make scrambled eggs. Mix well and add 1-2 tbsp of olive oil just before serving. Taste and adjust the amount of spices according to your preferences.
Notes
Serve warm with some finely chopped parsley and raw spring onions on top.
Nutrition Information
Yield

2
Amount Per Serving
Calories

322
Total Fat

25.1g
Carbohydrates

16.5g
Net Carbohydrates

9.9g
Fiber

6.6g
Sugar

6.1g
Protein

10.6g