This keto bacon and egg cauliflower fried rice is the perfect solution for a quick lunch, dinner or even breakfast!
Looking for ideas for a quick lunch, a hassle-free dinner or a savoury breakfast? Cauliflower rice might be the secret ingredient you need! It's extremely versatile, easy to make at home from scratch and widely available in shops (usually, in the frozen foods section). If you have never tried it, this recipe could be a good starting point. You can also try to use cauliflower rice to make a more classic version of fried rice, the filling for some roasted vegetables or some mashed cauliflower (the perfect low-carb side dish). Cauliflower rice has all the nutrients of this vegetable but its particular texture opens up so many possibilities!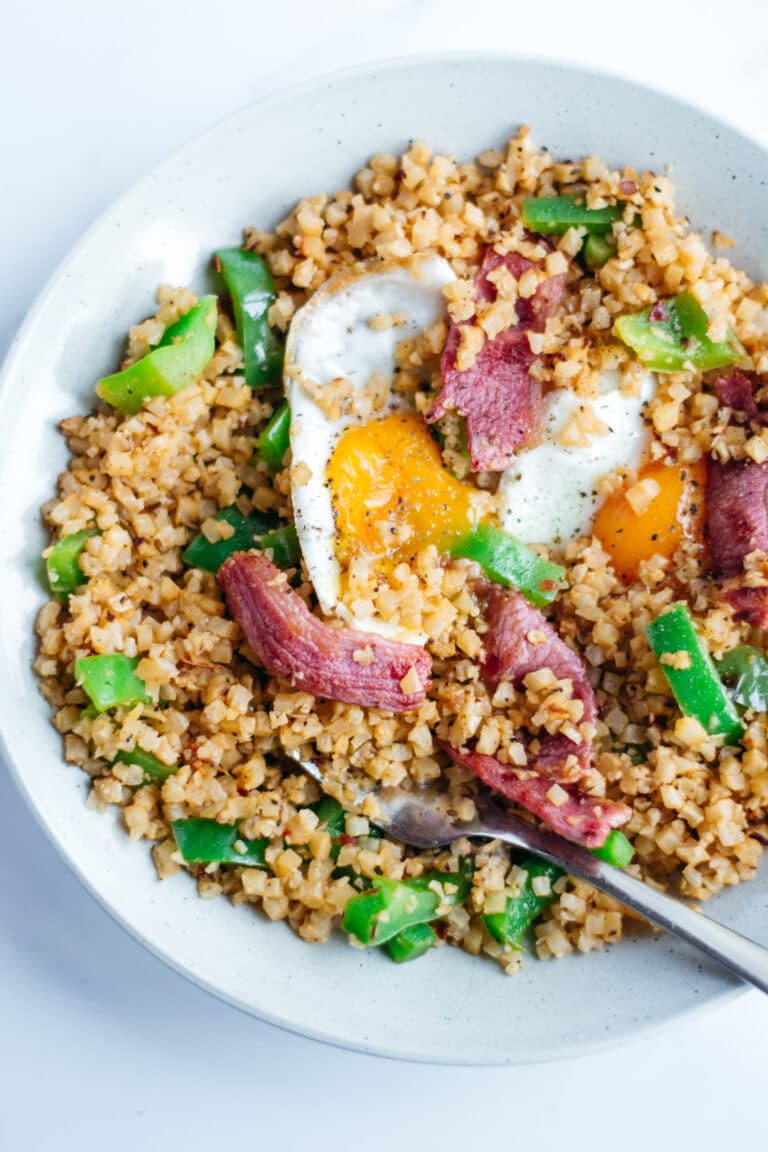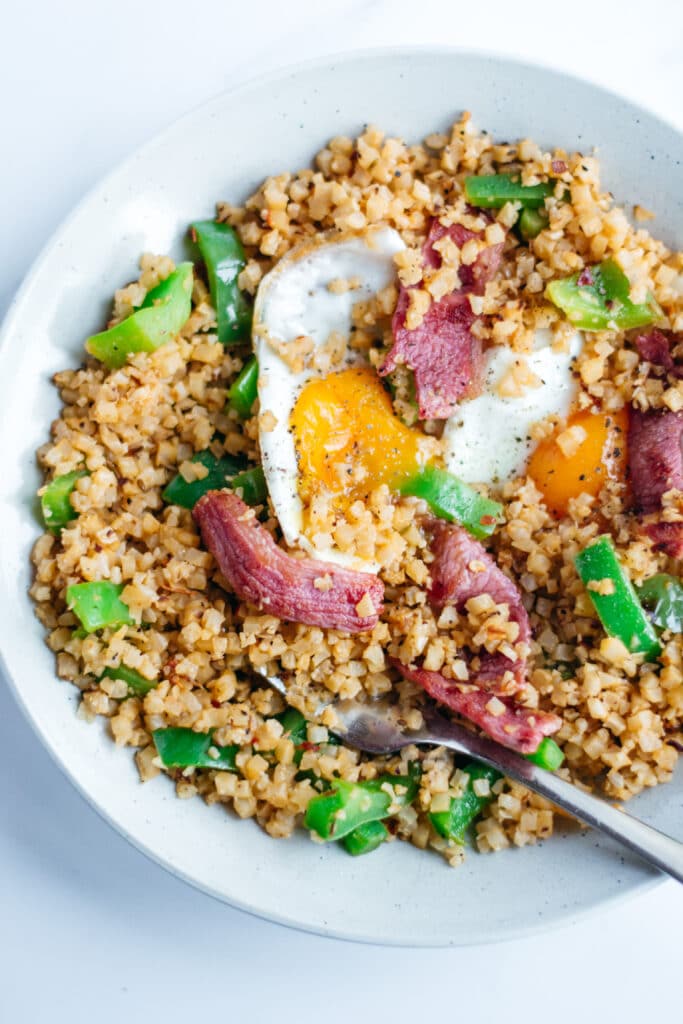 Finding a recipe that ticks all the boxes is not always easy but his keto bacon and egg cauliflower fried rice is
easy to make
on a budget
quick
delicious
made with simple ingredients
packed with nutrients
low in carbs
perfect at any time of the day
The ingredients you need to make this easy low-carb recipe are:
cauliflower rice (homemade or store-bought)
eggs
good-quality bacon (any kind of bacon works well in this recipe, just pick your favourite)
green bell peppers
olive oil
paprika, chilli flakes, cumin seeds and black pepper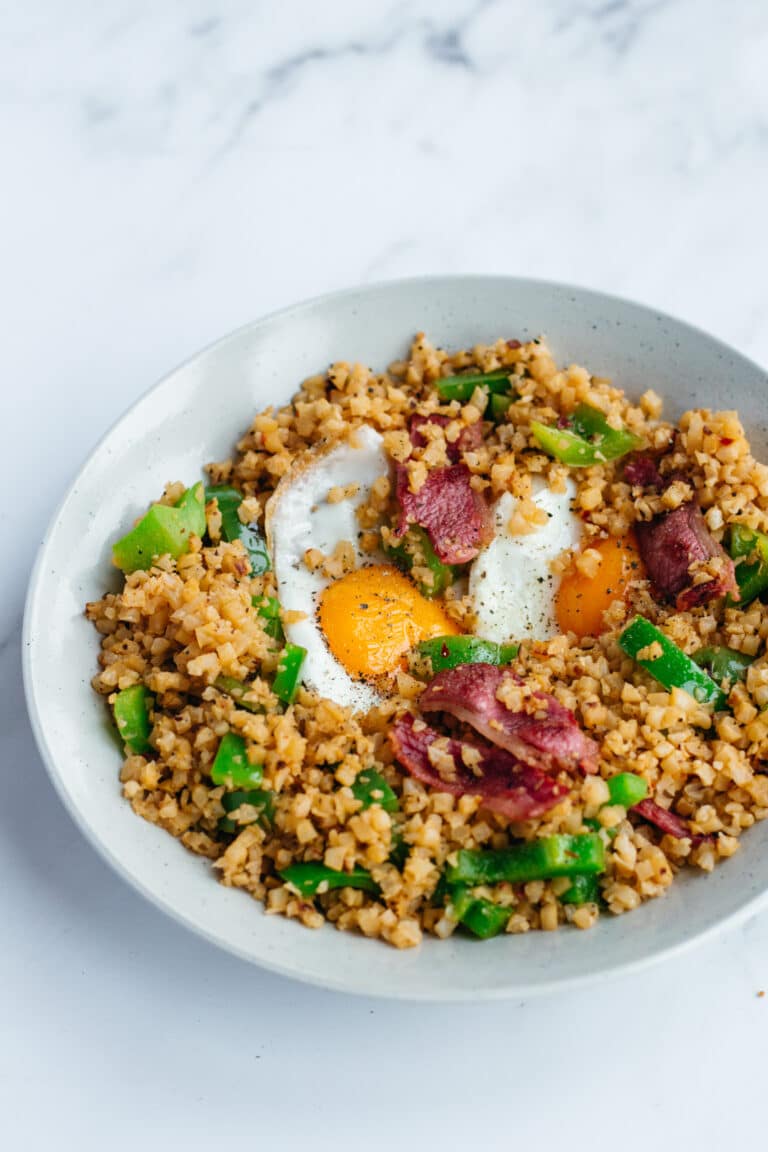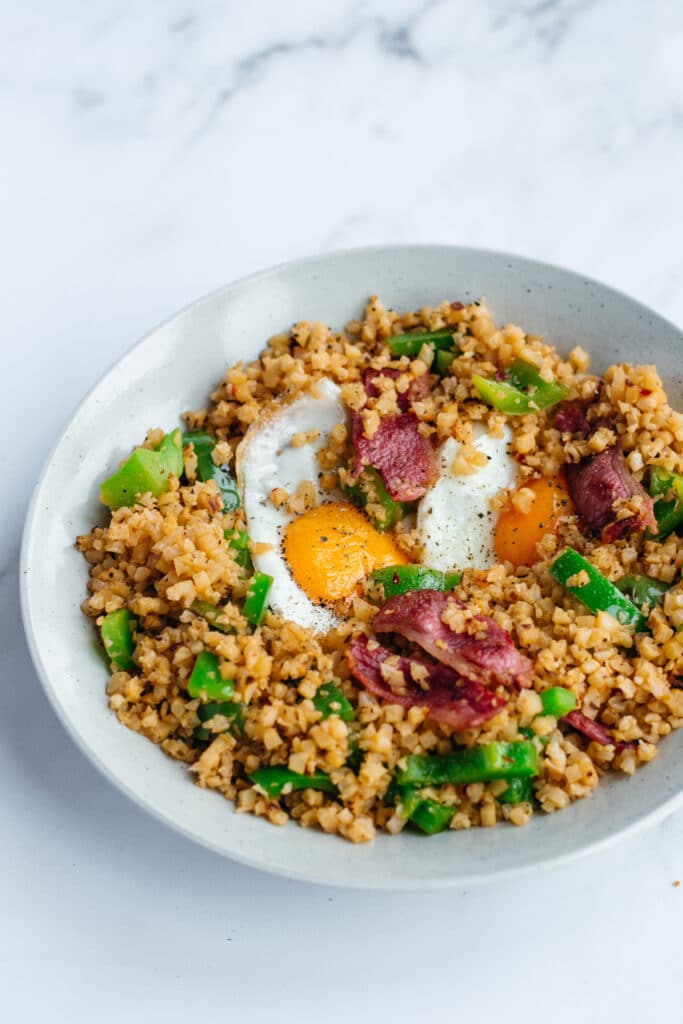 This cauliflower fried rice recipe has everything you need with a good combination of spices, crunchy vegetables, meat and eggs. If you fancy adding your personal touch to this dish, you can get creative with some toppings! These are some interesting suggestions:
finely chopped scallions
hot sauce
toasted pumpkin seeds
sauerkraut
finely chopped chives or coriander
You can make this keto bacon and egg cauliflower fried rice in less than 15 minutes and, apart from having the right ingredients on hand, there isn't much you have to do in advance. If you want to speed up the things a little bit, you could:
prepare the bacon in advance (just fry it in a pan and cut it into small pieces, then allow the bacon to cool down and store it in the fridge)
chop the vegetables in advance and store them in the fridge
Easy substitutions for this keto cauliflower rice recipe:
Instead of green bell peppers, you can use a different vegetable (or a combination of different vegetables)
To make a vegetarian version of this low-carb recipe, use a suitable alternative for the bacon (tofu or tempeh would work well)
To increase or decrease the spiciness of this dish, change the amount of spices or add some new ones.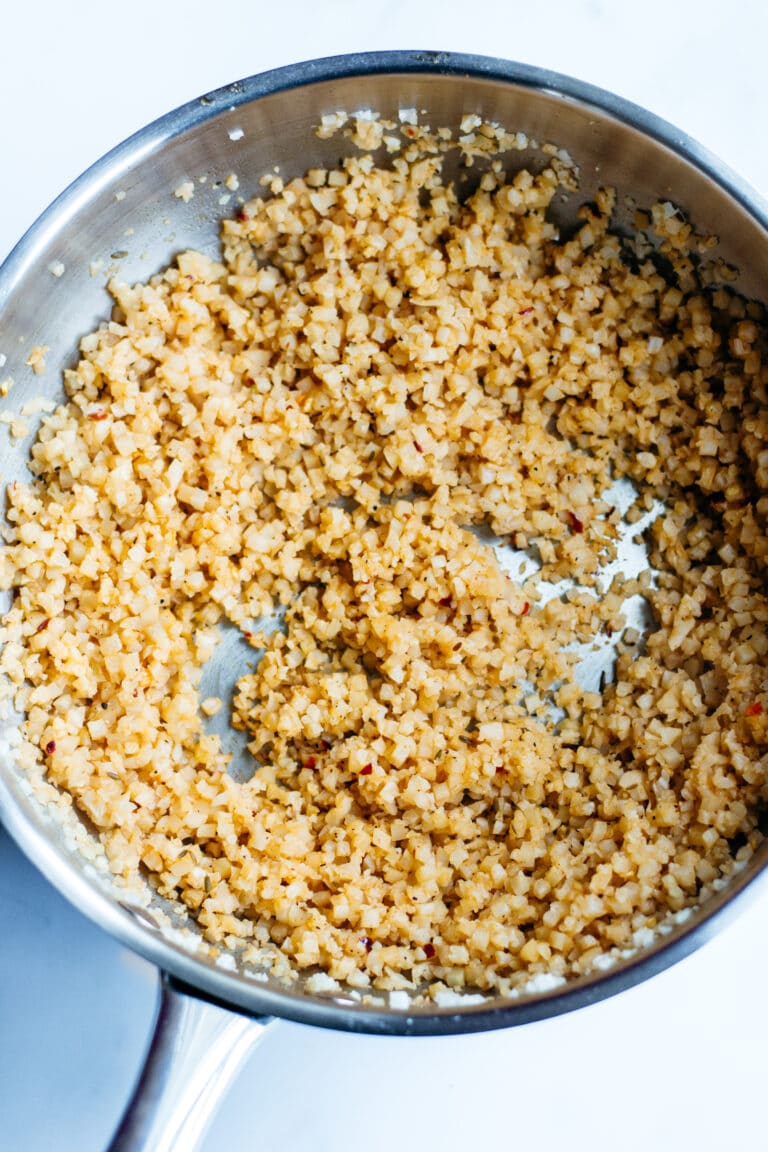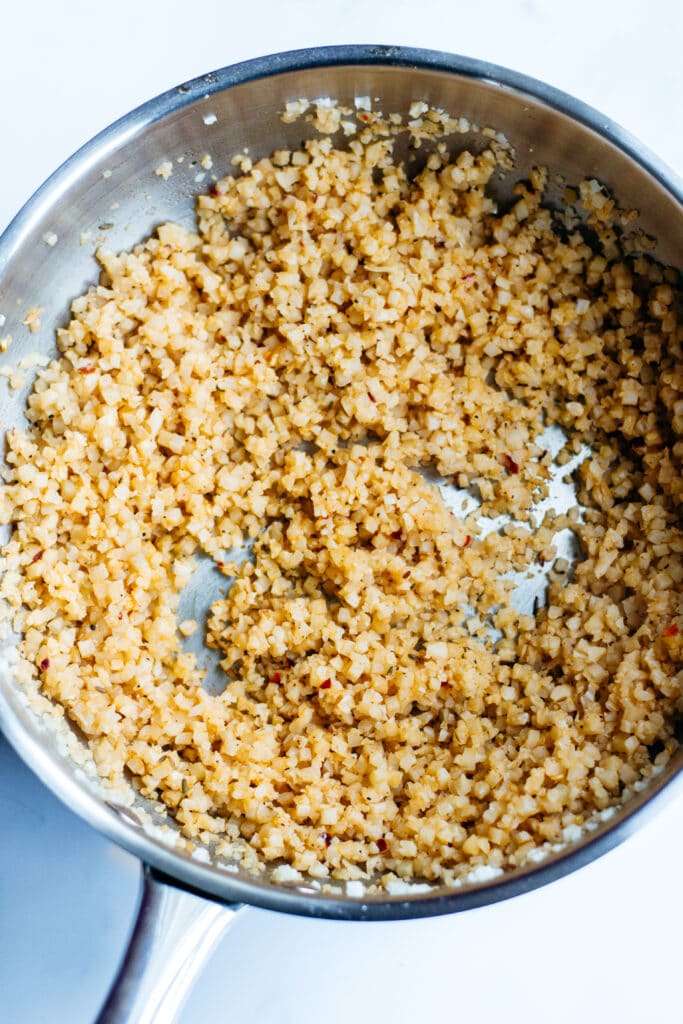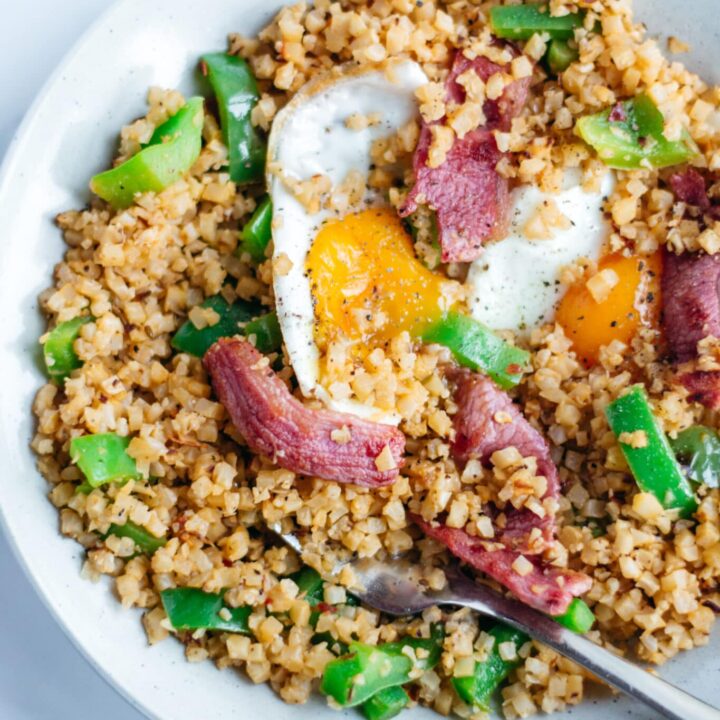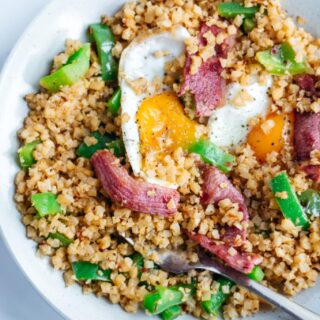 Keto bacon and egg cauliflower fried rice
This keto bacon and egg cauliflower fried rice is the perfect solution for a quick lunch, dinner or even breakfast!
Ingredients
320

g

cauliflower rice

frozen

60

g

green bell pepper

3

strips of bacon

2

eggs

2

tbsp

olive oil

1

tsp

sweet paprika

⅓

tsp

chilli flakes

⅓

tsp

cumin seeds

a pinch of black pepper

a pinch of salt
Instructions
Cook the cauliflower rice in a pan for a few minutes according to the instructions on the package.

Cook the eggs and the bacon in a second pan.

Once the bacon is ready, cut it into small pieces and combine all the ingredients together. Add the olive oil just before serving.

Serve as it is or with some toppings like scallions, chives, coriander, toasted seeds or hot sauce.
Notes
For this recipe, you can use either frozen or fresh cauliflower rice.
The eggs can be cooked according to your preferences both in terms of cooking method and softness of the egg yolks.
Nutrition
Calories:
365
kcal
Carbohydrates:
10.8
g
Protein:
13.1
g
Fat:
31.1
g
Fiber:
4.2
g