This is a really quick, easy and tasty keto jambalaya recipe, perfect for a low carb weeknight dinner. What makes this a keto jambalaya? Well, that's mostly handled by the use of cauliflower rice instead of regular rice, a go to keto substitute that gives this meal some bulk, whilst keeping the net carbs and calories down.
This Cajun inspired dish probably takes some liberties, but tastes damn good nonetheless. I'm using chicken thighs and chorizo for this keto jambalaya, which I happened to have to hand in the fridge, no shrimp though!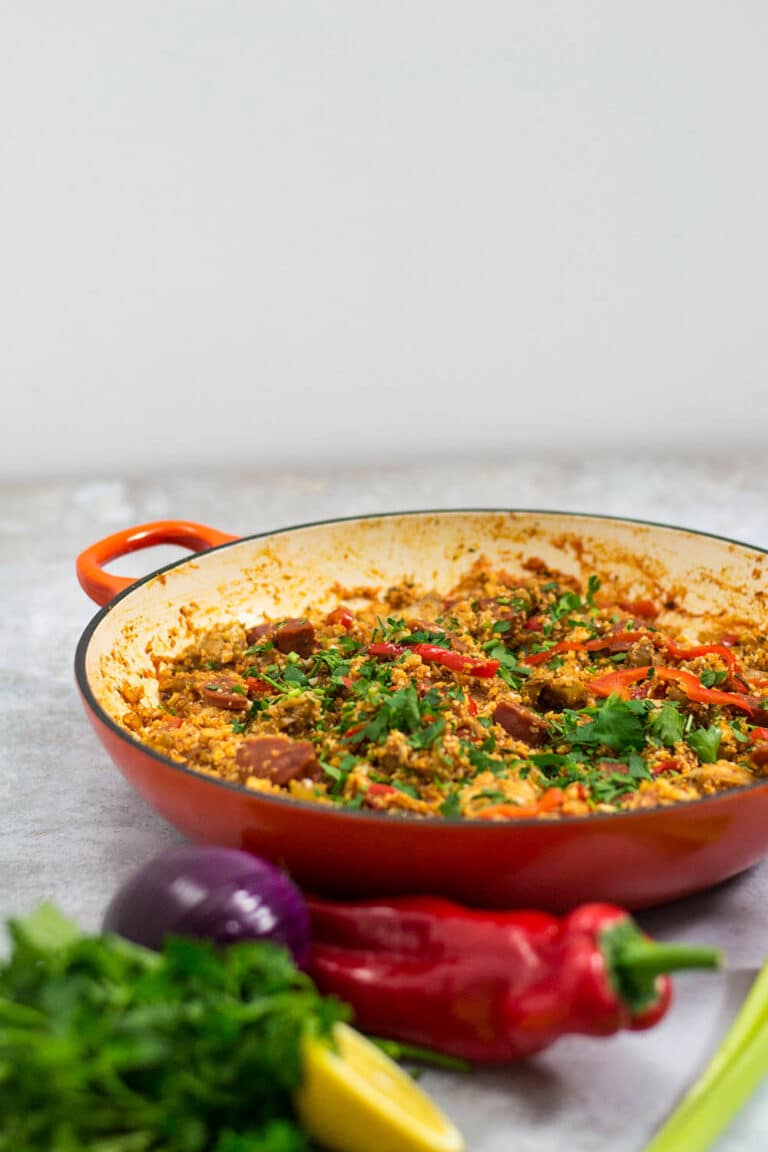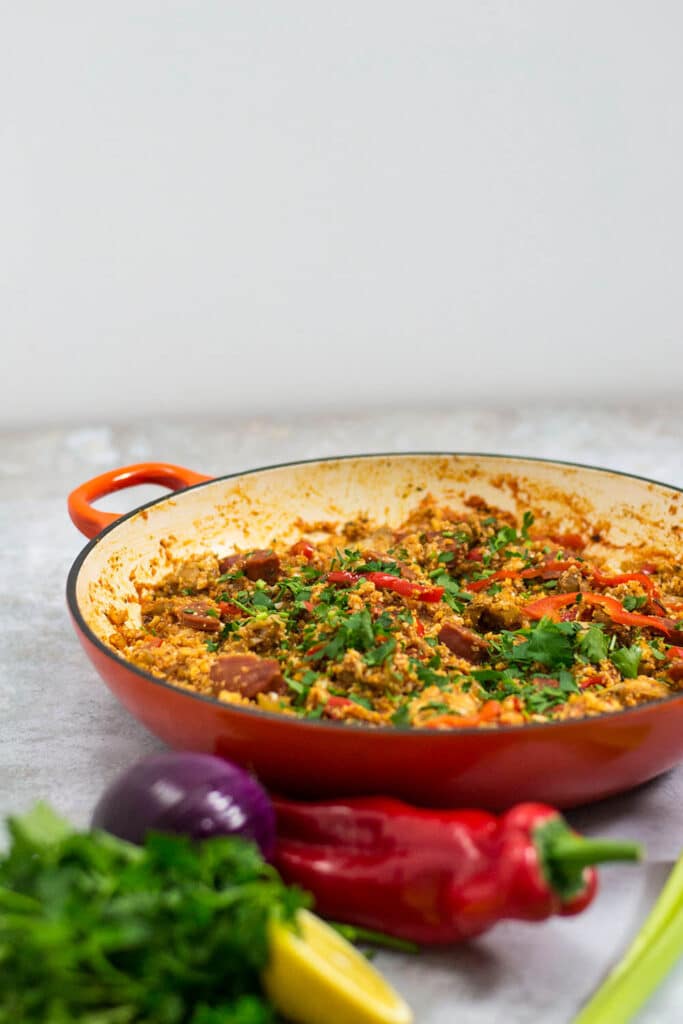 I ended up using a cajun spice mix I had in the cupboard, in fact this entire dish came about by accident when trying to figure out what to have for dinner. This ended making best use of what I already had which is great approach if you're trying to do keto on a budget.
You could of course make up your own cajun style spice mix for your keto jambalaya, and tweak it to your liking. The main ingredients you'll need for this are cayenne pepper, sweet paprika, dried oregano and dried thyme. Go easy on the cayenne at first as this can pack a punch!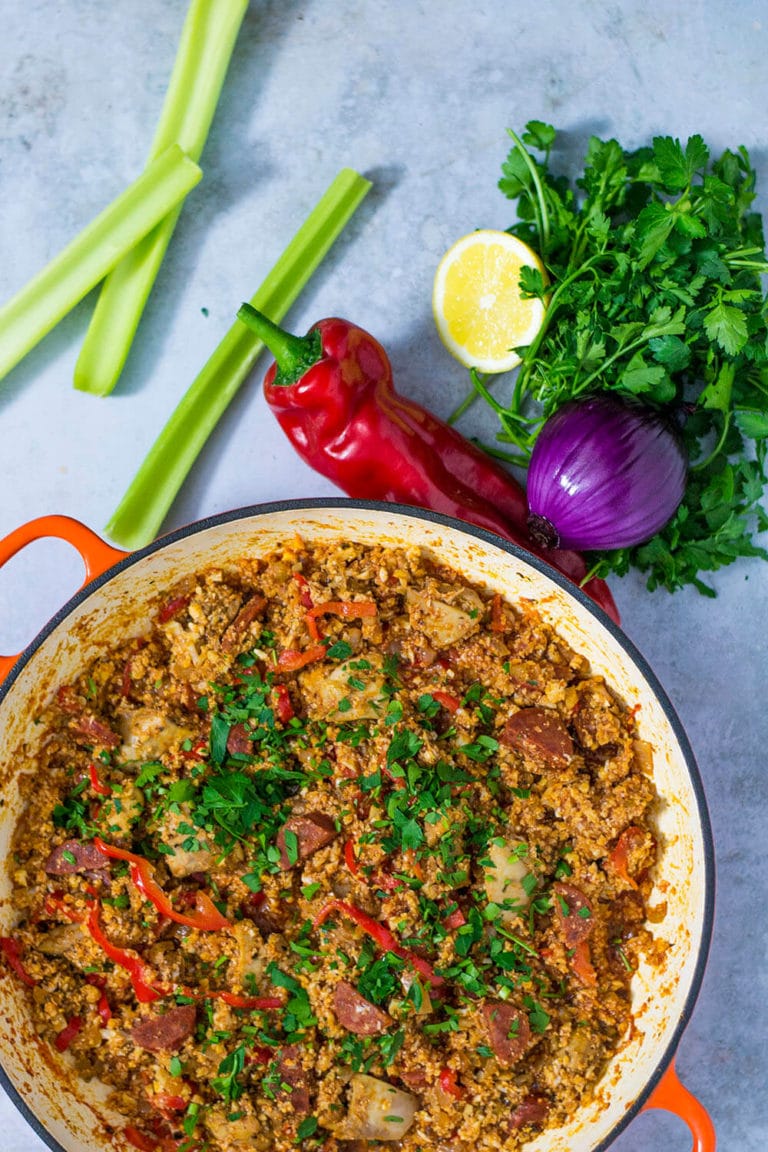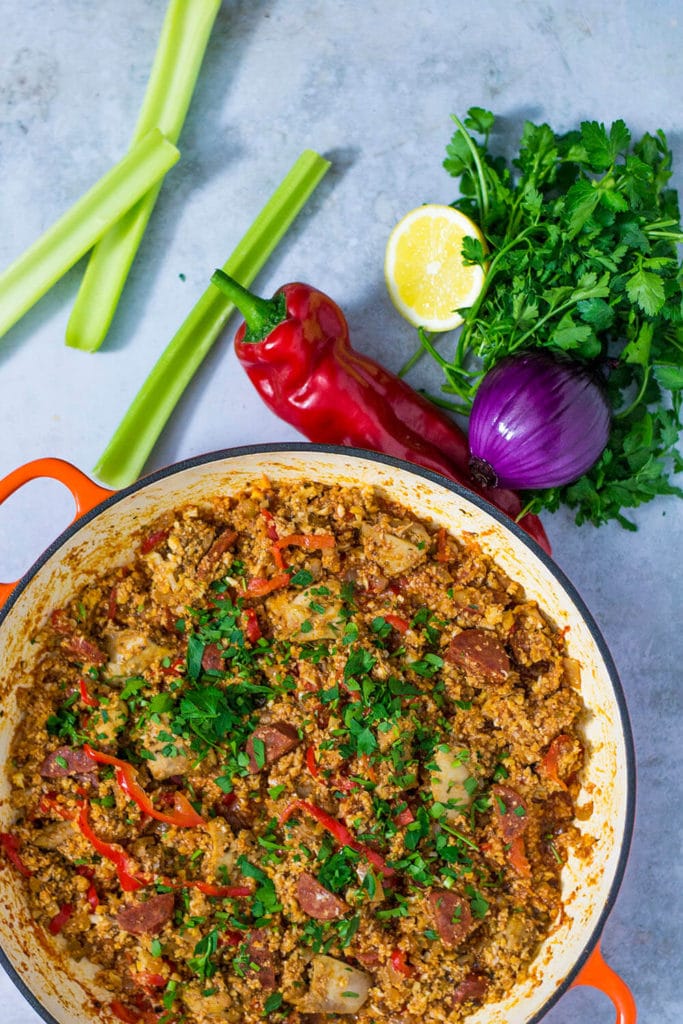 Cauliflower rice is one of my go to keto ingredients to bulk out a dish, and here it's brilliant for sucking up all the flavour of the chorizo and spice. Some people aren't big fans of cauliflower rice but there's no better rice substitute for something like this.
I like to cook it until there's just a little bite left to it, I don't like letting it simmer too long and become mushy, test out for yourself, having a little taste of the cauliflower every couple of minutes until it reaches a point you're happy with.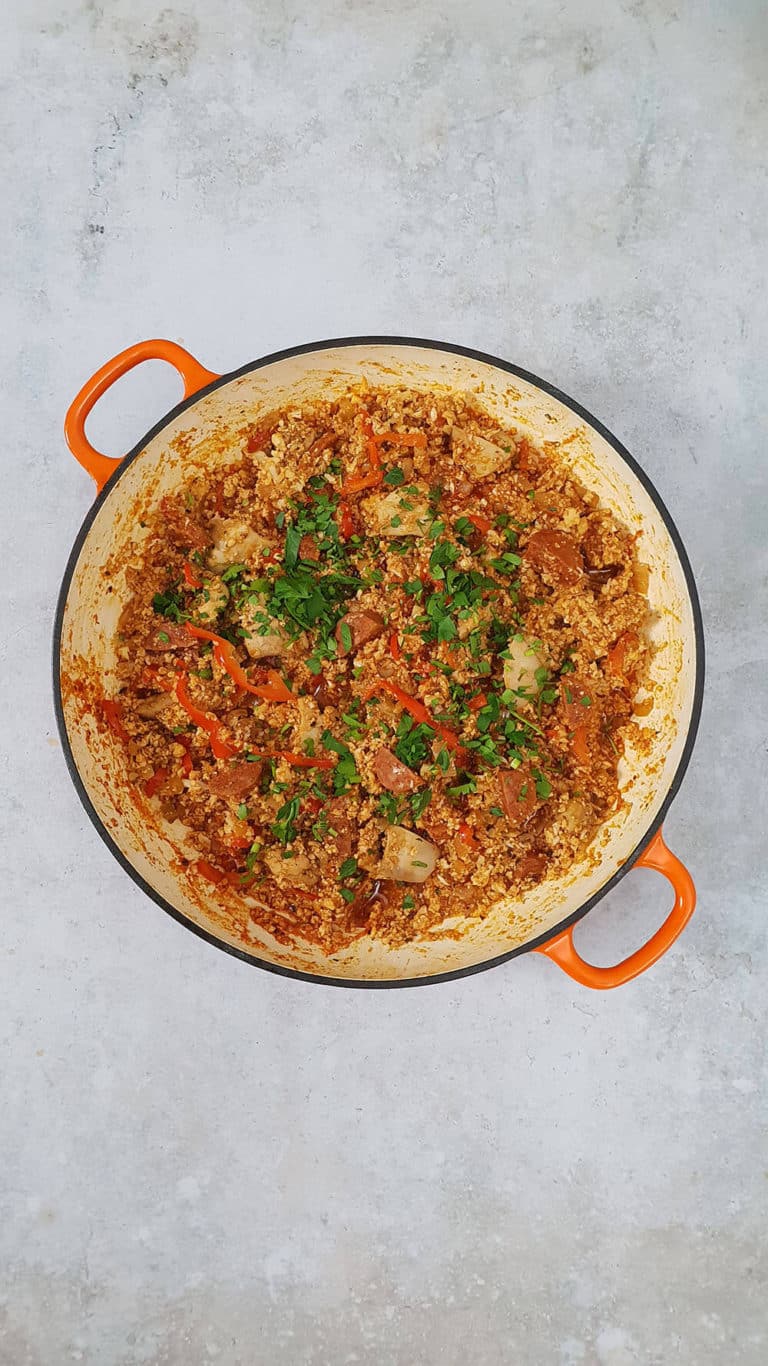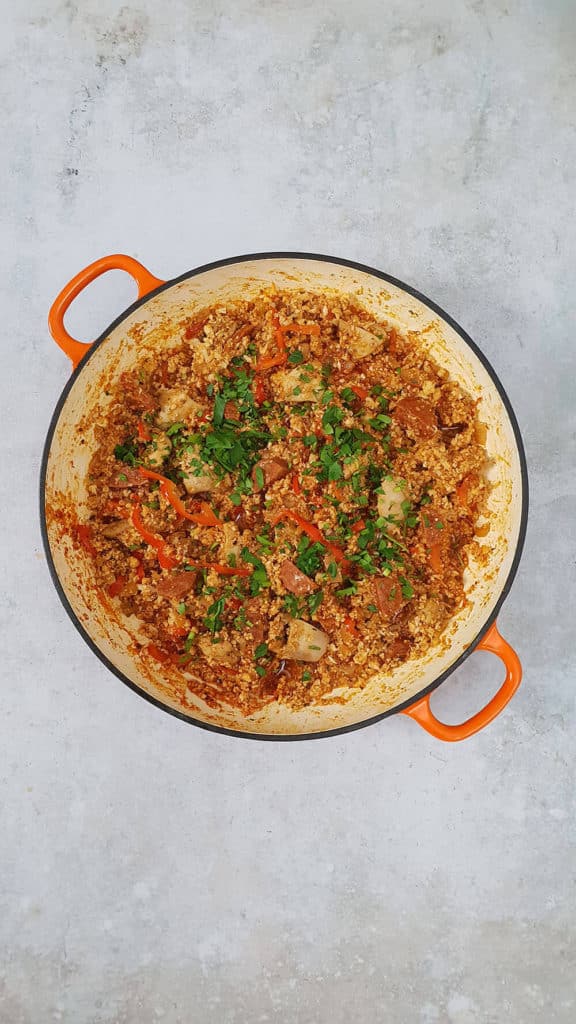 As this dish is ready so quickly, its important to have all your prep done beforehand, chefs call this mise en place, basically, do all your chopping etc before putting anything in the pan. I forgot to do this, and cut myself frantically chopping the chorizo at the last minute…lesson learned!
Quick Keto Jambalaya
I love this dish, and I hope you will too. Ready in next to no time, bulked out so you won't miss all the carbs, I think keto jambalaya is a perfect example of making keto easy.
Let me know what you think in the comments below. Looking for some more keto chicken dishes? Check out this selection of easy keto chicken recipes.
If you've enjoyed this post, then please don't forget to pin it!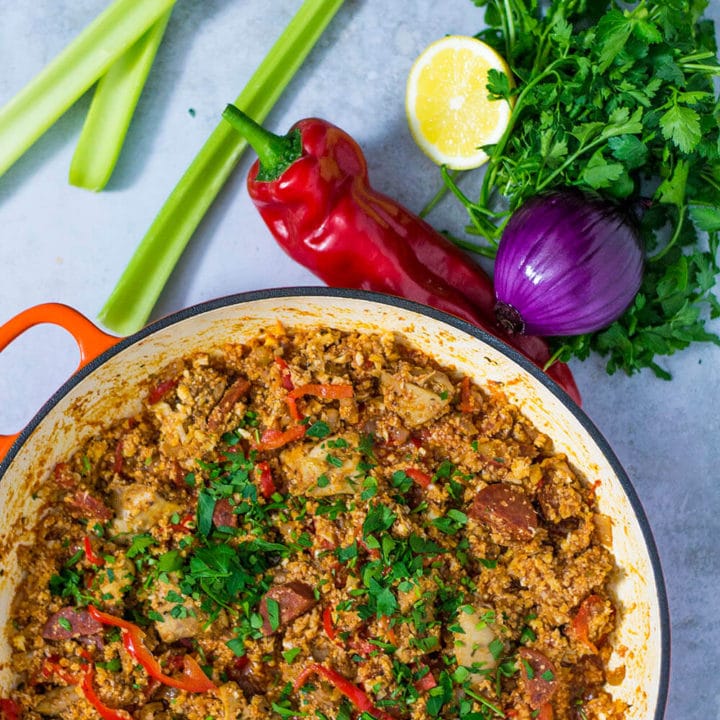 Chicken and Chorizo Keto Jambalaya
Quick keto jambalaya with chicken and chorizo
Ingredients
4 Tbsp olive oil
200g Chorizo sausage - sliced into 1/2 inch pieces
200g chicken thigh fillets - cubed
1 bell pepper - diced
1/2 small red onion - diced
1 stick of celery - diced
4 cloves of garlic - minced
3 Tbsp cajun spice mix
1/2 tsp salt
100g passata or diced tomators
4 cups cauliflower ricer
Parsley
Lemon
Instructions
In a large skillet, heat the oil on a medium heat and add the pepper, onion, celery and garlic. Cook for 5 minutes until onion is translucent but not browned
add the chicken and chorizo and cook for 6-7 minutes until chicken is browned and cooked through
add the spice mix, tomato passata and cauliflower rice - cook for 6-7 minutes until cauliflower rice is cooked but still has a little bite - season with salt and pepper
Top with chopped parsley and a squeeze of lemon juice and serve immediately
Nutrition Information
Yield

4
Amount Per Serving
Calories

495
Total Fat

39g
Saturated Fat

10g
Unsaturated Fat

4g
Carbohydrates

12g
Fiber

4g
Sugar

5g
Protein

27g