I don't know about you, but for me chicken is my go to meat of choice for a typical weeknight dinner. In this post I'm going to give you some of my favorite keto chicken recipes at the moment for you to try too.
There's just something about rustling up a quick keto chicken dinner that finishes off the day nicely for me. I tend to lean toward chicken thighs for their extra flavour and more forgiving nature (not drying out so easily!)
Chicken thighs (skin on!), a bit of spice and a big helping of fresh guacomole is probably my most eaten keto meal, so much so I should probably write it up! This list has some great and equally simple ideas for an easy keto chicken dinner. Give some a go and let me know your favorites (especially any others not on this list!)
Easy Keto Chicken Recipes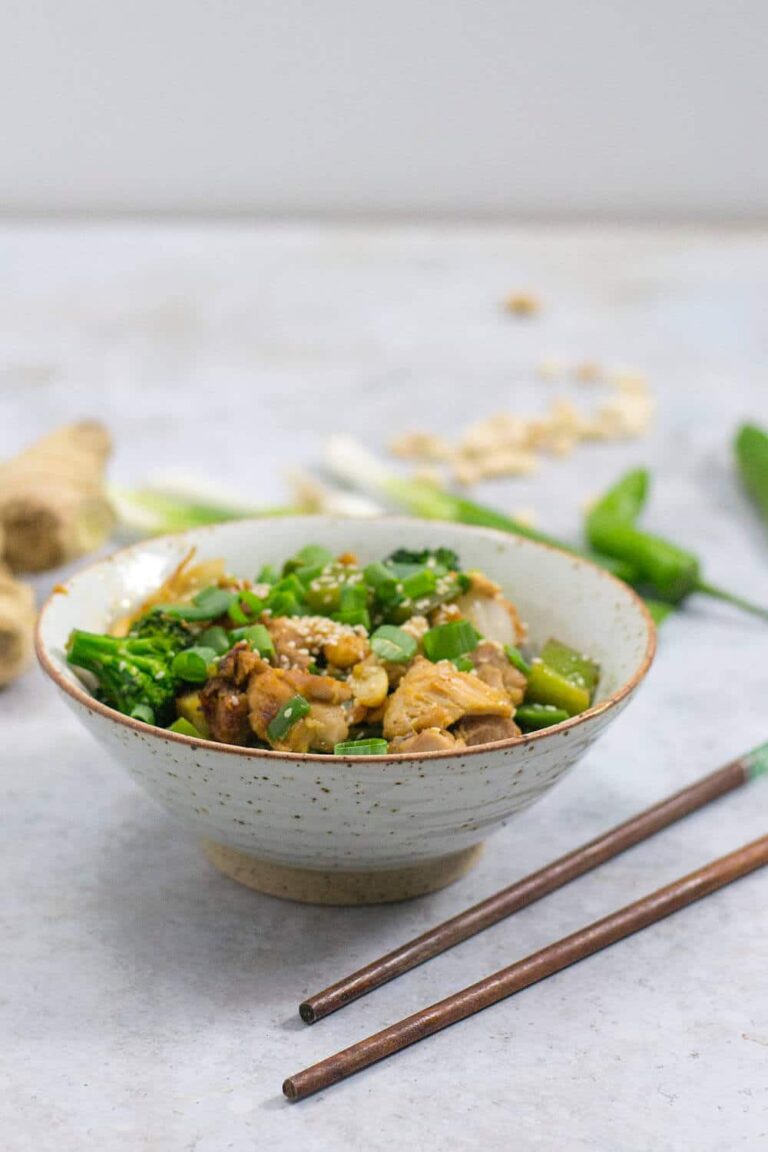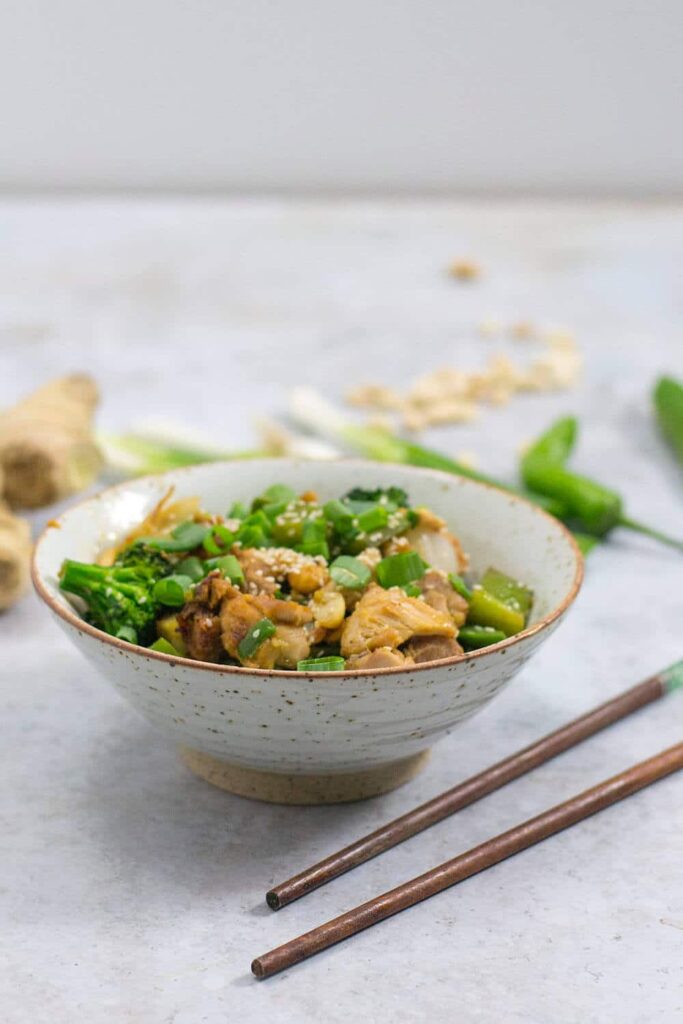 This delicious dish can be ready in no time and is packed with flavor. Peanuts give some healthy fats, and chicken thighs taste great and are much more forgiving than breast.
The best thing about this dish is how fast it can be put together. If I'm in the zone I can have this one on the table inside 15 minutes!
Get the recipe here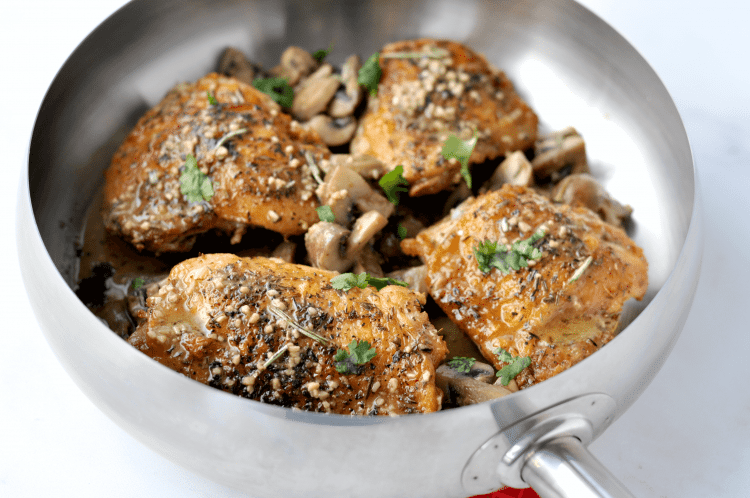 I wanted to start with something nice and simple, that celebrates the main ingredient, chicken thighs. Cooked with herbs and mushrooms, this dish from Peace Love and Low Carb is a perfect easy keto chicken recipe.
Using just a few ingredients you're able to make something really tasty, perfect as a weeknight keto chicken dinner.
The key with cooking chicken thighs skin on is to get that skin nice and crispy, I tend to broil these briefly at the end in the oven to acheive that.
Thankfully chicken thigh are very forgiving and hard to overcook so take the time to crisp up that skin!
Get the recipe here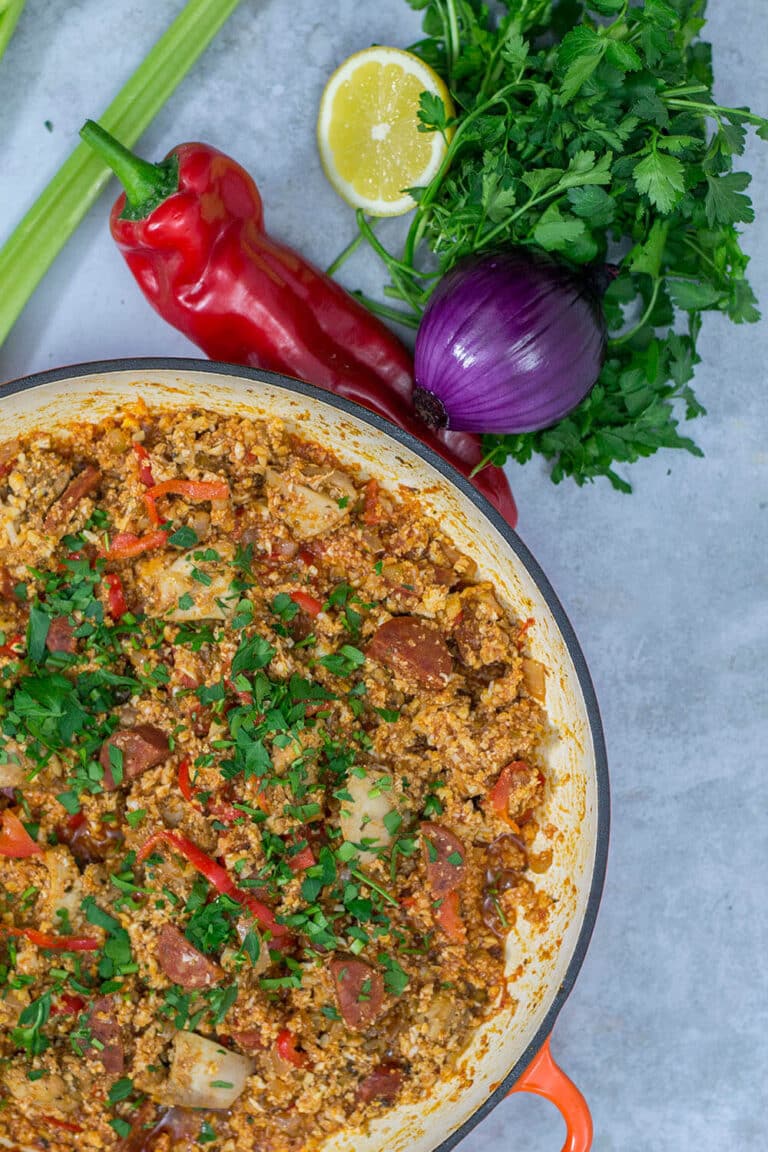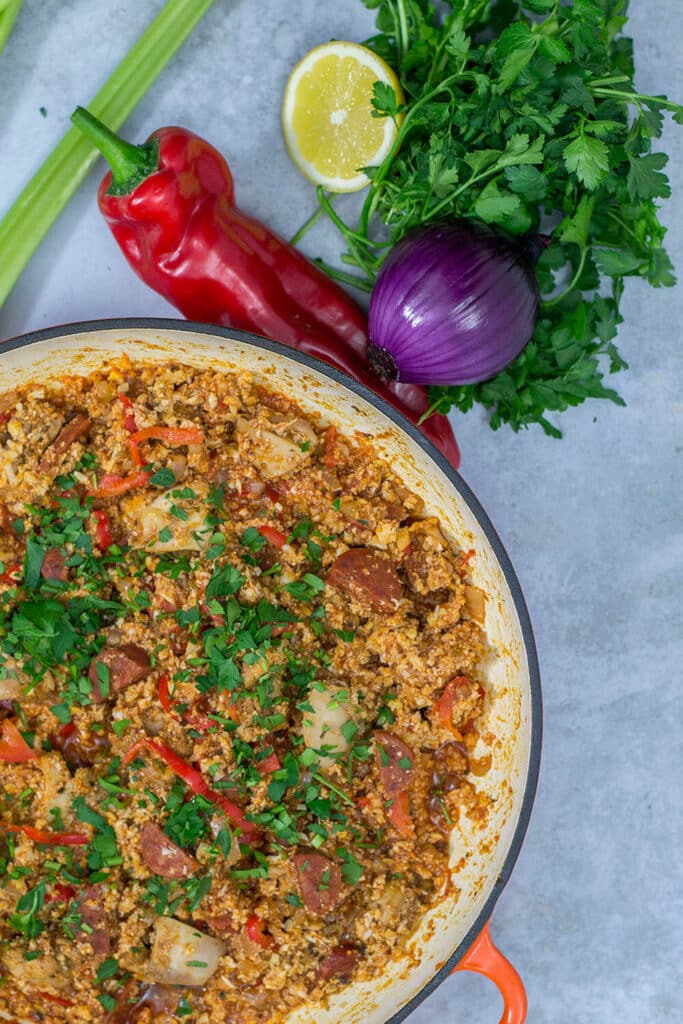 Keto goes cajun here with this delicious, super quick to make keto jambalaya. This is made with chicken and chorizo, but add shrimp too if you want to.
Cauliflower rice is a great, inexpensive way to bulk out a meal and does a great job of filling the gap left from starchy carbs like rice – you'll barely know you're on a diet. It sucks up all the flavor of the spices in this dish too which is great.
This can be knocked up inside 30 minutes which makes it ideal for a weeknight dinner.
Get the recipe here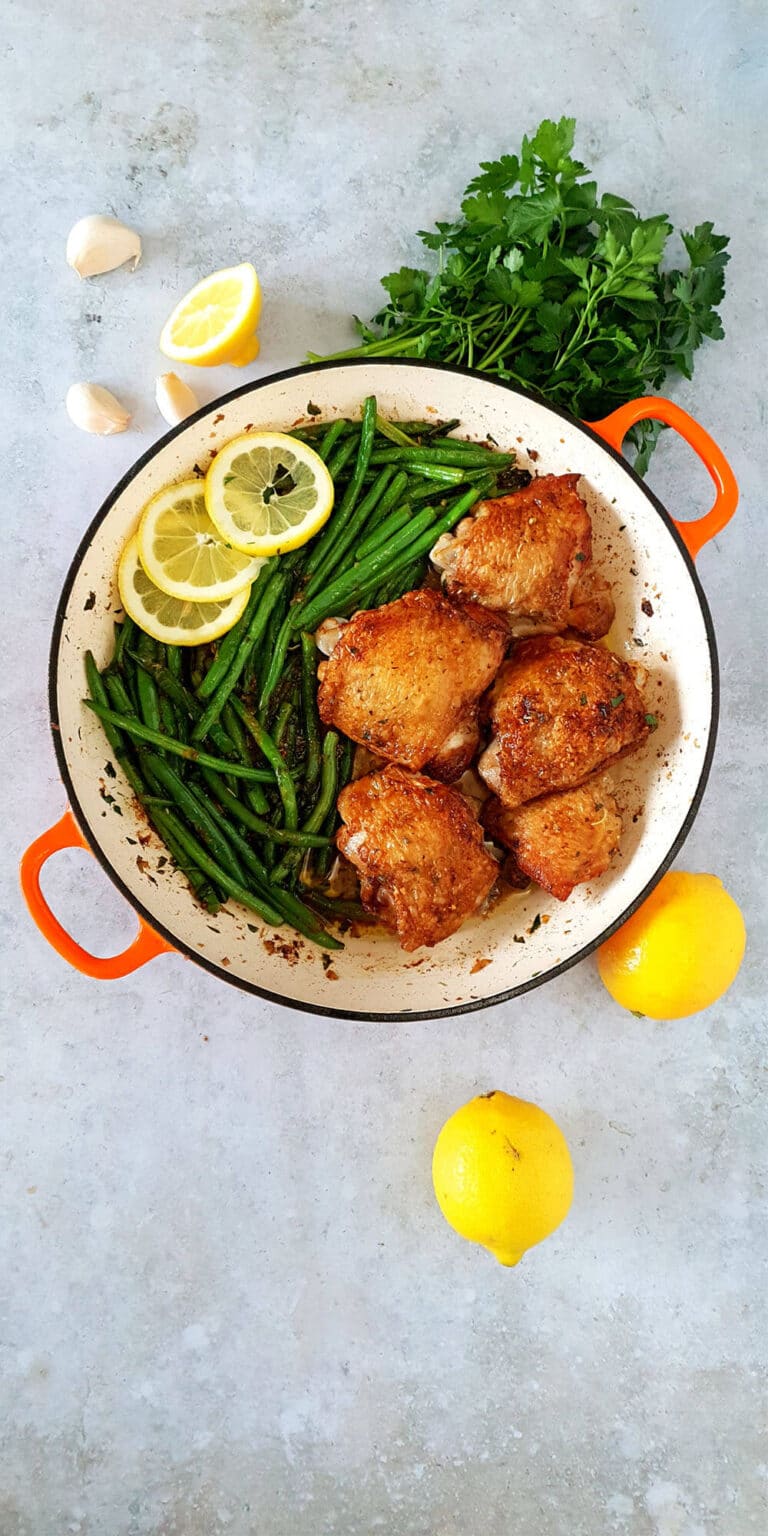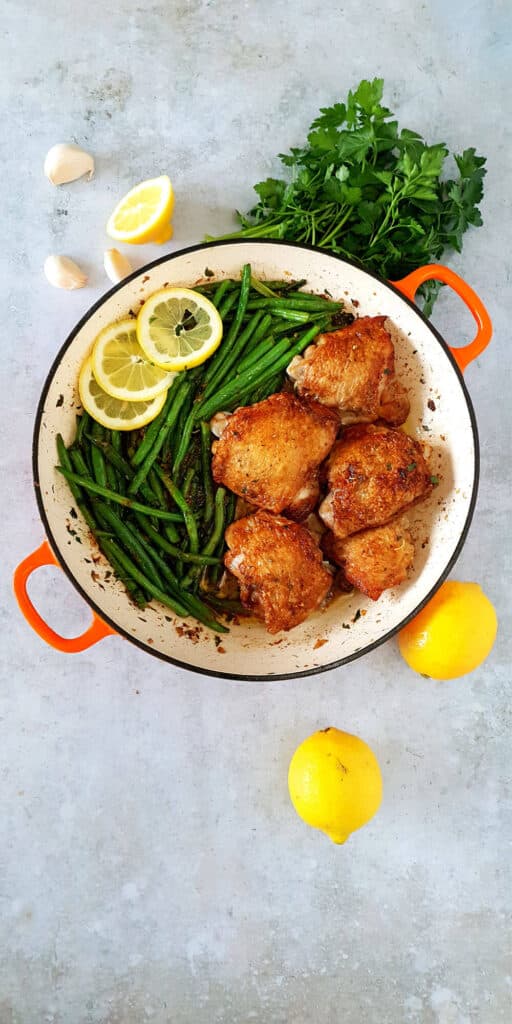 This is one of my go to meals and couldn't get much easier. This is a great keto chicken recipe to add to your repertoire for lazy days as it's done in one skillet and ready in no time.
kCrispy skin, garlic butter, lemon and herbs – this is a delicious meal that anyone can put together and is highly recommended.
Get the recipe here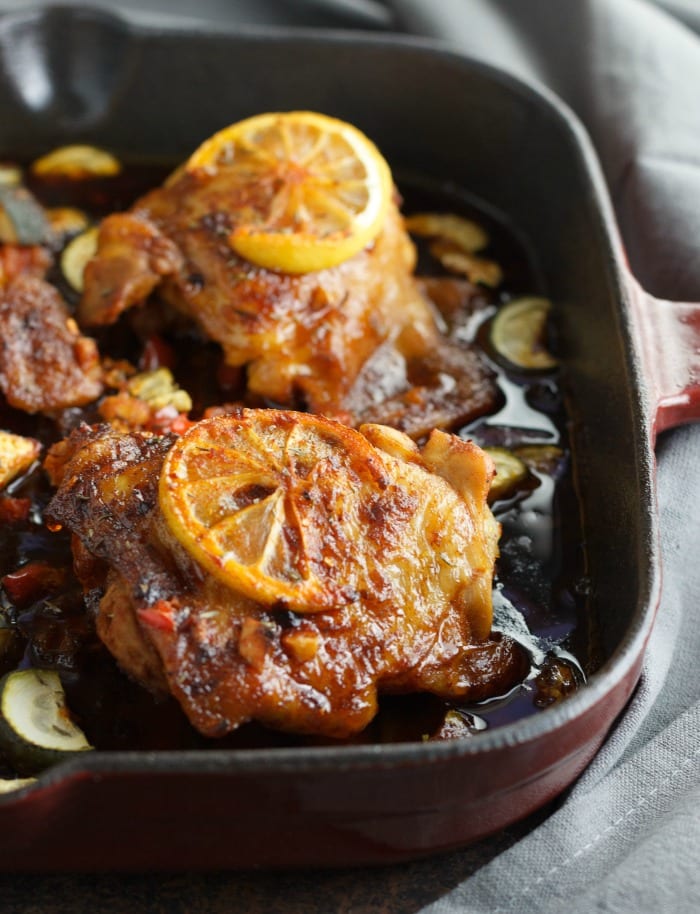 This is a wonderful looking dish from Beauty and the Foodie, made all the better by being able to be prepared in a single skillet.
I love one pan/pot dishes like this one, not least because there's less washing up!, but also because you're getting maximum flavour out of all your ingredients.
This dish is a keto take on Portuguese peri-peri chicken, a marinated spicy and intense recipe.
Whilst this is a Portuguese dish, peri-peri chicken also happens to be just about the most popular dish here in the UK, where you'll find it in Nando's, the UK's most popular restaurant chain! Yes, keto Nandos!
Don't rush the marinating as you want to flavour to really permeate the chicken!
Get the recipe here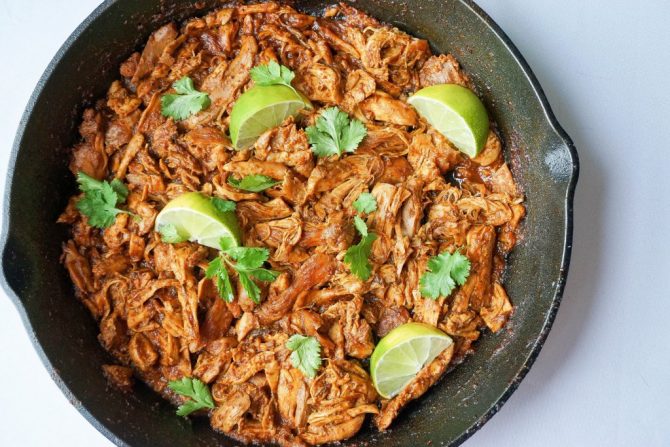 Keto Shredded chicken is something I'm seeing more and more of lately (lots of instant pot recipes!) and this one from Keto Connect doesn't disappoint.
This is a hugely flavorful dish with lots of added spice – I like to up the chili heat in this one to get the benefit of chilis fat burning properties.
This would go great with some cauliflower rice and a big bowl of guac to make this a brilliant family size keto chicken dinner recipe.
Get the recipe here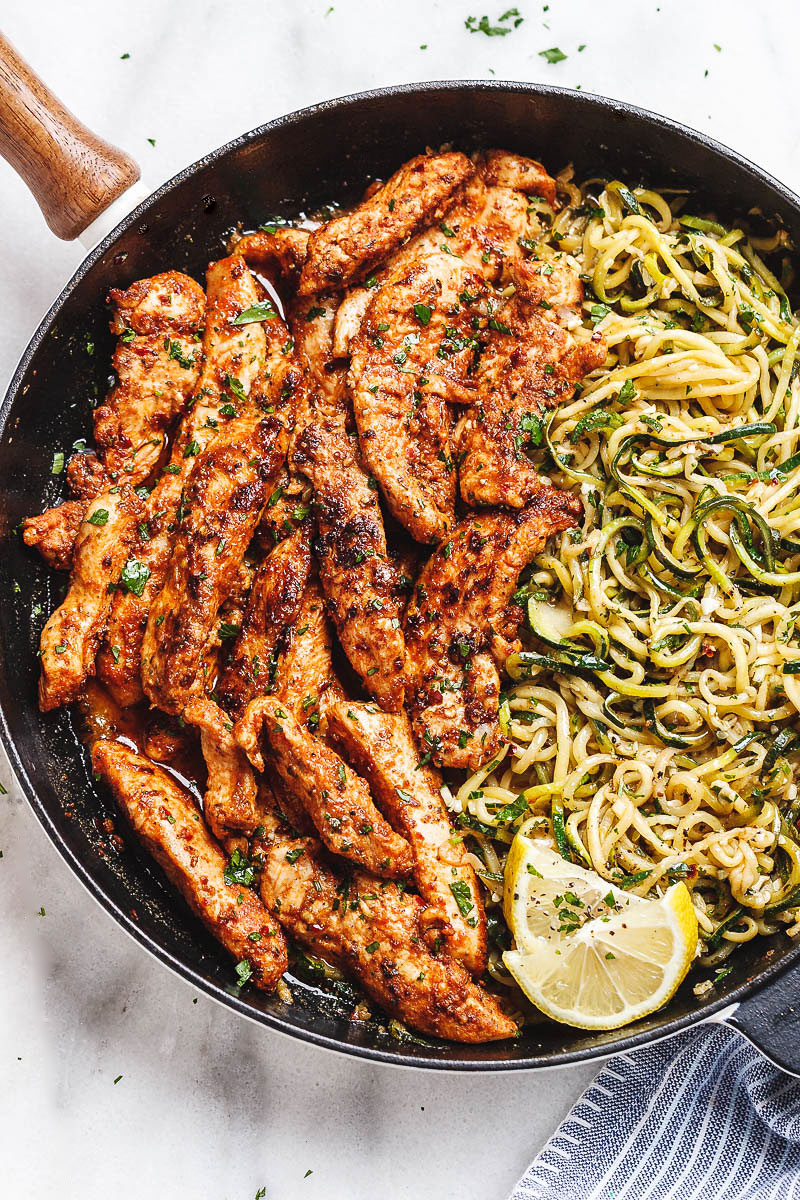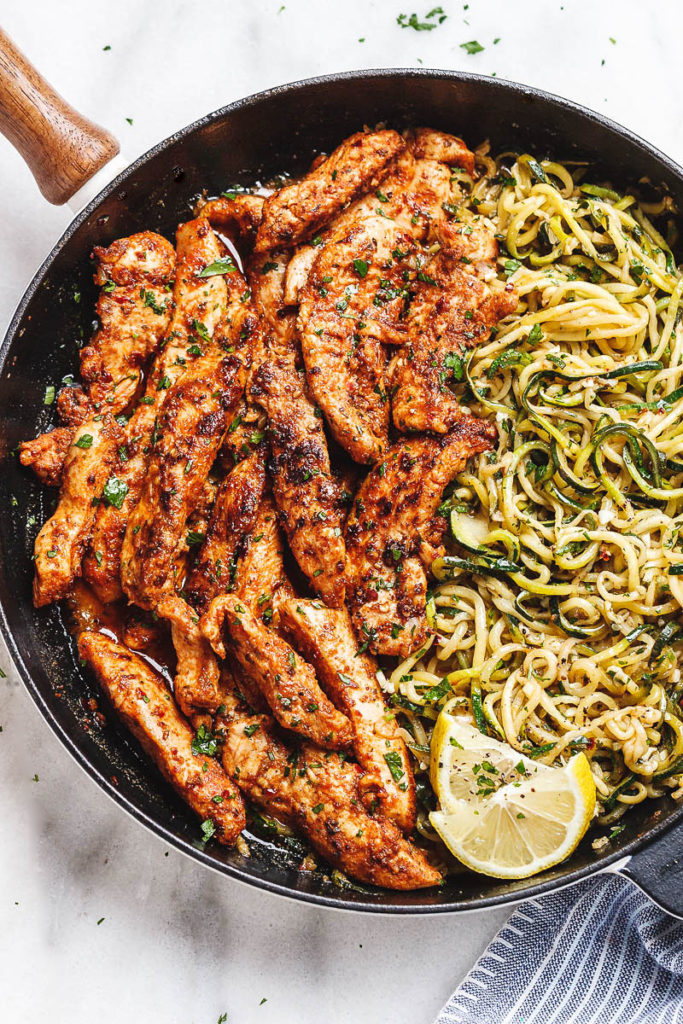 Keeping up the spice theme we've got these taco spiced chicken tenders from EatWell 101. This is another classic one pot keto dish using zucchini pasta cooked in the same pan to soak up all the flavor from the spiced chicken.
I cook zucchini noodles (or zoodles!) a lot as a quick low carb side to bulk out a keto meal. Get yourself a spiralizer like this one if you're planning to make this dish. I was apprehensive at first but now I use it all the time!
Get the recipe here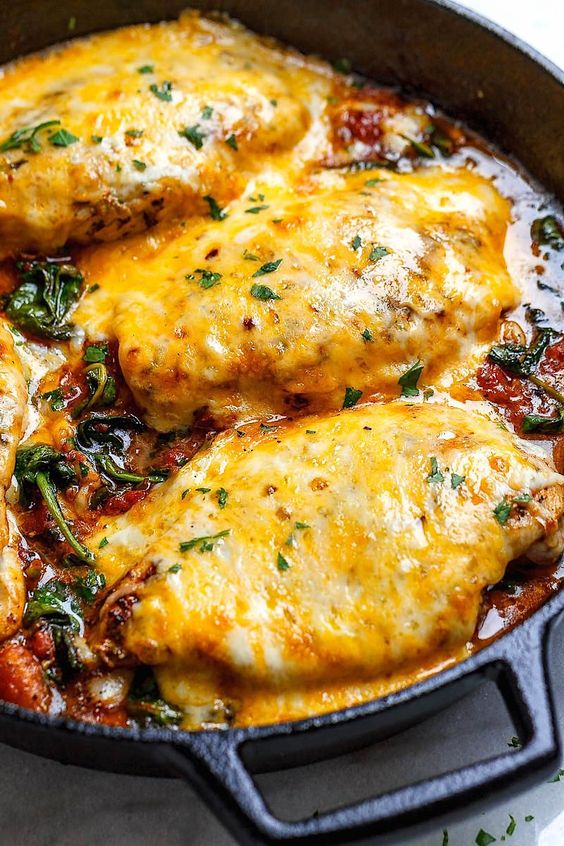 Another great one pot keto dish here from Eatwell 101, these guys know their skillets!
This is super simple, but flavor packed with a little spice and some nutritious spinach and tomato, making this a great keto chicken recipe as they're all easy to find, and cook ingredients.
Cheese on top is an indulgent way to get more fats in, but it sure is tasty!
Get the recipe here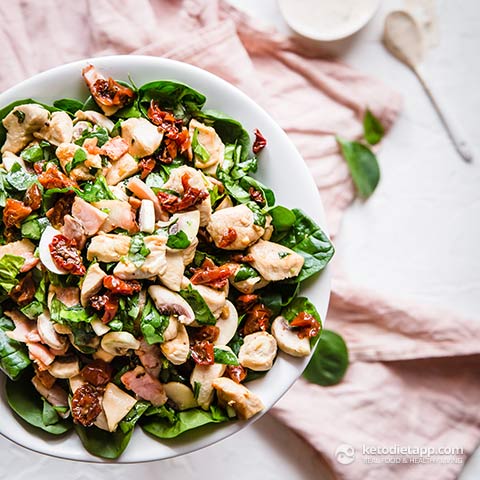 This simple keto chicken salad from from Keto Diet App is super simple to make but with the keto ranch dressing can be pretty indulgent.
This keto chicken recipe can be served hot or cold, making it an ideal keto packed lunch (just store the dressing separately and add at the last minute)
Get the recipe here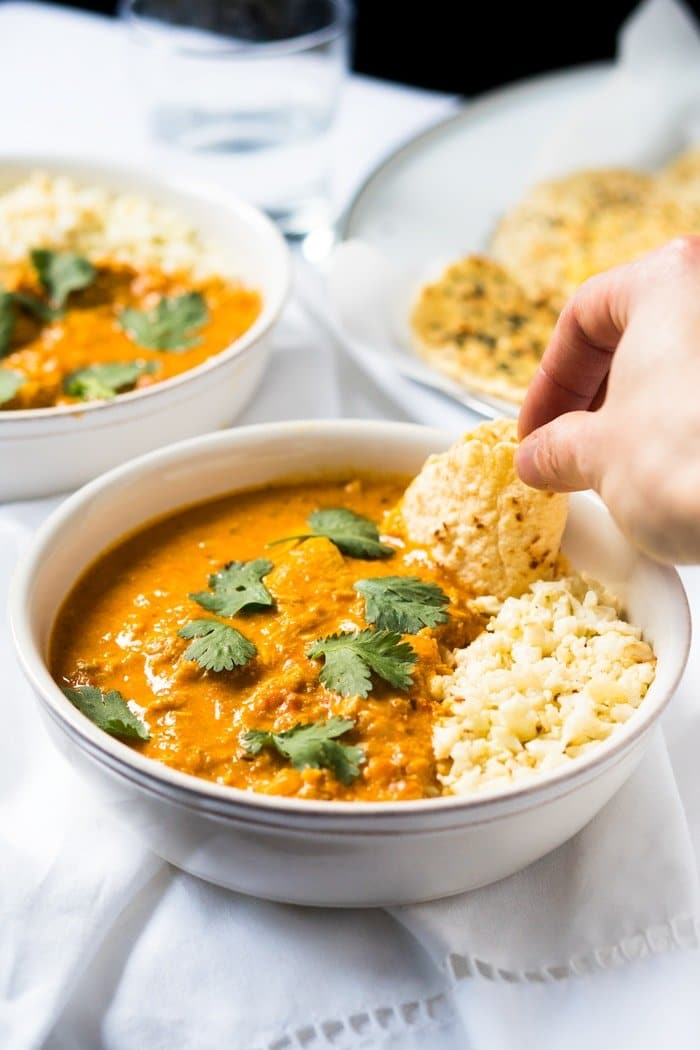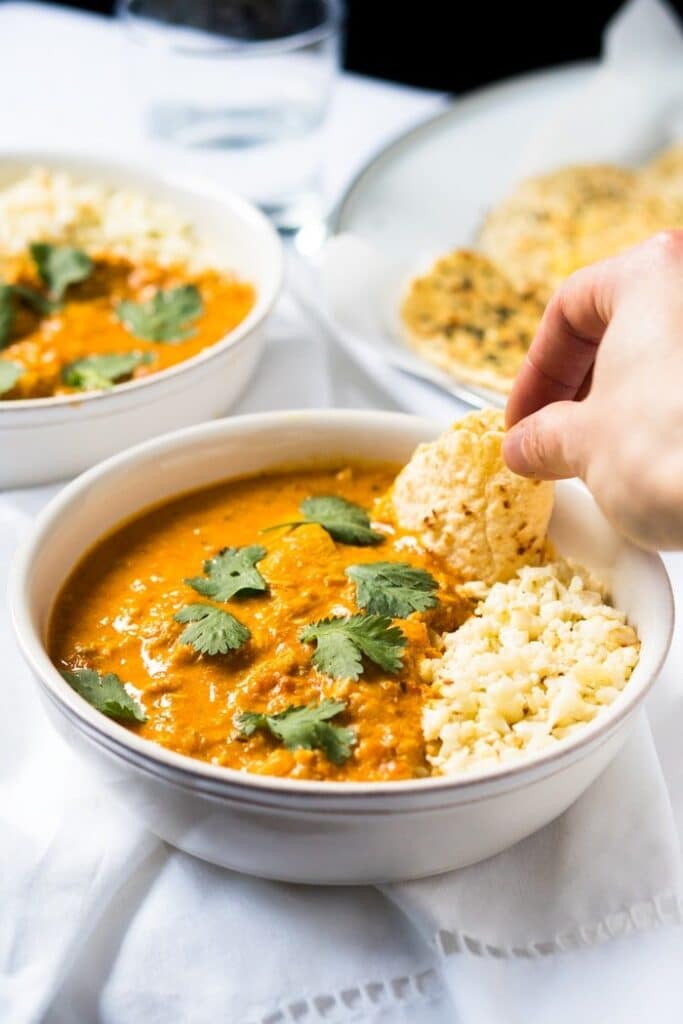 This keto butter chicken from Gnom Gnom looks delicious, and would make a great family feast. Be sure to cook up some cauliflower rice on the side, and look for a decent keto roti recipe to have on the side to mop up the sauce.
Get the recipe here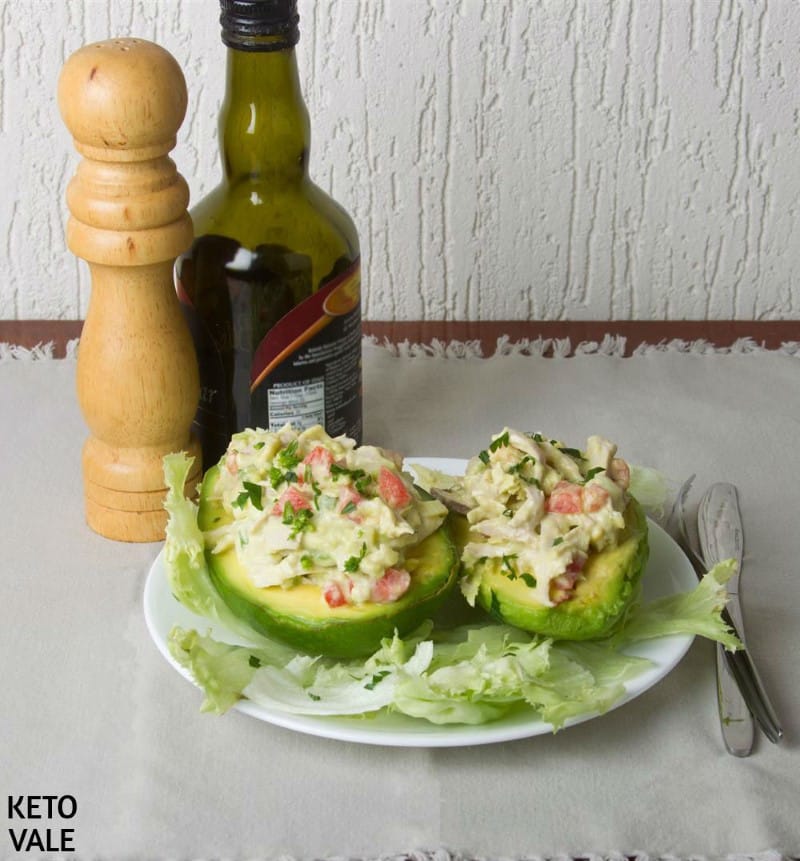 I love this simple keto chicken recipe from Ketovale, it makes a great keto packed lunch, which I've made a few times recently. I box up the chicken salad and take it with a couple of avocados to work, cutting and filling the avocado at lunchtime.
Alternatively just cut up the avocado beforehand and mix it in (but sprinkle the avocado with a little lime juice first to stop it going brown too fast)
Get the recipe here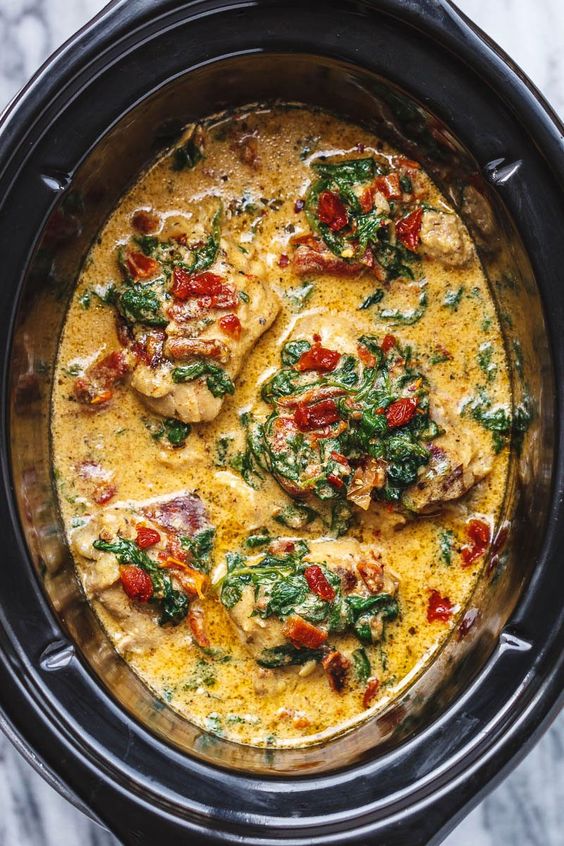 This delicious looking dish from Eatwell 101 is a simple one pot keto chicken recipe that delivers big on flavor.
Adding parmesan to the sauce makes this extra indulgent with a tasty umami hit from the cheese. Cooking thighs in the slow cooker keeps them moist and makes them extra tender and flavorful.
This is one of those keto chicken recipes that would be great to make for a crowd, they'd have no idea this was keto if you pair it up with some nice buttered green veg on the side.
Get the recipe here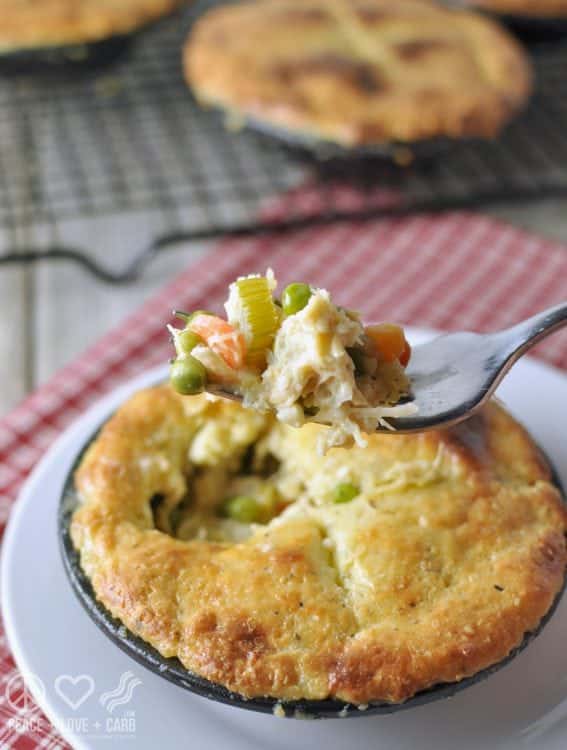 This is a great idea from Peace Love and Low Carb, creating a keto pot pie, the sort of food you don't see often on a keto diet.
This easy keto chicken recipe has a cheesy crust on top using mozzarella and almond flour to give it some bite. You could use the crust recipe on this with plenty of other pie fillings too for a hole bunch of keto pies.
Get the recipe here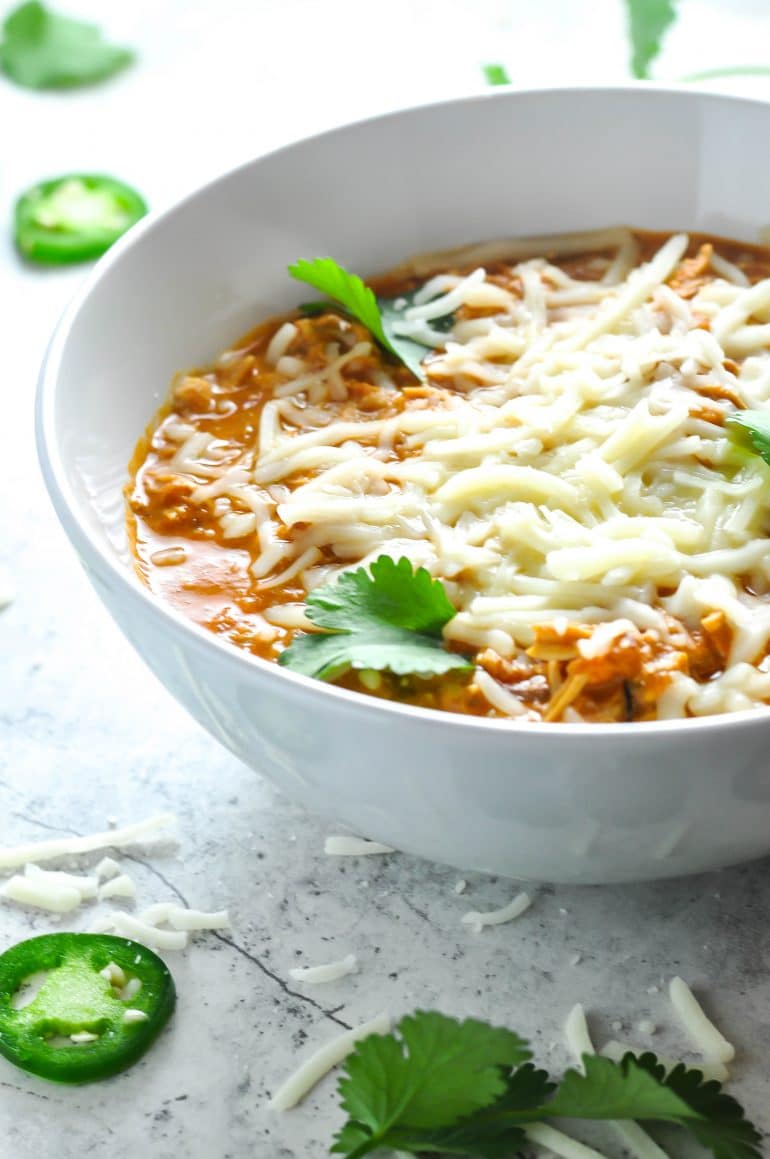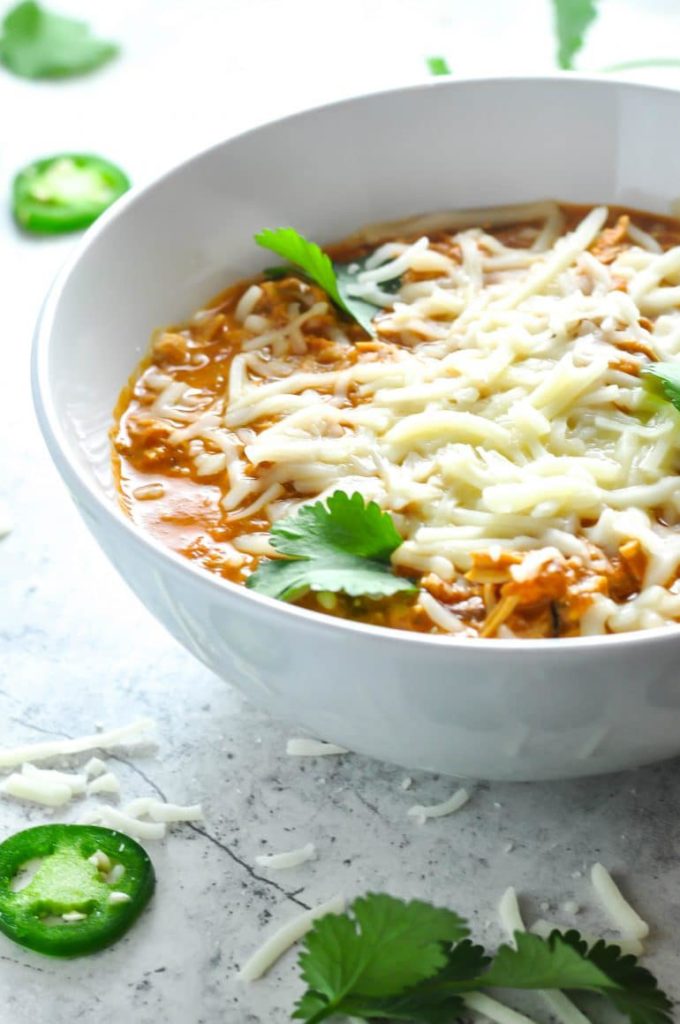 Doesn't this shredded chicken chilli from Ketogasm look delicious! This would go great with loads of different sides, you could even have a go at making some keto tortillas/nachos.
The great thing about a dish like this using shredded chicken, is that it's so easy to make in bulk and use during the week.
I'm a big fan of meal prepping in advance and a beef chilli has always been a regular on my repetition. Now I can mix it up with keto chicken chili instead!
Get the recipe here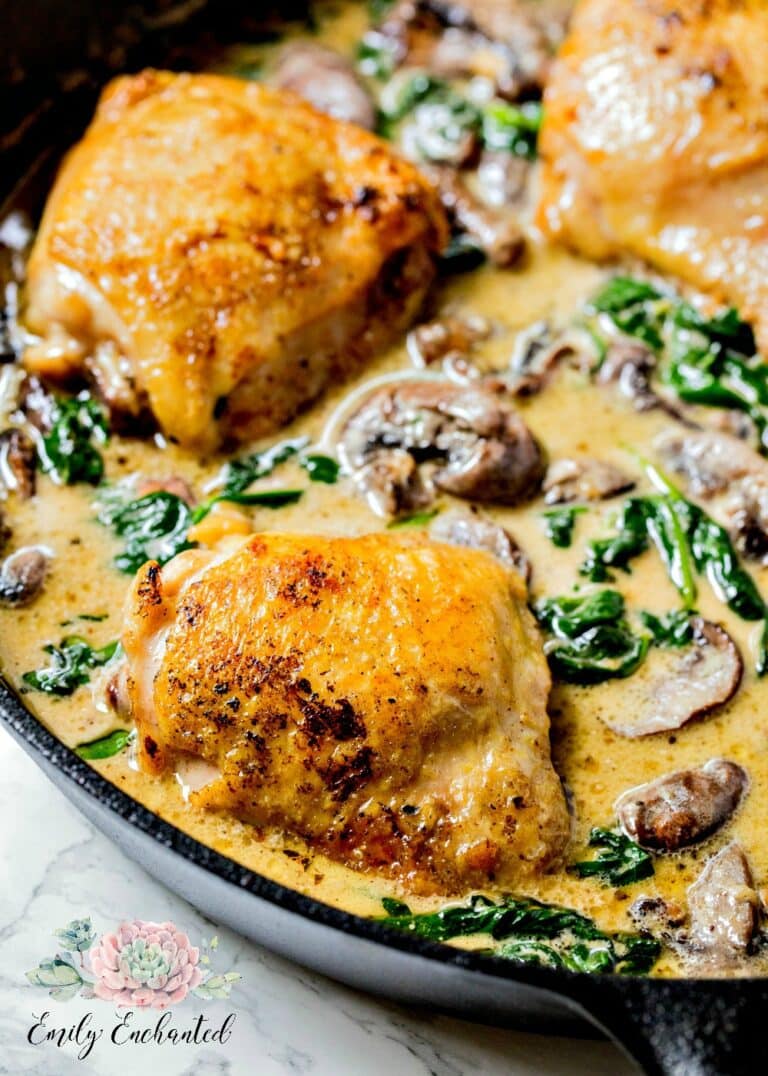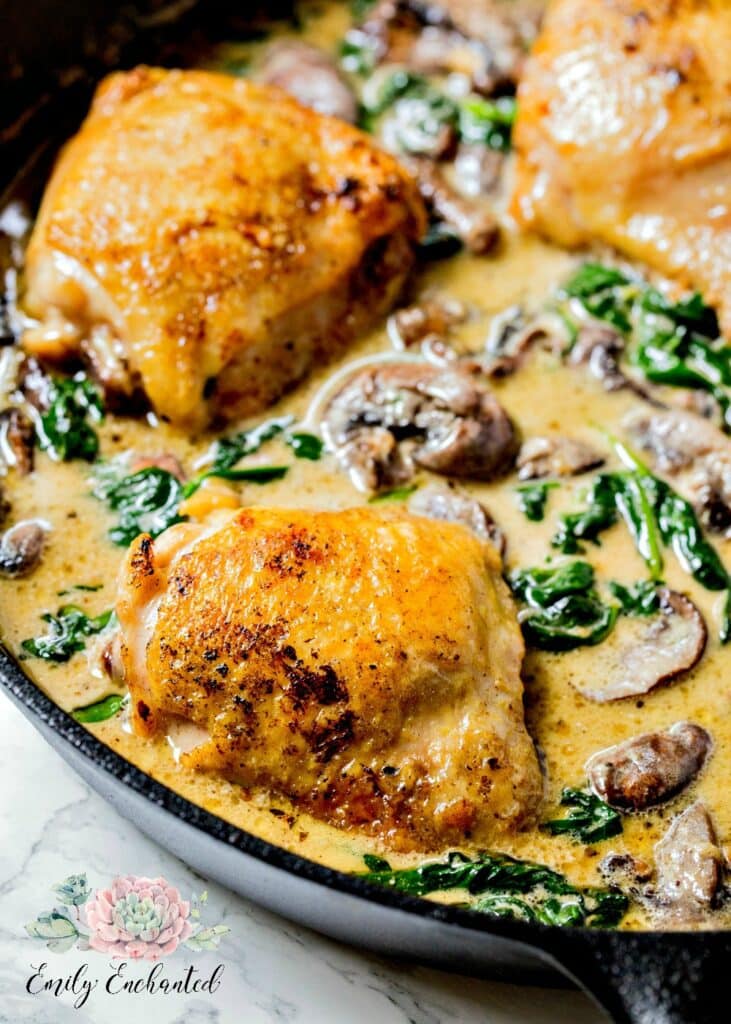 A classic dish here from Emily Enchanted. Florentine chicken is a delicious, decadent and creamy meal that is perfect for converting into a keto feast.
This is a great one pot keto chicken recipe, just serve with a bunch of healthy greens on the side.
I love chicken thighs so highly recommend them for this, get some with skin on and get them under the broiler at the end to crisp it up!
Get the recipe here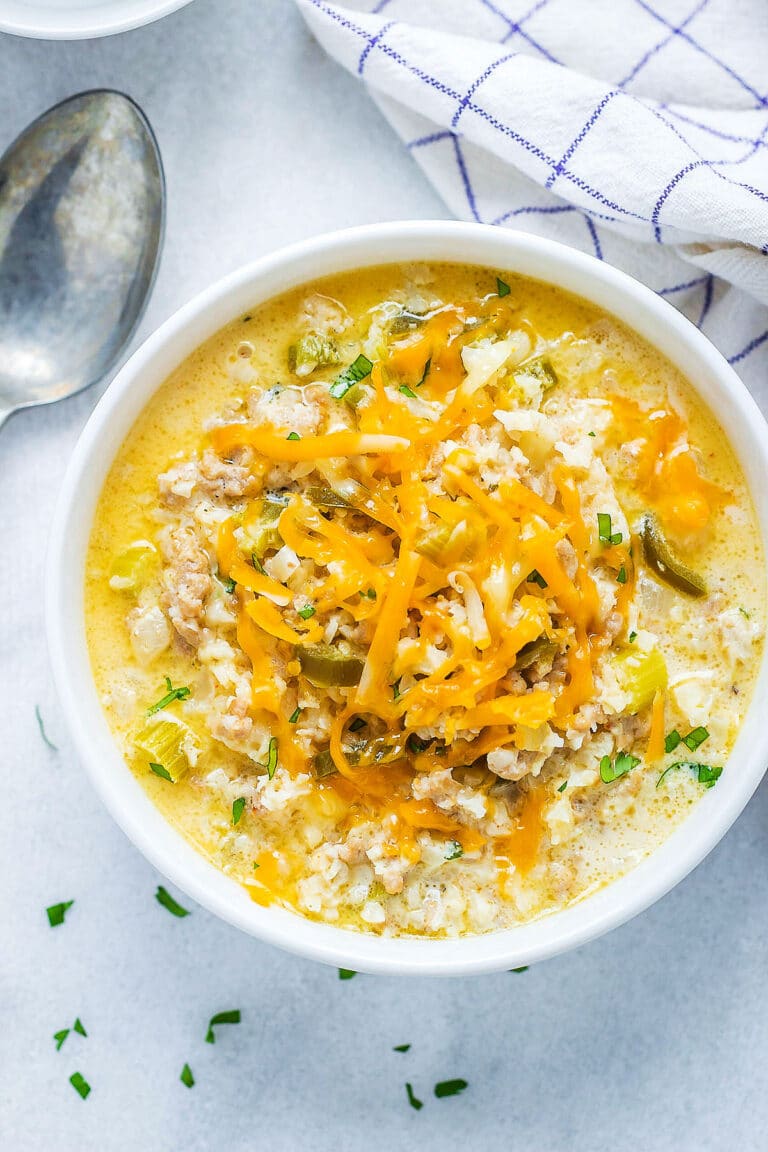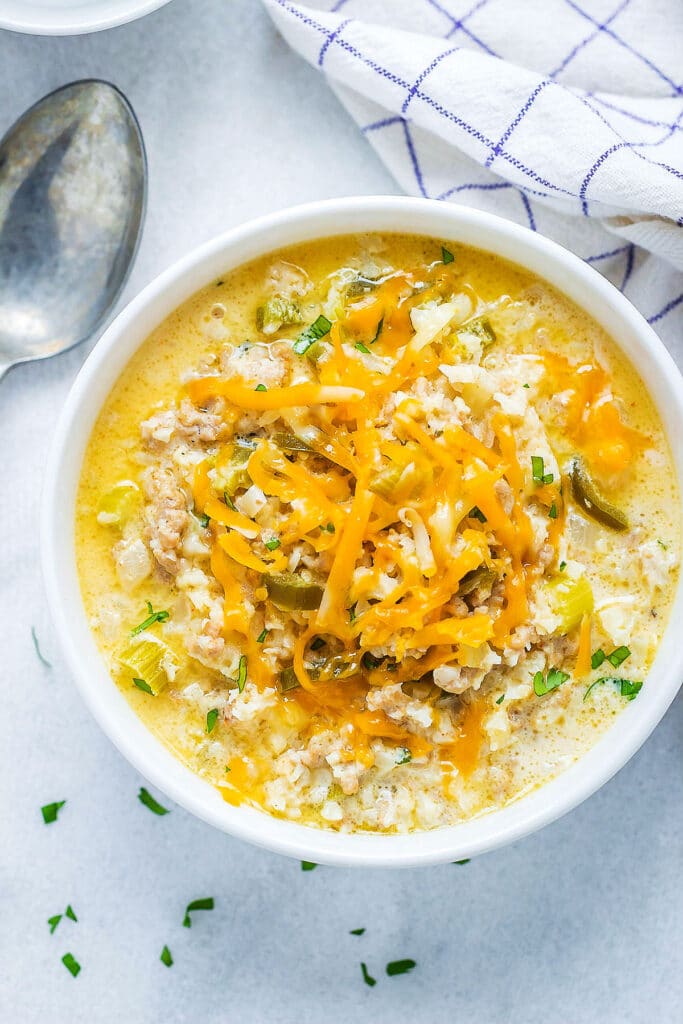 I'm writing this post in the depths of winter, with ice on the windows, and right now this warming chicken soup from Eatwell 101 is just really calling to me!
It's got some bulk to it from the cauliflower rice but with creamy, pulled chicken I just know this would really hit the spot right now. This is a great dish to use up leftovers as well if you're being frugal.
In fact, I've been looking at this one far too long so may need to go rustle this up right now!
Get the recipe here
Easy Keto Chicken Recipes
So there you have it, a bunch of great keto chicken recipes to get started with everyone's favorite meat. What's great about lots of these is how quick, simple and cheap they are to make.
If you're new to the keto diet I always recommend finding 3 or 4 keto dishes you really love and perfecting them. When you're feeling demotivated, or don't have time to look up new recipes these are your fall backs.
I think any of these easy keto chicken reipes would make a great addition to your core group of recipes. If you're looking for more ideas I recommend this post of 15 minute keto meals which couldn't be easier or these quick keto dinner recipes.
Or if you want to keep things extra affordable then check out these cheap keto meals!
Thanks for reading, I've hoped you've enjoyed this one, don't forget to pin and follow me on pinterest below!