This simple weeknight meal of garlic butter thighs is a great keto chicken recipe to add to your repertoire. Read on to learn how to make this simple, delicious one-pot keto meal.
I'm all for long, complex recipes as I love to cook, but some days you just want something quick and tasty. That's where dishes like this keto garlic butter chicken come in, accompanied by a good helping of green veg of course!
Chicken thighs are really economical cut of meat too for the keto diet, which I talk more about in my guide for doing keto on a budget here. I've also listed out a bunch of other great cheap keto meal ideas here.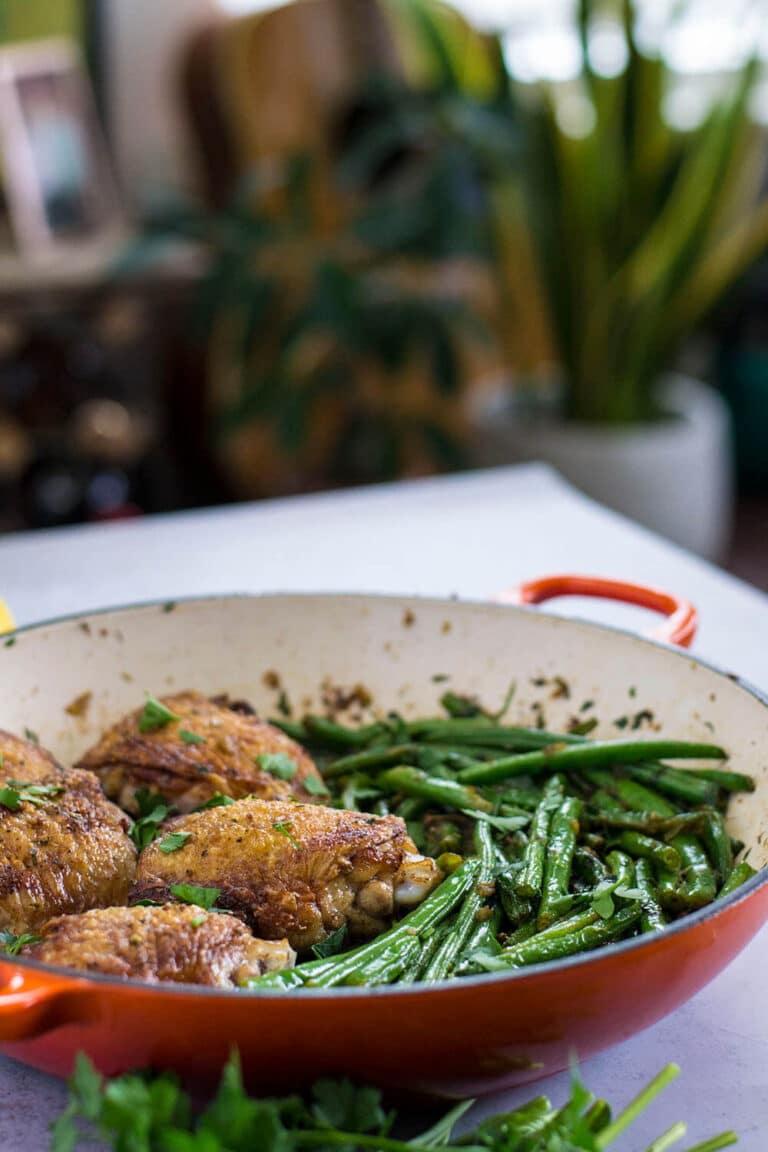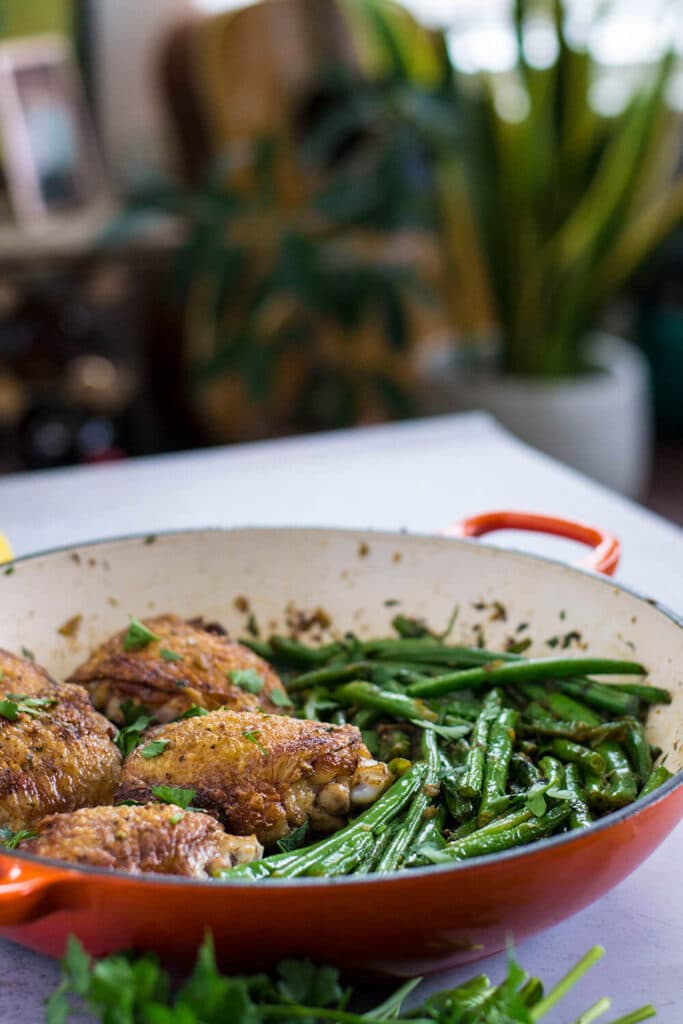 The key to this dish is to make sure you get the chicken skin nice and crispy, and that you really brown up the meat to get loads of flavor into the sauce.
Speaking of sauce, I like to add some lemon juice and mustard in with the garlic and butter to lift the dish with a bit of acidity and sharpness to contrast the buttery base of the sauce.
I add a bunch of different herbs into this too to build up flavour, in this case using dried oregano, thyme and rosemary, with big hit of fresh parsley at the end to brighten things up.
If you haven't got all of those herbs then just take a look in your store cupboard and see what you've got to throw in. Sage, tarragon, italian herb mix etc. just go ahead and chuck it in, chicken goes with just about anything.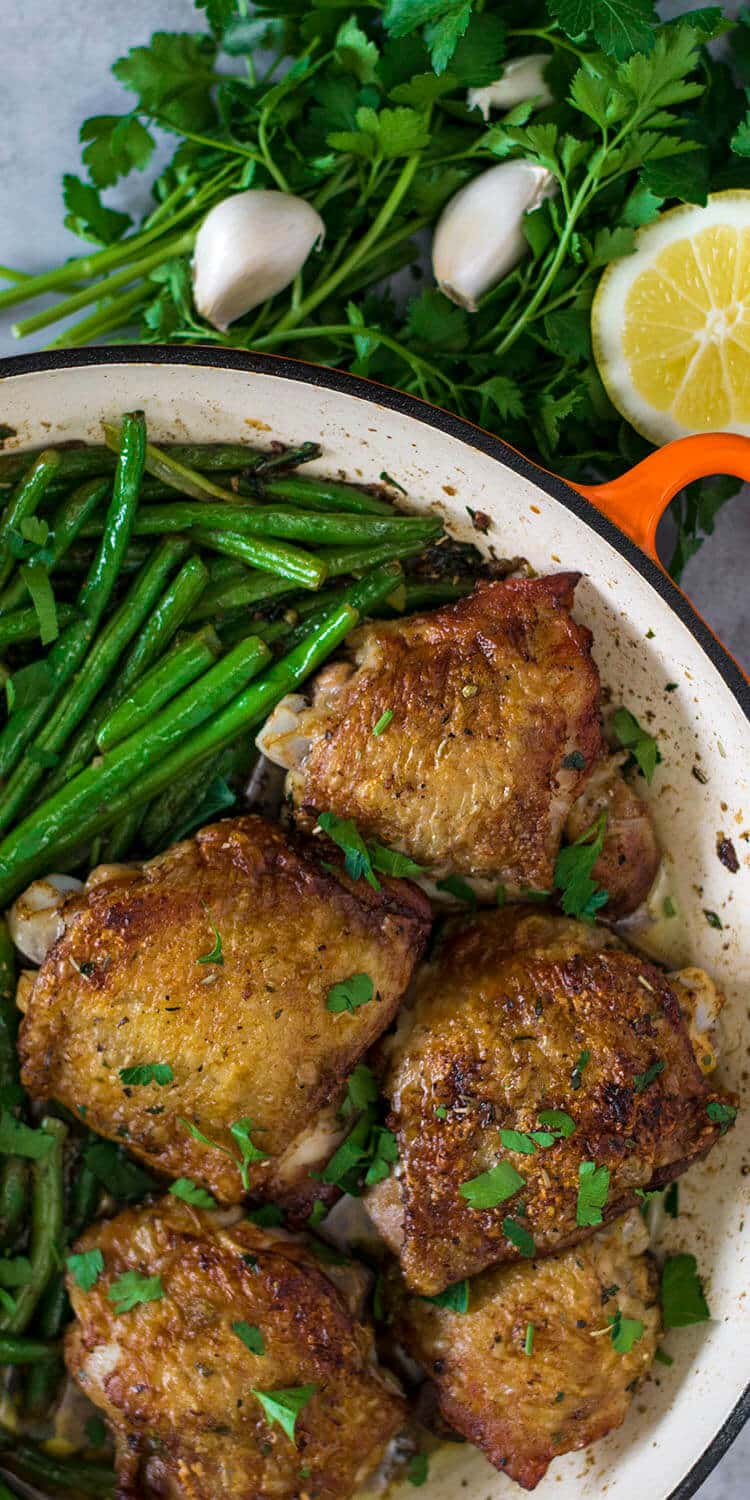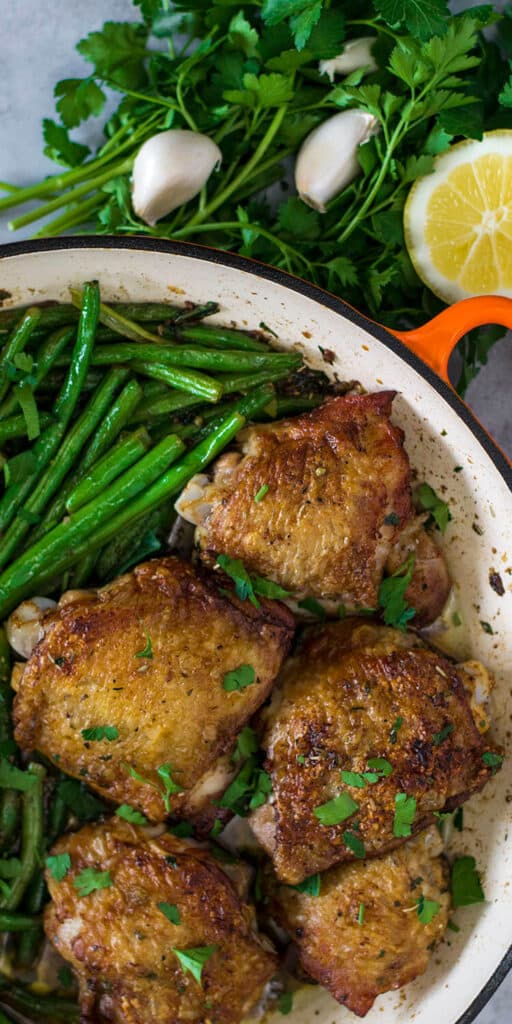 This is a nice, easy keto dish, with all the action taking place in one skillet. There's very little in the way of prep or chopping for this which is great for weeknights when all I want to do is rustle something up fast.
I'm always on the look out for quicker meals for weeknights, which is why I've put together a couple of great posts for quick keto meals and even quicker 15 minute keto dinners.
Keto Garlic Butter Chicken – The Prep
We're trying to get the chicken skin nice and crispy, whilst keeping the thigh meat juicy, so we need to have a plan to get the thighs just right.
Start off by taking the thighs out of the fridge 30 minutes before you're ready to cook.
This is to let them get up to room temperature, that way we'll be able to more evenly heat the meat, avoiding the outside becoming dry and tough before the middle has had a chance to cook.
Before cooking the thighs pat them dry with kitchen paper, especially the chicken skin. This is key to getting that skin crispy, any extra moisture is just going to be steaming the skin when it gets in the pan which is the opposite of what we want.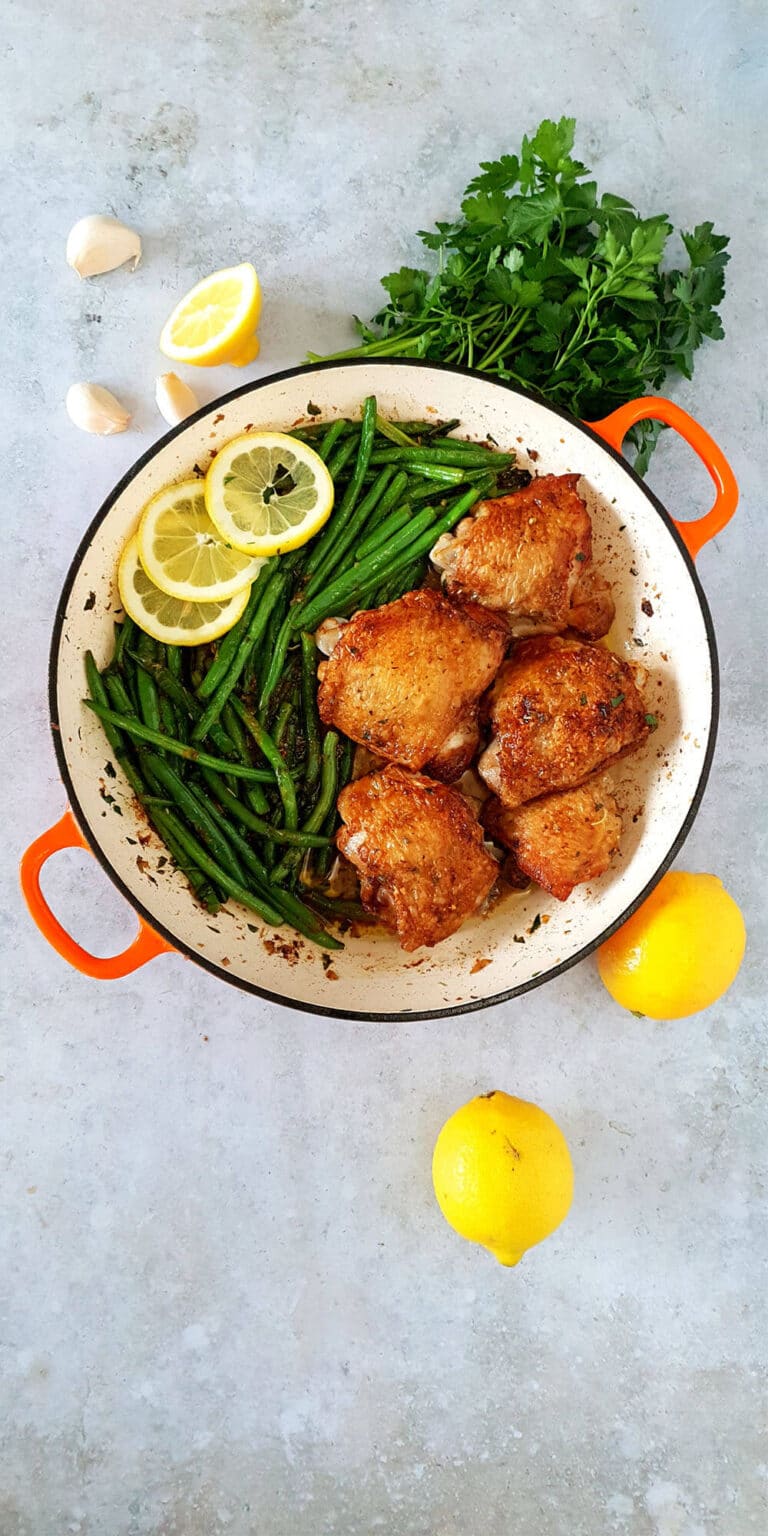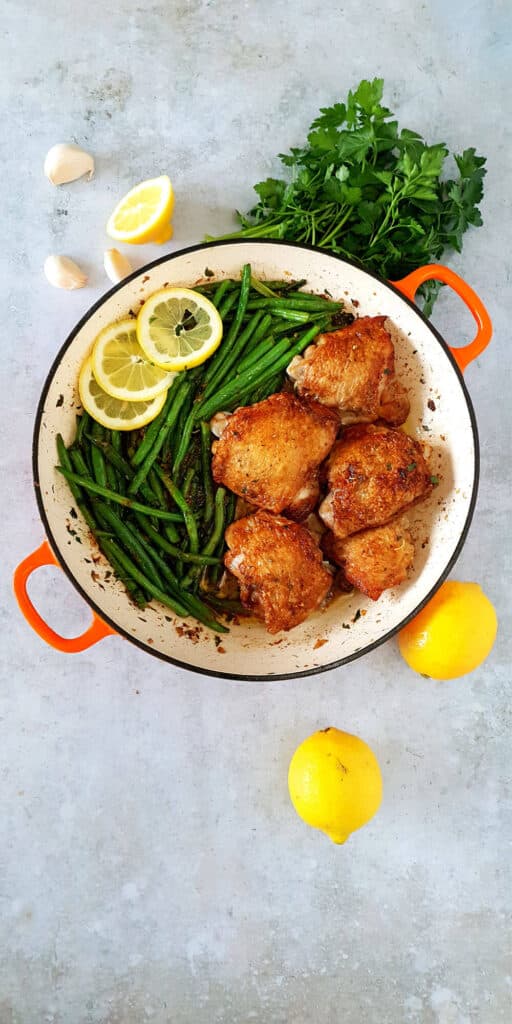 Once the chicken gets into the pan, leave it alone!
Seriously, there's always the temptation to constantly shift the contents of the pan around, I often do it. But in this case we want to place the chicken skin side down into the pan and just walk away for the next 10 minutes really.
So long as you have a decent surface on your pan, the chicken should lift off once it's started to crisp up. Often when meat sticks to the pan it's because you haven't left it long enough for the surface to dry out and get browned. I use an enamelled cast iron pan for this like this one.
Get the beans and the sauce in for just a few minutes, I like my beans to have a little bite still and then thats it! You're ready to enjoy this delicious, simple and quick keto chicken dinner.
Let me know what you think or your ideas for swaps etc in the comments below, and don't forget to share and pin onto pinterest!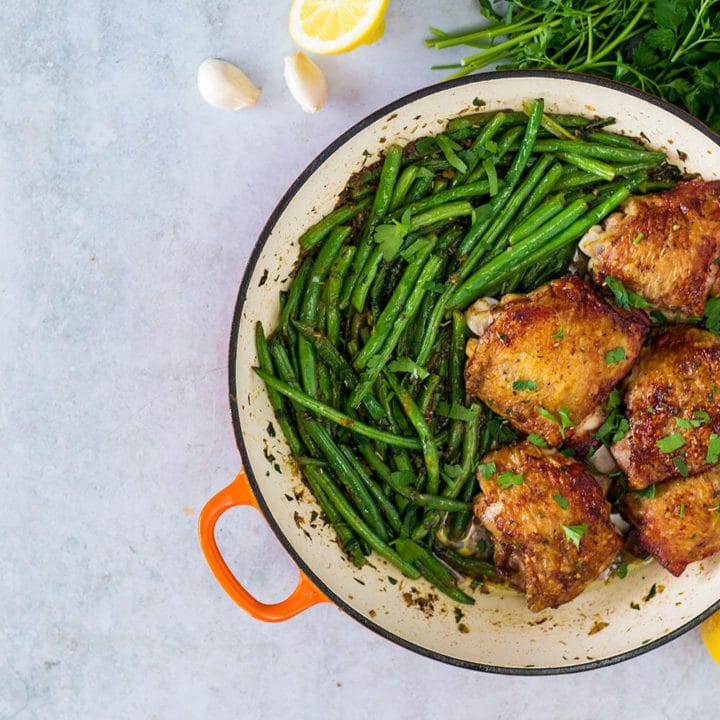 Easy Garlic Butter Keto Chicken Thighs
Quick and easy garlic butter keto chicken with green beans
Ingredients
Olive oil
4 Chicken Thighs - Skin on
3oz Unsalted Butter
1/2lb Green Beans
4 Garlic Cloves - crushed/minced
1 tsp Dried Oregano
1 tsp Dried rosemary
1 tsp Dried Thyme
1 Tbsp Dijon/wholegrain Mustard
Juice of one lemon
Grated peel of half a lemon
Small bunch of parsley
Instructions
Take the thighs out of the refridgerator 30 mins before cooking to bring up to room temperature. Pat dry with a paper towel, especially the skin side, then sprinkle the skin with a little salt.
Heat your skillet on a medium heat, once the skillet is hot add a tablespoon of olive oil and half the butter. Once the butter is bubbling lay the thighs skin side down. Press each one down gently to ensure good contact with the pan, then step away and don't move the thighs at all for the next 6-8 minutes until the skin has begun to crisp up.
In the meantime prepare the other components for your sauce. In a bowl combine the mustard, 1 tablespoon of olive oil, the dried herbs, crushed garlic, lemon zest and lemon juice, along with a little salt and pepper.
After the chicken has been cooking for ten minutes or so, flip over and cook for a further 6-10 minutes until the chicken is cooked through. Remove from the pan for now
Add the green beans into the pan, and cook for 2 minutes. Then add in the garlic/herb mixture and the remaining butter and cook for another 2-3 minutes until the green beans begin to soften up. Now add back the chicken for a minute or two to heat up.
Add in the chopped parsley just before serving and mix in, keep a little to garnish on top and serve whilst hot and the skin is crispy (it will soften up fairly soon otherwise)
Nutrition Information
Yield

2
Serving Size

1
Amount Per Serving
Calories

786
Total Fat

67g
Saturated Fat

28g
Trans Fat

0g
Unsaturated Fat

34g
Cholesterol

86mg
Carbohydrates

9.2g
Fiber

4g
Sugar

4g
Protein

40g