Keto Mini Quiches with Spinach and Feta: A Flavorful Low-Carb Delight
Welcome to a delicious journey into the world of keto-friendly cooking with our Keto Mini Quiches with Spinach and Feta recipe.
If you've been searching for a meal that's both nutritious and satisfying, without compromising on taste or your diet, look no further. These mini quiches are a perfect blend of creamy eggs, rich feta, and earthy spinach, all nestled in a bite-sized, low-carb package.
Not only are they an ideal option for those on a ketogenic diet, but they also cater to anyone looking for a healthy breakfast, brunch, or snack that's high in fat and low in carbs.
Why Keto Mini Quiches with Spinach and Feta Belong on Your Table
These Keto Mini Quiches are a personal favorite and a staple in my kitchen. The inspiration behind this recipe comes from my love for French cuisine, with a twist to fit the keto lifestyle. Quiche, a classic dish known for its versatility, is typically made with a flour-based crust, which is a no-go for keto dieters. By eliminating the crust, we focus on the rich, savory filling, making it not only low-carb but also gluten-free.
Each quiche is a powerhouse of nutrients, providing a good balance of protein and fats essential for ketosis. The eggs and heavy cream serve as the base, offering a smooth texture and a dose of healthy fats. Feta cheese adds a tangy flavor and creamy consistency, while spinach contributes fiber, vitamins, and a vibrant color to the dish. The result is a portable, convenient, and versatile meal that fits perfectly within the macros of a ketogenic diet.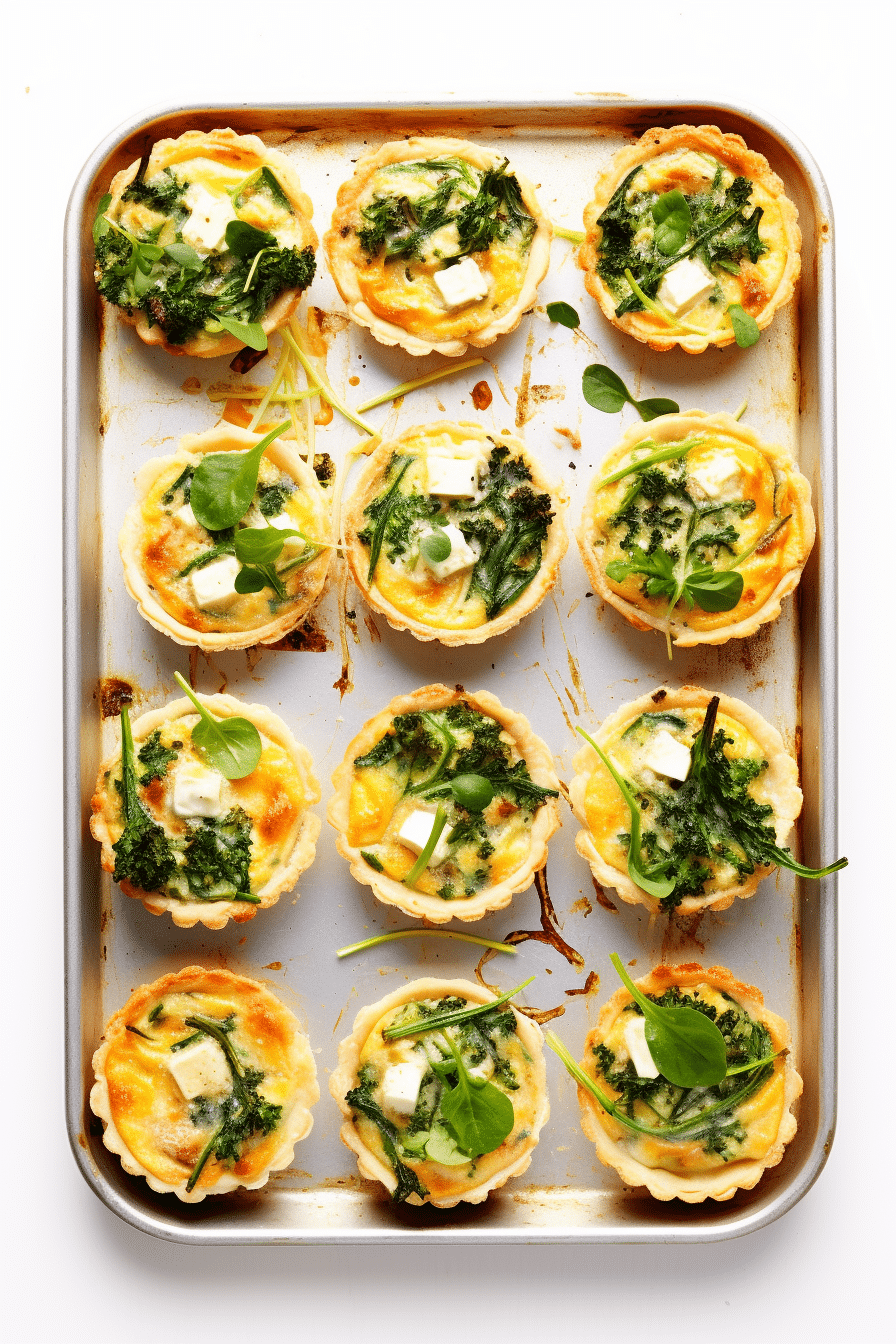 Mastering the Method
Creating these mini quiches is straightforward, but a few chef's tips can elevate them from good to great. First and foremost, ensure your oven is preheated to the correct temperature for even cooking. When whisking your eggs and heavy cream, aim for a light and airy mixture to achieve that quintessential quiche fluffiness.
When seasoning, remember that feta is naturally salty, so adjust your salt accordingly. Chopping your spinach and onion finely ensures they distribute evenly throughout the mixture, providing a consistent flavor in every bite. As you fill your muffin cups, resist the temptation to overfill; these quiches will puff up in the oven.
Keep an eye on the quiches as they bake. They're done when they're set in the middle, and a toothpick comes out clean. Let them cool slightly in the pan before serving; this rest time allows the flavors to meld and the quiches to set, making them easier to remove.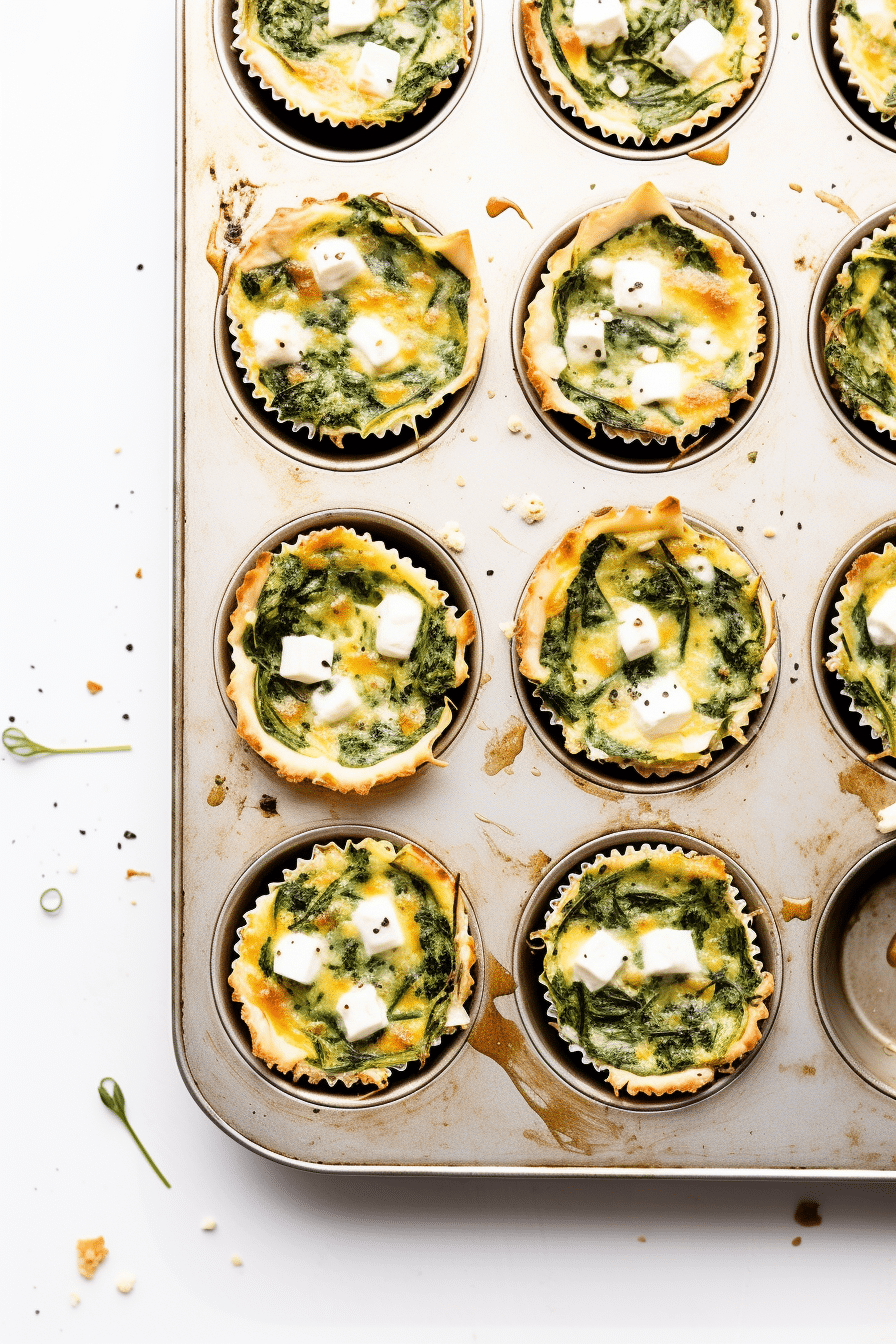 Variations to Spice Up Your Mini Quiches
Meaty Delight: Bacon & Mushroom Mini Quiches
For a heartier version, add cooked, crumbled bacon and sautéed mushrooms. The smokiness of the bacon pairs wonderfully with the earthiness of the mushrooms, creating a rich and satisfying quiche.
Italian Twist: Sun-Dried Tomato & Basil Mini Quiches
Infuse a touch of Italy by incorporating chopped sun-dried tomatoes and fresh basil. This combination brings a bright and tangy flavor that complements the creaminess of the quiche.
Seafood Sensation: Smoked Salmon & Dill Mini Quiches
For an elegant variation, mix in pieces of smoked salmon and dill. The salmon adds a luxurious taste, while the dill provides a fresh, herby note.
Substitutions for Dietary Needs and Preferences
If you're dairy-free or simply prefer different ingredients, there are substitutions you can make while still keeping these quiches keto-friendly.
For a dairy-free option, replace heavy cream with a dairy-free alternative such as coconut cream, and use a dairy-free cheese instead of feta. If you're not a fan of spinach, try swapping it for kale or chard. And for those who avoid onions, leeks make a great substitute with a milder flavor.
Frequently Asked Questions
Can I make these quiches ahead of time? Yes, you can! They refrigerate well for up to 3 days or freeze for a month. Reheat in the oven or microwave before serving.
Are these quiches suitable for meal prep? Absolutely. They're perfect for meal prepping and can be easily reheated for a quick and nutritious meal.
Can I add other vegetables? Certainly. Just ensure they are low in carbs to keep the quiches keto-friendly.
How do I know when the quiches are done? They should be set in the middle, and a toothpick inserted in the center should come out clean.
Can I use a different type of cheese? Yes, you can use any cheese that fits your taste and dietary needs, keeping in mind the carb content for keto.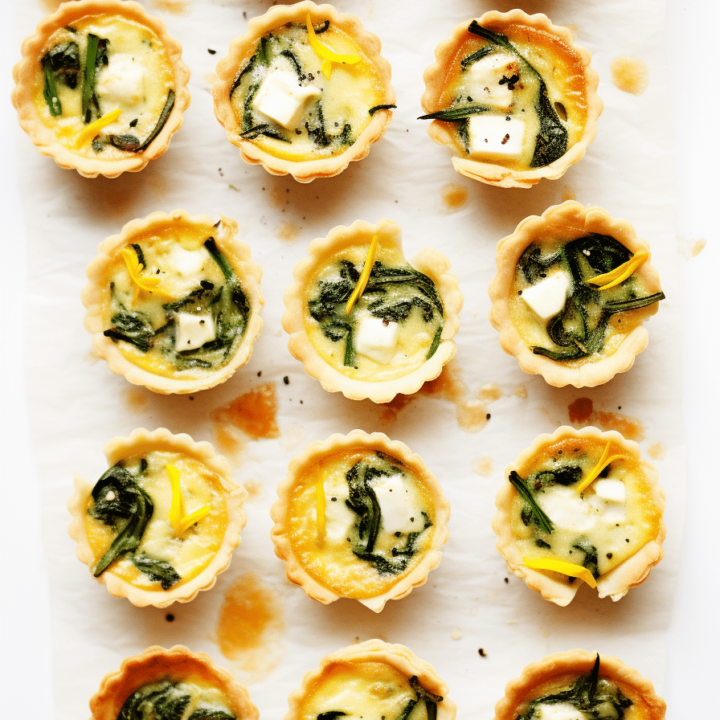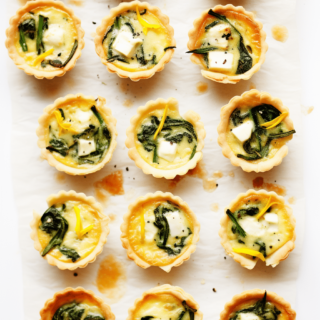 Keto Mini Quiches with Spinach and Feta
These delightful Keto Mini Quiches blend the earthy flavors of spinach and the tangy kick of feta cheese, all wrapped up in a light, fluffy egg-based delight that's perfect for any meal.
Ingredients
- 6 large eggs

US: ~50g each, Metric: ~300g total

- 1 cup heavy cream

US: 8 oz, Metric: 240 ml

- 1 cup feta cheese

crumbled (US: 4 oz, Metric: 113g)

- 2 cups fresh spinach

chopped (US: 2 oz, Metric: 56g)

- 1/4 cup onion

finely chopped (US: 1.5 oz, Metric: 40g)

- 1/2 teaspoon salt

US: 2.5g, Metric: 2.5g

- 1/4 teaspoon black pepper

US: 0.5g, Metric: 0.5g

- 1/4 teaspoon garlic powder

US: 0.5g, Metric: 0.5g

- 1/4 teaspoon nutmeg

US: 0.5g, Metric: 0.5g
Instructions
Preheat your oven to 350°F (175°C). Prepare a 12-cup muffin pan by spraying it with non-stick cooking spray or lining with silicone muffin cups.

In a large mixing bowl, whisk together the eggs and heavy cream until well combined. Season with salt, pepper, garlic powder, and nutmeg.

Stir in the crumbled feta cheese, chopped spinach, and finely chopped onion until the mixture is evenly distributed.

Pour the egg mixture into the prepared muffin cups, filling each cup about 3/4 full to ensure room for the quiches to rise.

Place the muffin pan in the preheated oven and bake for 18-20 minutes, or until the quiches are set in the middle and the edges are lightly golden.

Remove the pan from the oven and let the quiches cool for a few minutes before removing them from the pan. Serve warm.
Notes
These quiches can be made ahead and refrigerated for up to 3 days, or frozen for a month. Reheat in the oven or microwave before serving.
Nutrition
Calories:
140
kcal
Carbohydrates:
2
g
Protein:
7
g
Fat:
11
g
Fiber:
1
g