Keto Avocado and Shrimp Cocktail
Welcome to a delightful culinary experience where indulgence and health go hand in hand. This Keto Avocado and Shrimp Cocktail is a symphony of flavors that caters to your taste buds while aligning perfectly with your keto lifestyle.
Imagine the creamy texture of ripe avocados paired with the succulent bite of shrimp, all brought together by a tangy, homemade cocktail sauce that's both refreshing and satisfying.
It's an appetizer that's not only easy to prepare but also packs a nutritional punch, keeping those carbs at bay and your energy levels soaring. So, let's embark on this gastronomic journey that promises to be as delightful to the palate as it is beneficial to your health.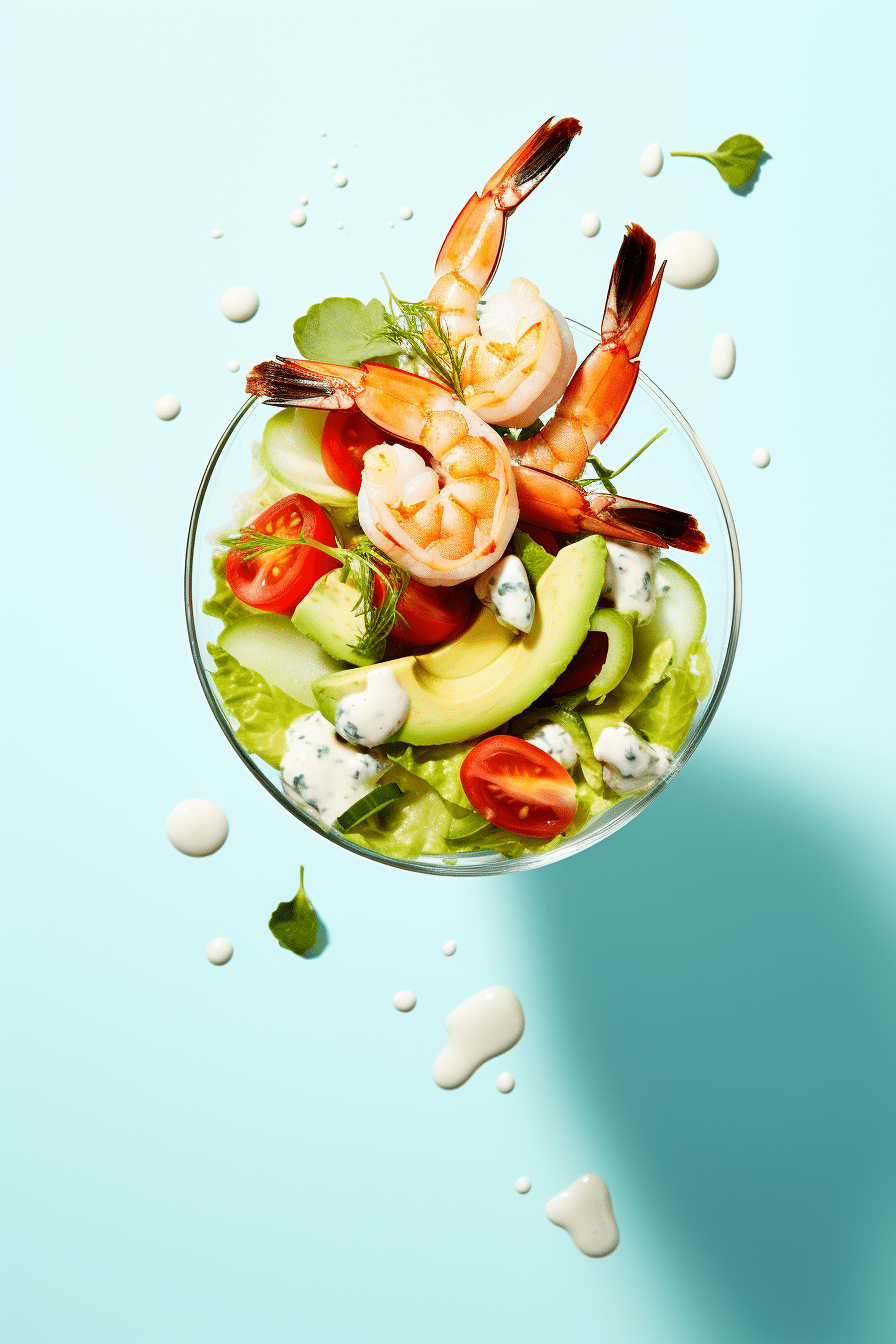 Recipe Details
There's something incredibly special about this Keto Avocado and Shrimp Cocktail. It's a recipe that brings back memories of seaside dining and the freshness of the ocean. But beyond its evocative power, it's a dish that fits seamlessly into the ketogenic lifestyle.
The high-fat content from the avocados provides a steady energy source, while the protein-rich shrimp keep you feeling full and satisfied without the carb crash. This dish is born from a love for the classics, reimagined to suit a modern, health-conscious approach to eating.
Whether you're hosting a dinner party or seeking a luxurious yet simple lunch, this cocktail is a testament to the fact that keto-friendly meals can be both elegant and nourishing.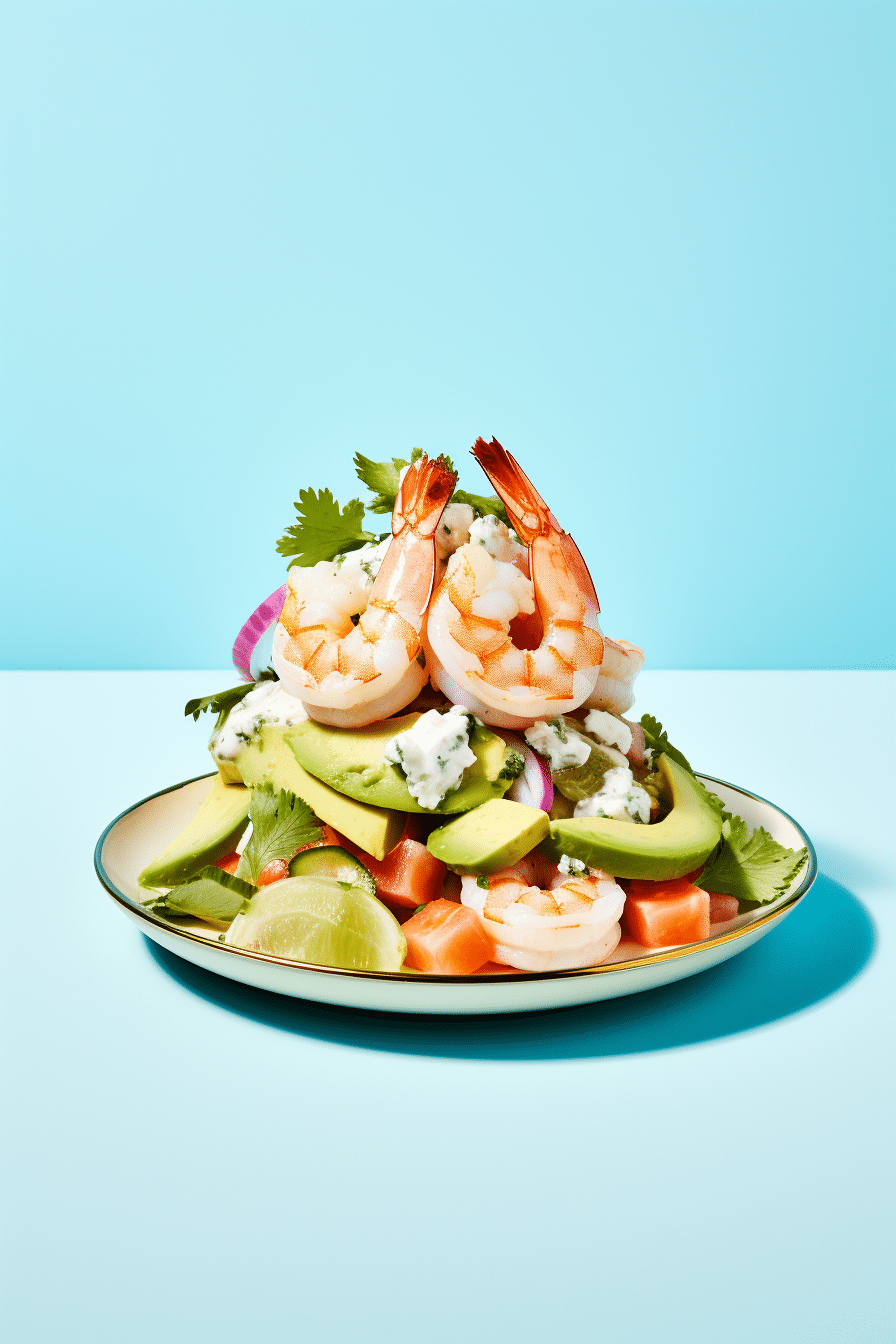 The Method
The secret to a perfect Keto Avocado and Shrimp Cocktail lies in the precision of its preparation. Begin by creating your cocktail sauce – a cornerstone of flavor for this dish.
The sugar-free ketchup serves as a base, delivering the classic cocktail sauce taste without the unwanted sugars. When mixing in the horseradish and Worcestershire sauce, aim for balance; you want a hint of heat and depth without overpowering the delicate shrimp. And remember, the optional hot sauce is there to customize the spice level to your liking.
As for the avocados, choose ones that yield slightly to pressure for that perfect creamy texture. Dicing them uniformly not only makes for a beautiful presentation but ensures each bite is a harmonious blend of flavors. The addition of fresh cilantro will introduce a bright, herby note that complements the richness of the avocado.
Layering the shrimp and avocado mixture in cocktail glasses isn't just about aesthetics; it's about building a sensory experience that begins with the eyes. The final drizzle of cocktail sauce acts as a flavor bridge, tying all the elements together. If you're planning to serve later, chilling the glasses beforehand can enhance the refreshing quality of the dish.
With each step, take care to maintain the integrity of the ingredients – overmixing can turn your avocado into a mash, and too much sauce can overwhelm the shrimp. It's all about that delicate balance, ensuring that each component shines through.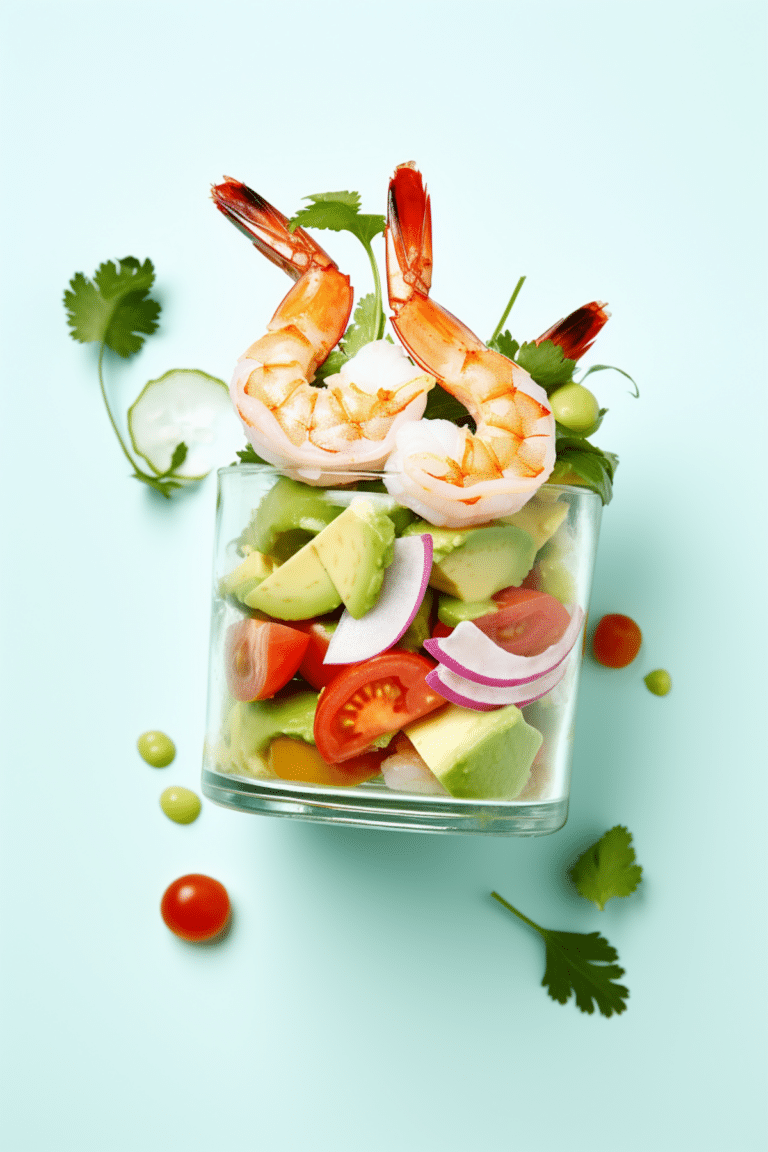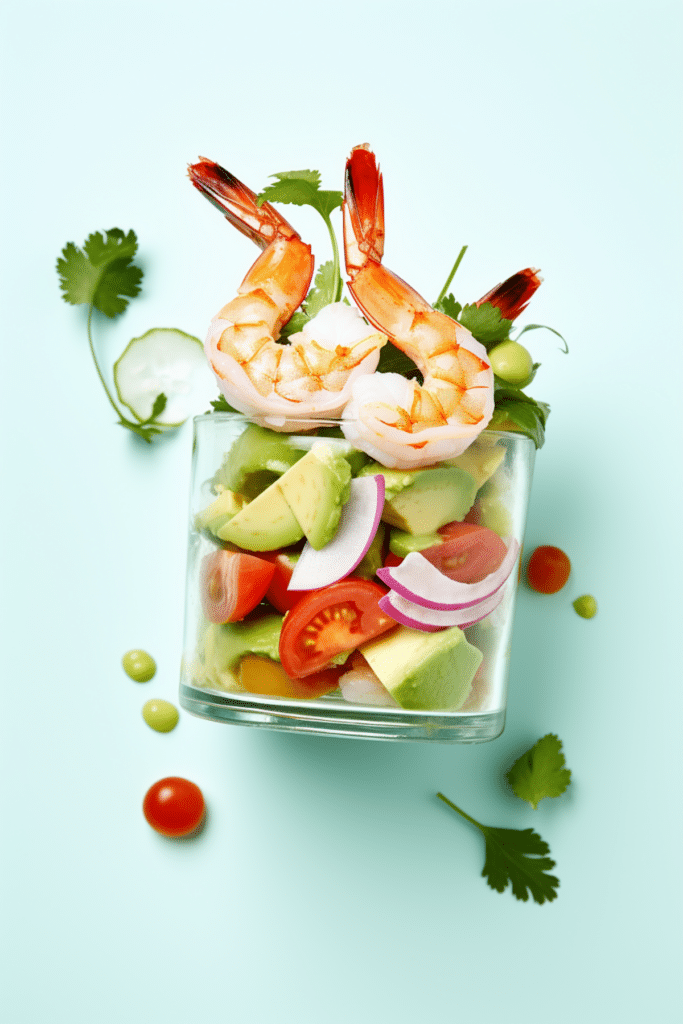 Variations
Spicy Mango Avocado Shrimp Cocktail
Introduce a tropical twist to the classic by adding diced mango for a sweet and spicy version. The mango's natural sugars are keto-friendly in moderation and bring a burst of freshness that complements the shrimp and avocado.
Bacon-Wrapped Shrimp Cocktail
For an indulgent upgrade, wrap your shrimp in thin slices of bacon before cooking. The bacon adds a smoky flavor and a satisfying crunch that turns this appetizer into a substantial treat.
Cucumber Noodle Shrimp Cocktail
Replace half of the avocado with cucumber noodles for a lighter, hydrating variation. The cucumber's crispness will contrast beautifully with the creamy avocado and tender shrimp.
Substitutions
If you're out of sugar-free ketchup, don't fret. A blend of tomato paste, vinegar, and your choice of keto sweetener can work as a quick fix. For horseradish, a small amount of wasabi or mustard can provide a similar heat. And if Worcestershire sauce isn't on hand, try soy sauce mixed with a pinch of allspice to mimic its complex flavor profile.
When cilantro isn't your herb of choice, parsley or chives can step in to lend a fresh, green note to the dish. And for those who can't handle hot sauce, a dash of smoked paprika can impart a gentle warmth without the fire.
Lastly, if shrimp isn't your seafood of choice, consider using lump crab meat or cooked, chilled lobster for an equally luxurious alternative that's just as keto-friendly.
FAQ Section
Can I make this dish ahead of time?
Yes, you can prepare the components separately and assemble them just before serving to maintain freshness and texture.
How can I ensure my avocados don't brown?
Squeeze lemon juice over the diced avocados, and keep the mixture covered and refrigerated until ready to use.
Is this recipe suitable for someone with a high cholesterol level?
Shrimp is low in fat and calories but can be high in cholesterol. It's best to consult with a healthcare provider regarding your dietary needs.
Can I use frozen shrimp for this recipe?
Yes, ensure they are fully thawed and patted dry to avoid any excess moisture in the cocktail.
What can I use instead of cocktail glasses for serving?
Any small, clear dish will work. The goal is to showcase the layers of the cocktail, but a small bowl or even a martini glass can be a fun alternative.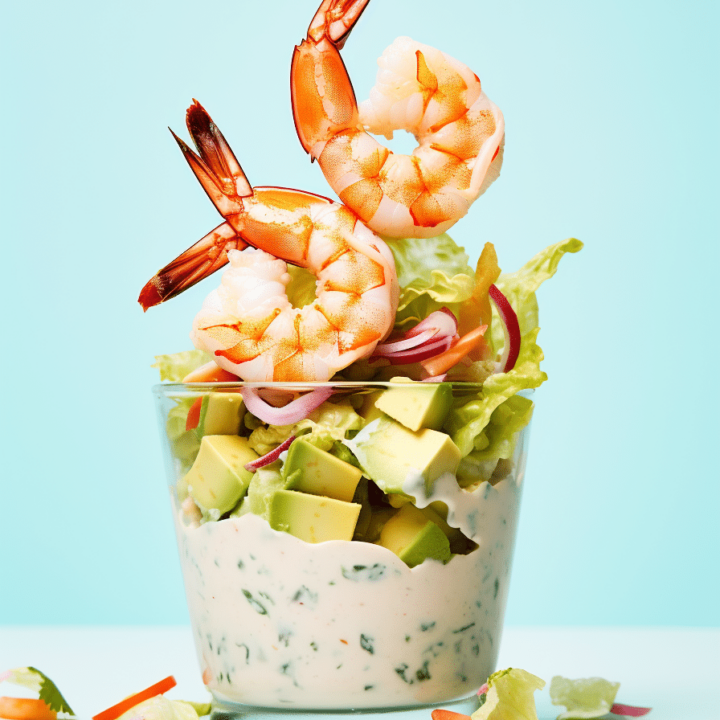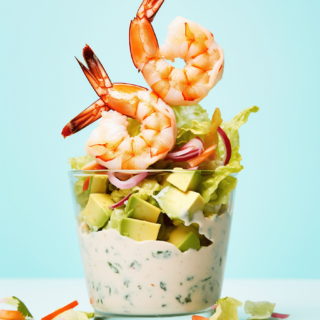 Fresh Keto Avocado and Shrimp Cocktail
A refreshing and elegant appetizer, this Keto Avocado and Shrimp Cocktail blends the creaminess of avocado with the succulence of shrimp, all enveloped in a tangy, homemade cocktail sauce. Perfect for a light lunch or a sophisticated starter, this dish is sure to delight without compromising your keto goals.
Ingredients
1

pound

454g cooked shrimp, peeled and deveined

2

large avocados

diced

½

cup

120ml sugar-free ketchup

2

tablespoons

30ml prepared horseradish

1

tablespoon

15ml Worcestershire sauce

1

tablespoon

15ml lemon juice

1

teaspoon

5ml hot sauce (optional)

¼

cup

60ml finely chopped fresh cilantro

Salt and pepper to taste

Lemon wedges for garnish
Instructions
In a small bowl, whisk together the sugar-free ketchup, horseradish, Worcestershire sauce, lemon juice, and hot sauce (if using) until well combined. Adjust seasoning with salt and pepper. This is your keto-friendly cocktail sauce.

Peel and dice the avocados, and place them in a medium mixing bowl. Squeeze a little lemon juice over them to prevent browning. Add the chopped cilantro and gently fold to combine.

Arrange the cooked shrimp in four cocktail glasses. Spoon an equal amount of the avocado mixture into each glass on top of the shrimp.

Drizzle the prepared cocktail sauce over the shrimp and avocado layers.

Garnish each glass with a lemon wedge and serve immediately, or chill in the refrigerator for up to an hour before serving.
Notes
For the best flavor, use fresh shrimp and ripe avocados. If you're preparing this dish in advance, keep the cocktail sauce and the avocado mixture separate until right before serving to maintain the best texture and freshness.
Nutrition
Calories:
290
kcal
Carbohydrates:
14
g
Protein:
17
g
Fat:
20
g
Fiber:
8
g