Discover the ultimate keto-friendly appetizer that's as indulgent as it is satisfying: Pork Belly Bites with Spicy Keto BBQ Sauce
This recipe is a perfect testament to the versatility of the keto diet, showcasing that you can enjoy rich, flavorful dishes without compromising your nutritional goals.
Pork belly, renowned for its succulent fat and tender meat, transforms into bite-sized pieces of heaven when paired with a homemade spicy BBQ sauce that's low in carbs but high in taste. Perfect for gatherings or a family treat, these pork belly bites are not only delicious but also align with your keto lifestyle, providing high-quality fats and proteins while keeping the carb count low.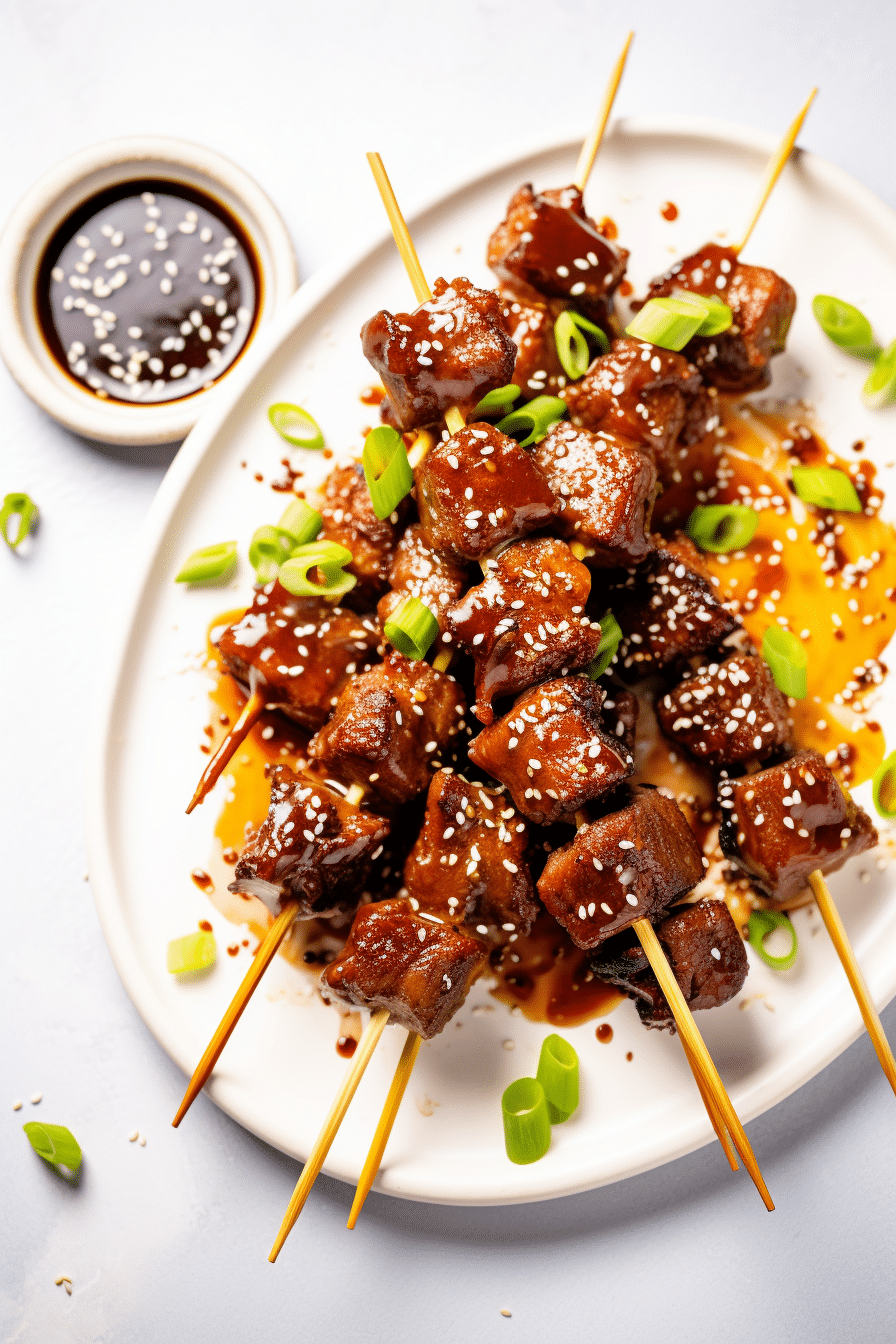 About the Recipe
As a passionate advocate for the keto diet, I'm always on the hunt for recipes that deliver both on taste and nutritional value. These Pork Belly Bites with Spicy Keto BBQ Sauce are a creation born from this very pursuit.
The inspiration came from traditional barbecue dishes that often feature bold flavors but are typically laden with sugars and carbs. I wanted to craft a version that would be just as satisfying but suitable for those following a ketogenic lifestyle.
Pork belly is an ideal choice for keto due to its high-fat content, which is essential for keeping you in ketosis. When cooked right, it yields a crispy exterior and a melt-in-your-mouth interior that's hard to resist.
The spicy BBQ sauce is the perfect complement, providing a kick of heat without the added sugars found in most commercial sauces. By using sugar-free ketchup and natural spices, we create a sauce that's rich in flavor and keto-approved.
These pork belly bites are a testament to the fact that keto eating doesn't have to be restrictive. They offer a balance of macronutrients that support ketosis, with ample fat and moderate protein, while keeping carbs to a minimum.
Each serving contains about 55 grams of fat, which helps to fuel your body in the absence of carbohydrates. The protein content is also substantial, making these bites a satisfying snack or appetizer that will keep you full and energized.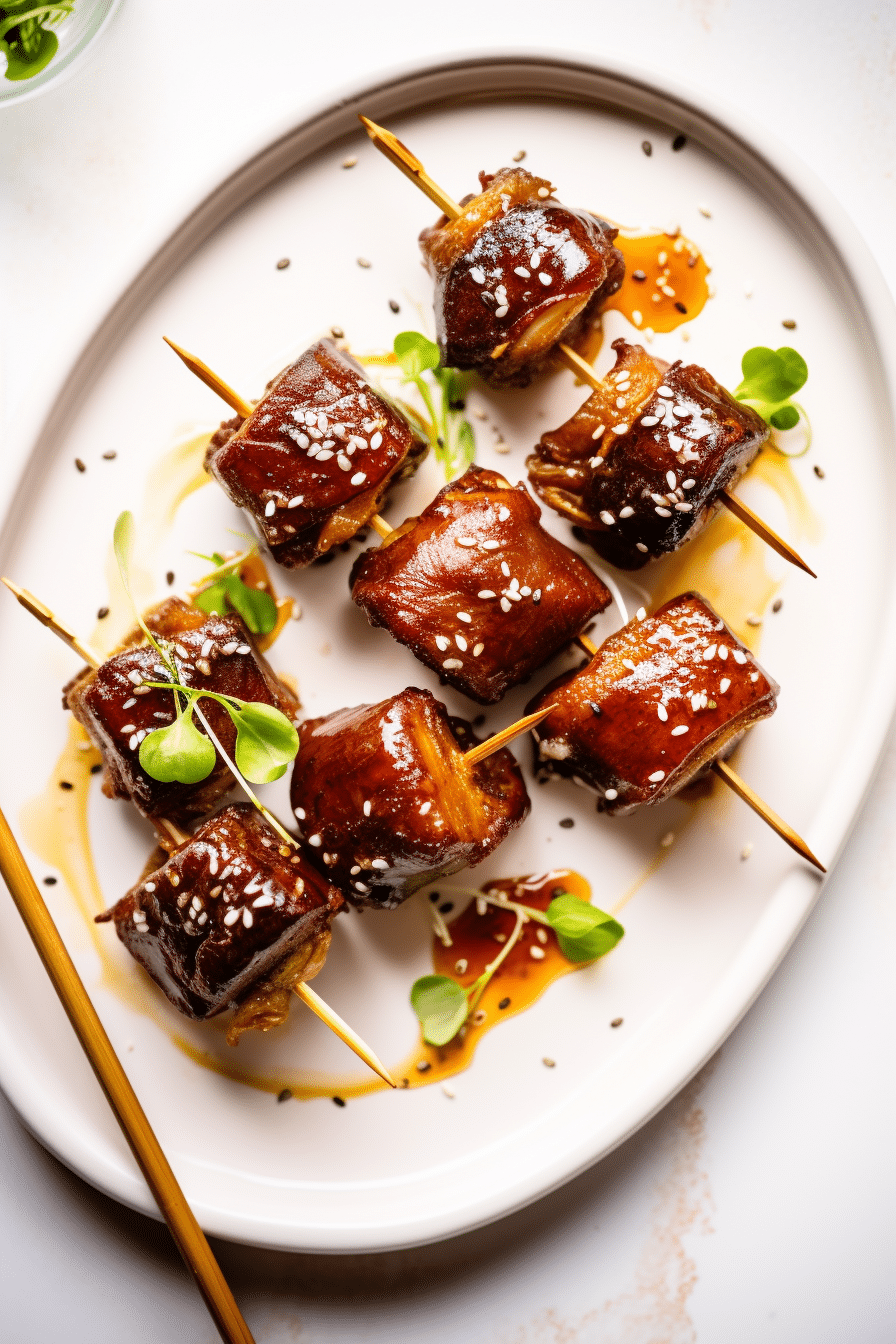 The Method
Let's dive into the preparation of Pork Belly Bites with Spicy Keto BBQ Sauce. The process is straightforward, but as with any recipe, the devil is in the details, and I'm here to guide you through each step to ensure perfection.
Preheating the oven to 350°F (175°C) is the first step. It's crucial for the pork belly to cook evenly and achieve that desirable crispiness. Cutting the pork belly into 1-inch cubes allows for more surface area to caramelize, enhancing the flavor and texture.
When tossing the pork belly in olive oil, salt, and pepper, make sure each piece is well coated. This not only seasons the meat but also helps to render the fat and achieve a crispy exterior. The wire rack is key here; it allows hot air to circulate around the pork, cooking it evenly and preventing it from sitting in its own fat.
During the baking process, resist the urge to open the oven door too often. Consistent temperature is essential for the pork belly to crisp up. If your oven has hot spots, rotate the baking sheet halfway through to ensure even cooking.
As for the spicy keto BBQ sauce, simmering is where the flavors meld and intensify. Don't rush this step. The sauce should be thick enough to coat the back of a spoon, which indicates it's ready to be paired with the pork belly bites.
Once the pork belly is golden and crispy, let it rest for a few moments after removing it from the oven. This allows the juices to redistribute, ensuring that each bite is moist and flavorful. Tossing the bites in the sauce should be the last step before serving to keep the crispiness intact.
Remember, achieving the perfect balance of crispiness and tenderness in the pork belly, along with the right consistency and flavor in the BBQ sauce, will elevate this dish from good to great.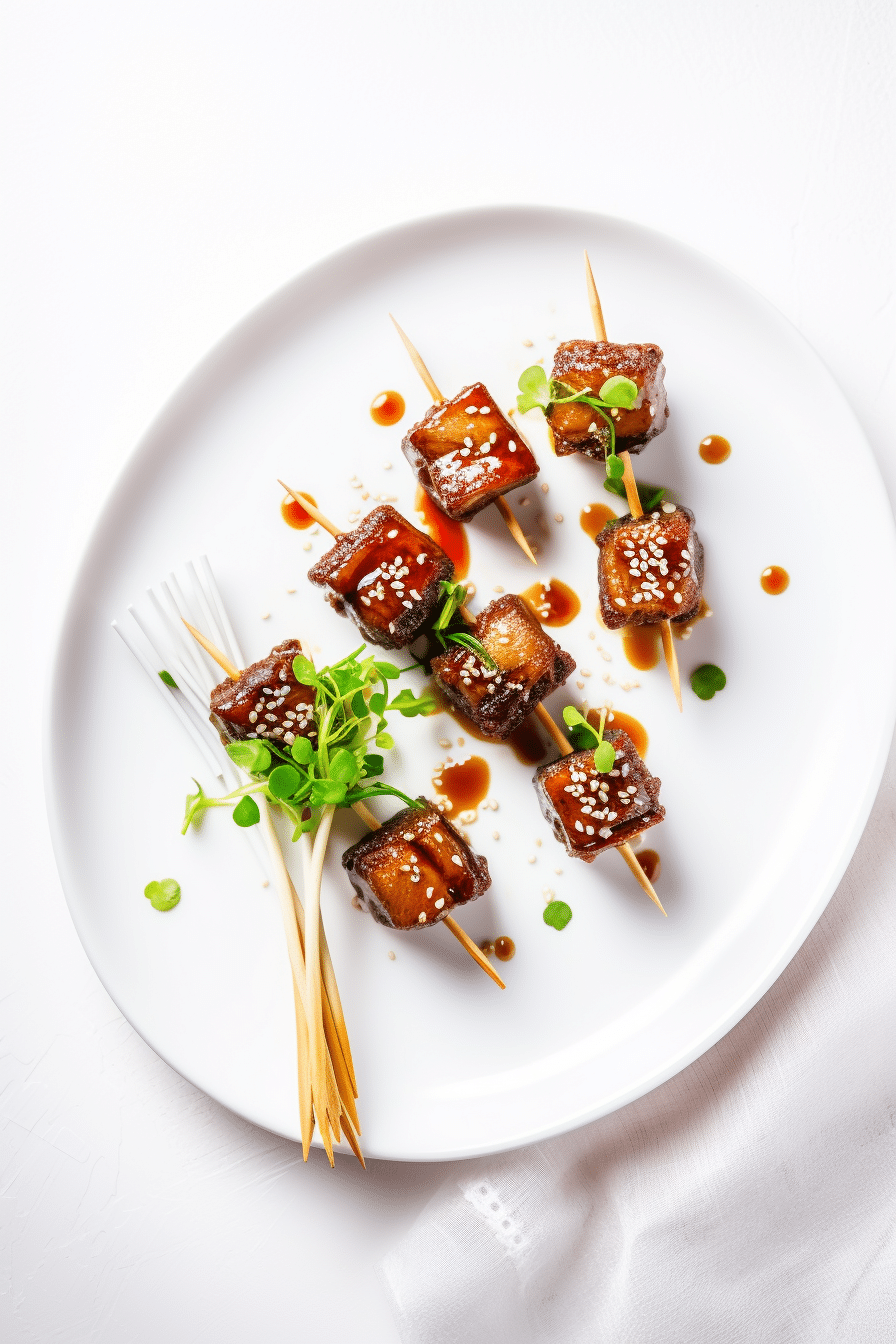 Variations
Asian-Inspired Pork Belly Bites
Transform this dish with an Asian twist by substituting the BBQ sauce for a blend of soy sauce, sugar-free sweetener, garlic, ginger, and a touch of sesame oil. Garnish with sesame seeds and green onions for an appetizer that pays homage to the rich flavors of Asian cuisine.
Zesty Lime and Cilantro Pork Belly Bites
For a refreshing take, mix freshly squeezed lime juice and zest with chopped cilantro, and a hint of chili powder. This citrusy marinade will infuse the pork belly with a tangy flavor that's perfect for summer barbecues.
Herbed Pork Belly Bites
If spicy isn't your preference, try an herbaceous variation by coating the pork belly bites in a mixture of rosemary, thyme, and oregano before baking. Serve with a creamy keto-friendly aioli for dipping.
Substitutions
Olive Oil: If you're out of olive oil, avocado oil is a fantastic substitute due to its high smoke point and neutral flavor.
Sugar-Free Ketchup: Can't find sugar-free ketchup? Tomato paste mixed with vinegar and a keto-friendly sweetener can be used to create a similar base for the BBQ sauce.
Apple Cider Vinegar: While apple cider vinegar adds a distinct tang, white wine vinegar or even lemon juice can be used in a pinch to provide the necessary acidity to the sauce.
FAQ
– Q: Can I make this recipe ahead of time?
– A: Absolutely! Prepare the pork belly bites and sauce in advance, then reheat and toss together before serving.
– Q: How can I store leftovers?
– A: Keep any leftovers in an airtight container in the refrigerator. They'll be good for up to 3 days.
– Q: Can I use a different cut of pork?
– A: Pork belly is ideal for this recipe, but in a pinch, you could use thick-cut bacon or pork shoulder cut into small pieces.
– Q: Is there a way to make the pork belly bites without an oven?
– A: Yes, you can use an air fryer or fry them in a skillet, but keep an eye on them as the cooking time may vary.
– Q: Can I make the BBQ sauce less spicy?
– A: Definitely! Adjust the hot sauce and cayenne pepper to suit your heat tolerance.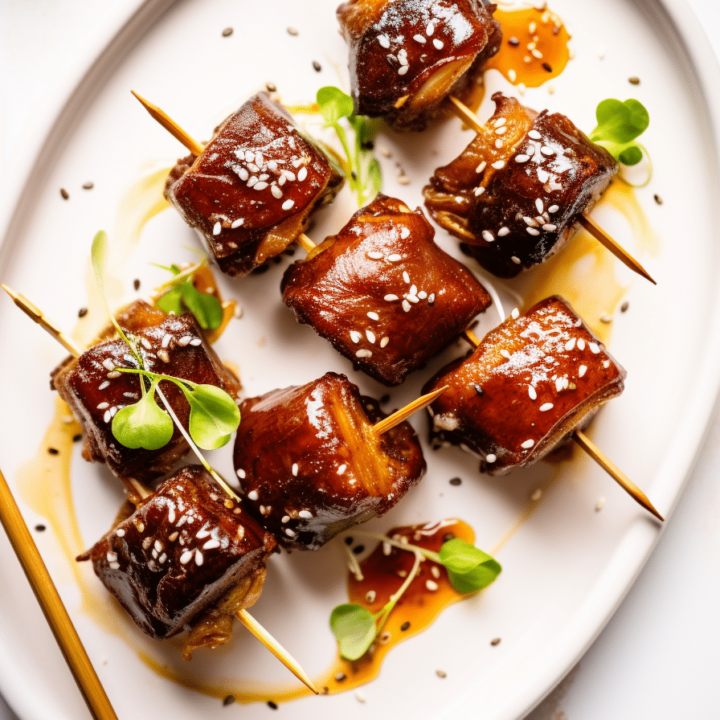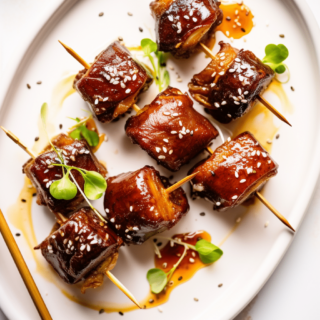 Pork Belly Bites with Spicy Keto BBQ Sauce
Savor the succulence of crispy pork belly paired with a homemade spicy keto BBQ sauce. These bite-sized delights are a perfect appetizer for your low-carb lifestyle, offering a tantalizing combination of flavors that are sure to get your taste buds dancing!
Ingredients
For the Pork Belly Bites:

- 2 pounds pork belly

skin removed (907 grams)

- 1 tablespoon olive oil

15 ml

- 1 teaspoon sea salt

5 grams

- 1/2 teaspoon black pepper

1 gram

For the Spicy Keto BBQ Sauce:

- 1 cup sugar-free ketchup

240 ml

- 2 tablespoons apple cider vinegar

30 ml

- 1 tablespoon Worcestershire sauce

sugar-free (15 ml)

- 1 tablespoon hot sauce

or to taste (15 ml)

- 1 teaspoon smoked paprika

2 grams

- 1/2 teaspoon garlic powder

1 gram

- 1/2 teaspoon onion powder

1 gram

- 1/4 teaspoon cayenne pepper

0.5 grams

- Sweetener equivalent to 2 tablespoons of sugar

optional, for taste
Instructions
Preheat your oven to 350°F (175°C).

Cut the pork belly into 1-inch cubes and place them in a large bowl.

Drizzle olive oil over the pork belly cubes and season with salt and pepper. Toss until all pieces are well coated.

Arrange the pork belly bites on a wire rack set over a baking sheet, ensuring they are spaced out evenly.

Bake for 1 hour and 30 minutes, or until the pork belly bites are golden brown and crispy.

While the pork belly is in the oven, prepare the spicy keto BBQ sauce by combining sugar-free ketchup, apple cider vinegar, Worcestershire sauce, hot sauce, smoked paprika, garlic powder, onion powder, and cayenne pepper in a saucepan.

Bring the sauce to a simmer on medium heat, stirring occasionally. If you prefer a sweeter BBQ sauce, add your chosen sweetener at this stage.

Once the sauce has thickened to your liking (about 10-15 minutes), remove it from the heat and set it aside.

Once the pork belly bites are cooked, remove them from the oven and let them rest for 5 minutes.

Toss the pork belly bites in the spicy keto BBQ sauce until they are fully coated.
Notes
- To achieve extra crispiness, consider broiling the pork belly bites for an additional 2-3 minutes at the end of the cook time.
- The spicy keto BBQ sauce can be adjusted for heat by increasing or decreasing the amount of hot sauce and cayenne pepper to suit your taste.
- Leftover BBQ sauce can be stored in the fridge for up to a week and is perfect for other keto-friendly dishes.
Nutrition
Calories:
560
kcal
Carbohydrates:
3
g
Fat:
55
g
Fiber:
1
g