Keto Mushroom and Gruyère Tartlets: A Savory Low-Carb Delight
Welcome to a delectable journey into the heart of keto-friendly cuisine with our Keto Mushroom and Gruyère Tartlets. These tartlets are not just a treat to your taste buds but also a perfect fit for your low-carb dietary needs.
Combining the earthy undertones of mushrooms with the creamy, nutty essence of Gruyère cheese, all wrapped in a buttery almond flour crust, these tartlets are a culinary masterpiece. Each bite is a blend of savory flavors and textures that are sure to impress at any gathering or simply as a personal indulgence while staying true to your keto goals.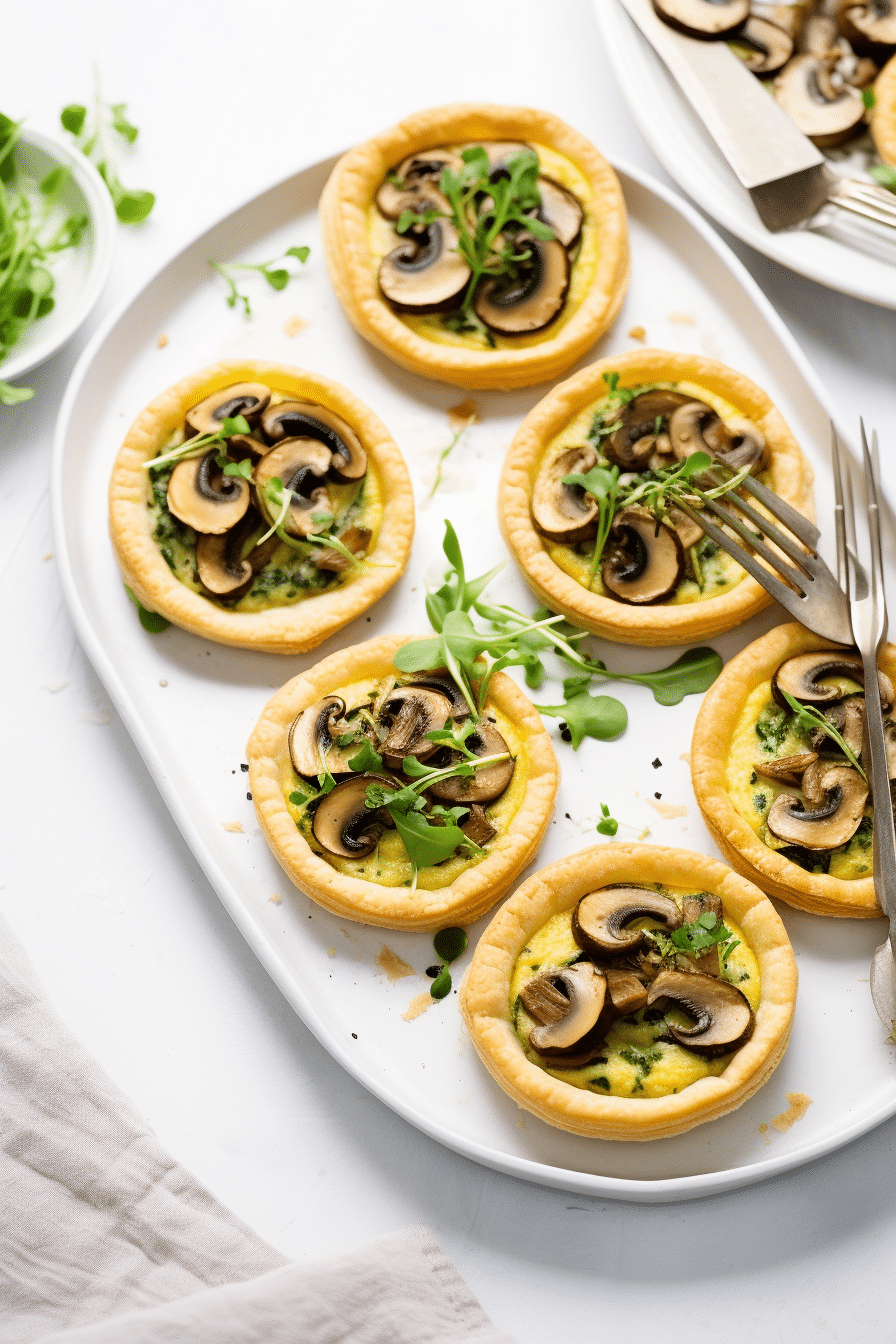 The Inspiration Behind These Keto-Friendly Tartlets
These Keto Mushroom and Gruyère Tartlets were born out of a love for French cuisine and the need to adapt classic dishes to a ketogenic lifestyle.
The tartlet, a staple in French baking, is traditionally made with a flaky pastry crust, which is high in carbs and not suitable for a keto diet. By reinventing the crust with almond flour and butter, we've created a low-carb version that still delivers the satisfying texture and richness you'd expect from the original.
The combination of mushrooms and Gruyère cheese is a nod to the rustic, comforting flavors of French cooking. Mushrooms are a keto favorite due to their low-carb content and versatility. They bring an umami-rich, meaty taste to the tartlets, making them incredibly satisfying.
Gruyère cheese adds depth with its slightly sweet and nutty flavor, which melts beautifully, creating a creamy filling that perfectly complements the mushrooms.
These tartlets are a fantastic keto option because they're not only low in net carbs but also high in healthy fats and moderate in protein, aligning with the macronutrient distribution required for a ketogenic diet.
They work great as an appetizer, a side dish, or even a main course, depending on your meal planning needs. Plus, they're gluten-free, which makes them suitable for those with gluten sensitivities or celiac disease.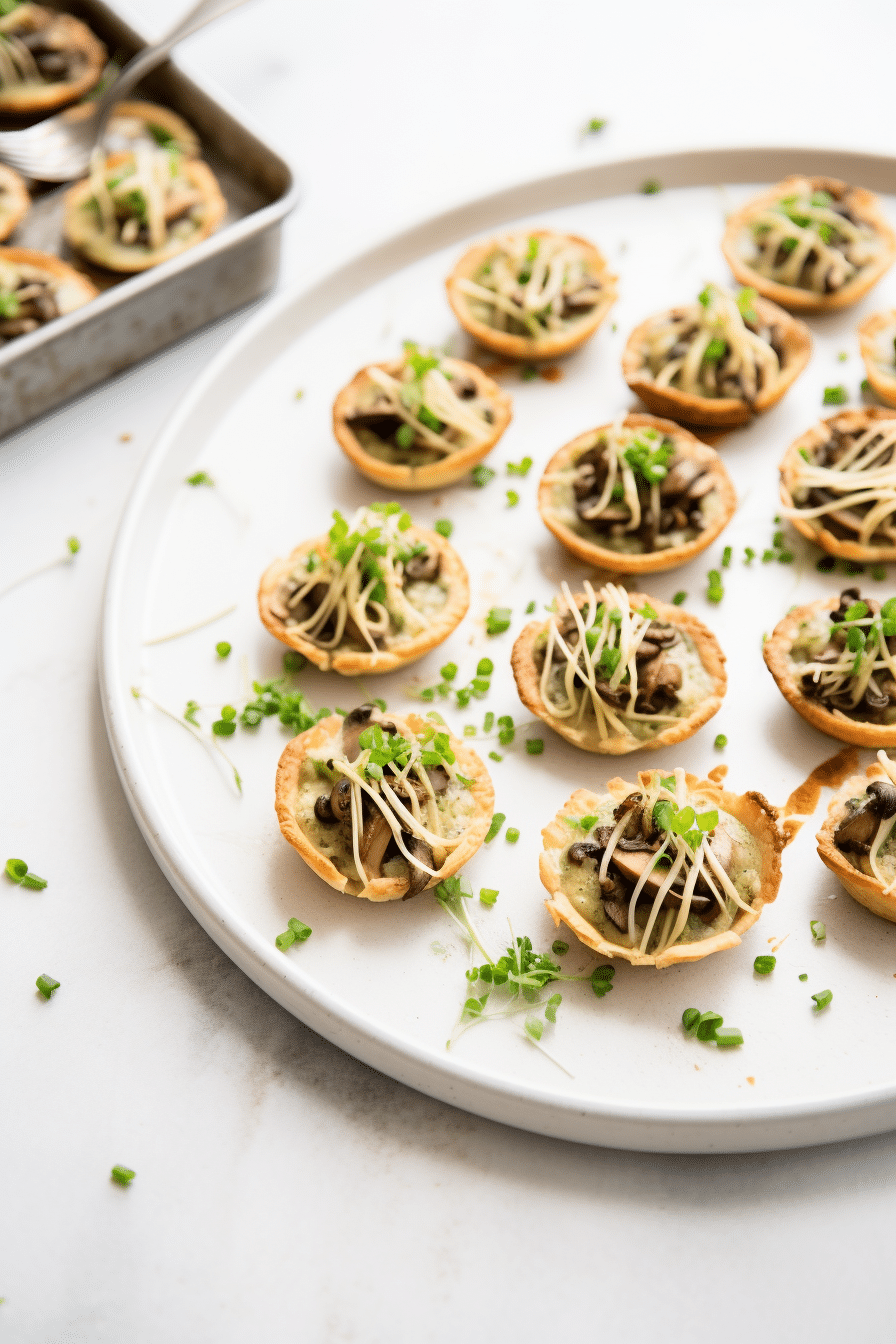 Mastering the Art of Keto Tartlets
Creating these Keto Mushroom and Gruyère Tartlets is an art form that any home cook can master with a few chef's tips and tricks. Let's walk through the process step by step, ensuring that you achieve perfection with every batch.
Preparation of the Crust: The first step is to make the crust, which is the foundation of our tartlets. Begin by combining the almond flour, melted butter, egg, and a pinch of salt. The key here is to mix until a dough forms that's pliable but not sticky.
If the dough is too wet, add a bit more almond flour; if it's too dry, a touch more melted butter. Press the dough into your tartlet pans evenly, ensuring it's not too thick, which would result in a doughy texture. Remember to prick the bottoms with a fork to prevent the crust from puffing up during baking.
Sautéing the Mushrooms: For the filling, the sautéing process is crucial. You want to cook the mushrooms until they're golden brown and have released all their moisture. This concentrates their flavor and prevents the tartlets from becoming soggy.
Adding garlic and thyme at this stage infuses the mushrooms with aromatic flavors that will permeate the entire tartlet.
Combining the Filling: Once your mushrooms are perfectly sautéed, it's time to combine them with the Gruyère and heavy cream. This mixture should be well-seasoned with salt and pepper to enhance all the flavors.
When filling your pre-baked crusts, distribute the mixture evenly to ensure each tartlet has an ample amount of filling, which will provide a balanced bite.
Baking to Perfection: As the tartlets bake, the cheese will melt and mingle with the mushrooms, creating a luscious filling. Keep an eye on the tartlets during the final minutes of baking; you're looking for a filling that's set and a top that's slightly golden. Overbaking could dry out the filling, so timing is key.
Rest and Garnish: It's important to let the tartlets cool for a few minutes in their pans. This resting period allows the filling to set and makes it easier to remove the tartlets without breaking the delicate crust. A sprinkle of fresh parsley not only adds a pop of color but also a fresh, herby contrast to the rich filling.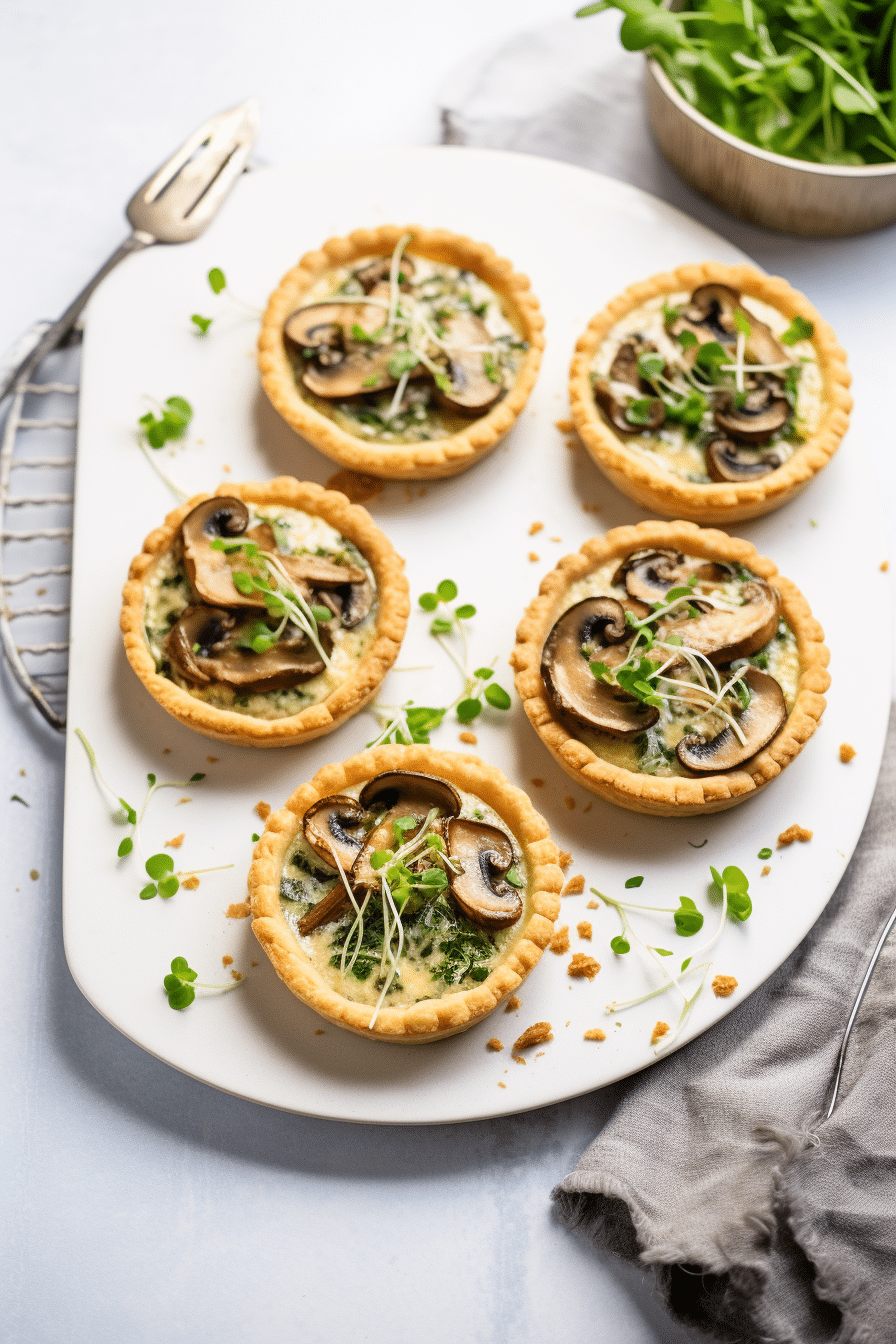 Variations to Suit Every Taste
Spinach and Feta Tartlets
For a Greek twist, replace the mushrooms with spinach and the Gruyère with feta cheese. Sauté the spinach until wilted, squeeze out the excess moisture, and mix with crumbled feta and a touch of nutmeg.
Bacon and Cheddar Tartlets
Add a smoky dimension by including crispy bacon pieces and swapping Gruyère for sharp cheddar cheese. The bacon adds a savory crunch that pairs perfectly with the creamy cheddar.
Ratatouille Tartlets
Embrace the flavors of Provence with a ratatouille-inspired filling. Use a blend of sautéed zucchini, bell pepper, eggplant, and tomato, seasoned with herbes de Provence, as a vibrant vegetable alternative.
Ingredient Substitutions for Dietary Needs
While these tartlets are designed to be keto-friendly, you may have other dietary restrictions or preferences that require substitutions. Here are some options to consider:
Almond Flour Alternatives
If you're allergic to nuts, coconut flour can be used in place of almond flour. Keep in mind that coconut flour is more absorbent, so you'll need to use less and possibly add an extra egg to maintain moisture.
Dairy-Free Cheese
For a dairy-free version, use a high-quality dairy-free cheese alternative that melts well. Nutritional yeast can also be added for a cheesy flavor without the dairy.
Non-Dairy Cream Alternatives
Replace the heavy cream with full-fat coconut milk or a dairy-free cream alternative to keep the filling rich and satisfying without the lactose.
Frequently Asked Questions
Here are some common questions and answers to help you perfect your Keto Mushroom and Gruyère Tartlets:
Can I make the tartlets ahead of time?
Yes, you can prepare the crusts and filling ahead of time and assemble and bake just before serving to ensure they're fresh and crisp.
How do I store leftover tartlets?
Store them in an airtight container in the refrigerator for up to 3 days. Reheat in the oven to maintain the crust's texture.
Can I freeze the tartlets?
It's best to freeze the unbaked crusts and filling separately. Thaw in the refrigerator overnight before assembling and baking.
What can I use if I don't have tartlet pans?
A muffin tin can be a great substitute. Just be sure to adjust the baking time as the size may vary.
How do I know when the tartlets are done baking?
The filling should be set, and the cheese melted and lightly golden on top. Keep an eye on them to avoid overbaking.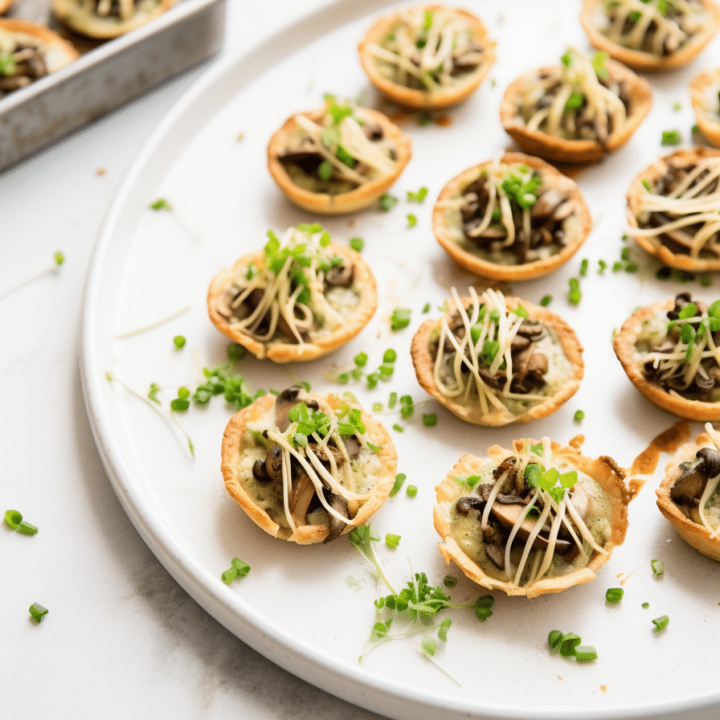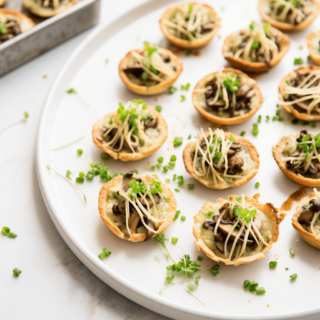 Keto Mushroom and Gruyère Tartlets
These Keto Mushroom and Gruyère Tartlets are the perfect addition to your low-carb lineup, blending the earthy flavors of mushrooms with the rich, creamy taste of Gruyère cheese, all nestled in a buttery almond flour crust.
Ingredients
- For the crust:

- 1 1/2 cups almond flour

150g

- 1/4 cup unsalted butter

melted (60ml)

- 1 large egg

- 1/4 teaspoon salt

- For the filling:

- 1 tablespoon olive oil

15ml

- 1/2 pound mushrooms

finely chopped (225g)

- 2 cloves garlic

minced

- 1/2 teaspoon dried thyme

- 1/2 cup Gruyère cheese

shredded (50g)

- 1/4 cup heavy cream

60ml

- Salt and pepper

to taste

- 1 tablespoon fresh parsley

chopped for garnish
Instructions
Preheat your oven to 350°F (175°C).

Begin with the tartlet crusts by combining almond flour, melted butter, egg, and salt in a mixing bowl. Mix until a dough forms.

Press the dough into six 4-inch tartlet pans, making sure to cover the bottom and sides evenly. Prick the bottoms with a fork to prevent puffing.

Bake the crusts for 8 minutes or until they're just beginning to brown. Remove from the oven and set aside.

For the filling, heat olive oil in a skillet over medium heat. Add chopped mushrooms, garlic, and thyme. Sauté until the mushrooms are golden and the moisture has evaporated, about 8 minutes.

In a separate bowl, combine the sautéed mushrooms with shredded Gruyère cheese and heavy cream. Season with salt and pepper to taste.

Divide the mushroom and cheese mixture evenly among the pre-baked crusts.

Return the tartlets to the oven and bake for an additional 15 minutes, or until the filling is set and the cheese is melted and slightly golden on top.

Allow the tartlets to cool for a few minutes before removing them from the tartlet pans. Garnish with chopped parsley before serving.
Notes
- Allow the tartlets to cool in the pans for easier removal.
- If you don't have tartlet pans, a muffin tin can work as a substitute.
- For a nut-free version, try using sunflower seed flour in place of almond flour. Adjustments in quantity may be needed to achieve the desired consistency.
Nutrition
Calories:
350
kcal
Carbohydrates:
8
g
Protein:
12
g
Fat:
30
g
Fiber:
4
g