In this post I'm going to give you some of my favorite recipes from around the web for fat bombs with cream cheese, my favorite method for making delicious fat bombs.
For those who don't know, fat bombs are the candy equivalent for those on a keto diet. We're trying to avoid sugar, and up our fat intake, and these little babies pack a fat fuelled punch whilst going some way to satisfy those cravings that can be such a struggle to shift.
There are dozens of ways to make a fat bomb, but my favorite has to be making fat bombs with cream cheese. It's a pretty versatile base to use for both sweet and savory fat bombs, and is easy to find just about anywhere. Now being a high fat diet, be sure to buy the full fat versions, reduced fat isn't gonna work here!
You've got plenty of choice in the list below so give some a go, I like to keep a batch of whatever fat bombs I've made lately in the fridge in case of emergency (or as a treat!)
Sweet Fat Bombs with Cream Cheese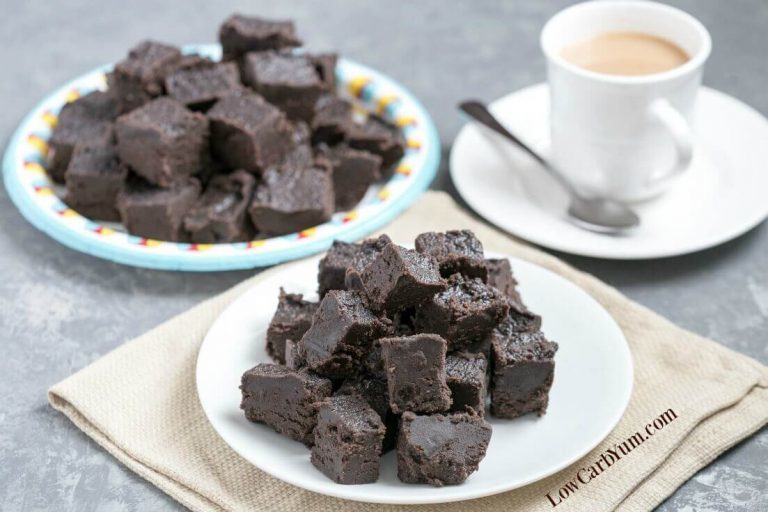 This chocolate fudges from Low Carb Yum are a great use of cream cheese for a fat bomb, you'd never know that was the base for them. Using dark 100% cacao is a great addition to a diet with a host of anti-oxidant properties.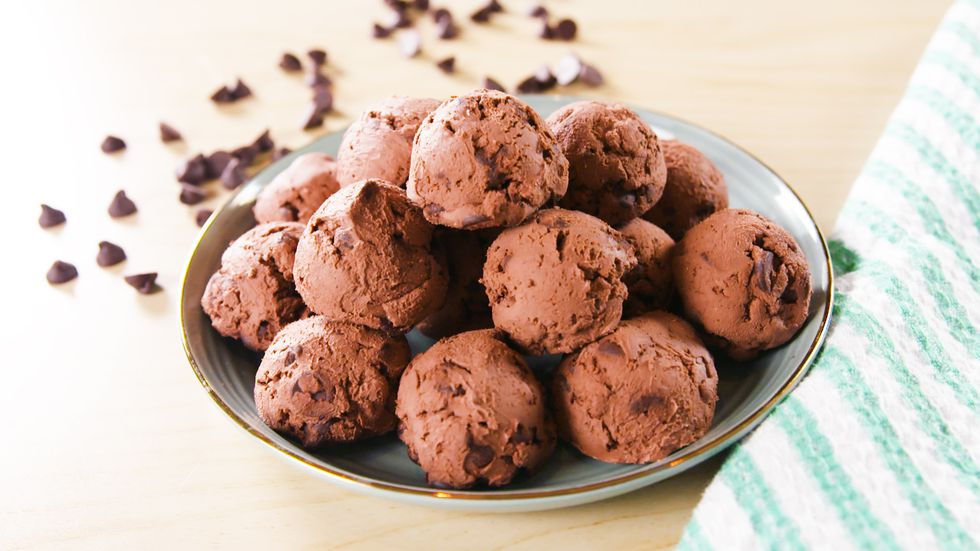 Brownie bombs? Delicious! This recipe from Delish would be great to keep stocked up in the fridge for all those times you crave a brownie (only me?)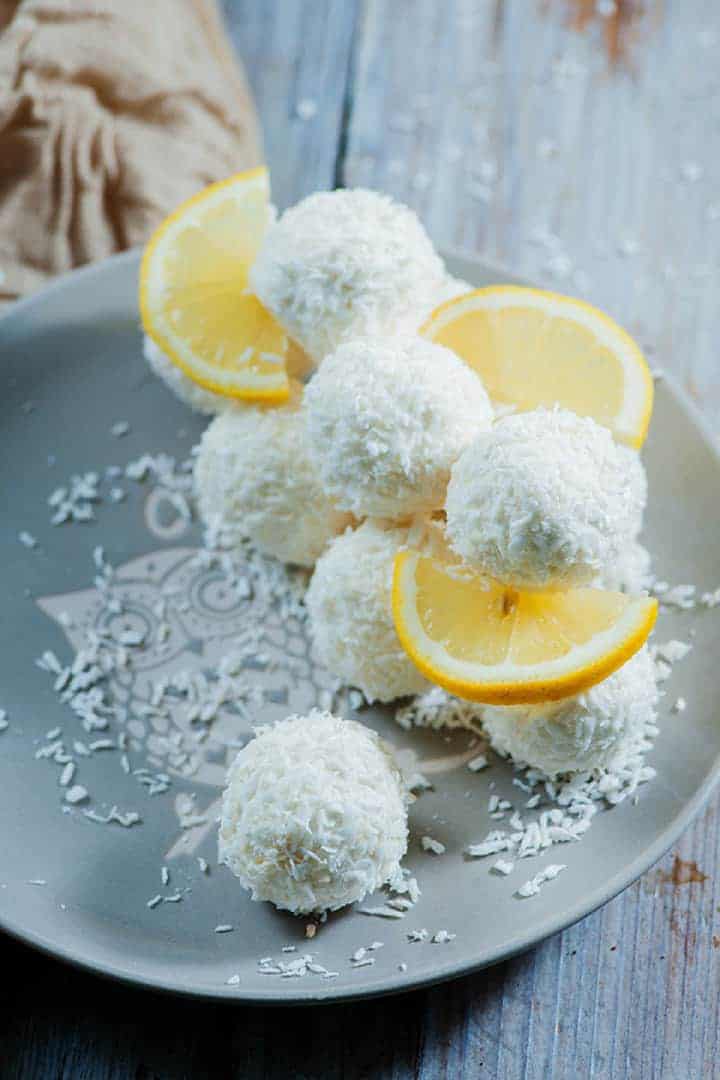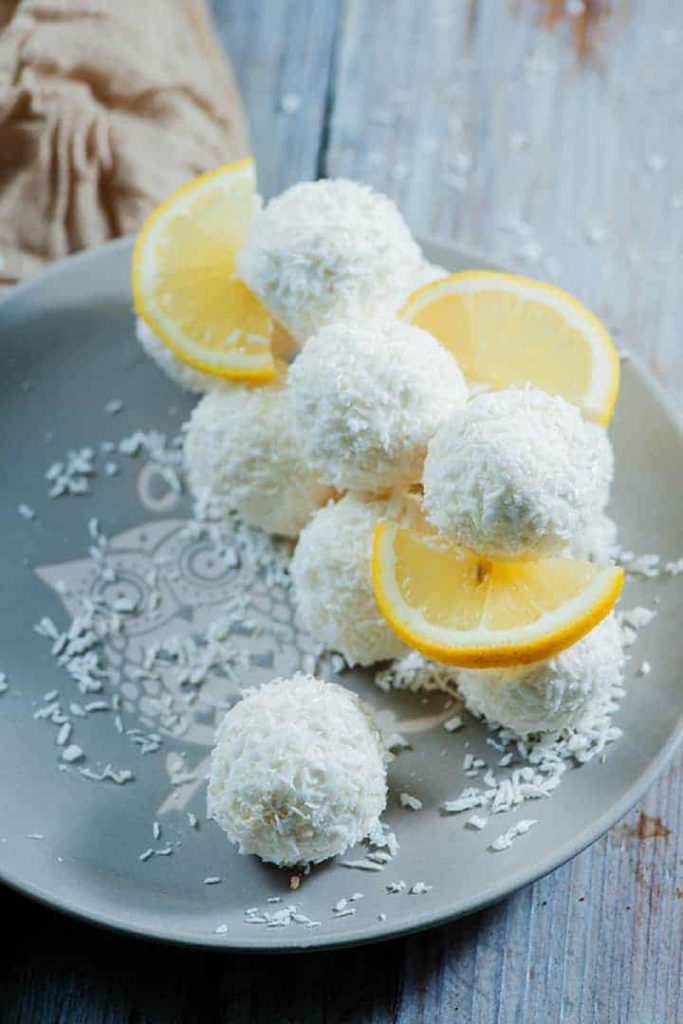 These classic cream cheese fat bombs from Low Carb Yum have been a regular in my house. I love a bit of desiccated coconut and these are easy to store (not sticking to each other so easily!)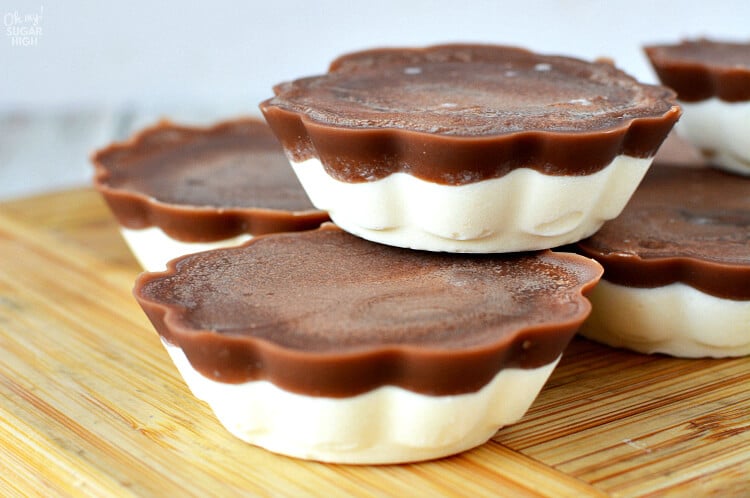 These lovely looking treats from Oh My Sugar High are a great candy substitute (just don't go mad!) Over time I've tried to wean myself of snacking too regularly, and treating snacks like fat bombs as a treat.
Just take 1 (maybe 2!) out of the fridge at a time, whatever you do don't set a whole bowlful down next to you as they'll certainly be gone in an instant!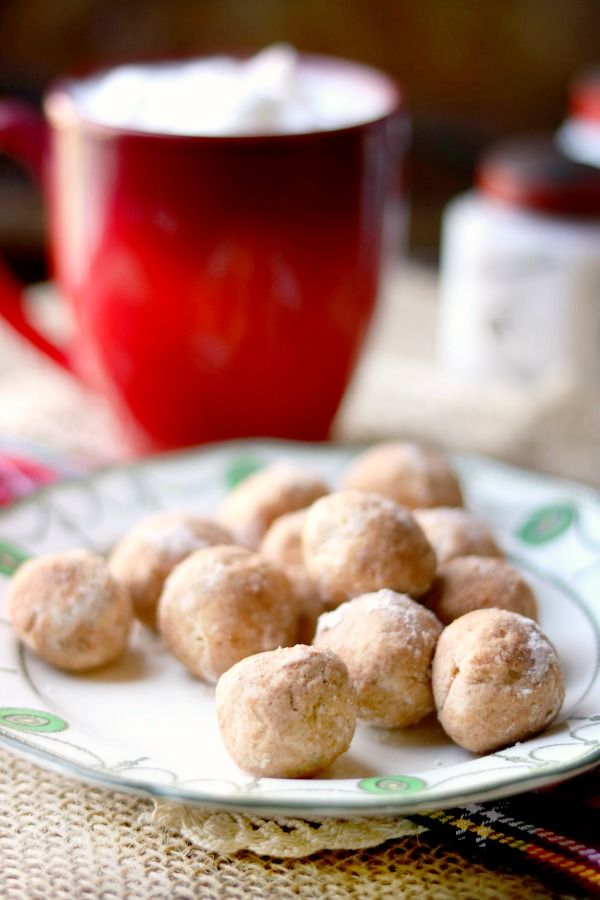 I love gingerbread, which is definitely off the table on a keto diet. Instead these gingerbread fat bombs with cream cheese from LowCarb-ology will do nicely.
Spices are such a vital part of my success on a keto diet, I add spice and herbs to just about everything to bring intense flavor that helps forget you're even on a diet.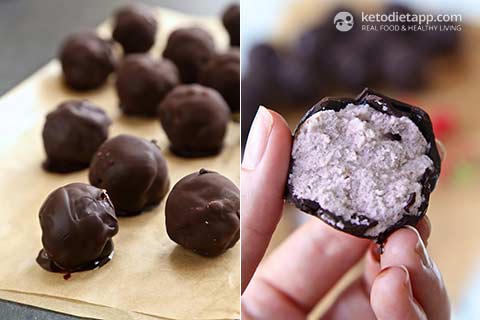 Raspberry Cheesecake is one of my favorite flavor combos (as you can see here with my own raspberry keto cheesecake recipe!). These little treats from Keto Diet App are like a cheesecake in miniature, ideal for portion control (so long as you can resist!)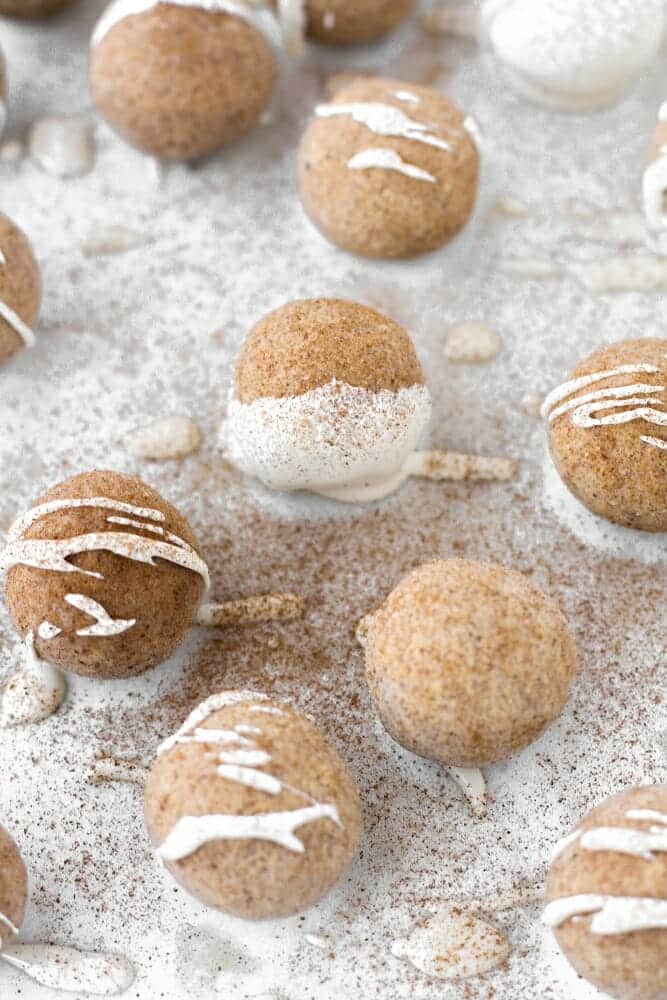 These are beautiful looking cinnamon treats from Real Balanced. I'm a big cinnamon fan, especially in winter where it conjures up images of christmas by the fireplace. For the rest of the year enjoy these treats instead (or if you want a cinnamon hit even quicker, give this keto cinnamon roll smoothie a go!)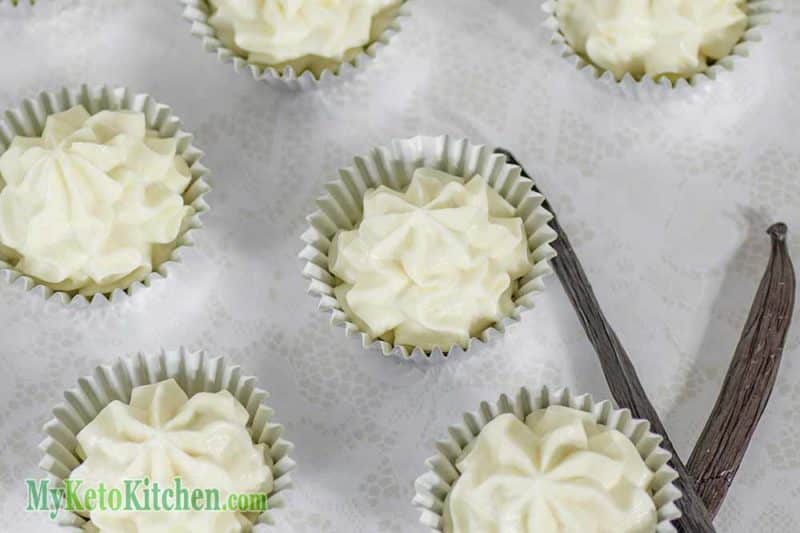 A little piping goes a long way to making these vanilla cheesecake bites from My Keto Kitchen look like professional little treats.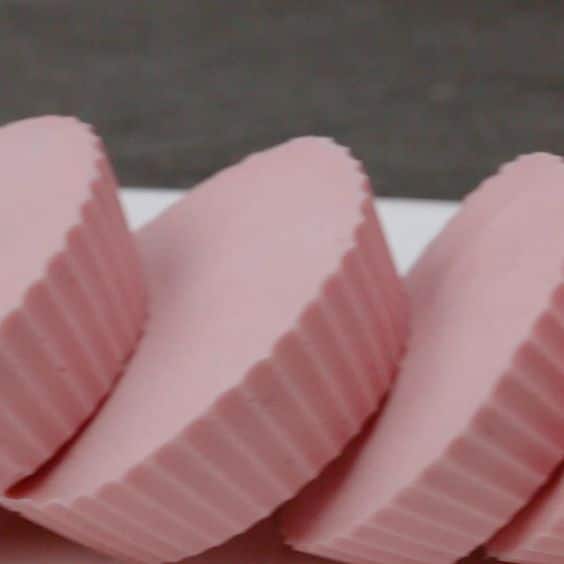 A nice and easy recipe from Tasty for strawberry cream cheese bites. Berries are perfect for these fat bombs, being comparatively low in carbs compared to other fruits, you could easily substitute strawberry here for blueberry, raspberry, blackberry etc.)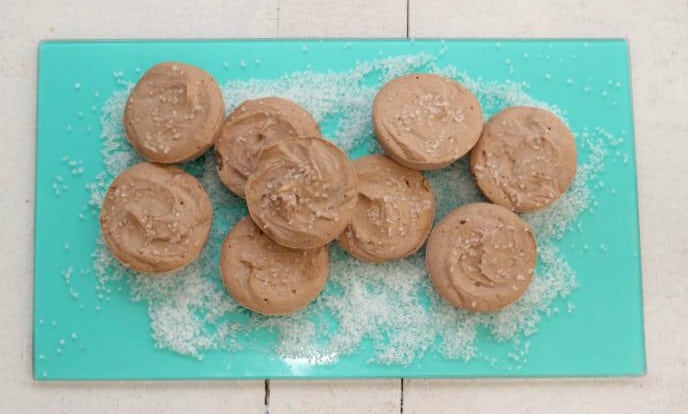 These salted chocolate fat bombs are a great idea from Dirty Floor Diaries. Using salt well can often make the difference between a forgettable snack and something delicious (something I've been experimenting after reading the brilliant book Salt,Fat, Acid, Heat by Samin Nosrat!)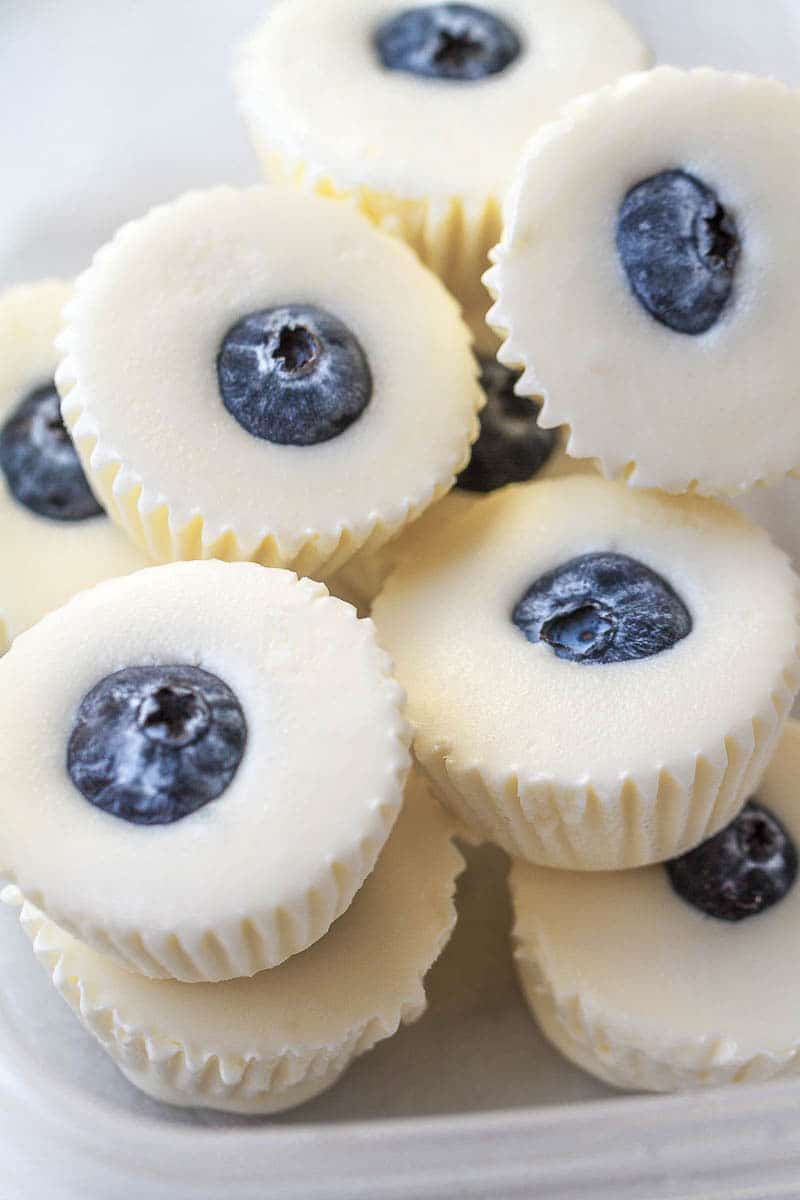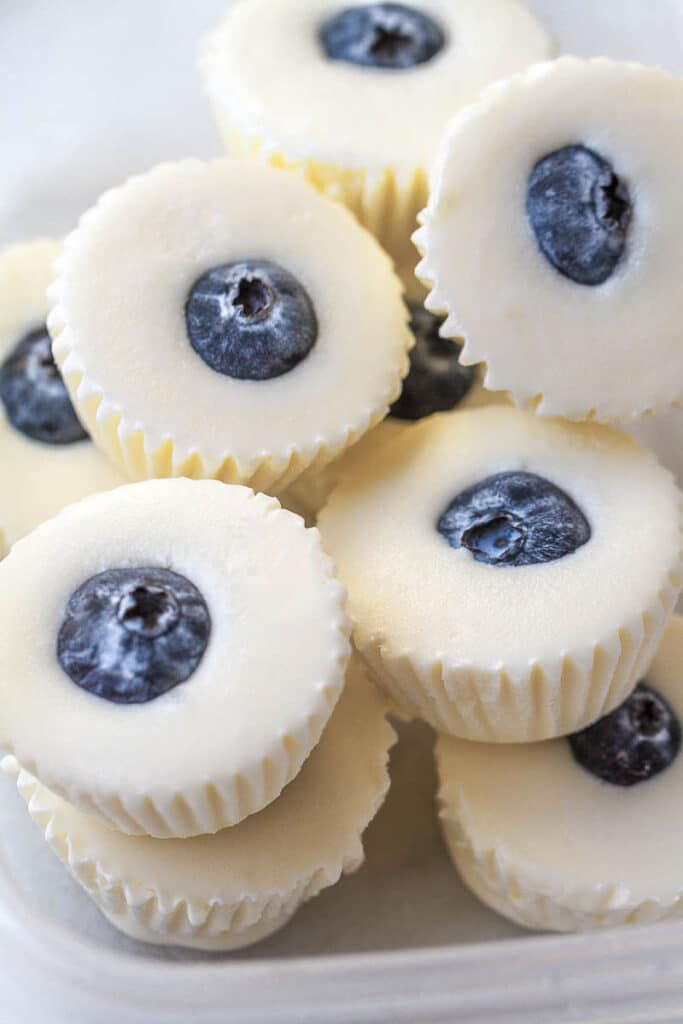 Another pretty looking treat here from Eatwell 101. A little berry garnish makes these look polished and could easily be offered to your non-keto friends (who knows, they may love them and come over to keto!)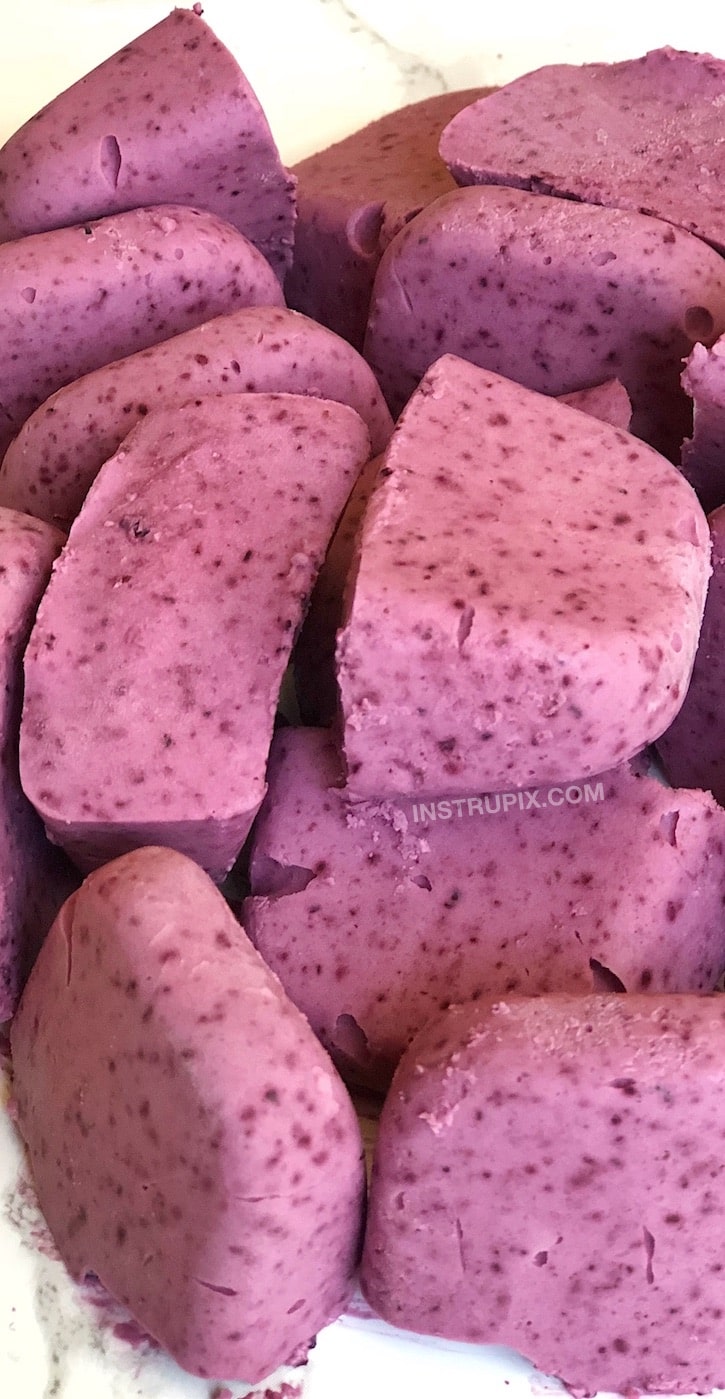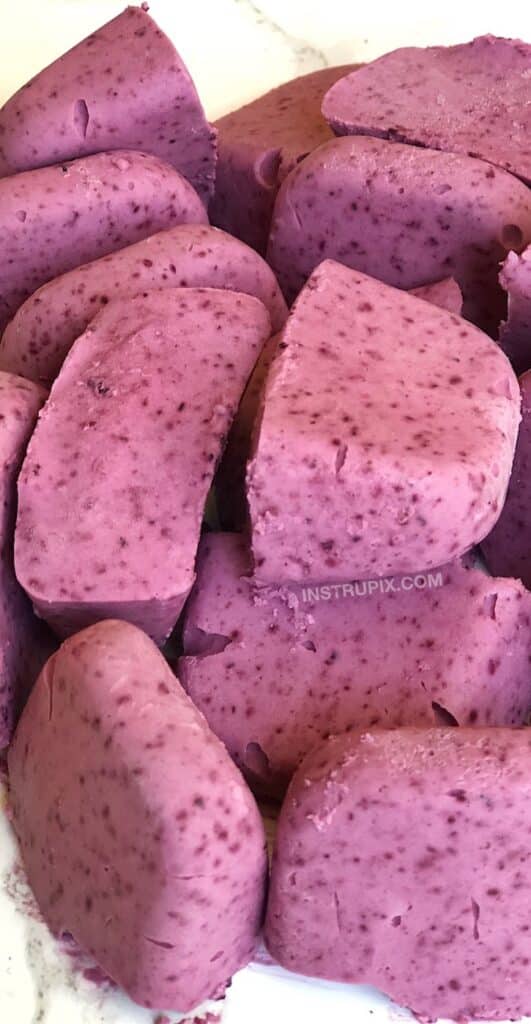 Blueberry cheesecake is a great combo and the fat bombs with cream cheese from Instrupix deliver, whilst being extra easy to make!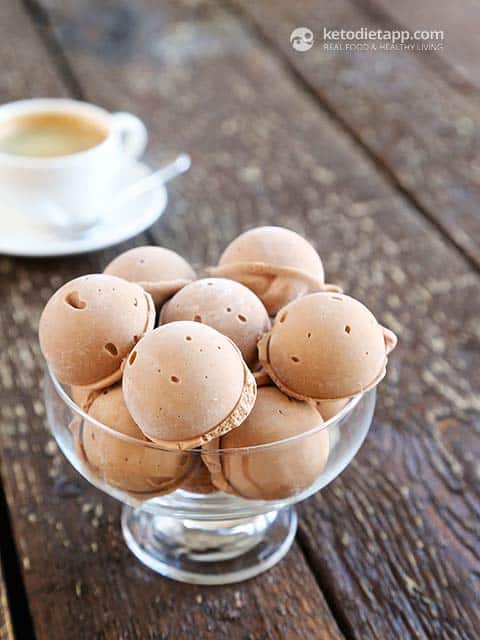 A riff on the classic bulletproof coffee. These Bulletproof Fat Bombs from Keto Diet App could make a great pick me up first thing in the morning!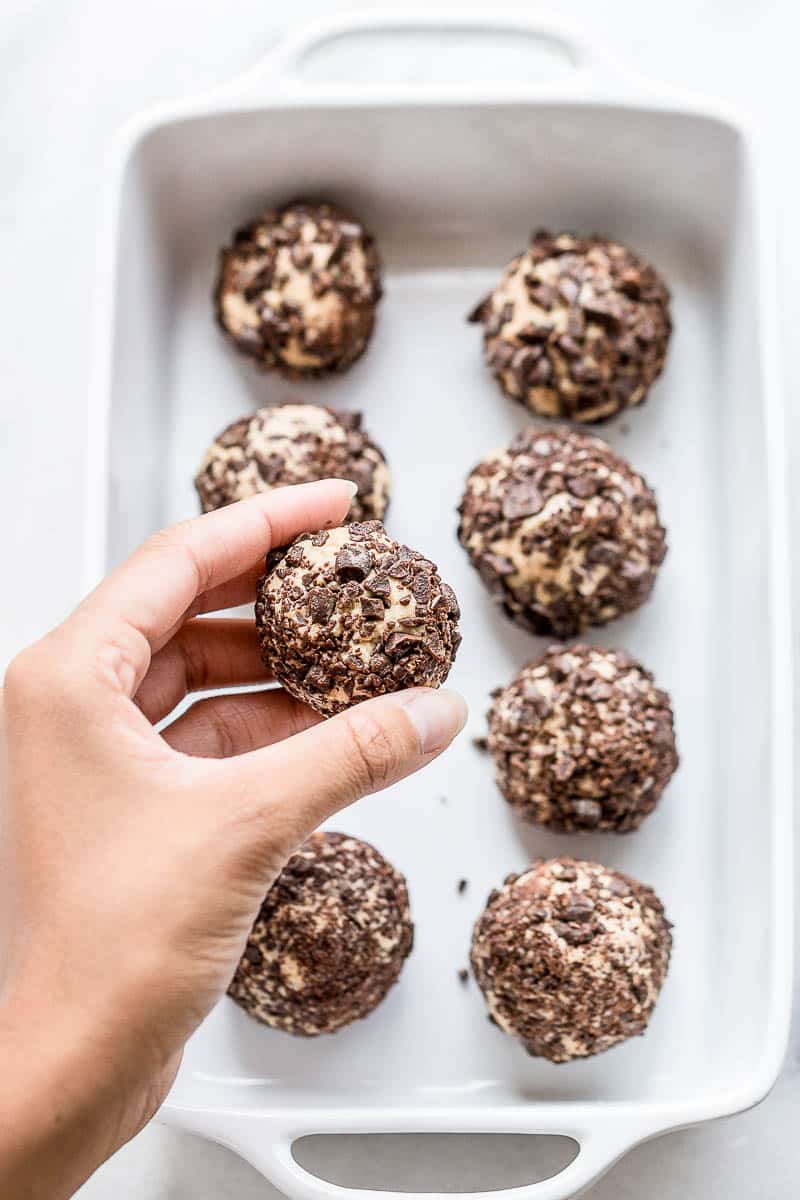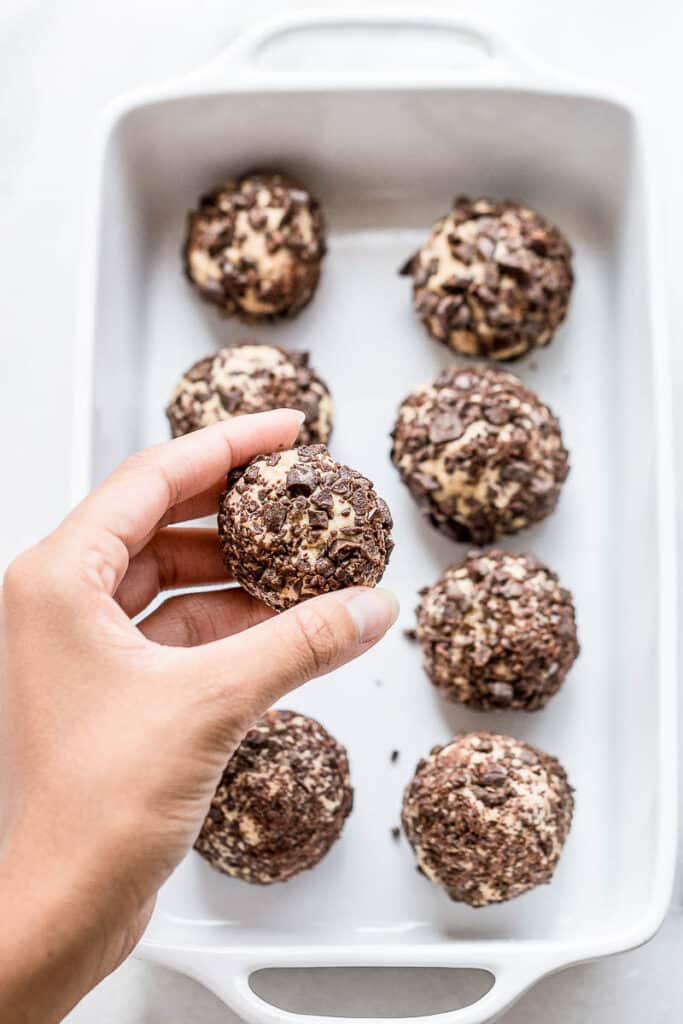 I've got this far through the list without mentioning peanut butter, which is odd. Good thing these peanut butter fat bombs from Eatwell 101 are here to get my fix! The bombs in the picture look pretty big, I like to make mine a little smaller than a squash ball, or the size of a big marble.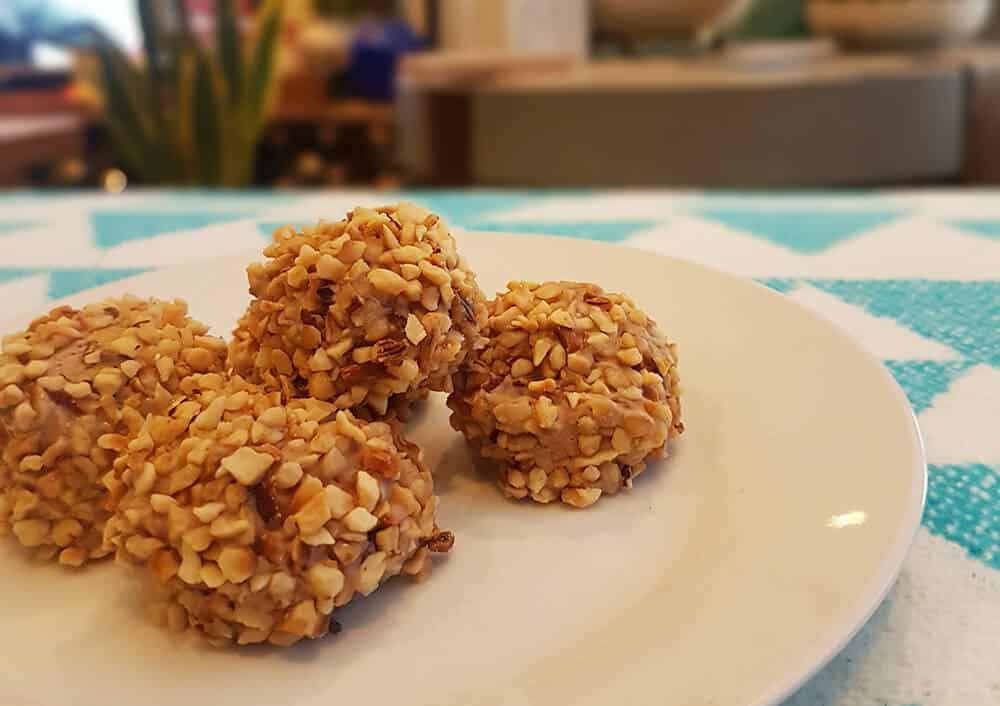 These were the very first fat bombs I started making (hence the dodgy photograph!) but I love them. Toasted hazelnuts make these taste a lot like a ferrero rocher, one of my favorite sweets (they kinda look like them too!)
Savory Fat Bombs with Cream Cheese
Fat bombs don't always have to be sweet! Sometimes a savory craving for chips or similar needs dealing with, and these fat bombs will do the job. The versatility of cream cheese means it's great as a savory base as well as sweet. T
here are lots of other options to use as a base for your savory fat bombs, we've got a great round up of other savory fat bombs here to check out!
The great thing with savory fat bombs is that they often look like an hors d'oueve or appetiser, making them ideal to serve to keto and non-keto friends at parties for instance.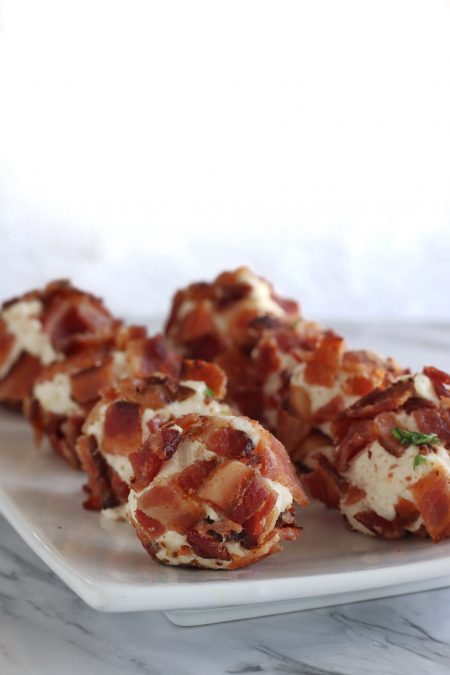 These savory fat bombs from Officially Gluten Free are a delicious combo of delicate crab, with a crispy bacon crust! These would be ideal just about any time of day, or served to guests.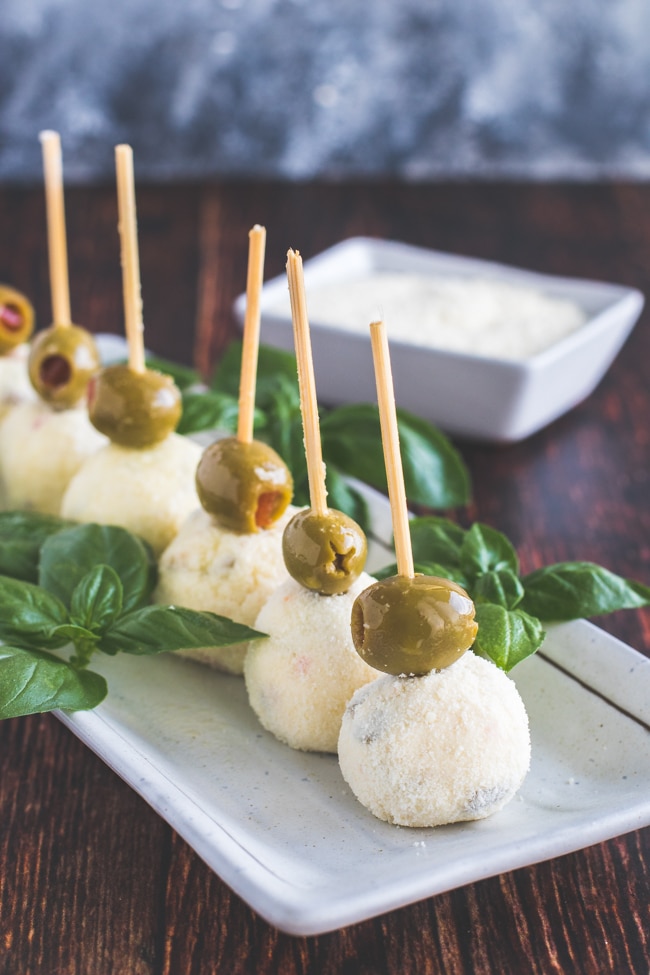 These wonderfully presented little morselds from Fat For Weight Loss are just begging to be devoured. Garlic, parmesan and olives are a great combo, these would make a fantastic appetiser!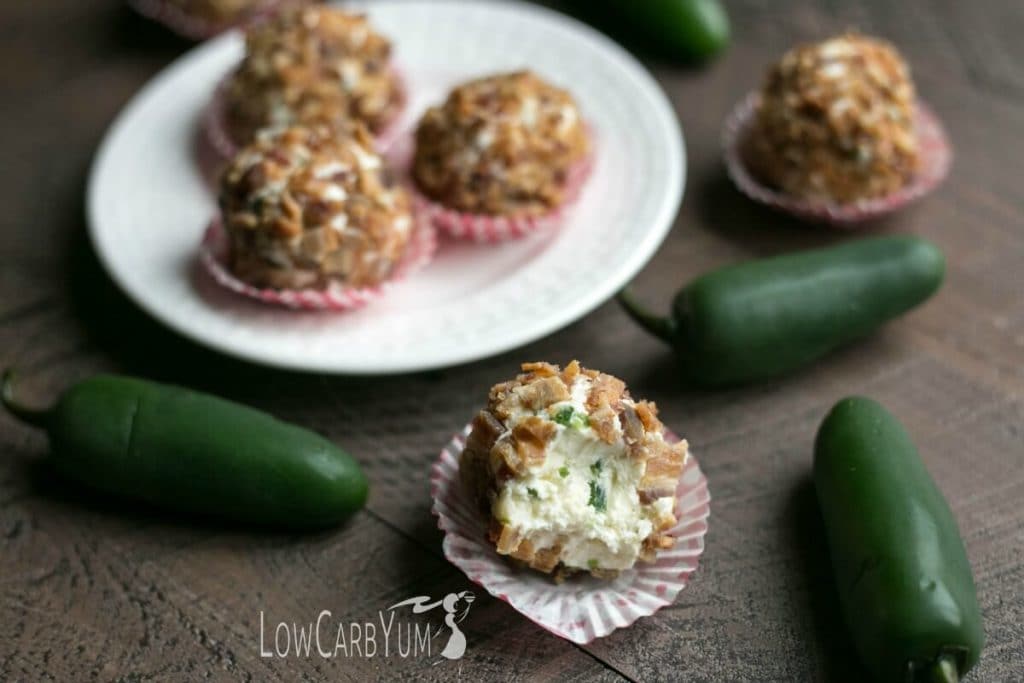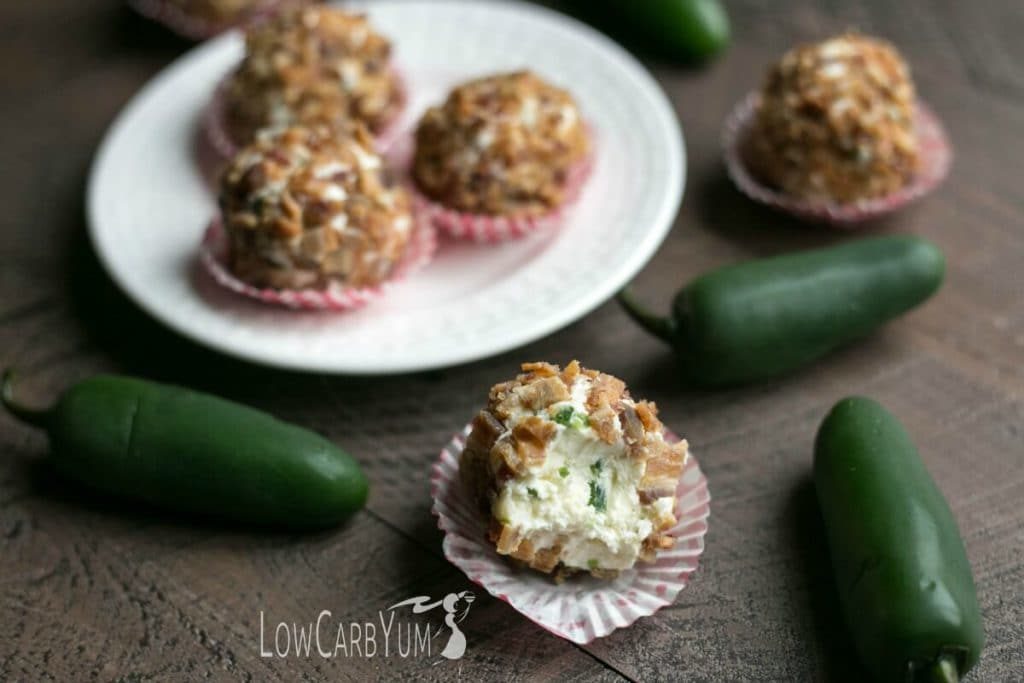 I love a jalapeno popper and these fat bomb balls from Low Carb Yum pack all the punch of a classic popper into their bacon encrusted package!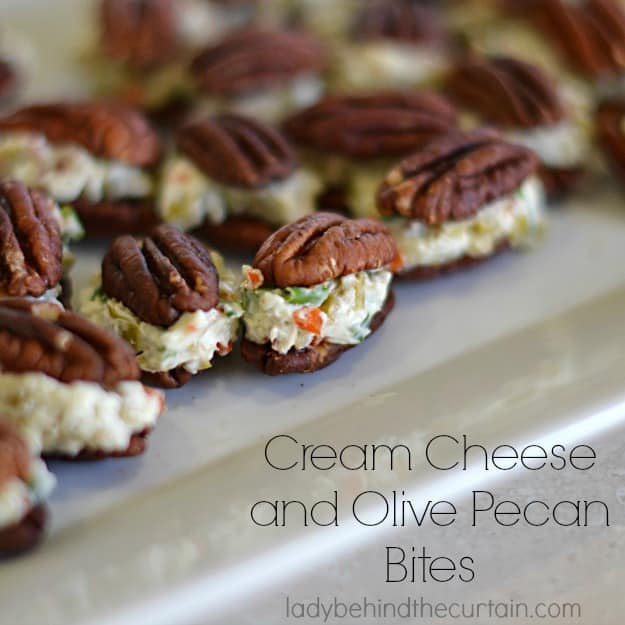 I'm ending with these delightful cream cheese, olive and pecan bites from Lady Behind the Curtain. Building a tiny fat bomb sandwich between the pecans is a great way to avoid the mess that sometimes comes with trying to roll up cream cheese fat bomb balls. Definitely worth a try!
Fat Bombs with Cream Cheese – The Ideal Fat Bomb Base!
So there you've got 20 cream cheese fat bombs to help you figure out what to do with that pack of philadelphia in the fridge!
Not in the mood to make your own snacks? Check out this list of ready to eat keto friendly snacks!
Do you have any other favorite cream cheese fat bomb recipes? Let us know in the comments below! If you've enjoyed this post then please do give it a share, you can follow me on pinterest here.