Savory fat bombs are a great way to boost your fat consumption, which is critical for reaching optimal ketosis on a keto diet.
The problem with the majority of fat bombs you see online is that they are sweet treats intended to replace the chocolate and biscuits etc. people tend to snack on when eating carbs.
If you've got a sweet tooth, that's great, and there are plenty of great recipes to choose from (cough…these chocolate pistachio ones!…cough), but lots of us aren't as keen on sweet foods, so need to find an alternative:
12 Keto Savory Fat Bombs
These savory fat bombs are all great additions to a keto diet, giving a big dose of fat whilst keeping those net carbs to a minimum.
A lot of these actually make great party food, as they're all small packages packing huge flavor. You could try serving these as canapes to non-keto friends to see what they make of them, I think they'll be pleasantly surprised.
If you're not throwing parties these are still ideal to prep and have in the fridge where possible, or to prepare quickly if hunger strikes. My personal favorites are cream cheese based fat bombs, which I often prepare in larger batches to keep in the fridge for the week and graze from when I get a little hungry.
I often practise intermittent fasting which I recommend combining with a keto diet, I tend to do a 20hr fast with a 4 hour eating window. Savory fat bombs like these are great for getting calories in during that window with having to prepare quite so many full meals. I'll usually cook myself a big dinner, then snack on fat bombs the rest of the eating window.
Read on for 12 of what I think are the best savory fat bombs to add to your diet: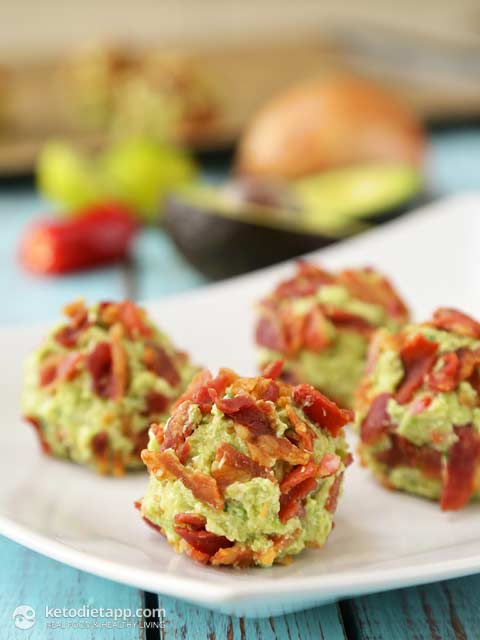 Bacon and avocado are without doubt the best combination! These fat bombs from ketodietapp are such an easy, and delicious way to get more fat into your keto diet, focusing on two great keto ingredients. Avocado is one of the best ingredients to add to a keto diet, with a bunch of health benefits and fibre which is often missing on keto diets (check out these other keto avocado recipes you could add to your diet!). And then bacon just tastes damn good!
With 15 grams of fat per serving (much of which is the healthy mono-unsaturated type from the avocado) and just 1.4g net carbs, this really hits keto macros nicely.
Fat: 15.2g
Protein: 3.4g
Net Carbs: 1.4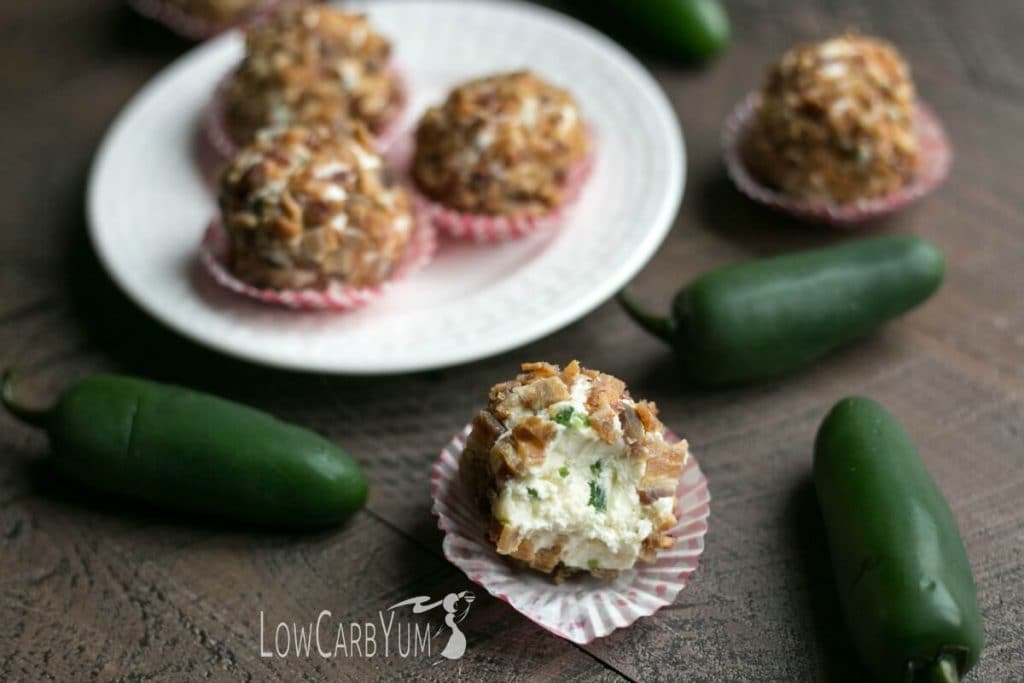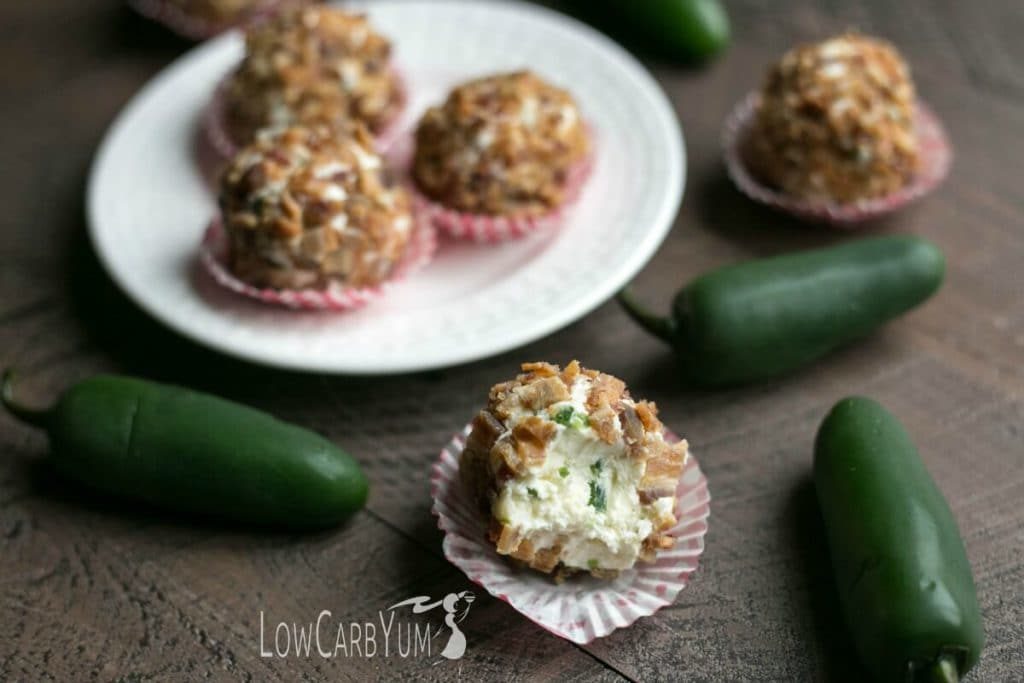 These classic jalapeno popper fat bombs from LowCarbYum again make use of that delicious bacony goodness, even mixing in the fat from cooking them into the mix! Cream cheese is the fat base to hold these savoury balls of joy together, with a spicy kick from jalepenos chopped in.
These come in with less than 1g of net carbs per serving,whilst packing in 20g of fat.
Fat: 20g
Protein: 4g
Net Carbs: 1g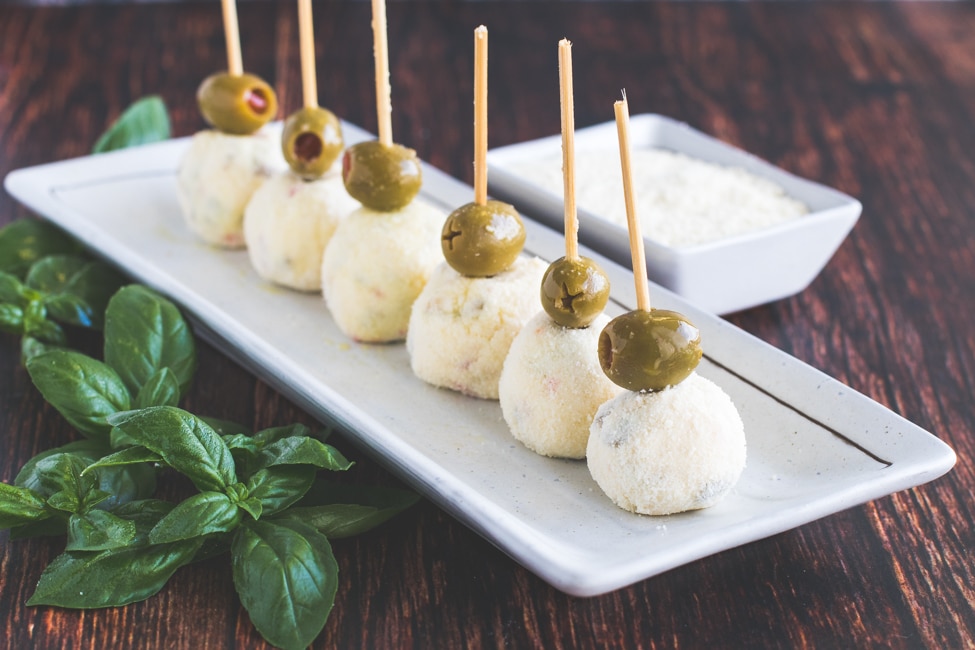 This recipe from fatforweightloss makes just about the quickest fat bombs, with no cooked ingredients! Just combine and refrigerate and you're golden. Garlic and Parmesan are always a delicious combo. Present these well with an olive and a toothpick and they make great keto party food, nobody would think this is diet food!
Fat: 7g
Protein: 2g
Net Carbs: 1g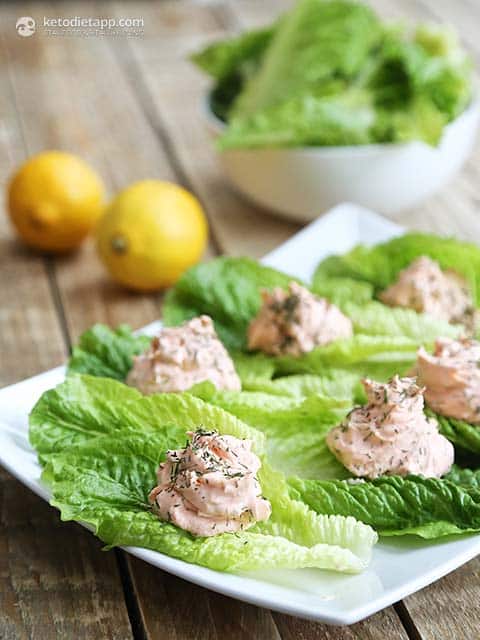 This is another great recipe from KetoDietApp, making use of the great depth of flavor you get from smoked salmon to make a quick delicious snack. As with many of these recipes, cream cheese is an ideal base, with a neutral savory flavor. These have a great macro balance for a fat bomb, packing 16g of fat for just 0.7 net carbs!
The resulting mix is really versatile, either have a spoonful on lettuce for easy snacking, or use it as a spread on keto breads for something more substantial.
Fat: 15.7g
Protein: 3.2g
Net Carbs: 0.7g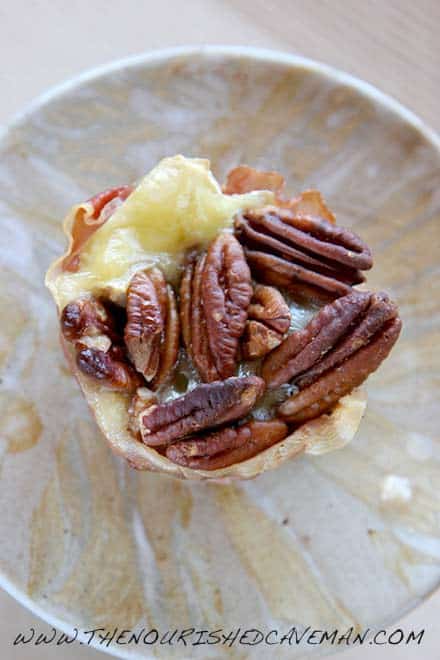 These indulgent packages from TheNourishedCaveman are packed full of flavor…and fat! Baked in muffin tins, these use the prosciutto to hold in the cheesy goodness, with pecans giving a nutty flavor to complement the cheese as they cook. For just 0.4g net carbs per serving these are a great savory keto snack!
Fat: 16.5g
Protein: 8.4g
Net Carbs: 0.4g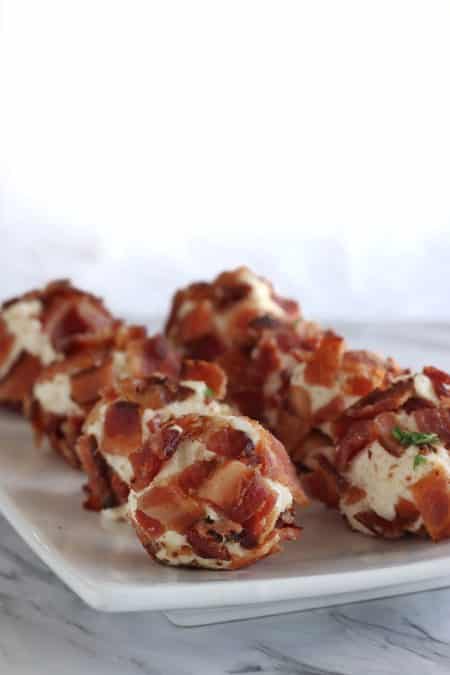 These fat bombs from OfficiallyGlutenFree are an indulgent mix of crab meat and bacon, with a cream cheese base. A batch of these won't last long, and could make a great party canape!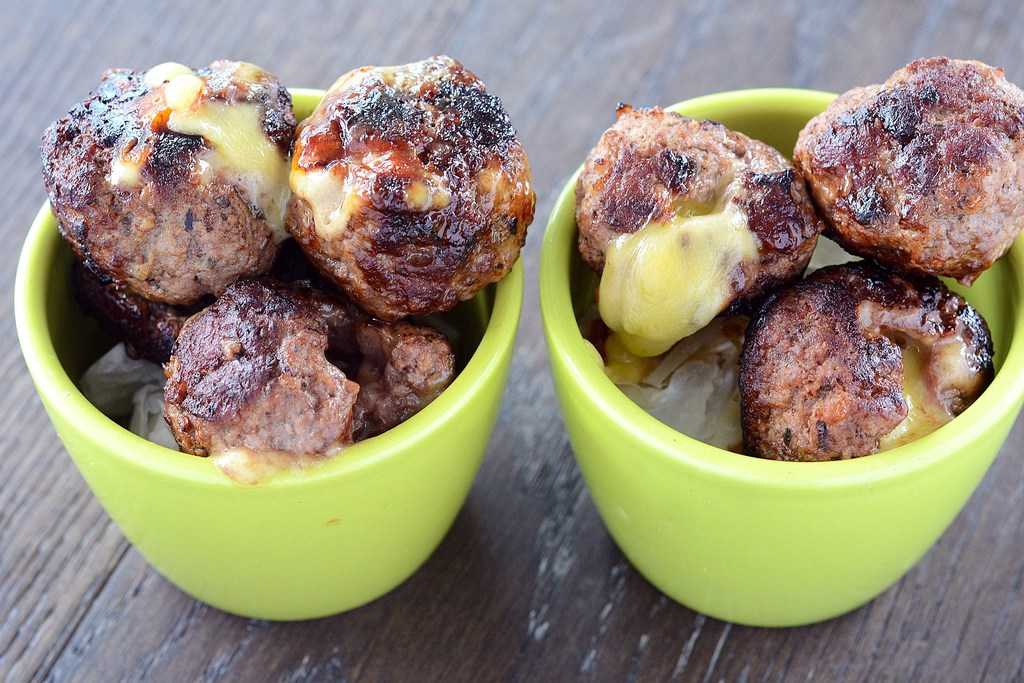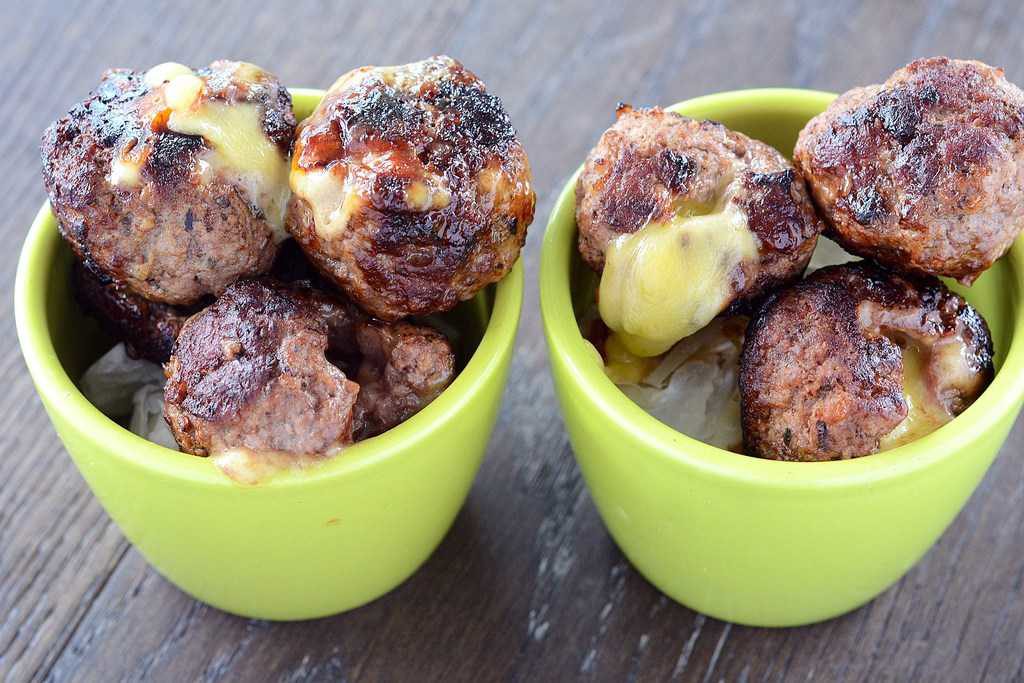 These hefty fat bombs from FatForWeightLoss are a naughty snack for in front of the tv! The recipe makes these pretty big, coming in a 450 calories per serving so don't stuff too many at once, or if possible, make smaller versions of them for grazing. These are really quick to prepare and cook so ideal mid week as a boost to your fat macros.
These have a high protein content so one word of warning, don't go mad eating lots of these else they could push you out of ketosis. If you've been working out on keto though, then tuck in! For more info on how to adjust your macros for exercise on the keto diet, check out the keto exercise guide.
Fat: 28g
Protein: 46g
Net Carbs: 2g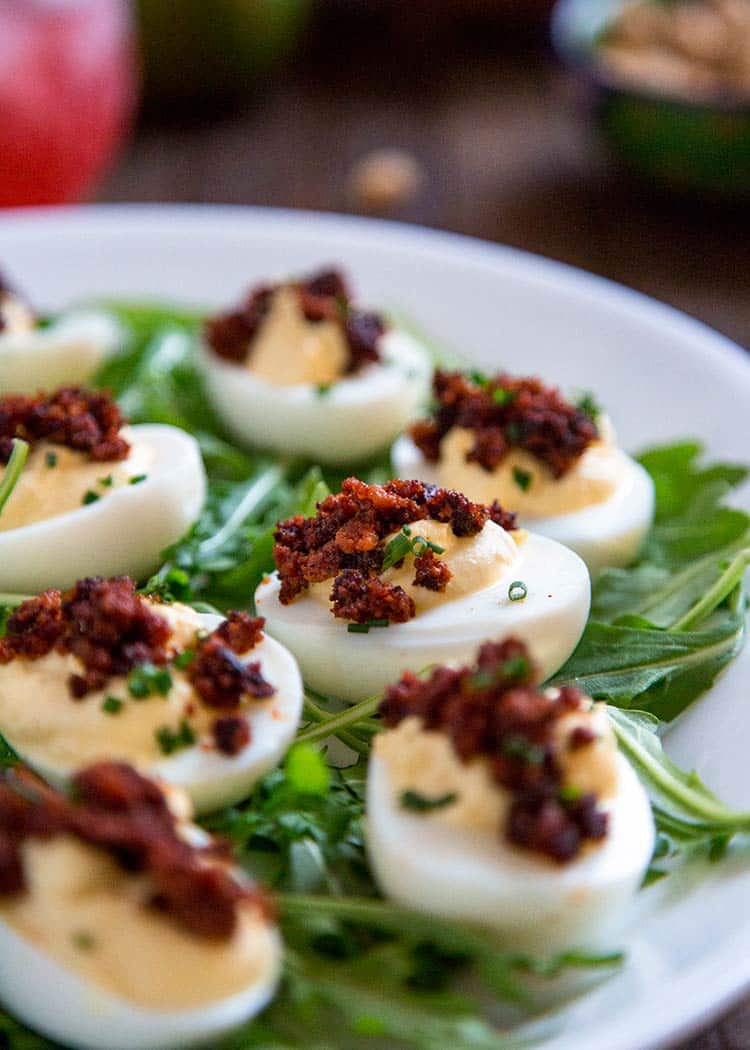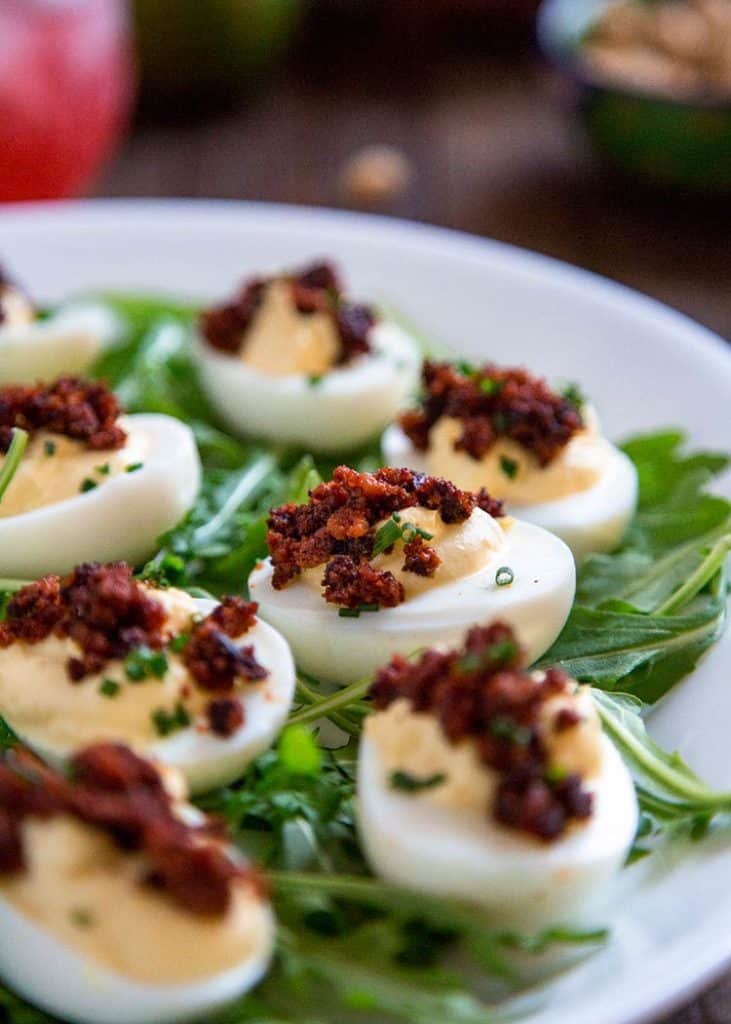 Deviled eggs in just about any form will make a great savory keto fat bomb, but these crispy chorizo ones from KevinIsCooking take the medal, because crispy chorizo! These are really quick and simple to make, and some crunch from the chorizo gives some variety to the texture along with great flavor from the chorizo spices.
Fat: 11g
Protein: 9g
Net Carbs: 1.8g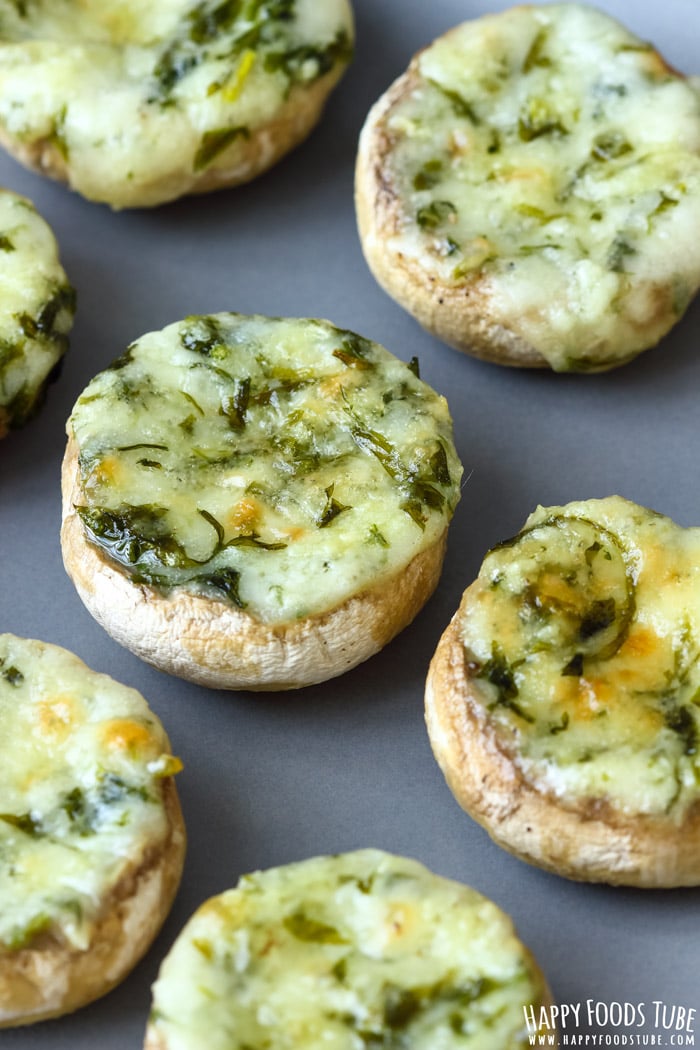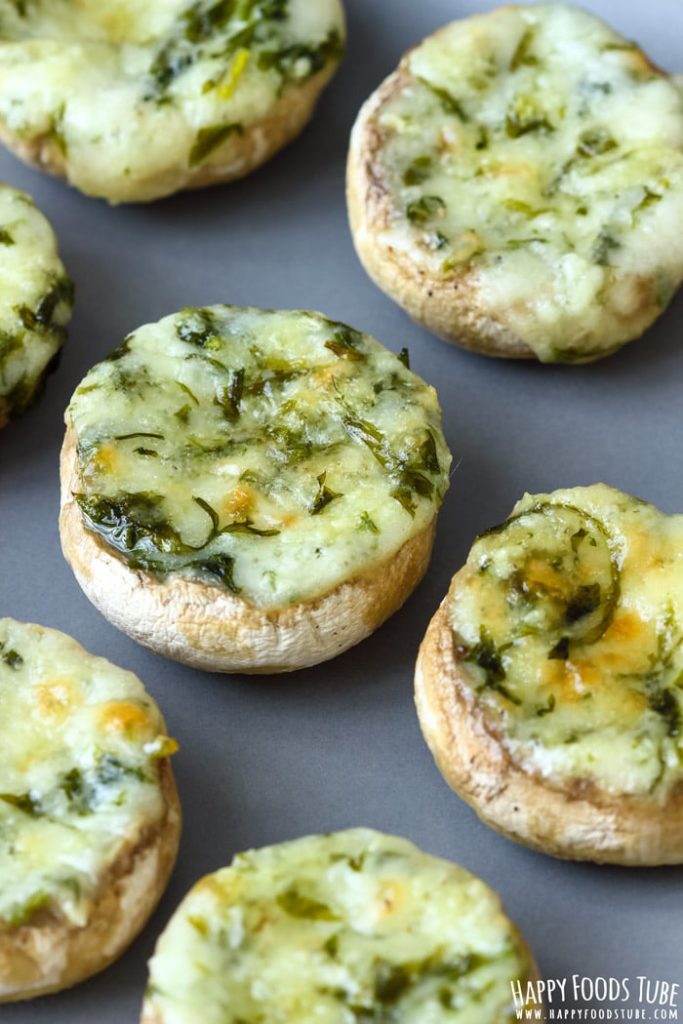 Using upturned mushrooms as a base for your savory fat bomb ingredients is a great idea. This recipe from HappyFoodsTube fills them with cheese and garlic for a delicious combination. These make great savory fat bombs using small mushrooms for grazing on, but if done in a bigger portobello type mushroom could make a bigger meal in themselves!
Fat: 3g
Protein: 2g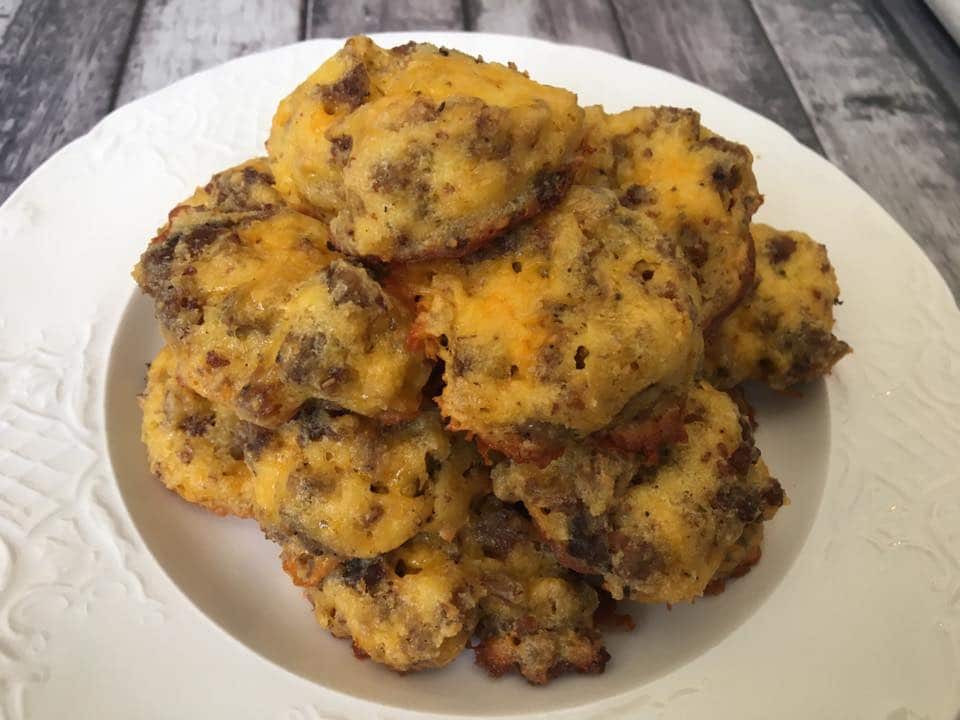 These sausage ball puffs from KaseyTrenum make use of sausage meat and cheese for a flavor packed savory fat bomb. These use coconut flour to hold the mix together, so make up a batch in a bowl to eat in front of the tv or graze on throughout the day to boost your keto macros.
Fat: 7g
Protein: 4g
Net Carbs: 0.6g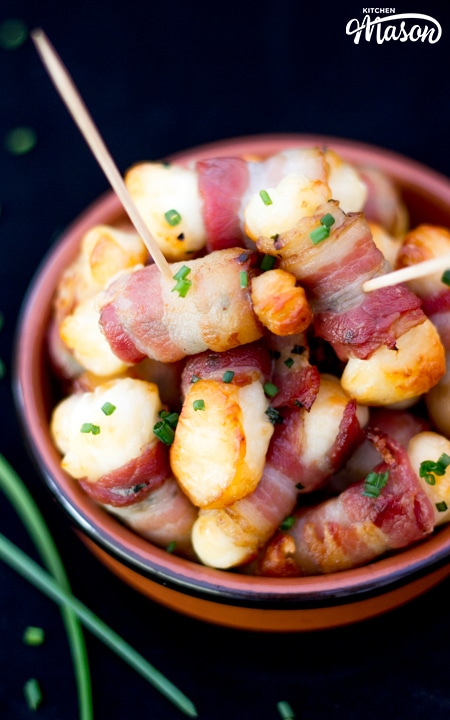 These easy fat bombs from Kitchen Mason can be read in no time, whilst packing lots of flavor. Sometimes less is more and this 4 ingredient recipe is testament to that. These make great party food, even for non keto people. If you are keto and need to boost your macros though these are great from grazing on to up that fat count.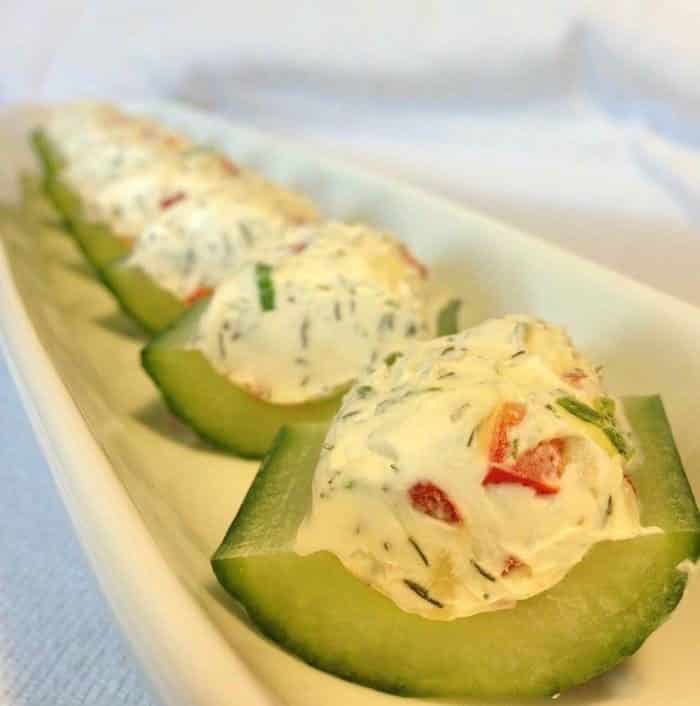 This is an extremely quick keto fat bomb recipe from MyKetoRecipes, with no cooking required. Simply mix the ingredients and spoon into the halved cucumber pieces. These could be a great party snack and are vegetarian.
So there you have 12 great, non-sweet, fat bombs to add to your diet. Try a few of them out and let me know what works for you, or if you have any other great savory snacks you like on the keto diet! 
Looking for more fat bomb recipes? We've got a bunch more, all made with cream cheese to make shopping a little easier. Read this round up of the best fat bombs with cream cheese here.
Liked this post? If so please give it a share or a pin. Thanks!
Where to next on
your keto journey

?

1. Learn more about working out on the keto diet with our keto exercise guide

2. Learn more about the keto diet with our beginners guide to keto

3. Discover the signs and symptoms to know for sure when you're properly in ketosis

4. Check out these tips and tricks to save money and lose weight with our keto on a budget guide

5. Stock up your keto cupboard with this list of ready to eat keto snacks

6. Keto in a hurry? Make one of these keto friendly smoothies to fuel your day