Follow Me!
These quick, easy to make chocolate pistachio fat bombs are an ideal treat to have ready in the fridge when on a Ketogenic diet. Especially during the early days of transitioning into a keto diet, it can be hard to lose your sweet tooth, with cravings for sugar being one of the quickest things to derail progress.
I like to have a bowl of these or my hazelnut mocha fat bombs in the fridge at all times for a sweet fix to prevent reaching for real sugar. In time the cravings dissipate, and many people lose their sweet tooth altogether when eating a keto diet, but in the meantime it's good to have a backup plan to keep you on the wagon. Don't have a sweet tooth? Try this list of 12 savory fat bombs instead!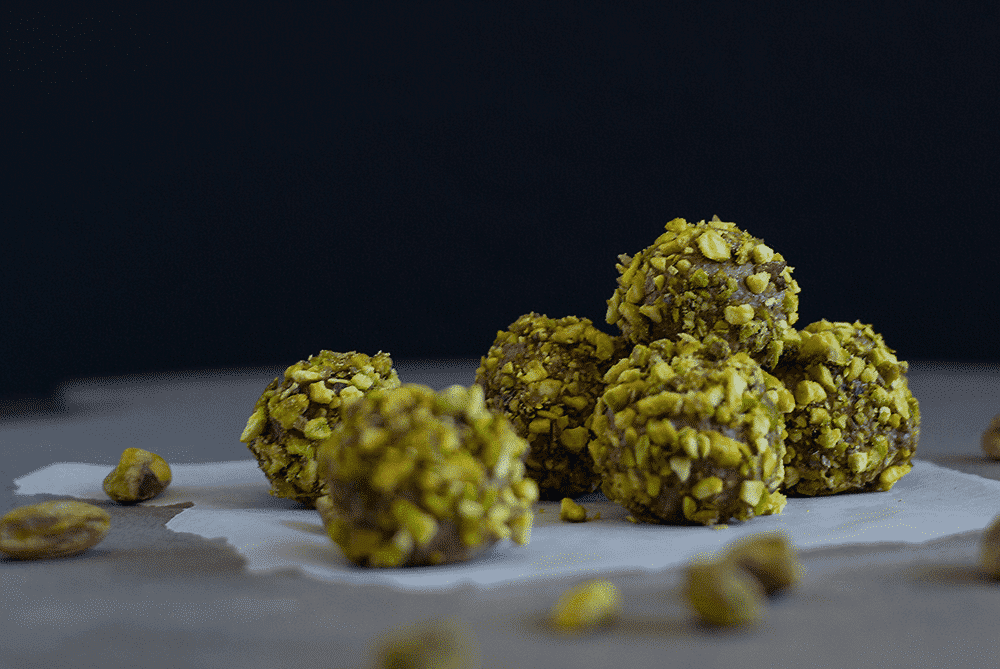 I love the taste of pistachios, especially with a little salt, lightly toasting them brings out a more nutty flavour which goes well with chocolate. I use mascarpone as a fat base for these, which holds together well and I find is easier to handle and roll than cream cheese when making this type of chilled fat bomb. You can of course substitute cream cheese for the mascarpone but I find that the more delicate flavours of the other ingredients can get masked sometimes by the cheese.
Either way the truffle like texture to these is delicious and a little decadent! Try to find 100% unsweetened cacao powder for this recipe, raw cacao if you can get it but no pressure! I find myself using cacao all over the place, in smoothies, fat bombs, desserts so I try to get a good quality brand.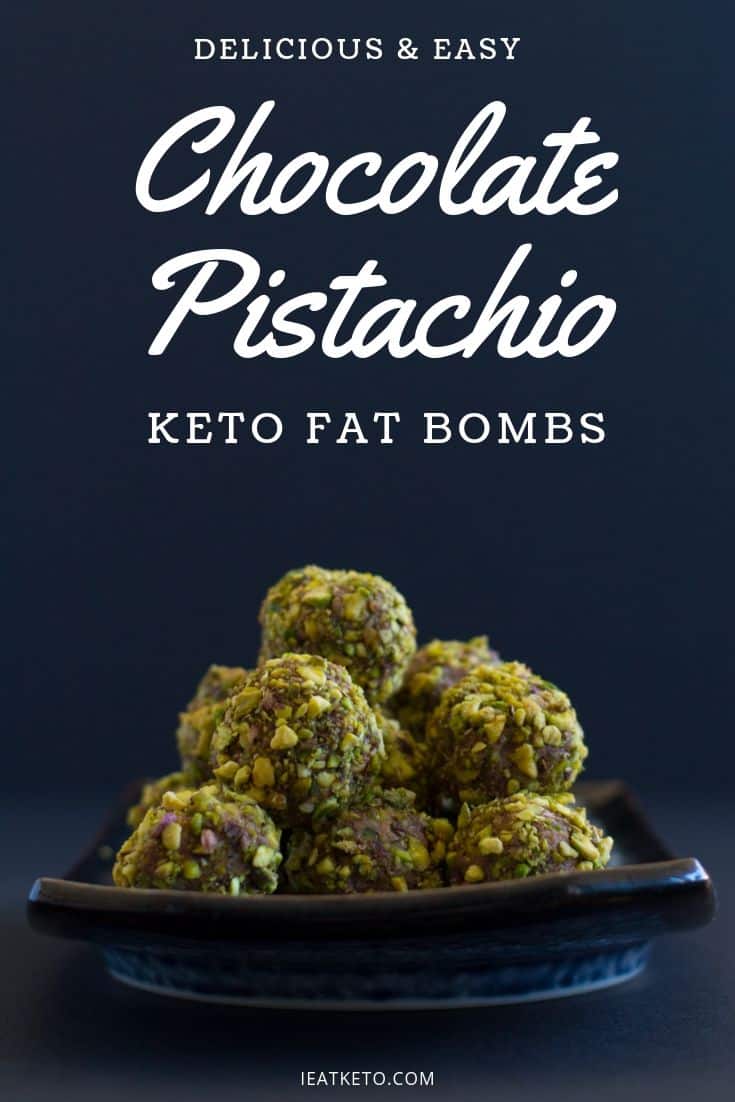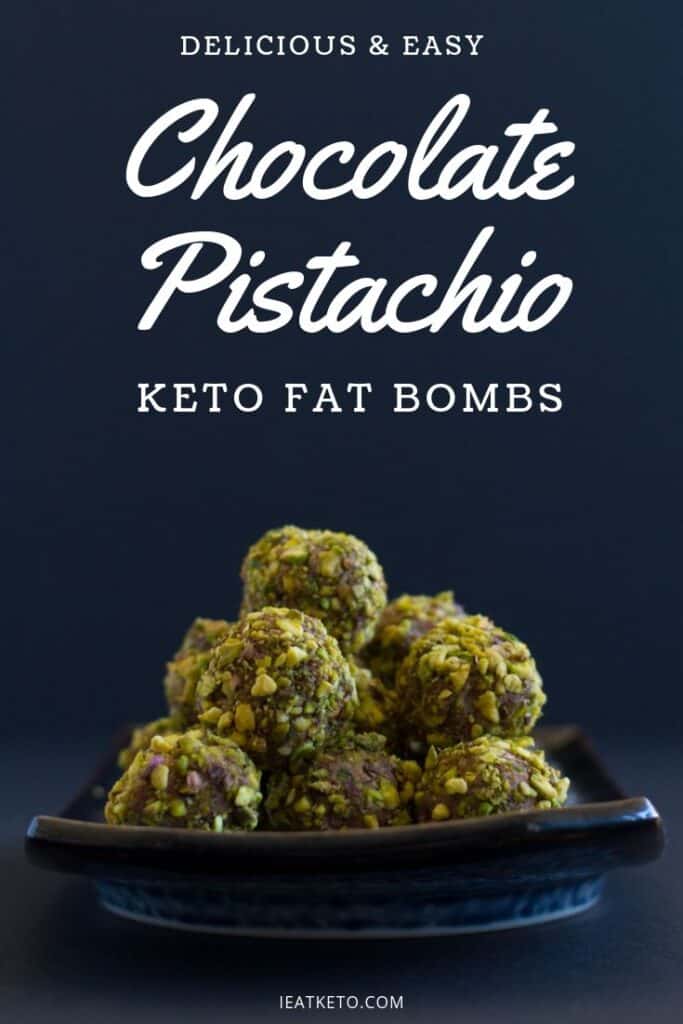 The key to preparing these fat bombs is to keep everything cold. Take the mascarpone out of the fridge at the last minute, and put the mix back in for at least 20 minutes before trying to roll. If you're doing a big batch you'll probably want to put the mix back in the fridge halfway through, I find I can quickly roll up 10-15 balls before everything get a bit too pliable. I'll also wash and dry my hands after every 4th or 5th ball as the melting mix on your hands can also make rolling the balls a little harder.
Try serving these to your non-keto friends and see what they have to say, a ketogenic way of eating doesn't need to be tough and unenjoyable!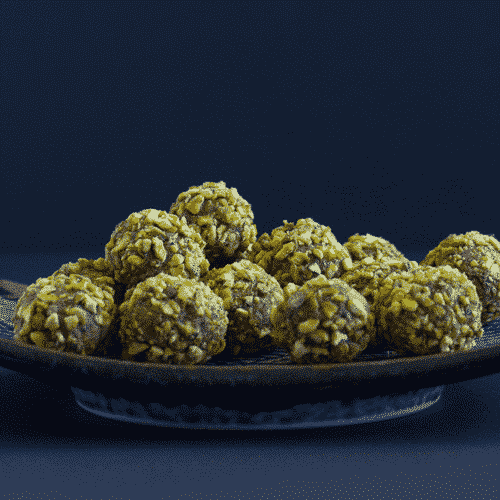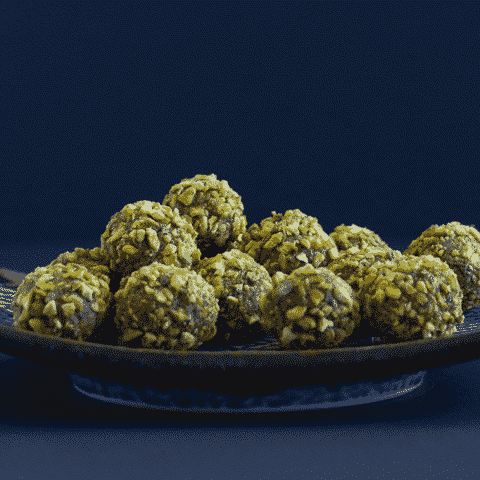 Chocolate Pistachio Fat Bombs
Low Carb – High Fat pistachio chocolate fat bomb truffles for a ketogenic diet
Ingredients
8 oz mascarpone chilled
2 tbsp 100% cacao powder
2 tsp sweetener powdered stevia or similar
1/2 tsp vanilla extract
1 pinch salt
2 oz pistachios unshelled and crushed
Instructions
Begin by lightly toasting the crushed pistachios in a pan, on a medium heat, only for a couple of minutes making sure not to burn them, move around the pan often
Set aside half of the crushed pistachios, combine all the remaining ingredients in a bowl, using a fork until well mixed together.
Chill ingredients for at least 20 minutes to solidify slightly
Take 1 teaspoon of mixture and roll between clean hands to form balls (about the size of a large marble?)
Put the other half of the crushed pistachios in a bowl or on a plate, roll each of the fat bomb balls in the crushed nuts until well covered
Repeat for all the fat bombs, eat right away or refrigerate for later!
Nutrition Information
Yield

15
Amount Per Serving
Calories

80
Total Fat

7.5g
Net Carbohydrates

0.8g
Protein

1.5g
Do you eat keto? Leave a comment below if you've tried this recipe!
*This post contains affiliate link(s). An affiliate link means I may earn advertising / referral fees if you make a purchase through my link, without any extra cost to you. It helps keep this blog up and running 🙂 Thanks for your support!