Follow Me!
This Indonesian peanut salad makes a great low-carb, high fat lunch or light dinner, with so much more flavour than your typical salad dressing. Gado-gado literally means 'mix-mix' and you can really throw anything into this, the rich dressing is the star of the show.
This post contains affiliate links, see the bottom of the page for more info*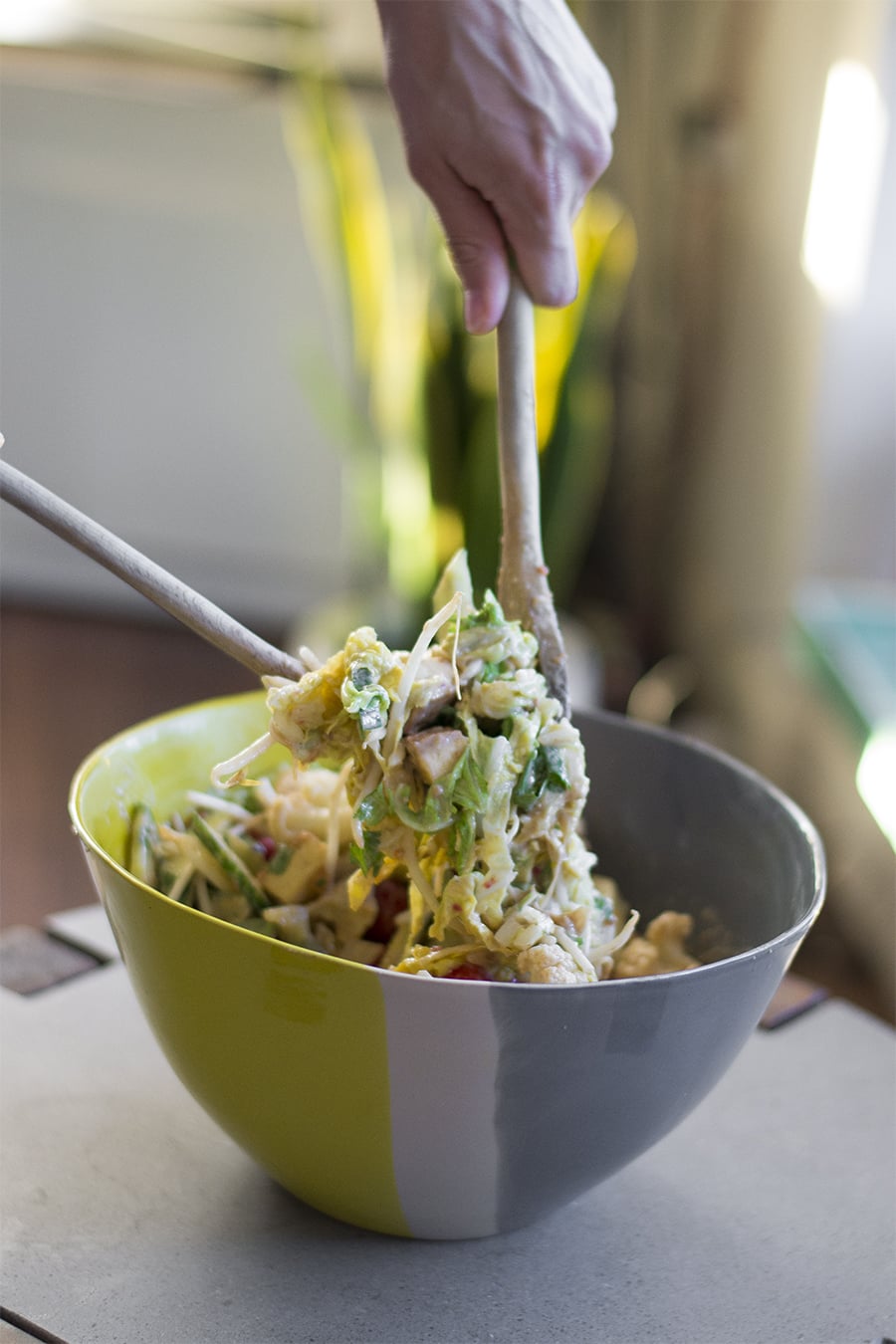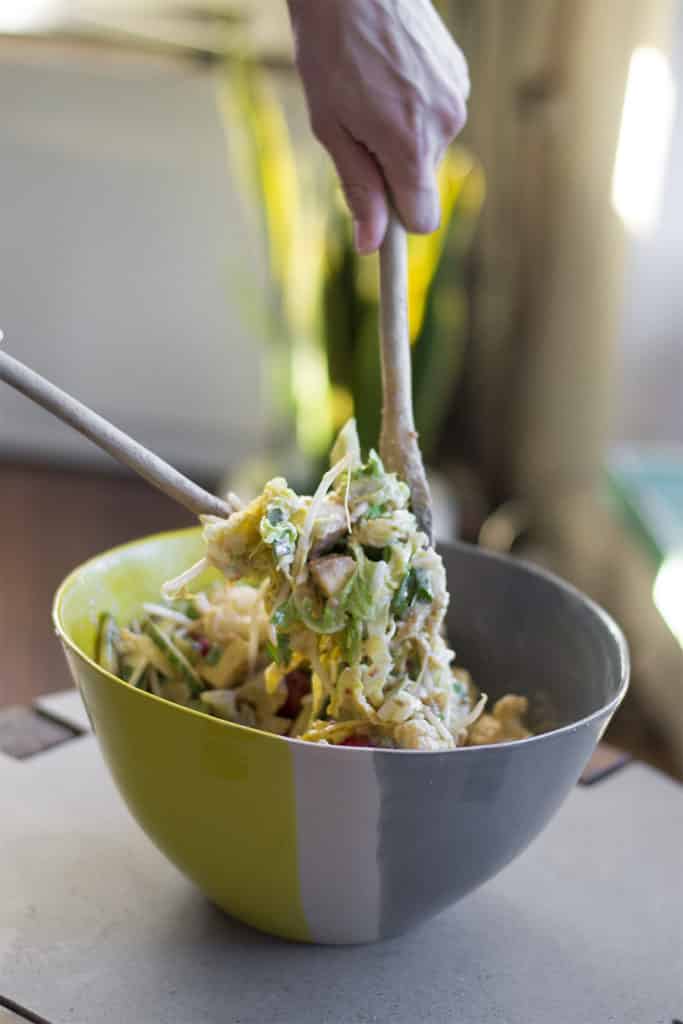 What I love about this dish is the richness of peanut butter in the dressing which makes this feel so much more substantial than a salad. There should be a lot of sauce, more than you would usually use to dress a salad. Be sure to season the dressing well and add lime juice to taste, there should be a citrus tang to it to cut through the nut butter.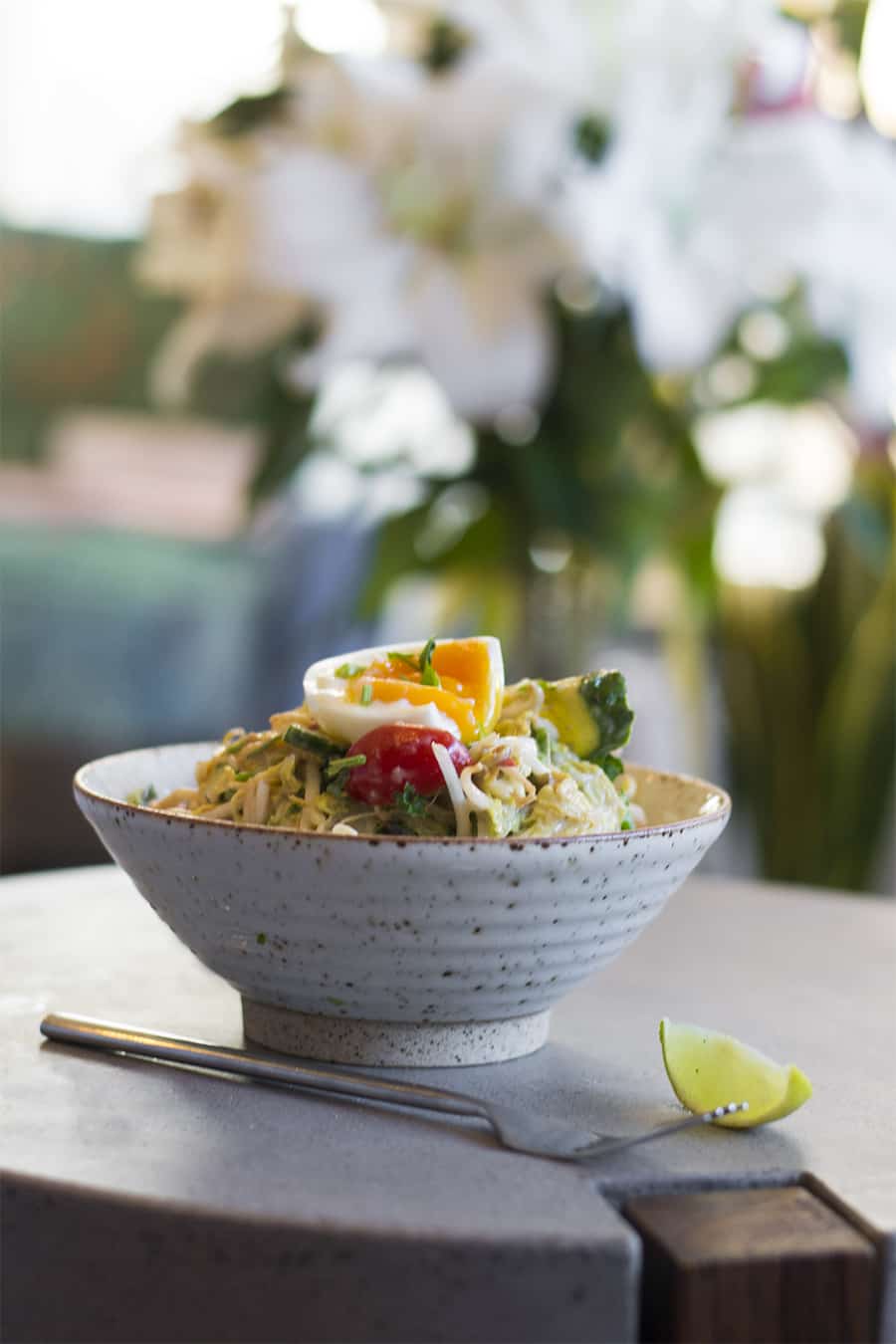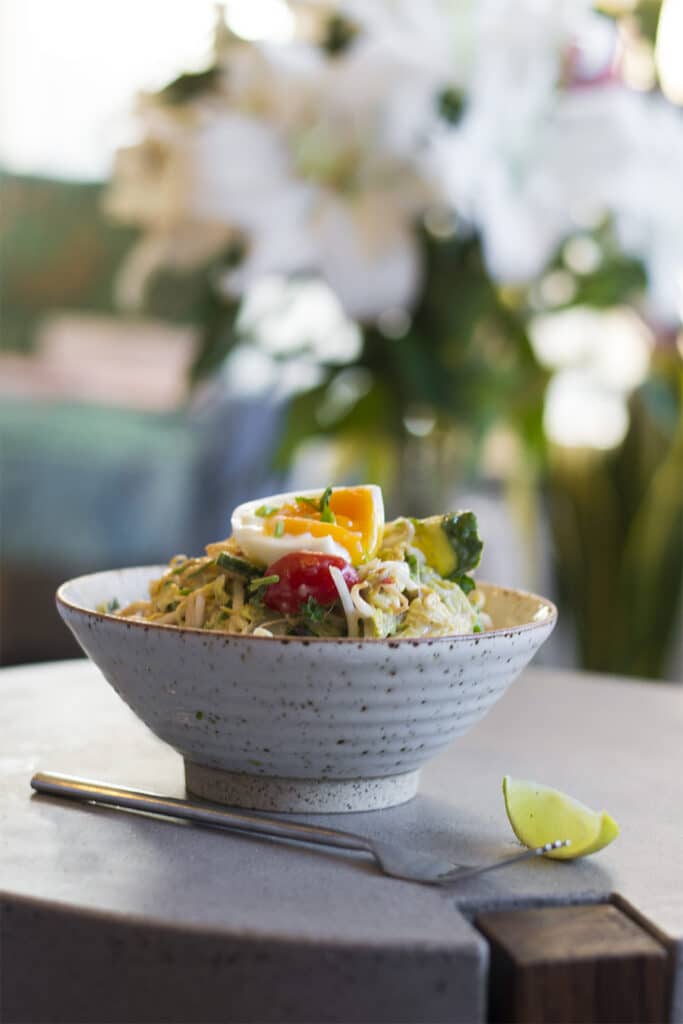 I've made a couple of substitutions to make this a more keto friendly meal, most notably by switching out the commonly used potatoes for our friend the cauliflower. The sauce also calls for the use of palm sugar, so I'm using a little sweetener instead to make up for this omission.
Let me know what you think of this light keto lunch – if you liked this, and want some more quick meals why not try this round up of 15 minute keto dinners?
*This post contains affiliate link(s). An affiliate link means I may earn advertising / referral fees if you make a purchase through my link, without any extra cost to you. It helps keep this blog up and running 🙂 Thanks for your support!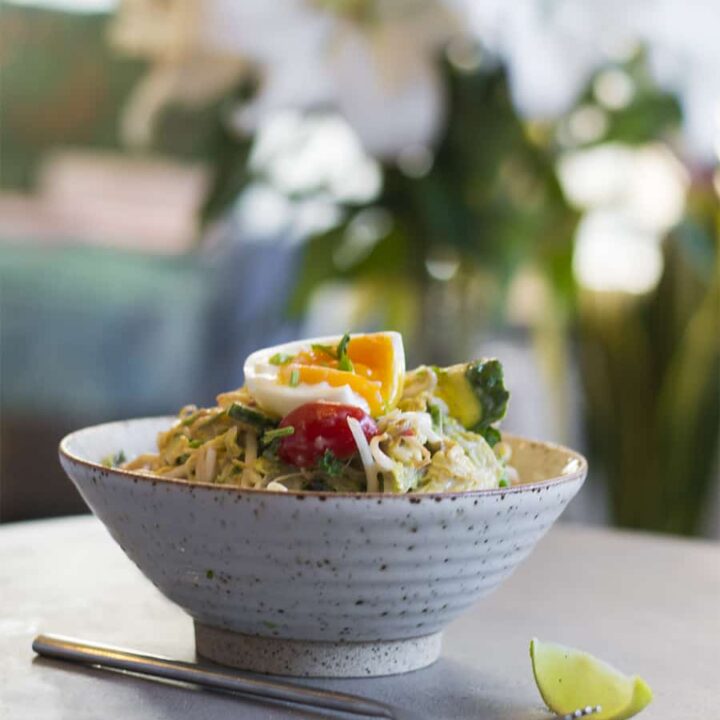 Keto Gado Gado
Asian inspired peanut salad - keto low carb friendly
Ingredients
For the Salad
4 eggs
1 cup cherry tomatoes, halved
2 cups napa cabbage, chopped into 1 inch chunks
1 medium cauliflower, cut into 1 inch chunks
1 cup beansprouts
6 oz Silken Tofu, cut into 1 inch chunks
1 tbsp Sesame oil
1/2 cucumber , sliced
For the dressing
4 oz crunchy peanut butter
2 limes, juice from
1 tbsp tamarind paste, optional
1 clove garlic
1 tsp sweetener, equivalent to 1 tbsp sugar
1 fresh red chilli, deseeded
2 tsp asian fish sauce
1 tbsp soy sauce
To Garnish
Instructions
Begin by frying the tofu in the sesame oil on a medium heat, for 15 minutes or until golden on all sides
Whilst the tofu is frying carefully lower the eggs into boiling water and boil for 6 minutes until nearly hard boiled. Remove from the hot water and place in bowl of cold water to cool, before peeling and cutting each in half
Boil or steam the cauliflower for 3-4 minutes to soften slightly, then remove from the water and allow to cool whilst preparing the other ingredients (I use the same pot as the eggs to cut down on cleaning and fish the cauliflower out with a slotted spoon after the 4 minutes.
Whilst these elements are cooking, prepare the rest of the salad ingredients in a bowl. I like to have the napa cabbage raw, but if you want to soften it place the cabbage in a colander and slowly pour over boiling water from a kettle to soften.
To prepare the sauce, place all the ingredients in a blender and blitz until you have a well combined, fairly smooth sauce. Season with extra salt and lime juice to taste
Add the tofu and cauliflower to the rest of the salad ingredients (except the eggs) and pour over the sauce, now for the 'Gado!' (mixing), mix everything thoroughly. Then top with the halved eggs, cilantro and crushed peanuts. Enjoy!
Notes
Fats - 42g
Net Carbs - 13g
Protein - 40g
Nutrition Information
Yield

2
Serving Size

1 grams
Amount Per Serving
Calories

615
Unsaturated Fat

0g
Do you eat keto? Leave a comment below if you've tried this recipe!