When it comes to salads, there are so many combinations you can try: this vegan keto tofu salad is fresh, easy to make and perfect for Summer.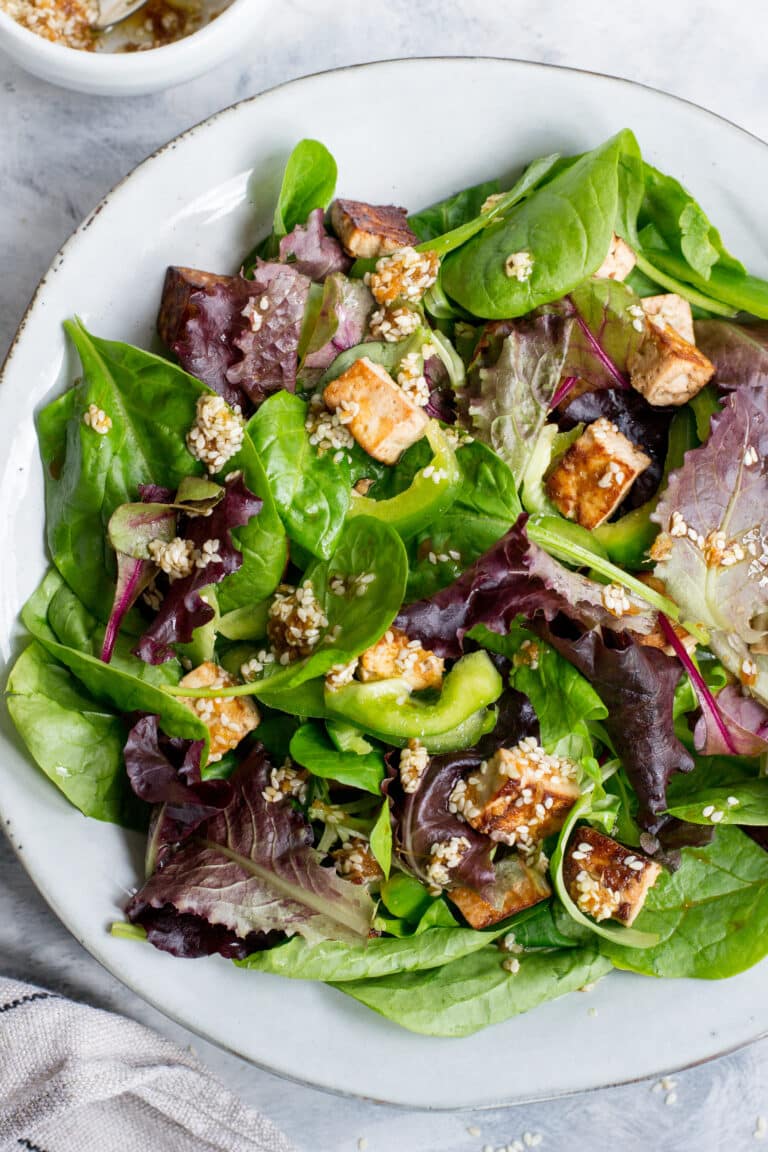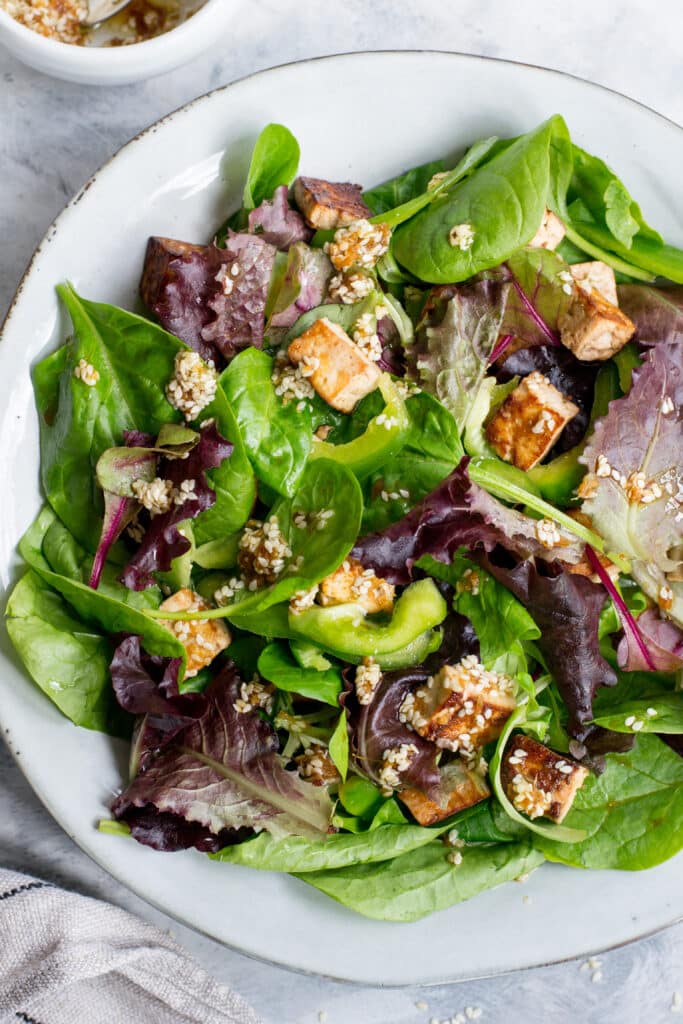 This is actually a super simple salad turned into a delicious meal thank to an Asian-inspired sesame dressing. Salads don't have to be tasteless and boring: there are so many ways to improve both the taste and the look of even the most simple salad. Think about ingredients with different consistency (a bit of crunchiness is always helpful), colourful foods (berries are delicious in savoury salads) and tasty dressings.
Making a homemade salad dressing is easy, quick and cost-effective but it's also extremely helpful if you want to use or avoid specific ingredients. The Asian-inspired dressing used in this recipe is delicate and rich in flavour: to make it, you'll only need sesame seeds, fresh ginger, sesame oil and soy sauce. If you love fresh ginger, you can easily increase the amount of it in the dressing and, on the other hand, if you are not a huge fan of this ingredient, you can simply adjust the quantity to your preferences.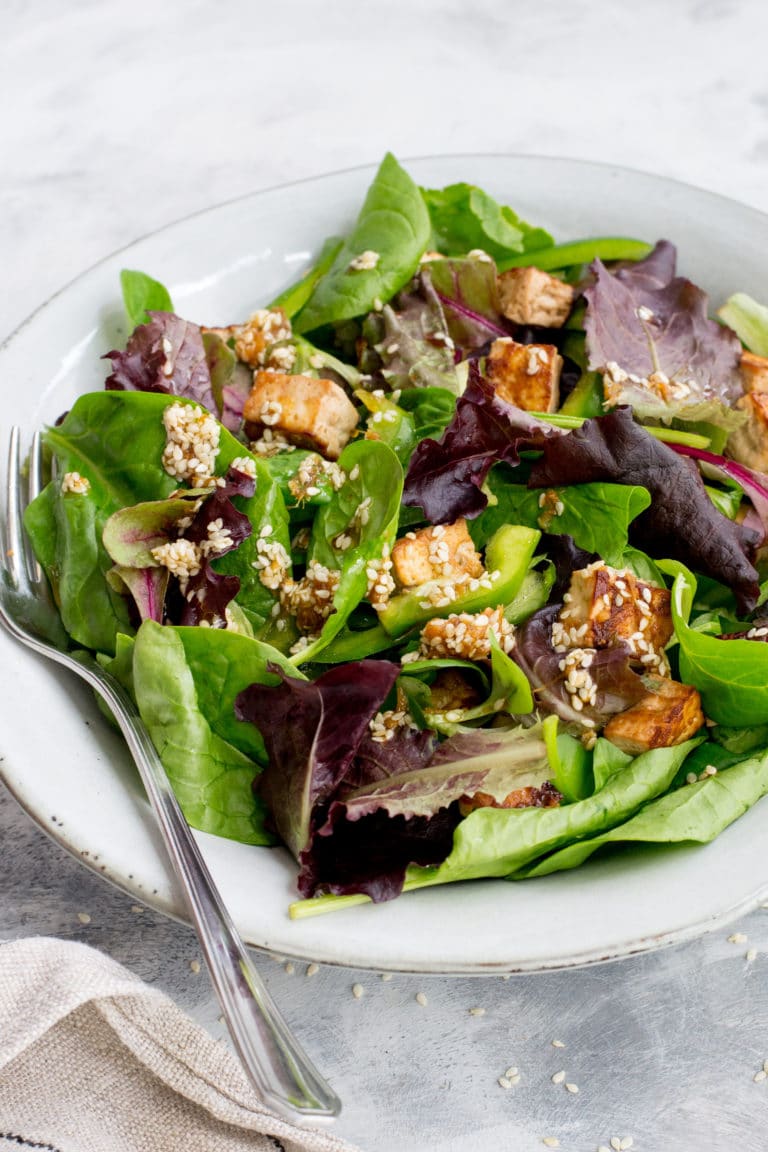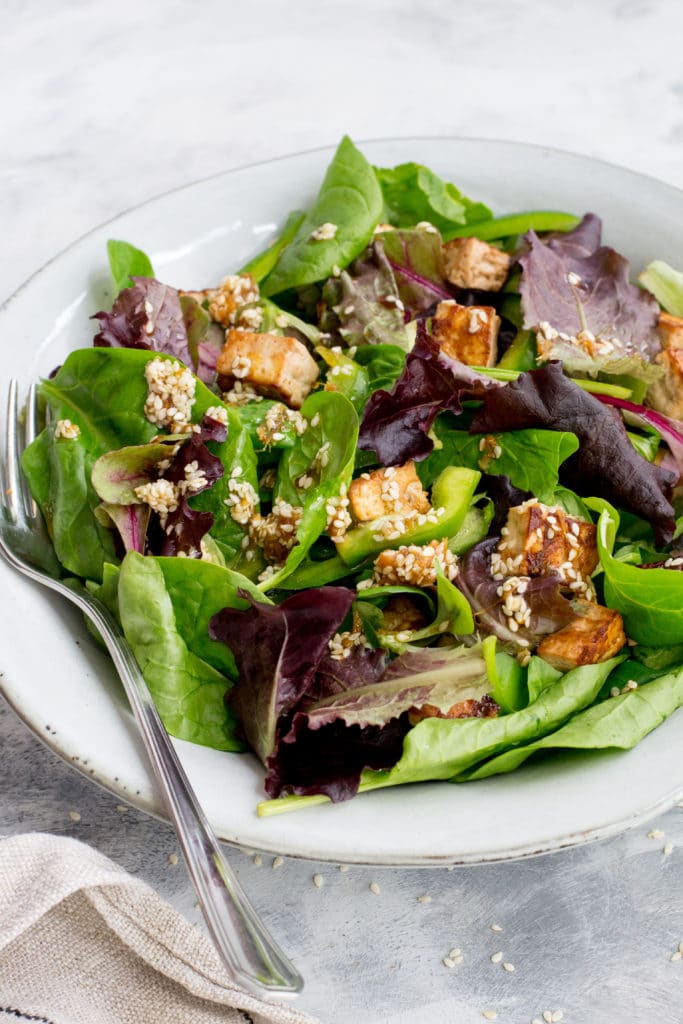 The mix of vegetables in this vegan keto tofu salad is like a blank canvas because the main sources of flavour are the sesame dressing and the marinated tofu.
To prepare the tofu for this vegan salad, you have 2 options: a quick solution and a proper marinade. They both work well so it's mainly a matter of how much time you can spend in the kitchen. If you can't find plain tofu, use one with a hint of spiciness (maybe with chillies or paprika) or a smoked one.
Some questions you may have about this keto salad:
Can I make some changes to the dressing? Absolutely. You can add more ginger if you love its flavour or you can add a pinch of Cayenne pepper for some extra spiciness. You could also add some almond or peanut butter if you prefer a creamy option (use some freshly squeezed lemon juice to adjust the consistency).
What kind of salad leaves can I use in this recipe? Most kind of salad leaves would work well; try to avoid something with a strong flavour like radicchio or options a bit too plain like lettuce (you can mix it with some rocket or watercress to make it more interesting).
Any serving suggestions? You can easily use this vegan keto tofu salad as a side dish. It would also work well as a main dish, especially if you pair it with some keto bread or another similar alternative. You could even enjoy it on its own, then treat yourself to a tasty dessert.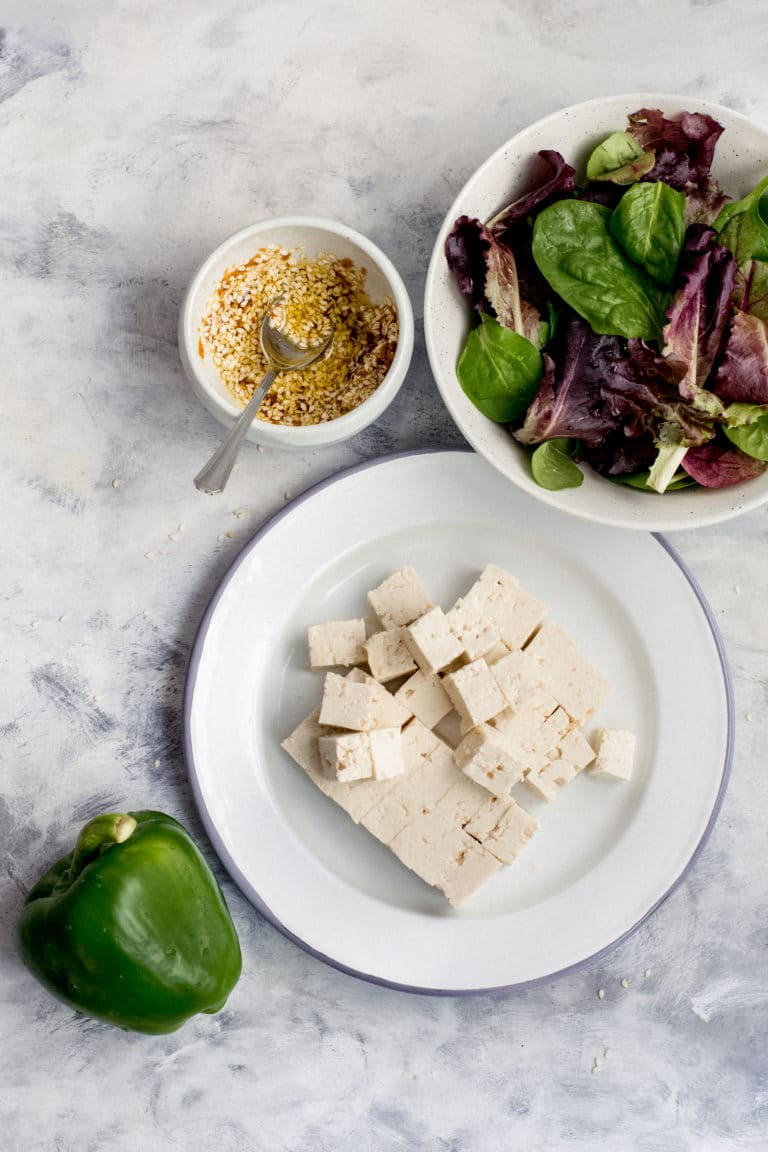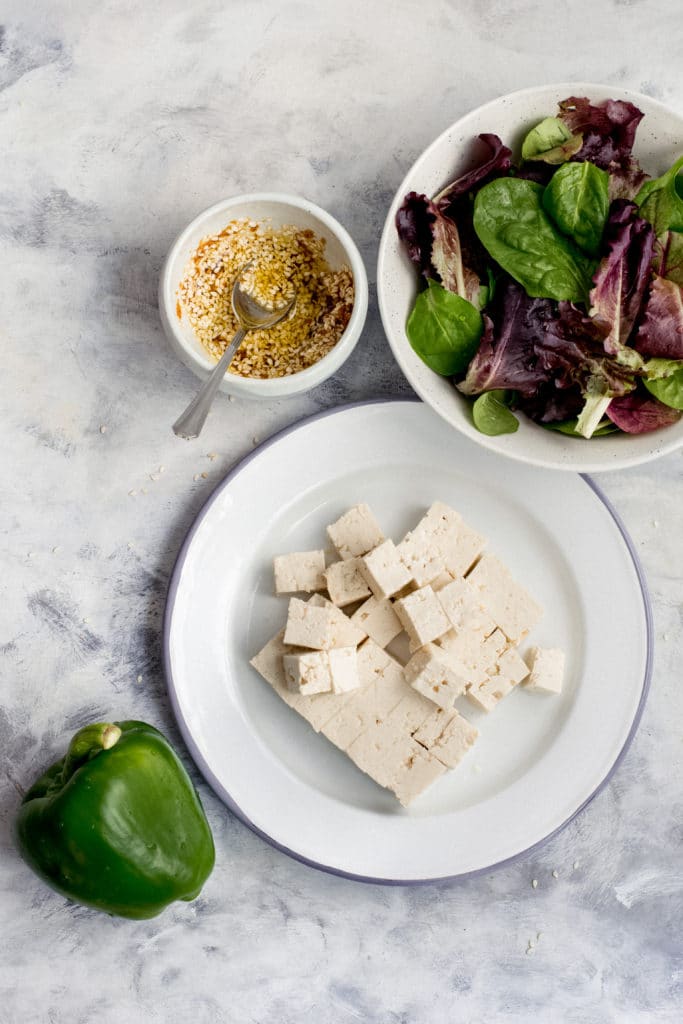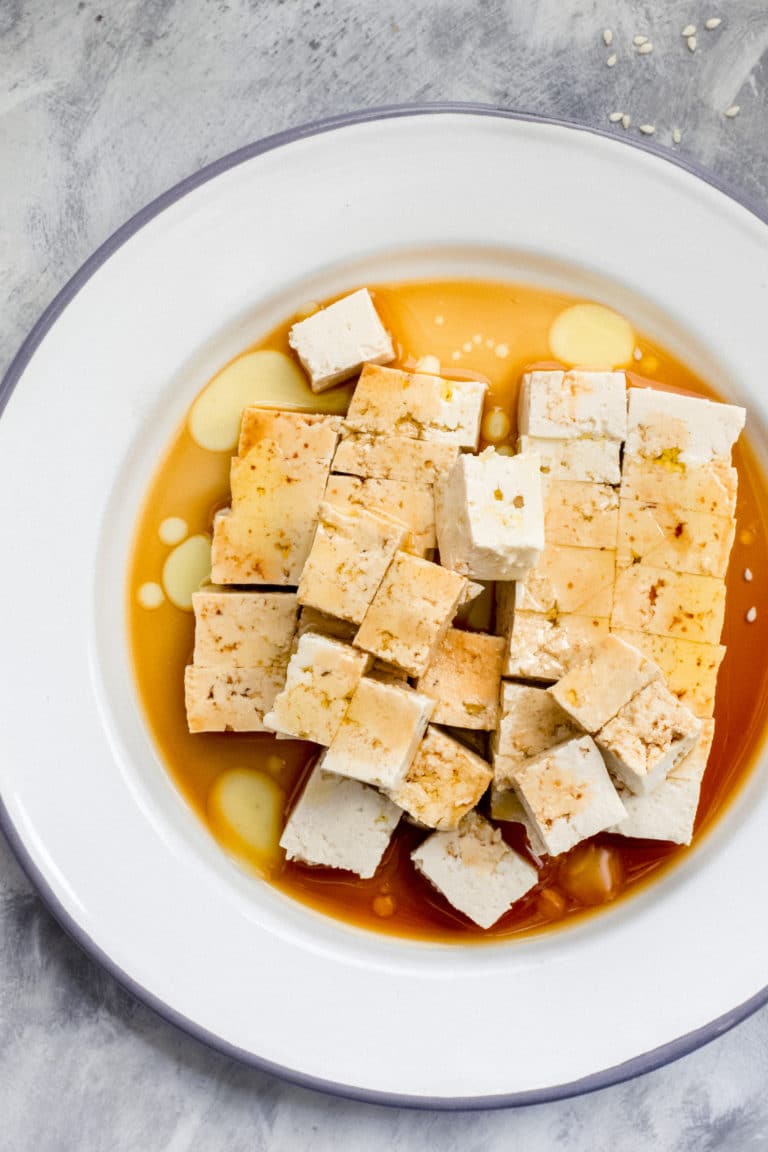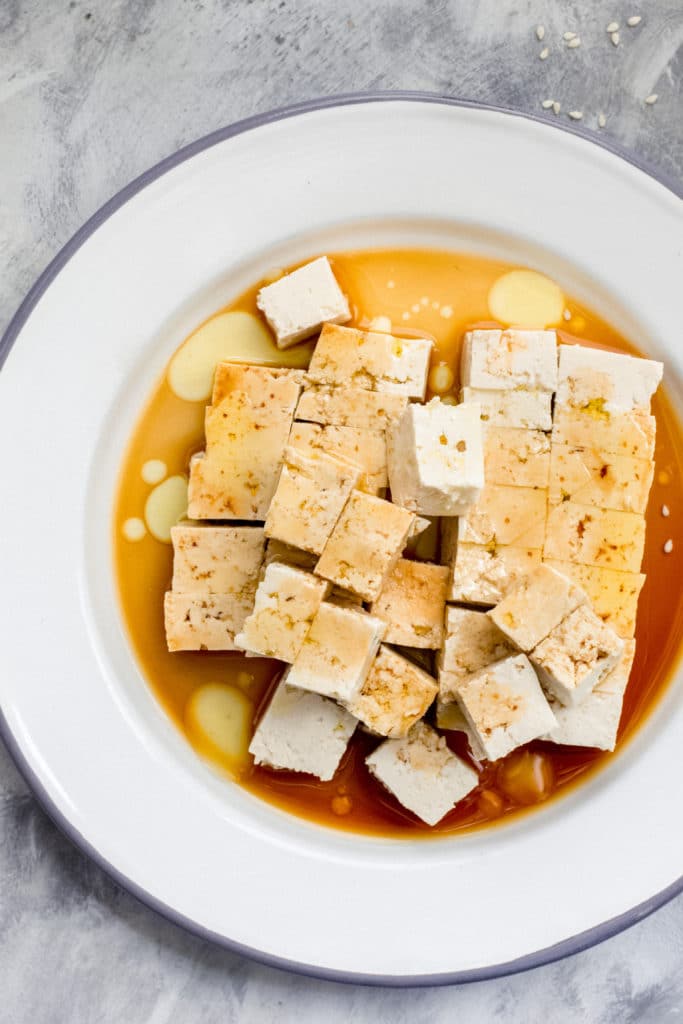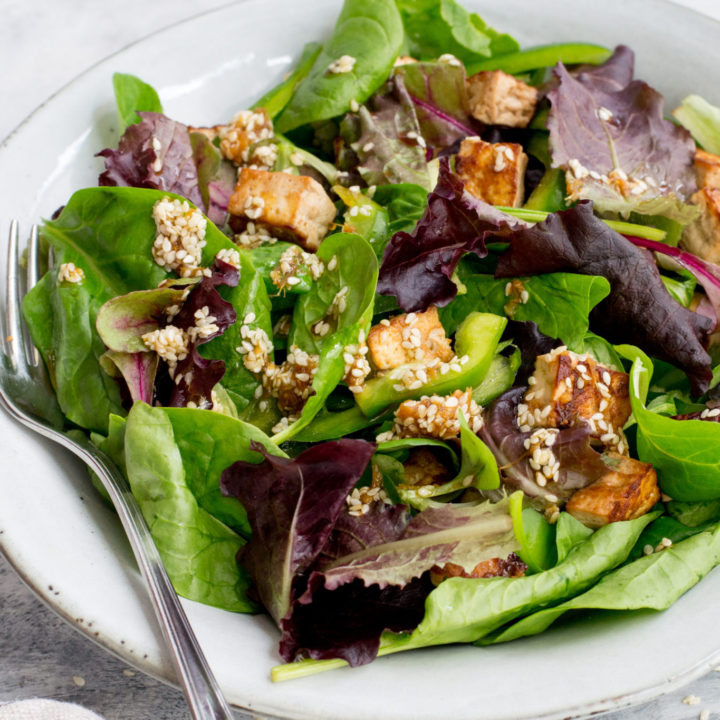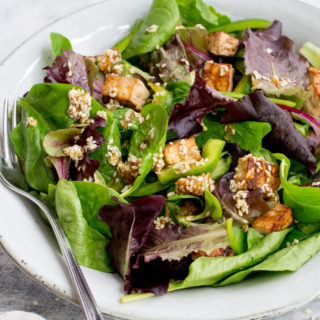 Vegan keto tofu salad with sesame dressing
Ingredients
approx. 80 g mixed salad leaves

1

medium-sized green bell pepper

170

g

plain tofu

1

tbsp

+ 2 tsp soy sauce

1

tbsp

extra virgin olive oil

1 ½

tsp

freshly grated ginger

1

tbsp

toasted sesame oil

2

tsp

sesame seeds

a pinch of black pepper
Instructions
To prepare the marinated tofu, mix the tofu (chopped into small cubes) with 1 tablespoon of soy sauce and 1 tablespoon of olive oil. Place the tofu in the fridge and wait at least 20 minutes (or up to 4 hours) before cooking it. If you are in a hurry, you can skip this step and simply mix the tofu with the other ingredients and cook it right away. 

Cook the tofu in a preheated non-stick pan or in the oven at 180°C until it turns golden on the outside and it has a firm and nearly crispy consistency. Allow the tofu to cool down before adding it into the salad.

Prepare the salad with the mixed leaves and the finely chopped pepper.

In a small bowl, mix the freshly grated ginger, 2 teaspoons of soy sauce, 1 tablespoon of toasted sesame oil and 2 teaspoons of sesame seeds.

Combine all the ingredients together and serve with a pinch of black pepper. Add the dressing just before serving. Use some extra sesame oil if necessary.
Nutrition
Calories:
460
kcal
Carbohydrates:
14
g
Protein:
19.5
g
Fat:
39.2
g
Fiber:
5
g