Is it possible to create a nourishing breakfast bowl without grains? The answer is YES and the secret behind a creamy keto porridge is a well-balanced mix of seeds. On top of that this is vegan too! click the link for more great vegan keto breakfast ideas.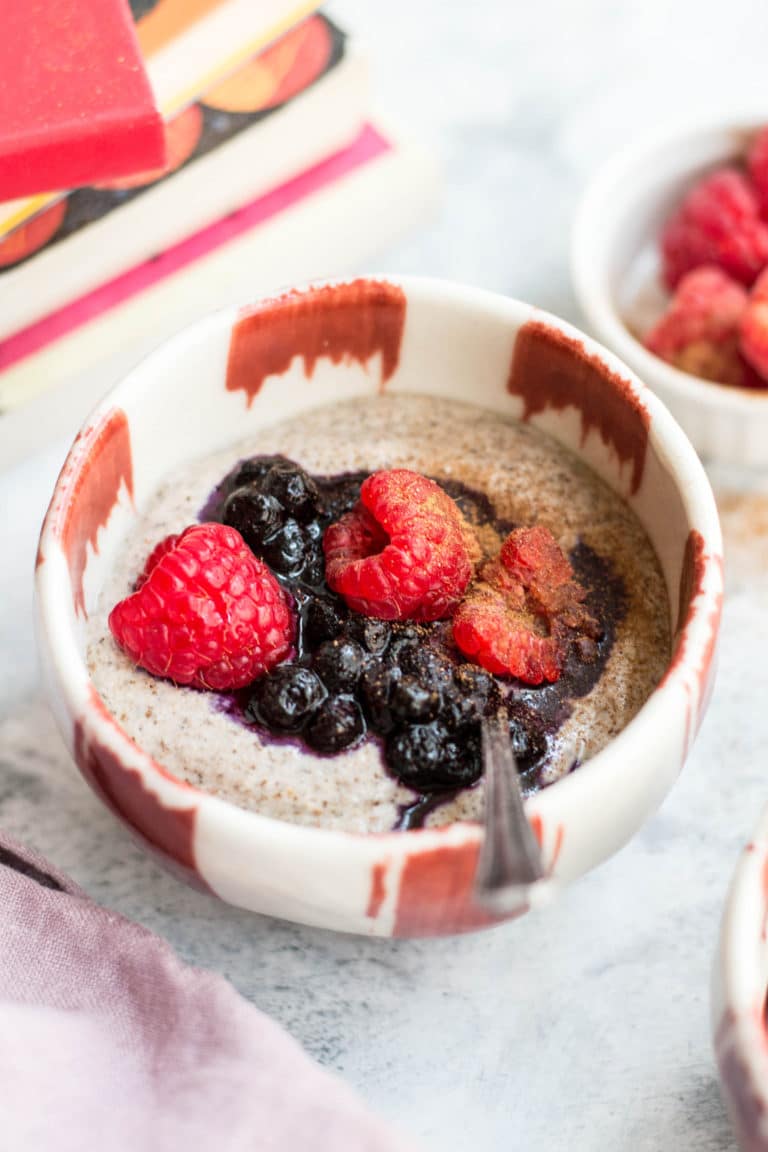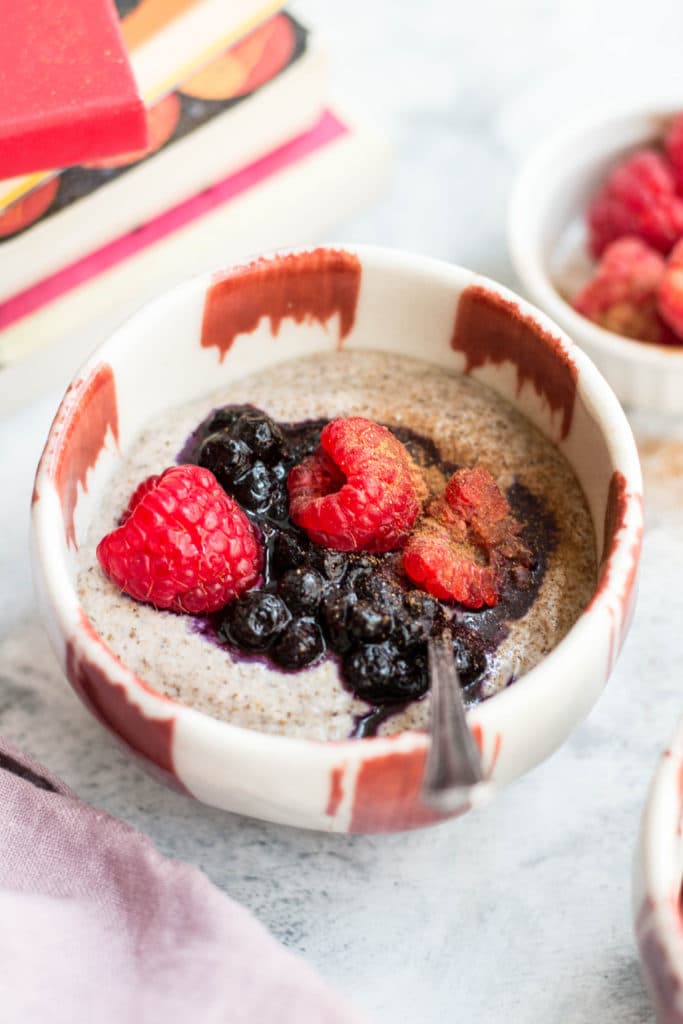 This delicious keto porridge breakfast idea is not just naturally low in carbohydrates but it's also free from gluten and dairy but don't worry, it's still rich in both taste and nutrients. Both sunflower and chia seeds are indeed highly nutritious ingredients:
vitamin E and selenium are two of the many nutrients we can find in sunflower seeds
fibre, omega-3 fatty acids, antioxidants and magnesium are some of the key factors contributing to the health benefits related to chia seeds
Apart from these two kinds of seeds, the other ingredients you need for this low-carb breakfast bowl are almond milk, berries, cinnamon and, if you want to add it, a keto-friendly sweetener like erythritol. It's a really basic recipe and you could totally get creative adding some extra toppings; here there are some examples:
cocoa nibs
shelled hemp seeds
nut butter
crunchy toasted peanuts
fresh mint leaves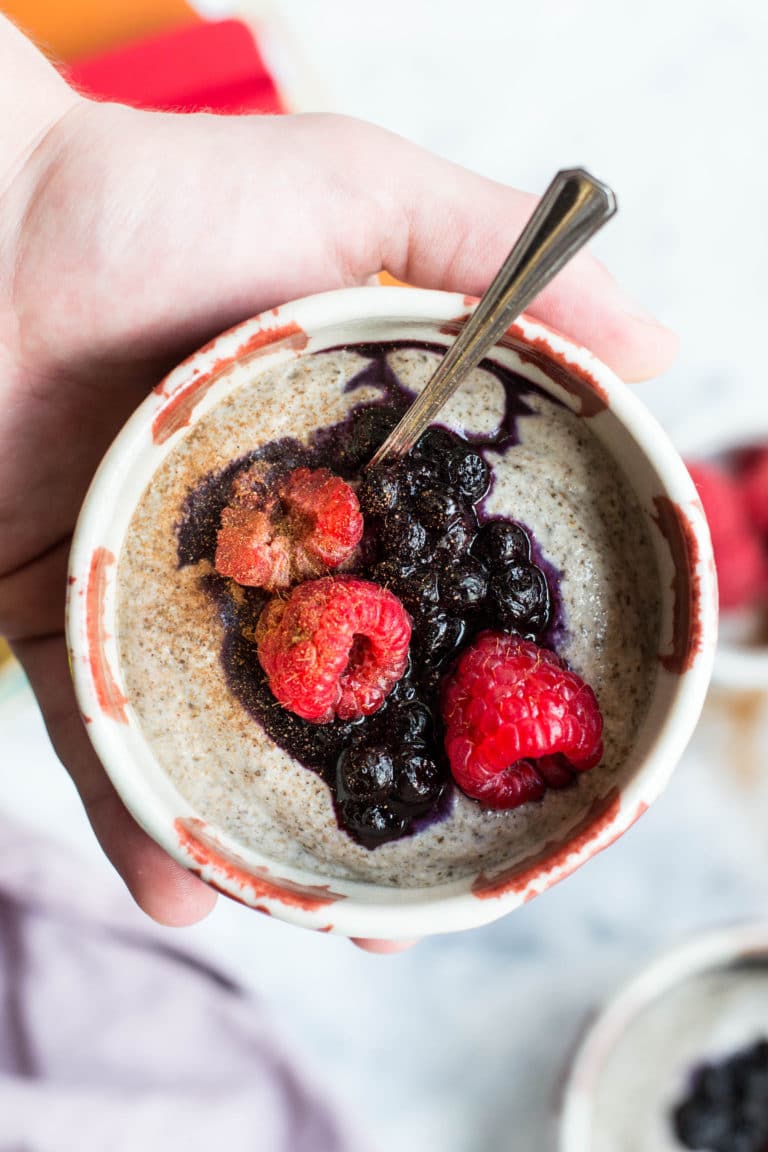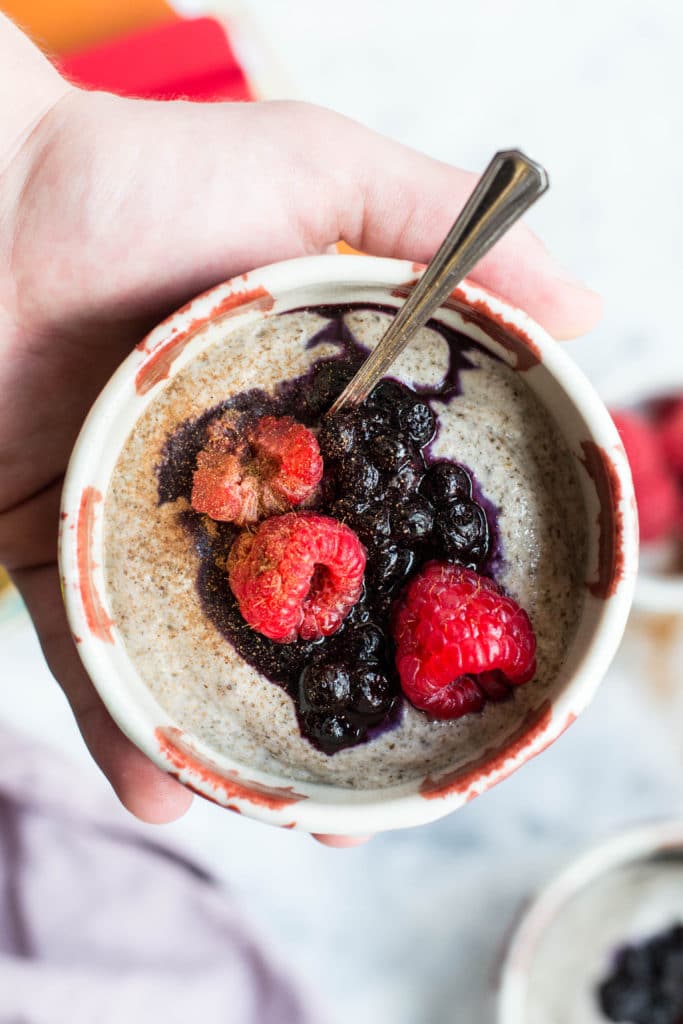 Other things you can adapt to your references in this recipe are:
milk: try to stick to nut-based options if you want to keep the amount of carbohydrates below a specific number
consistency: you can add more or less liquid to easily change it
flavour: why not adding a splash of coffee and some unsweetened cocoa powder to recreate the taste of a mocha smoothie? This is just one of many other flavour combinations you could try!
temperature: this keto porridge can be prepared warm or cold; the choice is totally up to you because it's delicious served in both ways! You could even make it in advance and have a tasty breakfast waiting for you in the fridge when you wake up: if you need to adjust the consistency in the morning, simply add a splash of water or plant-based milk.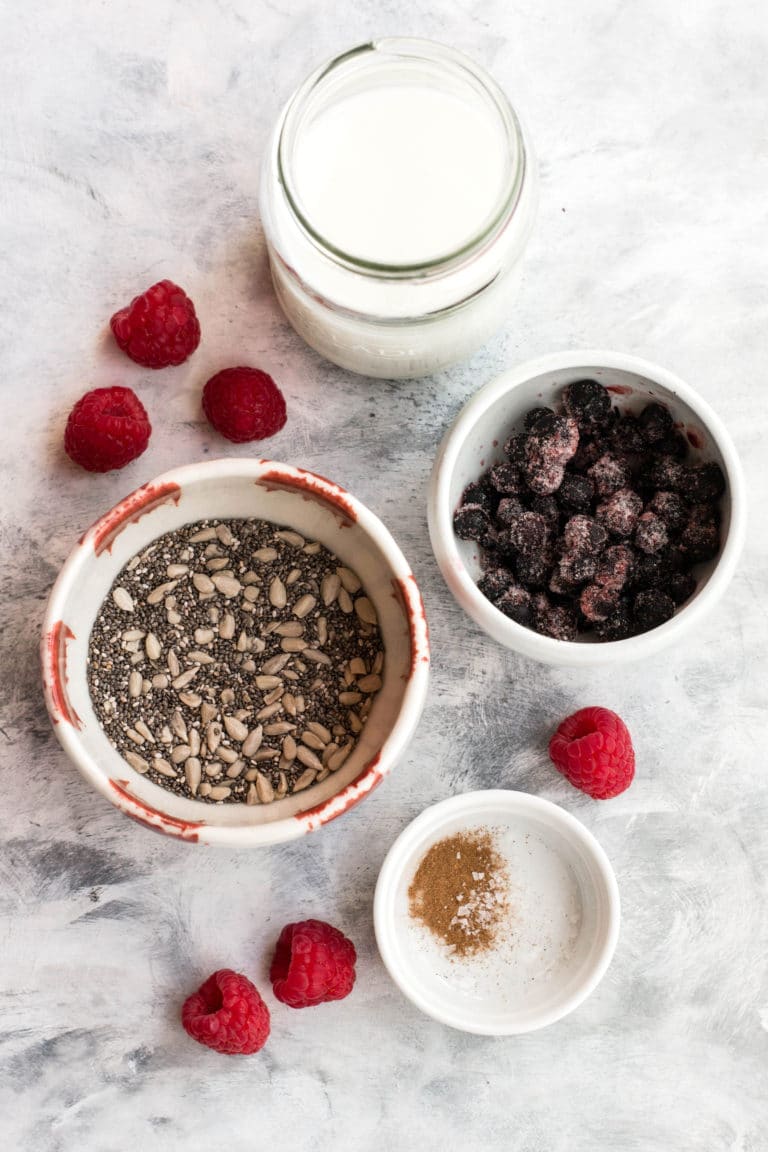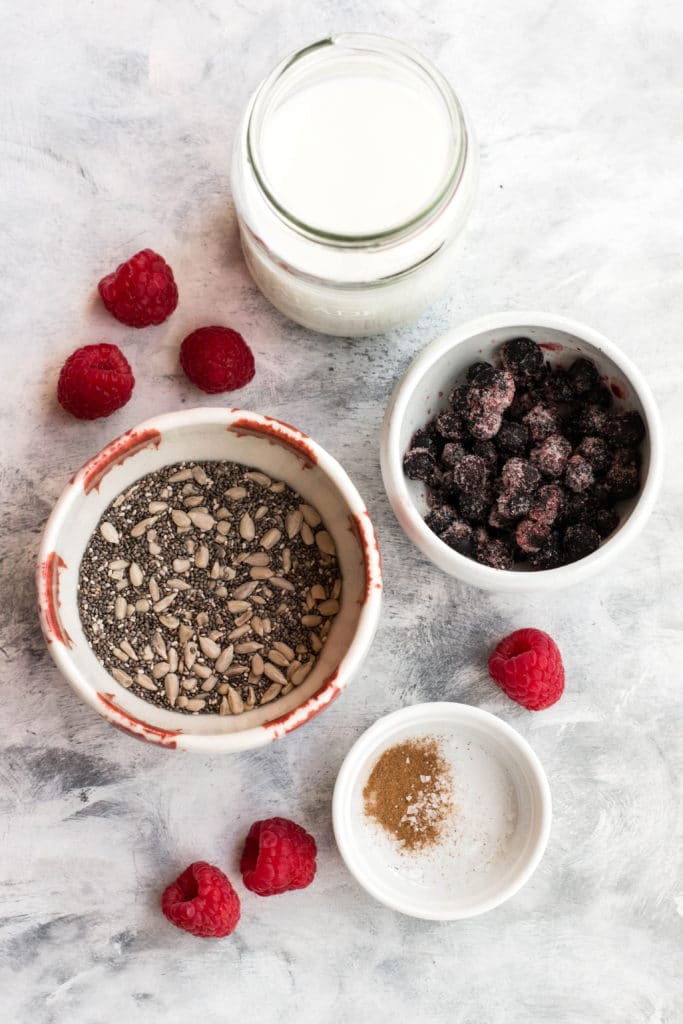 What if I don't have a blender?
This is definitely the most frequently asked question about this keto grain-free porridge. Having a blender or a food processor allows you to get a consistency that resembles really well a classic porridge, but chia seeds can help you to get a creamy finish no matter what.
All you have to do is mix the seeds with the liquid counterpart and patiently wait until you get the desired consistency: it's basically the same step explained in the recipe written below but done on a slightly longer timeframe. You can add the finely chopped sunflower seeds in the base along with chia seeds: mix well, then add your toppings of choice!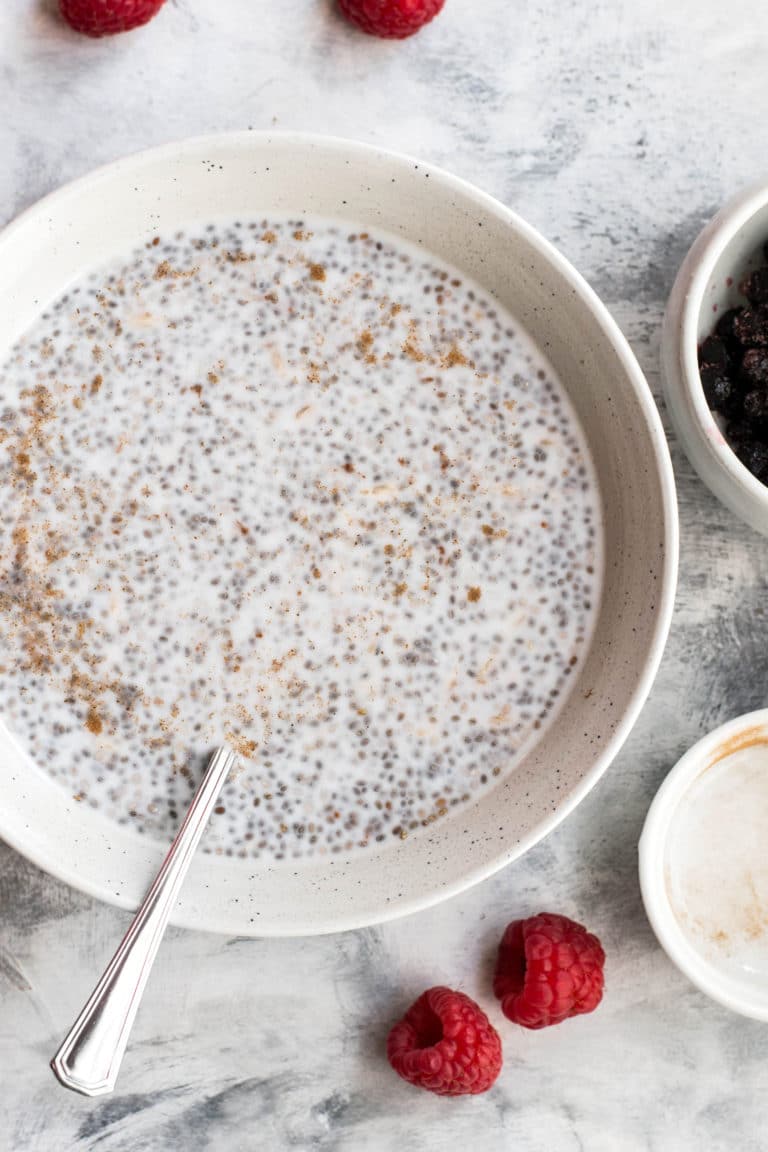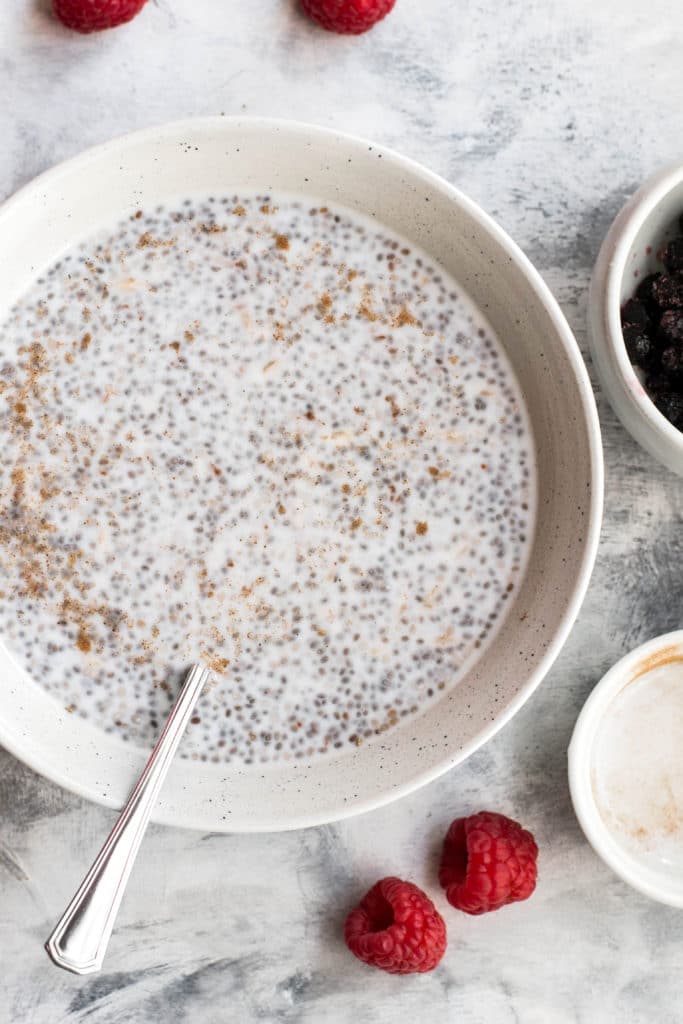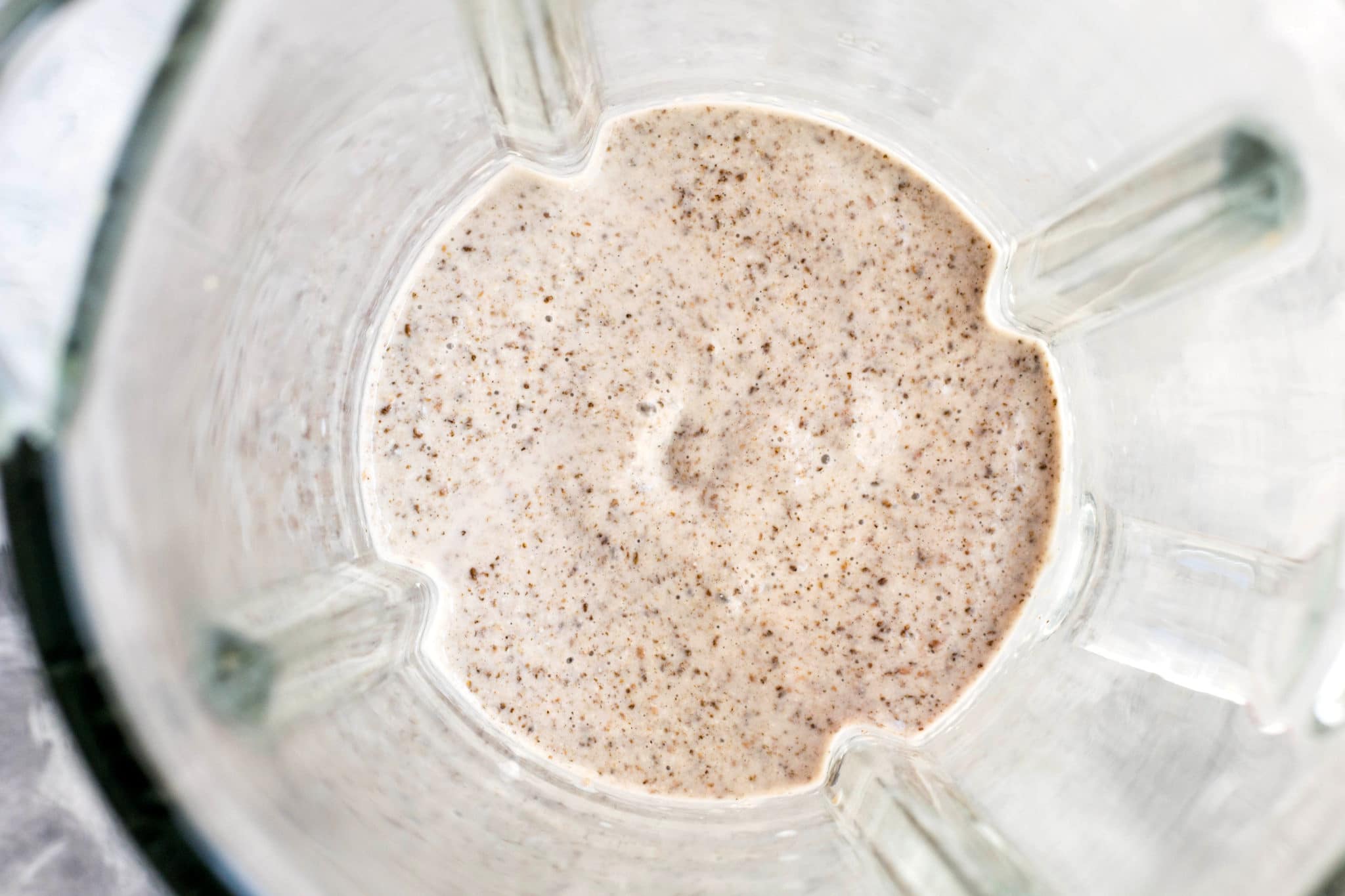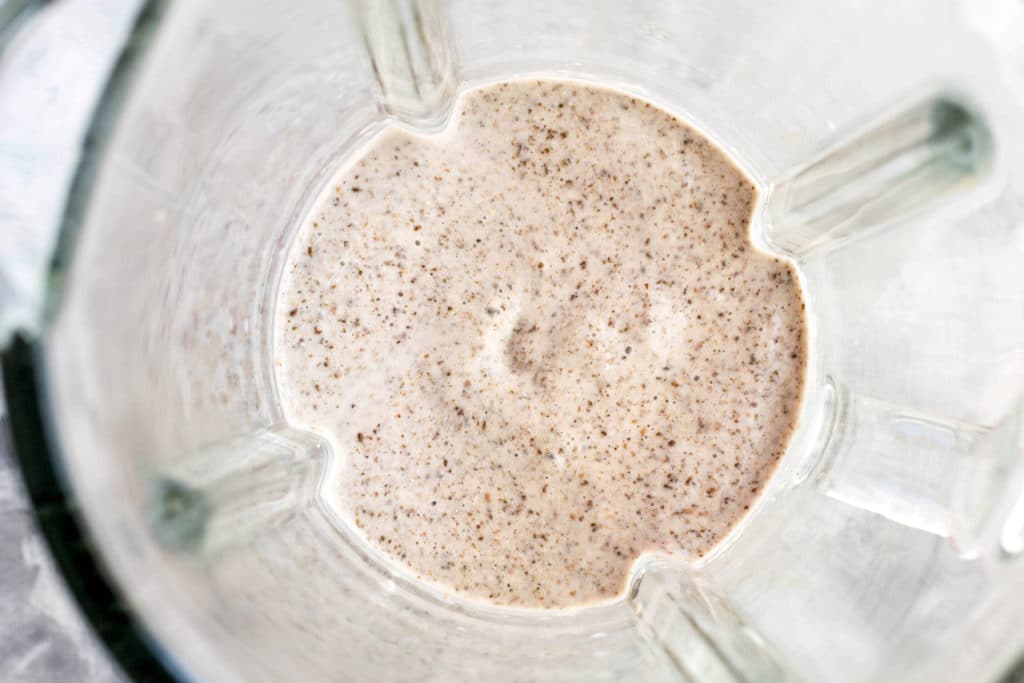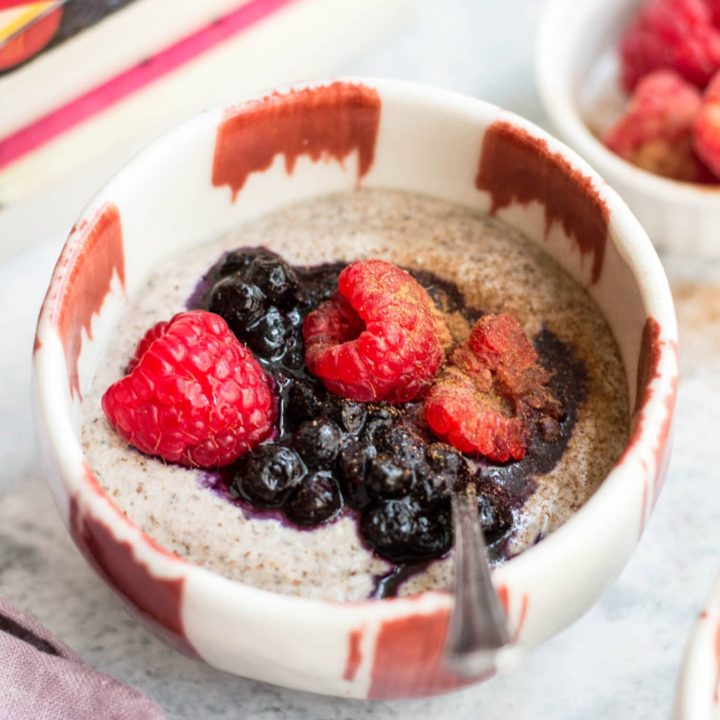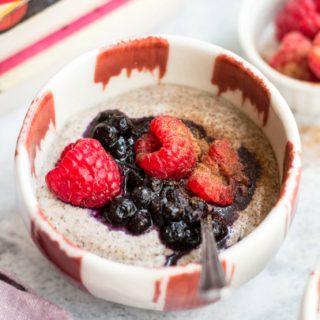 Vegan Grain-Free Keto Porridge
The secret behind a creamy keto porridge is a well-balanced mix of seeds. Use this recipe to make a tasty keto breakfast in just a few minutes.
Ingredients
35

g

chia seeds

15

g

sunflower seeds

220

ml

unsweetened almond drink

35

g

frozen blueberries

15

g

fresh raspberries

a pinch of cinnamon

a pinch of salt
Instructions
Combine the seeds and the spices with the plant-based milk. Allow to sit for approx. 10 minutes.

Add the mix into a blender or a food processor. Add a pinch of salt and blend until you get a smooth finish.

For a cold porridge: place the mix in a bowl and add the toppings.

For a warm porridge: warm up the mix in a small pot and add some extra milk if necessary; place in a bowl and serve with your toppings of choice.
Notes
You can add 1 tsp of erythritol in each bowl if you prefer a sweeter finish. You can use fresh, frozen or defrosted berries as a topping.
Nutrition
Calories:
156.3
kcal
Carbohydrates:
11.9
g
Protein:
5.1
g
Fat:
10.6
g
Fiber:
7.9
g