Easy to make, versatile and packed with nutrients: this keto broccoli salad helps you to bring a splash of colour to your table and it's a good starting point to start being more creative with salads.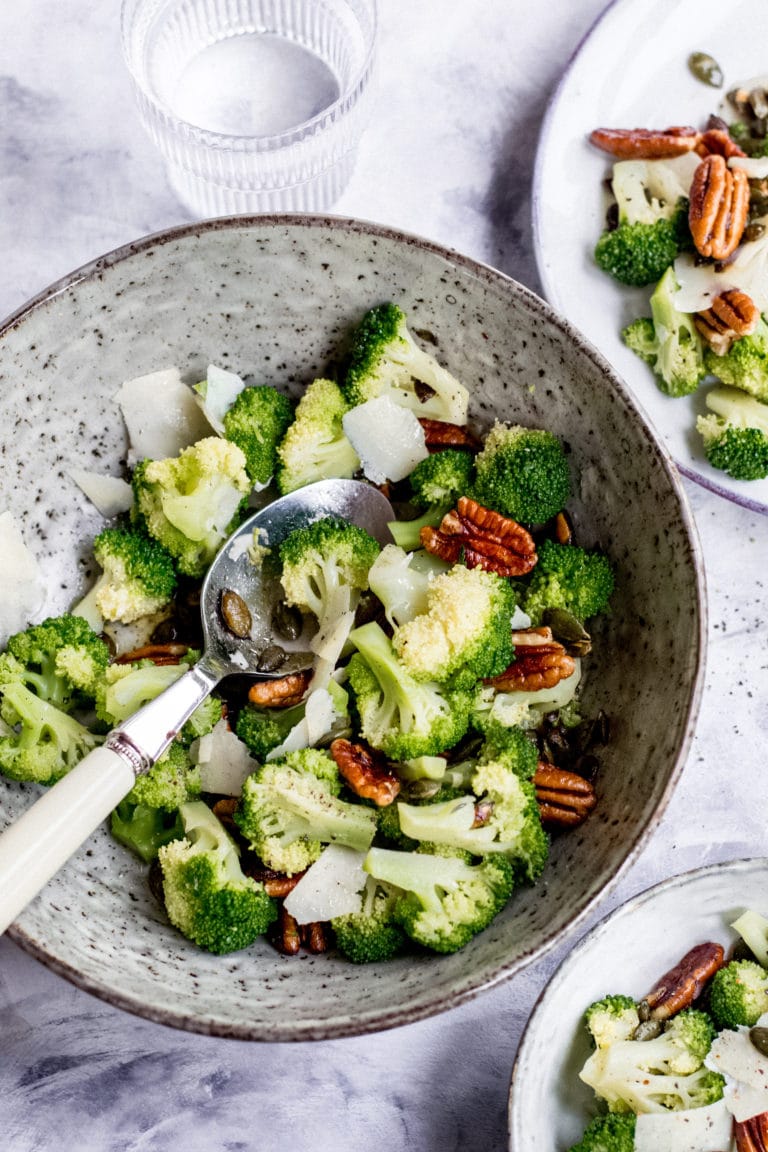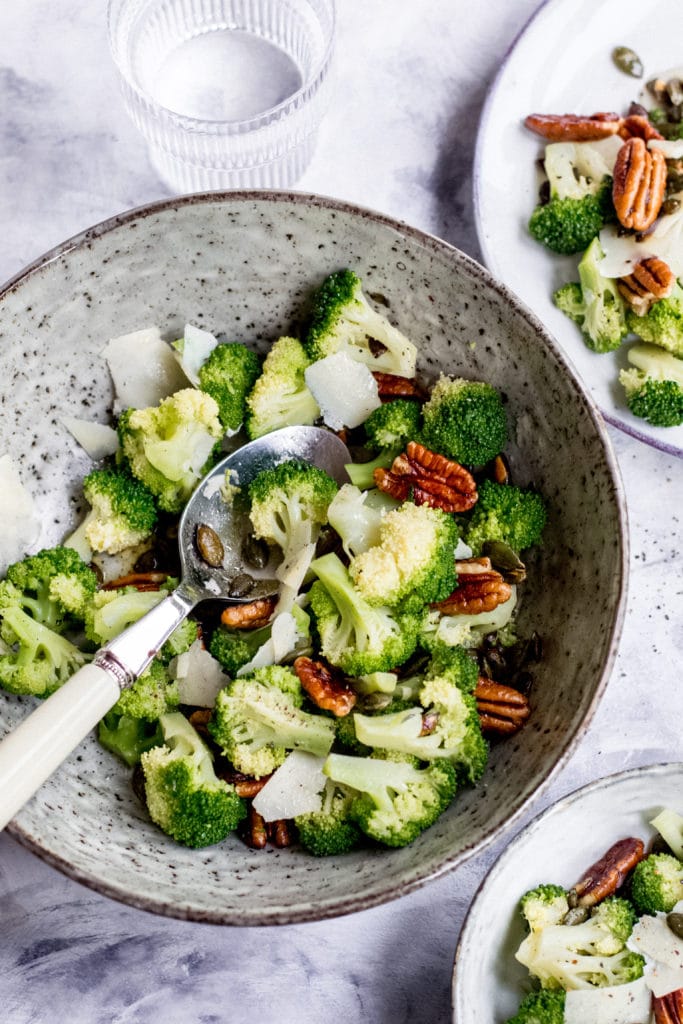 Say goodbye to boring salads and start experimenting with new ingredients! Salads can totally be interesting, tasty and rich in flavour. Here there are some tips to help you to step up your salad game:
use ingredients with different consistency
add foods with different colours
rely on nuts and seeds for some extra crunchiness
try to include some blanched veggies (like the broccoli used in this recipe)
if you want to add cheese, meat, fish or tofu, try to grill them (grilled halloumi would be perfect) or prepare a marinade to add more flavour
berries pair well with so many salads
get creative with homemade dressings (check out simple ideas like a vinaigrette or a yogurt-based dressing and richer combinations with nut butter or tahini)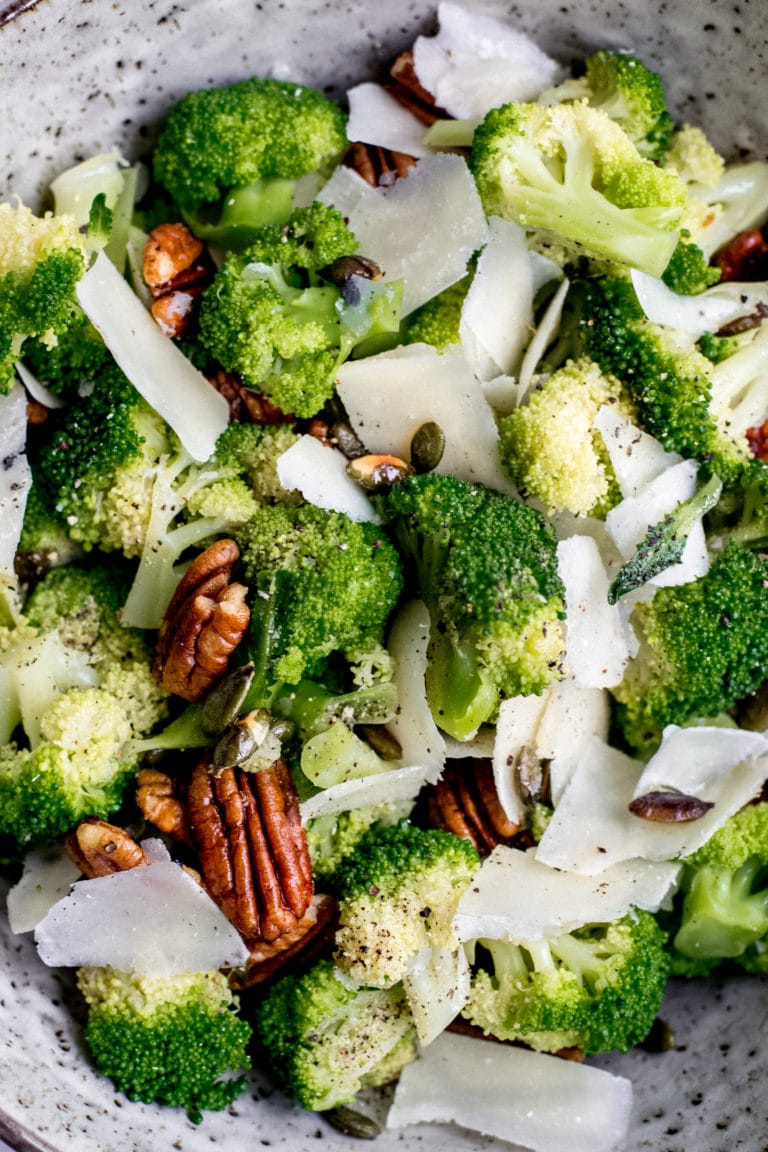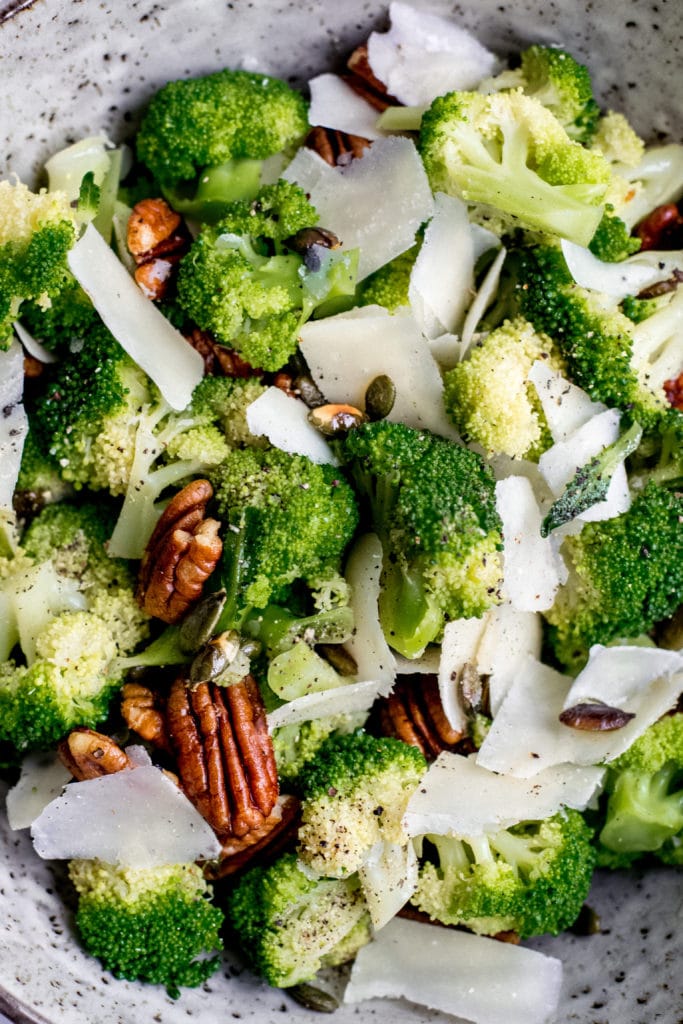 This keto broccoli salad is quite versatile because you could follow the exact recipe or easily adapt this preparation to your preferences. For example, you could work on:
how you cut your broccoli (and if you prefer them raw or blanched)
the mix of seeds and nuts (quantity and kind)
the spices
the dressing (right now it's super simple… just extra virgin olive oil!)
the kind of cheese
Some common questions about this salad:
Can I add a salad dressing? Sure. Try to use plain unsweetened yogurt or a sauce made with tahini and lemon juice.
Can I use a different cheese? Yes. Parmesan works pretty well because of its characteristic taste but you could also another kind of hard cheese. Top tip: something that works well grated on pasta, would also be great in this salad.
Can I use raw broccoli? Absolutely. Try to cut the broccoli into smaller pieces, so the salad will be easier to eat.
Can I make this keto salad in advance? Yes. It's better to keep all the ingredients into separate containers and mix them just before serving. The idea of making this salad in advance works better with raw broccoli. For the blanched veggies, try to prepare the ingredients and eat the salad on the same day.
How to serve this salad? You can use this keto broccoli salad as a side dish or main (try to pair it with a slice of keto bread and a smooth dip).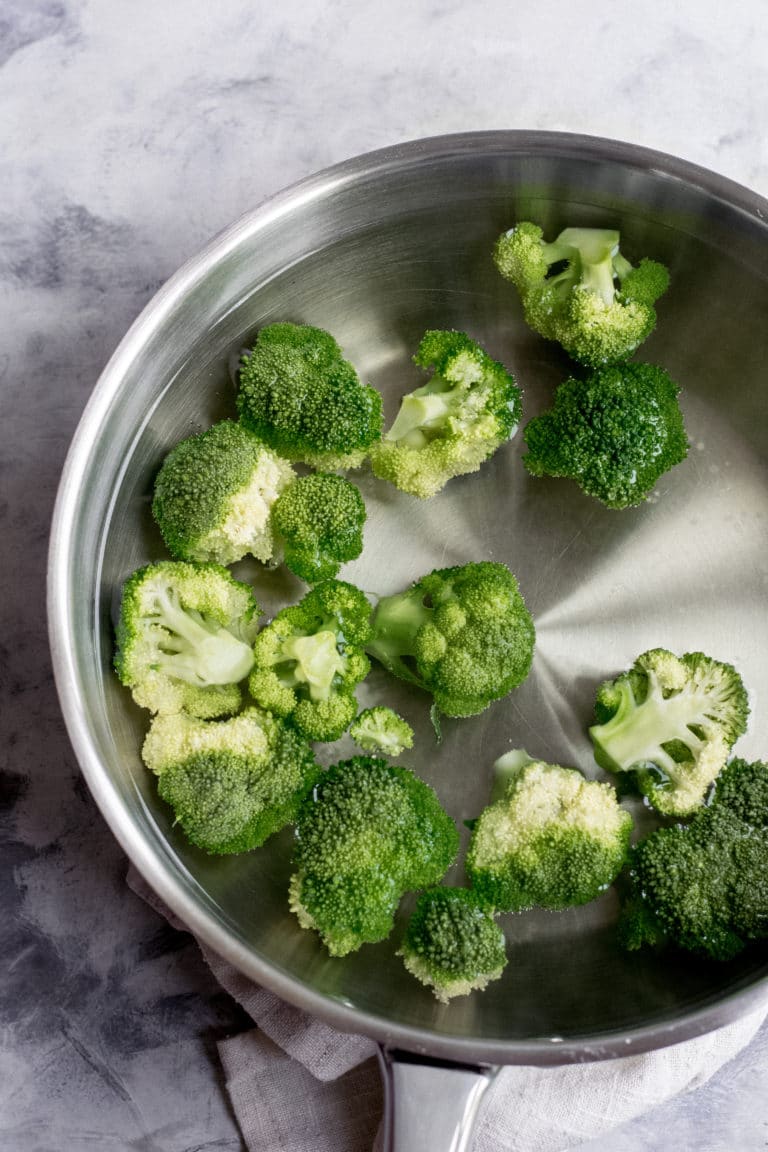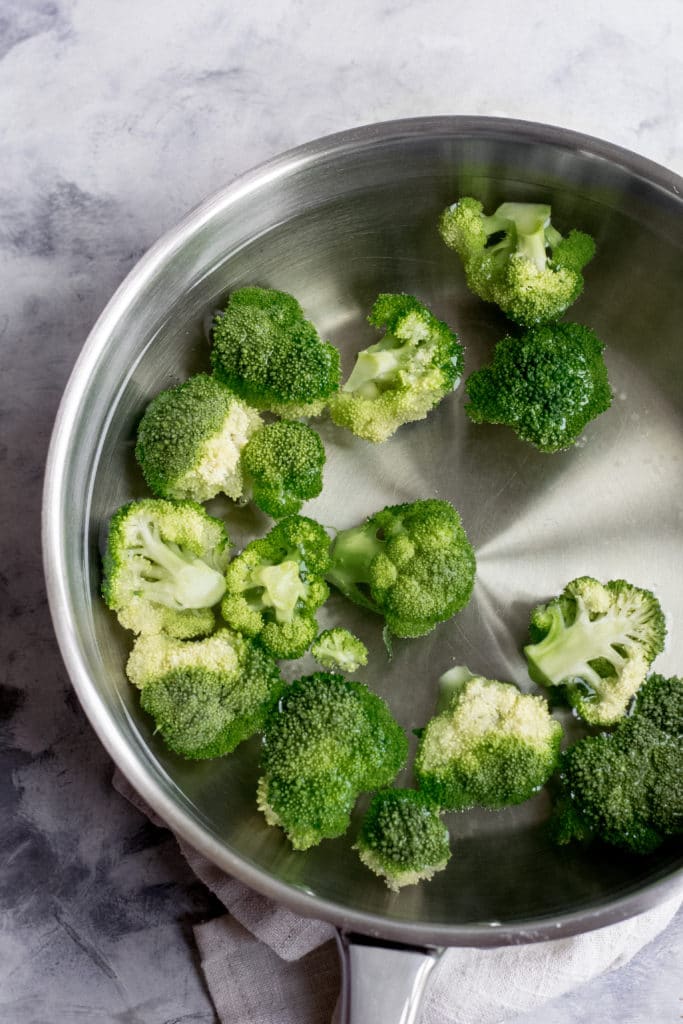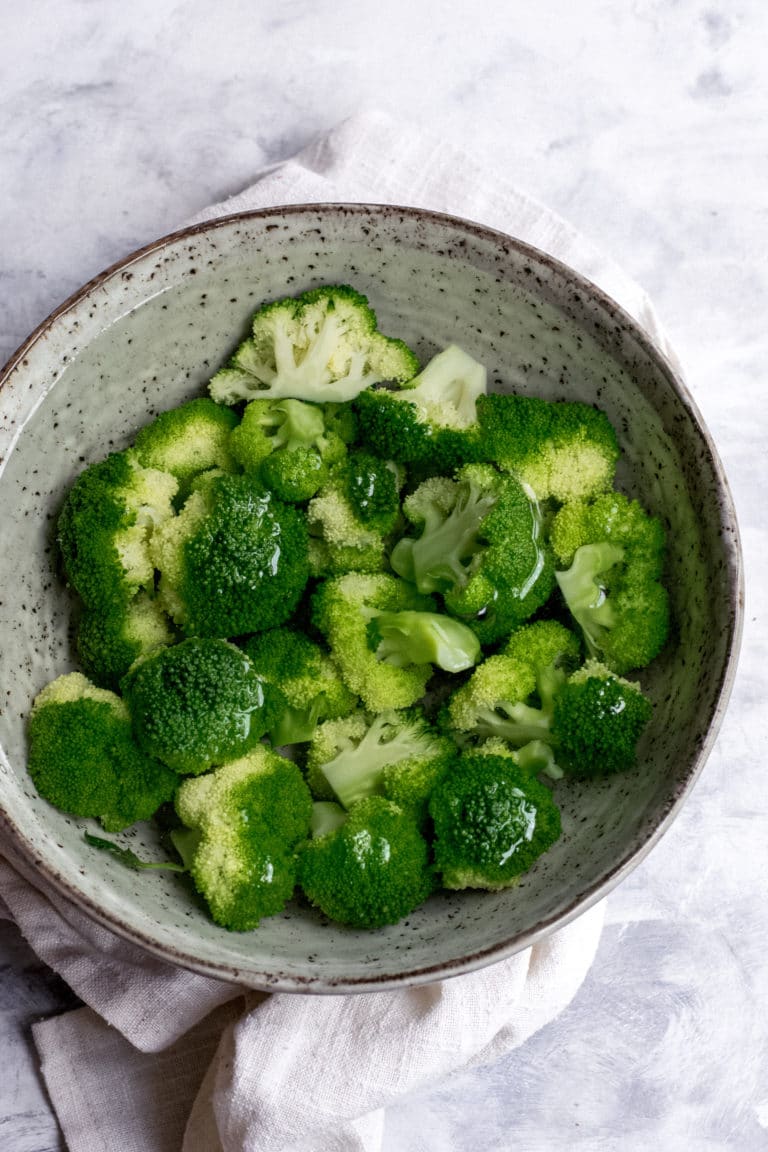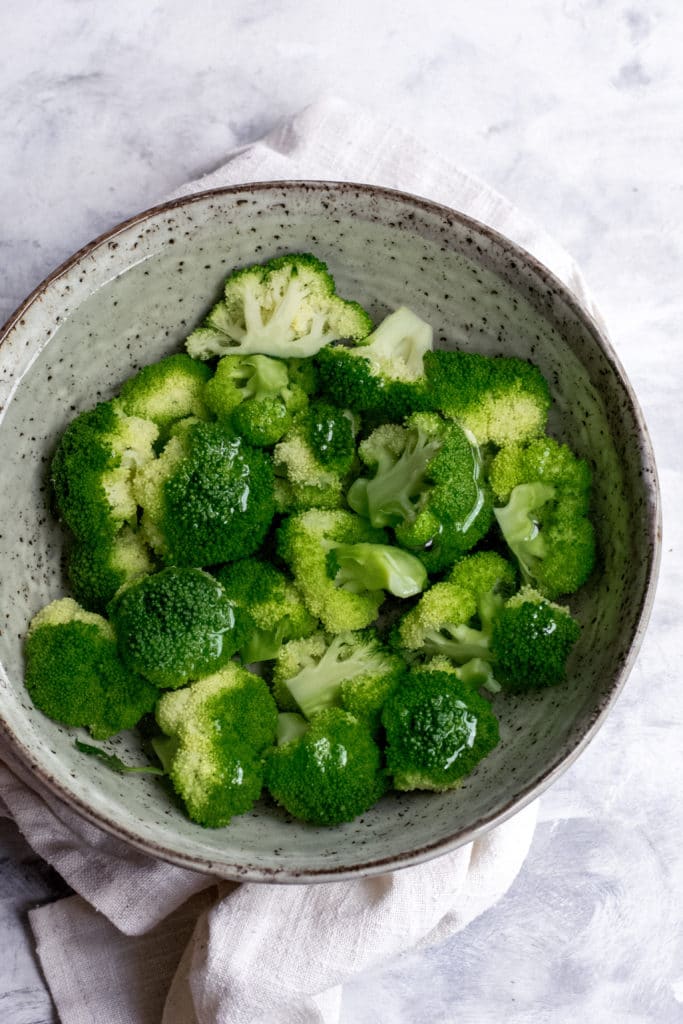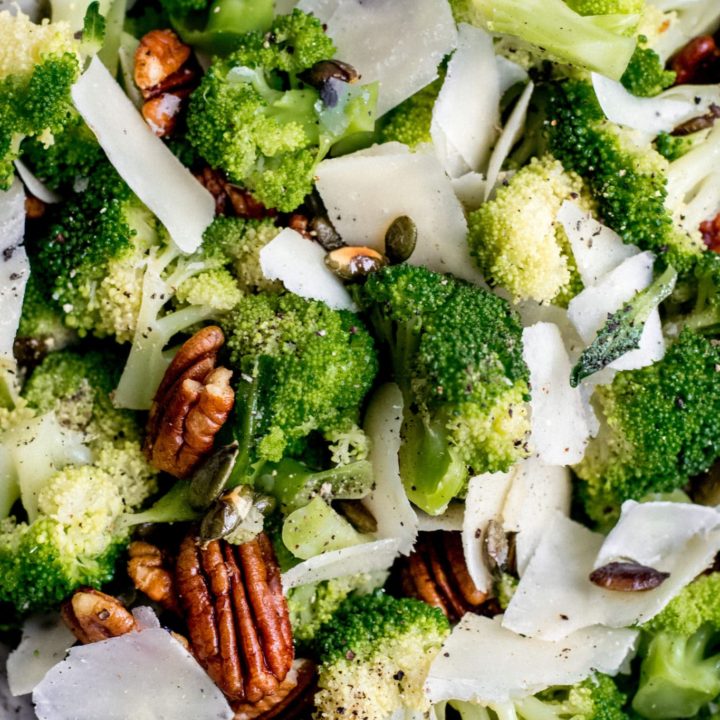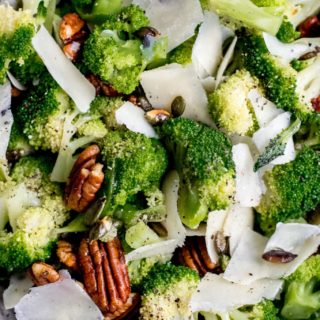 Keto broccoli salad
Ingredients
approx. 300 g broccoli

40

g

parmesan cheese

40

g

pecans

25

g

pumpkin seeds

2

tbsp

extra virgin olive oil

a pinch of salt

a pinch of black pepper
Instructions
Wash the broccoli and cut the florets into small pieces (you can reduce a bit further the size of the veggies after blanching them). Carefully add the florets into a pot of boiling water and cook them for no more than 2-3 minutes, depending on the size of your veggies.

In the meantime, prepare a bowl of ice-cold water. When the florets are ready, move them into the cold water and leave them in this bowl for a few minutes.

Drain well the florets, adjust their size if necessary and mix them with the other ingredients. You can use raw or toasted nuts/seeds: the second option adds more flavour to the salad. Try to toast the mix of nuts and seeds in a pan with 1 tsp of olive oil and 1/2 tsp of garam masala.

Taste the salad before serving: adjust the amount of oil and spices if necessary.
Notes
This recipe calls just for the florets – keep the stems of your broccoli and try to use them in other preparations (a soup, a vegetable broth, etc).
The number of servings of this salad is strictly related to how you serve it.
Check the introduction for notes about variations, salad dressings, etc.
Nutrition
Calories:
308
kcal
Carbohydrates:
11.2
g
Protein:
10.3
g
Fat:
26.7
g
Fiber:
4.4
g