BLT – Bacon, Lettuce, and Tomatoes. A match made in heaven! This super easy BLT keto salad recipe can be ready in no time and makes a perfect low carb salad or side dish.
This is of course a common mix in your sandwiches or burgers, but it can be served as a salad too, skipping the buns or bread to turn this into an ideal low carb keto lunch recipe or side salad. The salad is great with the dressing and some extra cheddar cheese on top.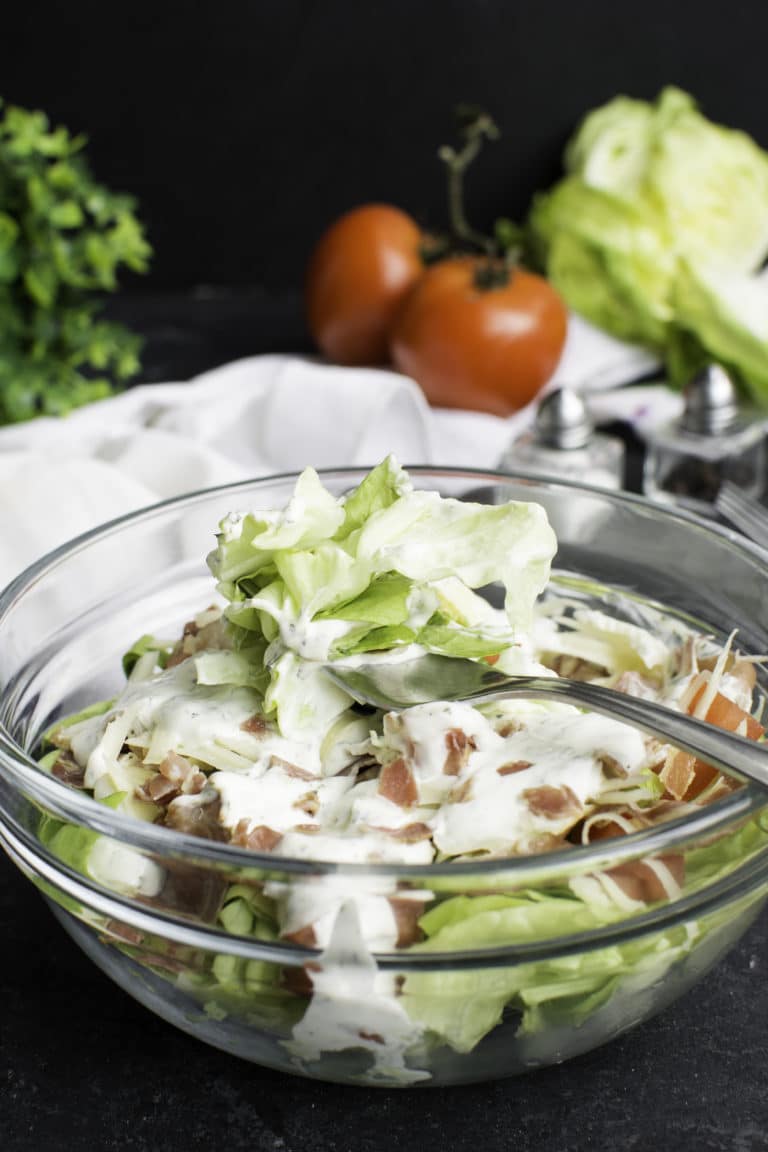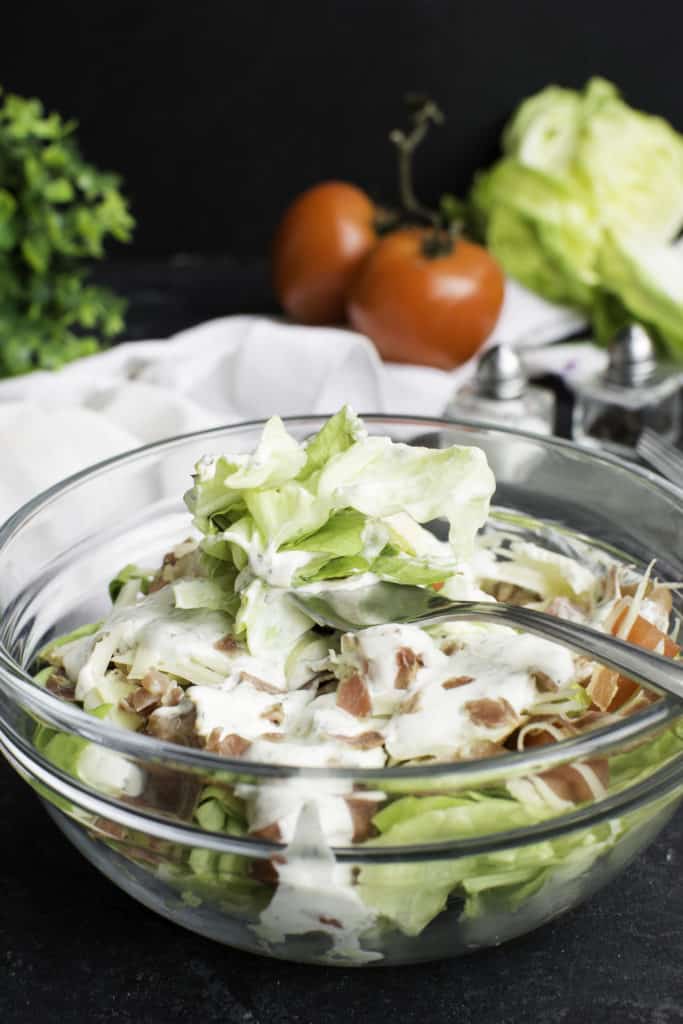 This BLT salad is ideal when you are looking for something "light", and by light we mean, light and easy to prepare. This really couldn't be any easier to prepare, other than cooking up some bacon, this is just a case of combining ingredients.
A Super Simple Keto Salad Recipe
Like any salad, this one is super easy to make. It is just perfect for those days when you are in a rush but still want to eat like a king. For a less meaty alternative, try some of our other great salad recipes, like our keto broccoli salad or this low carb halloumi salad recipe, which is a great workweek lunch.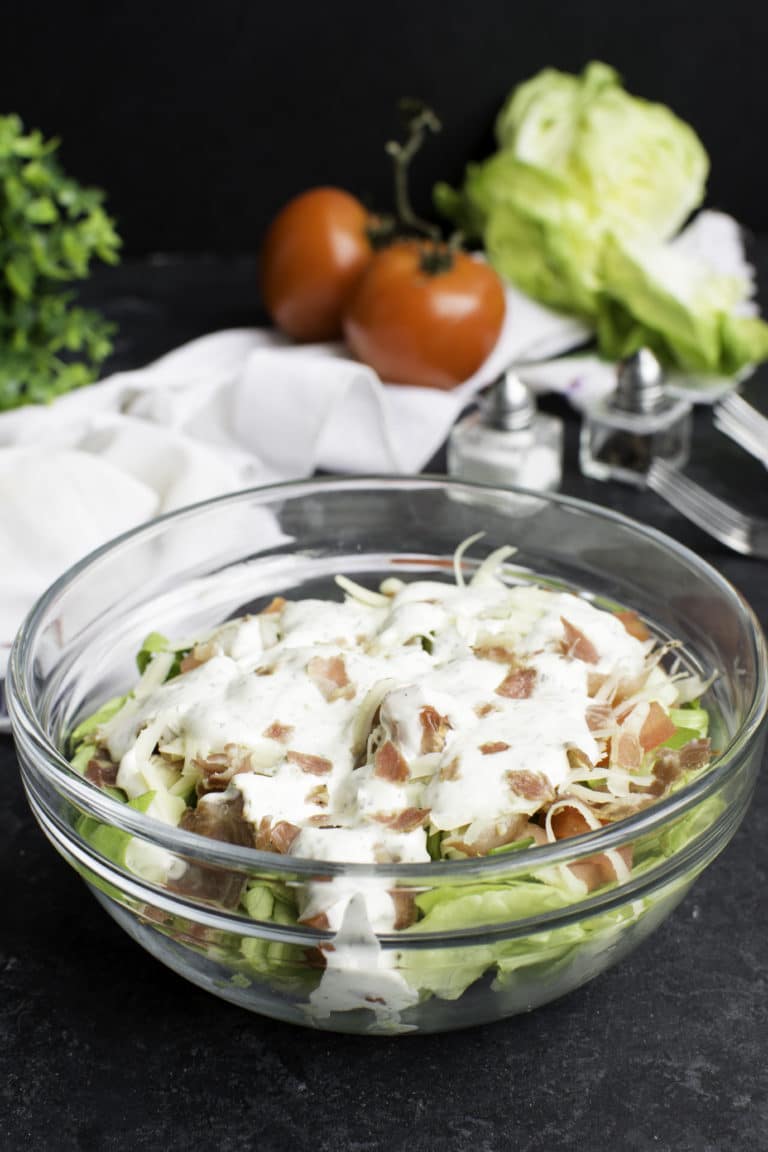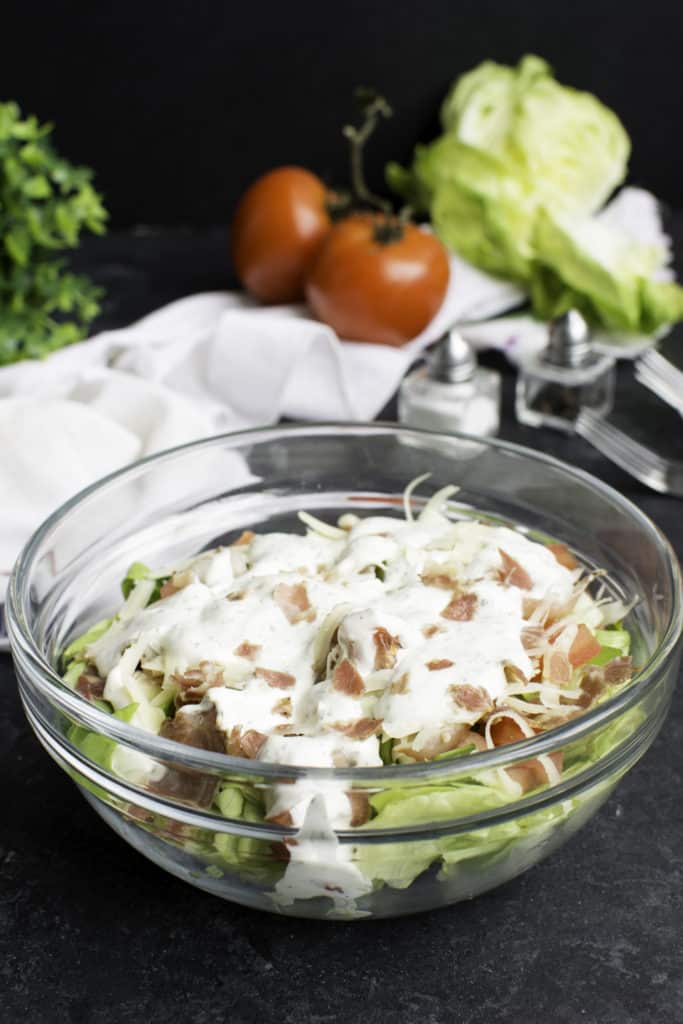 Besides being fast to make and ideal for lunch or dinner, the salad is perfect for a packable office lunch. If you want to take it into the office, make sure you separate the salad from the dressing. If you keep the two together, the salad may become soggy, so better to mix at the last moment.
In terms of nutrition, the salad is packed with fibers, healthy fats and is very low in carbs. The salad is the best with this creamy type of dressing, but if you want to make an alternative dressing of your own, go ahead. The food preparation is all about new ideas, testing and trying, and adjusting the ingredients to satisfy your taste buds.

At it's simplest, you could just combine the ingredients with some mayonnaise for a super simple keto salad dish. I like to build more flavor in, the dressing you have here can be pared down as much as you want, if you haven't got some of the ingredients, don't sweat it.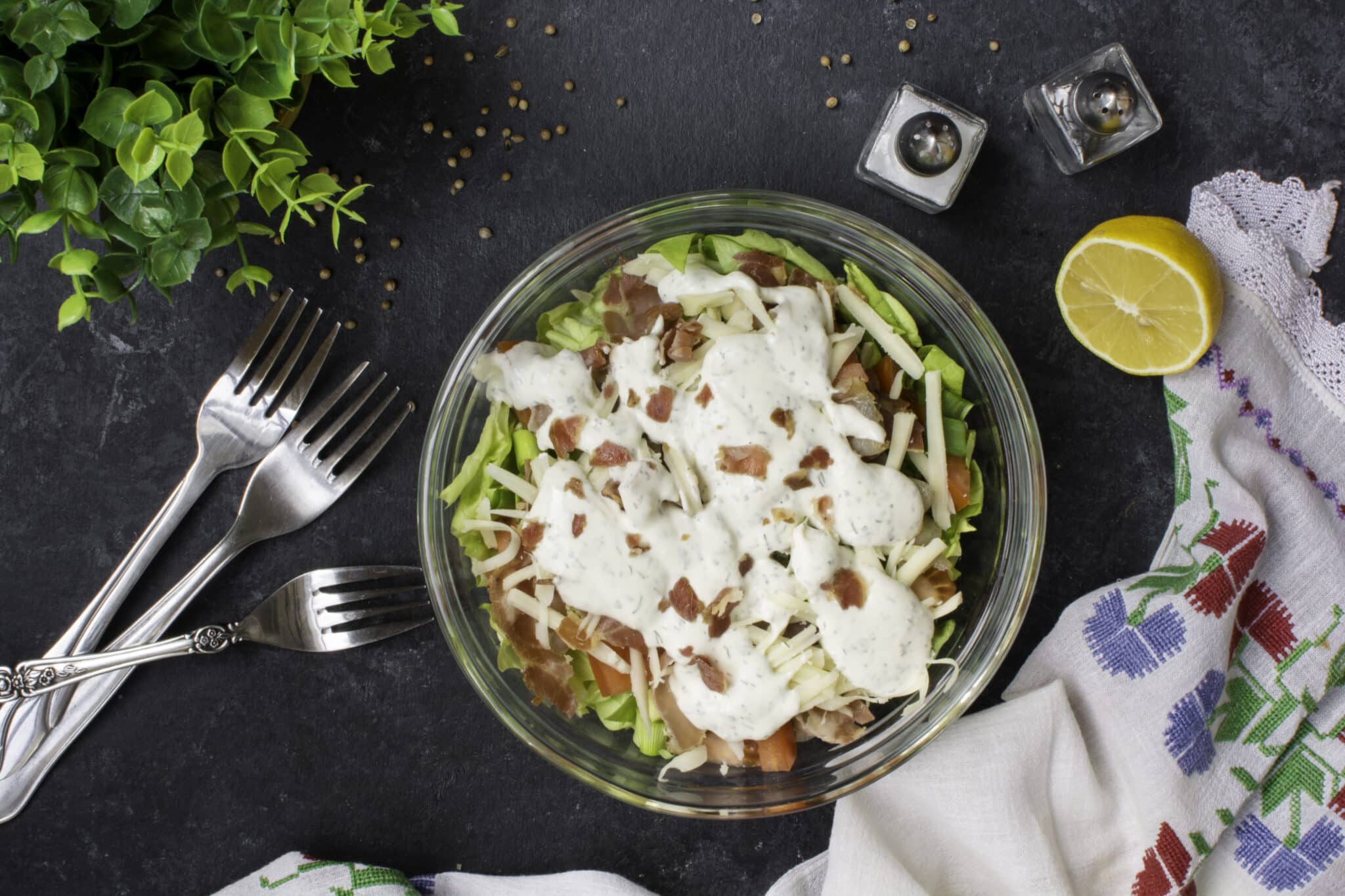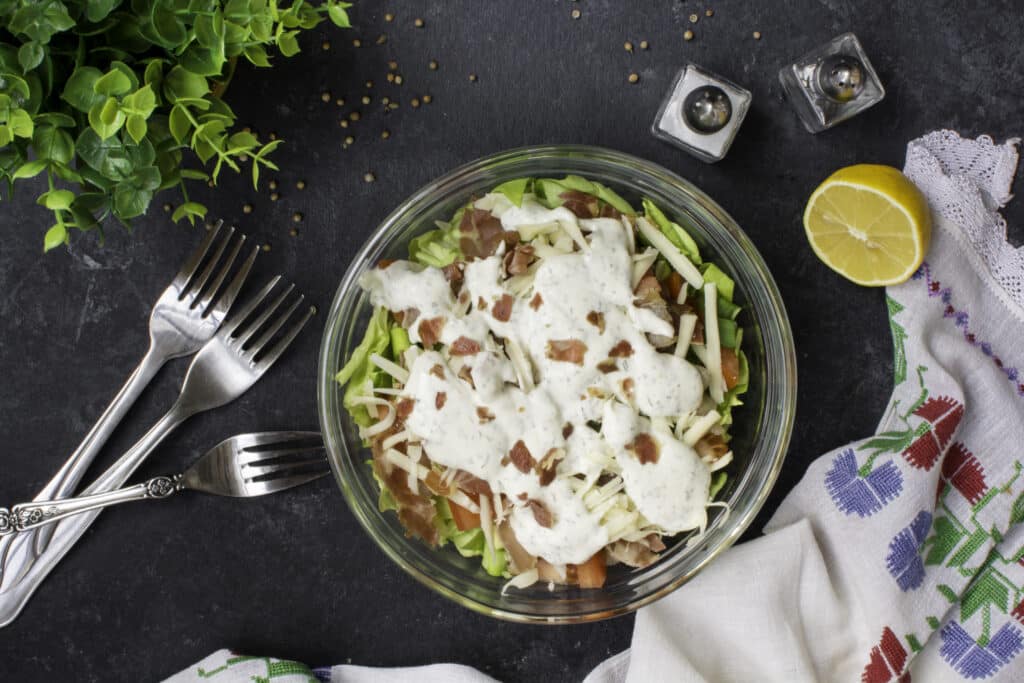 Give this one a go and let us know how you get on. What substitutions do you make or any tips or tricks you might have for taking this to the next level?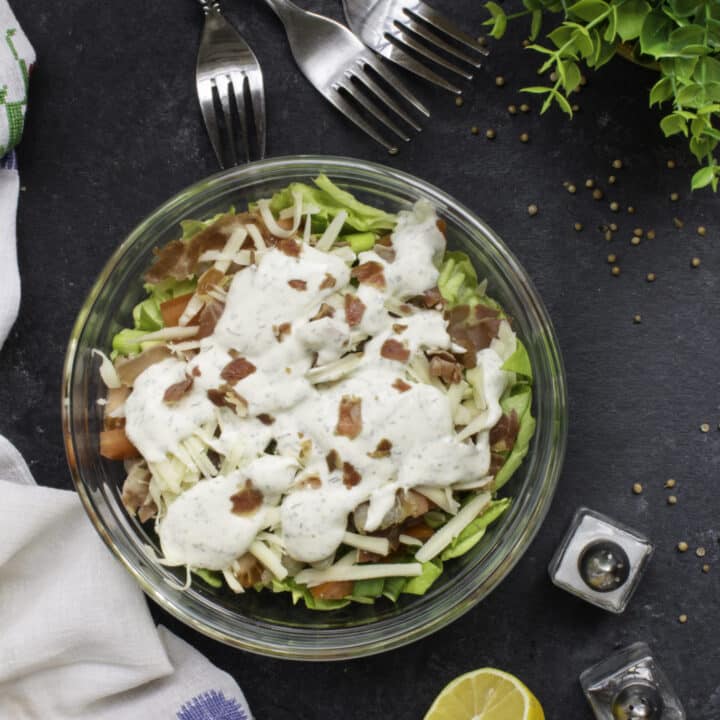 Keto BLT Salad
A quick and easy keto salad recipe of bacon lettuce and tomato
Ingredients
Salad:
400g lettuce
4 slices bacon, chopped and cooked
2 small tomatoes, chopped
1 spring onion, sliced
50g shredded cheddar cheese
Dressing:
60g mayonnaise
45g sour cream
1/2 tsp garlic powder
1/2 tsp dried parsley
1/4 tsp dried dill
1/2 tbsp lemon juice
1 tbsp water, optional
Salt, to taste
Instructions
Gather all ingredients.
Make the dressing; in a mixing bowl combine all the dressing ingredients, except the water. It is optional and only add if you want to thin down the dressing
Mix the ingredients until you have a smooth dressing.
Make the salad; Place lettuce, tomatoes, spring onion, and bacon in a bowl.
Top with cheddar cheese
Finally, drizzle the salad with dressing and serve.
Nutrition Information
Yield

4
Amount Per Serving
Calories

298
Total Fat

26.2g
Saturated Fat

8.5g
Cholesterol

45mg
Sodium

633mg
Carbohydrates

4.7g
Net Carbohydrates

2.8g
Fiber

0.9g
Sugar

1.5g
Protein

11.2g