This is a delicious, bright and simple lime-flavored avocado salad, with crispy cucumbers for a refreshing texture. A perfect keto side salad to go with a meal, in particular with fattier meats, rich, slow roasted cuts (perhaps with some mexican spicing!), barbecue etc.
The acidity of the lime and yoghurt pair well with these richer foods, to cut through richness. This recipe really couldn't be any simple, just chop, mix and you're done!
Really quick and easy to make, a perfect keto side dish or cold appetizer.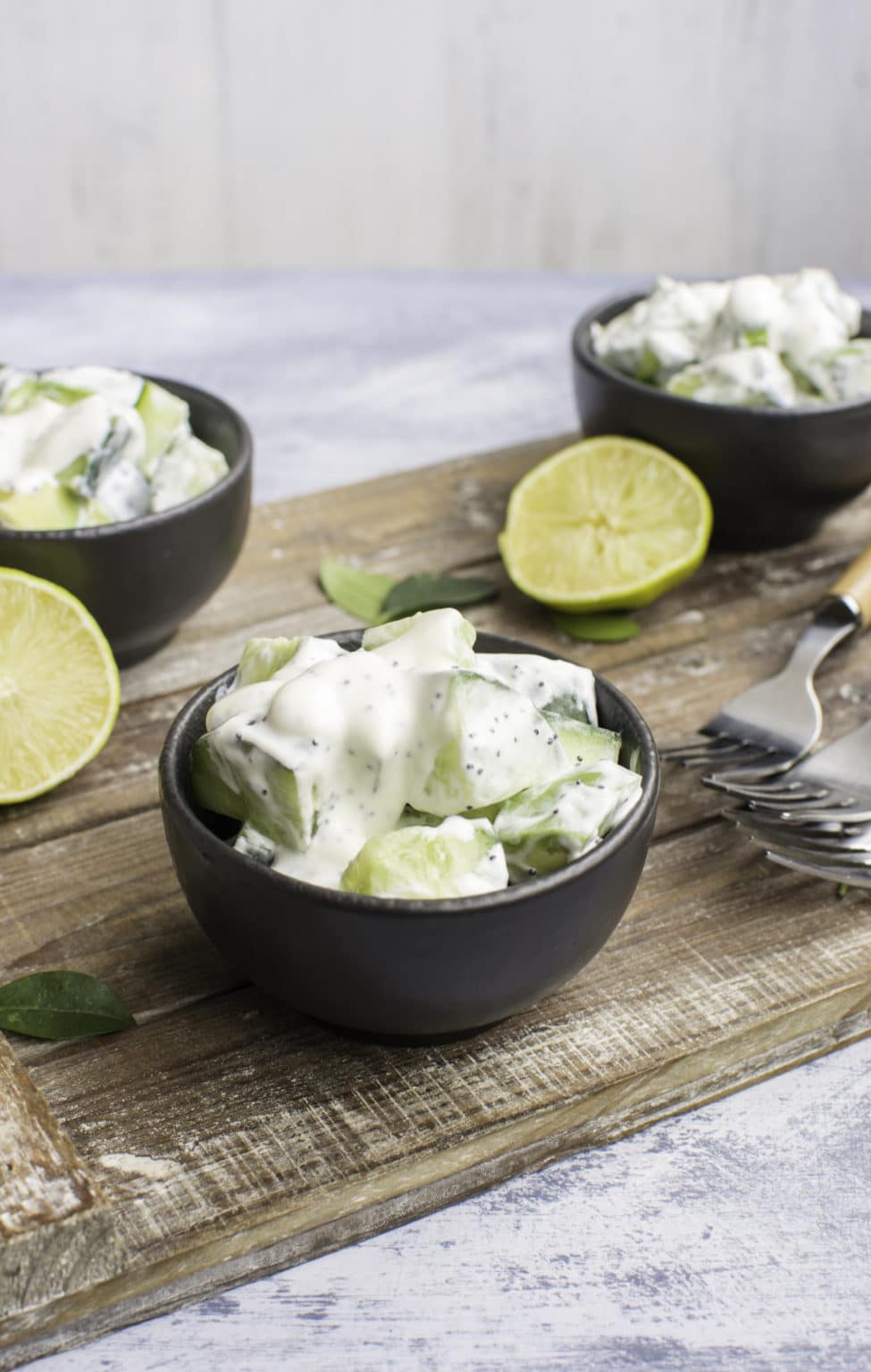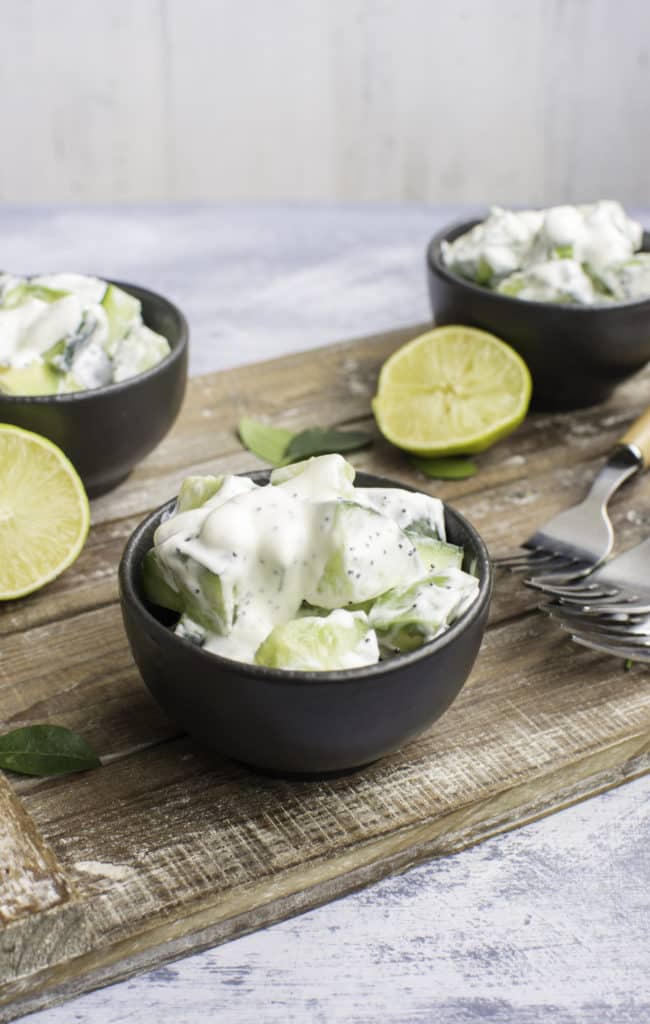 A Perfect Pairing – Keto Avocado Salad
The salad is great when chilled and this will be a hit on those warm summer days or backyard BBQ. The salad is so amazingly creamy and smooth, and afterward, you will feel satiated and clean after eating so many greens.
Lime in the salad gives a citrusy kick, and poppy seeds add earthy tones. The cucumber bulks this out whilst adding very few calories or carbs, with it's satisfying crunch helping you feel full sooner, and that you're eating a more substantial dish.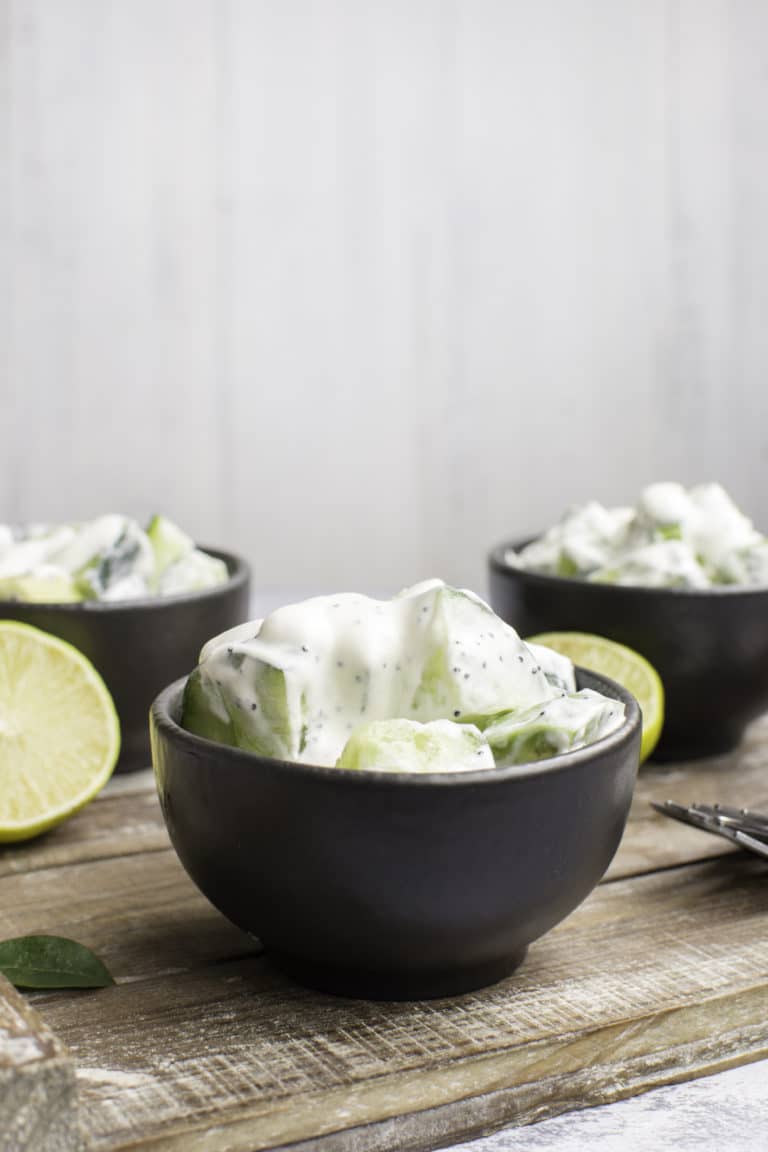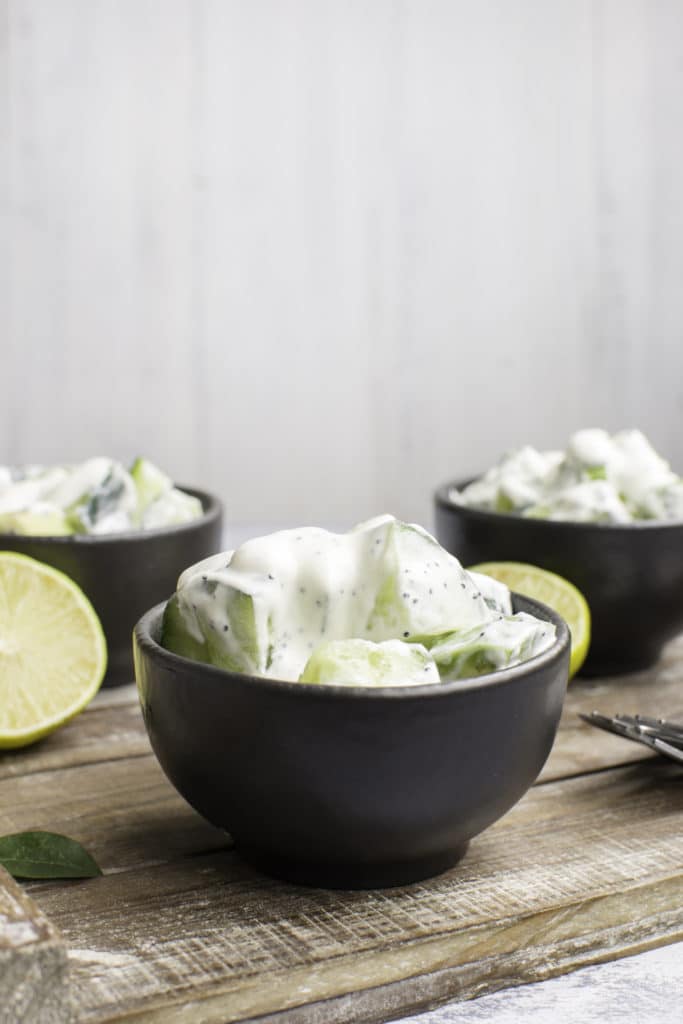 If you want to make the salad more interesting, you can toss in some mint leaves. They will freshen up the whole thing even further. This actually makes this into a sort of simple, keto friendly Raita, an asain condiment that is often used with spicy or rich foods. Pair this with a spicy keto curry like our Quick Keto Goan Curry or our Vegan Butter Cauliflower Curry and some cauliflower rice for a hearty, substantial meal.
Those who want a spicy kick – feel free to add a few chilli flakes into the dressing in the dressing, you can also consider adding a little grated ginger or garlic to give things a little kick.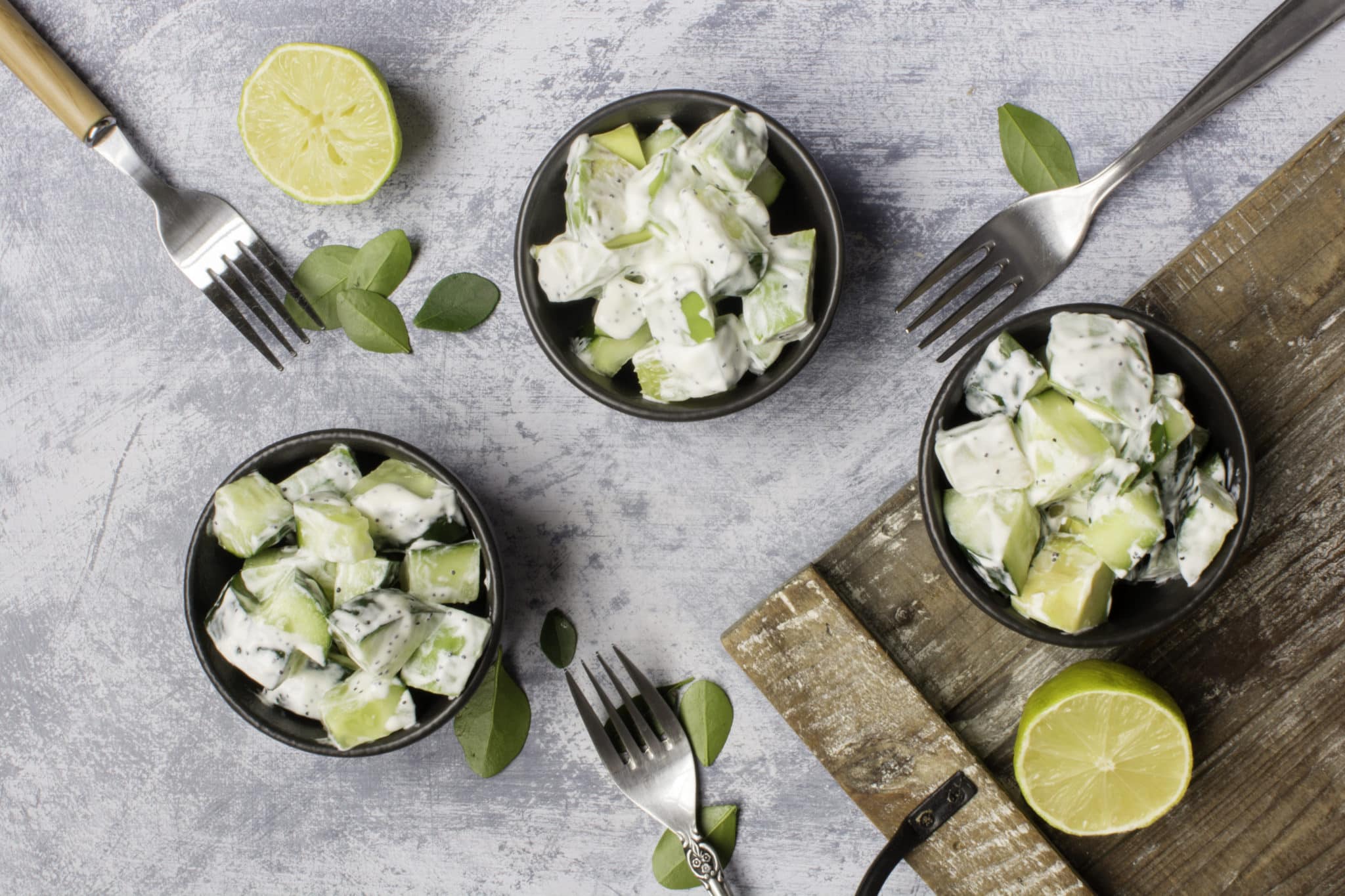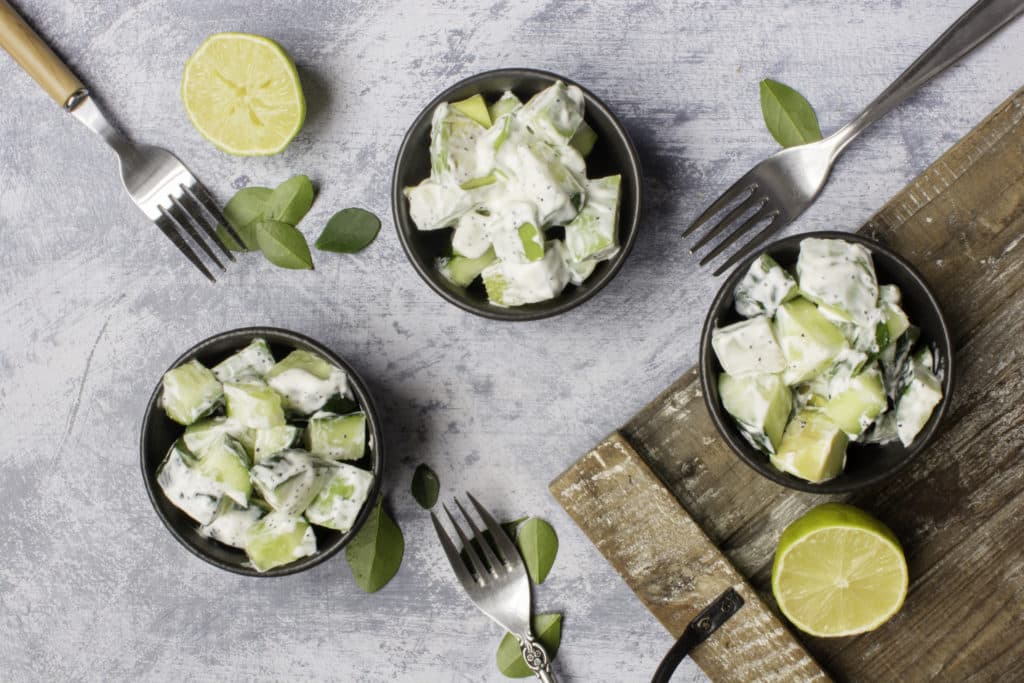 This salad is perfect as it pairs great with many dishes, meat or vegetable-based. It will become your favorite salad, and it is best when served cold.
You can mix this up in loads of ways:
Throw in some mint or cilantro for a raita to pair with spicy Indian and South Asian foods, some toasted mustard seeds would go with this really well too.
Grate in some garlic and ginger for a spicier, stronger flavored salad, that you can eat straight or in some keto naan breads, tacos or wraps
Add some thinly sliced scallions to enrich the flavor further, with cilantro this goes great with plenty of mexican inspired foods – add some to these lettuce and chicken keto fajitas or to a alongside a keto friendly chilli recipe. You could also try adding a pinch of cumin into this too.
Add some more nuts and seeds for fiber It's well known that people on a keto diet are often failing to eat anywhere near enough fiber in their diet. So throw in some chia seeds, pine nuts, chopped almonds, sunflower seeds – anything that comes to mind! For a more fiber rich accompaniment to your keto dishes. Along with the avocado in this dish you'll be on your way to a more rounded diet.
Let us know if you've tried this dish in the comments below, and any tweaks you've made to the recipe to get it just right for you. We love getting feedback and suggestions!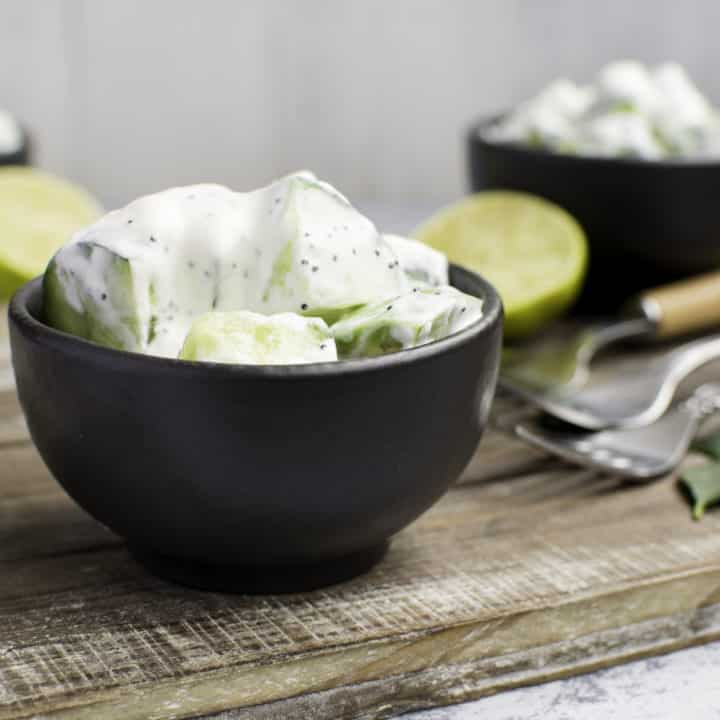 Creamy Avocado Cucumber Salad
A quick and simple keto side salad, with plenty of ways to adapt for your meal.
Ingredients
1 large avocado
2 English cucumbers, cubed
80g sour cream
30ml extra-virgin olive oil
25ml lime juice
1 tsp poppy seeds
Salt and pepper, to taste
Instructions
Gather all the ingredients you need.
Make the dressing; in a mixing bowl combine sour cream, lime juice, olive oil, and poppy seeds
Make the salad; pit, peel and cube avocado.
In a large bowl, combine chopped cucumbers and avocado.
drizzle the salad with the prepared dressing.
Toss gently and serve
Nutrition Information
Yield

3
Amount Per Serving
Calories

245
Total Fat

24.4g
Saturated Fat

6.1g
Cholesterol

12mg
Sodium

20mg
Carbohydrates

7.6g
Net Carbohydrates

3.4g
Fiber

4.2g
Sugar

0.9g
Protein

2.4g