Nothing screams "cosy" like a bowl of warm soup, stew or curry during a cold winter evening. Even better if it's a tasty meal, too! This vegan keto butter cauliflower ticks all the boxes with its combination of spices, warming flavours and simplicity of ingredients.
Even if you never tried it, you are probably already familiar with an Indian recipe called "butter chicken": it's a dish made with chicken and a spiced creamy sauce with a typical bright orange colour. The flavours of this dish are incredible and the cream gives to the sauce a beautiful silky texture.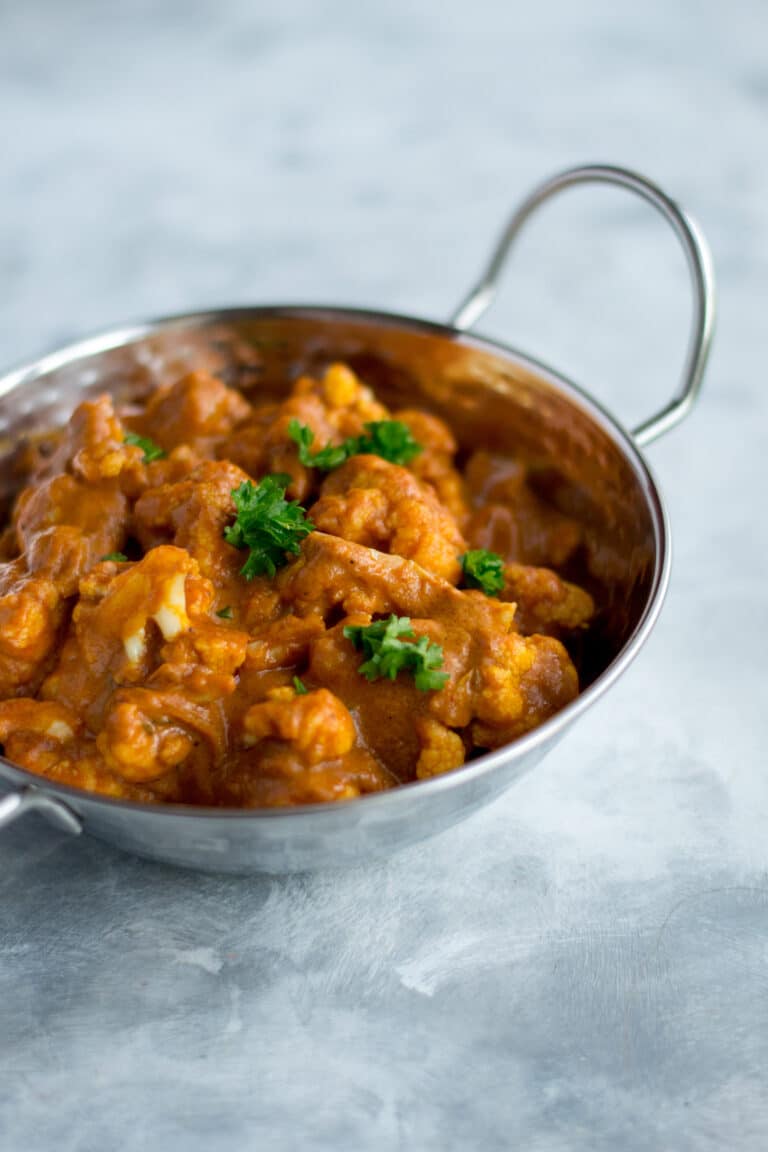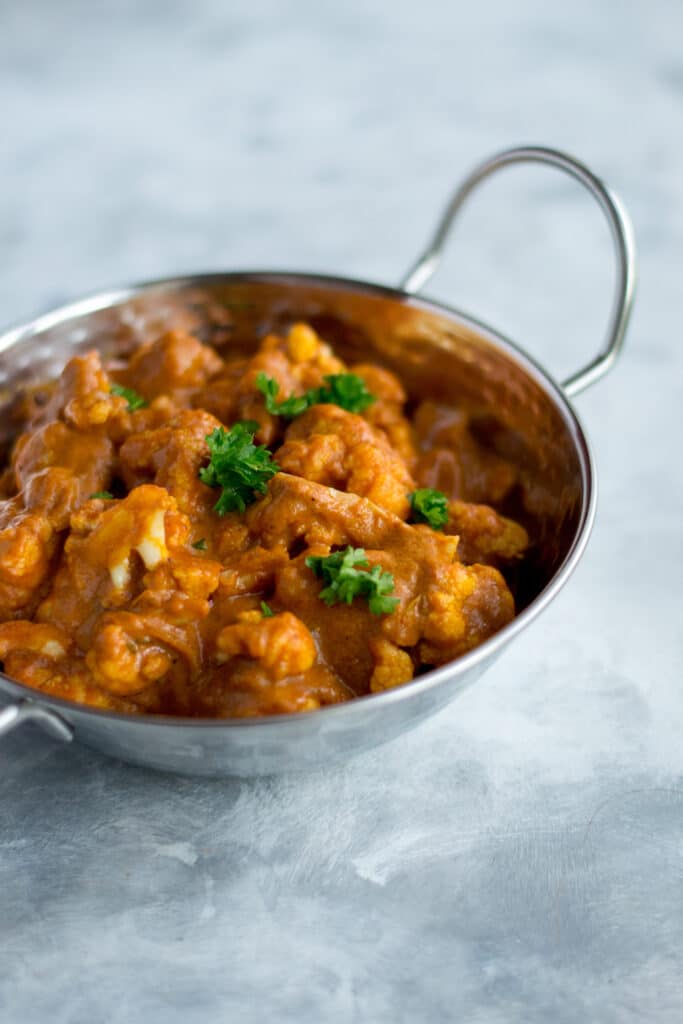 In this blog post, you'll find a vegan version of butter chicken that is equally delicious. Take your time to make the sauce with all the necessary ingredients and cook it until it's perfectly smooth. The sauce is the most important part of this vegan keto butter cauliflower, so you'll definitely want to get it right.
Even if this recipe may sound a bit intimidating, it's actually quite easy to make once you have a tested recipe available. Coconut milk helps you to create the silky sauce and the spices work in combination with the cauliflower to get the most out of this vegetable.
Cauliflower is indeed an amazing vegetable: you can cook it on its own (even raw in salads) or you can decide to use it as a base for many different preparations. If you have never tried dishes like cauliflower fried rice or mashed cauliflower, check them out because they are some really tasty low-carb recipes.
Cauliflower is also rich in nutrients and easy to include in your weekly meal prep. This vegetable is an amazing source of vitamins and minerals, but it also has a good amount of fibre and antioxidants.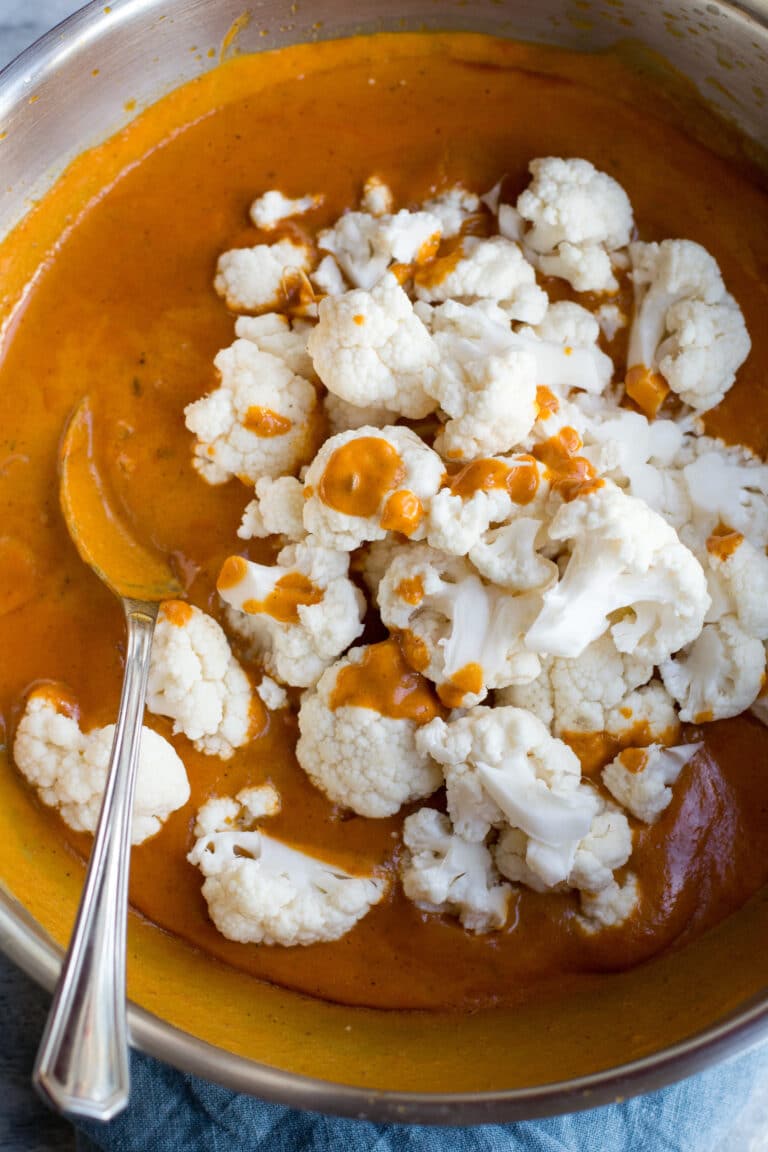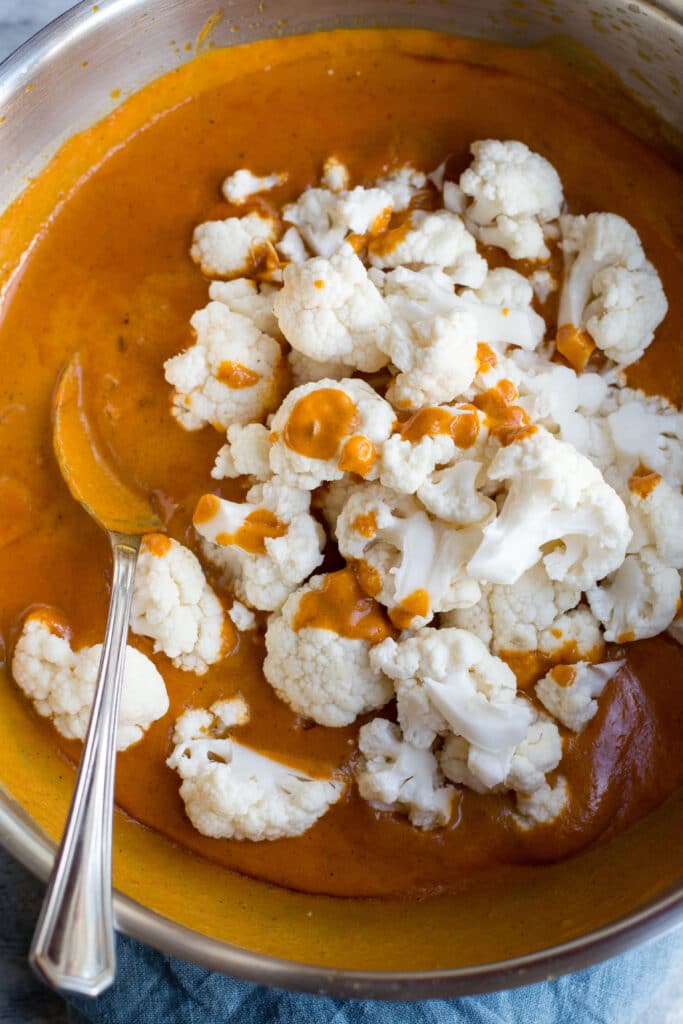 In this vegan keto cauliflower butter, this humble vegetable will surprise even the meat eaters of the family. Once you try it, you'll just keep making it again and again!
Common questions about this vegan keto butter cauliflower:
Can I swap coconut milk for another ingredient? Coconut milk is the best choice if you want to create that smooth sauce typical of this Indian dish. It also makes the perfect pair with both spices and cauliflower. You can try to make a sauce with cashews but coconut milk is still the top choice.
How can I serve it? Add some fresh herbs on top (coriander, parsley or mint) and pair it with some low-carb bread or a bowl of salad for some freshness.
Can I make it in advance? Absolutely. It gets even better the next day (but you may need to adjust the consistency of the sauce).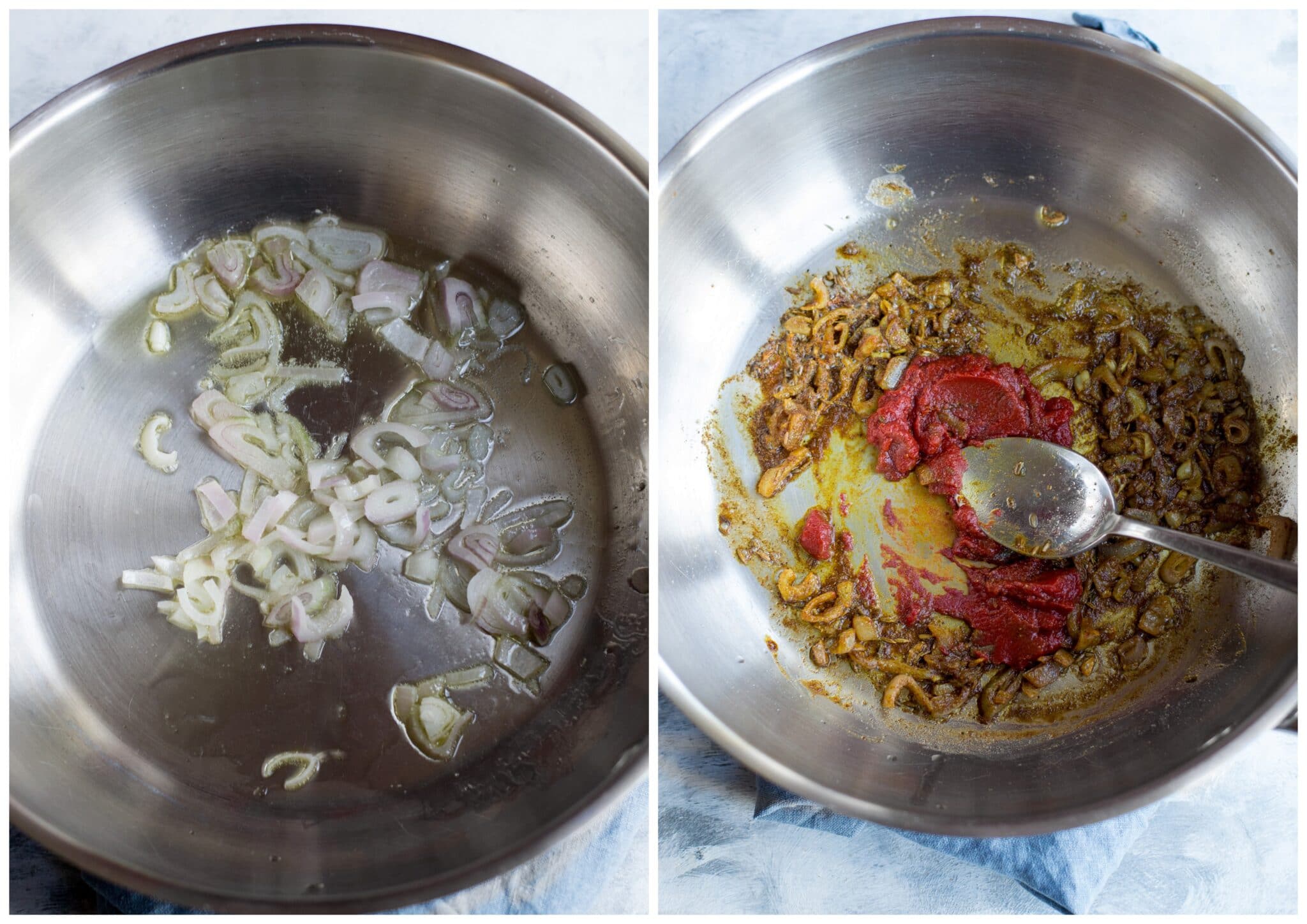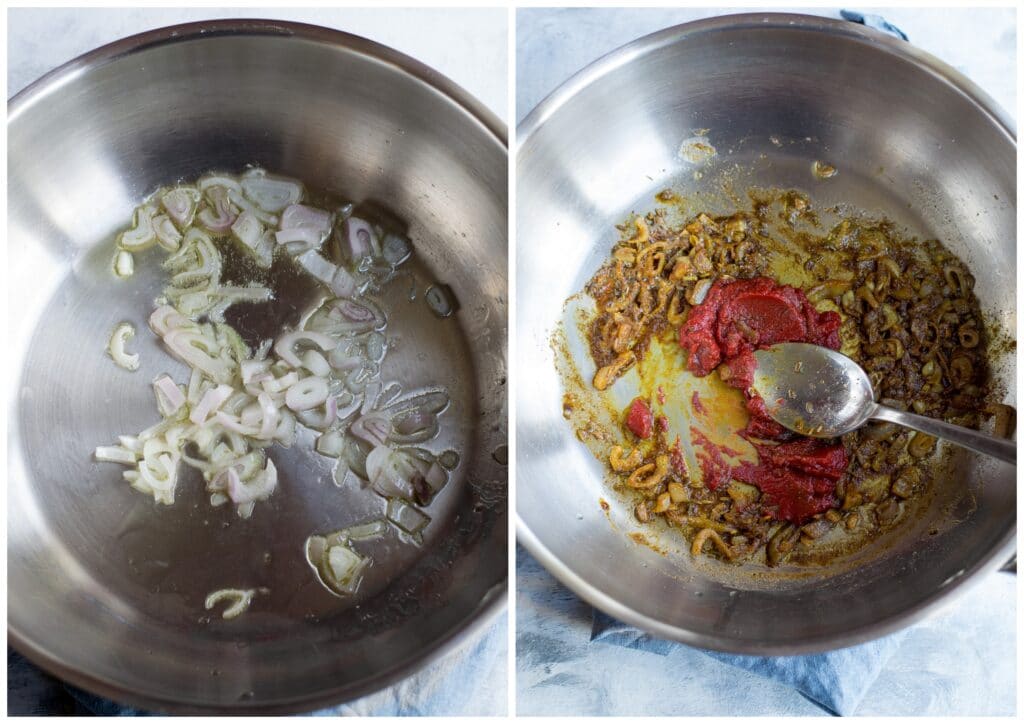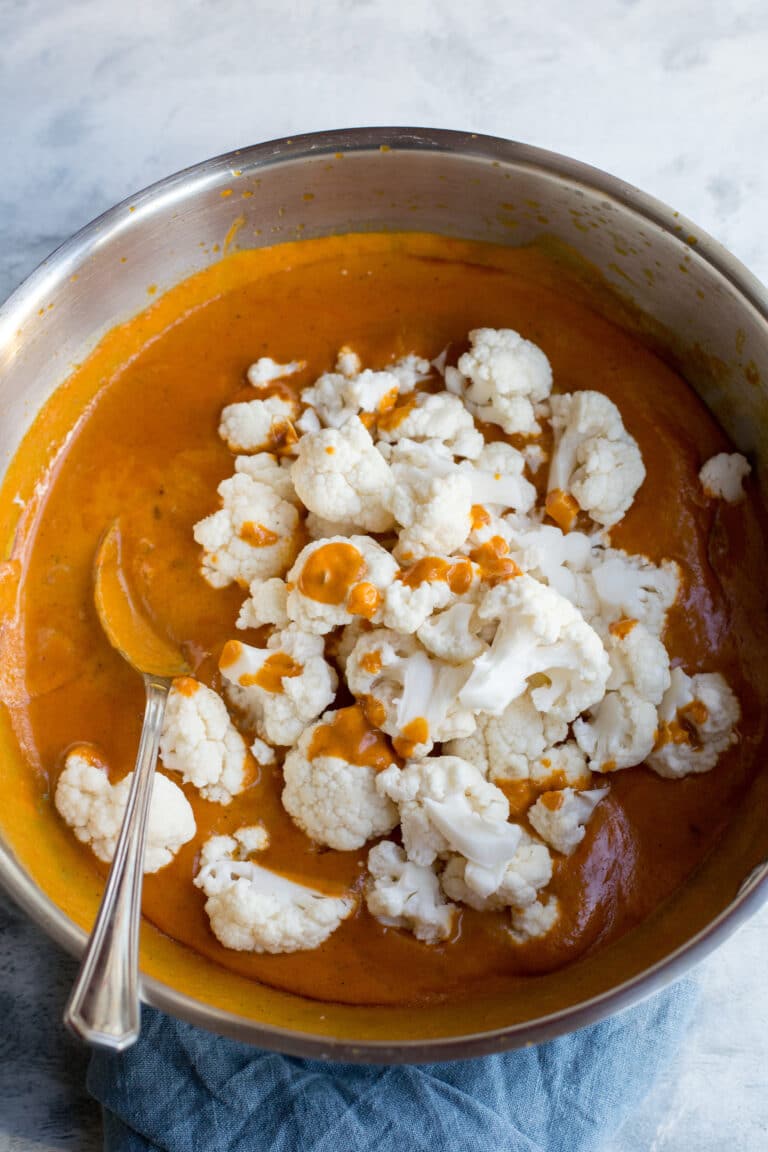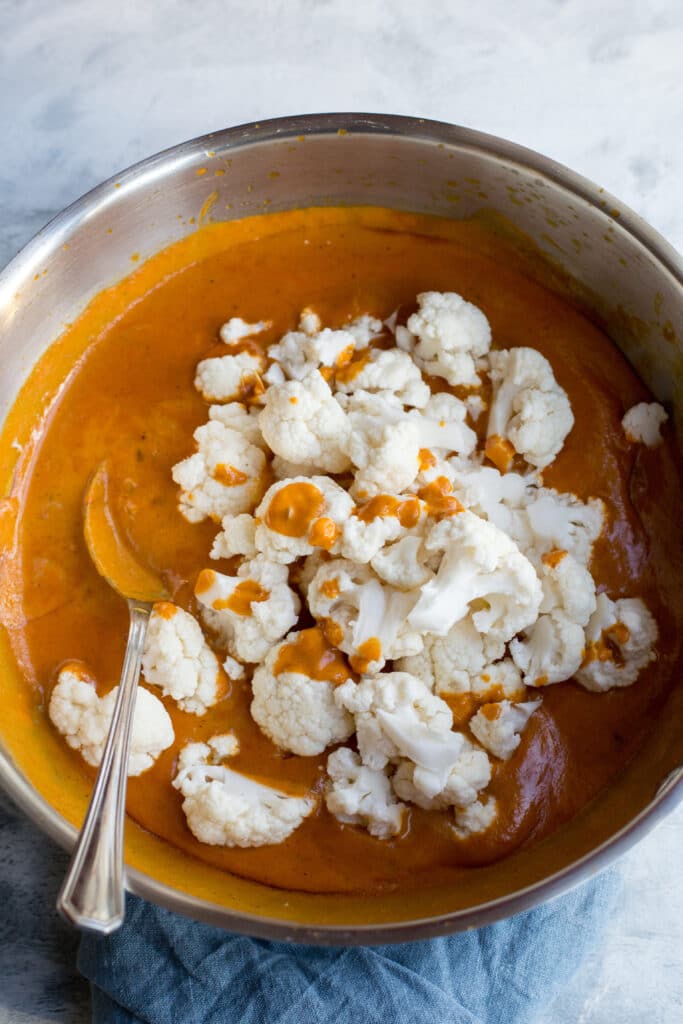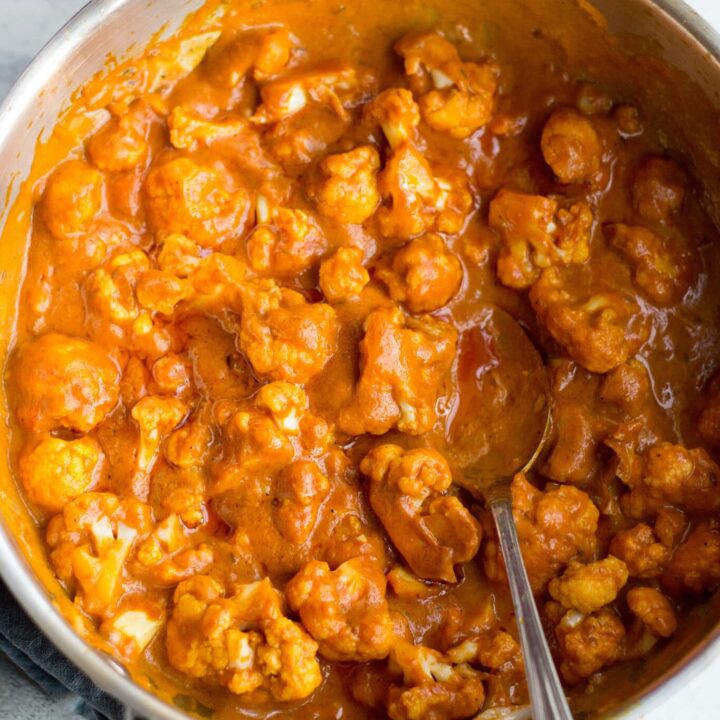 Vegan keto butter cauliflower
This vegan keto butter cauliflower ticks all the boxes with its combination of spices, warming flavours and simplicity of ingredients.
Ingredients
400 g cauliflower
400 ml canned full-fat coconut milk
30 g shallot (or white onion)
2 1/2 tbsp extra virgin olive oil
1 tbsp coconut oil (measured solid)
4 tbsp tomato paste
1 tsp ground ginger
1 1/2 tsp garam masala
1/2 tsp medium chilli powder
1 1/3 tsp cumin (or 3/4 tsp ground cumin) 
1 tsp turmeric
a pinch of Cayenne pepper
1/2 tsp salt
1 tsp minced garlic (optional)
1/2 tbsp fresh herbs (coriander, parsley or mint - to use as a topping)
Instructions
Melt the coconut oil in a pot over medium heat, when it's warm add the finely chopped onion (and garlic, if you are using it) and cook, stirring frequently, for a couple of minutes.
Add the spices and the tomato paste: stir for approx. 1 minute until fragrant.
Reduce the heat and add in the same pot the coconut milk. Mix well and cook for approx. 10 minutes until you get a creamy sauce.
Add the cauliflower and cook for approx. 10 minutes or until tender. Add the olive oil and mix well.
Taste and adjust the amount of spices if needed.
Serve warm with fresh herbs on top.
Nutrition Information
Yield

3
Amount Per Serving
Calories

468
Total Fat

45g
Carbohydrates

17.6g
Net Carbohydrates

13.3g
Fiber

4.3g
Protein

6.7g