If you're in search of a crowd pleasing, delicious and most importantly quick Keto meal to cook for dinner tonight – this keto chicken fajita recipe is my go to suggestion. This dish is so easy just about anyone can cook it, all you need is one pan and 15 minutes!
These Keto fajitas use a bare minumum of ingredients to give maximum impact of flavour and satisfaction, whilst avoiding all the carbs that are usually associated with tortillas by using lettuce to make up your wraps.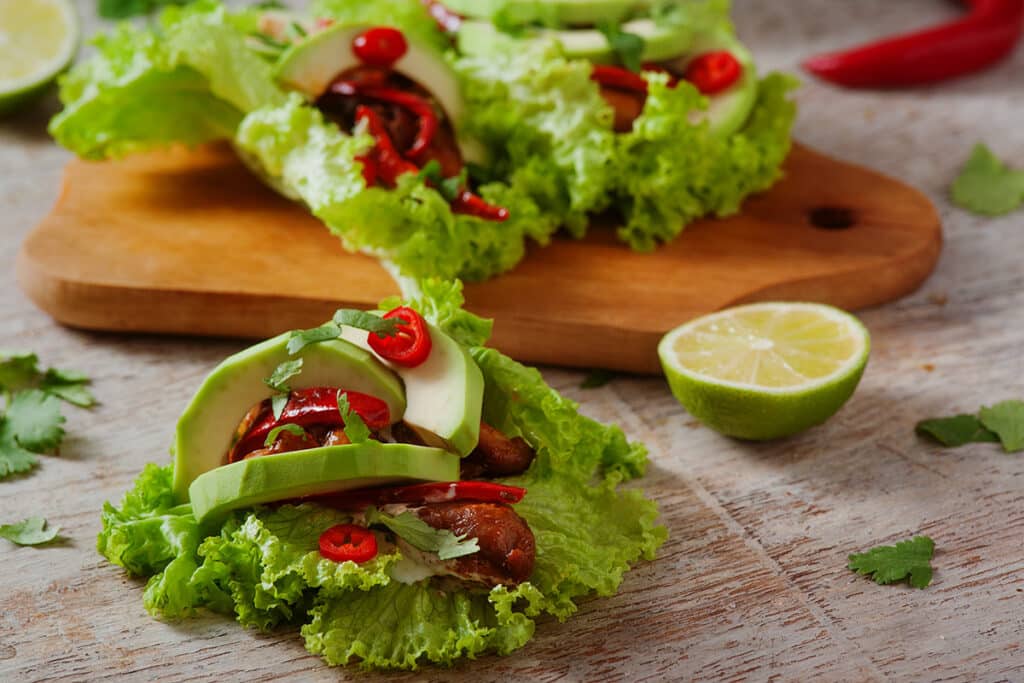 Now there are lots of recipes out there for keto fajitas, which try to replace the traditional tortilla with a keto equivalent using eggs, unusual flours etc. Some of these are good, reasonable approximations of a keto tortilla, whilst others come out as eggy, omelette style wraps that fall apart in no time.
Making keto tortillas can be a tricky business and takes time, but one of the best parts of having fajitas for dinner has always been how quick and easy they are to put together.
That's why I prefer to use nature's keto wraps instead, in this case lettuce leaves. So long as you pick a well intact lettuce (no caterpillar holes!) and stack two together, your wraps should do a decent job of holding everything together without. getting too messy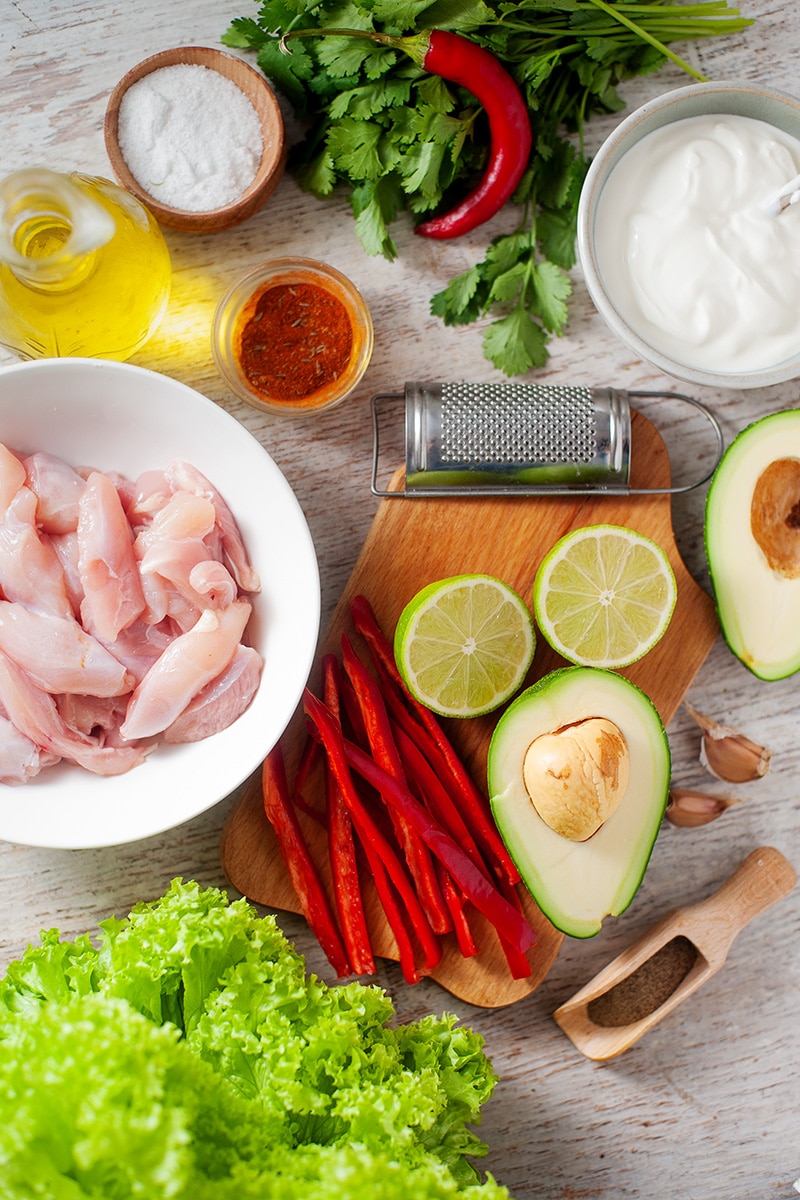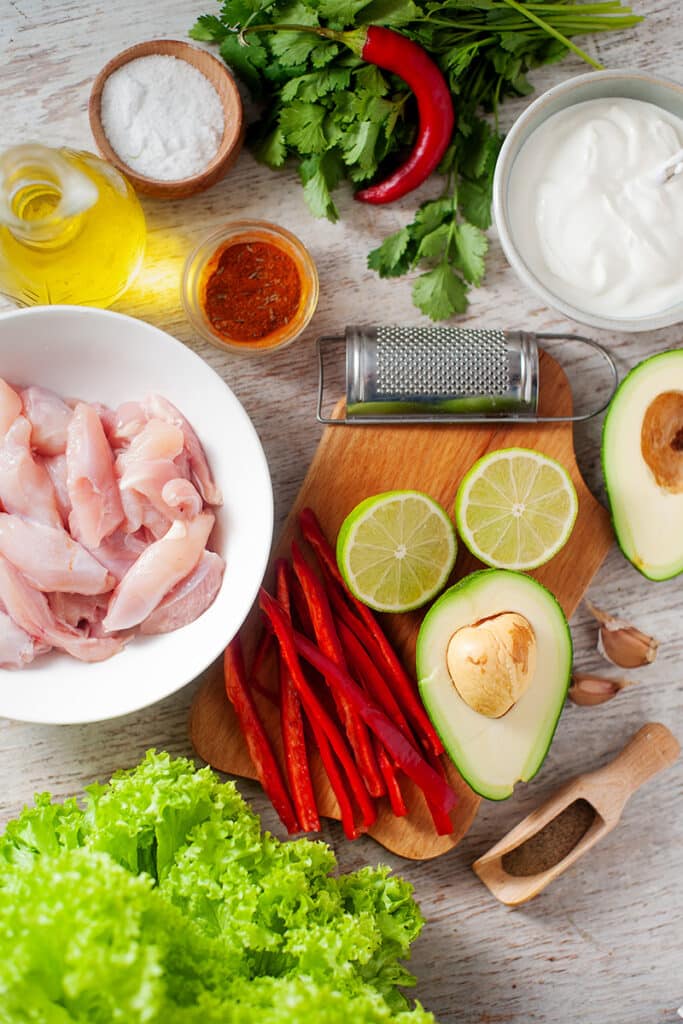 I love to use chicken thighs in most of my recipes, as they're tastier, cheaper and harder to overcook and dry out, but feel free to use breast instead. Sliced up steak also goes really well here, or shrimp if you cut down the cooking time.
To keep these keto fajitas low carb I use red pepper for flavor, but skip out added onions and other filler ingredients to avoid adding too many carbs. If you're not fully keto, just staying low carb then fry up some onions with the chicken too for added flavor.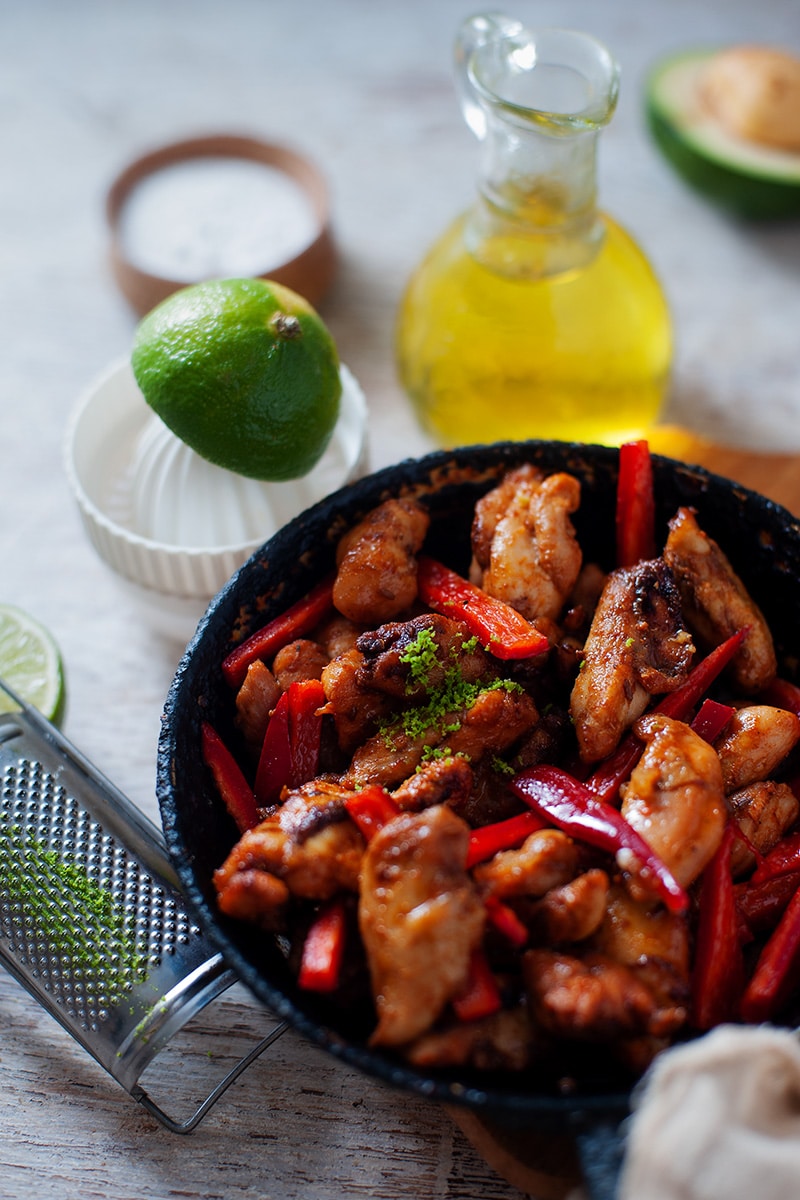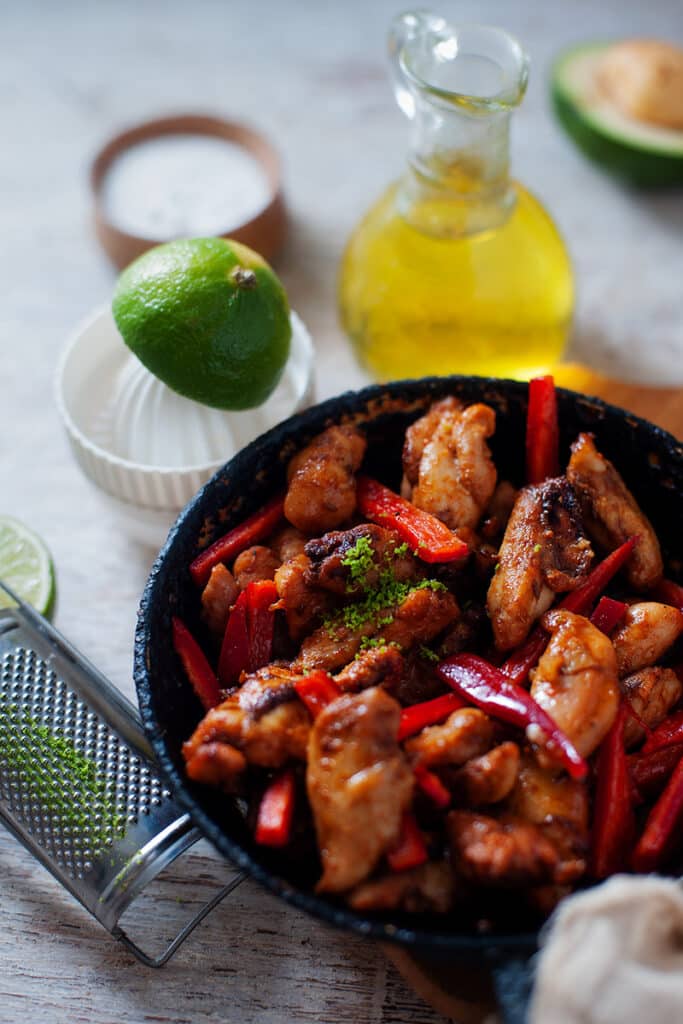 To add some spice to the chicken here, I'll often just go for a pre-packed fajita spice mix. Just look for a powder rather than a fajita sauce as the sauces are packed with added sugar usually.
If I don't have a spice mix then some combination of cumin, paprika (smoked ideally) and chili powder usually does the job. A little lime juice and its zest at the end of cooking adds a little zing and acidity that goes great with the spices.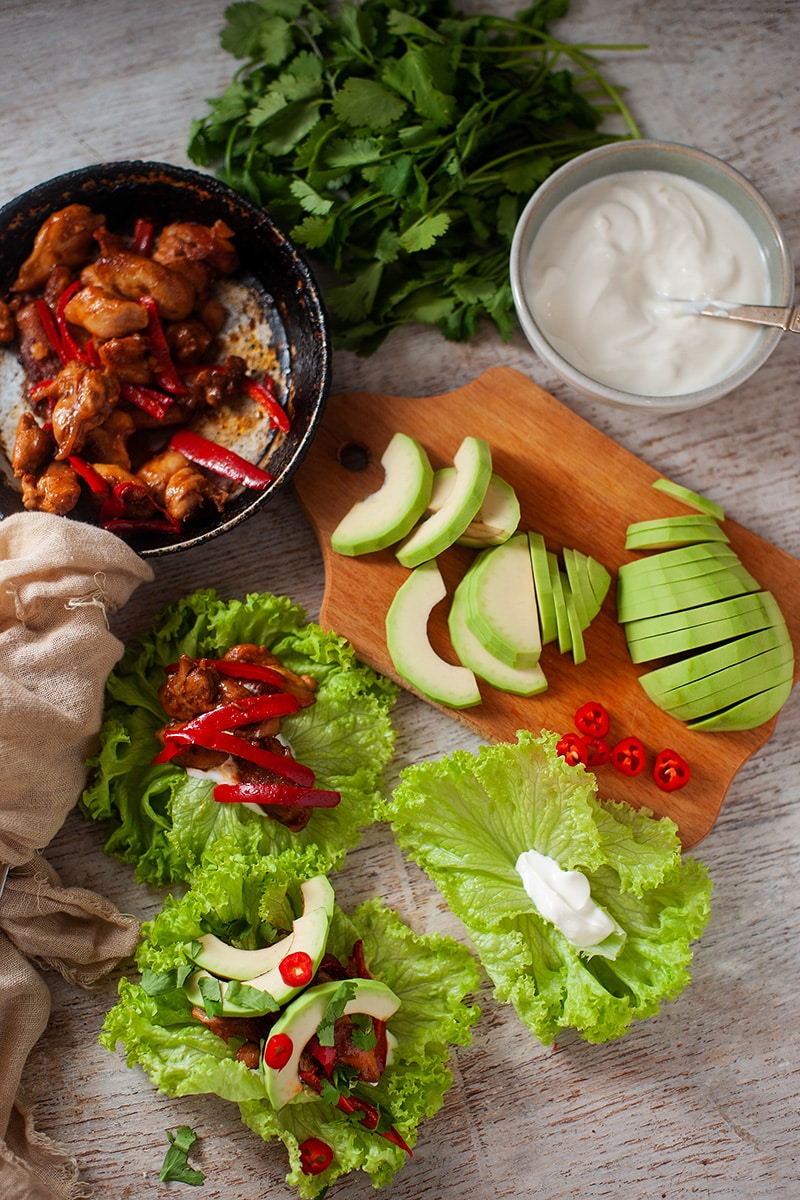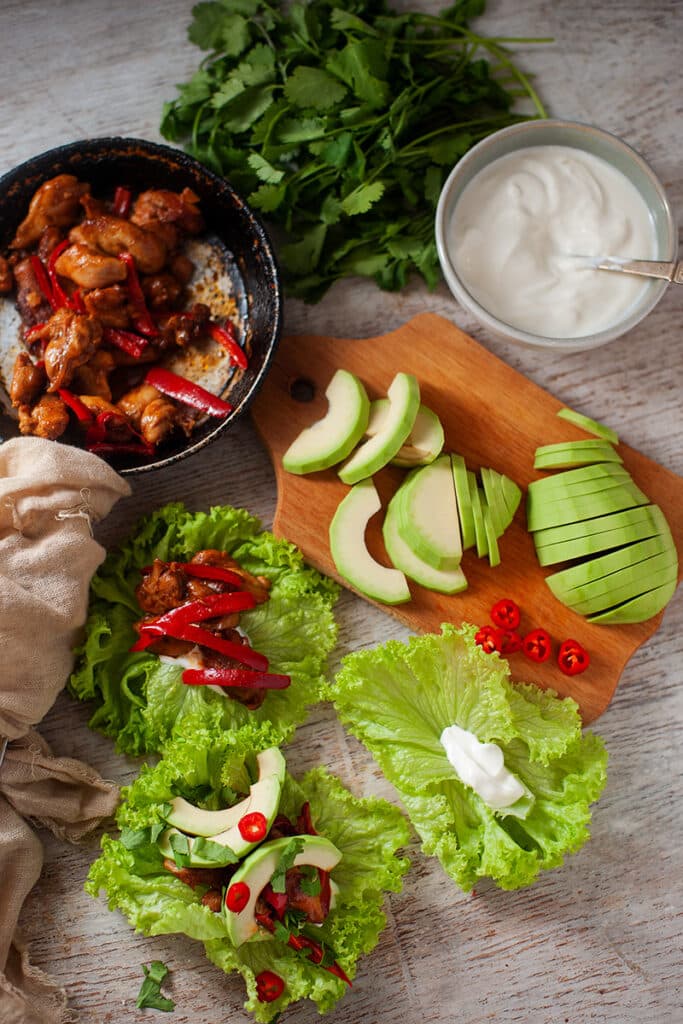 When it comes to assembling these keto fajitas, the key is not to get too greedy making up any one wrap. It's much easier not to overpack and have an extra wrap instead. Unlike with normal tortillas, eating a few more lettuce leaves isn't going to be a big deal with barely any carbs or calories to speak of.
I like to start with a layer of sour cream, then the chicken mix, followed by some avocado, cilantro and chillis if you like some added heat. I'll sometimes mash those three ingredients together before hand to make up a basic guac with a little lime juice for easier spreading.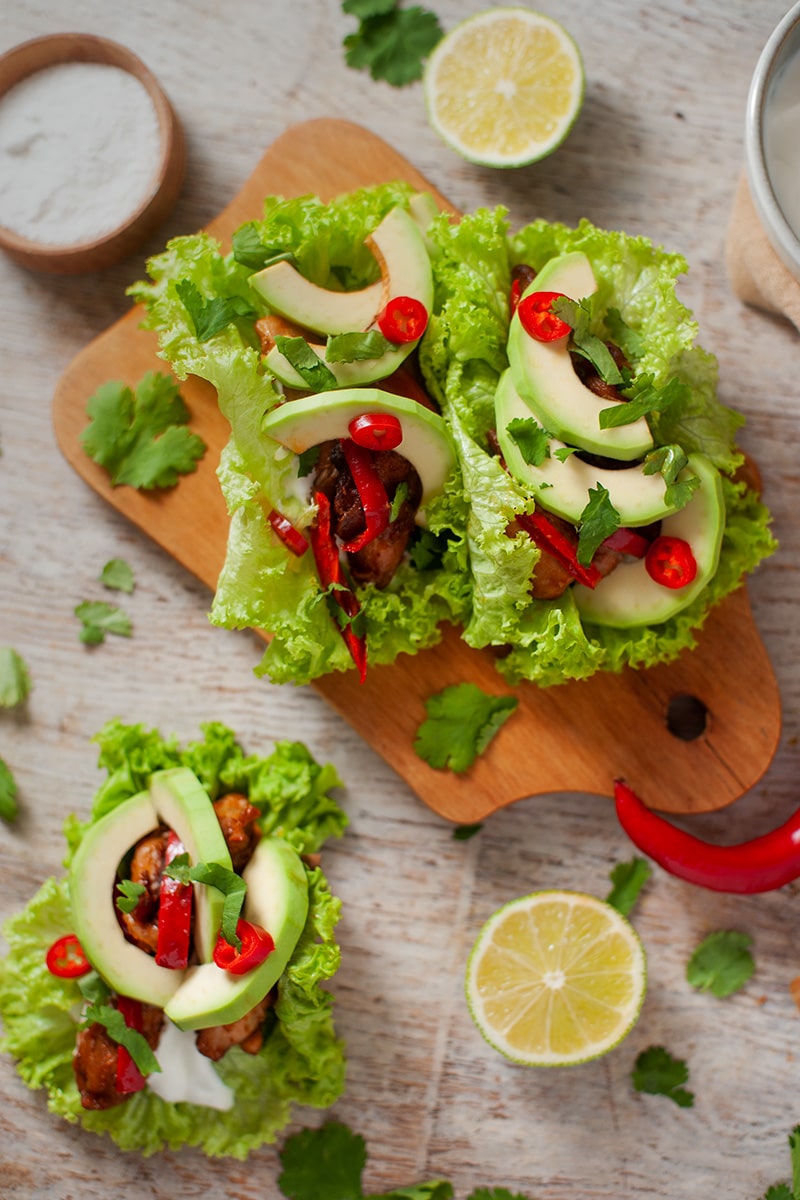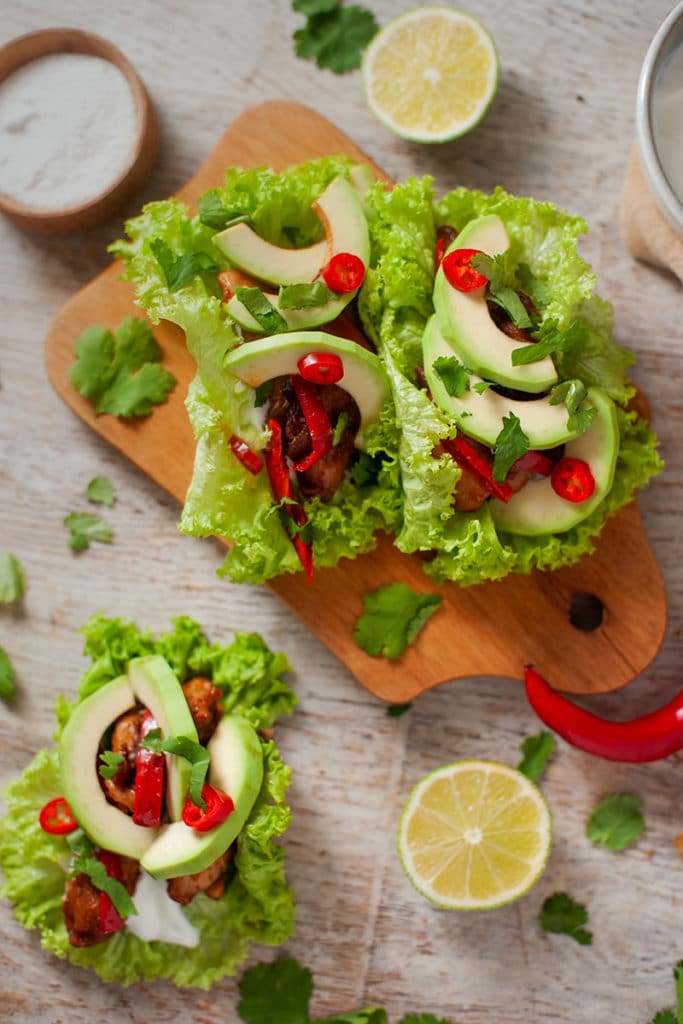 I sometimes make up a big batch of the chicken mix and take these for my lunch at work. I just reheat the chicken in the microwave and bring all my assembly pieces in tupperware to put together there and then for a low effort, low carb fajita lunch. So much better and healthier than a take out meal!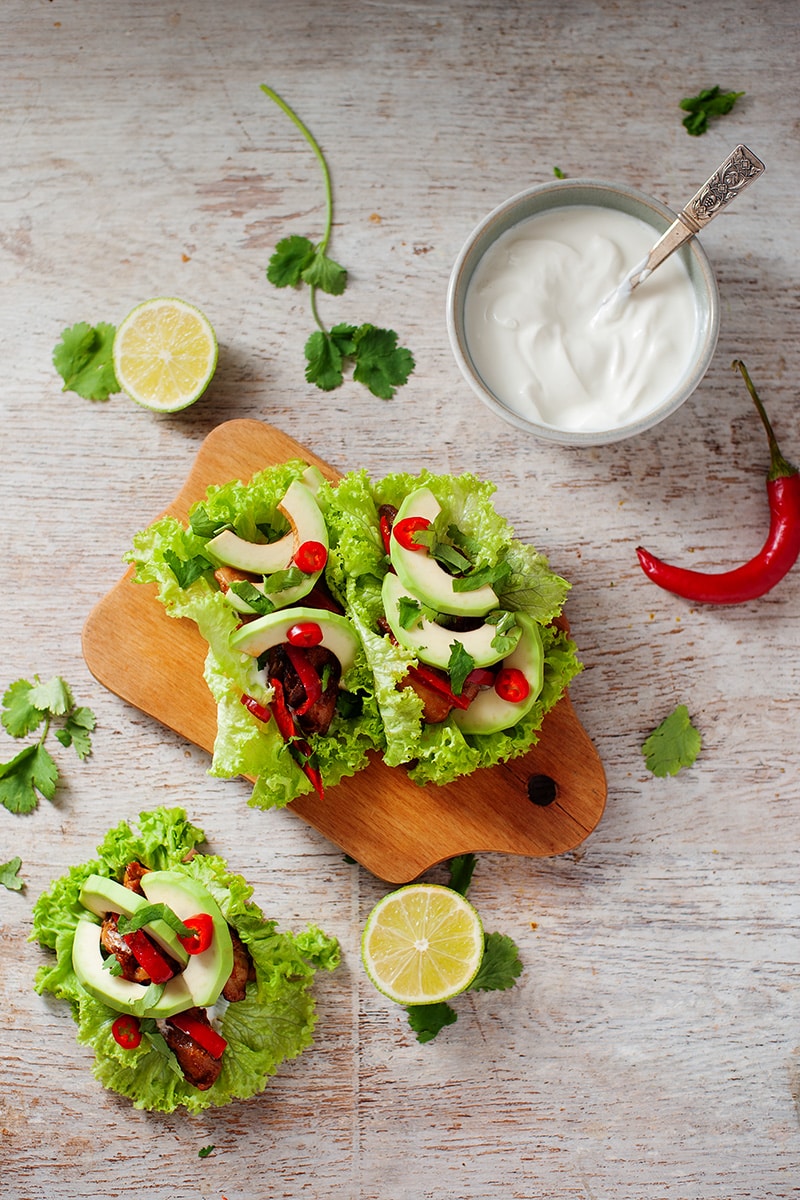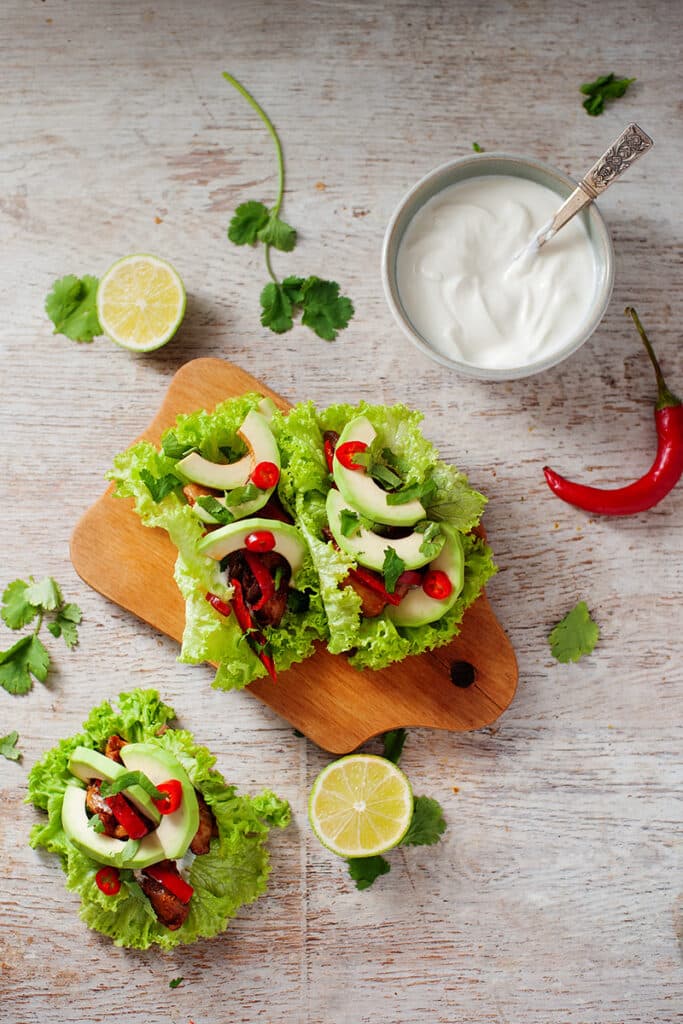 I hope you give these keto chicken fajitas a try and enjoy making them. They're great to lay out at the table for kids and family to assemble their own wraps.
Let me know your thoughts and any tips you have for making keto fajitas in the comments below, or take a photo and tag your fajitas with #ieatketo and follow me on instagram @i.eat.keto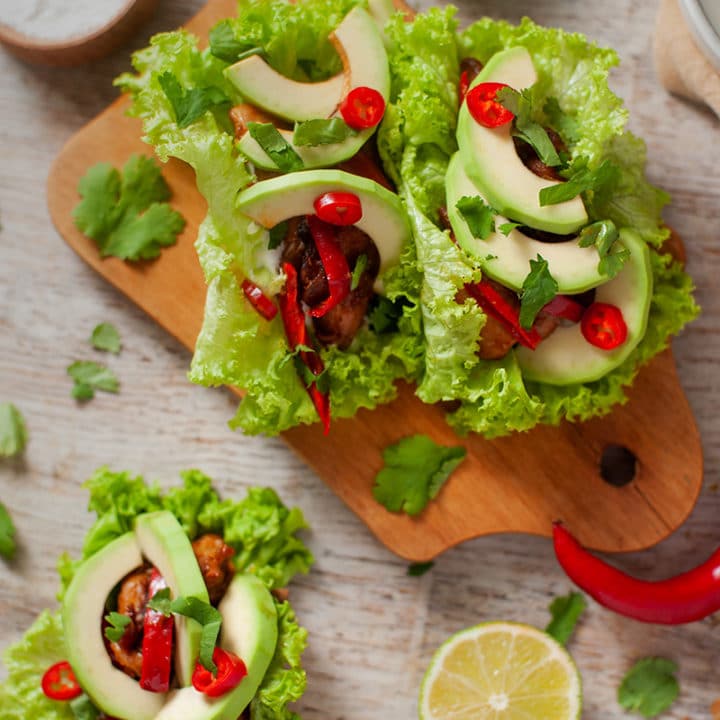 Keto Chicken Fajitas
Super quick and easy keto chicken fajitas in a lettuce wrap.
Ingredients
2 tbsp Olive oil
4 chicken thigh fillets, sliced into 1 cm strips
1 red pepper, sliced into strips
2 garlic cloves, minced
2 tbsp Fajita spice mix (or if not, 1 tbsp cumin, 1 tsp smoked paprika and 1 tsp cayenne pepper/chili powder)
Salt + Pepper
1 lime + zest
1 large leafed lettuce (check leaves are in good condition)
Sour cream
1 Avocado - sliced
1 chilli - thinly sliced (optional)
Small bunch coriander/cilantro
Instructions
In a bowl mix oil, chicken strips, spices, salt and pepper
Add chicken to a hot frying pan, stirring regularly for 4-5 minutes
Add in the peppers and garlic and cook until chicken is cooked through and peppers have softened slightly- approx 5 more minutes.
Take off the heat and mix in lime juice and zest into mix.
To assemble wraps, take two large lettuce leaves and place one in the other (to avoid leaking!). Spread 1 tsp of sour cream on the leaves, then add chicken mix, avocado and top with a sprinkle of coriander and sliced chilli is using.
Enjoy!


Nutrition Information
Yield

2
Amount Per Serving
Calories

586
Total Fat

40g
Saturated Fat

10g
Trans Fat

0g
Unsaturated Fat

15g
Carbohydrates

17g
Net Carbohydrates

10g
Fiber

7g
Sugar

5g
Protein

36g