A delicious and colourful salad that you'll actually want to eat: this keto grilled chicken salad is the perfect idea for a quick lunch!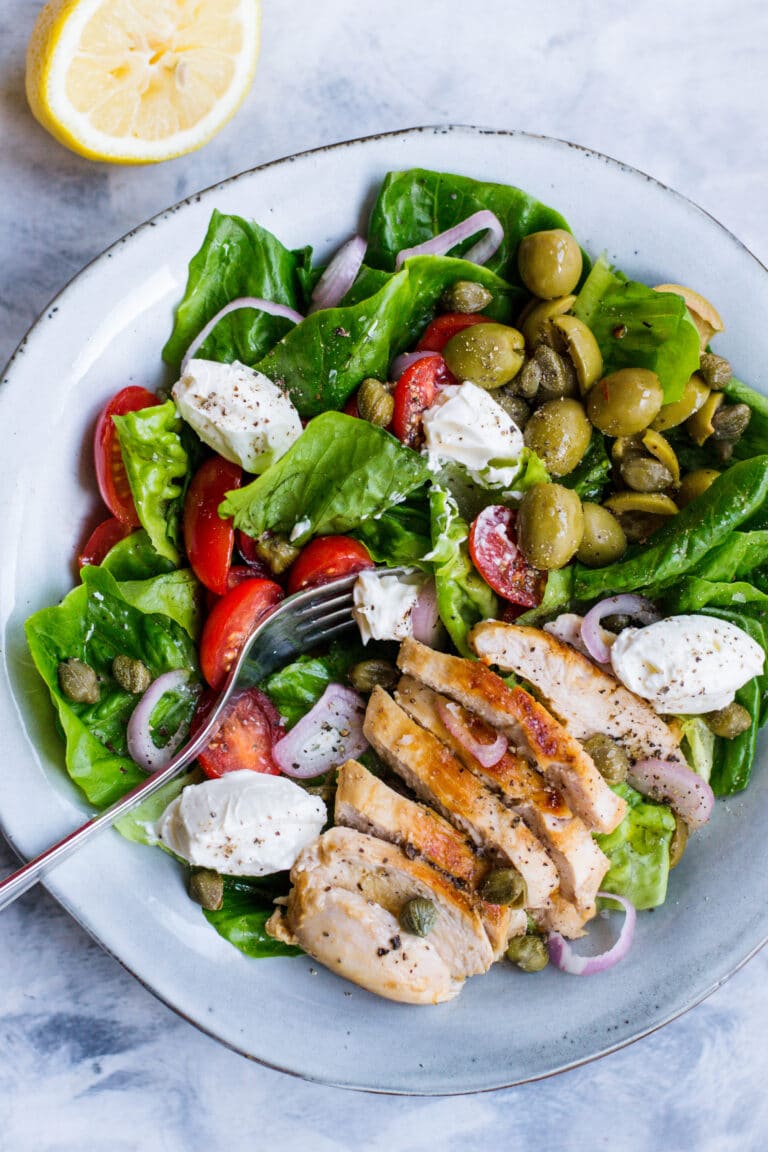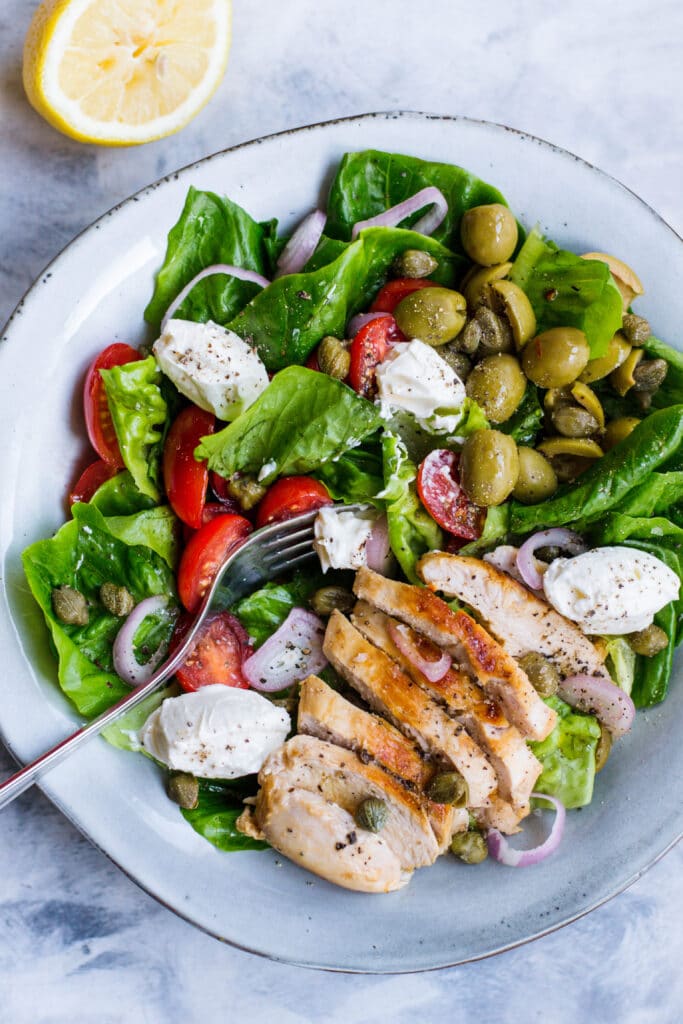 You can easily prepare the ingredients for this keto salad in advance and ensure you'll have a tasty meal ready in the fridge even on the busiest days. Then all you'll have to do will be putting together the salad and make the dressing.
This grilled chicken salad is a great option for anyone who often needs to cook lunch or dinner in just a few minutes or for who works from home and doesn't have much time to spend in the kitchen. Easy to make, on a budget and rich in nutrients: everyone, from the busy mum to the young college student, would love this salad!
Learning how to make some recipes that allow you to prepare the ingredients for your lunch or dinner in advance is actually a life-changing skill.
Don't worry, you don't have to learn all about meal prep! You have probably read a lot about this way to organise in advance most of the meals for the week: if are not really a huge fan of meal prep, you would probably find helpful some quick and easy ideas like this recipe (other salads, fat bombs or dips would work well, too). This keto gluten-free salad could be your starting point to create your own little library of handy recipes and say goodbye to expensive last-minute takeaway options and sad meals.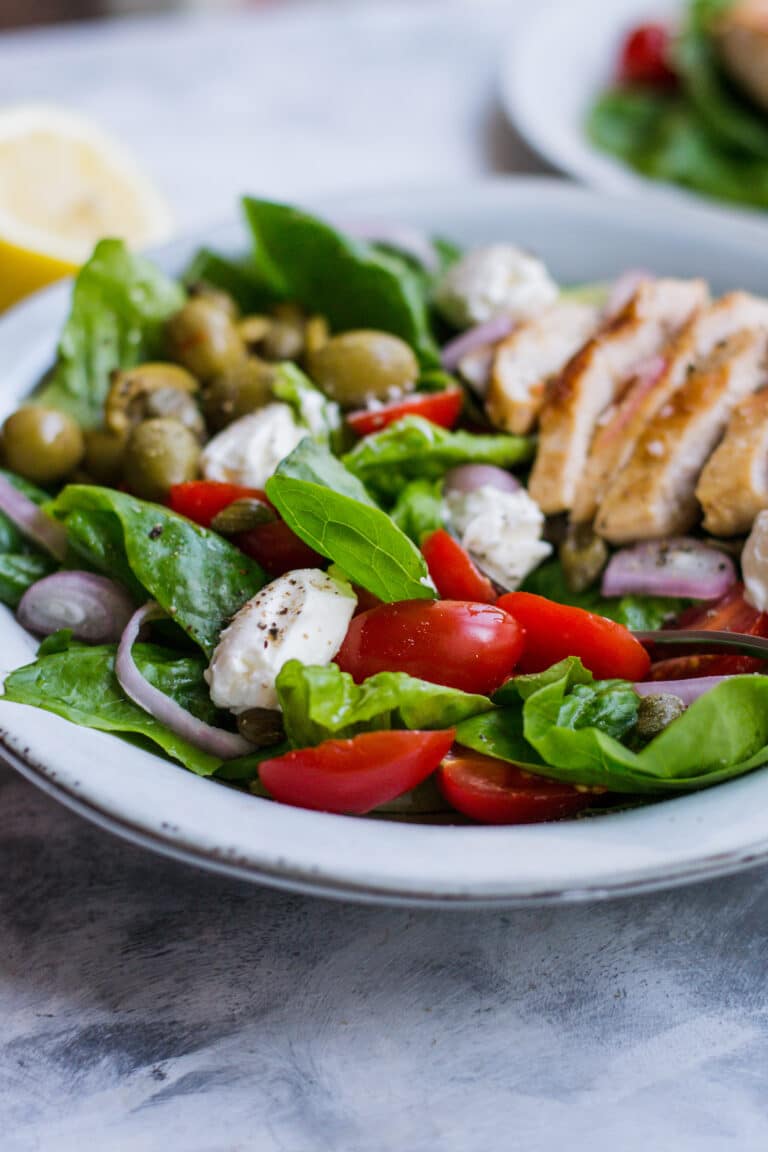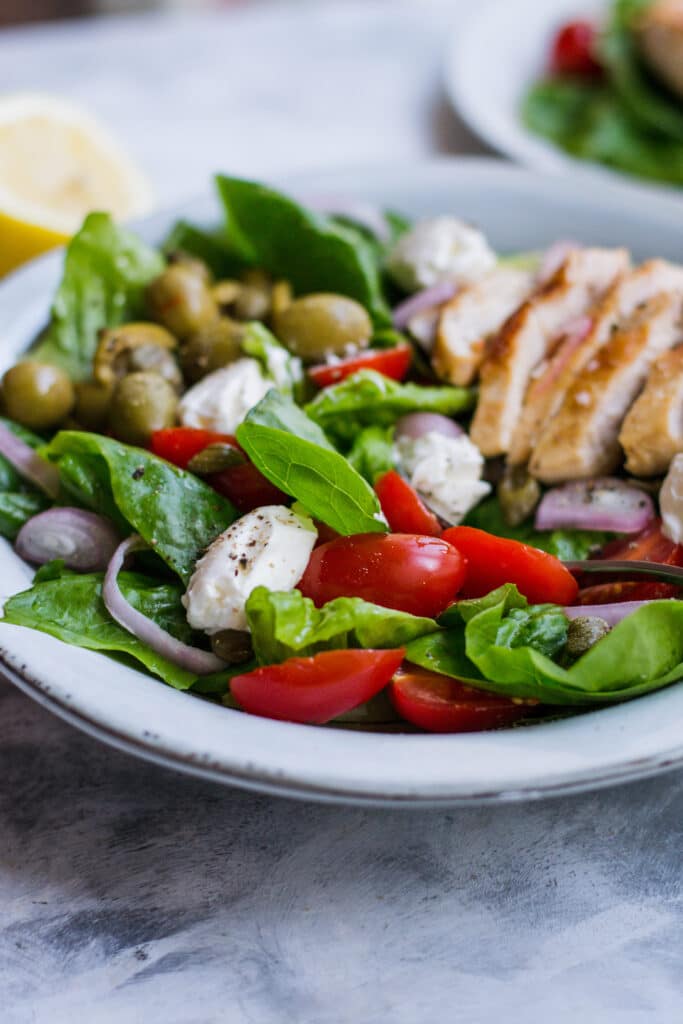 The ingredients of this keto grilled chicken salad are:
grilled chicken
tomatoes
olives
capers
marinated shallots
cream cheese
olive oil, black pepper and salt
You could also add some toasted seeds or nuts, balsamic vinegar or pickled onions! The little dollops of cream cheese would become part of the dressing once you mix all the ingredients together: for a different twist, try to use some ricotta or Greek yogurt.
How to prepare this keto grilled chicken salad
You can organise all the clean vegetables in different closed containers in the fridge. It's better to cut the tomatoes just before serving. Wash your lettuce in advance only if it's really fresh and crispy (also, dry it well) otherwise, it tends to become mushy quite quickly
Store the grilled chicken in the fridge but slice it up when it's time to add it into the salad
You can prepare the shallots with the lemon juice in advance and keep them in the fridge
The dressing is super quick: a drizzle of olive oil, a pinch of black pepper and salt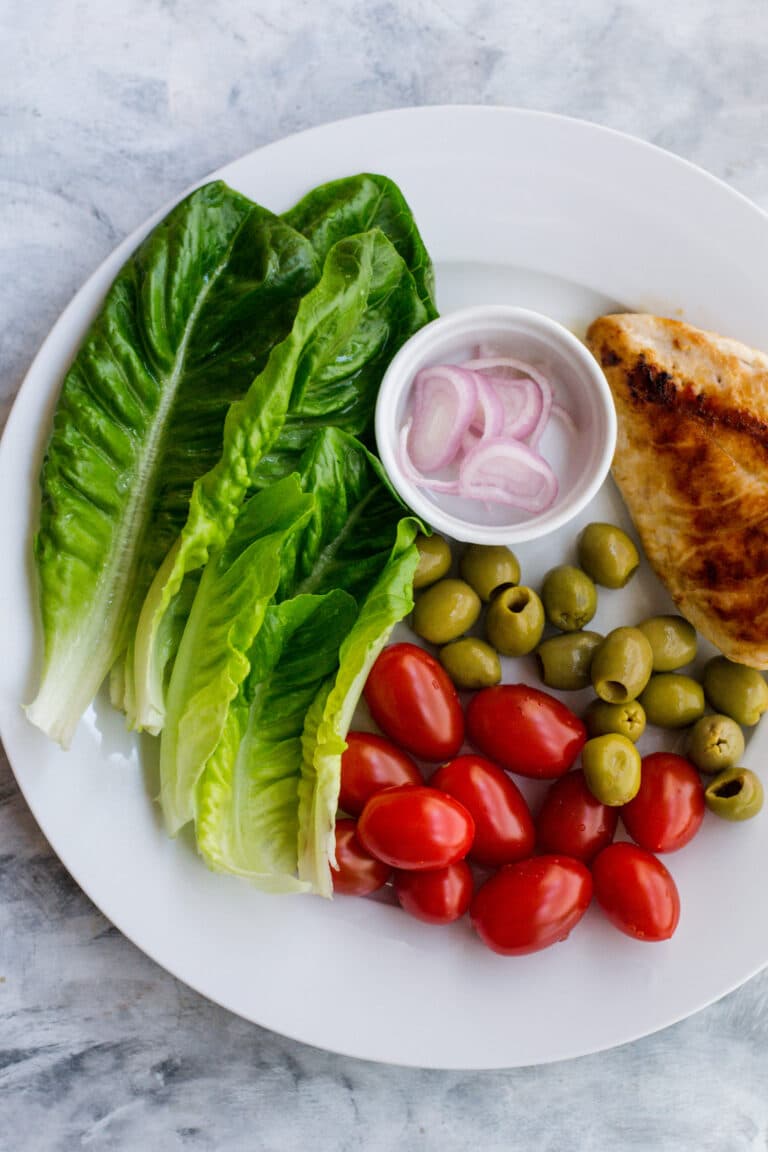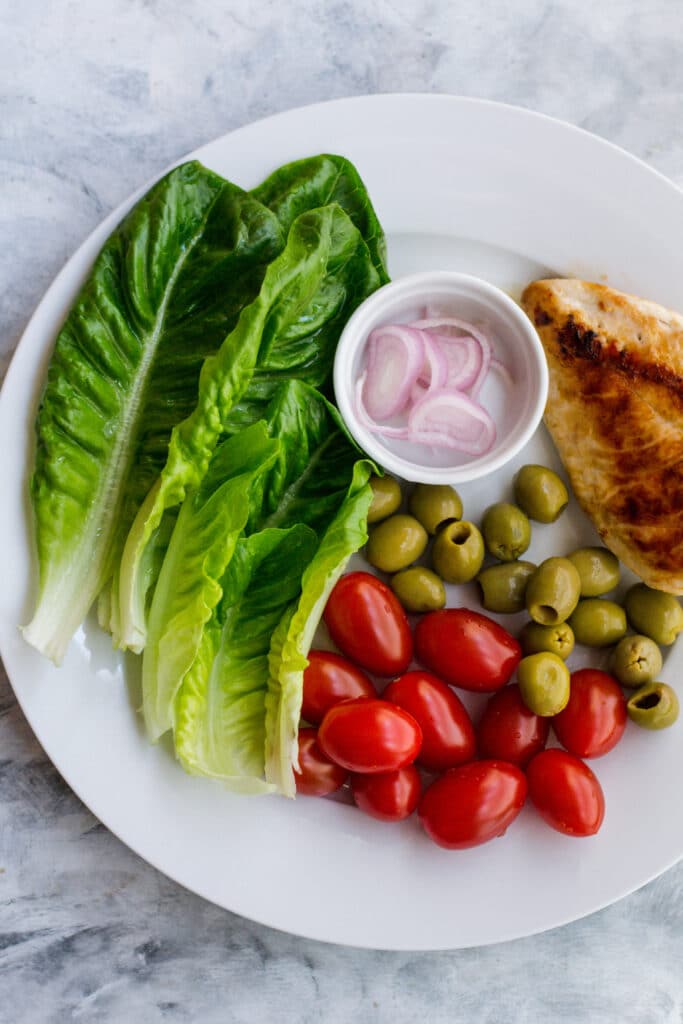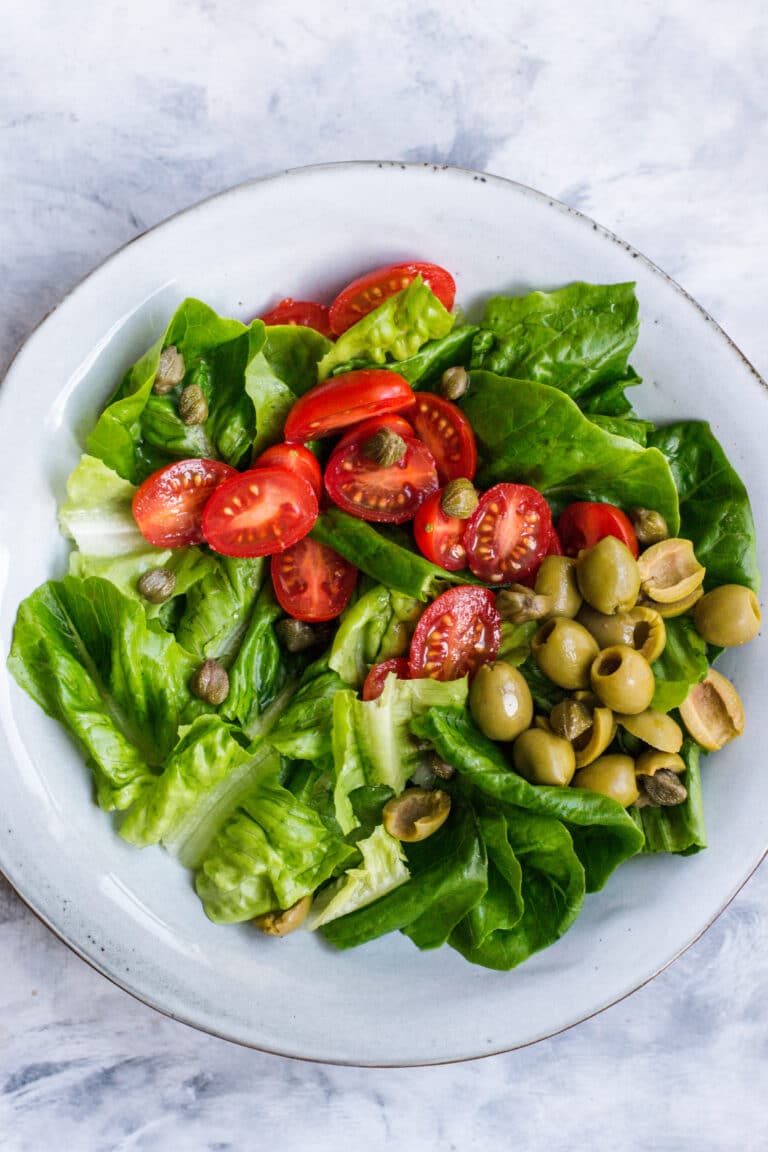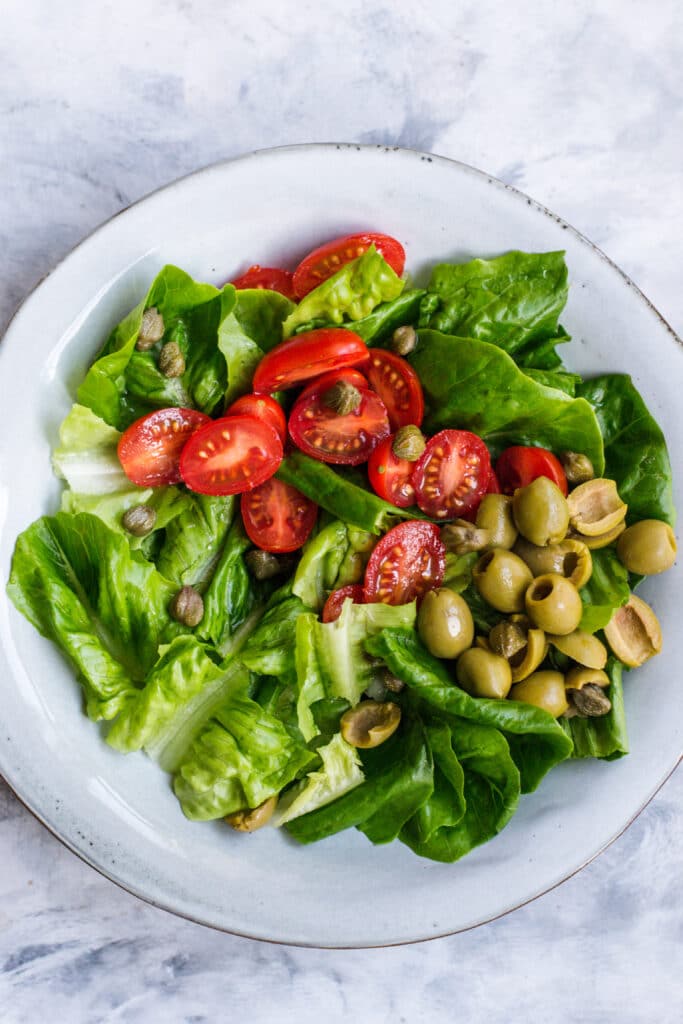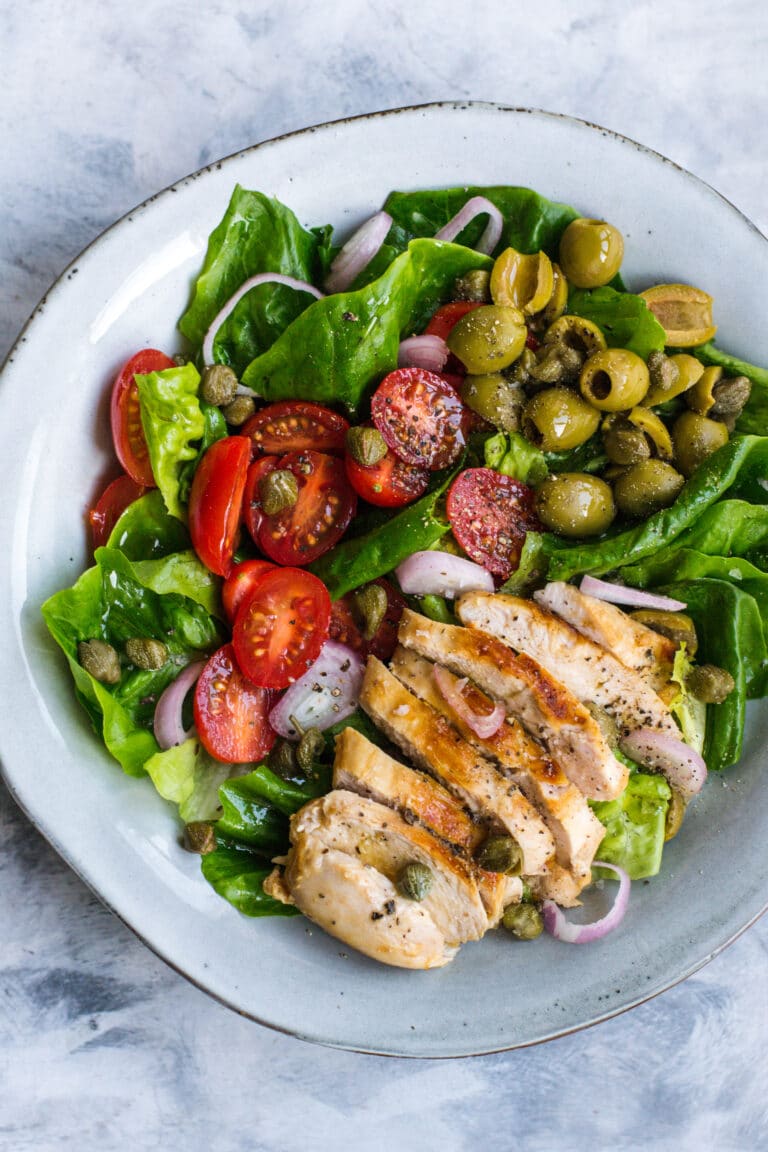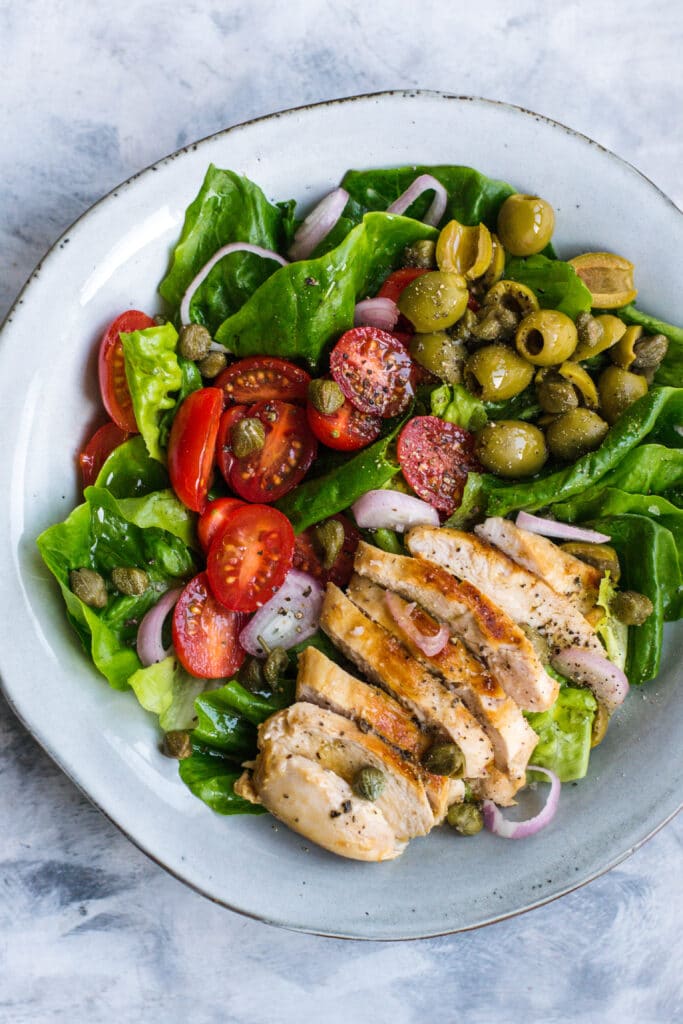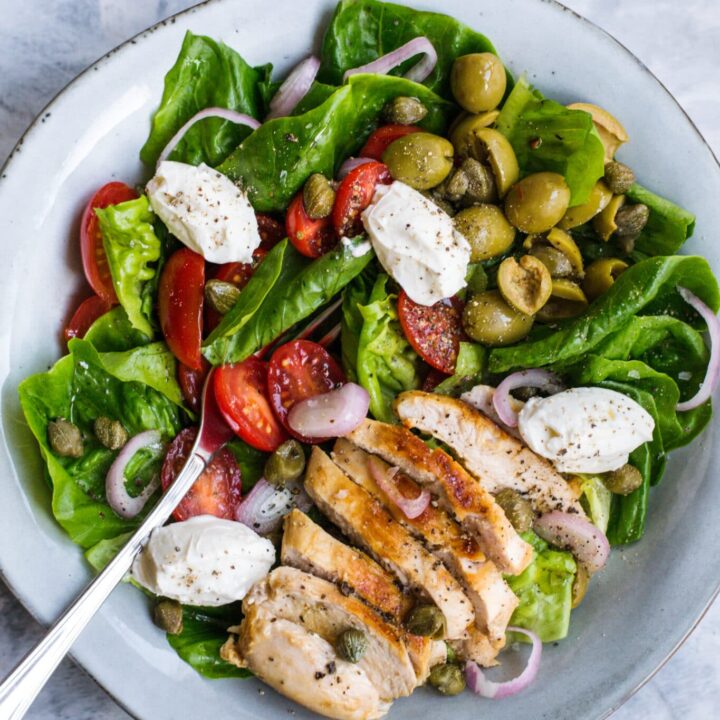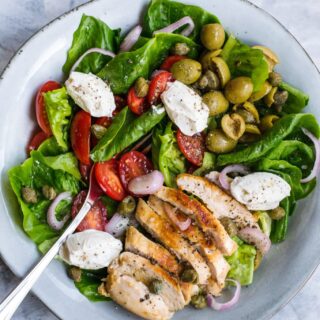 Keto grilled chicken salad
Ingredients
2

chicken breast fillets

grilled until completely cooked through

100

g

lettuce

100

g

tomatoes

cherry or datterini

60

g

green olives

10

g

capers

40

g

cream cheese

1

small shallot

approx. 20 g

juice of 1/2 lemon

2

tbsp

olive oil

a pinch of black pepper

a pinch of salt
Instructions
If you haven't done it in advance the day before, the first thing to prepare is the marinated shallot. Simply mix a finely sliced shallot with the juice of 1/2 lemon, place everything in a small bowl and let it sit for at least 10 minutes.

Prepare all the ingredients, then assemble the salad. In a bowl or on a plate, create a base with the lettuce (roughly chopped), then add all the other main ingredients (sliced chicken, tomatoes and olives).

Top with the capers, marinated shallots and dollops of cream cheese. Add the olive oil, black pepper and salt to taste.
Nutrition
Calories:
465
kcal
Carbohydrates:
9
g
Protein:
38
g
Fat:
32
g
Saturated Fat:
8
g
Polyunsaturated Fat:
14
g
Fiber:
2
g
Sugar:
4
g