These keto fritters are a super quick, tasty and satisfying meal, a perfect light lunch, or fantastic for breakfast or brunch.
Zucchini fritters (or zucchini pancakes) are a delicious option for breakfast. They are ready in less than 20 minutes making life easy, and these fritters are made with only six ingredients. Paired with a poached egg these make for a classy brunch dish (perhaps even with a little Hollandaise sauce!).
For an alternative keto fritter style dish, these keto fish cakes would make a great brunch or light lunch too, definitely check those out if you've got any canned tuna sitting in the cupboard.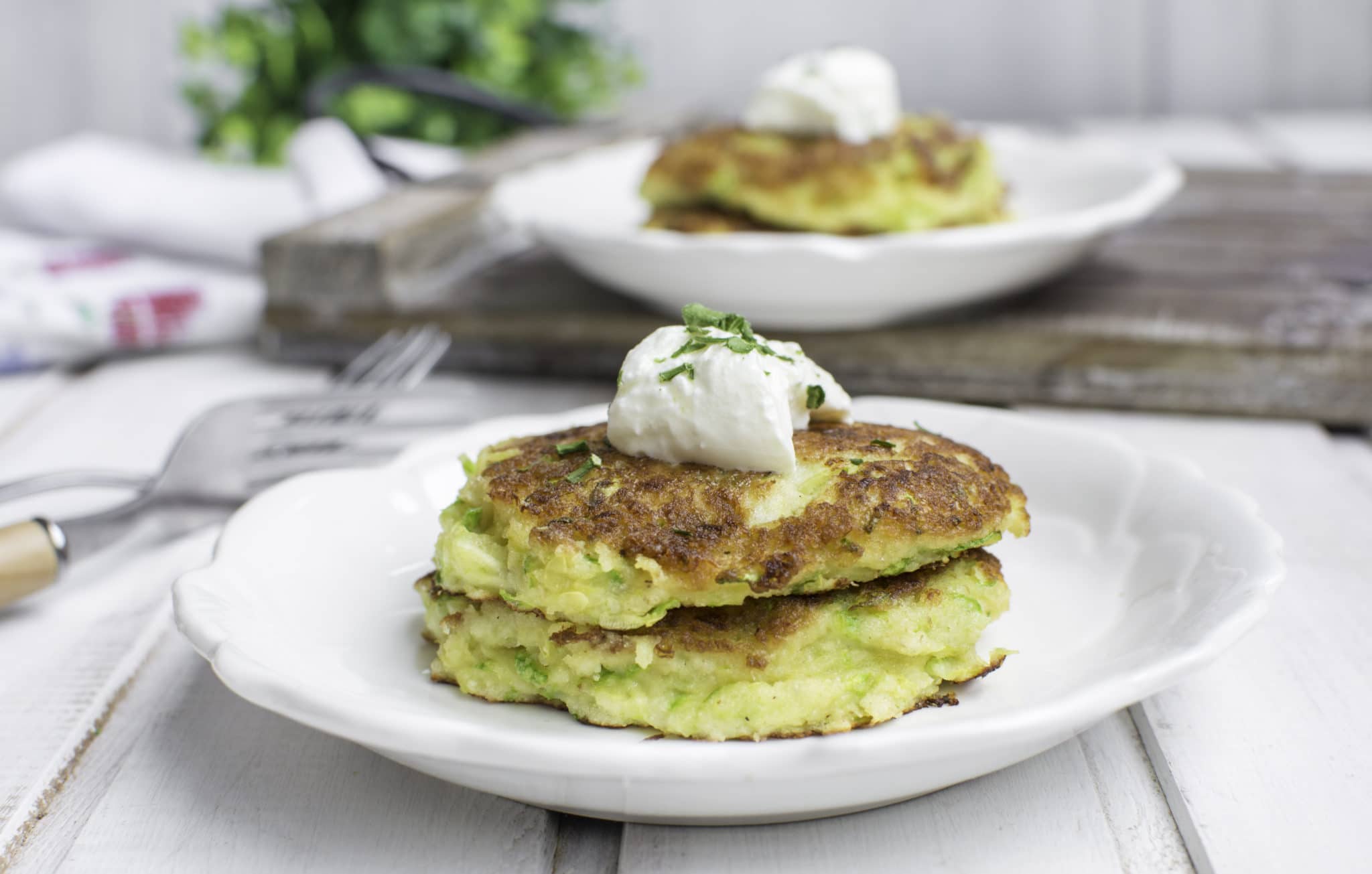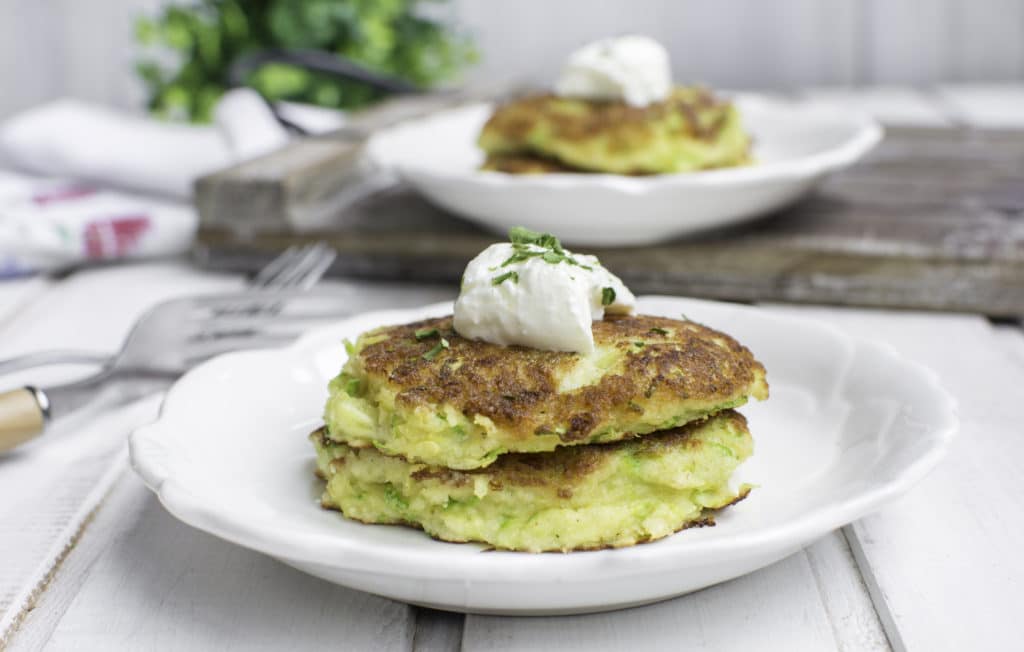 Did we mention they are healthy? Yes, they are as they are loaded with zucchinis. The zucchinis are filled with vitamin C and contain significant levels of potassium. In addition, they have vitamin A and magnesium. With a high fiber content the zucchinis are good for your digestion as well. What a brilliant way to start your day.
These keto fritters are a great crowd-friendly recipe. Just double or triple the recipe and you will have a load of fritters for your loved ones, they can be cooled and reheated later easily with a little oil in a pan.
They are suitable for freezing as well. You can make these ahead and just reheat whenever you need it.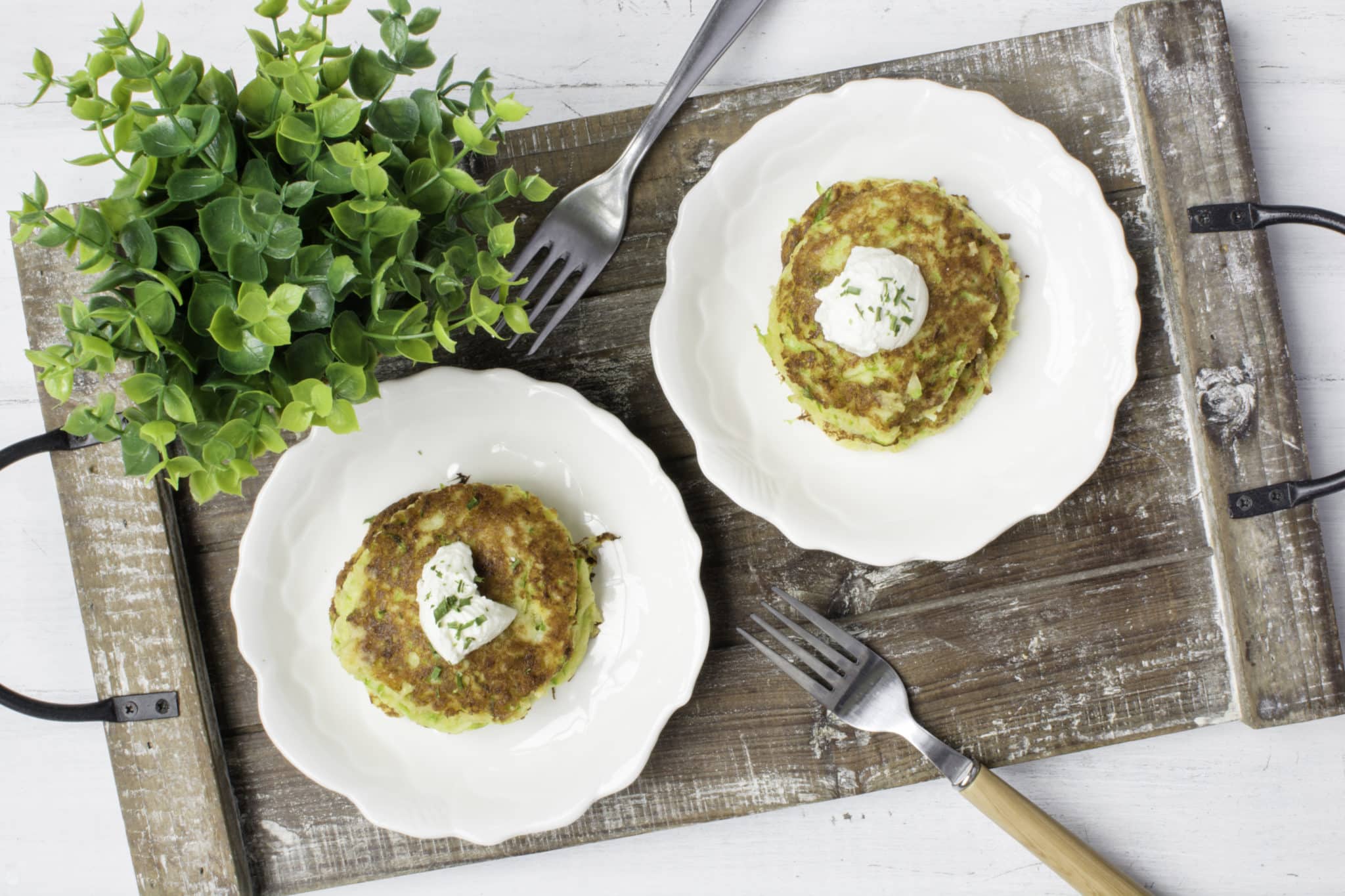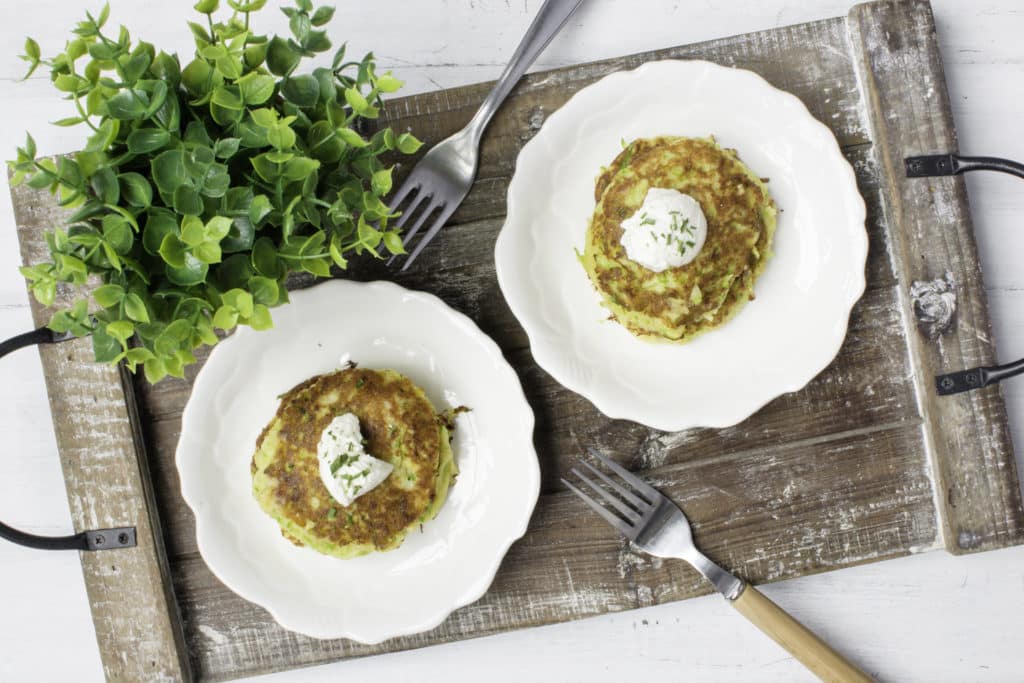 Some key things to remember here when making these. It's really important to squeeze as much moisture out of your zucchini before mixing into the rest of the ingredients, to avoid the mixture becoming too wet and breaking down when you come to cook them.
You also want to make sure the pan is hot before adding them, to ensure the crust seals and the fritters fry rather than boil/steam themselves.
Once you add the batter to the pan, quickly flatten using the back of a spatula, then leave them alone for the 2-3 minutes per side. If you start poking and prodding the fritters too soon you're likely to start breaking them up, ending up with a mess.
To serve, a dollop of sour cream and chives is a nice start. These keto fritters also pair great with just about anything a hash brown would go well with. I'm thinking fried or poached eggs, bacon, perhaps some smoked salmon with a drizzle of lemon juice and creme fraiche. There are plenty of ways to customise, give it a go and let us know what variation ideas you have in the comments below. Hope you enjoy!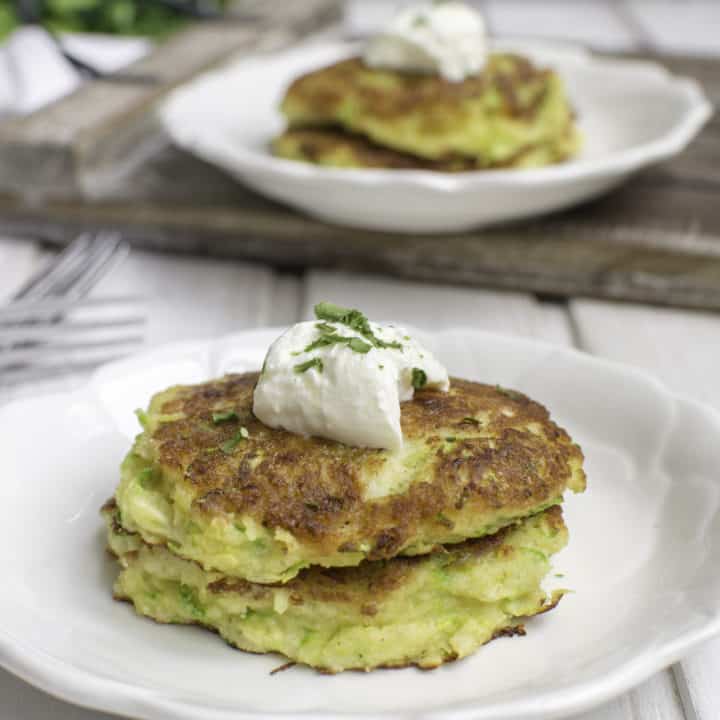 Zucchini Fritters
Ingredients
350 grated zucchinis
45g blanched almond flour
30g grated parmesan
Salt and pepper, to taste
1 large egg
1/2 tsp baking powder
1/2 tsp onion powder
1/4 tsp garlic powder
Sour cream and chopped chives, to serve with
Instructions
Gather your ingredients.
Grate the zucchinis and place in a colander. Sprinkle with salt and set aside for 10 minutes.
Squeeze zucchinis well to remove as much moisture as possible, then place them in a bowl.
Add in the rest of the ingredients.
Stir to combine.
Heat a large skillet over medium-high heat. Spray with cooking oil and drop 1/4 of the batter per fritter.
Press the batter with the back of a spoon or spatula to form flat fritters, lightly pressing down to ensure good contact with the pan.
Cook the fritters for 2-3 minutes per side. Avoid poking them around too much during this time to let a crust form.
Serve warm with a dollop of sour cream and chopped chives.
Nutrition Information
Yield

4
Serving Size

1 fritter
Amount Per Serving
Calories

99
Total Fat

6.5g
Saturated Fat

1.8g
Cholesterol

52mg
Sodium

97mg
Carbohydrates

4.8g
Net Carbohydrates

3.3g
Fiber

1.5g
Sugar

1.3g
Protein

6.4g