On a cold night sometimes all I want is a warm, spicy and comforting meal, and this keto chili recipe fits the bill perfectly!
Full of flavor, a good level of heat and perfect to serve to both keto and non-keto eaters (just give the non-keto guys some rice or tortillas on the side if they really need it!)
Made with ground beef, this recipe uses a little cocoa to give extra depth and flavor to this low carb dish. Pair this with some avocado and sour cream to create a brilliant, keto friendly, fat fuelled low carb dinner recipe.
Making a bigger keto mexican / texmex feast? Try pairing this with our mexican chicken tray bake and a refreshing cucumber yoghurt salad if the spice is a bit hot for you.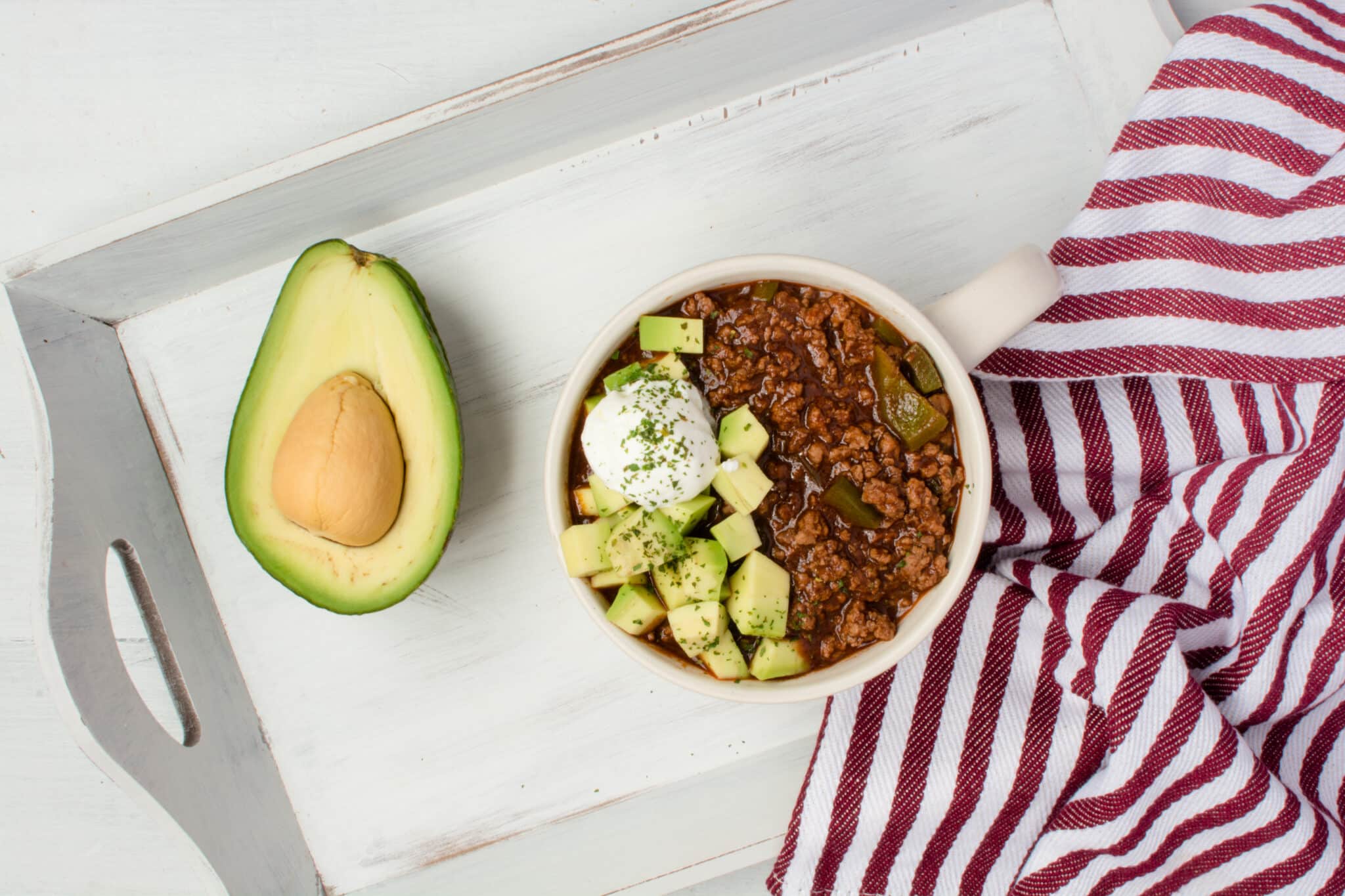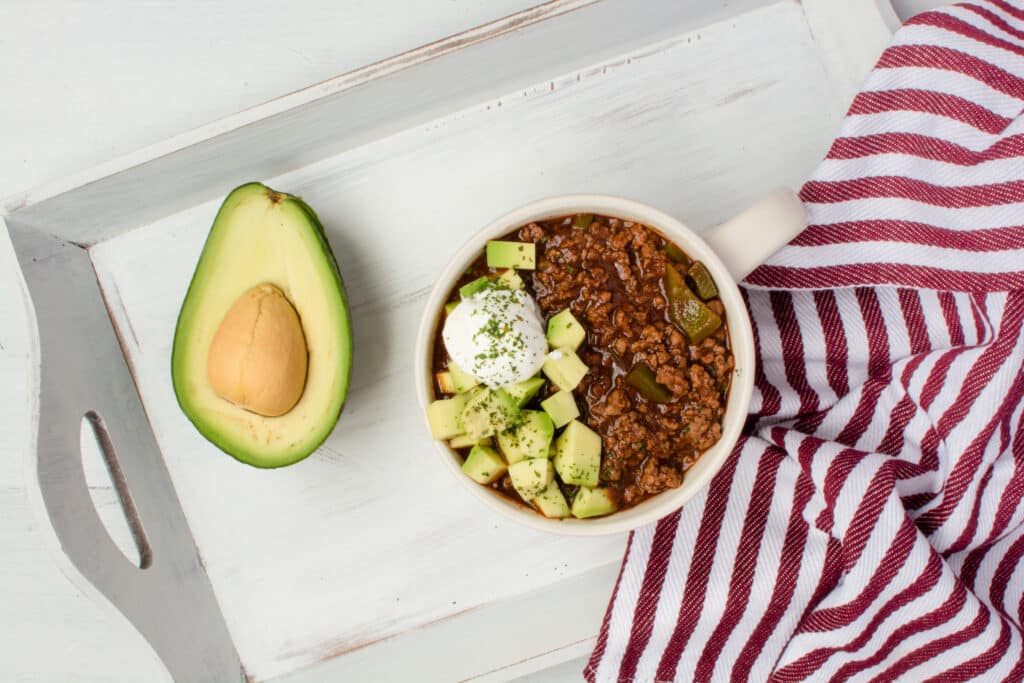 Now we know that a classic chili often has beans, which add a creamy, starchy element to the dish. But since these aren't Keto friendly and are loaded with carbs, we'll have to ditch them here for this low carb chili recipe.
But, is chili without beans any good? Hell yeah!
Flavor really is king when it comes to chilli, so while losing the beans may alter the texture a little, we can still get all the flavor of the spices, meat and aromatics that make a great chili, all while keeping it low carb.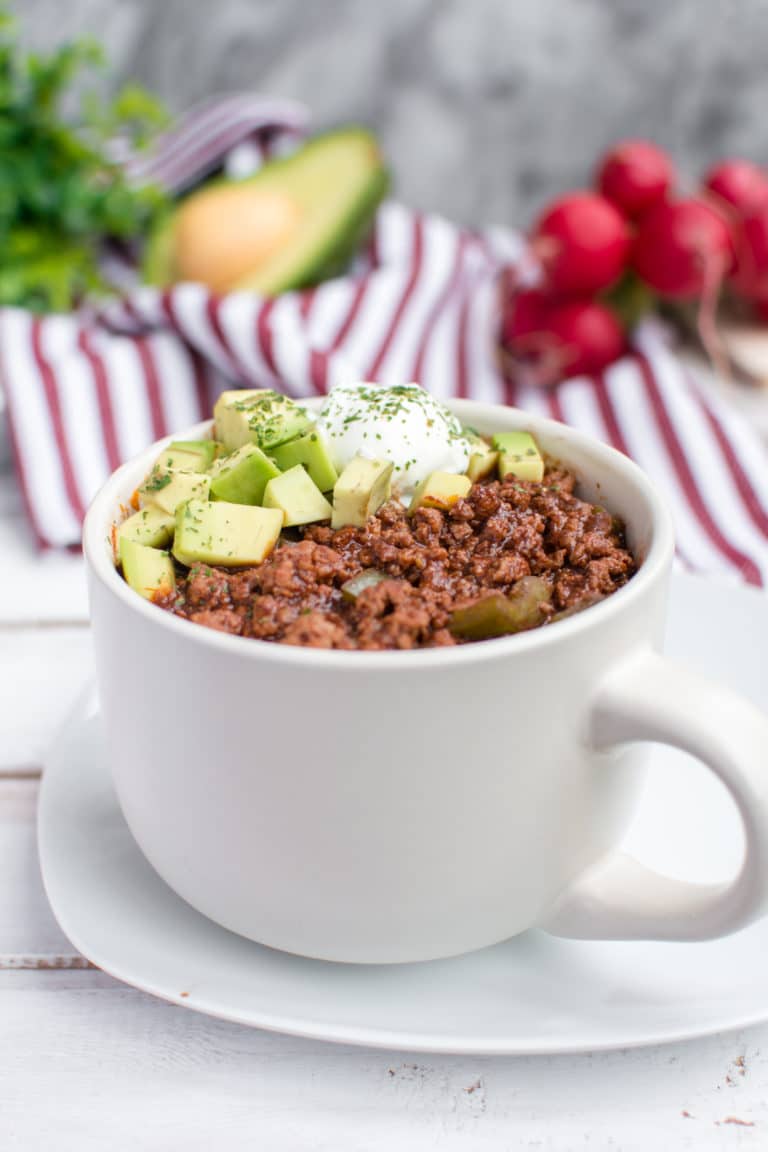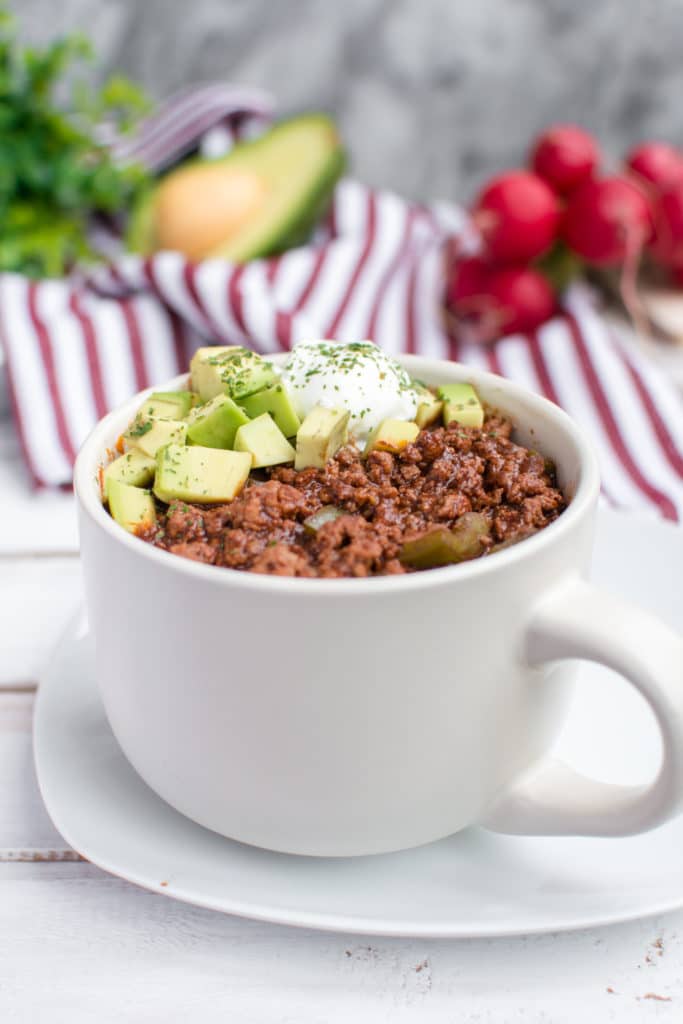 This recipe specifically uses cocoa powder. Now you don't have to use this, but it does add an extra depth this dish, and cacao can have a host of great health benefits (note: we're talking about the raw ingredient here, not sugary chocolate candy!). The cocoa powder adds a layer of flavor to the meat and tomatoes, an extra richness to the dish which is subtle, without creating a discernible chocolate flavor.
The low carb chili will not have a strong cocoa flavor but will have a deeper color and multiple dimensions in the terms of flavor. But be careful! Be sure to use a 100% cocoa product, with no added sugars, emulsifiers, creamers etc, we're not trying to make hot chocolate here!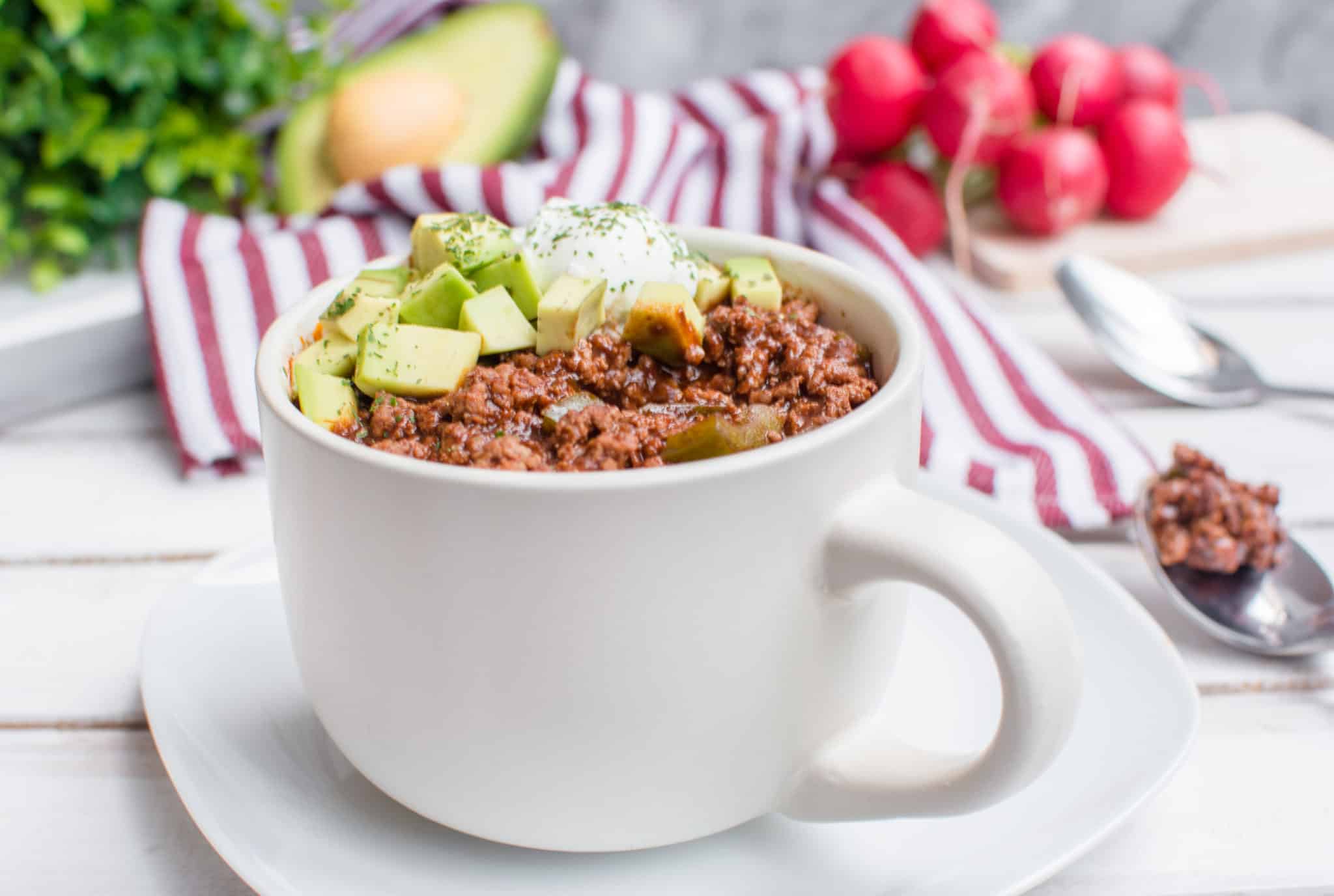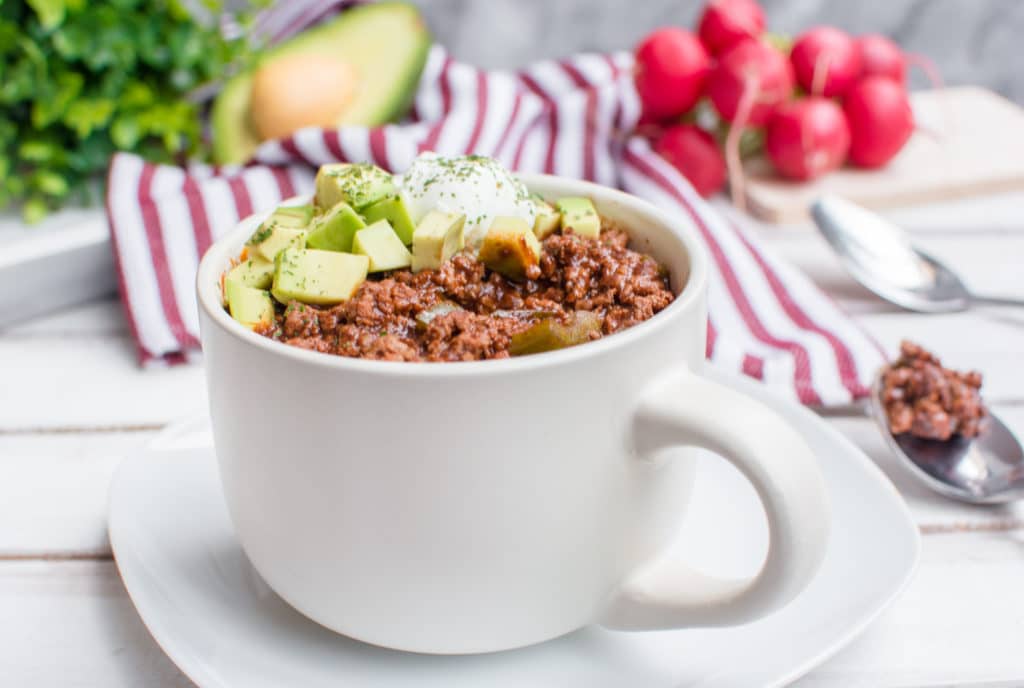 When it comes to serving, you can serve the chili alone. Still, if you are looking to make it, even more keto-friendly, serve the chili with chopped avocado and sour cream. These are recommended especially for those with a sensitive palate, as the avocados and sour cream will definitely soothe the spicy chili if you're not so used to it.
Avocado is an incredible ingredient, a positively keto super food! Packed with fiber (something a lot of us don't get enough of!), vitamins, minerals and healthy fats.
If you're looking for a great way to get into the keto diet, just start swapping out the pile of starch (eg: rice or a tortilla) you'd usually eat with a dish like this, for half an avocado, trust me this is a great first step to going low-carb/keto
See, one cup of cooked rice will run you up 206 calories, while giving you 4 grams of protein, 0.6 grams of fiber, a tiny percentage of your daily vitamin needs (0-10% max), while all containing a whopping 45 grams of net carbs!!!
Compare that to half an avocado – for 160 calories, you're getting 15 grams of mostly healthy monounsaturated fats, 7 grams of fiber and plenty of vitamins (up to 20% of your daily vitamins B5, B6, B9, K and plenty more), and all with just 2 net carbs – definitely a great trade!
Keto Chili Recipe Tips
Brown the meat well – it's really important to brown the meat well, and let it develop some deeper flavor. What we absolutely want to avoid is the beef turning into a watery mess in the pot, and boiling in it's own liquid rather than browning (this happens a lot!)
The first step to good browning is to buy quality beef in the first place – it'll make a huge difference.
To brown there are two approaches. The first is to brown the meat in batches, adding only enough to the pan to create a thin layer, to avoid overfilling and causing the steaming issue.
The second approach is a great trick I've learned to get tender, well browned meat, without all the water leaching out which can be such a nuisance.
30 minutes before you're going to cook, in a bowl mix your ground beef, with a half teaspoon of baking soda, and a tablespoon of water (don't worry, this will actually be less watery as a result!)
Mix these all well together until the baking soda is dissolved and coating all the beef.
What this does is change the chemistry on the surface of the beef – there'll be less water leaching and better browning – perfect!
Play with the spices – don't be afraid to play with the quantities and types of spices. If you can get hold of chipotle chiles, or other smoked chilis, these would go great in this dish – just avoid using chili sauces or condiments with added sugar and high levels of carbs. If you like things spicy, then go for it! Add some fresh chilis for an extra kick, and to enjoy the health benefits of the main ingredient in chili – capsaicin
Build more layers of flavor – I like to add more flavor to chili with additions like chopped smoked bacon to go in with the beef, or a few drops of Worcestershire Sauce for more depth of flavor. I've even tried frying a few anchovies in with the beef at the beginning, for a stronger umami flavor (not fishy at all, I promise! the anchovies just dissolve into the sauce.)
I hope you give this recipe a try, let us know what you paired it with and any additions or substitutions you made in the comments below! Thanks!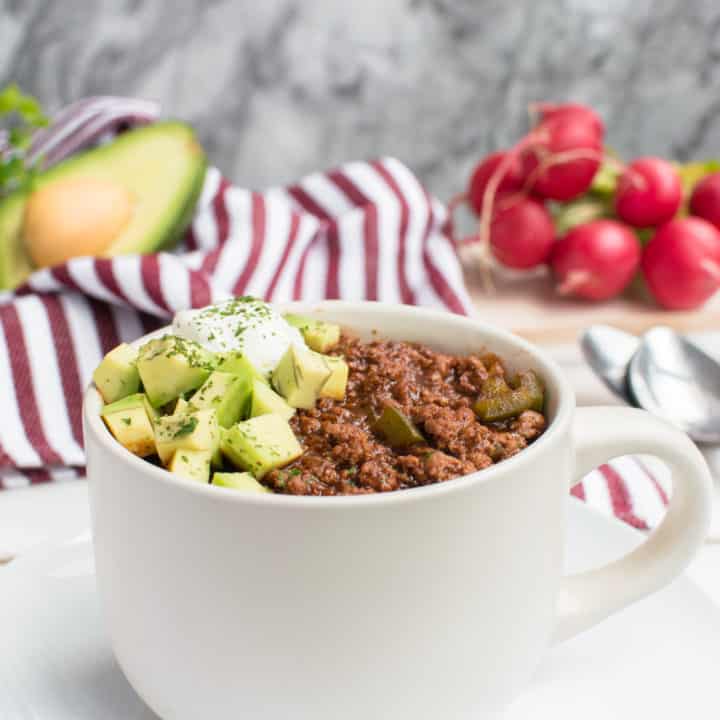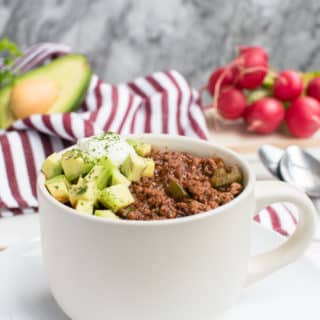 Cocoa Beef Chili
A quick and easy low carb / keto chili recipe flavored with cacao
Ingredients
400

g

ground beef

1

tsp

onion powder

1

tsp

garlic powder

½

green bell pepper

diced

200

g

strained tomatoes

sugar-free (or chopped tomatoes)

400

ml

beef broth

1

tbsp

chili powder

½

tbsp

cocoa powder

1

tbsp

cumin powder

1

tsp

smoked paprika
Instructions
Gather all ingredients.

Cook ground beef in a saucepot over medium-high heat until browned well[see the tip about browning meat ]

Season the beef, then stir in onion powder, garlic powder, and green bell pepper.

Cook for 5 minutes, stirring constantly.

Stir in tomato sauce, beef broth, chili powder, cocoa, and cumin.

Simmer the chili for 30 minutes on a medium heat, stirring occasionally.

Serve warm, topped with chopped avocado, sour cream, cheese or desired topping.
Notes
Instead of strained tomatoes you can use can chopped tomatoes. Make sure they are sugar-free.
Nutrition
Calories:
220
kcal
Carbohydrates:
4.3
g
Protein:
32.9
g
Fat:
6.9
g
Saturated Fat:
2.5
g
Cholesterol:
89
mg
Sodium:
393
mg
Fiber:
1
g
Sugar:
3
g