A fresh and delicious keto halloumi salad with all the flavour from grilled halloumi, a hint of sweetness from the raspberries and the crunchiness of toasted pumpkin seeds.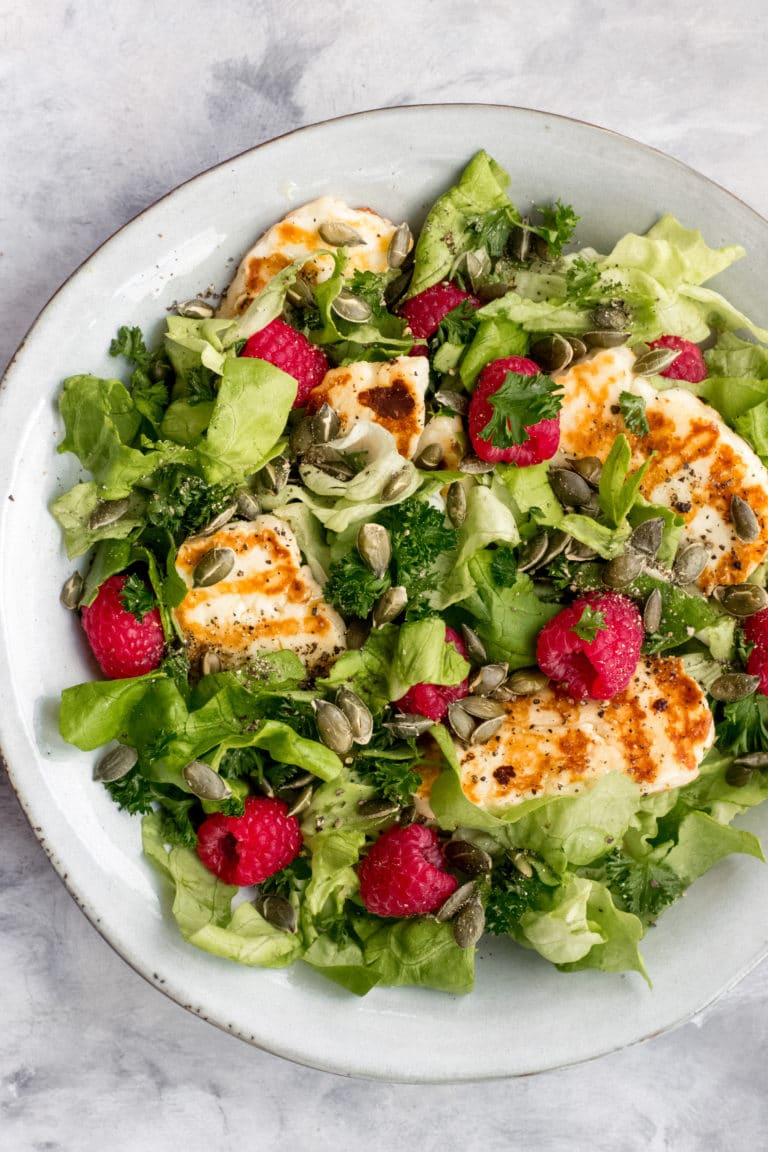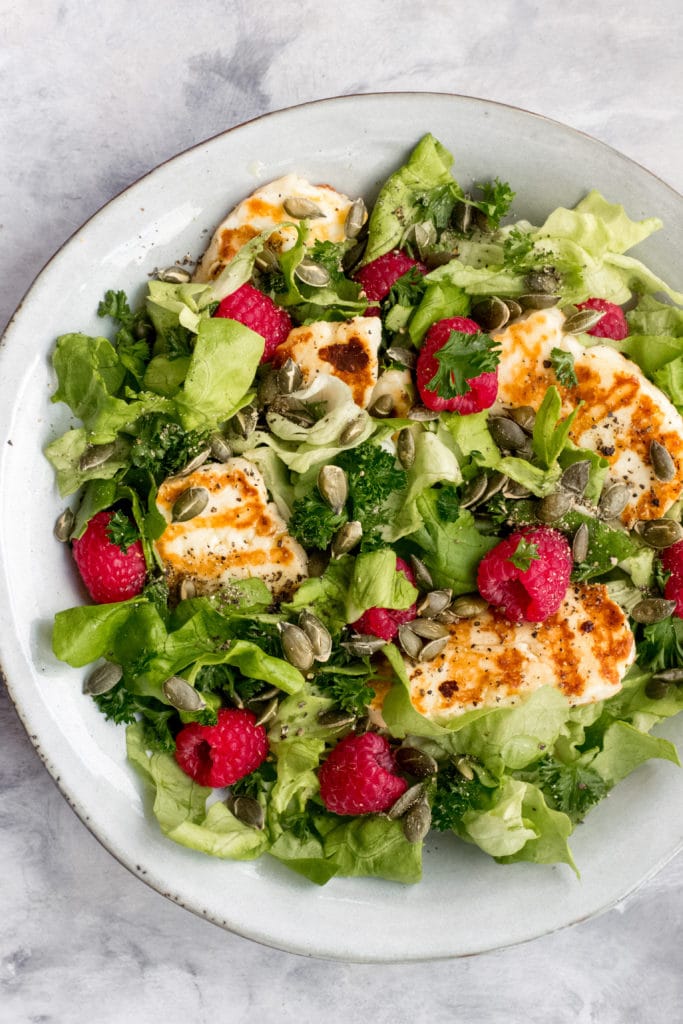 This recipe is quite versatile; it's easy to adjust the combination of flavours according to your preferences: for example, you can add more or less balsamic vinegar, raspberries or toasted seeds. This keto halloumi salad is also naturally gluten-free and vegetarian; using a good quality substitute for the cheese, it would also be really easy to turn it into a vegan meal.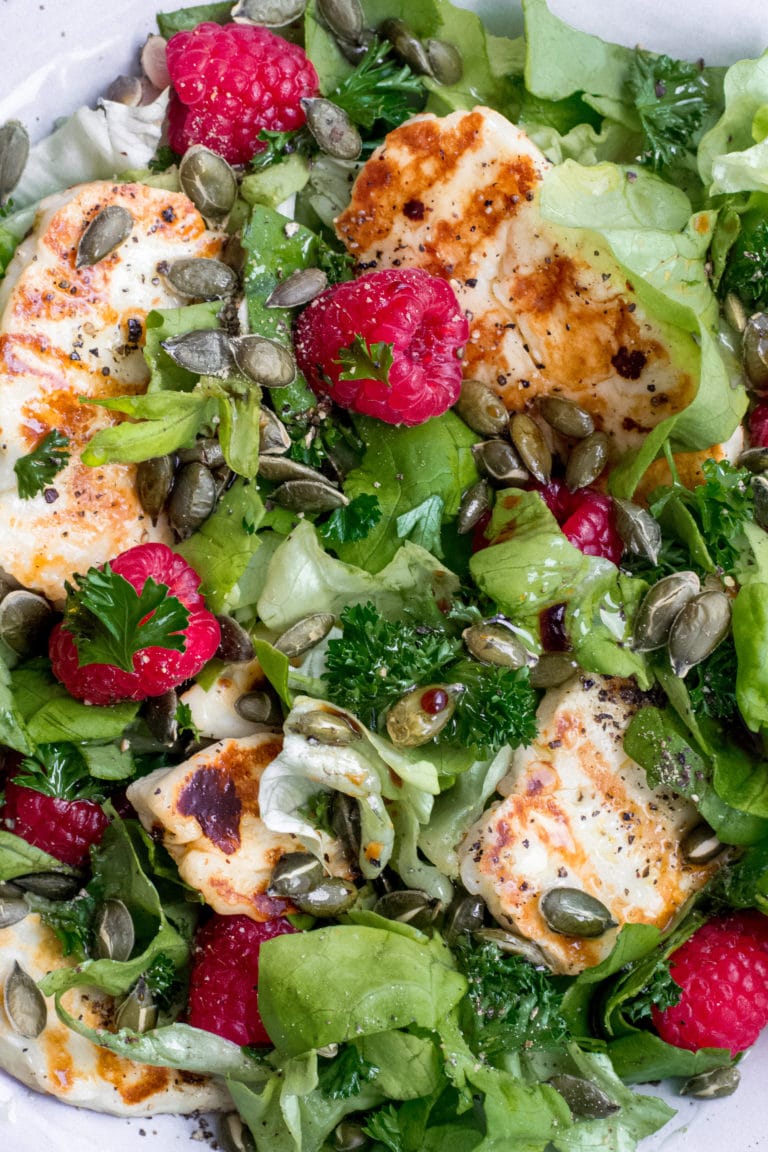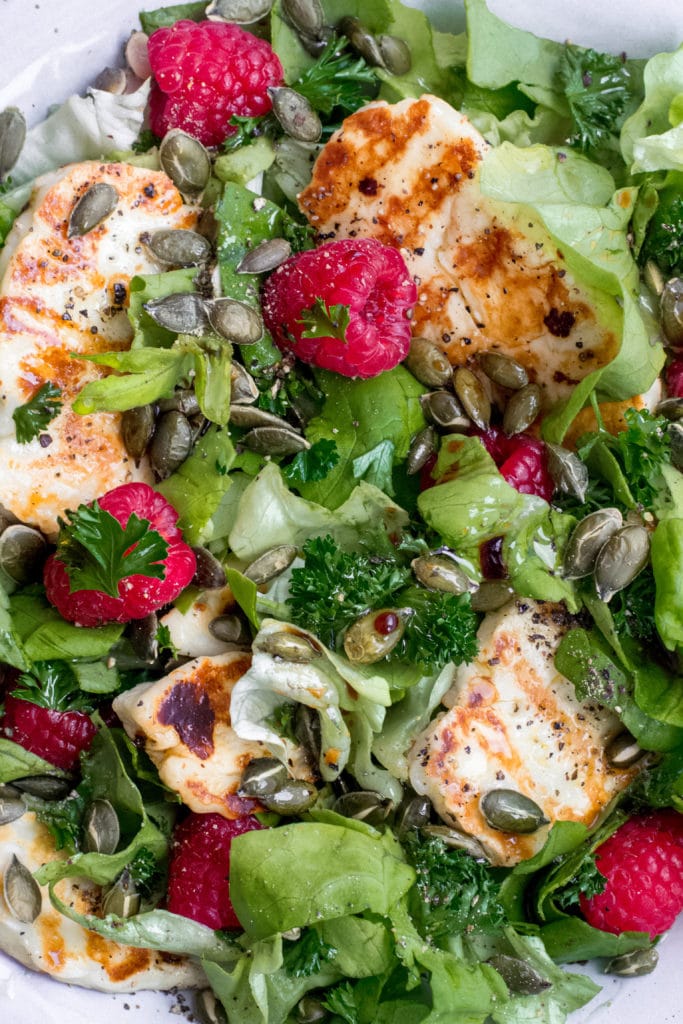 Common questions about this keto salad:
What is halloumi? Halloumi is a Cypriot cheese. It's usually made with goat and sheep milk; it has a low carbohydrate content and a unique strong flavour. There are so many ways to use it: this kind of firm cheese works really well in salads (simply pan-fried or grilled, exactly as you would do in this recipe) or as part of a sandwich. Its taste and texture improve while cooking, so it's definitely worth giving it a go since it literally takes just a couple of minutes to grill it. Halloumi is quite salty and that's the reason why the salt is listed as optional in the recipe.
Can I swap raspberries for a different ingredient? If you want to use something else, try chopped strawberries or blackberries. These are the best options in order to maintain a balance between the sweetness of berries and the strong taste of halloumi.
Can I use any kind of salad leaves? It's better to avoid options with a strong flavour like radicchio or rocket; any other kind of salad leaves would work well.
I don't like pumpkin seeds, can I use something else? Absolutely. Feel free to get creative using, for example, sesame or sunflower seeds or a combination of them.
Is balsamic vinegar necessary? Vinegar definitely has its own place in the complex balance of flavours of this keto halloumi salad. If you don't like it, you can absolutely avoid adding it. Instead of balsamic vinegar, try to add some cumin seeds and sumac; give it a good mix, then taste the salad before serving and adjust the amount of spices accordingly.
How to serve it? This tasty keto halloumi salad would be perfect with a slice of bread made with almond flour. Otherwise, you could also serve an appetiser before it (like something made with avocado) or decide to go for a simple dessert right after lunch (a fat bomb with pistachios and chocolate could be a great option).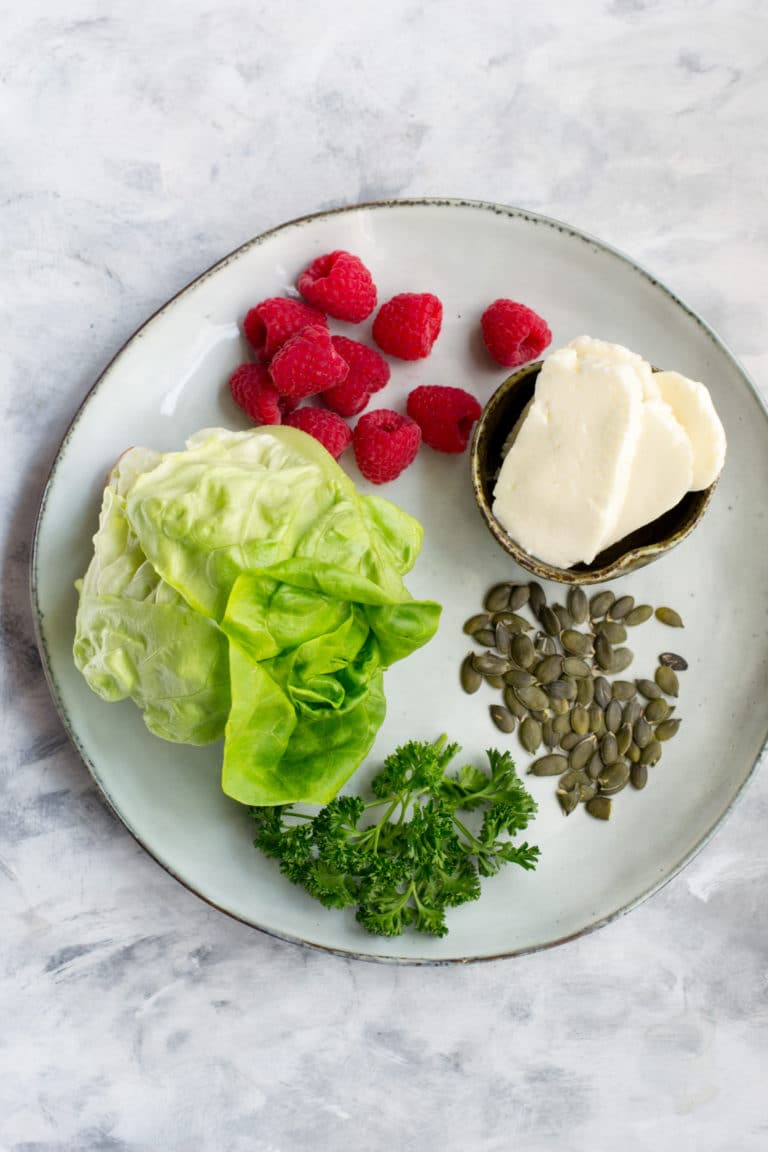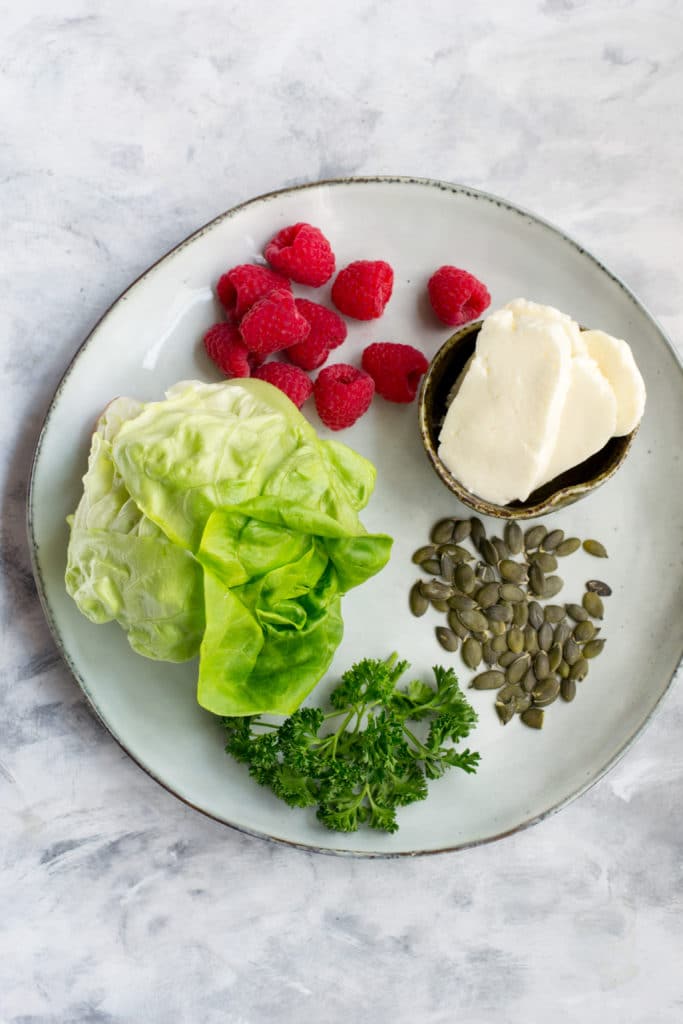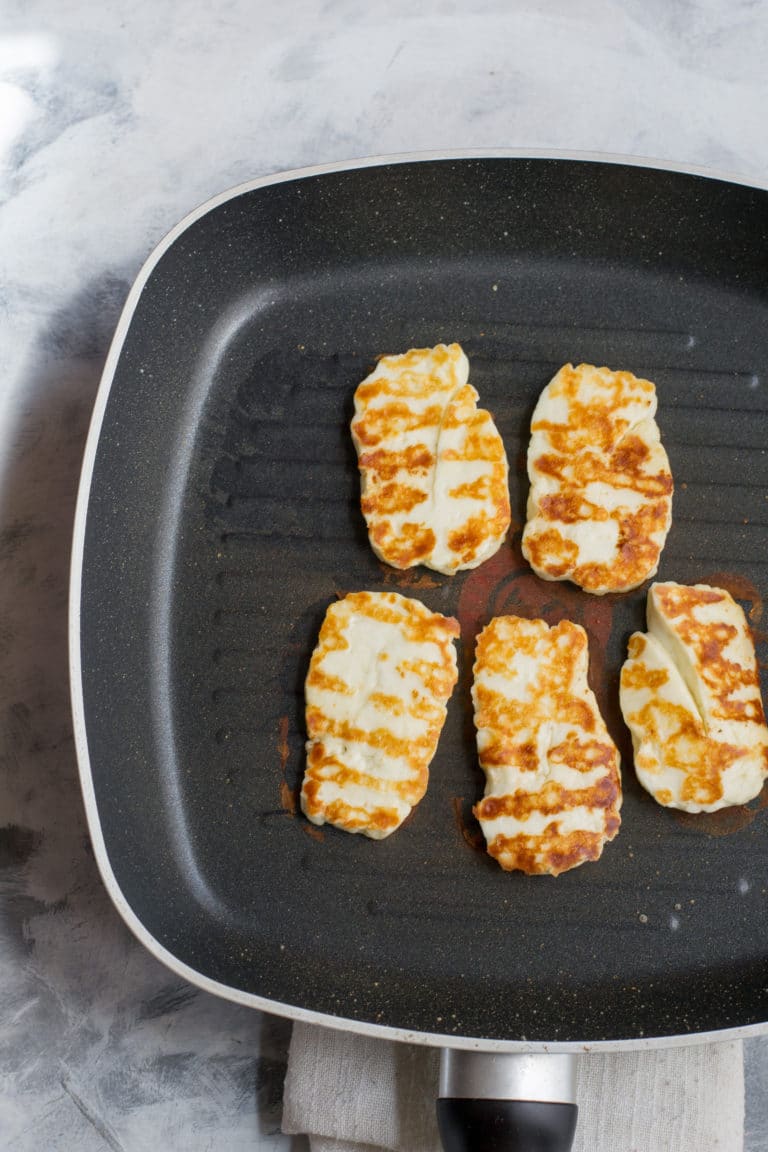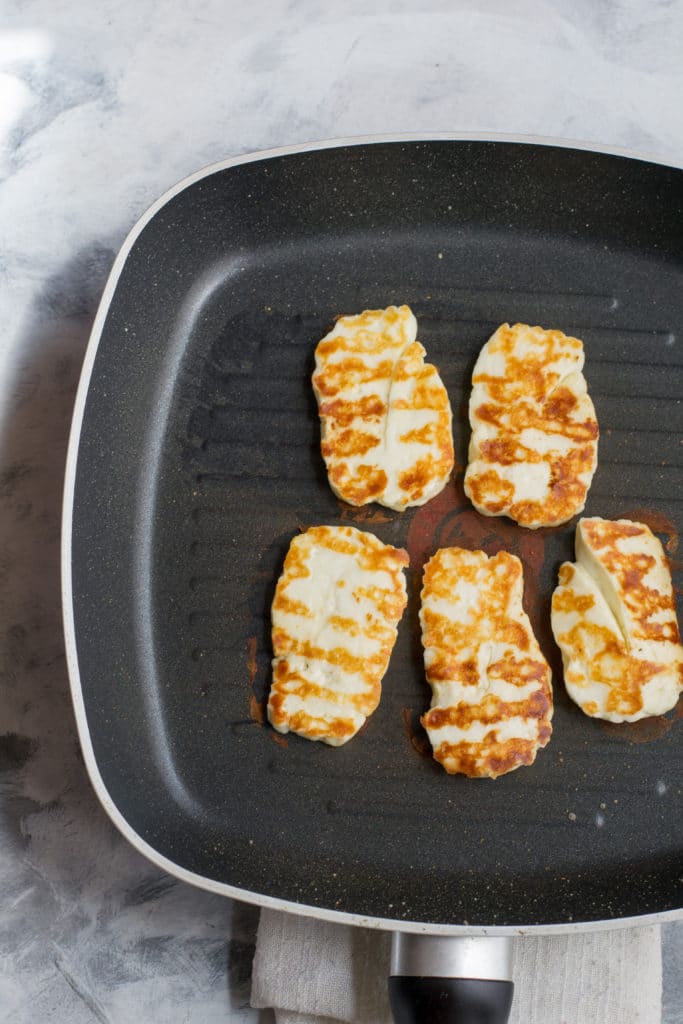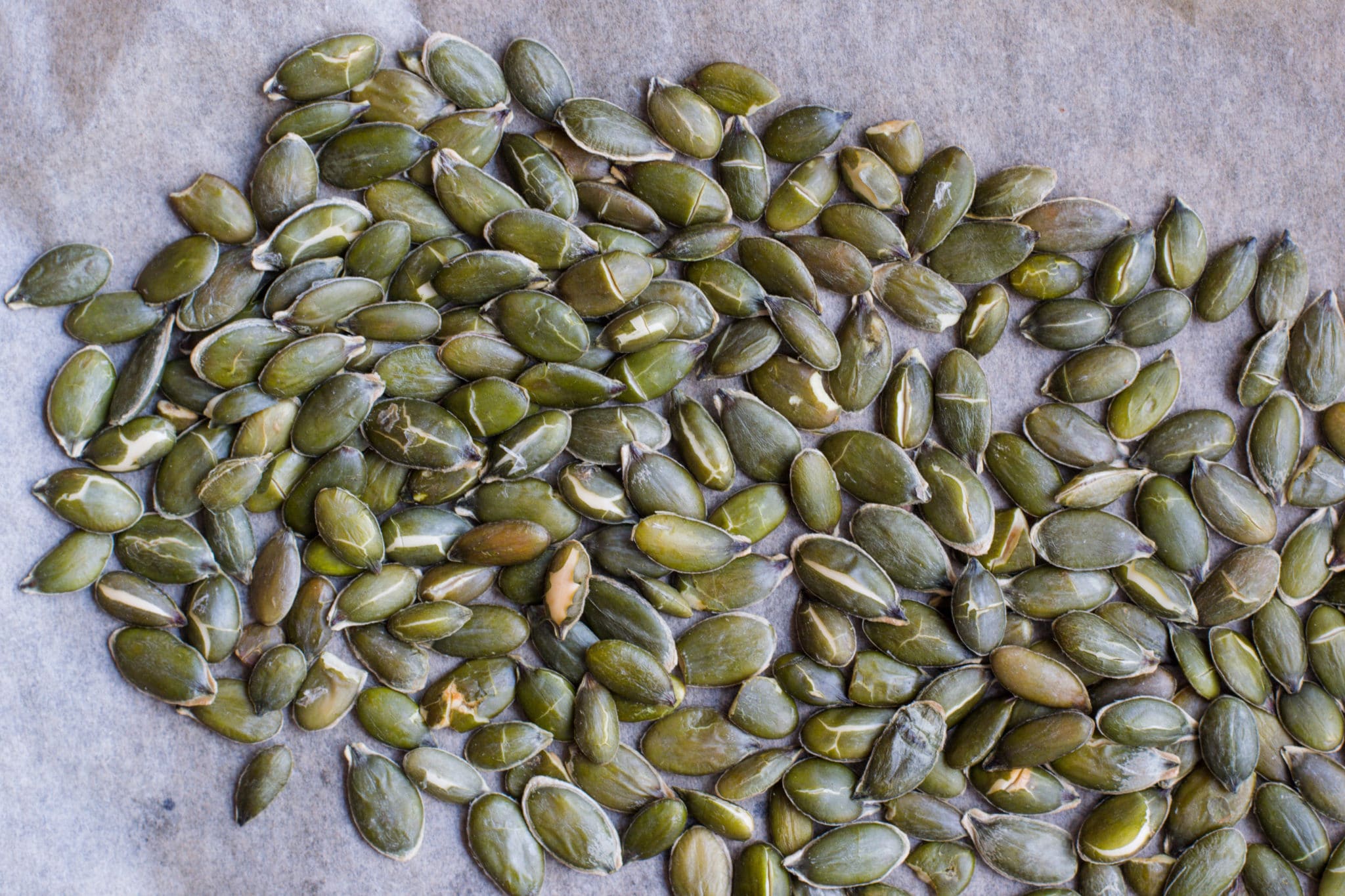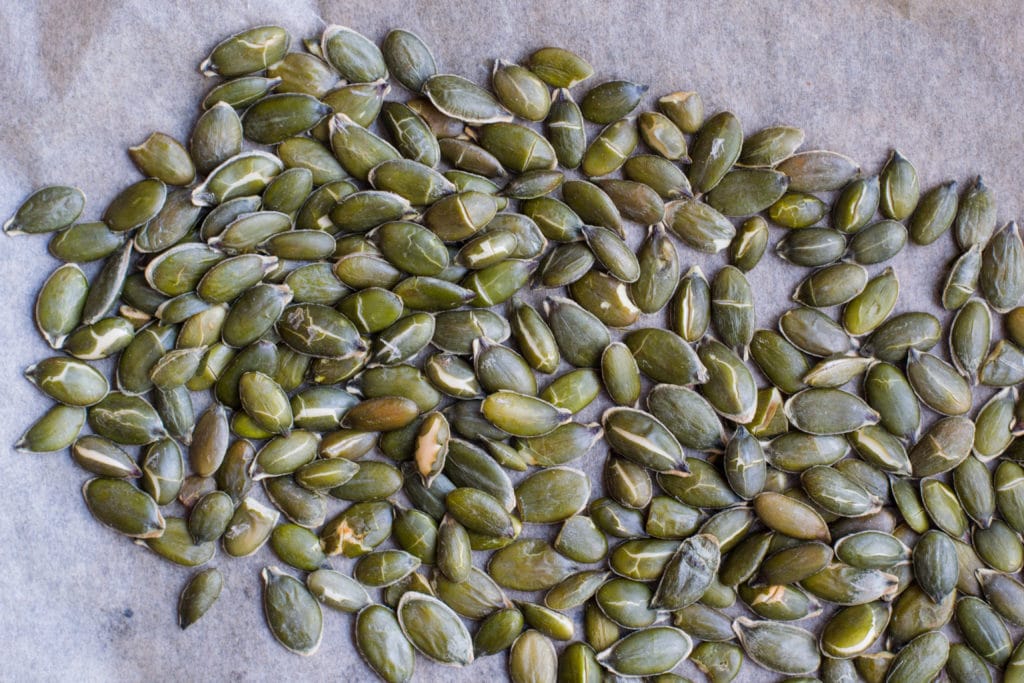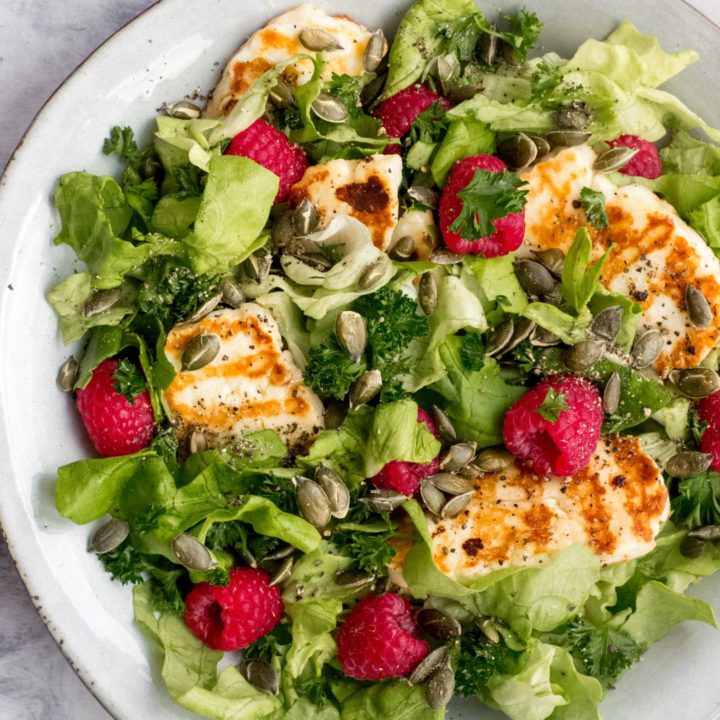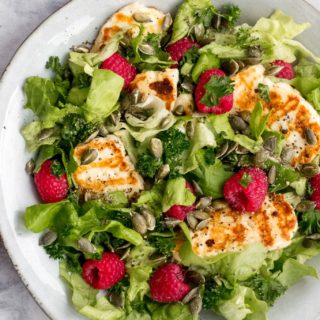 Keto grilled halloumi salad
A fresh and delicious keto salad with all the flavour from grilled halloumi, a hint of sweetness from the raspberries and the crunchiness of toasted pumpkin seeds.
Ingredients
110

g

halloumi cheese

7-8

leaves

of lettuce

45

g

raspberries

20

g

pumpkin seeds

1

small handful of parsley

1

tbsp

extra virgin olive oil

½

tbsp

balsamic vinegar

a pinch of black pepper

a pinch of salt

optional
Instructions
Cut the halloumi into thick slices and grill them in a preheated pan for a few minutes until golden brown on both sides. Allow the cheese to cool down before adding it into the salad.

Toast the pumpkin seeds in the oven or in a pan for a few minutes. Keep an eye on them since they tend to burn quite easily. Allow the seeds to cool down before adding them into the salad.

In a bowl, mix the chopped salad leaves with all the other ingredients. Add the olive oil and the balsamic vinegar just before serving. 
Nutrition
Calories:
333
kcal
Carbohydrates:
8.7
g
Protein:
15.8
g
Fat:
25.6
g
Fiber:
2.5
g