This is a rich, intensely savory keto pork lasagna, lightly spiced and delicious. Mushrooms, both dry and fresh give an comforting umami base to this low carb pork lasagna dish, with eggplant used to layer up the dish and keep this lasagna keto friendly.
On colder days, cooking up a delicious roasting tin of hearty food is what's needed. This keto pork lasagna is perfect for those times, or try our keto fish pie for something a little lighter but equally delicious.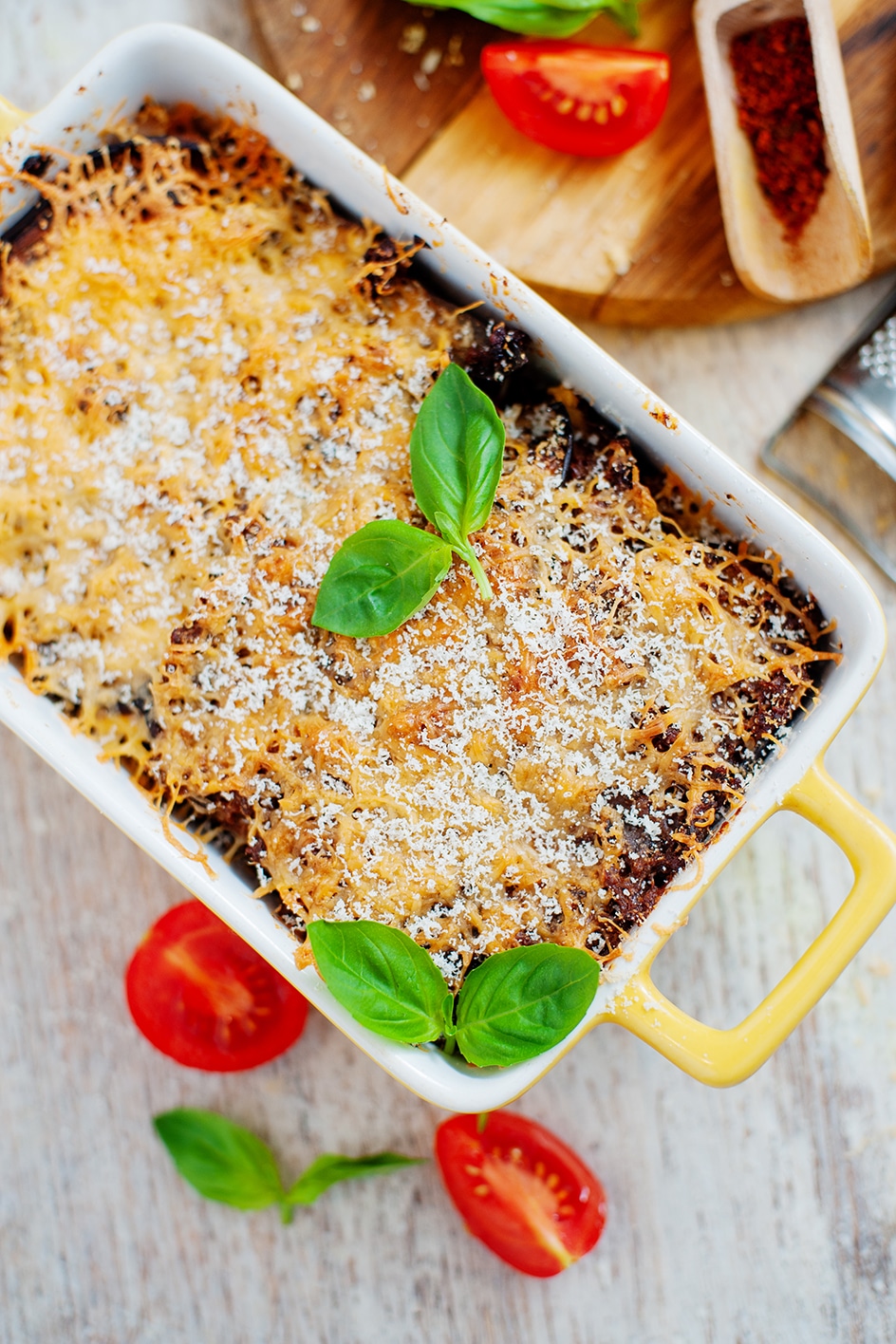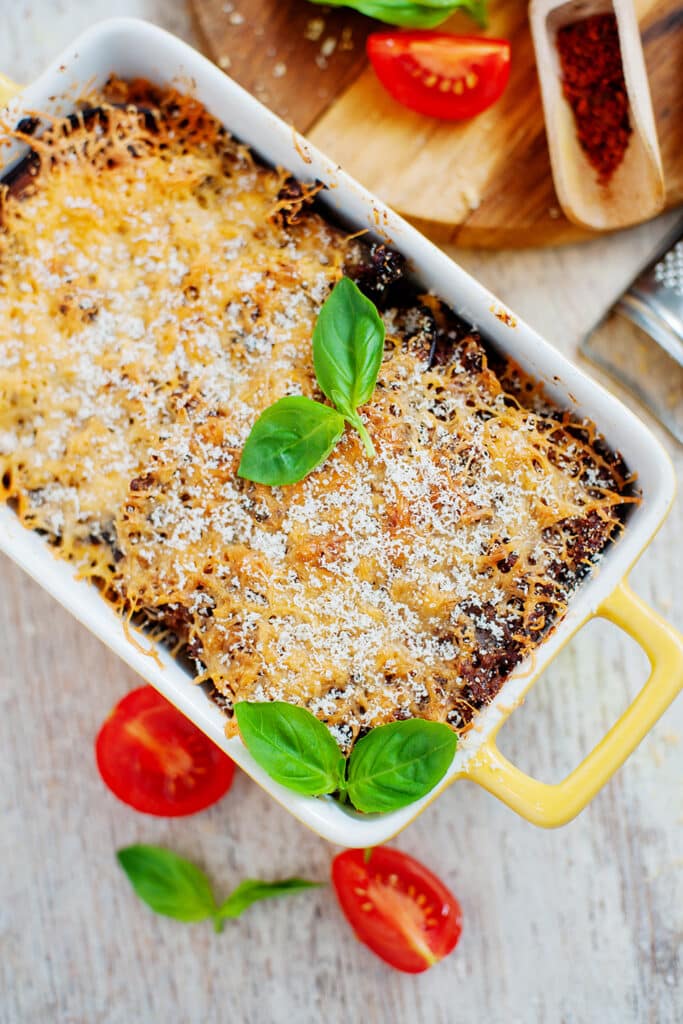 This keto pork lasagna recipe is just so tasty, with a really strong umami flavor developed during the specific cooking process and ingredients.
The key to this dish is patience, when the recipe says don't stir the pan….don't stir it! We want the ingredients to start to caramelize and brown properly, even crisp up a little, to develop that amazing depth of flavor.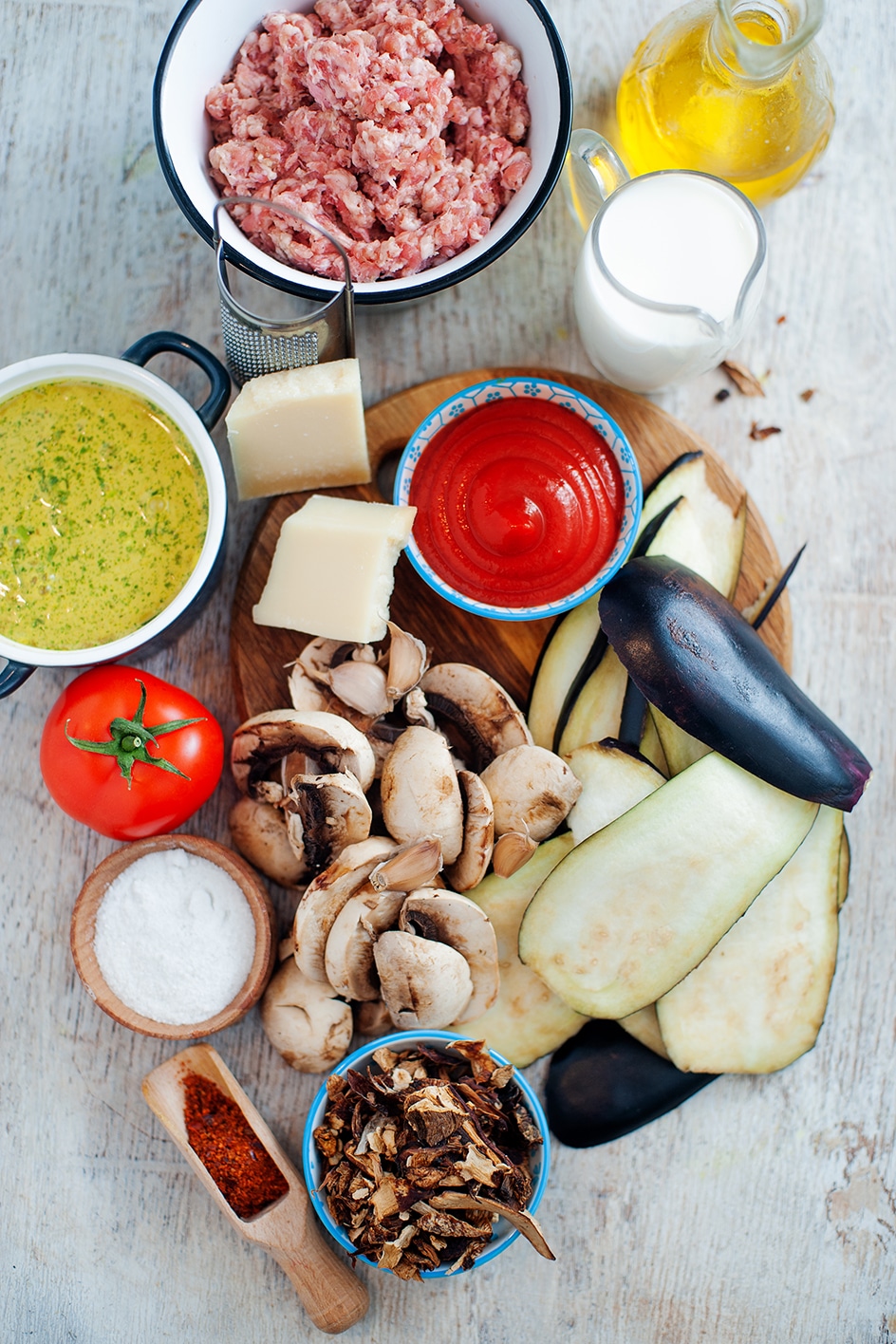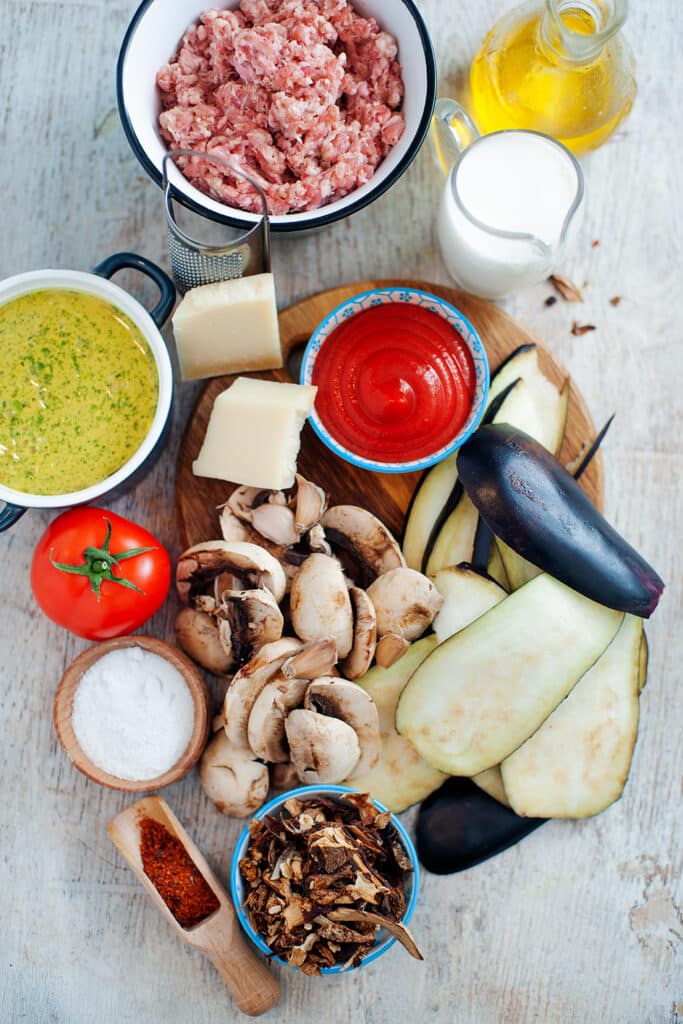 A traditional lasagna can often be a pretty laborious task to cook, as you need to work up two different sauces, the meat sauce, and the white bechamel sauce.
For this recipe we've opted to skip making two sauces, and instead focus on getting one, creamy, meaty, umami sauce to layer between your eggplant sheets. One less pan to have to wash up!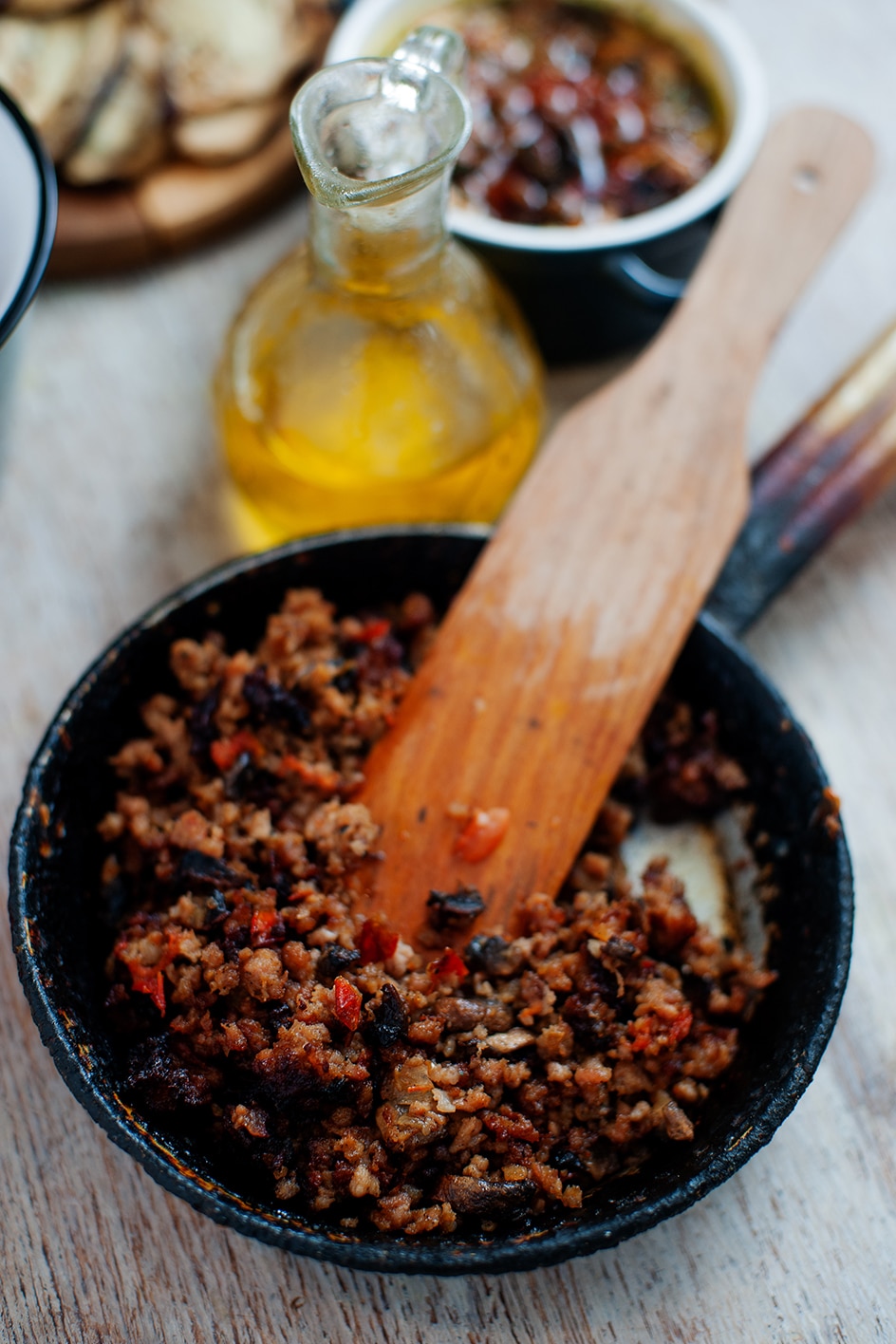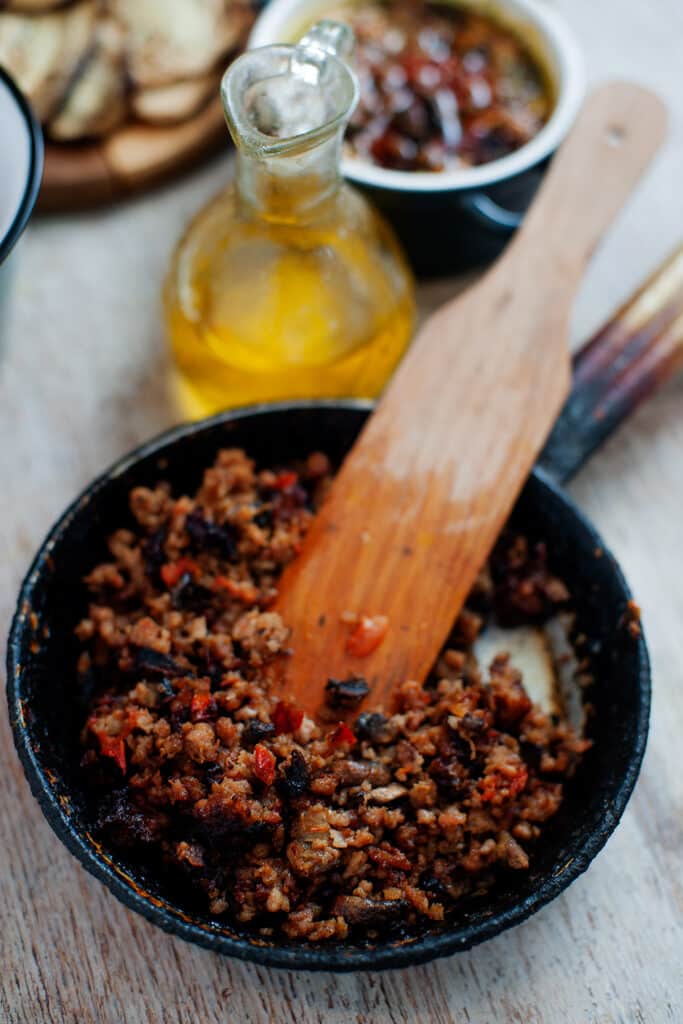 Thus recipe uses a bunch of dried mushrooms, which have a great depth of flavor, but don't worry if you can't get them, instead just use a little more mushroom.
This recipe is more 'low-carb' than a strict keto recipe, you'll need to balance this with the rest of your eating for the day to keep carbs under control, but my god is it worth it.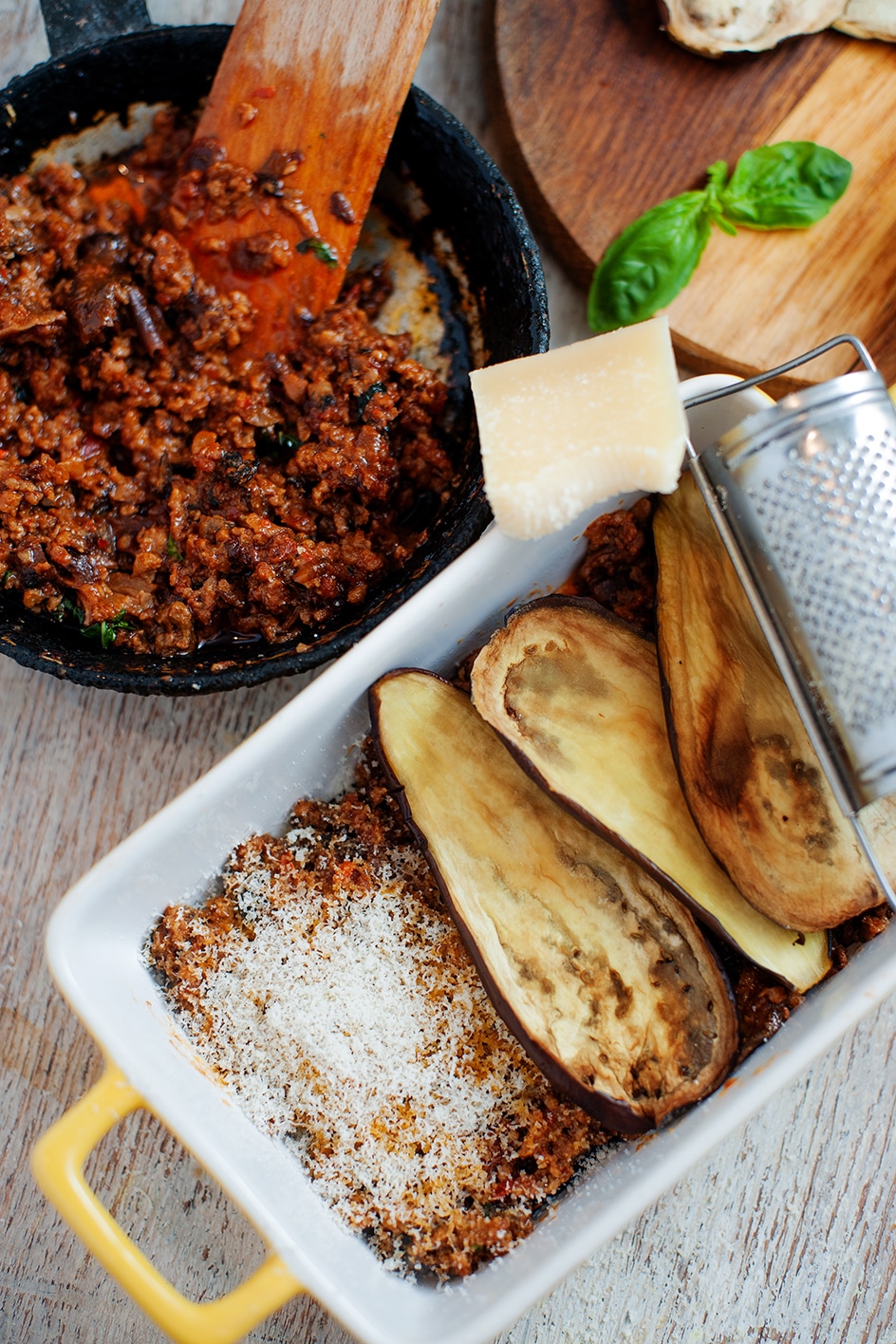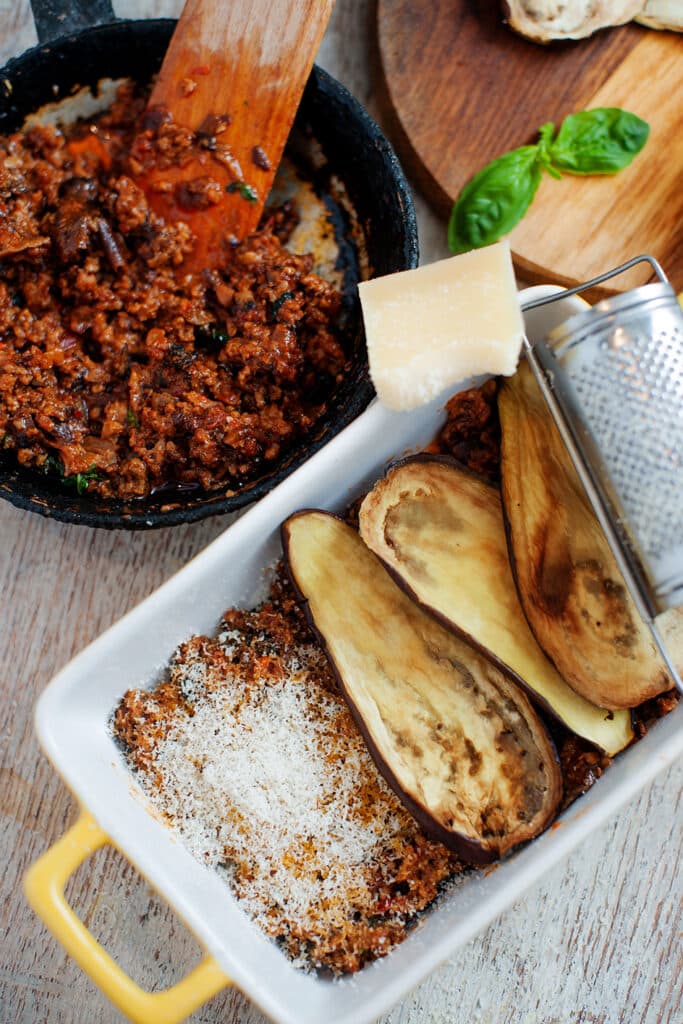 This dish is so warming, hearty and rich, it really feels indulgent, and would work great for a dinner party or meal with non-keto people. Honestly they're not going to question the lack of pasta, when the dish taste's so good!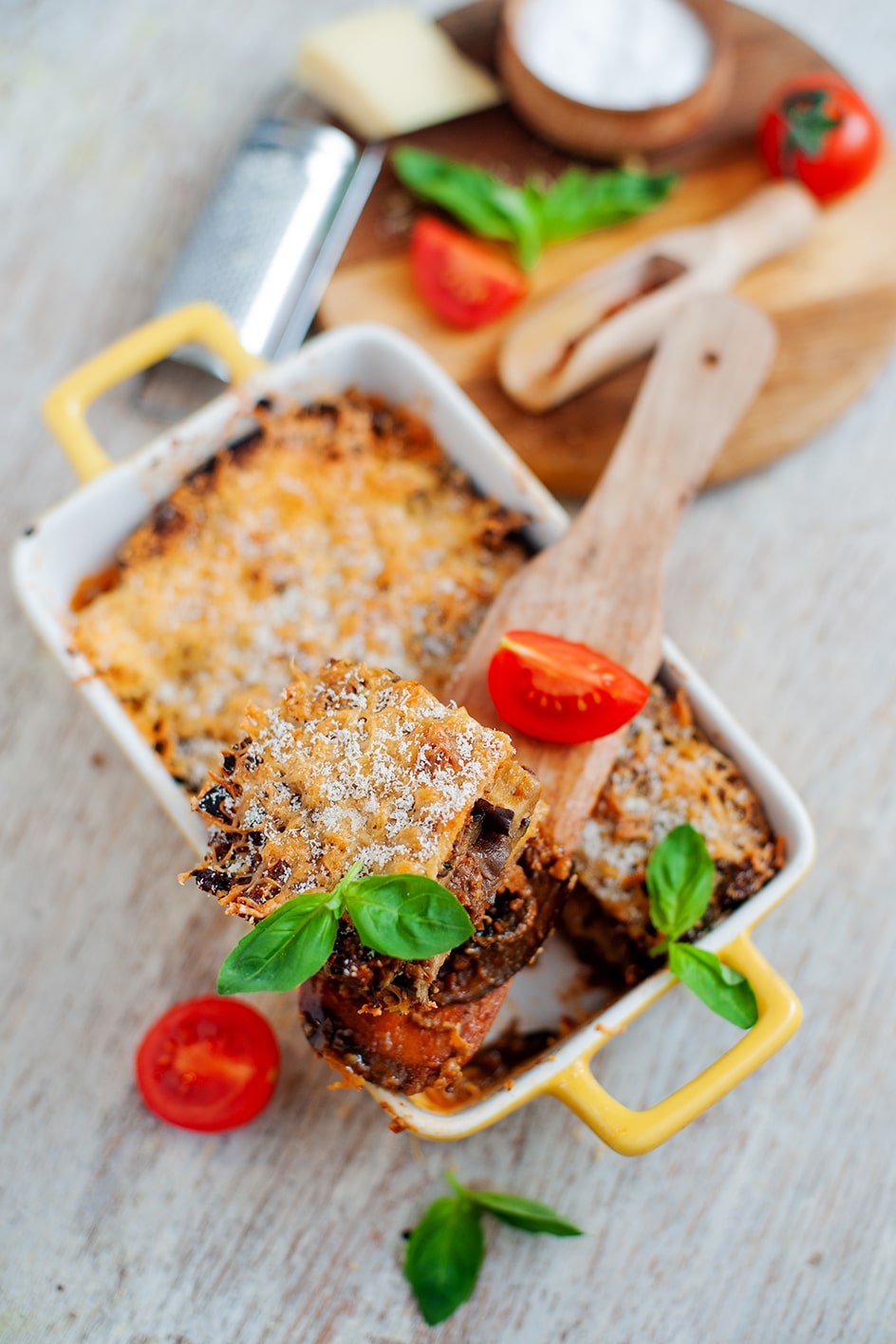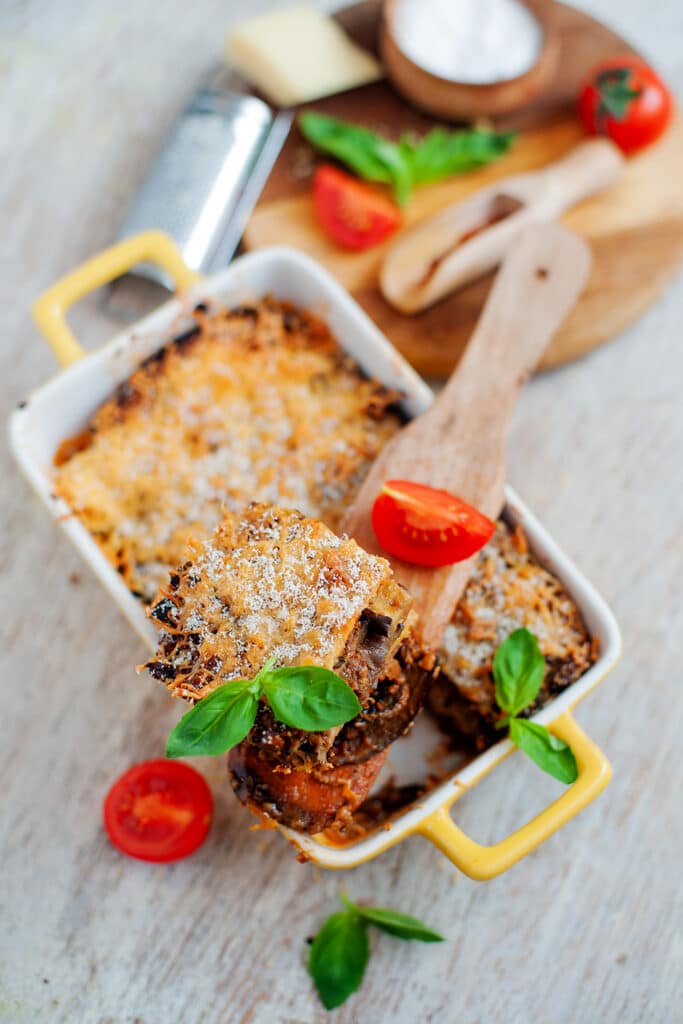 This recipe is described as a spicy lasagna, but of course that's up to you. The spice in this is meant more as a warming undertone, rather than a punch in the face, so if in doubt, less is more.
This keto lasagna re-heats just fine, and as is often the case, this can actually be more tasty the second time round once it's reheated!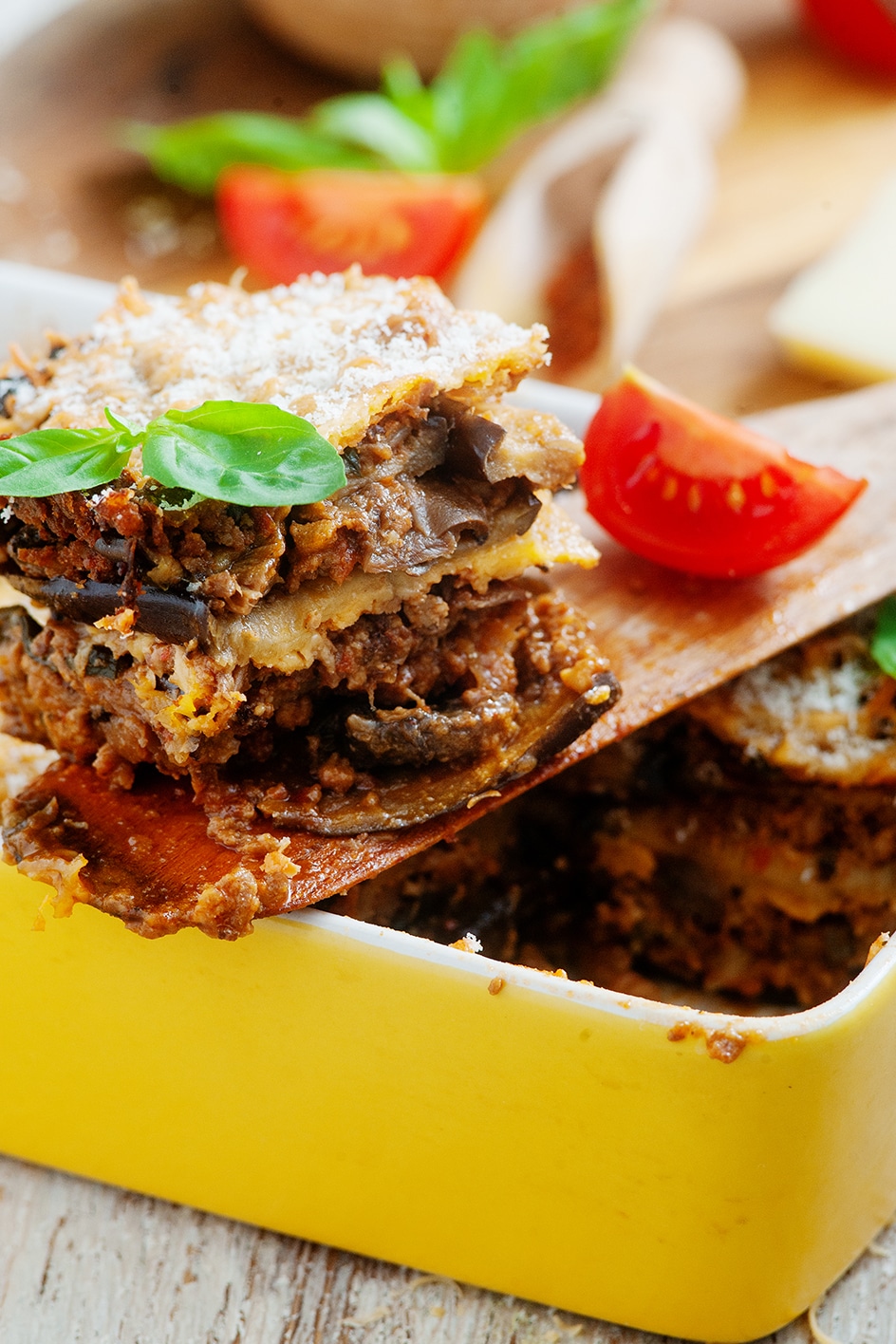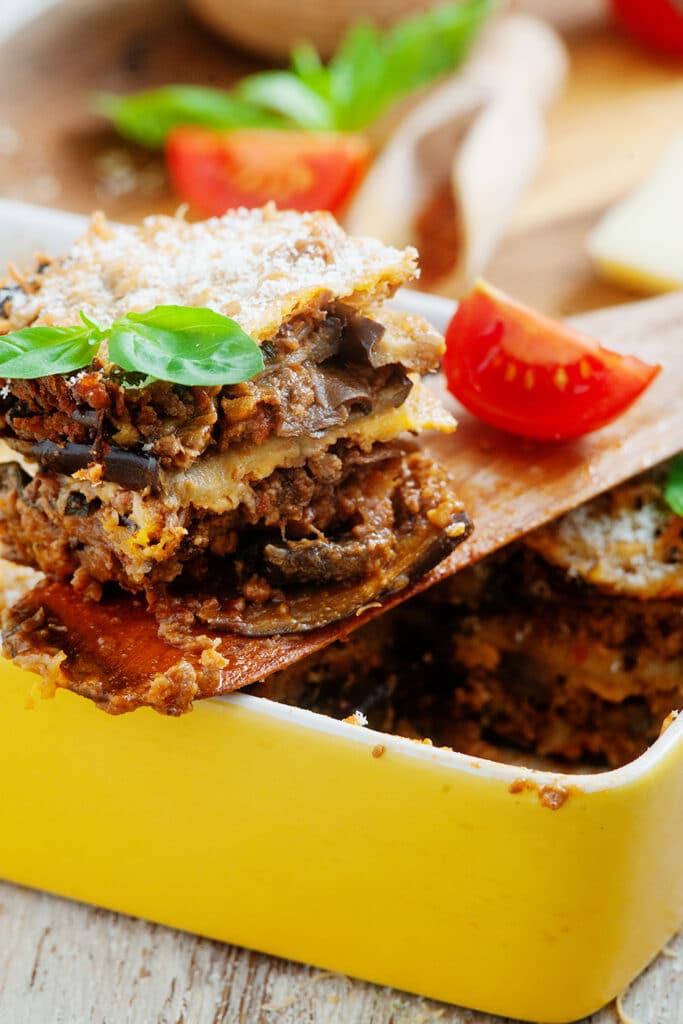 Keto Pork Lasagna – Substitution, Changes etc.
No Pork? This works great with beef mince too, chicken or turkey mince may struggle to get the same depth of flavor, and may need a bit more fat content in the dish. If using them be sure to brown the ground meat well.
No Cream? Creme fraiche works great, otherwise a full fat yoghurt could work in a pinch, but the sauce may split a little.
Don't like mushrooms? This is tricky, as they add some much umami flavour to the dish, especially the dried mushrooms. A little miso may help replace some of the flavor (a heaped teaspoon perhaps), and to bulk out the sauce double the number of diced tomatoes. It'll be a different result, but tasty nonetheless
No Parmiggiano? You can use Pecorino or Grana Padana cheese as a close replacement, or else any other hard cheese, even an extra mature cheddar.
Give this one a go and let us know your thoughts in the comments section below. We'd love to know what tweaks you make and any ideas you have for improvements to what we think is a great keto pork lasagna recipe.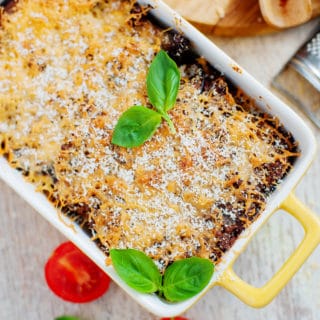 Spicy Pork Keto Lasagna
A rich, delicious spicy pork keto lasagna – a great crowd pleasing dish
Ingredients
30

g

Dried Mushrooms

Porcini if available

1

teaspoon

chilli flakes

500

ml

hot chicken stock

60

ml

Olive Oil

½

Onion – diced

3

Garlic Cloves – crushed

2

Tomatoes – diced

200

g

Mushrooms

brown, shimeji, shiitake or similar – finely chopped

700

g

Ground Pork

150

ml

Heavy cream

10

g

Basil Leaves

2

Large Eggplant – Sliced lengthways to 1cm thickness

100

g

Parmesan Cheese
Instructions
Add the dried mushrooms and chilli flakes to the hot chicken stock, and leave to soak while you prepare the rest of the ingredients

Pre-heat the oven to 200C / 390F and grease an overproof dish big enough for all ingredients

In a pan, fry the onion and garlic for 5 minutes on a medium-high heat, until golden and translucent.

Add the chopped fresh mushroom, tomatoes and two teaspoons each of salt and pepper, fry for another 5 minutes to cook the mushrooms down.

Stir in the mground pork well into the micture, then leave on the heat for 5 minutes, without stirring. You want the mixture to brown well and start to crisp slightly.

Whilst mixture is browning, remove the dried mushrooms from the chicken stock and dice well.

Stir the mixture in the pan well, scraping up any browned bits that stick to the bottom of the pan, then leave for another five minutes without mixing – adjust the heat if there's any sign of burning happening rather than browning.

Stir in the choped mushrooms, the stock and chilli flakes, and 500ml of water. Simmer for 5 minutes then turn the heat down low, and let simmer gently for 40 minutes, stirring occasionally, until the sauce reduces and thickens.

Once thickened, turn off the heat, stir in the basil and cream.

Now time to assemble the lasagna, spread once quarter of your sauce over the bottom of the dish, then top with a layer of the sliced eggplant.

Spread another quarter of your sauce on top, followed by one third of your grated Parmesan, repeat the layers (eggplant, sauce, cheese…) until ending with a final layer of cheese.

Bake in the over fore 40 minutes until brown and crisp on top and the eggplant has cooked and softened. Then serve
Nutrition
Calories:
892
kcal
Carbohydrates:
21
g
Protein:
45
g
Fat:
72
g
Saturated Fat:
30
g
Polyunsaturated Fat:
12
g
Trans Fat:
3
g
Cholesterol:
17
mg
Fiber:
11
g
Sugar:
8
g