A Festive Treat: Keto Christmas Pudding Recipe
Welcome to a festive treat that will light up your holiday season without weighing down your dietary goals. Our Keto Christmas Pudding is a sumptuous dessert that brings all the traditional flavors you love, with a keto-friendly twist. This recipe is perfect for those who want to indulge in the holiday spirit while maintaining a low-carb, high-fat diet. Rich in spices and delightfully moist, this pudding is set to become a yuletide favorite at your table.
Christmas pudding is a classic British dessert, traditionally made with a mixture of dried fruits, suet, and a splash of brandy. However, in this keto version, we've swapped out high-carb ingredients for those that keep your macros in check. With almond and coconut flours as the base and erythritol for a sweet touch, this pudding ensures you can enjoy the merriments of Christmas without compromising your keto regimen.
The Story Behind the Keto Christmas Pudding
The tradition of Christmas pudding goes back centuries, but the keto adaptation is a modern twist on this classic. This particular recipe was inspired by the need to create a dessert that could be enjoyed by those on a ketogenic diet during the festive season. The key to a successful keto dessert lies in finding the perfect balance between the right low-carb flours and natural sweeteners that mimic the taste and texture of their traditional counterparts.
Almond flour and coconut flour are excellent for baking keto-friendly treats because they are low in carbohydrates, high in fiber, and they provide a moist, dense texture that's ideal for pudding. Erythritol is a sugar alcohol that offers a natural sweetness without the added sugars or carbs, making it an excellent choice for maintaining ketosis.
This Keto Christmas Pudding not only aligns with your dietary needs but also packs a punch in terms of flavor. The blend of cinnamon, nutmeg, cloves, and ginger brings warmth and depth to the dish, reminiscent of the festive season. The inclusion of keto-friendly dried fruits adds a touch of sweetness and texture, while the orange zest and optional brandy or rum infuse the pudding with traditional Christmas flavors.
This recipe is a testament to the versatility of keto cooking and proves that you can enjoy festive treats without straying from your diet. It's a wonderful way to celebrate the holidays, offering comfort and joy in every spoonful.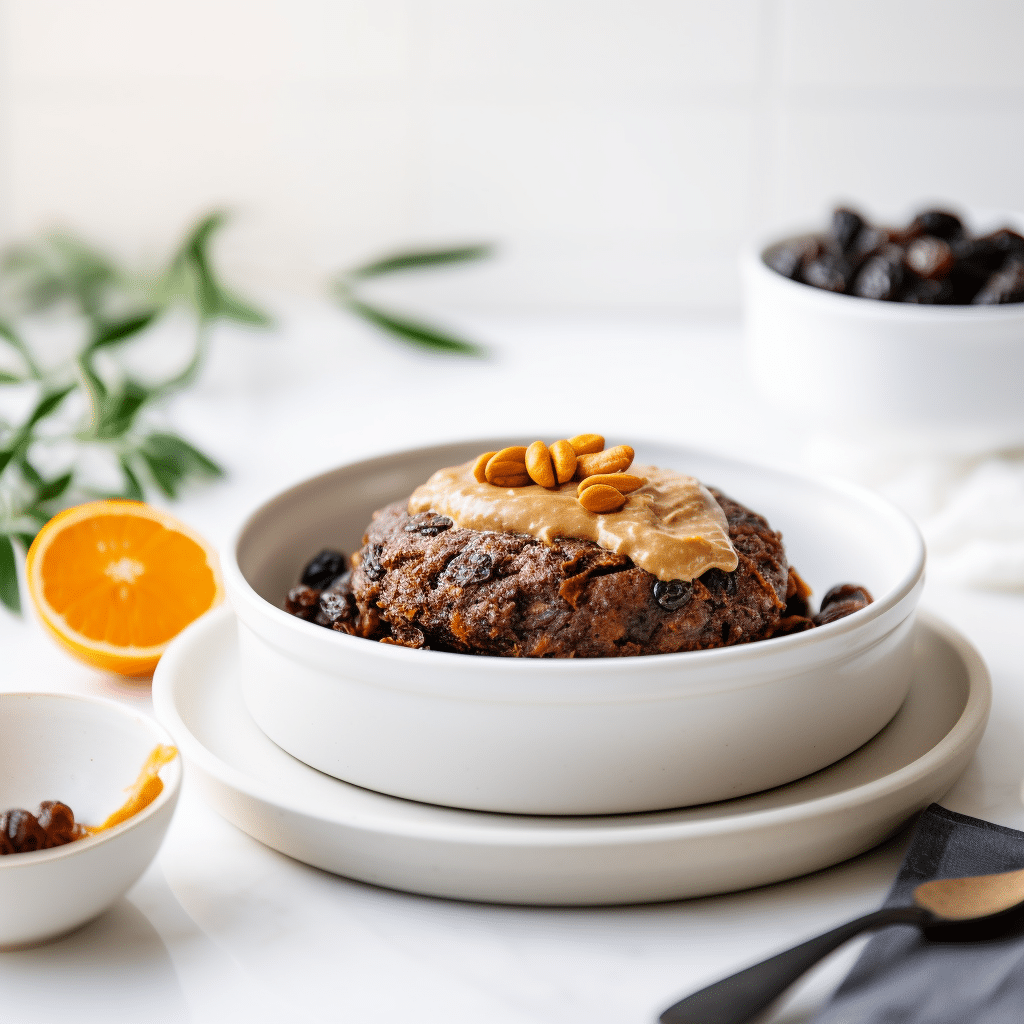 Mastering the Keto Christmas Pudding
Creating the perfect Keto Christmas Pudding is an art that requires attention to detail and a bit of culinary finesse. Here's a step-by-step guide to ensure your pudding turns out splendidly.
Step 1: The foundation of a good pudding starts with the preparation of your basin. Greasing it with butter is essential to ensure that your pudding does not stick and turns out beautifully when it's time to invert it onto a serving plate.
Step 2: When combining your dry ingredients, take the time to whisk them thoroughly. This ensures that the spices are evenly distributed, which is crucial for achieving that consistent festive flavor in every bite.
Step 3: As you mix the wet ingredients, be sure to whisk until they are fully incorporated. This emulsion is what gives the pudding its luxurious texture.
Step 4: Adding the wet ingredients to the dry should be done gradually while stirring continuously. This helps prevent lumps and ensures that the batter has the right consistency.
Step 5: Folding in the dried fruits and orange zest is a delicate process that should be done gently to maintain the integrity of the batter.
Step 6: When transferring the batter to the basin, press down gently to eliminate any air pockets. This will prevent the pudding from having holes and will ensure it cooks evenly.
Step 7: Covering the basin with parchment paper and then aluminum foil is a crucial step. It's important to tie it tightly with kitchen string to prevent water from seeping into the pudding during the steaming process.
Step 8: Steaming the pudding requires a careful eye. You must check the water level regularly and add more boiling water as needed. This ensures that the pudding cooks through without burning or drying out.
Step 9: After the pudding has steamed for 2 hours, it's important to let it cool slightly before attempting to remove it from the basin. This resting period allows the pudding to set and makes it easier to handle.
Step 10: Inverting the pudding onto a serving plate is the final step in the presentation of your masterpiece. Do this with confidence and grace for the perfect reveal.
Following these detailed steps will help you create a Keto Christmas Pudding that is as delicious as it is festive. With each spoonful, you'll taste the care and expertise that went into its creation.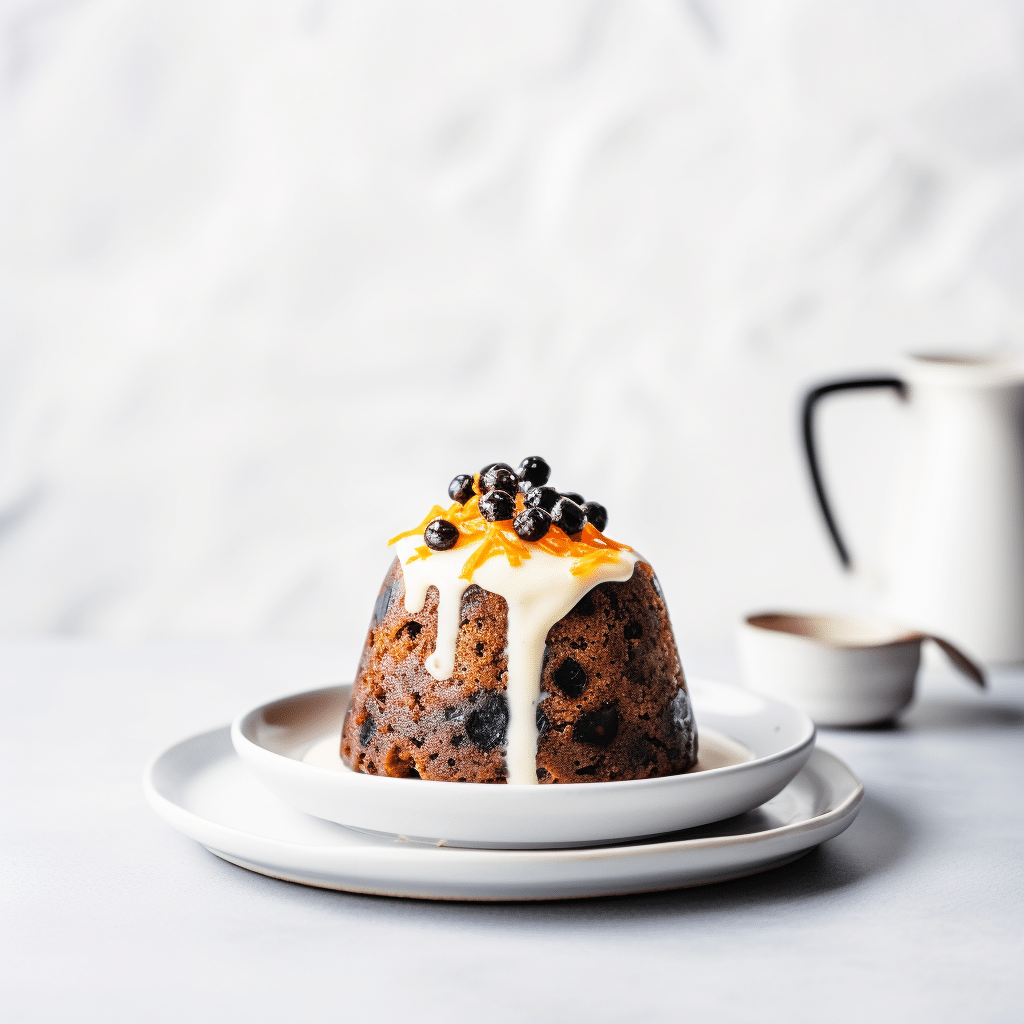 Creative Variations to the Keto Christmas Pudding
Chocolate Orange Pudding
For a twist on the classic, add an extra tablespoon of cocoa powder and the zest of two oranges to your batter. The result is a delightful chocolate-orange flavor that's both refreshing and indulgent.
Boozy Berry Pudding
Increase the brandy or rum to 2 tablespoons and use only keto-friendly dried berries for the fruit component. This boozy berry variation is perfect for those who enjoy a stronger flavor with their desserts.
Nutty Delight Pudding
For added texture and richness, mix in a half cup of chopped pecans or walnuts. The nuts will add a satisfying crunch and enhance the overall flavor profile of the pudding.
Ingredient Substitutions for Keto Christmas Pudding
Understanding that not all ingredients are accessible to everyone, here are some substitutions that can be made without compromising the keto integrity of the pudding.
Almond Flour: If you are allergic to almonds or simply do not have almond flour on hand, you can substitute it with an equal amount of ground sunflower seeds or another nut flour of your choice.
Coconut Flour: Coconut flour can be replaced with more almond flour if you have a coconut allergy. However, because coconut flour is highly absorbent, you'll need to use about four times the amount of almond flour to achieve a similar consistency.
Erythritol: If erythritol is not your preferred sweetener or you can't find it, you can use another keto-friendly sweetener like stevia or monk fruit sweetener. Keep in mind that the sweetness level may vary, so adjust accordingly.
Frequently Asked Questions
Here are some of the most common questions and their answers to help you perfect your Keto Christmas Pudding.
Q: Can I make this pudding ahead of time?
A: Yes, you can make the pudding up to a week in advance. Store it in the refrigerator and reheat it by steaming for about 30 minutes before serving.
Q: How do I store leftovers?
A: Leftover pudding can be kept in the refrigerator for up to 5 days. Ensure it's covered tightly with plastic wrap or stored in an airtight container.
Q: Can I use a different type of milk instead of almond milk?
A: Absolutely. You can use any keto-friendly milk alternative like coconut milk or heavy cream diluted with water.
Q: Is it possible to bake this pudding instead of steaming it?
A: While steaming is the traditional method, you can bake the pudding in a water bath at 325°F (165°C) for about 1.5 to 2 hours.
Q: Can this recipe be made nut-free?
A: Yes, you can make a nut-free version by using seeds-based flours like sunflower seed flour and a nut-free milk alternative.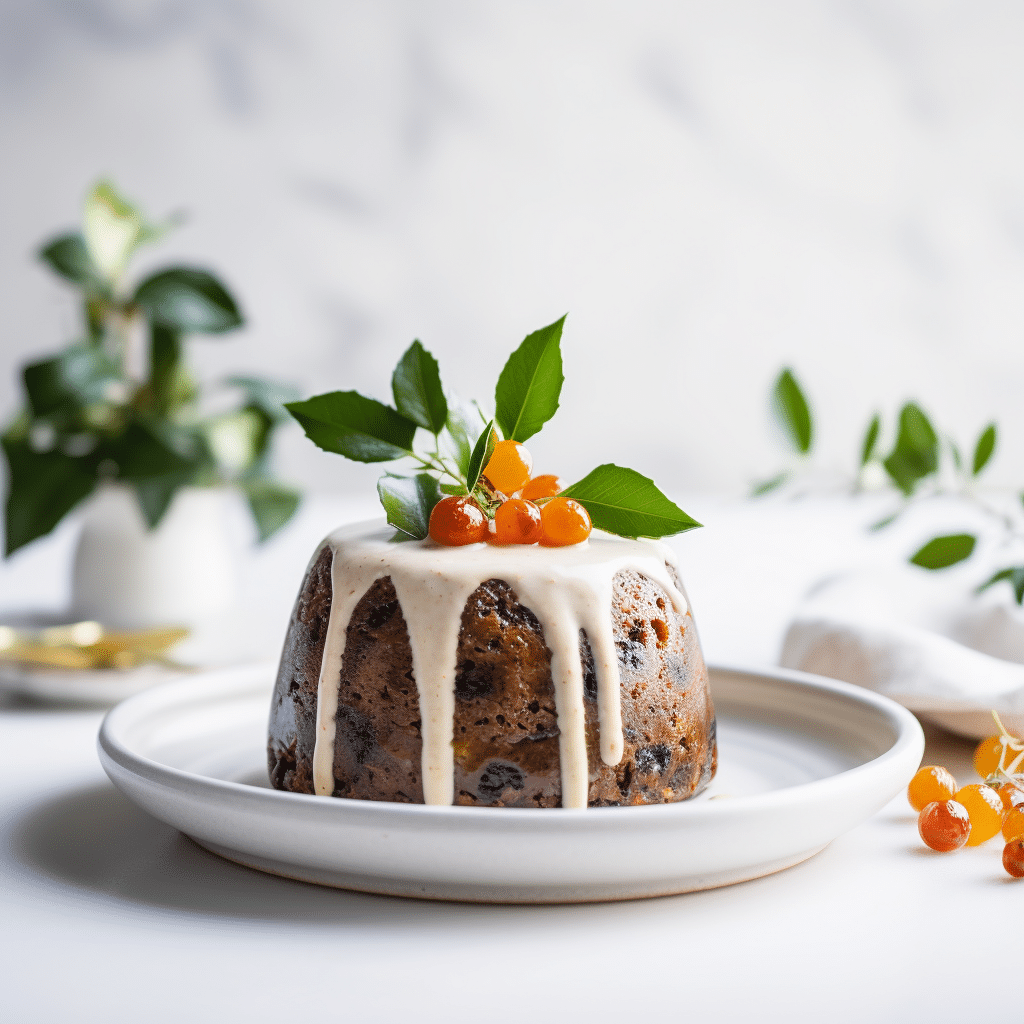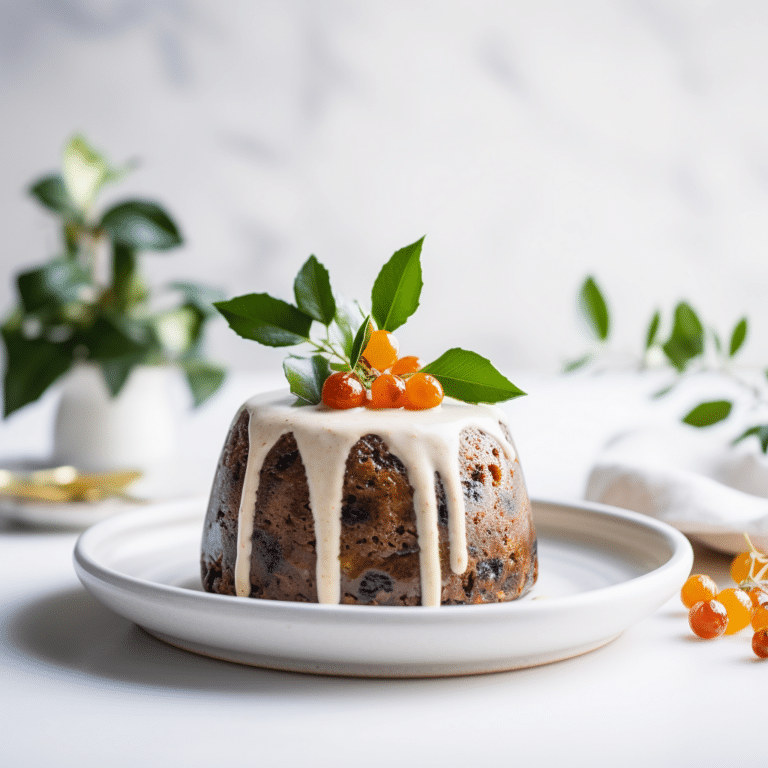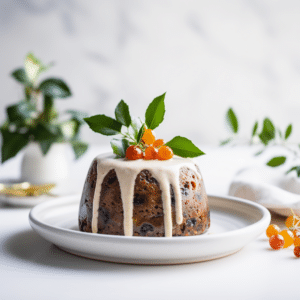 Unforgettable Keto Christmas Pudding Recipe: The Perfect Low Carb Holiday Treat
Embark on a festive culinary journey with this delectable Keto Christmas Pudding recipe. Perfect for those following a ketogenic lifestyle, this pudding is sure to delight with its rich, spiced flavors while keeping carbs at bay. Indulge in the holiday spirit without compromising your dietary goals.
Ingredients
- 1 cup almond flour

112g / 4oz

- 1/2 cup coconut flour

56g / 2oz

- 1/4 cup unsweetened cocoa powder

22g / 0.77oz

- 1/2 cup erythritol

100g / 3.5oz

- 1 tsp baking powder

4g / 0.14oz

- 1/2 tsp ground cinnamon

- 1/4 tsp ground nutmeg

- 1/4 tsp ground cloves

- 1/4 tsp ground ginger

- 1/2 cup unsalted butter

melted (113g / 4oz)

- 4 large eggs

- 1/4 cup unsweetened almond milk

60ml / 2 fl oz

- 1 tsp vanilla extract

- 1/2 cup mixed keto-friendly dried fruits

such as dried cranberries, blueberries, or cherries (60g / 2oz)

- Zest of 1 orange

- 1 tbsp brandy or rum

optional (15ml / 0.5 fl oz)
Instructions
Begin by greasing a pudding basin or a medium-sized heatproof bowl with butter. Set aside.

In a large mixing bowl, combine almond flour, coconut flour, unsweetened cocoa powder, erythritol, baking powder, cinnamon, nutmeg, cloves, and ginger. Mix well to distribute the spices evenly.

In a separate bowl, whisk together the melted butter, eggs, almond milk, vanilla extract, and optional brandy or rum until well incorporated.

Gradually add the wet ingredients to the dry ingredients, stirring continuously until a thick batter forms.

Fold in the mixed keto-friendly dried fruits and orange zest until evenly distributed throughout the batter.

Transfer the batter into the prepared pudding basin, pressing down gently to eliminate any air pockets.

Cover the basin with a piece of parchment paper, then secure it with a piece of aluminum foil. Tie it tightly with kitchen string to ensure it's well-sealed.

Place the basin in a large pot and pour in boiling water until it comes halfway up the sides of the basin. Cover the pot with a lid.

Steam the pudding over medium heat for approximately 2 hours, checking occasionally to ensure the pot does not run dry. Add more boiling water as needed.

After 2 hours, carefully remove the basin from the pot and let it cool slightly before inverting the pudding onto a serving plate.

Serve warm with a dollop of keto-friendly whipped cream or sugar-free custard, if desired.
Nutrition
Calories:
280
kcal
Carbohydrates:
10
g
Protein:
7
g
Fat:
25
g
Fiber:
6
g