Welcome to a world where comfort food meets keto-friendly fare with our Roasted Garlic and Herb Keto Gravy. This savory sauce is a game-changer for anyone on a ketogenic diet who craves the rich, indulgent flavors typically reserved for traditional, carb-heavy meals. Not only does this gravy satisfy your taste buds, but it also aligns perfectly with your low-carb, high-fat dietary goals. Infused with the aromatic essence of roasted garlic and a medley of herbs, this gravy transforms ordinary dishes into gourmet creations without compromising your macros. Whether you're dressing up a roasted chicken or adding depth to sautéed vegetables, this gravy is the ultimate keto condiment that's sure to delight.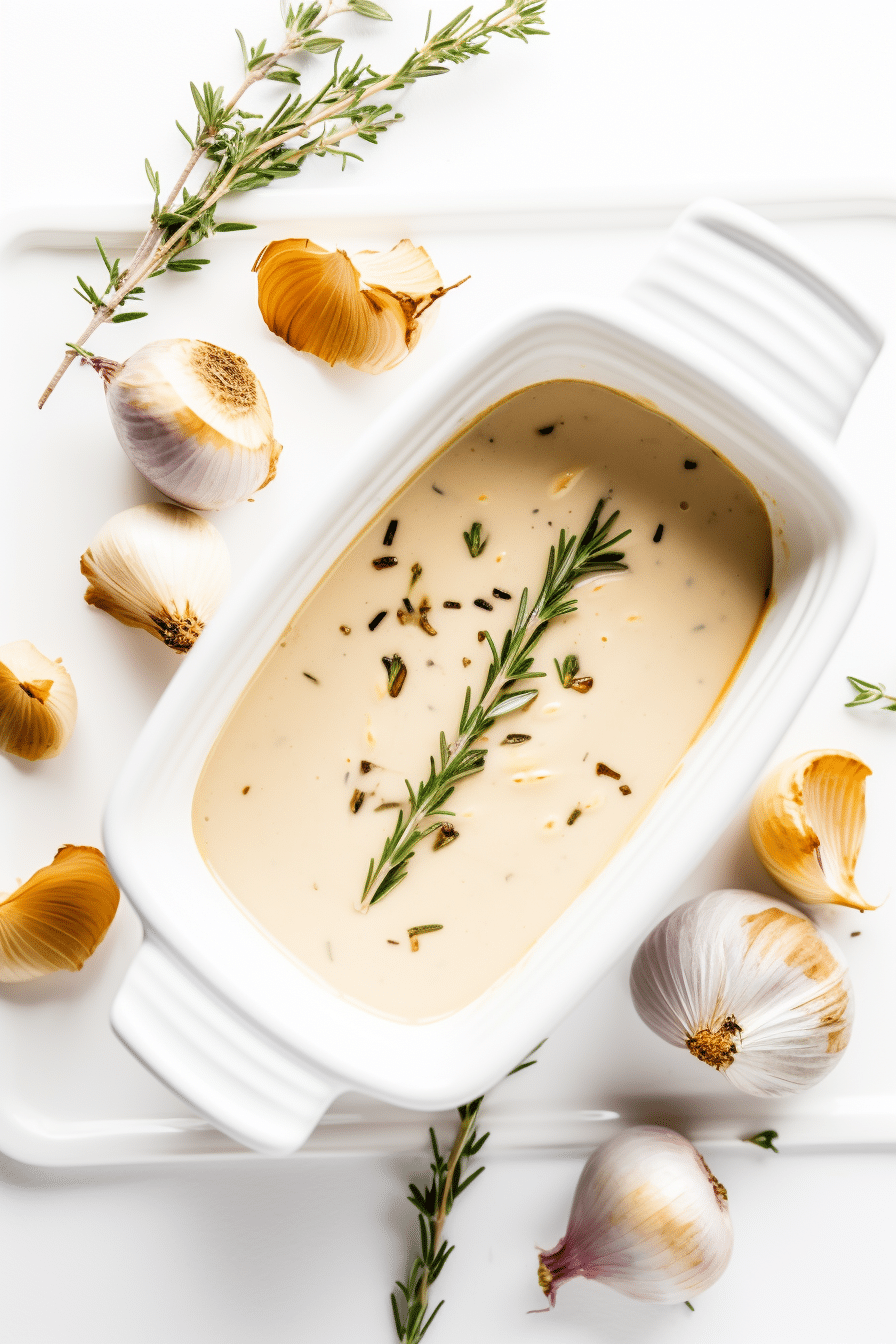 Recipe Details
The inspiration behind this Roasted Garlic and Herb Keto Gravy is the timeless love for a hearty, warm sauce that can elevate any meal from ordinary to extraordinary. It's a recipe born out of necessity, tailored to fit a ketogenic lifestyle without sacrificing the soul-satisfying experience of a good gravy. This gravy is not just a sauce; it's a testament to the versatility of keto cooking, proving that you can still enjoy the flavors you love while staying on track with your health goals.
As a keto dieter, you're likely aware that traditional gravy recipes are thickened with flour or cornstarch, both of which are high in carbs. This keto-friendly version, however, uses xanthan gum, a powerful thickening agent that adds the perfect consistency without the extra carbs. The combination of roasted garlic and fresh herbs like thyme and rosemary infuses the gravy with a depth of flavor that is both comforting and sophisticated.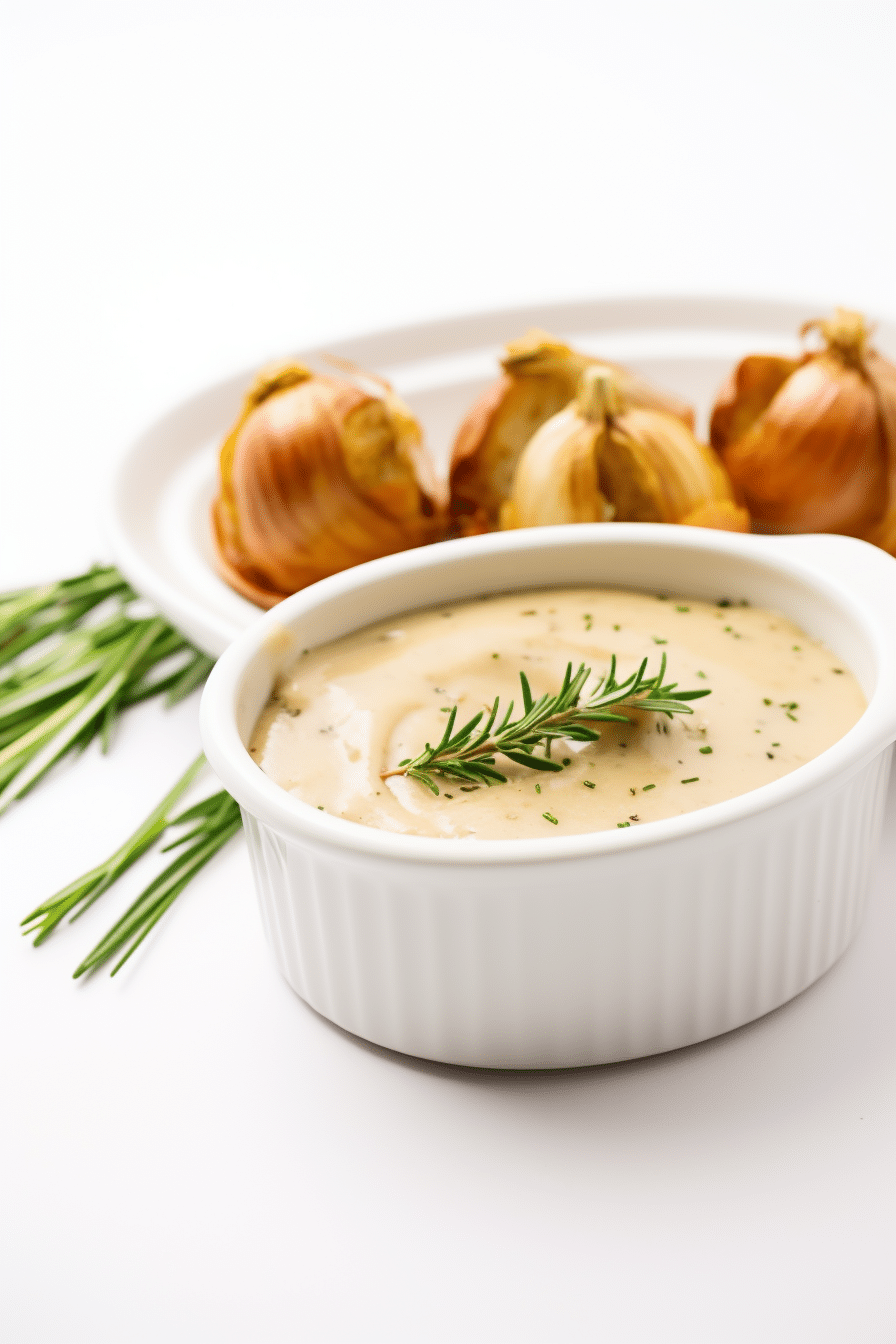 The Method
Creating the perfect Roasted Garlic and Herb Keto Gravy is an art that begins with roasting the garlic to perfection. The key is to achieve a golden, caramelized result without burning the cloves, as this will impart a bitter taste. By wrapping the garlic in foil and roasting it at a consistent temperature, you allow the natural sugars to emerge, resulting in a sweet and mellow flavor that forms the backbone of this gravy.
When it comes to incorporating the xanthan gum, patience and precision are crucial. Sprinkle it gently to avoid clumping and whisk continuously for a smooth, velvety texture. The gradual addition of chicken broth is another critical step, ensuring that the broth is fully integrated with the roux before adding more. This technique prevents lumps and guarantees a consistent thickness throughout the gravy.
Variations
Spicy Chipotle Keto Gravy
For those who enjoy a kick of heat, introducing chipotle peppers to the gravy can create a smoky, spicy twist. The deep, rich flavors of chipotle blend seamlessly with the roasted garlic, adding a new dimension to the sauce that pairs exceptionally well with grilled meats and vegetables.
Mushroom and Onion Keto Gravy
Mushrooms and onions, when sautéed until golden, contribute an earthy, umami flavor to the gravy. This variation is perfect for those who appreciate a more robust taste and a chunkier texture. It's an excellent complement to steak or a keto-friendly shepherd's pie.
Herbaceous Dijon Keto Gravy
A spoonful of Dijon mustard can transform the gravy into a tangy, herb-infused delight. The mustard's piquancy, combined with the aromatic herbs, creates a complex flavor profile that can brighten up poultry and pork dishes.
Substitutions
While the original recipe is designed for maximum flavor and keto compliance, some may wish to tailor the gravy to their personal preferences or dietary restrictions. For instance, if you're avoiding dairy, coconut cream can replace heavy cream, offering a similar richness with a subtle tropical undertone.
Those who do not consume chicken broth can opt for vegetable broth instead, ensuring the gravy remains vegetarian while still providing a savory base. And for a different aromatic profile, dried herbs can be used in place of fresh, although they should be added earlier in the cooking process to allow their flavors to fully develop.
FAQ Section
Can I make this gravy ahead of time?
Yes, this gravy can be prepared in advance and stored in the refrigerator for up to 4 days. Reheat gently on the stove, adding a bit of broth or water if it has thickened too much.
Is this gravy gluten-free?
Absolutely, by using xanthan gum instead of traditional flour, this gravy is gluten-free, making it suitable for those with gluten sensitivities or celiac disease.
How can I ensure my gravy is lump-free?
The key is to sprinkle the xanthan gum slowly and whisk continuously while adding it to the butter and garlic mixture. Gradually pour in the broth while whisking to maintain a smooth consistency.
Can I freeze this keto gravy?
Yes, this gravy freezes well. Pour it into an airtight container and freeze for up to 3 months. Thaw in the refrigerator overnight and reheat gently on the stove.
What can I serve with this keto gravy?
This gravy is incredibly versatile and can be served with a variety of keto-friendly dishes such as roasted meats, cauliflower mash, or keto biscuits.
Roasted Garlic and Herb Keto Gravy
Savor the rich, comforting taste of this Roasted Garlic and Herb Keto Gravy, perfect for drizzling over your favorite low-carb dishes. Crafted with the aromatic flavors of roasted garlic and a blend of herbs, this gravy is a deliciously creamy addition to any keto-friendly meal.
Servings: 8
Prep Time: 10 minutes
Cook Time: 20 minutes
Cuisine: American
Category: Sauce
Ingredients:
1 head of garlic (56g / 2oz)
2 cups chicken broth (480ml)
1/4 cup heavy cream (60ml)
2 tablespoons unsalted butter (28g / 1oz)
1 tablespoon olive oil (15ml)
1 teaspoon xanthan gum (2.6g)
1 teaspoon fresh thyme, chopped (1g / 0.04oz)
1 teaspoon fresh rosemary, chopped (1g / 0.04oz)
1/2 teaspoon sea salt (2.5g)
1/2 teaspoon black pepper (1g)
Method:
Preheat the oven to 400°F (200°C). Slice the top off the head of garlic to expose the cloves. Drizzle with olive oil, wrap in foil, and roast for 40 minutes, or until golden and soft. Allow to cool and then squeeze the garlic cloves from their skins.
In a saucepan over medium heat, melt the butter. Add the roasted garlic and use a fork to mash it into the butter.
Add the chopped thyme and rosemary, cooking for about 1 minute until fragrant.
Sprinkle the xanthan gum over the mixture and stir well to combine. Cook for another minute to remove the raw flavor of the xanthan gum.
Gradually whisk in the chicken broth, ensuring the mixture is smooth and free of lumps. Bring to a simmer.
Reduce the heat to low and simmer for 10-15 minutes, or until the gravy has thickened to your desired consistency.
Stir in the heavy cream, sea salt, and black pepper, and simmer for an additional 2 minutes.
Taste and adjust the seasoning if necessary. If the gravy is too thick, thin it with a little more broth or water until it reaches your preferred consistency.
Serve hot over your favorite keto dishes.
Nutritional Information:
Calories: 85
Carbohydrates: 2g
Net Carbs: 1g
Fiber: 1g
Fat: 8g
Protein: 1g
Equipment Used:
Oven
Foil
Saucepan
Whisk
Measuring Cups and Spoons
Other Notes:
If you prefer a smoother gravy, you can blend the mixture with an immersion blender before adding the heavy cream. For those who enjoy a bit of heat, a pinch of cayenne pepper is a great addition. This gravy can be stored in the refrigerator for up to 4 days or frozen for longer storage. Reheat gently before serving.