Post Intro
Welcome to a world where the warmth of the holidays meets the smart choices of a ketogenic lifestyle. Our Keto Gingerbread Cookies are a festive treat that you can enjoy without breaking your carb budget. With the classic flavors of ginger, cinnamon, and nutmeg, these cookies offer the nostalgic essence of traditional gingerbread, yet are meticulously designed to align with your keto dietary needs. Each bite is a blend of sweet and spice, delivering a satisfying crunch that's both comforting and compliant with your health goals. Whether you're gathered around the fire with loved ones or seeking a cozy moment to yourself, these gingerbread cookies are the perfect keto-friendly addition to your holiday celebrations.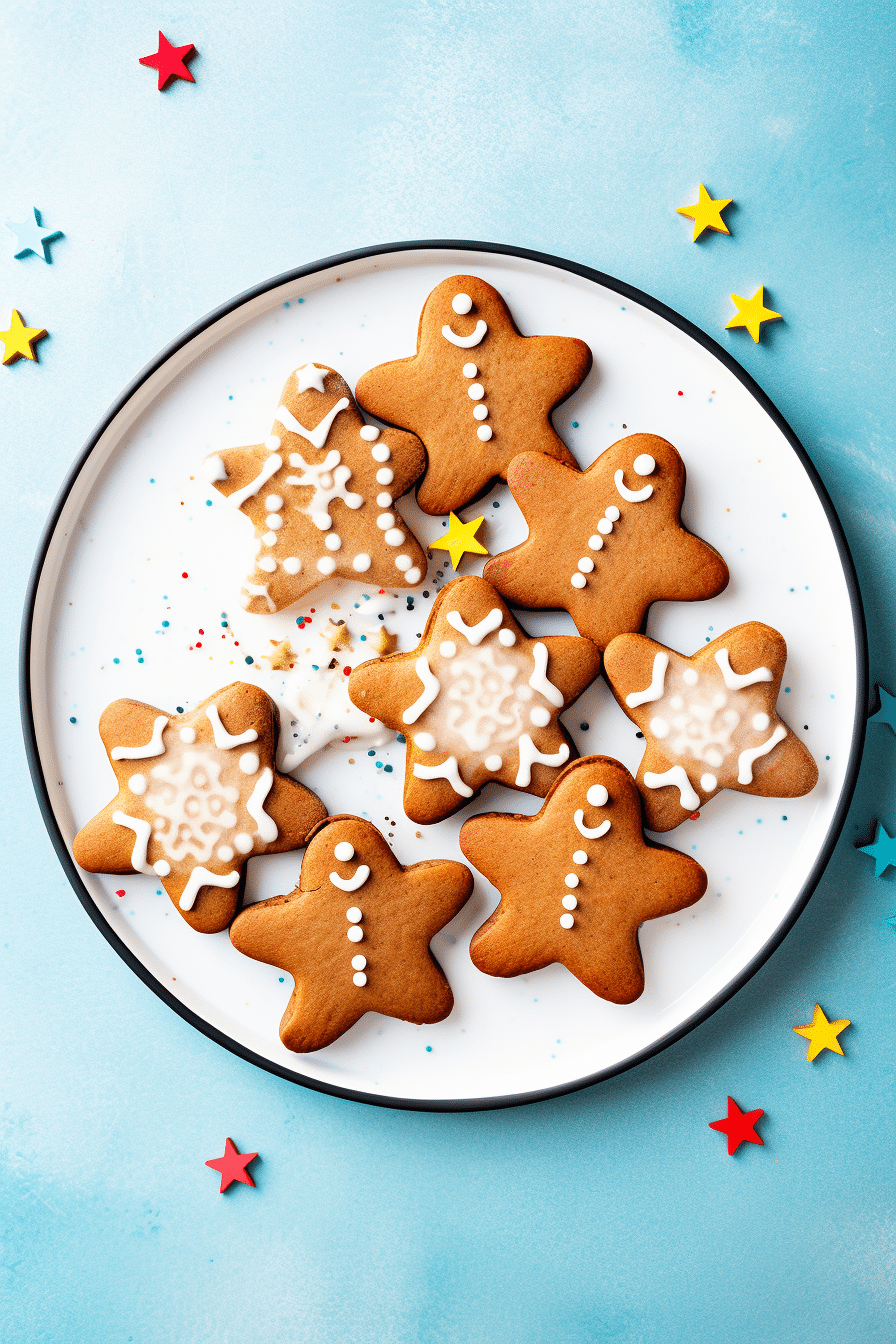 Recipe Details
These Keto Gingerbread Cookies are more than just a low-carb alternative to a holiday staple; they are a testament to how a keto lifestyle can be both joyful and delicious. The inspiration for this recipe comes from a deep appreciation for the holiday season and the desire to create inclusive treats that everyone, regardless of dietary restrictions, can enjoy.
Gingerbread cookies often evoke memories of festive gatherings and the sweet aroma of spices filling the air. However, traditional recipes are laden with sugar and high-carb ingredients that can be a challenge for those on a ketogenic diet. This is where our keto-friendly version comes into play, ensuring that no one has to miss out on the holiday cheer.
By using a blend of almond and coconut flours, we've created a cookie that is not only low in carbohydrates but also gluten-free. The granulated erythritol steps in as a sugar substitute, providing the necessary sweetness without the added carbs. The combination of ginger, cinnamon, nutmeg, and cloves offers the quintessential gingerbread flavor profile, while the butter adds richness and ensures a crisp texture.
These cookies are an excellent choice for the keto diet because they are crafted to satisfy sweet cravings while keeping your carb intake in check. With only 2g of net carbs per cookie, they seamlessly fit into your daily macros. Additionally, the high-fat content aligns with the keto principle of using fat as fuel, making these cookies not just a treat but a smart energy source.
Whether you're a seasoned keto dieter or someone who's simply looking for a healthier alternative to holiday sweets, these Keto Gingerbread Cookies are a delightful option. They prove that you don't have to compromise on taste to maintain a healthy lifestyle during the most indulgent time of the year.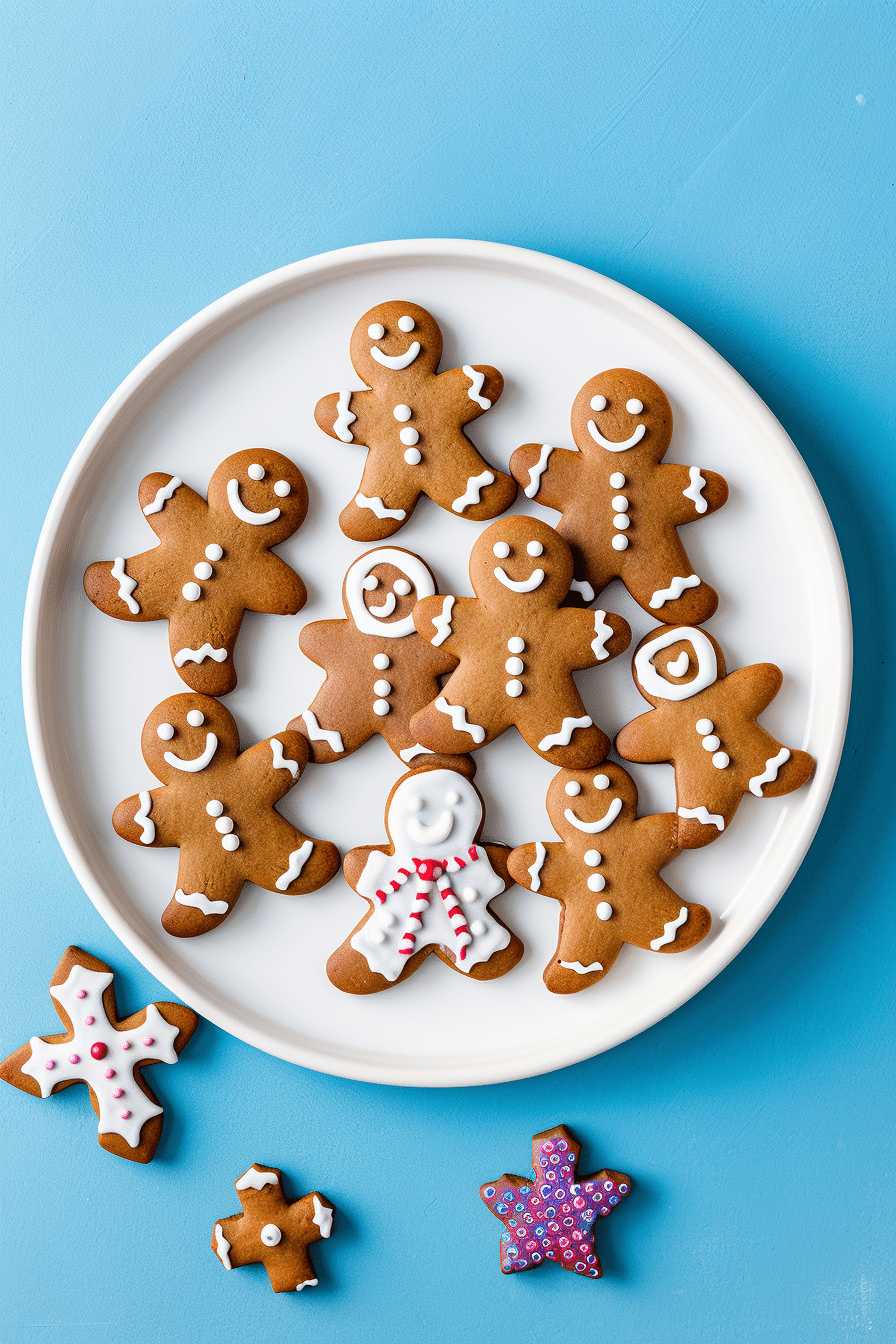 The Method
Creating the perfect Keto Gingerbread Cookies is an art that combines the right ingredients with careful technique. Here's a step-by-step guide to ensure your cookies turn out just right, with some professional tips to elevate your baking experience.
Preparing Your Workspace: Start by preheating your oven to 350°F (180°C). Line your baking sheet with parchment paper to prevent sticking and to make clean-up a breeze. Having your workspace ready ensures a smooth baking process.
Mixing Dry Ingredients: In a large bowl, combine your almond flour, coconut flour, erythritol, and spices. Whisking these together helps distribute the flavors evenly and creates a consistent base for your cookies. The key here is to ensure no clumps remain, as they could affect the texture of your cookies.
Combining Wet Ingredients: Beat the egg in a separate bowl and then whisk in the melted butter and vanilla extract. This emulsion is crucial for binding your cookies and adding moisture. Make sure your butter is cooled slightly to prevent cooking the egg.
Forming the Dough: Gently fold the wet mixture into the dry ingredients until a dough forms. If the dough seems too sticky, let it sit for a few minutes. Almond flour will absorb more moisture as it rests, leading to a more manageable dough.
Rolling Out the Dough: Place the dough between two sheets of parchment paper to prevent sticking and roll it out to about 1/4 inch thickness. This ensures even baking and the perfect thickness for that classic gingerbread snap.
Cutting Out Shapes: Use your favorite cookie cutters to cut out gingerbread shapes. Dip the cutters in almond flour between uses to prevent sticking. Place your shapes onto the prepared baking sheet, spaced apart to allow for slight expansion.
Reusing Dough Scraps: Gather any leftover dough, re-roll it, and continue cutting until all the dough is used. This zero-waste approach ensures you get the most out of your ingredients.
Baking: Bake the cookies for 10 minutes. Keep a close eye on them as they near completion; you're looking for a golden-brown edge, which is the sign of the perfect keto gingerbread snap. Overbaking can lead to a burnt taste, so timing is key.
Cooling: Let the cookies cool on the baking sheet for 5 minutes. This rest period allows them to firm up before transferring to a wire rack. Once on the rack, they will cool completely, setting into the ideal texture for a gingerbread cookie.
Following these steps with attention to detail will ensure your Keto Gingerbread Cookies are a success every time. Remember, baking is as much about the process as it is about the ingredients, so take your time and enjoy the experience.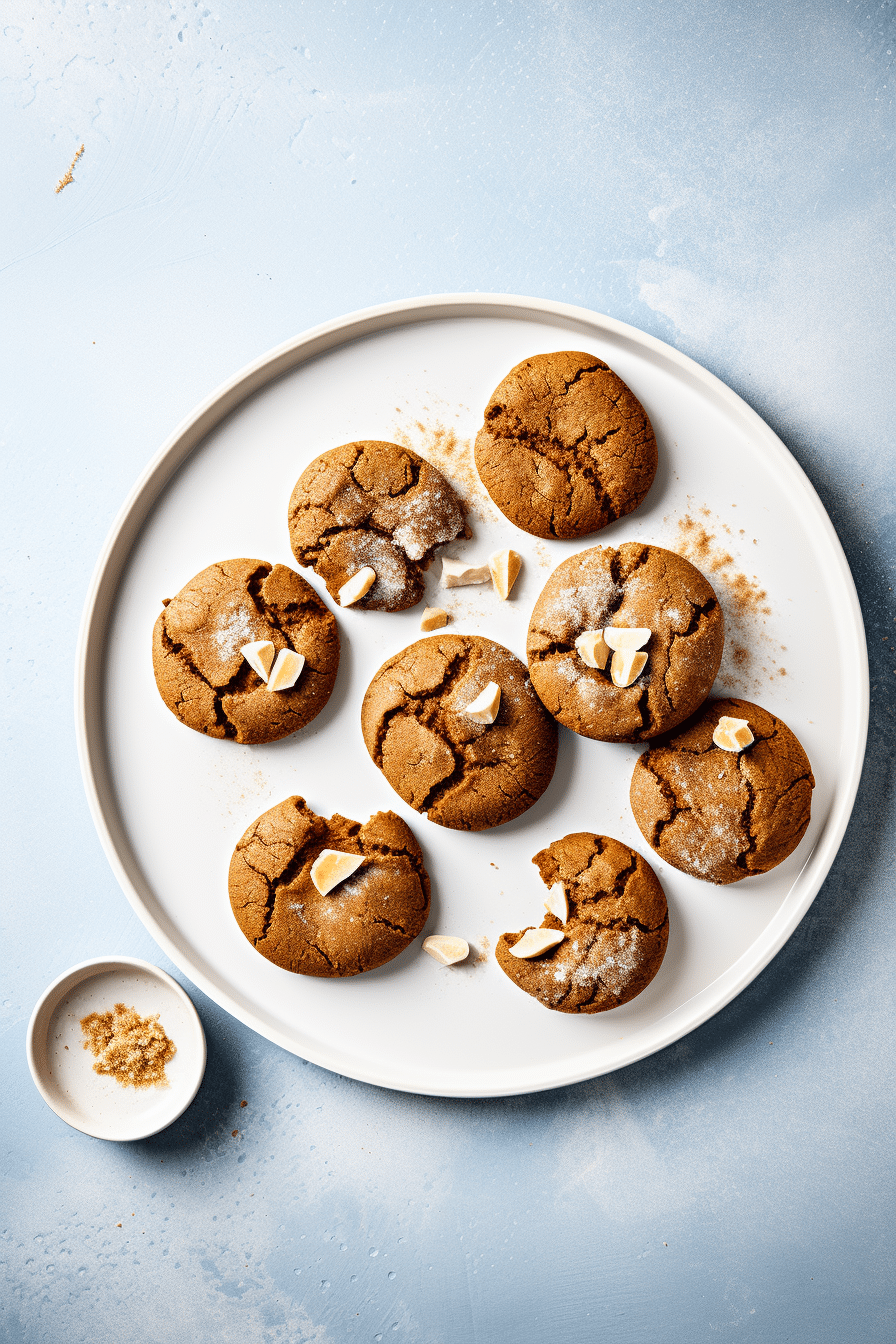 Variations
Chocolate-Dipped Gingerbread Cookies
For an extra layer of decadence, melt some keto-friendly dark chocolate and dip half of each cooled cookie into the chocolate. Lay them back on the parchment paper and refrigerate until the chocolate sets. This adds a rich, creamy contrast to the spicy gingerbread.
Spiced Orange Gingerbread Cookies
Add the zest of one organic orange to your dough for a citrusy twist. The freshness of the orange zest pairs beautifully with the warm spices, creating a complex flavor profile that's both refreshing and comforting.
Nutty Gingerbread Cookies
Chop a handful of pecans or walnuts and incorporate them into your dough for a crunchy texture. Nuts are a great source of healthy fats and make these cookies even more satiating.
Substitutions
Understanding the flexibility of ingredients is key to adapting recipes to your personal preferences or dietary restrictions. Here are some substitutions you can make in this Keto Gingerbread Cookie recipe:
Erythritol: If you don't have erythritol on hand or prefer another sweetener, you can use an equal amount of monk fruit sweetener or stevia. Keep in mind that the sweetness level varies with different brands, so adjust according to taste.
Almond Flour: For those with nut allergies, sunflower seed flour can be used in place of almond flour. It offers a similar texture and is also low in carbs, making it a suitable keto-friendly alternative.
Butter: If you're dairy-free, coconut oil is a fantastic substitute for butter. It should be melted and cooled just like the butter, and it adds a slight coconut flavor that complements the gingerbread spices.
FAQ Section
Can I use honey or maple syrup instead of erythritol?
While honey and maple syrup are natural sweeteners, they are high in carbs and not suitable for a keto diet. Stick with keto-friendly sweeteners to maintain the low-carb integrity of this recipe.
How can I make these cookies vegan?
To make these cookies vegan, substitute the egg with a flax egg (1 tablespoon of ground flaxseed mixed with 3 tablespoons of water, set aside for 15 minutes to thicken) and use coconut oil in place of butter.
Can I make these cookies ahead of time?
Yes, you can prepare the dough in advance and refrigerate it for up to 2 days before baking. You can also freeze the baked cookies for up to 3 months; just thaw at room temperature before serving.
Are these cookies suitable for diabetics?
Since these cookies are sugar-free and low in carbs, they may be suitable for diabetics. However, it's important to consult with a healthcare professional regarding individual dietary needs.
Can I decorate these cookies?
Absolutely! Use a keto-friendly icing made with powdered erythritol or cream cheese to decorate your cookies. Just be mindful of the added carbs from the icing.
Description
Indulge in the festive spirit with these delightful Keto Gingerbread Cookies that are sure to bring joy to your holiday season. Crafted to fit perfectly within your ketogenic lifestyle, these cookies boast a rich, spicy flavor and a perfectly crisp texture, without the guilt of traditional sugary treats. Perfect for sharing with family and friends, these gingerbread cookies are not only low in carbs but also gluten-free, making them a crowd-pleaser for various dietary preferences.
Servings
Makes approximately 12 cookies
Prep Time
15 minutes
Cook Time
10 minutes
Cuisine
American
Category
Dessert
Ingredients
1 1/2 cups almond flour (150g / 5.3oz)
1/4 cup coconut flour (30g / 1.06oz)
1/2 cup granulated erythritol (100g / 3.5oz)
1 tsp ground ginger
1/2 tsp ground cinnamon
1/4 tsp ground nutmeg
1/4 tsp ground cloves
1/2 tsp baking powder
1/4 tsp salt
1 large egg
5 tbsp unsalted butter, melted (70g / 2.5oz)
1 tsp vanilla extract
Method
Preheat your oven to 350°F (180°C) and line a baking sheet with parchment paper.
In a large bowl, whisk together the almond flour, coconut flour, erythritol, ginger, cinnamon, nutmeg, cloves, baking powder, and salt.
In a separate bowl, beat the egg, then mix in the melted butter and vanilla extract until well combined.
Add the wet ingredients to the dry ingredients and mix until a dough forms.
Between two sheets of parchment paper, roll out the dough to a thickness of about 1/4 inch (6mm).
Using cookie cutters, cut out gingerbread shapes and place them on the prepared baking sheet.
Gather any scraps, re-roll, and continue cutting out shapes until all the dough is used.
Bake for 10 minutes or until the edges begin to turn golden brown.
Allow the cookies to cool on the baking sheet for 5 minutes before transferring them to a wire rack to cool completely.
Calories
Approximately 90 calories per cookie
Carbohydrates
4g total carbs per cookie
Net Carbs
2g net carbs per cookie
Fiber
2g fiber per cookie
Fat
8g fat per cookie
Protein
3g protein per cookie
Equipment Used
Oven
Baking sheet
Parchment paper
Large bowl
Rolling pin
Cookie cutters
Wire rack
Other Notes
For a crispier cookie, allow them to bake for an additional 1-2 minutes. Store these keto gingerbread cookies in an airtight container for up to one week or freeze for longer storage. You can also decorate them with a keto-friendly icing if desired, just be sure to account for the additional carbs.