Welcome to a fresh take on a culinary classic that's perfect for the keto lifestyle. Keto Cauliflower Tabbouleh is a vibrant, herbaceous dish that brings the essence of Middle Eastern cuisine right to your table without the extra carbs. This recipe reinvents traditional tabbouleh, substituting riced cauliflower for bulgur wheat, ensuring a low-carb experience without compromising on taste or texture. The result is a dish that's as nourishing as it is flavorful, making it an ideal choice for anyone on a ketogenic diet looking for a refreshing side dish or a light meal option.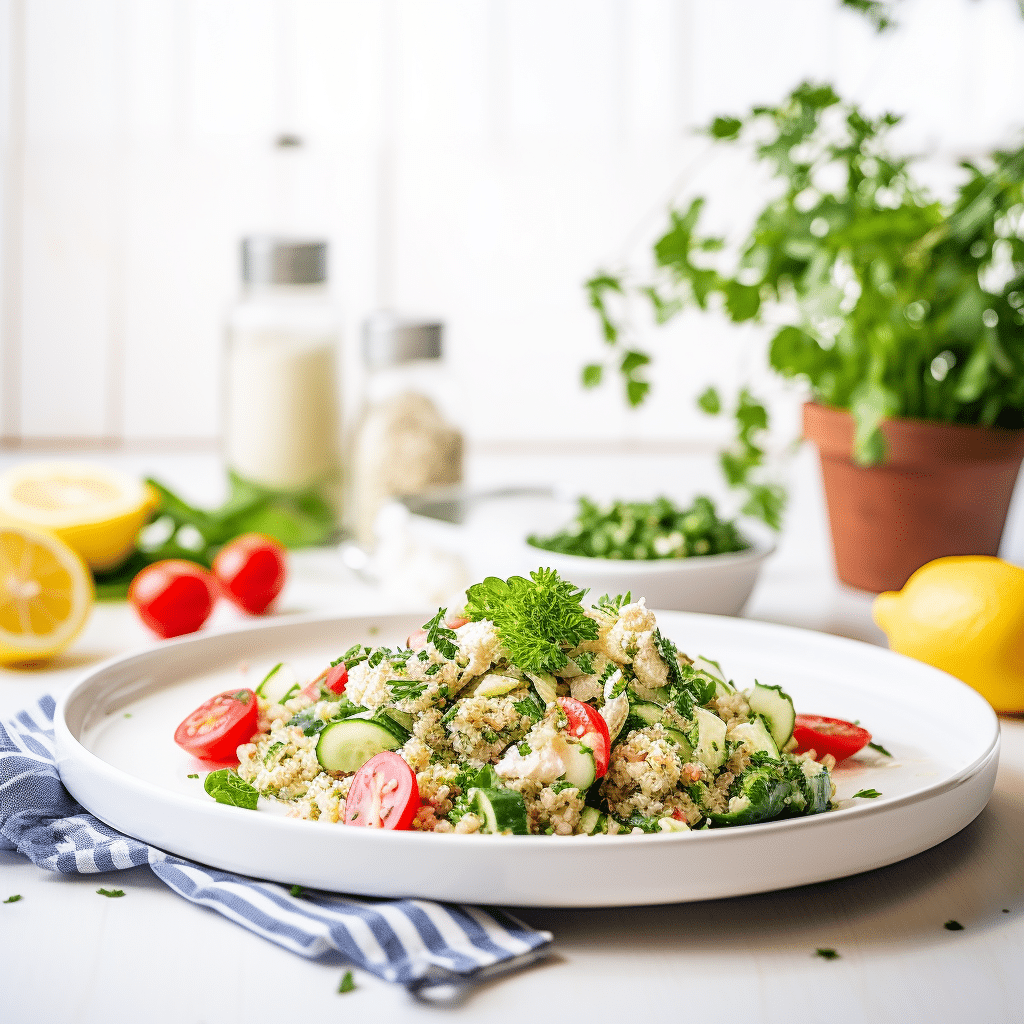 Recipe Details
My journey with Keto Cauliflower Tabbouleh began as a quest to enjoy the bold flavors of the Middle East while maintaining a strict ketogenic diet. The classic tabbouleh is a medley of textures and tastes, but its reliance on bulgur wheat posed a challenge. The solution was found in the versatile cauliflower, which, when riced, perfectly mimics the grainy texture of bulgur while keeping the dish low in carbohydrates.
This dish is not only keto-friendly but also packed with nutritional benefits. Cauliflower is a cruciferous vegetable rich in vitamins C and K, fiber, and antioxidants. When combined with the heart-healthy fats from extra virgin olive oil and the detoxifying properties of fresh herbs like parsley and mint, you get a dish that's as good for your body as it is for your taste buds.
Moreover, Keto Cauliflower Tabbouleh is incredibly versatile. It can be served alongside grilled meats, as a refreshing salad at a summer barbecue, or simply enjoyed on its own as a light lunch. The low carb count also means it can fit into a variety of dietary needs, making it a crowd-pleaser for gatherings with health-conscious guests.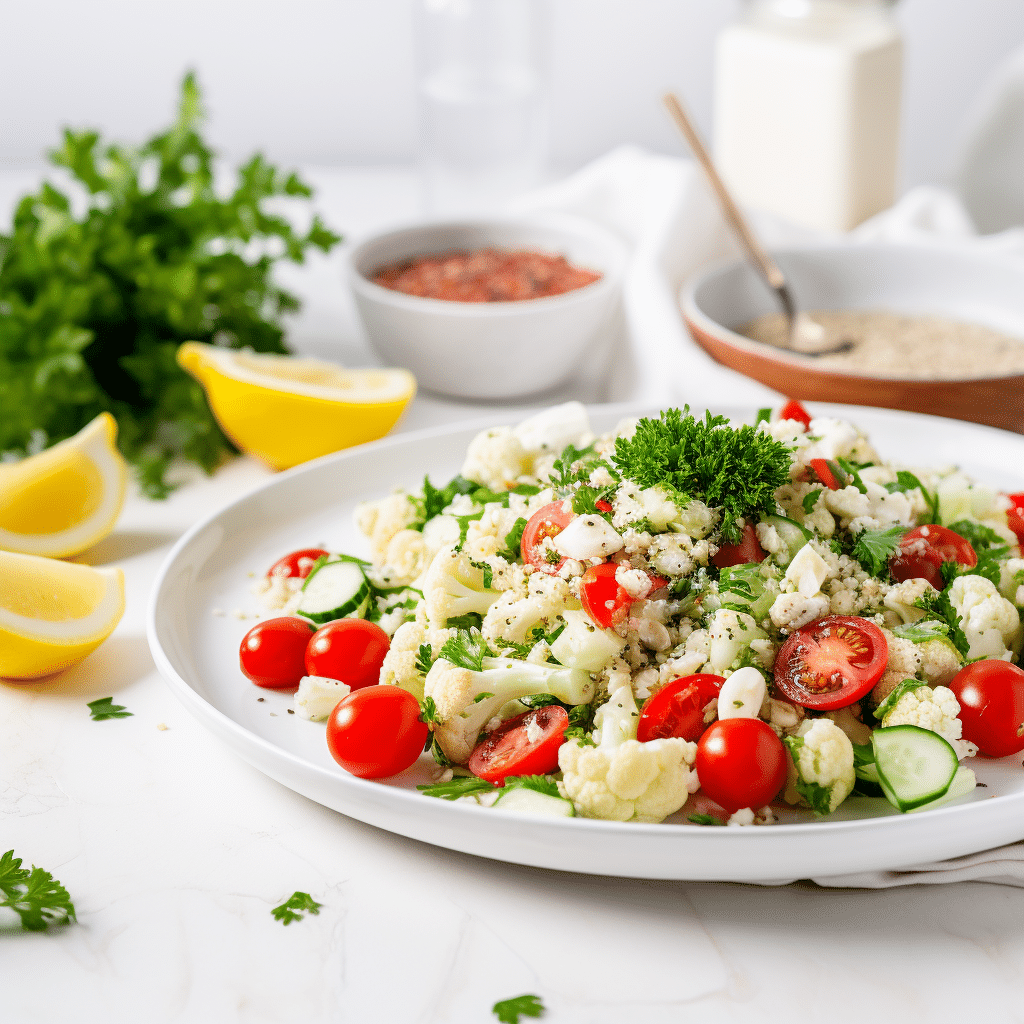 The Method
Creating the perfect Keto Cauliflower Tabbouleh is all about technique and attention to detail. Start by removing the leaves and stem from the cauliflower. Chop it into florets suitable for the food processor. The goal is to pulse until you achieve a rice-like consistency, but be vigilant—over-processing will turn your cauliflower into mush, and we're after a fluffy, grain-like texture.
When it comes to the herbs, finely chop the parsley and mint to release their essential oils, which are crucial for the tabbouleh's signature flavor. The tomatoes, cucumber, and green onions should offer a textural contrast, so aim for a consistent, bite-sized chop.
The dressing is where the magic happens. Whisking together the olive oil, lemon juice, and garlic allows each ingredient to emulsify and blend their flavors. Drizzle it over your cauliflower mix, ensuring an even coating. Seasoning is the final, personal touch—taste as you go to find your perfect balance.
Allowing the tabbouleh to rest before serving is not a mere suggestion—it's a step that lets the flavors marry and intensify. If you prefer a chilled salad, refrigerate it for a bit, but remember, the colder the dish, the subtler the flavors, so adjust seasoning accordingly after chilling.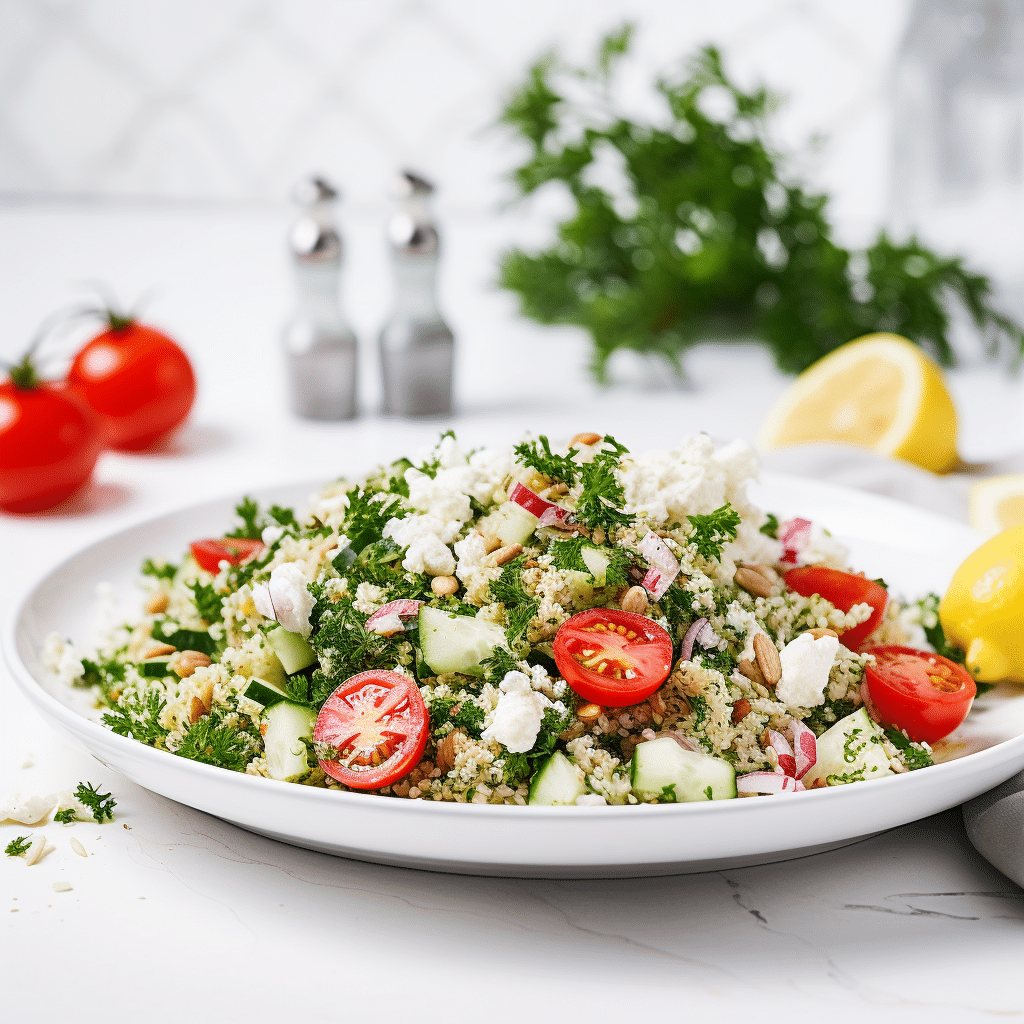 Variations
Spicy Keto Cauliflower Tabbouleh
For those who prefer a kick, add a diced jalapeño or a sprinkle of red pepper flakes to the salad. The heat will complement the freshness of the herbs and add an exciting dimension to the dish.
Protein-Packed Tabbouleh
Turn this side dish into a hearty main course by adding diced grilled chicken or flaked salmon. The protein will satiate your hunger and pairs beautifully with the zesty flavors of the tabbouleh.
Cheesy Cauliflower Tabbouleh
Stir through some crumbled feta or goat cheese for a creamy twist. The tang of the cheese adds a rich depth that contrasts the light, fresh elements of the tabbouleh.
Substitutions
Not everyone has access to the same ingredients, or perhaps you have dietary restrictions. Here are some substitutions you can make without sacrificing the keto-friendly nature of the dish:
For a nuttier flavor, swap extra virgin olive oil with avocado oil. If fresh herbs are out of reach, use dried parsley and mint, but remember that dried herbs are more potent, so reduce the quantity by half. When cherry tomatoes are not in season, sun-dried tomatoes (in oil, drained) can provide a concentrated burst of flavor.
FAQ Section
Can I make this dish ahead of time?
Absolutely. In fact, it tastes better when the flavors have had time to meld. Just be sure to give it a quick stir before serving.
How long can I store Keto Cauliflower Tabbouleh in the fridge?
It will keep well for up to 3 days in an airtight container. The lemon juice helps preserve the freshness of the herbs.
Is this dish suitable for vegans?
Yes, as it stands, this recipe is vegan-friendly. Just ensure any substitutions you make are also vegan.
Can I freeze the tabbouleh?
It's not recommended as the fresh ingredients can become soggy once thawed.
What can I serve with Keto Cauliflower Tabbouleh?
It pairs wonderfully with grilled meats, fish, or as part of a mezze platter with other keto-friendly dips and vegetables.
Keto Cauliflower Tabbouleh
A refreshing and nutritious twist on the classic Middle Eastern salad, this Keto Cauliflower Tabbouleh is a delightful blend of riced cauliflower, fresh herbs, and zesty lemon. It's the perfect low-carb side dish for your next barbecue or potluck. Packed with flavor yet light on carbs, it's sure to become a staple in your keto meal rotation.
Prep Time: 15 minutes
Servings: 4
Cook Time: 0 minutes
Ingredients
Cauliflower, riced – 1 medium head (about 1 lb or 450g)
Fresh parsley, finely chopped – 1 cup (about 2 oz or 56g)
Mint leaves, finely chopped – 1/4 cup (about 0.5 oz or 14g)
Cherry tomatoes, halved – 1/2 cup (about 3 oz or 85g)
English cucumber, diced – 1/2 cup (about 4 oz or 113g)
Green onions, thinly sliced – 2 tablespoons (about 0.5 oz or 14g)
Extra virgin olive oil – 3 tablespoons (about 1.5 oz or 45ml)
Lemon juice, freshly squeezed – 2 tablespoons (about 1 oz or 30ml)
Garlic, minced – 1 clove (about 0.1 oz or 3g)
Salt and pepper to taste
Method
Begin by ricing the cauliflower. Remove the leaves and stem, and chop the cauliflower into florets. Pulse the florets in a food processor until they resemble rice grains. Be careful not to over-process.
In a large mixing bowl, combine the riced cauliflower, finely chopped parsley, and mint. These fresh herbs are the heart of the tabbouleh's flavor, so ensure they are well incorporated.
Add the halved cherry tomatoes, diced cucumber, and sliced green onions to the bowl. The crunch and color of these vegetables provide a delightful contrast to the herbs.
In a small bowl, whisk together the extra virgin olive oil, fresh lemon juice, and minced garlic. This dressing will brighten the dish and infuse it with a tangy flavor.
Pour the dressing over the cauliflower mixture and toss everything to coat evenly. Season with salt and pepper to your liking.
Let the tabbouleh sit for about 10 minutes before serving to allow the flavors to meld together. Optionally, chill in the refrigerator if you prefer to serve it cold.
Cuisine: Middle Eastern, Keto
Nutrition Information
Calories: 120
Carbohydrates: 10g
Net Carbs: 6g
Fiber: 4g
Fat: 7g
Protein: 3g
Author: Lorcan O'Connor