Welcome to a festive flavor extravaganza with our Keto Holiday Brussels Sprouts recipe! If you're on the hunt for a side dish that's both delicious and keto-friendly for your holiday feast, look no further. These Brussels sprouts are not just a side dish; they're a conversation starter, a way to impress your guests with your culinary prowess while sticking to your keto goals.
Roasted to a golden crisp and tossed with savory bacon, sweet cranberries, and crunchy pecans, this dish brings a festive twist to your table without the carb overload. Perfect for anyone following a ketogenic diet, these Brussels sprouts are low in carbs but high in healthy fats and flavor. Dive into this recipe and discover how to make your holiday meals memorable and keto-approved!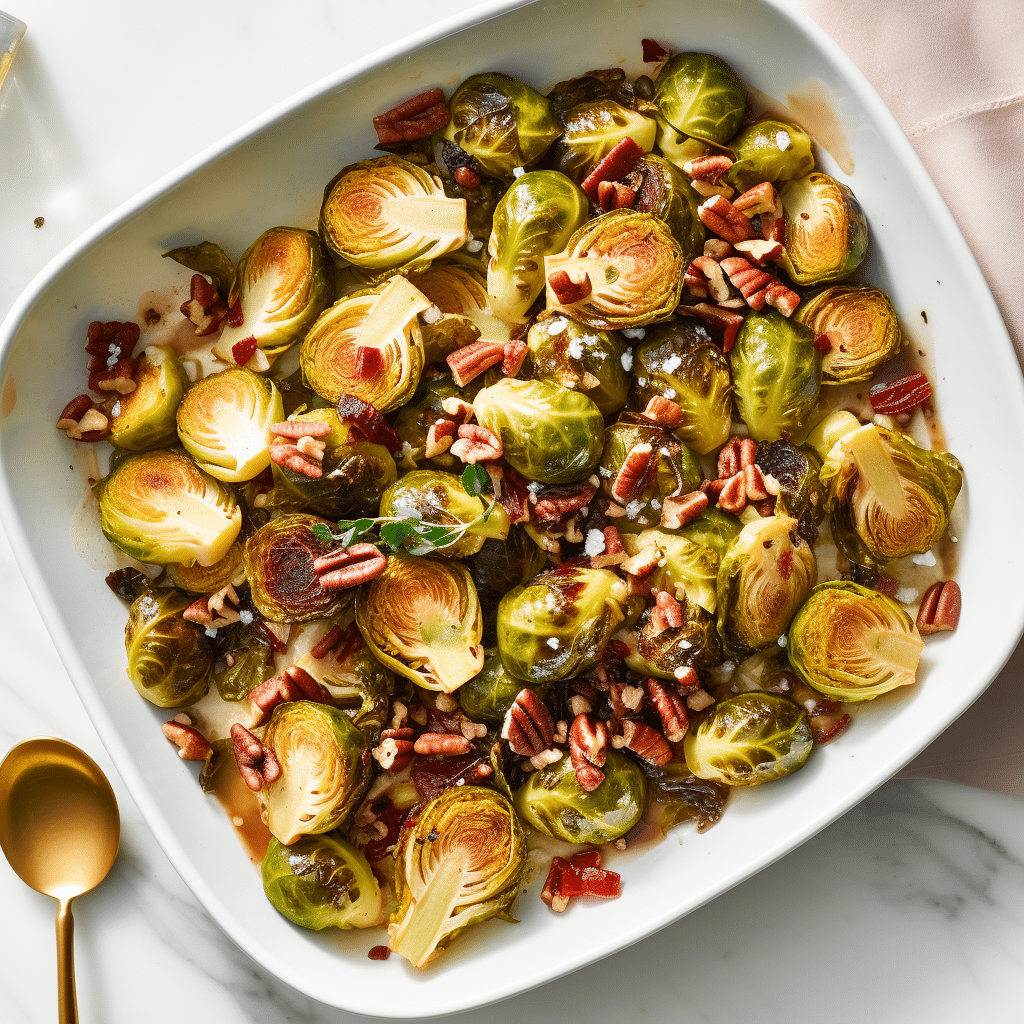 Recipe Details
This Keto Holiday Brussels Sprouts recipe is an homage to my grandmother's classic holiday dish, with a low-carb twist that makes it perfect for anyone on a ketogenic diet. The inspiration came from many family gatherings where Brussels sprouts were a staple, but often prepared in a way that was loaded with unnecessary sugars and carbs. My goal was to create a dish that retains the essence of a festive side while aligning with keto principles.
Roasting brings out the natural sweetness of the Brussels sprouts, while the bacon adds a rich, savory depth. The cranberries provide a hint of tartness and sweetness, and the pecans deliver a satisfying crunch. Each ingredient is carefully chosen to create a symphony of flavors that enhance the sprouts without overshadowing their natural appeal.
As for its keto benefits, this dish is a powerhouse of nutrients with a low net carb count. Brussels sprouts are high in fiber, which is subtracted from the total carbs to calculate net carbs, an essential aspect of keto eating. The fats from the bacon, butter, and pecans are exactly what you need to stay in ketosis while providing long-lasting energy. With a generous serving size, this recipe is not only filling but also keeps your macros in check.
My personal twist on this recipe is the use of sugar-free dried cranberries, which are a game-changer for keeping it keto without compromising on taste. The apple cider vinegar adds a subtle zing that brightens the overall flavor profile. This dish is a testament to the fact that keto eating can be indulgent and healthy at the same time. It's a recipe that's close to my heart, and I'm thrilled to share it with fellow keto enthusiasts looking for a festive side dish that won't break their carb bank.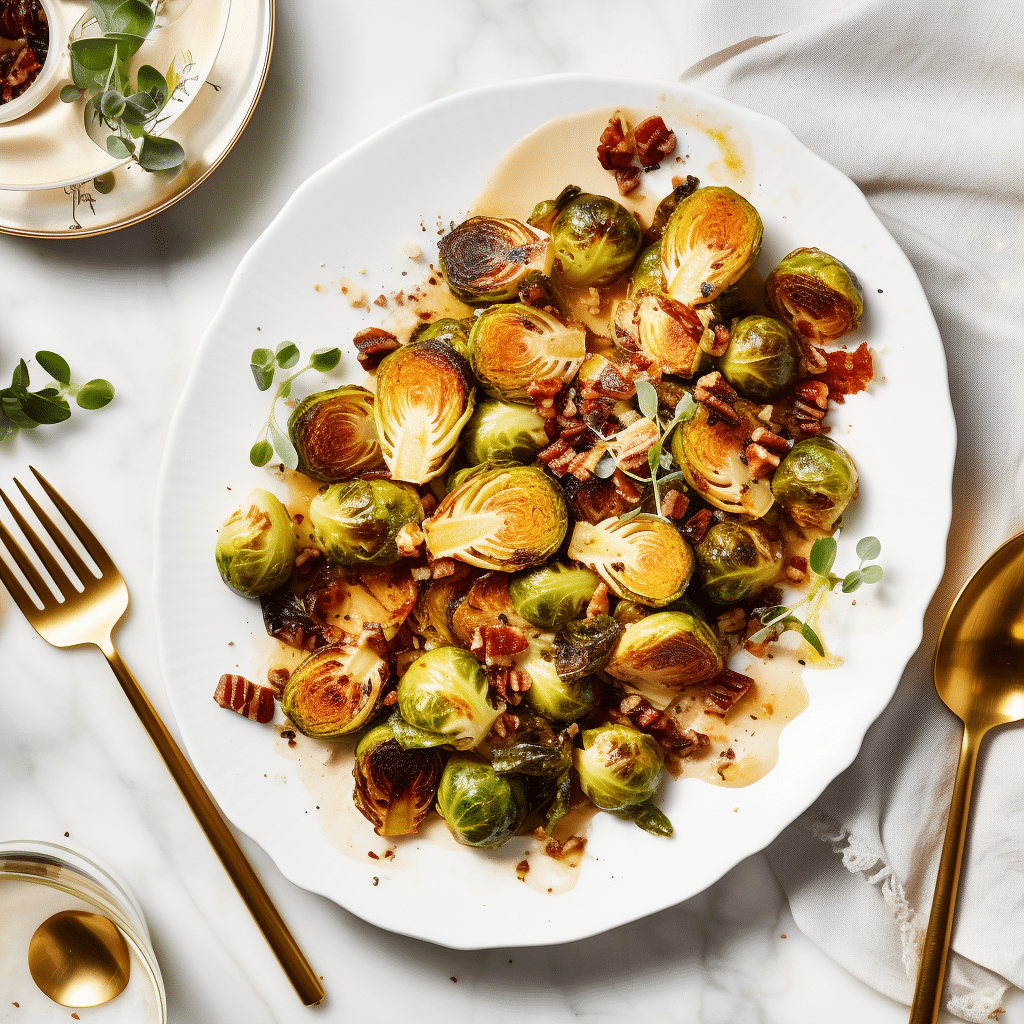 The Method
Let's delve into the method with some chef's insights to ensure your Keto Holiday Brussels Sprouts turn out perfectly every time. Start by preheating your oven to a hot 400°F (200°C) to achieve that desirable caramelization on your sprouts. This high temperature is crucial for roasting, as it quickly develops color and flavor. When preparing your Brussels sprouts, make sure they are of uniform size for even cooking. If you find some sprouts are particularly large, quarter them instead of halving to keep cooking times consistent.
Seasoning is key in this recipe. The combination of salt, pepper, and garlic powder creates a simple yet robust flavor base. Don't be shy with the seasoning; remember that the sprouts will mellow out in the roasting process. When tossing the sprouts with olive oil, ensure each piece is well-coated. This not only adds to the flavor but also helps achieve that irresistible crispy exterior.
Keep an eye on your bacon as it cooks. The goal is crispy bacon that will add texture to the dish, but you don't want it to burn. Once cooked, reserve the bacon fat in the skillet; it's packed with flavor and will be used to toast the pecans. Toasting nuts is a step you don't want to skip. It intensifies their flavor and adds another layer of crunch to the dish.
When combining the roasted Brussels sprouts with the bacon, pecans, and cranberries, do so gently to keep the sprouts intact. The final roast, after adding the butter and apple cider vinegar glaze, is where the magic happens. It's a brief period, but it allows the flavors to meld together beautifully.
Remember, the key to a successful dish is attention to detail and not rushing the process. Each step builds on the last to create a complex flavor profile that's worth the effort. And don't forget to taste as you go; adjusting seasoning is not a crime—it's the sign of a good cook.

Variations
Spicy Maple Bacon Brussels Sprouts
For those who love a kick of heat, try adding a spicy twist to the recipe. Incorporate a teaspoon of chili flakes into the olive oil before tossing the Brussels sprouts. Replace the apple cider vinegar with a sugar-free maple syrup for a sweet and spicy glaze that pairs wonderfully with the smokiness of the bacon.
Lemon Parmesan Brussels Sprouts
Give your Brussels sprouts an Italian flair by omitting the cranberries and pecans. After roasting, toss the sprouts with freshly grated Parmesan cheese and a generous squeeze of lemon juice. The sharpness of the Parmesan and the brightness of the lemon will offer a refreshing contrast to the rich bacon.
Herbed Goat Cheese Brussels Sprouts
For a creamy variation, add dollops of soft goat cheese to the sprouts just before serving. Sprinkle with a mix of fresh herbs like thyme and rosemary. The tanginess of the goat cheese and the aromatic herbs will create a sophisticated flavor profile.
Substitutions
Bacon Substitutes
If you're looking to reduce the fat content or prefer a different protein, try using turkey bacon or prosciutto. These alternatives will still provide a savory crunch without as much fat as traditional bacon.
Nut Substitutes
Pecans can be replaced with other keto-friendly nuts like walnuts or almonds. Each nut offers its unique flavor and texture, so choose according to your preference or what you have on hand.
Sweetener Substitutes
If you can't find sugar-free dried cranberries, consider using a small amount of fresh cranberries sweetened with a keto-friendly sweetener like erythritol or stevia. This will maintain the festive feel while keeping the carbs low.
FAQ
Can I make this dish ahead of time?
Yes, you can roast the Brussels sprouts and prepare the bacon and pecans ahead of time. Store them separately and toss with the butter glaze just before the final roast to serve them fresh and crispy.
How do I store leftovers?
Store any leftovers in an airtight container in the fridge. They'll keep for up to 3 days. Reheat in the oven to maintain crispiness.
Is this recipe suitable for other diets?
This recipe is also gluten-free and can be adapted for paleo diets by using paleo-approved bacon and butter substitutes.
Can I use frozen Brussels sprouts?
It's best to use fresh Brussels sprouts for roasting, as frozen ones can become soggy. If you must use frozen, thaw and pat them dry to remove excess moisture before roasting.
How can I make sure my Brussels sprouts are crispy?
Ensure your oven is fully preheated and don't overcrowd the pan. Giving the sprouts space allows them to roast rather than steam, resulting in a crispier texture.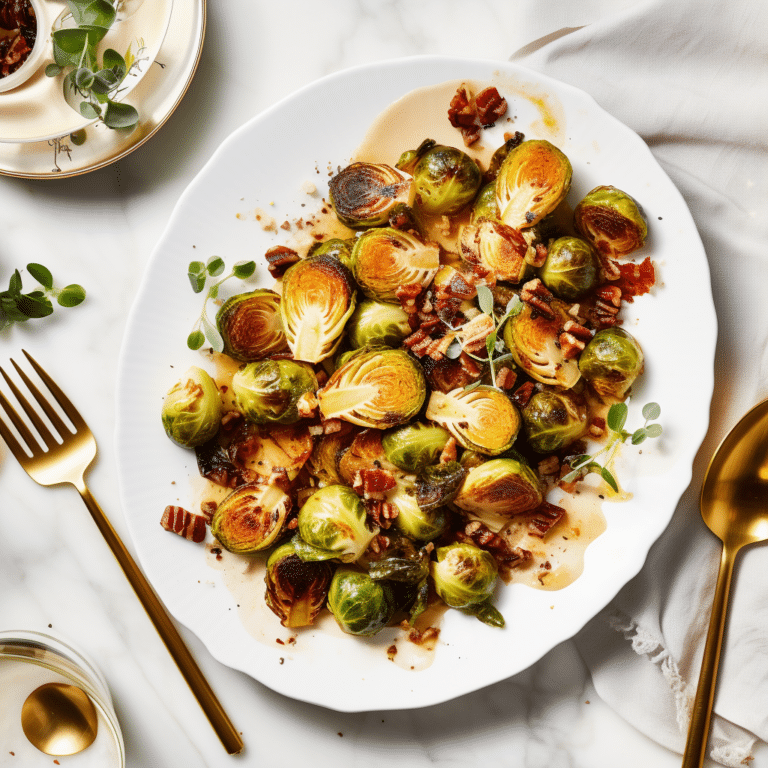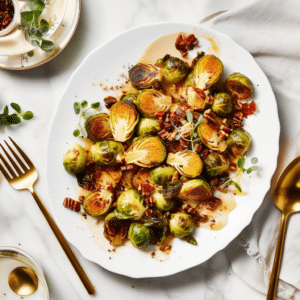 Ultimate Keto Holiday Brussel Sprouts Recipe: A Flavorful Low-Carb Delight!
A keto-friendly side dish featuring roasted Brussels sprouts with a delightful mix of savory bacon, sweet cranberries, and crunchy pecans, all tossed in a rich, buttery glaze.
Ingredients
1.5

pounds

680g Brussels sprouts, trimmed and halved

6

slices

170g bacon, chopped

⅓

cup

40g pecans, roughly chopped

¼

cup

30g dried cranberries, sugar-free

3

tablespoons

42g unsalted butter

2

tablespoons

30ml olive oil

1

tablespoon

15ml apple cider vinegar

1

teaspoon

5g garlic powder

Salt and pepper to taste
Instructions
Preheat your oven to 400°F (200°C). Line a large baking sheet with parchment paper for easy cleanup.

Place the trimmed and halved Brussels sprouts on the prepared baking sheet. Drizzle them with olive oil and season with salt, pepper, and garlic powder. Toss to coat evenly.

Roast in the preheated oven for about 15 minutes, or until the Brussels sprouts begin to caramelize and turn golden brown at the edges.

While the Brussels sprouts are roasting, cook the chopped bacon in a skillet over medium heat until crispy. Use a slotted spoon to transfer the bacon to a paper towel-lined plate to drain.

In the same skillet with the remaining bacon fat, add the chopped pecans. Toast them for 2-3 minutes, stirring frequently until they're fragrant and slightly browned. Remove from heat and set aside.

Once the Brussels sprouts are roasted, remove them from the oven. Add the crispy bacon, toasted pecans, and sugar-free dried cranberries to the baking sheet with the Brussels sprouts.

In a small saucepan, melt the unsalted butter over low heat and stir in the apple cider vinegar. Once combined, drizzle the butter mixture over the Brussels sprouts and toppings on the baking sheet. Toss everything together to distribute the flavors.

Return the baking sheet to the oven and roast for an additional 5 minutes, allowing the flavors to meld and the Brussels sprouts to get a final crisp.

Remove from the oven and serve immediately, garnishing with additional salt and pepper if desired.
Nutrition
Calories:
250
kcal
Carbohydrates:
10
g
Protein:
6
g
Fat:
20
g