Sticking with the Keto diet can be tough at times, so making things as simple as possible is the key to avoid falling off the wagon. 7 hour, slow cooked pot roasts are good and all, but if you're anything like me, after a long day at work I want something quick and easy to cook, that doesn't need half a dozen pans and a list of ingredients as long as your arm! What I need are quick, easy Keto dinner recipes!
All the below Keto dinner recipes can be put together in around 15 minutes making them ideal weekday meals, most of them are one-pot too so less washing up (yay!) With meals this quick there's no excuse for picking up a ready meal or takeway when you're short on time!
Not so keen on the meat? Why not check out these 11 Keto Vegan Dinners?
This post contains affiliate links, see the bottom of the page for more info*
1. Garlic Butter Steak and Zucchini Noodles
Image Credit Eatwell101
Ah the zoodle, staple of any low carb diet. I've always been a pasta addict and these zucchini noodle go a long way to getting that fix. Now I'm cheating here a bit as you'll need to marinade the beef for 30 minutes before you cook it but that's just enough time to put your feet up, brew a cup of tea and think ahead to the delicious combo of steak, garlic and butter.
This is one pan cooking at it's finest, with the zucchini soaking up all the flavours from the steak, and the whole dish coated in garlicky goodness…
Get the recipe here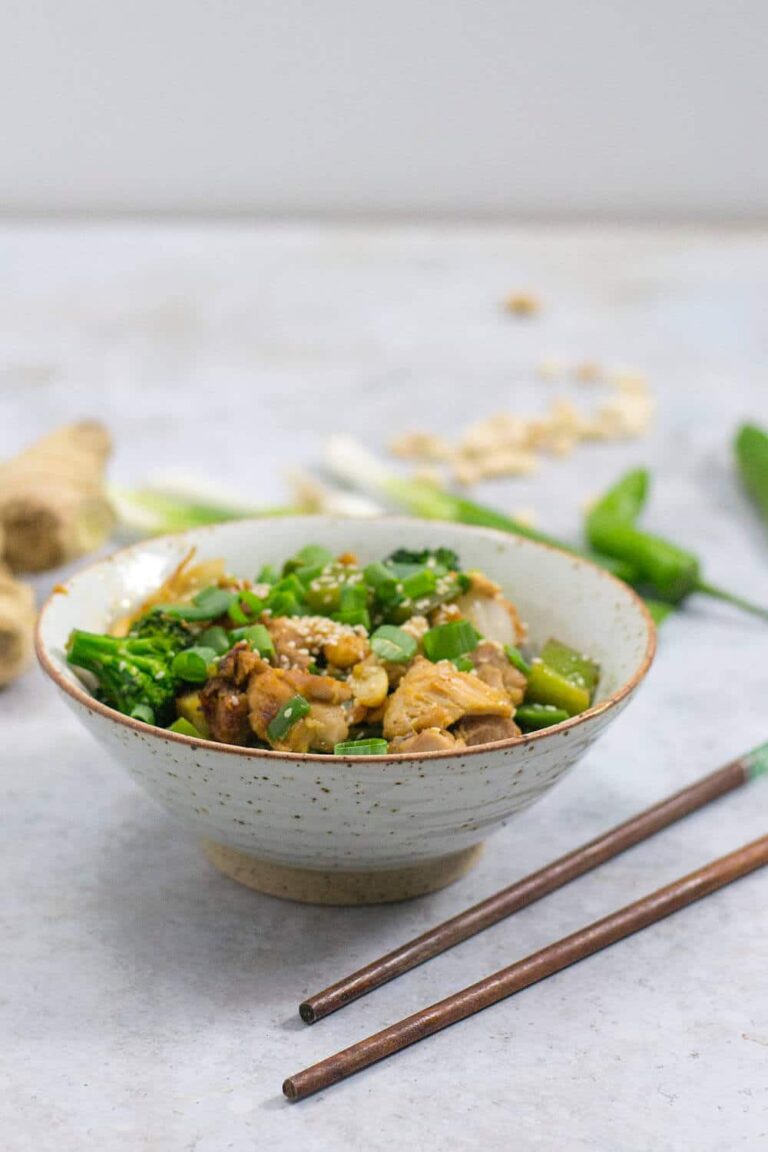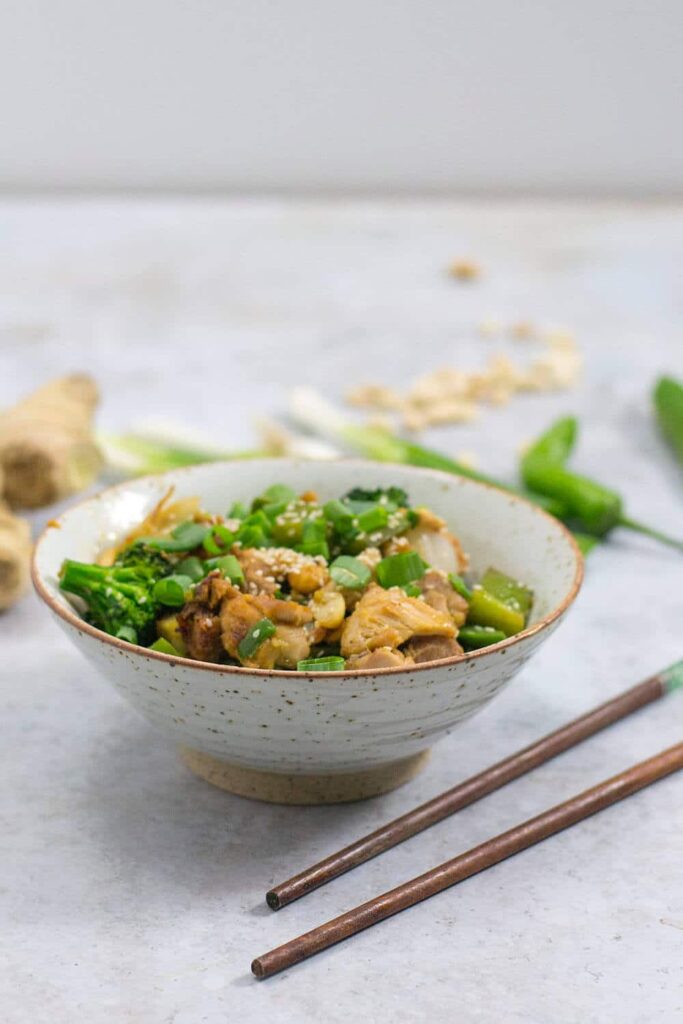 This delicious dish can be ready in no time and is packed with flavor. Peanuts give some healthy fats, and chicken thighs taste great and are much more forgiving than breast.
The best thing about this dish is how fast it can be put together. If I'm in the zone I can have this one on the table well inside 15 minutes!
Get the recipe here
2. Baked Chicken with Mushrooms and Gorgonzola
Image Credit Waitrose
Indulgent one-pot deliciousness! Mushrooms and Gorgonzola combine for a rich, savoury sauce. Gorgonzola is probably one of my favourite cheeses, with a strong, distinctive flavor. Some of you may not be such big fans of blue cheese as I am, in which case add in cream and replace the Gorgonzola with a lighter cheese, personally, I like it extra blue!
Cast iron is definitely your friend with a dish like this, I use cast iron skillets for almost all my cooking nowadays, as you can quickly transition from the oven to the stovetop. If you're going to be making lots of one-pot dishes it's definitely worth investing in a quality cast iron skillet, preferably with an enamel lining to make cleaning easier. You can go for an expensive Le Creuset pan but something like this will do just as good a job.
Get the recipe here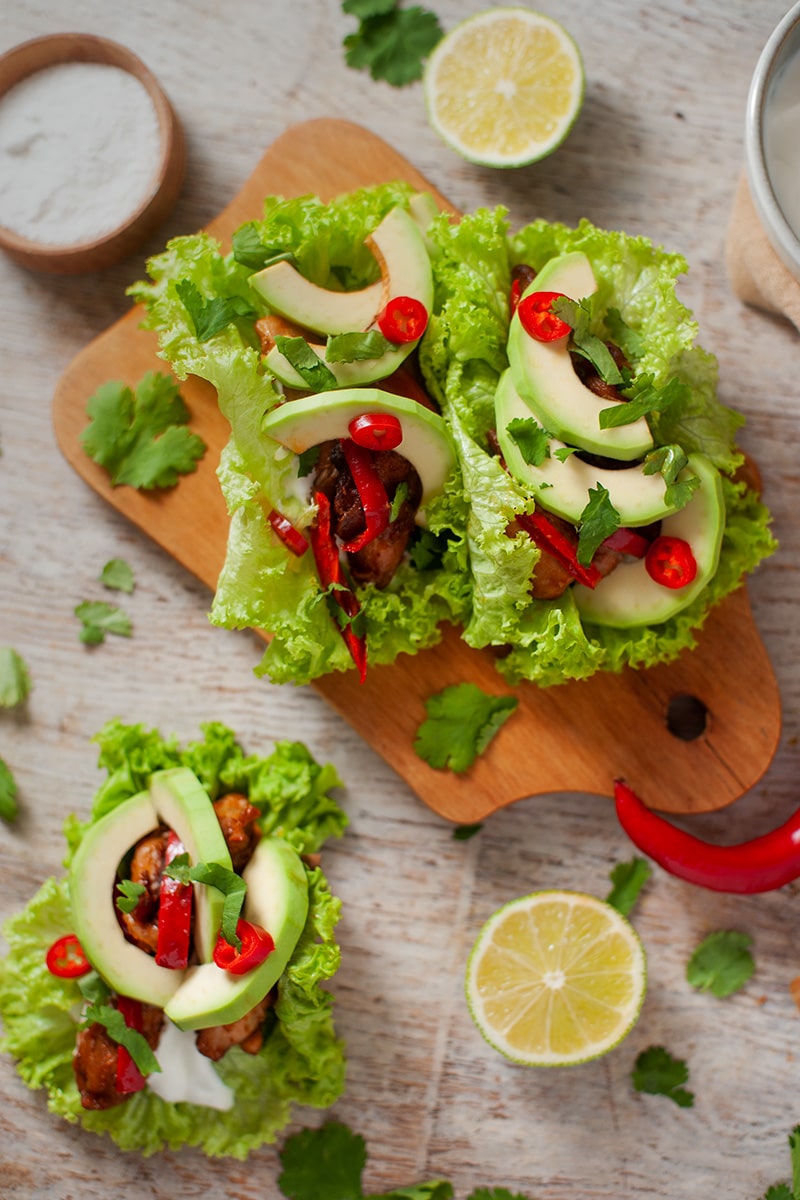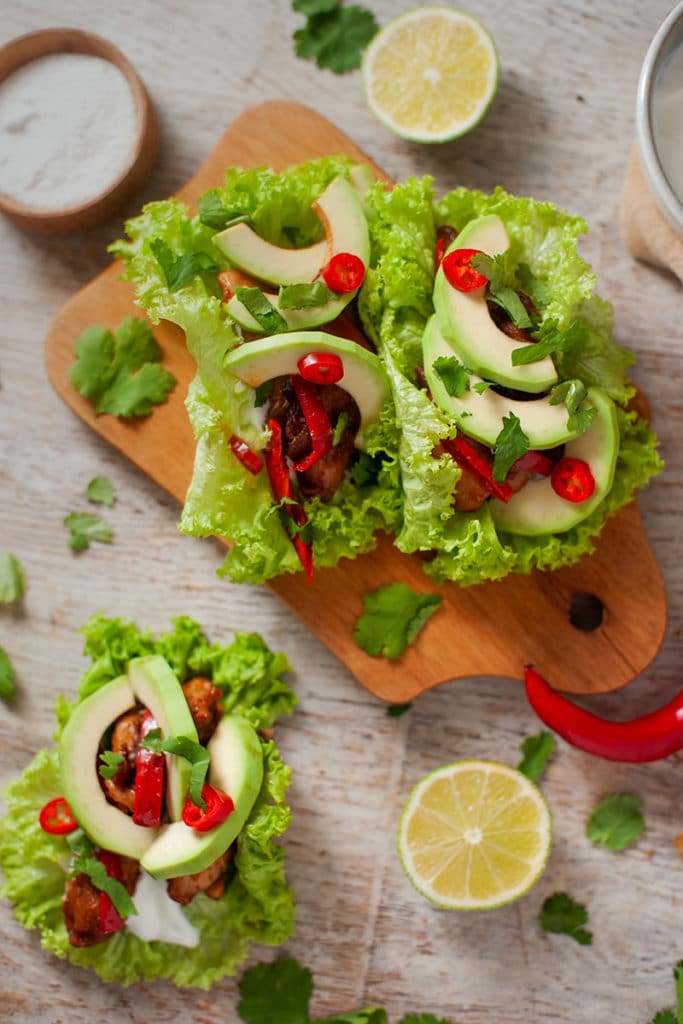 These super quick fajitas can easily be on your plate within 15 minutes, and come packed with flavor and spice. These are perfect to make for a crowd, just pile up the fillings in the middle of the table and let everyone assemble their own low carb fajita.
Get the recipe here.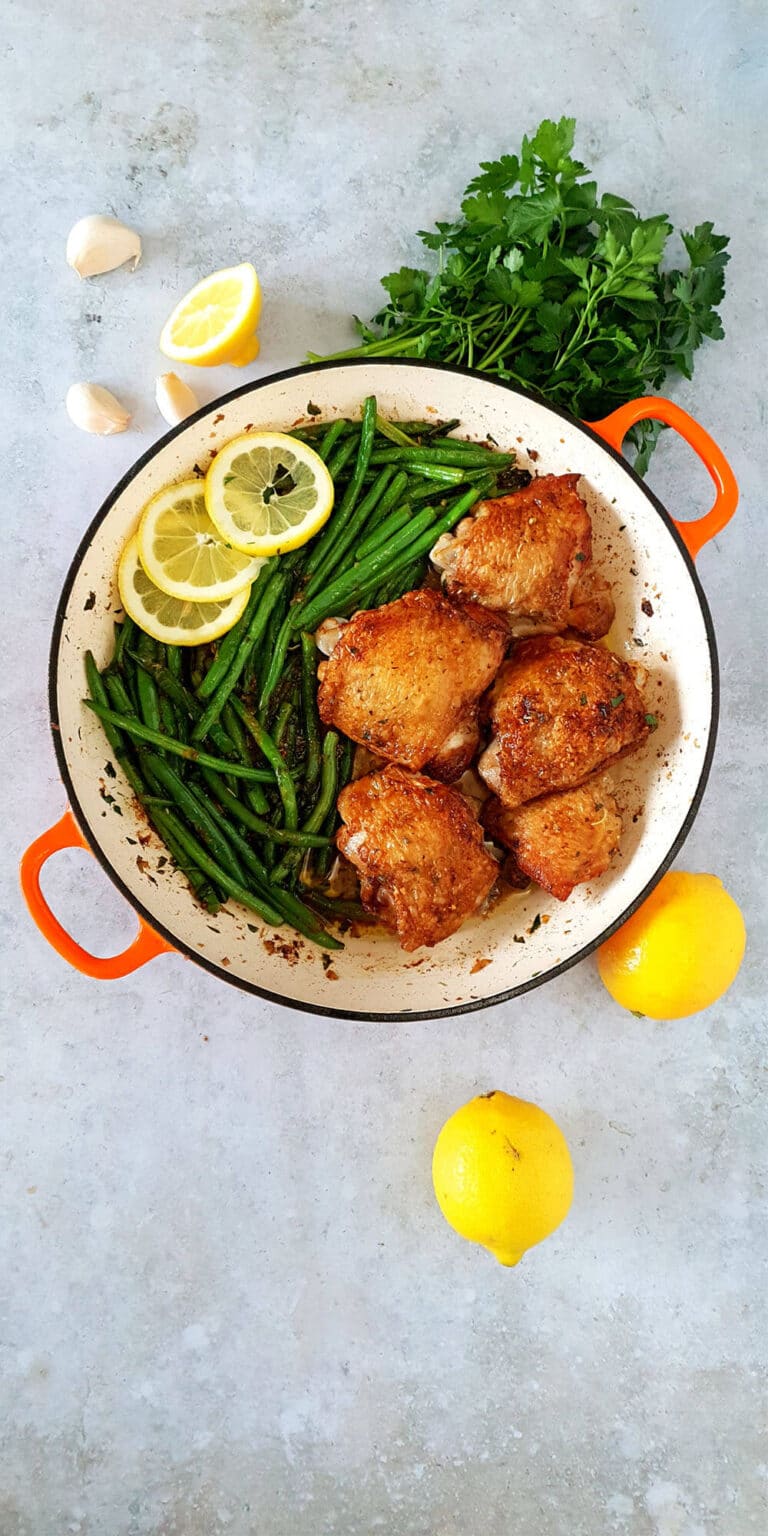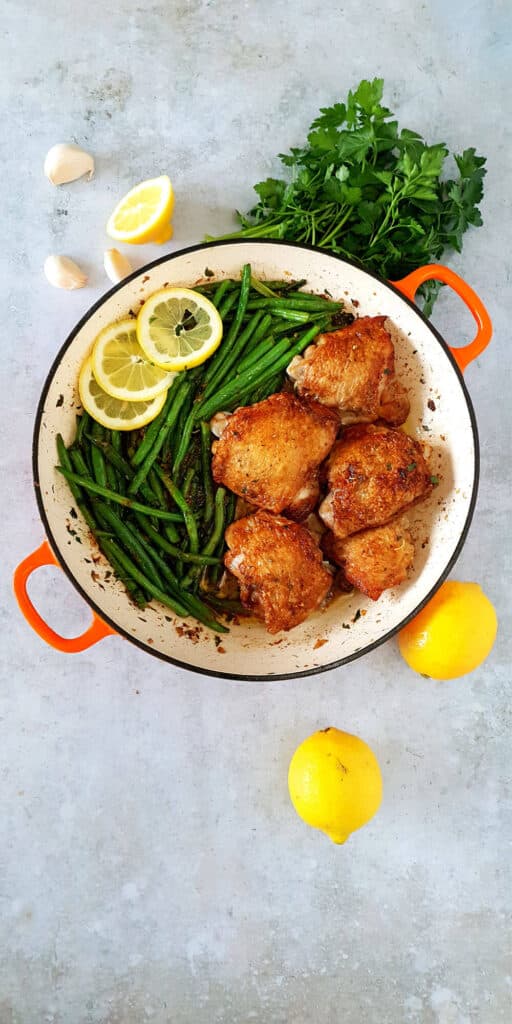 This is one of my go to meals and couldn't get much easier. This is a great keto chicken recipe to add to your repertoire for lazy days as it's done in one skillet and ready in no time.
Crispy skin, garlic butter, lemon and herbs – this is a delicious meal that anyone can put together and is highly recommended.
Get the recipe here
3. Garlic Butter Chicken with Parmesan Cauliflower Rice
Image Credit Eatwell 101
Garlic butter again? Well, yes, it's that good! Nothing can make you forget you're on a diet quicker than this perfect combo. Cauliflower rice is a bit of a low carb staple, and can be pretty bland if you don't season it right. That why Parmesan is used here to great effect to lift this to the next level.
Seasoning your food well is important for maximum flavour, it's also important with a Keto diet where you may be losing electrolytes rapidly (particularly if you're transitioning onto the diet and may be experiencing some of the early symptoms of ketosis) Just watch the sodium by using a quality kosher or maldon salt rather than typical table salt where possible. You can find plenty of good low sodium salts now too.
Get the recipe here
4. Korean Beef Bowls
Image Credit HappyBodyFormula
Just about any cuisine can be adapted to the Keto diet with a little thought, and this Korean beef bowl is a great mid-week keto dinner that for once doesn't involve zoodles… Some chilli heat and savoury Asian flavours will give you a rich, satisfying dish that couldn't be easier to make.
Chilli is great for fat loss, with the active ingredient that gives the heat (capsaicin) able to raise your metabolism after eating it for a number of hours, burning extra calories (for more fat burning tips, check out this post with 6 steps to reach optimal ketosis!).
Pair this up with some spicy Kimchi to give your gut bacteria some fermented love. Fermented foods such as Kimchi are great probiotics and worth trying to include in your diet where possible.
Get the recipe here
5. Garlic Lime and Cashew Zoodles
Image Credit Salt and Lavender
Yes, the zoodles are back! This time in a super quick Asian inspired dish. If you've been resisting buying a spiralizer (who needs any more kitchen gadgets?!) then this vegan bowl of goodness should give you the nudge needed. Peanuts, lime and cilantro give an almost satay style sauce that'll be hard to resist.
Cashews are a great addition to your diet, as they contain a huge amount of healthier monounsaturated fats, more than most other nuts. They are also packed with micronutrients including magnesium, copper and compounds beneficial against cancer, heart disease and high cholesterol. If you're not already, try to include plenty of nuts and seeds in you diet for the range of benefits they bring.
Get the recipe here
6. Low Carb 'Crack Slaw'
Image Credit WholesomeYum
So called 'crack slaw' is everywhere in the low carb world. It's essentially a cabbage based stir fry with a whole bunch of delicious flavours packed in, without the carbs from using rice or noodles. I love dishes like this which are low carb but taste so much better than their high carb equivalents, at the end of the day the rice or noodles in a stir fry aren't adding much for flavour, only bulk, whereas here the bulk ingredients taste good too!
This is definitely a dish where you can kinda throw whatever vegetables you've got in, a great dish for using up leftovers in the fridge at the end of the week. Coconut aminos are a bit of an obscure ingredient so swap out for a low sodium soy sauce instead if you can't find this.
Get the recipe here
7. Low Carb Green Omelette
Image Credit LowCarbMaven
This incredible looking dish is a powerhouse of nutrition, and can be put together in no time at all. I love an omelette when I'm short on time, it can literally take 5 minutes from start to finish! This is the sort of thing I eat when my girlfriend is out of the house and I'm cooking for one. I almost always have eggs and spinach in the house and my ongoing Parmesan addiction means there's always a block in the back of the fridge…
4 cheeses in a single omelette may sound pretty indulgent, and it is! But why not?
Get the recipe here
8. Grilled Flank Steak with Avocado Chimichurri
Image Credit JoyfulHealthyEats
Avocado……chimi…..churri…. This is my dream food. Anything with fresh avocado in it is a win for me. Other than my Parmesan addiction guacamole is in close second. Throw some seared steak in there and I'm in heaven.
Sometimes steak can be a little too rich and heavy, especially with a creamy sauce, not here! Some acidity from the chimichurri cuts through the rich meatiness to give a much lighter mid week meal. Pair with a good salad or some veg sautéed with plenty of butter (I only eat broccoli like this nowadays…)
Don't hold back on the avocados in this dish as with a Ketogenic diet we need to be getting plenty of fats into our meals. Avocados are a great source of mono-unsaturated fats with can help to protect against heart disease and lower blood pressure. Avocados are incredibly nutrient dense, rich in antioxidants and vitamins and great for general health, which is my usual excuse for eating them with reckless abandon! Check out this post for 11 more keto friendly avocado recipes to try
Get the recipe here
9. Carbonara Zucchini Noodles
Image Credit Diethood
Before I started eating a low carb Keto diet, Spaghetti Carbonara was my go to mid week 15 minute meal. If you've read the rest of this post you'll already be aware of my Parmesan addiction, and Parmesan is the star of the show here (yay!) If you're not a fan of Parmesan (the real stuff, not the often stale,pre-grated packs you get in many stores) then you have my apologies, but there aren't many ingredients that pack so much flavour into such a small package. The rich, umami, savoury flavour of the cheese with some salty pancetta hit's all the right notes with a huge hit of flavour. But swapping out pasta for the much lighter zucchini makes this a perfect LCHF (Low Carb High Fat) mid-week meal.
Technique is key here making sure not to mix in the sauce whilst the pan is still on the heat, this isn't a scrambled egg dish after all.
Get the recipe here
10. Quick Goan Fish Curry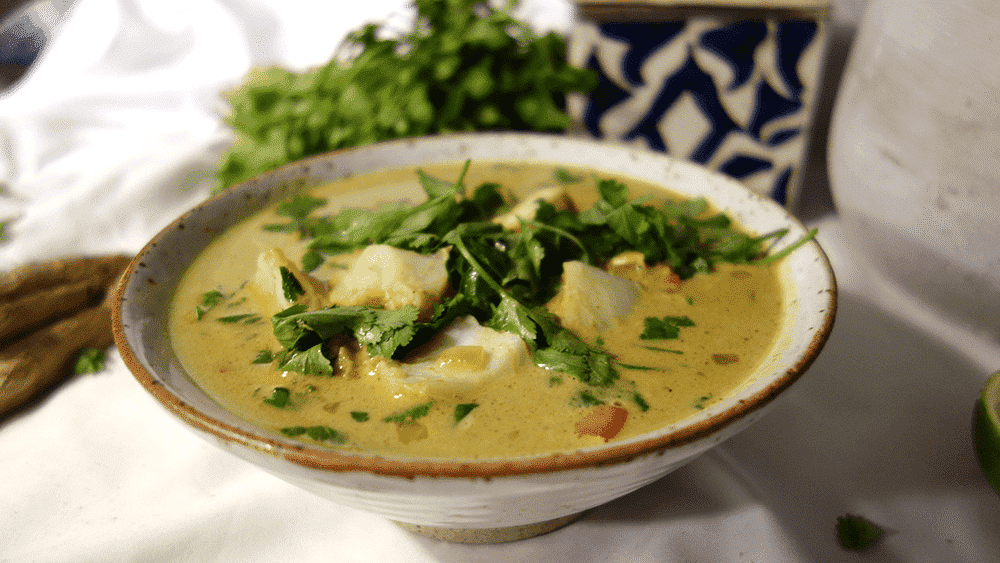 Shameless plug alert! Yes, this is one of my own recipes, but I think it's pretty good and super quick for a weekday meal (though my camera doesn't quite do it justice compared to some of these other recipes…) Pair this with either zoodles or cauliflower rice for extra bulk. You should try to eat fish once or twice a week, and this Keto friendly dish is a great way to get some in without being too 'fishy'. Turmeric, Chili, garlic and other spices all have great health benefits and taste delicious too. The great thing about this meal is speed, you get so much richness and warming flavour for very little effort.
Get the recipe here
Bonus! Keto Korean Fried Chicken!!
I couldn't resist putting this one in here as the grand finale! This sticky, spicy, crunchy fried chicken tastes better than takeout, with just 8g net carbs per serving! Now I'm cheating here a bit as if you're deep frying for more than a couple of people you'll need to do it in batches, making this more of a 30-45 minute meal. If you're just treating yourself you can rustle this up in 20 or so minutes, and it's SO worth it. Give a try, you won't regret it!
Get the recipe here
Keto in a Hurry!
I hope you've enjoyed this round up. Cooking on the Ketogenic diet doesn't need to be a long, difficult task. The easier you can make it to cook Keto meals, the more likely you are to stick to the diet. Good luck with all your Keto cooking adventures! In a hurry and on a budget? Then this guide to going keto on a budget might a good place to head next.
If you don't even have 15 minutes to spare, then why not try a smoothie? This Turmeric Latte Smoothie or Lean Green Smoothie can do the trick or give this run down of the best keto smoothies a read!
Where to next on your keto journey?
1. Learn more about working out on the keto diet with our keto exercise guide
2. Find out how to get into a deeper state of ketosis with our 6 steps for optimal ketosis
3. Discover the signs and symptoms to know for sure when you're properly in ketosis
4. Check out these tips and tricks to save money and lose weight with our keto on a budget guide
5. Stock up your keto cupboard with this list of ready to eat keto snacks
6. Keto in a hurry? Make one of these keto friendly smoothies to fuel your day
7. Learn more about the keto diet with our beginners guide to keto
*This post contains affiliate link(s). An affiliate link means I may earn advertising / referral fees if you make a purchase through my link, without any extra cost to you. It helps keep this blog up and running 🙂 Thanks for your support