Balsamic Glazed Keto Brussels Sprouts with Bacon
When it comes to the keto diet, finding dishes that are both nutritious and indulgent can be a delightful challenge. Balsamic Glazed Keto Brussels Sprouts with Bacon is a recipe that promises to tick all the right boxes. Bursting with flavor and packed with healthy fats, this dish is a perfect example of how keto-friendly meals can be both satisfying and gourmet. With the smoky richness of bacon and the deep, tangy sweetness of the balsamic glaze, these Brussels sprouts are transformed into a side dish that could easily steal the spotlight. Whether you're a seasoned keto enthusiast or just dipping your toes into the world of low-carb eating, this recipe is bound to impress.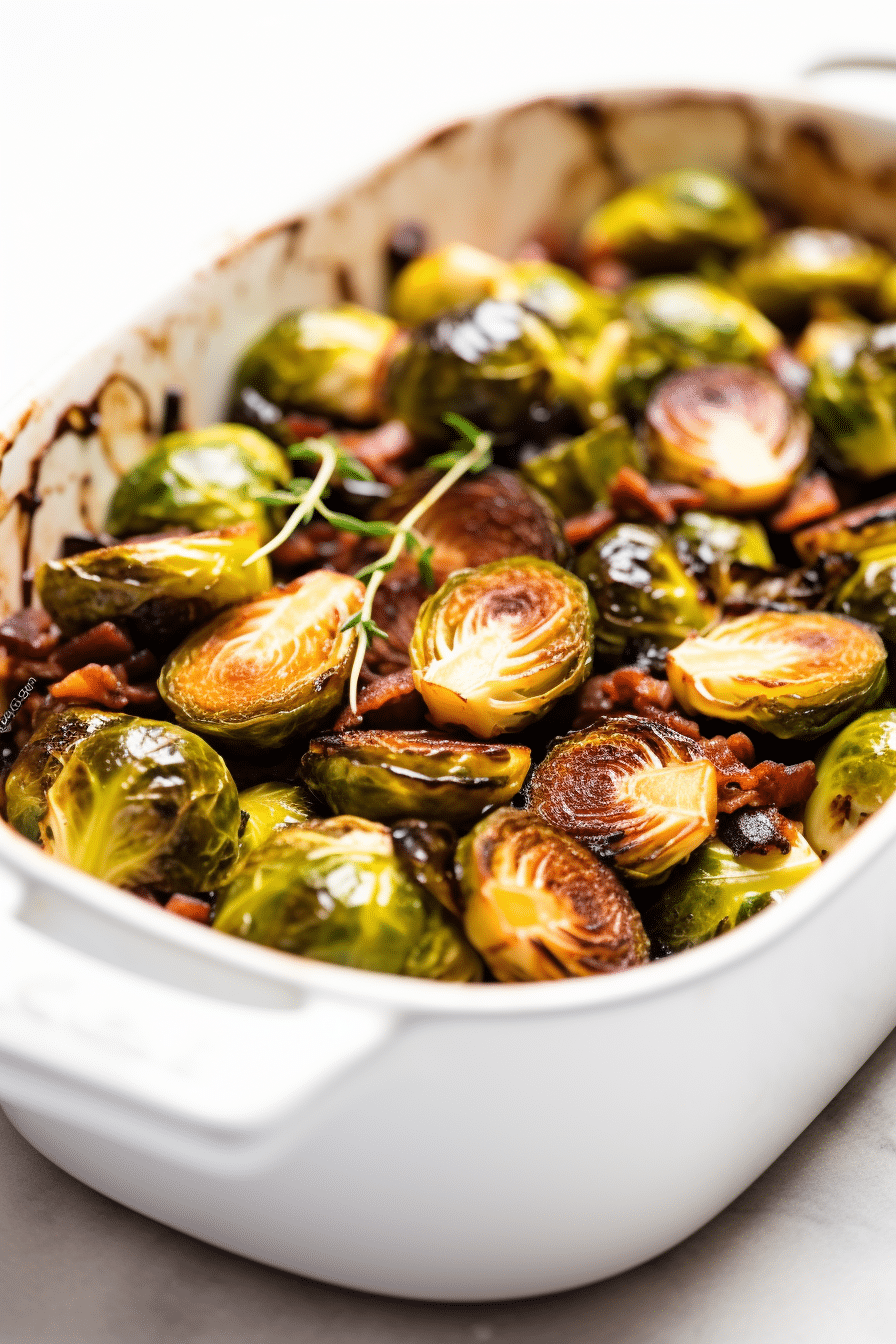 Recipe Details
This dish is more than just a side; it's a testament to the versatility of keto cooking. The inspiration for Balsamic Glazed Keto Brussels Sprouts with Bacon came from a desire to create a recipe that could stand up to any high-carb counterpart in terms of flavor and satisfaction. The key to its success lies in the balance of textures and flavors. The Brussels sprouts, a powerhouse of vitamins and fiber, become tender yet crisp, providing a satisfying bite. The bacon, a keto staple, adds a necessary fat component and smokiness that elevates the dish. The balsamic glaze, with its rich and complex flavor profile, brings a touch of elegance without adding excess carbs, thanks to the sugar-free maple syrup.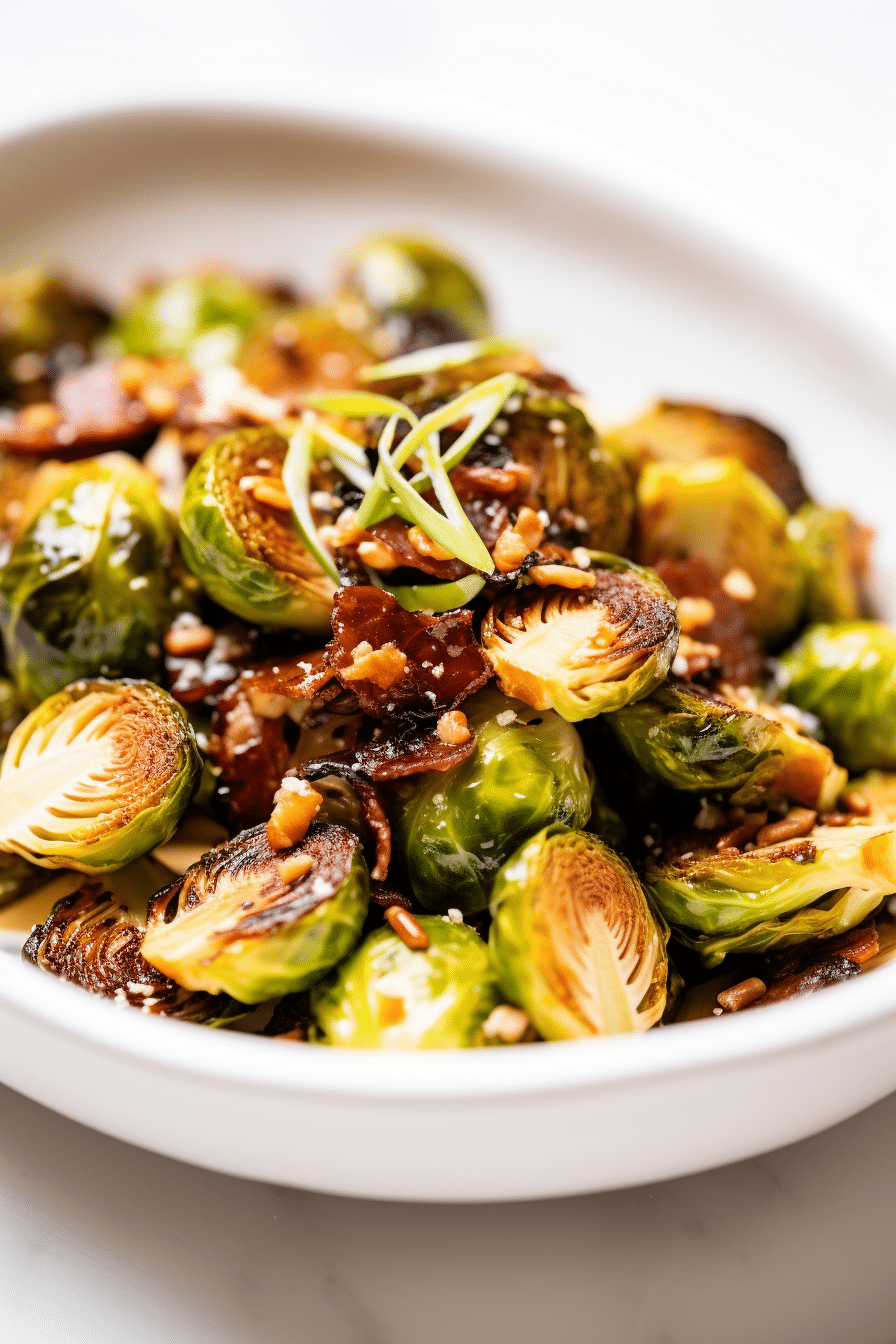 The Method
Let's delve into the culinary techniques that will ensure your Balsamic Glazed Keto Brussels Sprouts with Bacon turn out perfectly. Preheating your oven is crucial; it ensures that the Brussels sprouts will cook evenly and get that desired crispness. When cooking the bacon, aim for a balance between crispy and tender; this will provide the best texture once combined with the sprouts. As you sauté the Brussels sprouts in bacon grease, you're not just cooking them; you're infusing them with flavor. Be vigilant to avoid burning them; a bit of char is delightful, but too much can turn bitter.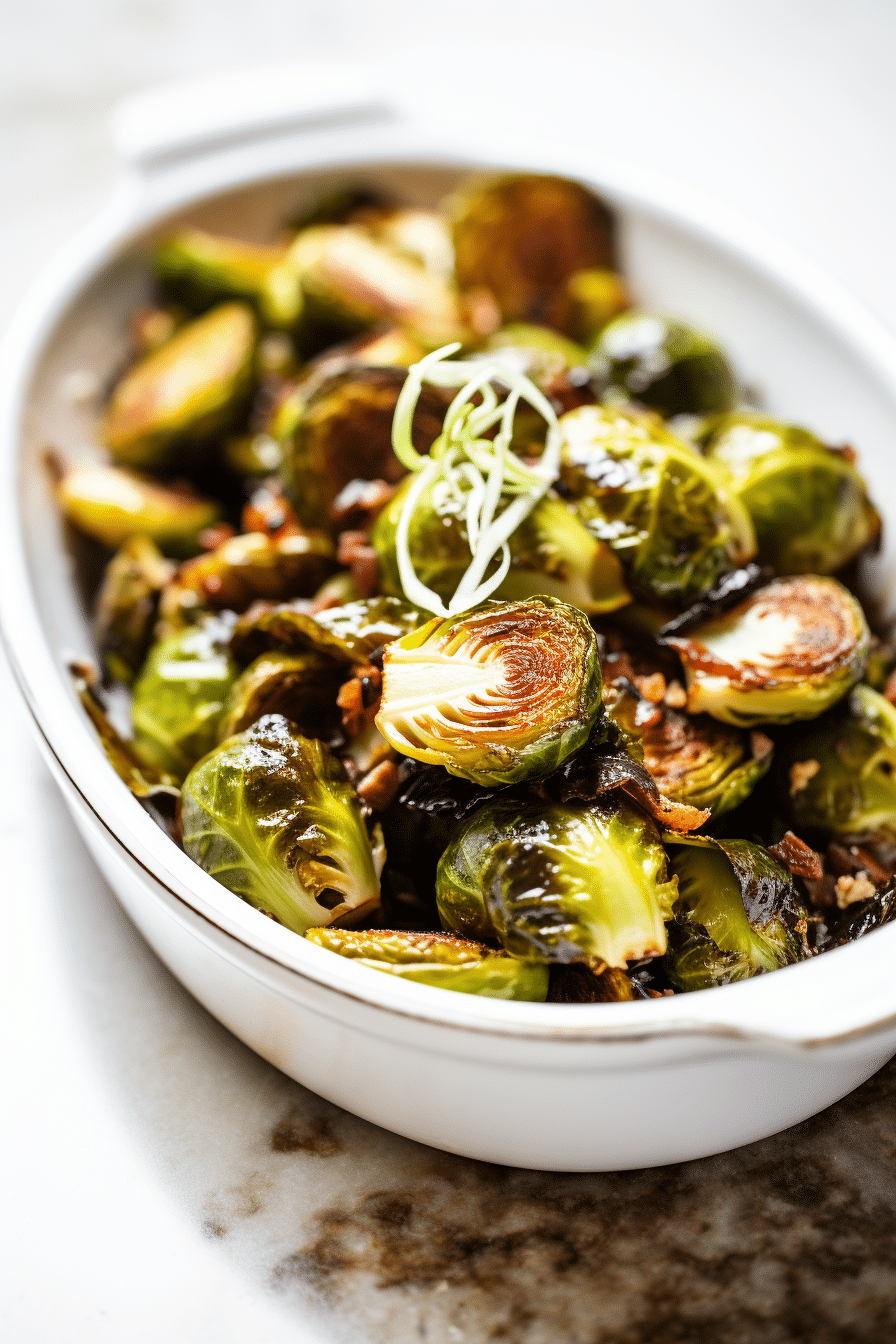 Variations
Spicy Kick
For those who enjoy a bit of heat, consider adding a sprinkle of red pepper flakes to the Brussels sprouts before roasting them. This will introduce a zesty dimension to the dish.
Cheese Lovers' Delight
Enhance the richness of the dish by adding more cheese. A blend of sharp cheddar and Parmesan can create a beautifully melted topping that adds depth to the flavor profile.
Herb Infusion
For a fresh twist, toss the roasted Brussels sprouts with fresh herbs like thyme or rosemary just before serving. This will add a fragrant and earthy note to the dish.
Substitutions
Understanding that dietary needs and pantry stocks can vary, here are some substitutions that can be made without compromising the keto integrity of the dish. If you don't have sugar-free maple syrup, consider using a keto-friendly honey alternative or a few drops of stevia for sweetness. In place of olive oil, avocado oil can be a great alternative, providing similar monounsaturated fats. For a dairy-free version, nutritional yeast can replace Parmesan cheese, adding a cheesy flavor and additional nutrients.
FAQ Section
Can I make this dish ahead of time? Yes, you can prepare the Brussels sprouts and bacon ahead of time, but for the best texture, glaze and combine them just before serving.
Is this recipe suitable for a paleo diet? With minor adjustments, such as using a paleo-approved sweetener, this recipe can be adapted for a paleo diet.
How do I store leftovers? Store in an airtight container in the fridge and reheat in the oven for best results.
Can I use frozen Brussels sprouts? Fresh is best for texture and flavor, but in a pinch, thawed frozen Brussels sprouts can work.
What can I use instead of bacon for a vegetarian option? A plant-based bacon alternative can be used to maintain the smoky flavor profile.

## Balsamic Glazed Keto Brussels Sprouts with Bacon

These Balsamic Glazed Keto Brussels Sprouts with Bacon are a savory and slightly sweet side dish that will elevate your keto dining experience. The rich, tangy glaze perfectly complements the smokiness of the bacon, while the Brussels sprouts turn deliciously tender with a hint of crispness. It's an irresistible combination that's sure to become a regular on your low-carb menu.

**Servings:** 4

**Prep Time:** 10 minutes

**Cook Time:** 20 minutes

**Cuisine:** Keto, American

**Category:** Side Dish

**Ingredients:**
– 1 pound (454g) Brussels sprouts, trimmed and halved
– 6 slices of bacon, chopped
– 2 tablespoons (30ml) olive oil
– 3 tablespoons (45ml) balsamic vinegar
– 1 tablespoon (15ml) sugar-free maple syrup or alternative sweetener
– Salt and pepper to taste
– 1/2 teaspoon (2.5g) garlic powder
– 1/4 cup (28g) grated Parmesan cheese (optional)

**Method:**
1. Preheat your oven to 400°F (204°C).
2. In a large skillet over medium heat, cook the chopped bacon until crispy. Remove the bacon and set aside, leaving the bacon grease in the skillet.
3. Add the Brussels sprouts to the skillet and increase the heat to medium-high. Sauté them in the bacon grease for about 5 minutes until they start to brown.
4. Drizzle olive oil over the Brussels sprouts and season with salt, pepper, and garlic powder. Give them a good stir to coat evenly.
5. Transfer the Brussels sprouts to a baking sheet in a single layer and roast in the preheated oven for 15 minutes until they are tender and the edges are crispy.
6. While the Brussels sprouts are roasting, pour balsamic vinegar and sugar-free maple syrup into a small saucepan. Simmer over low heat until the mixture reduces by half and thickens into a glaze, approximately 5-7 minutes.
7. Once the Brussels sprouts are done, remove them from the oven and place them in a serving bowl. Drizzle the balsamic glaze over the Brussels sprouts, add the crispy bacon, and toss to combine.
8. If desired, sprinkle grated Parmesan cheese over the top before serving.

**Calories:** 250 per serving

**Carbohydrates:** 11g

**Net Carbs:** 6g

**Fiber:** 5g

**Fat:** 18g

**Protein:** 10g

**Equipment Used:**
– Large skillet
– Baking sheet
– Small saucepan
– Measuring spoons
– Mixing bowl

**Other Notes:**
– For a vegetarian version, omit the bacon or use a plant-based bacon alternative.
– Adjust the sweetness of the glaze to your preference by adding more or less sugar-free maple syrup.
– Store any leftovers in an airtight container in the refrigerator for up to 3 days. Reheat in the oven or on the stove for best results.