Cinnamon may one of natures nutritional powerhouses, but more importantly, to me at least, it tastes so good! I find cinnamon a great substitute for sugary sweetness in my ketogenic diet, not least as it reminds me of those (pre-keto…) buns and pastries around Christmas time, just the smell alone makes me feel unseasonably festive!
I love this smoothie for breakfast, as an indulgent treat you can substitute the fat element in this (in this case coconut milk) for a whole range of other fats such as almond or peanut butter, or blend in a couple of egg yolks for a richer taste and creamier texture.
Personally I have a smoothie of some description for breakfast every day. I always try to include spices such as cinnamon or turmeric for an added boost. This Turmeric breakfast smoothie is one of my favorites. I also add mct oil to most of my smoothies for a tasteless boost of fats to power me through the day.
The list of health benefits from consuming cinnamon go on and on, but here are some of the highlights:
1. Cinnamon is packed full of antioxidants
The antioxidants contained within cinnamon are some of the most active of all spices and herbs. Compounds such as polyphenols found in the spice protect the body from the effects of oxidative damage caused by free radicals.
2. Cinnamon could improve Insulin sensitivity
This is a key benefit of cinnamon, especially when paired with the ketogenic diet. Insulin is one of the main hormones responsible for regulating our metabolism and energy use. Reduced sensitivity to insulin is one of the key indicators for metabolic disorders like type 2 diabetes.
Cinnamon has been to shown in some cases to improve insulin sensitivity, and has been suggested to have a potential role in diabetes prevention
3. Cinnamon lowers blood sugar levels!
This is a great combo with the keto diet, as we're constantly obsessing over blood glucose vs ketones. Cinnamon lowers blood sugar through a number of different mechanisms other than affecting insulin sensitivity. It affects certain digestive enzymes, slowing the breakdown of carbs through digestion, moderating blood sugar levels.
Certain compounds in cinnamon also act by mimicking insulin, albeit they act much slower, this further helps to reduce blood glucose levels.
Human studies have shown the significant effect 0.5-2 teaspoons of cinnamon can have on blood sugars, in some cases showing reductions of up to 29% vs a placebo. For those on a ketogenic diet, this is therefore a great natural supplement to work into your diet (in a smoothie perhaps?!)
The list goes on:
In addition to the above cinnamon has shown positive impacts on a number of diseases or their prevention in a variety of animal and in vitro studies:
Various cancers
Anti-bacterial and anti-fungal properties against infections.
Have a go and let me know what you think, one final tip with this one; the cinnamon in the drink will start to settle over time, so be sure to give it a shake or stir before drinking!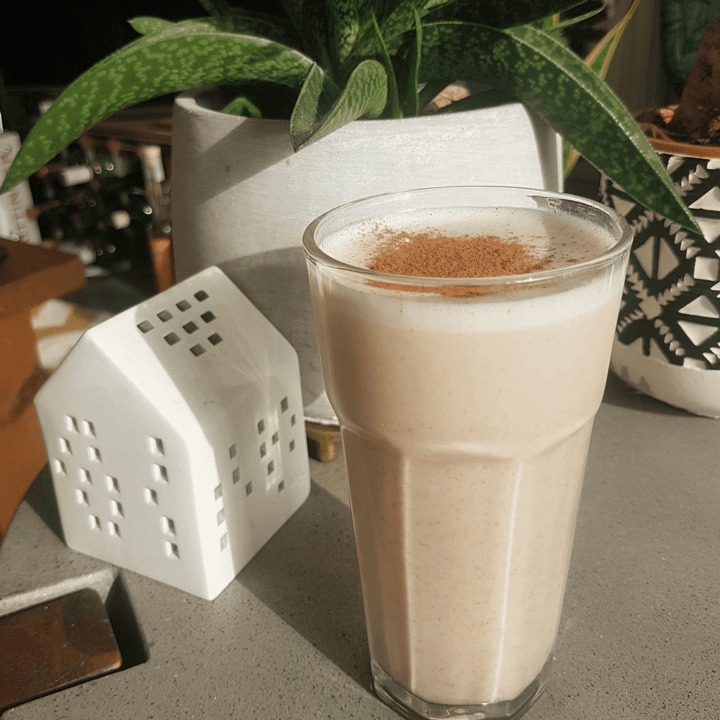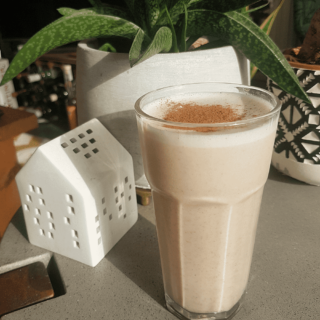 Keto Cinnamon Roll Smoothie
Ingredients
0.5

cup

full fat coconut milk

0.5

cup

unsweetened almond milk

1

scoop vanilla or unflavoured protein powder

1

tsp

cinnamon

preferably Ceylon

sweetener

to taste

1

tbsp

MCT Oil
Instructions
Blend all ingredients together with ice until well blended

Consume immediately (the cinnamon will settle to the bottom over time)
Nutrition
Serving:
1
grams
Calories:
430
kcal
Do you eat keto? Leave a comment below if you've tried this recipe!