Discover the Delight of Keto-Friendly Flavors with Our Low Carb Roasted Pear and Gorgonzola Salad
Embark on a culinary adventure that marries the natural sweetness of roasted pears with the bold, savory notes of Gorgonzola cheese. Our Low Carb Roasted Pear and Gorgonzola Salad with Walnut Vinaigrette is not just a feast for the eyes, but a harmonious blend of flavors that will tantalize your taste buds while adhering to your keto lifestyle.
This exquisite salad is the perfect way to enjoy a gourmet meal without compromising on your dietary goals. Its low carb profile makes it an ideal choice for anyone looking to indulge in rich flavors while maintaining ketosis. Let's dive into a dish that promises satisfaction with every forkful!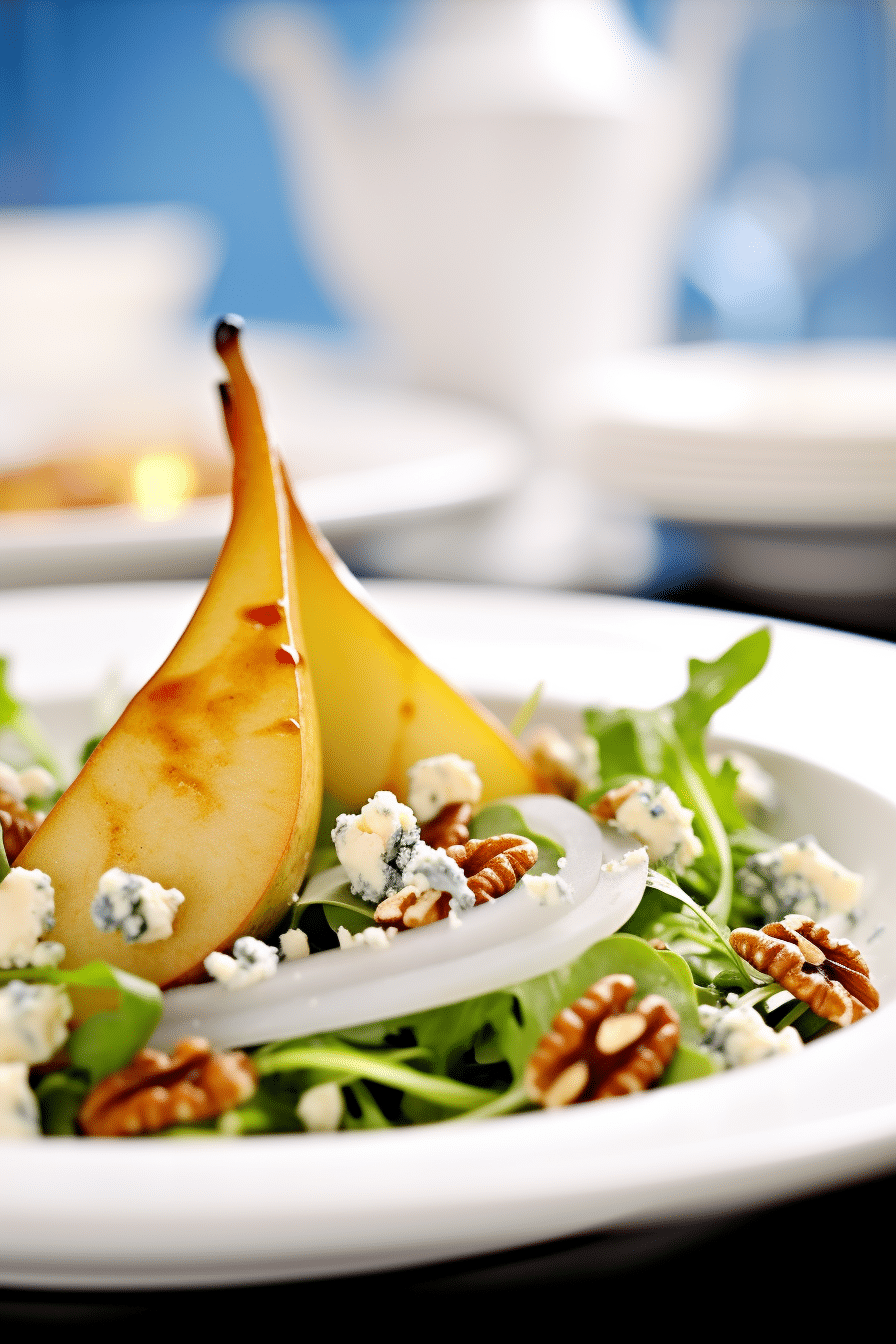 The Origins and Keto Benefits of This Gourmet Salad
The inspiration behind this Low Carb Roasted Pear and Gorgonzola Salad stems from a classic combination of fruit and cheese, often found in traditional Italian cuisine. However, with a keto twist, we've carefully balanced the natural sugars found in pears with the high-fat content of Gorgonzola and walnuts, creating a dish that's both nutritious and keto-friendly. This salad is not just about satisfying your hunger; it's about providing a nutrient-rich meal that supports your health goals.
Pears, while sweet, are used sparingly in this recipe to keep the carb count low. When roasted, their sweetness intensifies, meaning a little goes a long way. Gorgonzola cheese adds a creamy texture and a punch of flavor that complements the mild taste of the pears. Walnuts not only bring a satisfying crunch but are also packed with omega-3 fatty acids, which are essential for a well-rounded keto diet.
The homemade Walnut Vinaigrette is where this salad truly shines. By using walnut oil, we're incorporating healthy fats that are paramount in keto nutrition, while apple cider vinegar adds a tangy twist without adding any carbs. The touch of Dijon mustard provides depth, and the powdered erythritol lends a subtle sweetness without disrupting your state of ketosis.
This salad is a testament to the versatility of keto cooking, proving that low carb meals can be as gourmet and indulgent as their carb-heavy counterparts. It's a dish that will leave you feeling full and energized, thanks to its high fat and moderate protein content, making it an excellent choice for anyone on a ketogenic diet.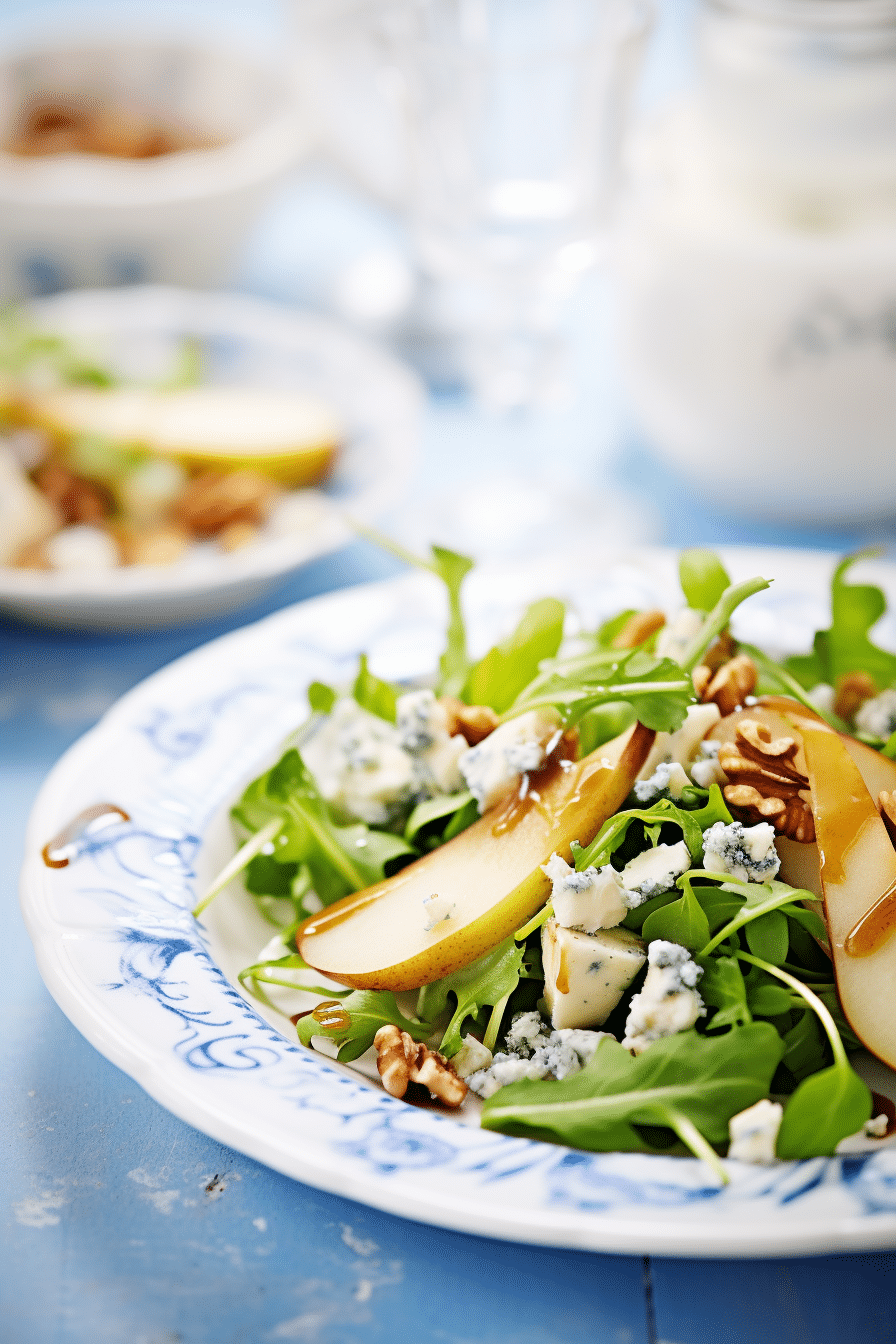 Mastering the Method for Perfect Keto Salad
Creating this Low Carb Roasted Pear and Gorgonzola Salad is an art that combines simple cooking techniques with the careful selection of ingredients to ensure a keto-friendly outcome. Here's how to perfect each step:
1. Roasting Pears: Start by preheating your oven to ensure an even roasting temperature. As you arrange the pears on the baking sheet, make sure they're not overlapping, which allows for even caramelization. Watching the pears as they roast is key; they should be tender but not mushy, with a golden hue that indicates natural sugars are being highlighted.
2. Crafting the Vinaigrette: The vinaigrette is the soul of the salad, and whisking the ingredients together until emulsified will ensure a smooth, consistent dressing. Taste as you go, adjusting the seasoning to your preference. Remember, the mustard isn't just for flavor; it's also an emulsifier that will help keep your vinaigrette stable.
3. Assembling the Salad: When combining the greens, pears, and cheese, do so gently to keep the integrity of each ingredient. Drizzle the vinaigrette sparingly; you can always add more, but you can't take it away. The goal is to coat the leaves lightly, not drench them.
4. Final Touches: Adding the walnuts last retains their crunch and ensures they stand out in every bite. Serve the salad immediately after dressing to enjoy the full spectrum of textures.
By following these steps with care and attention, you'll create a salad that's not just delicious but also a showcase of your keto culinary skills.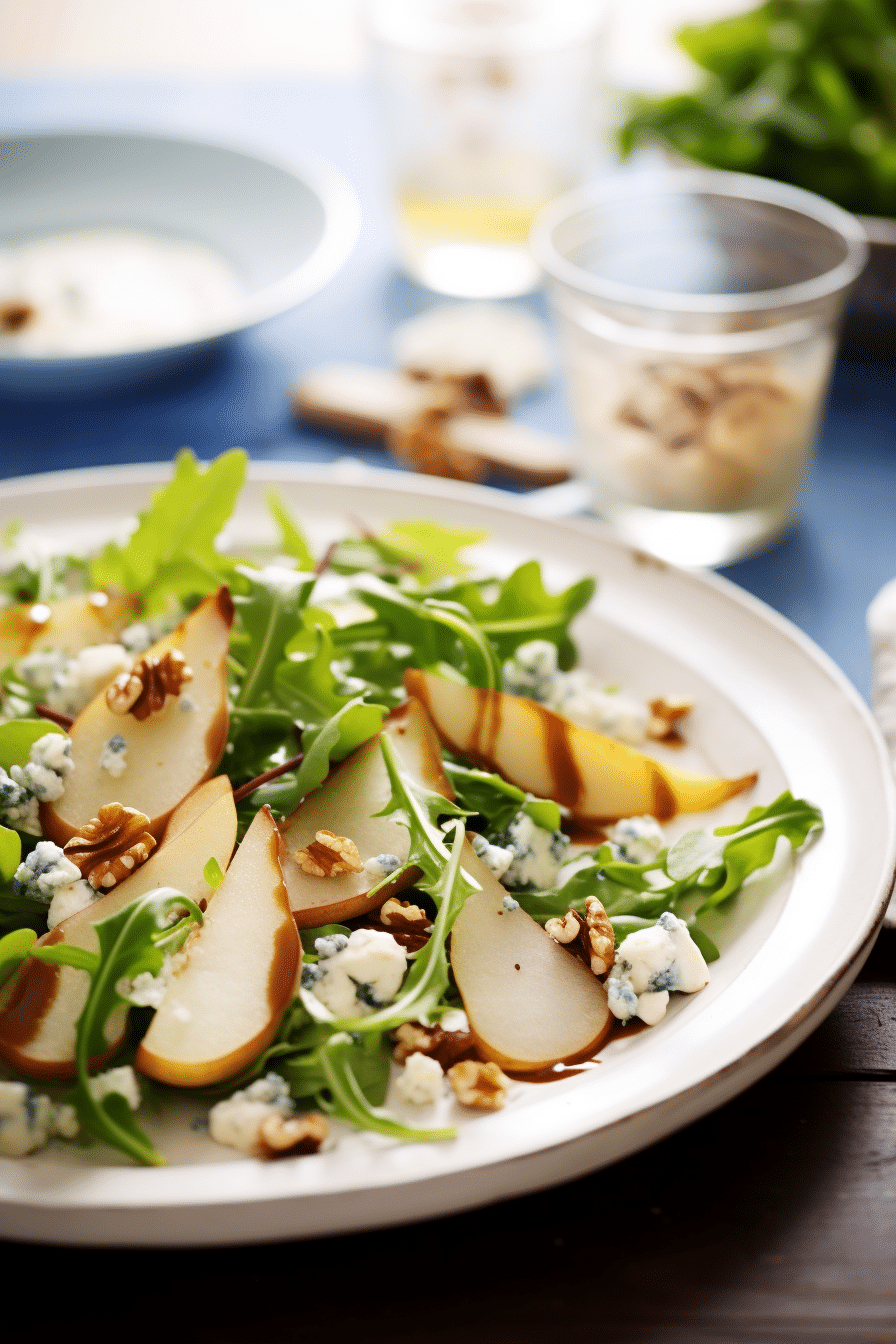 Variations to Keep Your Keto Salad Exciting
Spicy Roasted Pear and Gorgonzola Salad
For those who enjoy a bit of heat, sprinkle your pears with a dash of chili flakes before roasting. The spice will contrast beautifully with the sweetness of the pears and the creaminess of the cheese.
Herb-Infused Walnut Vinaigrette
Enhance your vinaigrette by adding fresh herbs like thyme or rosemary. Finely chop the herbs and whisk them into the dressing for an aromatic twist.
Crunchy Bacon and Avocado Salad
Add crispy, chopped bacon and diced avocado to the salad for an extra layer of texture and richness. The smokiness of the bacon pairs perfectly with the sweetness of the pears, while the avocado adds a buttery note.
Ingredient Substitutions for Dietary Needs and Preferences
If Gorgonzola isn't to your taste or you're looking for a dairy-free option, try substituting it with crumbled goat cheese or a dairy-free cheese alternative. Both will provide a similar texture and a tangy flavor.
Walnut oil in the vinaigrette can be replaced with extra virgin olive oil or avocado oil. These oils are keto-friendly and will still yield a delicious dressing.
For those who don't have erythritol on hand, other keto-friendly sweeteners like stevia or monk fruit can be used in the vinaigrette. Adjust the amount to achieve the desired sweetness, as these substitutes vary in sweetness compared to erythritol.
Frequently Asked Questions
Can I make this salad ahead of time?
Yes, you can prepare the components separately and assemble just before serving to maintain freshness and texture.
Is this salad suitable for vegetarians?
Absolutely, as long as the Gorgonzola cheese fits within their dietary restrictions. For vegans, use a plant-based cheese alternative.
How can I store leftovers?
It's best to store the salad components separately in airtight containers in the refrigerator. Consume within 2-3 days for optimal freshness.
Can I use different types of pears?
Certainly! Feel free to use whichever variety of pear you prefer, keeping in mind that the carb content may vary slightly.
What can I do if I don't have walnut oil?
Substitute with another keto-friendly oil like olive or avocado oil. The flavor profile will change slightly, but the salad will still be delicious.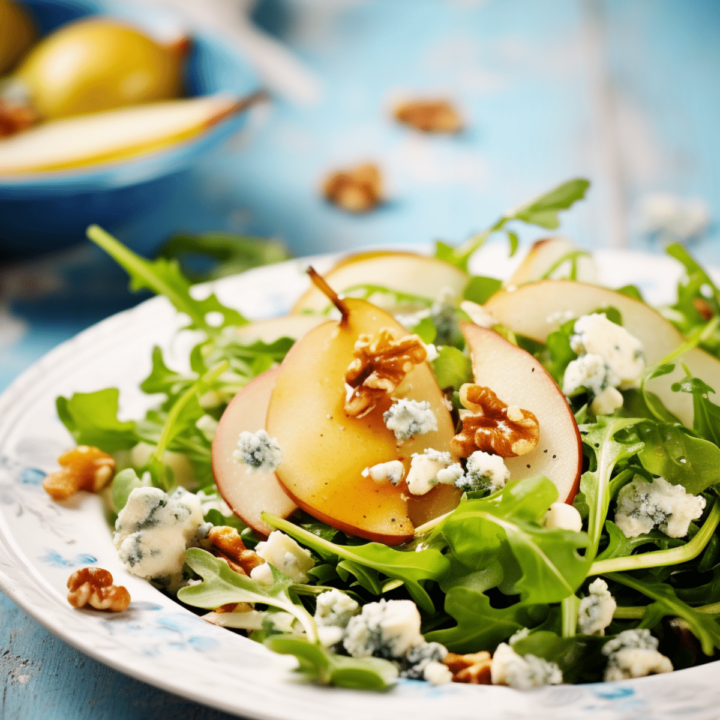 Low Carb Roasted Pear and Gorgonzola Salad with Walnut Vinaigrette
Indulge in a symphony of flavors with our Low Carb Roasted Pear and Gorgonzola Salad, dressed in a homemade Walnut Vinaigrette. This dish masterfully combines the sweetness of pears with the tangy kick of Gorgonzola and the rich, nutty essence of walnuts, creating a delightful salad that's as pleasing to the palate as it is to the eye.
Ingredients
For the Salad:

- 2 medium pears

cored and sliced (approx. 300g)

- 1 tablespoon olive oil

15ml

- 1/8 teaspoon sea salt

0.6g

- 1/8 teaspoon black pepper

0.3g

- 6 cups mixed salad greens

150g

- 1/2 cup Gorgonzola cheese

crumbled (50g)

- 1/4 cup walnuts

chopped (30g)

For the Walnut Vinaigrette:

- 1/4 cup walnut oil

60ml

- 2 tablespoons apple cider vinegar

30ml

- 1 teaspoon Dijon mustard

5g

- 1 teaspoon erythritol

powdered (4g)

- 1/4 teaspoon garlic powder

1.2g

- Salt and pepper to taste
Instructions
Preheat your oven to 375°F (190°C). Line a baking sheet with parchment paper.

Arrange the sliced pears on the prepared baking sheet. Drizzle with olive oil and season with salt and pepper. Toss gently to coat.

Roast in the preheated oven for 20-25 minutes, or until the pears are tender and slightly caramelized. Remove from the oven and let cool.

While the pears are roasting, prepare the Walnut Vinaigrette by whisking together the walnut oil, apple cider vinegar, Dijon mustard, powdered erythritol, and garlic powder in a small bowl. Season with salt and pepper to taste. Set aside.

In a large salad bowl, combine the mixed greens, roasted pears, and Gorgonzola cheese.

Drizzle the Walnut Vinaigrette over the salad and toss to coat evenly.

Garnish with chopped walnuts and serve immediately.
Notes
- For the best flavor, let the Gorgonzola cheese come to room temperature before adding it to the salad.
- If you want to add protein, grilled chicken or shrimp make excellent additions to this salad.
- The erythritol can be substituted with another keto-friendly sweetener of your choice.
- To enhance the nuttiness, toast the walnuts in a dry skillet over medium heat until fragrant before adding them to the salad.
Nutrition
Calories:
265
kcal
Carbohydrates:
18
g
Protein:
6
g
Fat:
20
g
Sugar:
15
g