Did you ever make a recipe, and find yourself instantly addicted? That's what this does for me, maybe I've just got a taste for turmeric. I've had this the last 6 days in a row first thing for breakfast. It's smooth, nourishing and with a spoonful of MCT oil in there, it keeps me going right through to the afternoon.
Now, eating the same thing for breakfast for 6 days in a row may not be the most adventurous approach to dieting, but I take the approach that if it ain't broke, don't fix it. The ketogenic diet can be particularly hard to adhere to, with a high drop out rate in many of the studies conducted. If you find something you enjoy on the diet, try to make eating or drinking that part of your routine, perhaps cycling through your favorite meals each week. Getting in the habit of having a bulletproof coffee, or a fat based breakfast smoothie each day is one of the easiest keto meals to get started with, and get set you on the right path for your eating decisions throughout the day.
The turmeric in this, and in particular the compound which gives it it's bright yellow colour, Curcumin, has a whole host of health benefits, cinnamon too. Between them they pack an anti-oxidant punch, are both anti-inflammatory and can help with control of blood sugar and lipids.
If you wanted to make this more like a chai latte, you can add some black pepper and ground cardomom for further spice, though go easy on these as they can be a little overpowering. In this recipe I use a half and half mix of coconut milk and almond milk, I personally find using 100% coconut milk a bit too rich but do experiment to your tastes.
Getting enough fibre on a ketogenic diet can be difficult and is one of the main criticisms laid on the diet, which is why I add a teaspoon or two of chia seeds to all of my smoothies for a small boost, I recommend trying the same.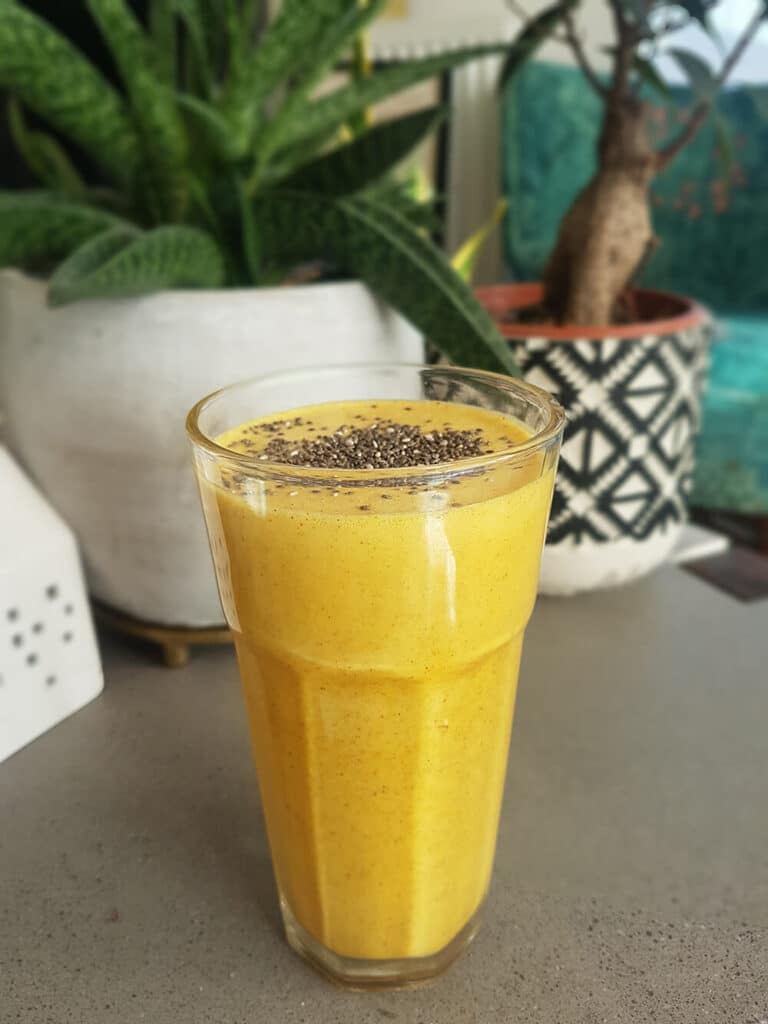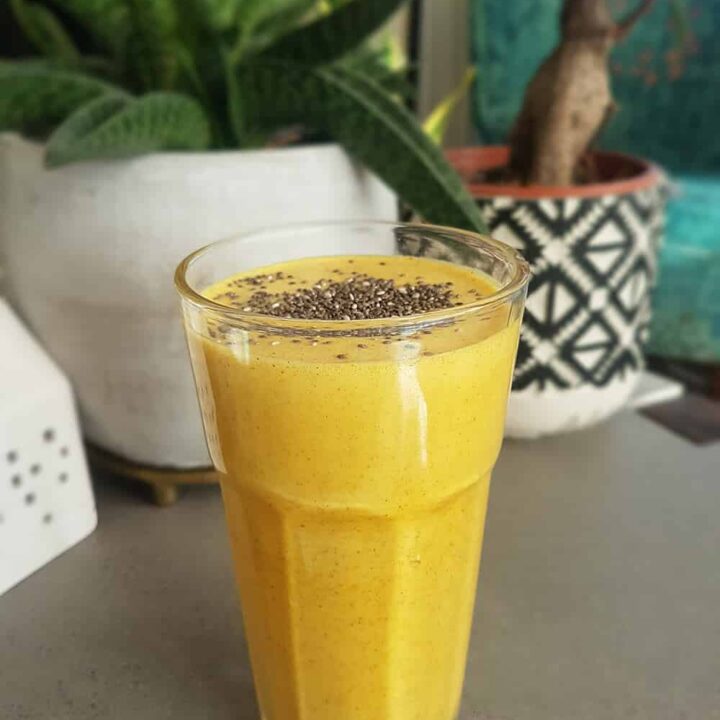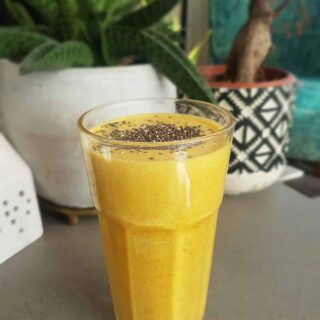 Turmeric Keto Smoothie
Ingredients
200

ml

full fat coconut milk

200

ml

unsweetened almond milk

1

tsp

granulated sweetener

stevia etc, or other sweetener

1

tbsp

ground turmeric

1

tsp

ground cinnamon

1

tsp

ground ginger

1

tbsp

MCT Oil

or use coconut oil

1

tbsp

Chia seeds

to top
Instructions
Combine all the ingredients except the chia seeds in a blender, add some ice and blend until smooth

sprinkle chia seeds on top and enjoy!
Notes
56g Fat
7g Protein
6g Net Carbs
Nutrition
Serving:
1
grams
Calories:
600
kcal
Do you eat keto? Leave a comment below if you've tried this recipe!