This has got to be one of the easiest low-carb pancake recipes, you can easily put this together in less than 10 minutes for breakfast! These really are ideal any time of the week, as an indulgent breakfast before work during the week (maybe with some low-carb maple syrup!), or as a lazy sunday morning dish with some whipped cream and blueberries, like I've done here. These freeze well too so make a bunch on a sunday afternoon to be eating pancakes all week!
For an alternative to these coconut flour based pancakes, check out our fluffy almond flour keto pancake recipe here.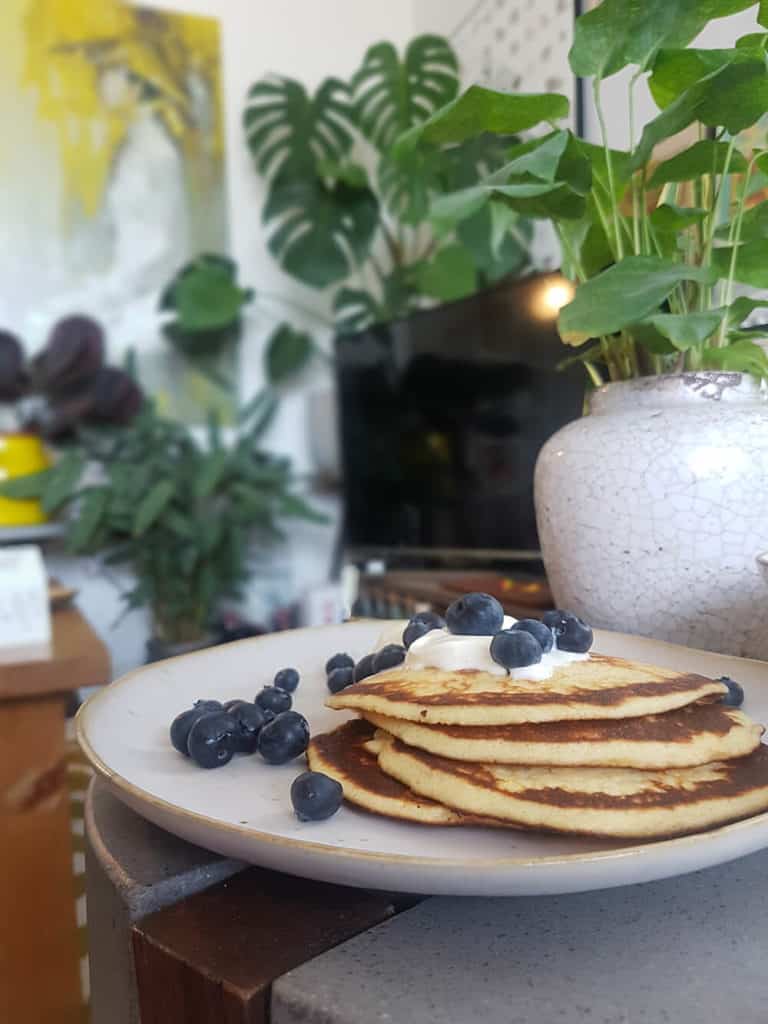 These need minimal coconut flour, using baking powder to rise and give a light and fluffy result (no folded egg whites in sight!) It's hard to believe you're on a diet with this sort of food. Now obviously watch what you pair these with, I love banana pancakes but they're a no-go on the keto diet, as are any sugar based syrups. I opt for some home whipped cream (don't buy the stuff in a can!just whip together heavy cream, vanilla extract and a little sweetener!) and some blueberries (although not as many as in that photo!)
If you're in even more of a rush for breakfast then why not try a smoothie? There are some great, healthy options like this Turmeric Latte Smoothie, or a nutrient dense Green Smoothie or my personal favorite, this Blackberry Cheesecake Smoothie!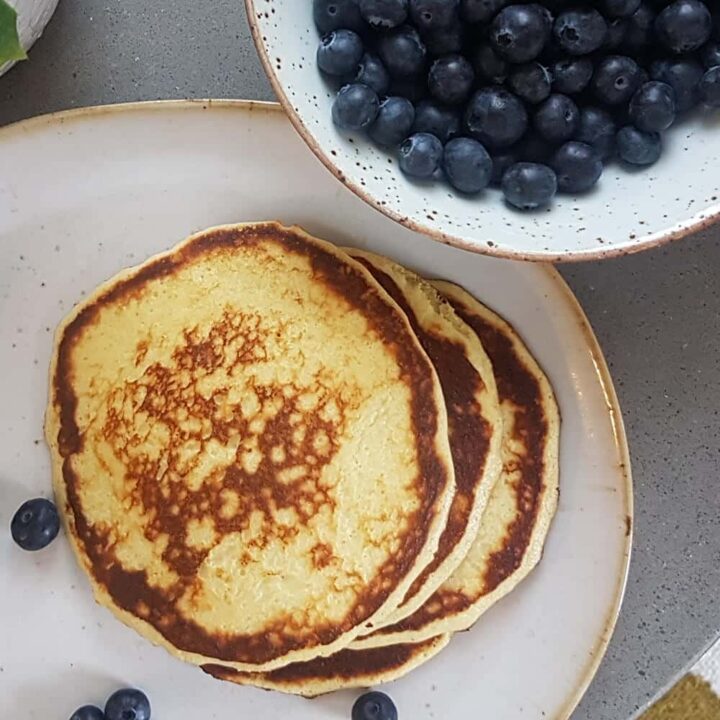 Coconut Flour Pancakes
Ingredients
3 oz Full fat cream cheese
4 tbsp Coconut flour
3 tbsp Cream
2 eggs
1/2 tsp vanilla extract
1 tsp stevia or other sweetener to taste
1 pinch salt
Instructions
Mix all the ingredients in a bowl or blender until very smooth.
Leave mixture for 5 minutes for coconut flour to thicken the mix and bubbles to settle
Fry pancakes on a greased pan over a medium heat, fry for 1-2 minutes each side until bubbles appear on the upper surface. Mix should make approximately 10 small pancakes
Notes
Fat: 33g
Net Carbs: 5g
Fibre: 5g
Protein: 11g
Nutrition Information
Yield

2
Serving Size

1 grams
Amount Per Serving
Calories

380
Unsaturated Fat

0g
Do you eat keto? Leave a comment below if you've tried this recipe!