I'm a huge fan of smoothies for breakfast, so quick and filling for so little effort! Unlike so many breakfast smoothies which can pack in a huge amount of sugar into a small package, this is coming in with a net carb count under 10g and with 50g of fat, this is really a fat bomb in disguise!
There are plenty of healthy ingredients in here to kick start your day, and give really nice, consistent energy levels. Avocados, spinach and cucumber pack in plenty of nutrients and with chia seeds make sure there's a decent amount of fibre in here too. Matcha gives a steady supply of caffiene to get you through the morning, and is packed with other vitamins and nutrients too.
I'd definitely recommend investing in a nutribullet or similar high power blender if you're planning to drink smoothies often, as you want to really get this smooth. Also add a little water to the mix if it comes out too thick. I sometimes add a pinch of turmeric and salt into this for added benefit when on a keto diet, have a try and see what you think.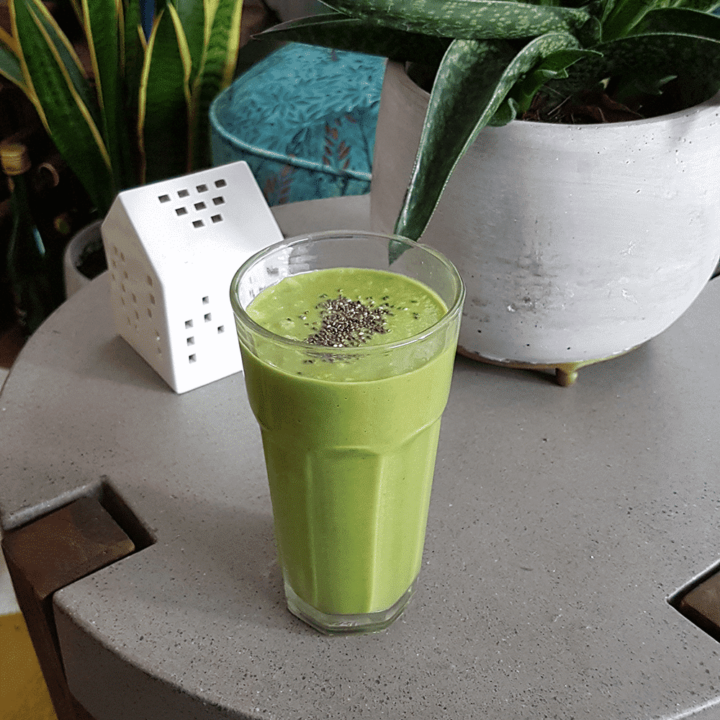 Green Keto Smoothie
Ingredients
1/2 Avocado
1/3 cucumber
2 cups Spinach
6 oz Coconut Milk
6 oz Almond Milk (Unsweetened)
1 tsp Matcha Powder
1/2 Lime, juice only
1/2 scoop low sugar vanilla protein powder
1/2 tsp chia seeds, to garnish
Instructions
Place spinach and coconut milk in blender, blitz to break down spinach to make room for other ingredients
Add all other ingredients and blend until smooth
Nutrition Information
Yield

1
Serving Size

1 grams
Amount Per Serving
Calories

650
Unsaturated Fat

0g