This recipe ain't pretty, but it's really tasty and easy; Prosciutto, parmesan, eggs, cream…
That's it!
I've just come back from Parma in Italy, home of some incredible food. None more so than that heavenly combination of aged prosciutto ham and my personal addiction: parmesan cheese.
Out there we were eating these ingredients on their own as a meal in themselves, unadultered. Sat in a sunny plaza watching the world go by with an aperetif, things don't get much better.
When we got back home I was daydreaming, thinking back to those ingredients and their rich deliciousness.
But it wasn't sunny…
There weren't any plazas…
In fact we were in the middle of an unseasonable cold snap, and so whilst I wanted those flavours I also wanted something warm and keto friendly that I could snack on looking out at the rainy day outside.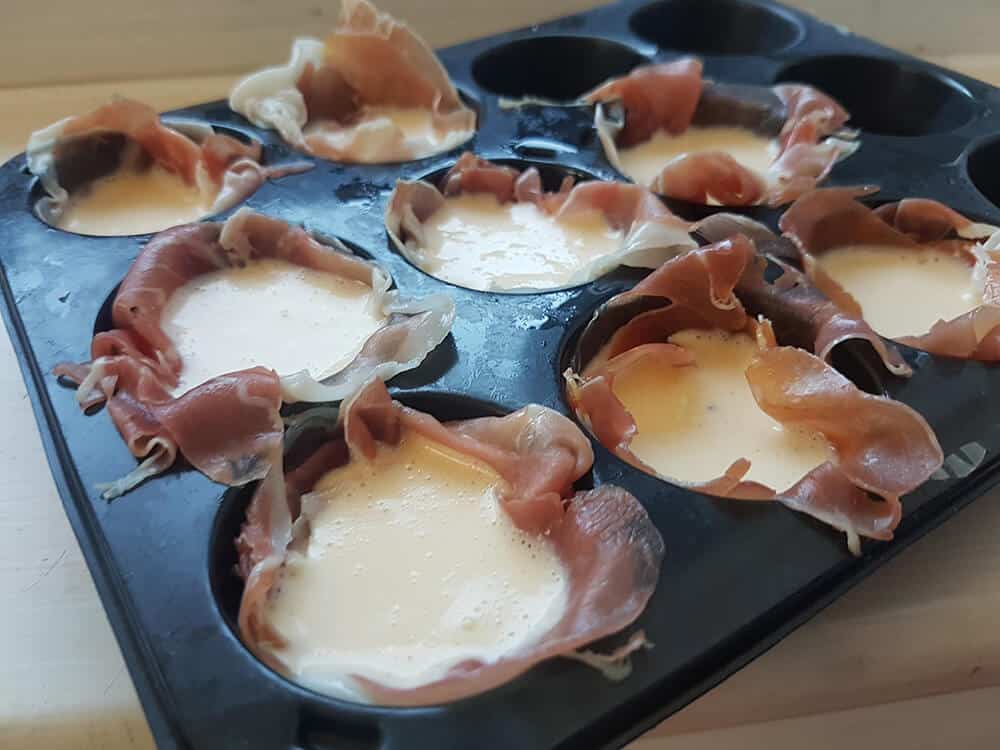 These little cups are super quick to make, and puff up in the oven to make delicious little savoury bites. Just make sure don't over fill each cup as they expand fast!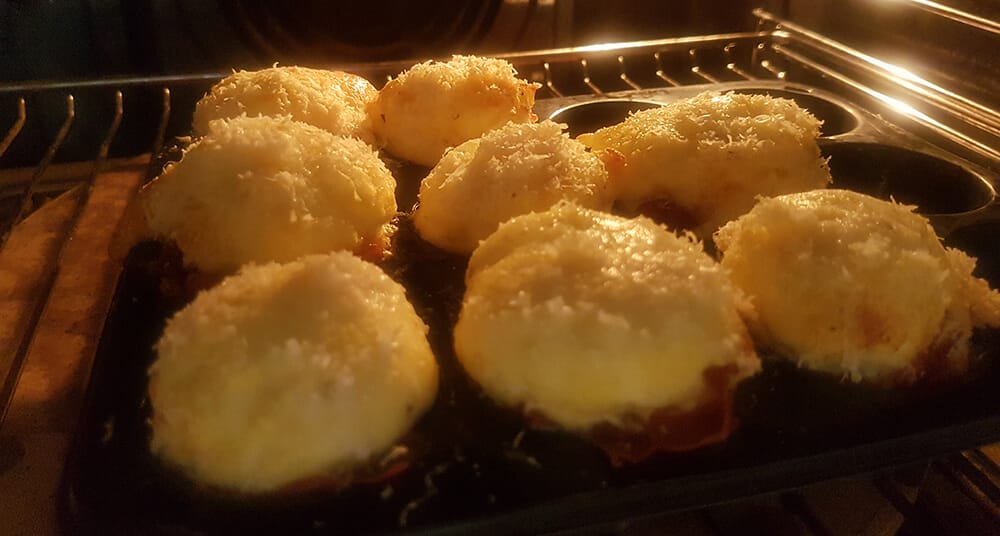 Make sure to let these cool down slightly before removing from the moulds, it's a lot easier!
If you're eating a ketogenic diet, then the calorie macros for this are 73% Fat 24% Protein and 3% carbs for each serving.
These really hit the spot for me, let me know what you think and what improvements can be made!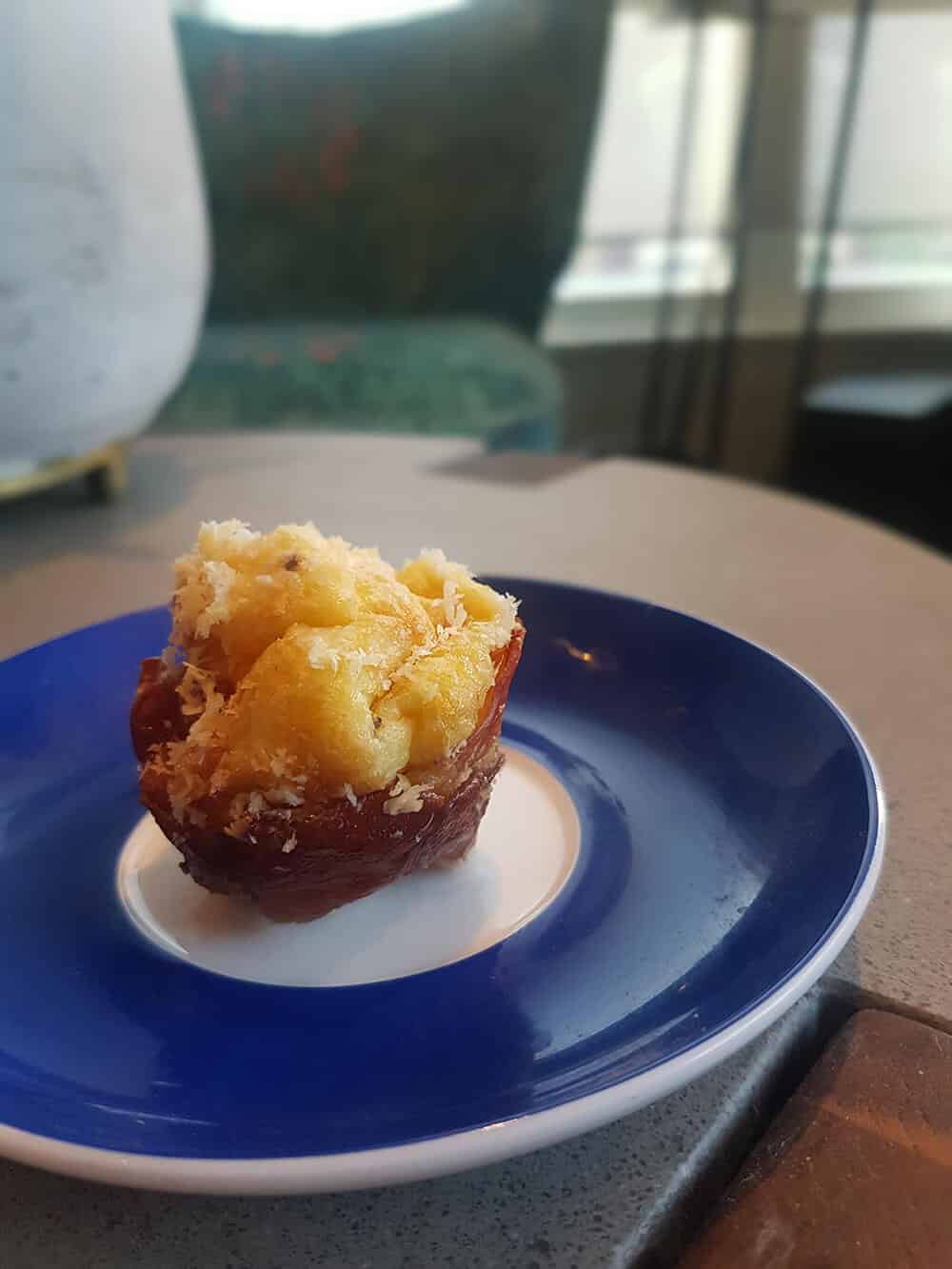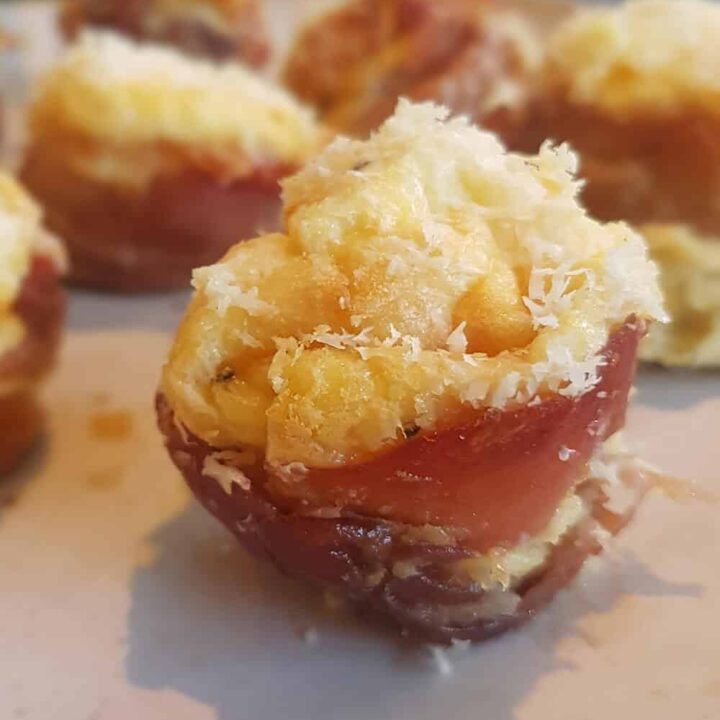 Prosciutto Parmesan Bites
Ingredients
4 Slices Prosciutto, torn in half
1/2 Cup Parmesan, grated
2 large Eggs
0.5 cups Heavy cream
Instructions
Preheat the oven to 350°F (180°C)
Lightly grease a cupcake tin or similar with butter/oil etc
In a bowl, mix the eggs, cream and parmesan together, reserving a little parmesan to sprinkle on top of each cup
Carefully take you prosciutto strips and line each segment of the cupcake time to form you cup to fill
Fill each cup up to a maximum 2/3rd full (these will puff up when cooking)
Spinkle remaining parmesan on top and place into the oven for 15 minutes until golden on top
Leave to cool for 5 minutes before removing from the tin, enjoy!
Notes
8g Fat
6g Protein
1g Net Carbs
Nutrition Information
Yield

8
Serving Size

1 grams
Amount Per Serving
Calories

105
Unsaturated Fat

0g