Welcome to a culinary delight that perfectly marries the zest of citrus with the delicate flavors of the sea. The Keto Ginger-Lime Infused Crab Salad is a dish that not only tantalizes your taste buds but also aligns seamlessly with your keto lifestyle.
This recipe offers a symphony of flavors, combining the succulent sweetness of crab with the tangy punch of lime and the subtle warmth of ginger. It's an ideal choice for those on a ketogenic diet, looking for a meal that's low in carbs yet high in both flavor and nutritional value.
Let's dive into the refreshing world of this exquisite crab salad and discover why it's a must-try on your keto journey.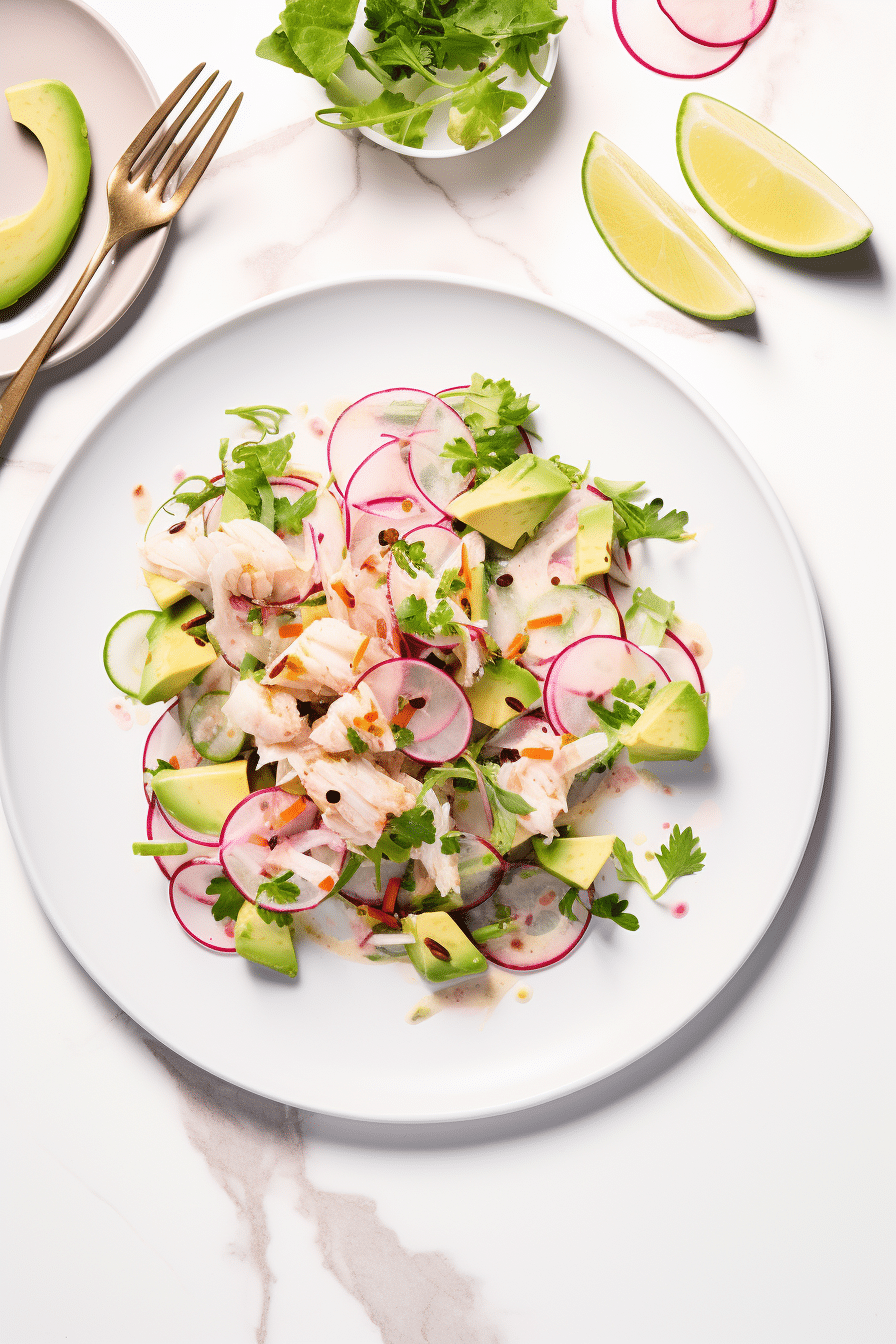 Recipe Details
The inspiration for this Keto Ginger-Lime Infused Crab Salad stems from the coastal cuisines that often feature seafood as their star. The idea is to create a dish that is not only refreshing and light but also packs a nutritional punch, aligning with the keto diet's requirements.
The high fat content comes from heart-healthy avocado and extra virgin olive oil, while the crab meat provides a good source of protein without the carbs. The lime and ginger not only add a burst of flavor but also aid in digestion and metabolism, which is beneficial for keto dieters.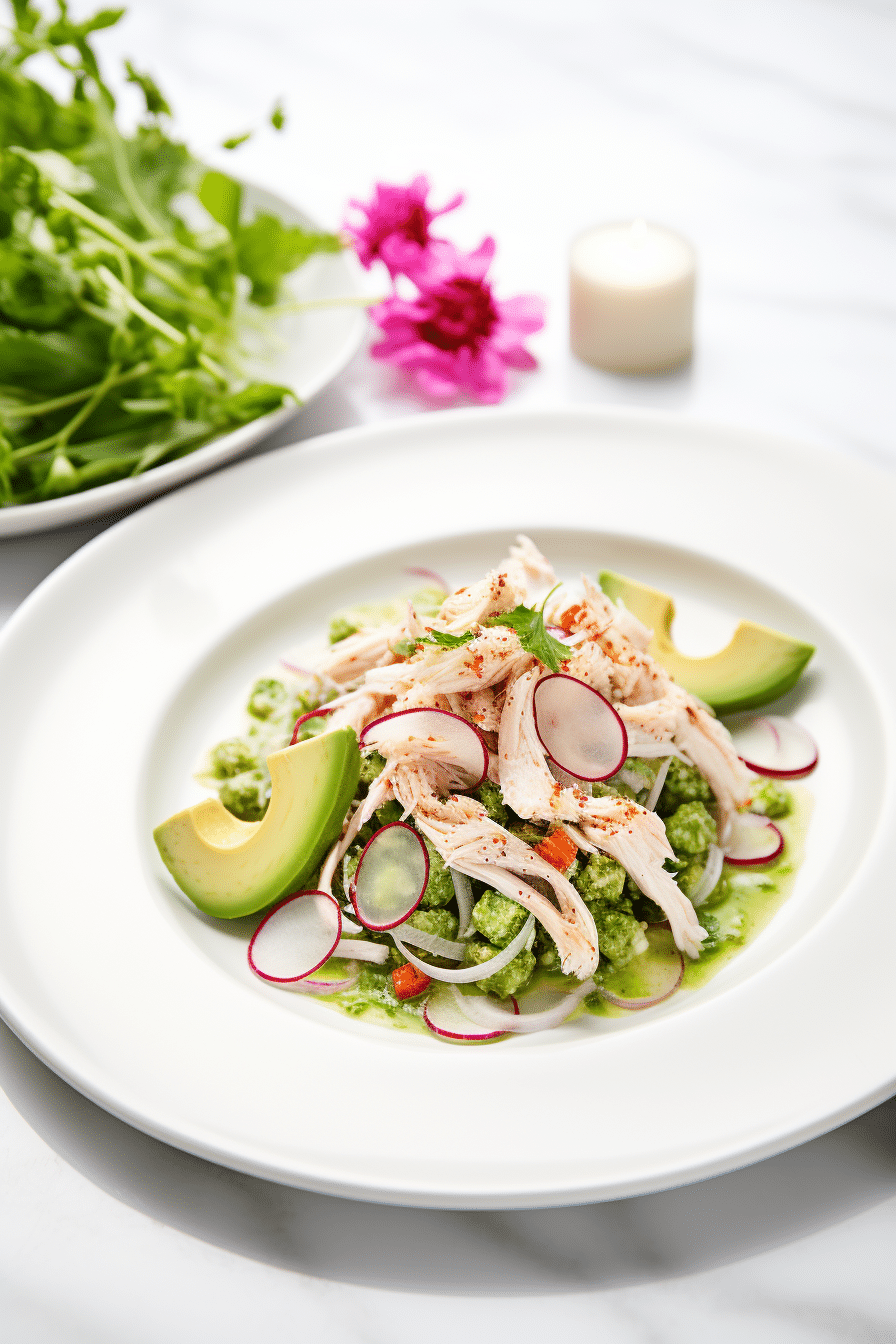 The Method
Creating this salad is as much about technique as it is about the quality of ingredients. Starting with the crab, if you're using canned, make sure to drain and rinse it to remove any briny flavor that could overpower the delicate taste.
When whisking the dressing, do so until emulsified to ensure each bite of salad is evenly coated with flavor. As you combine the ingredients, handle them gently to maintain the integrity of the crab and avocado. This attention to detail will elevate your salad from good to great.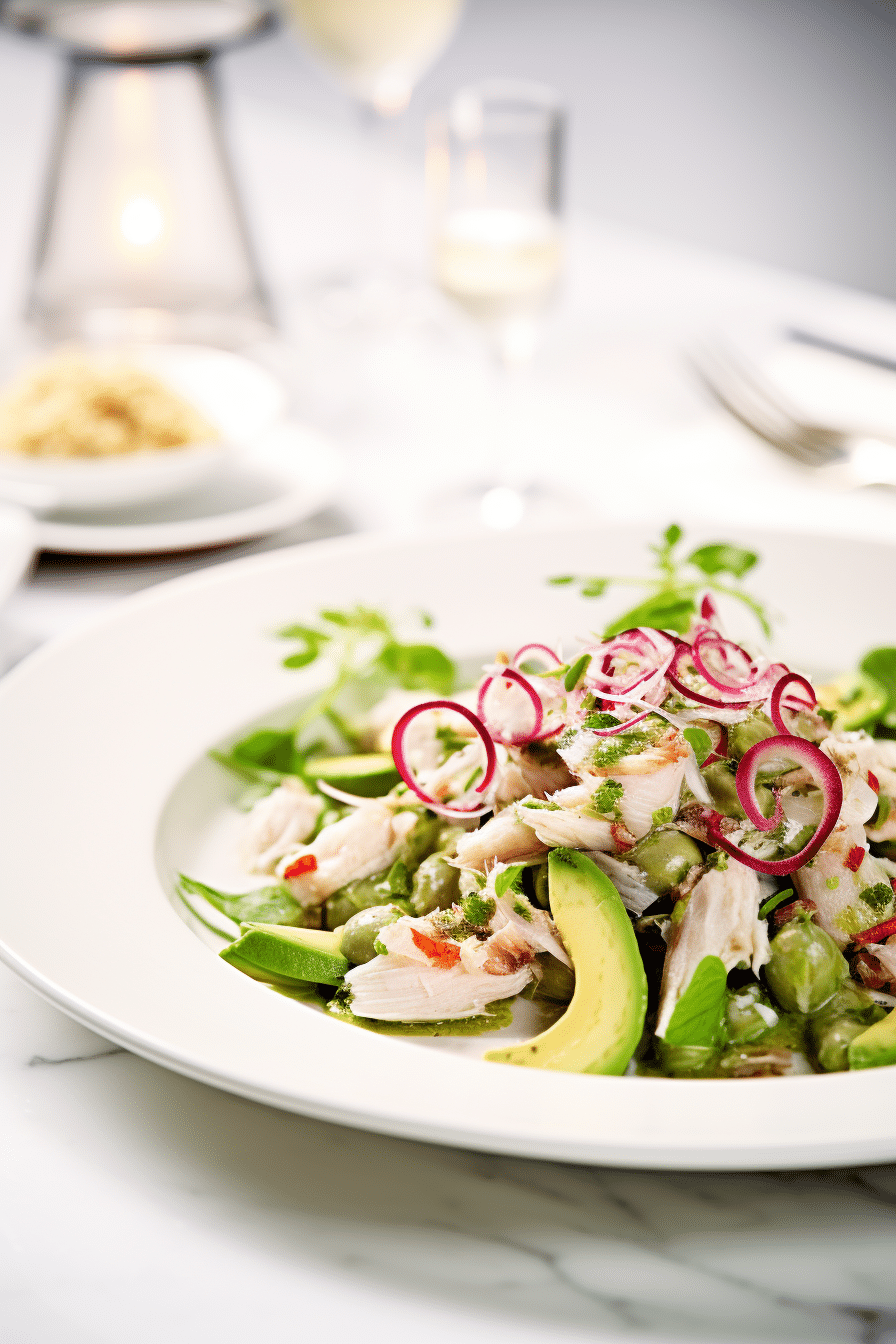 Variations
Spicy Mango Keto Crab Salad
For a tropical twist, add some diced mango to your salad. The sweetness of the mango pairs beautifully with the heat of the red pepper flakes, offering a spicy-sweet combination that's hard to resist.
Keto Crab Salad with Cucumber Noodles
Replace the bed of greens with cucumber noodles for a refreshing and hydrating variation. The cucumber's coolness complements the zesty ginger-lime flavor, creating a satisfying crunch with every bite.
Avocado Boat Keto Crab Salad
For an impressive presentation, serve the crab salad in an avocado half. This not only looks great but also adds a creamy texture that balances the acidity of the lime and the spice of the ginger.
Substitutions
If you're unable to find fresh crab meat, canned lump crabmeat can be a convenient alternative. Just be sure to drain it well. In place of cilantro, parsley can be used for a milder herb flavor. Lastly, if you're out of lime, lemon juice and zest can work as a substitute, offering a similar citrus profile.
FAQ Section
Can I use imitation crab in this recipe?
Imitation crab is not recommended for this keto recipe due to its higher carb content and additives. Stick with real crab meat for the best flavor and nutritional value.
How long can I store this crab salad?
The crab salad is best enjoyed fresh but can be stored in the refrigerator for up to one day. Be aware that the avocado may brown slightly over time.
Is this recipe suitable for a keto diet?
Yes, with high-quality fats from olive oil and avocado, and low net carbs, this salad is perfect for those on a ketogenic diet.
Can I prepare the dressing in advance?
Yes, preparing the dressing in advance can intensify the flavors. Store it in an airtight container in the refrigerator for up to 3 days.
What can I serve with this crab salad?
This salad can be enjoyed on its own or with a side of mixed greens for extra fiber or keto-friendly crackers for added crunch.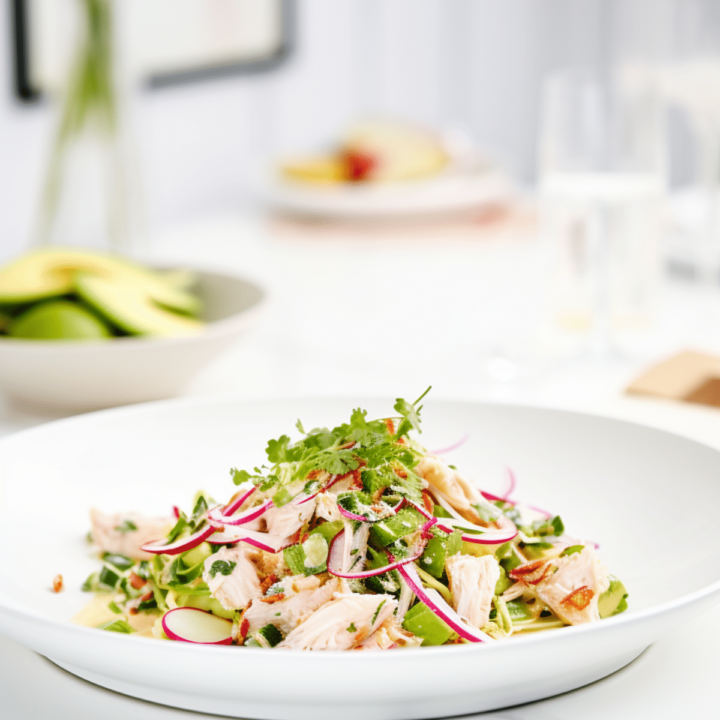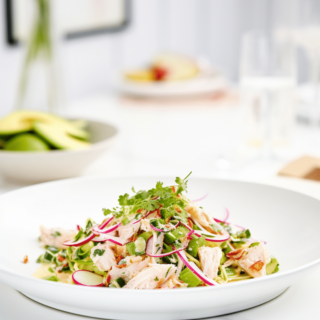 Keto Ginger-Lime Infused Crab Salad
Fresh, zesty, and with a hint of exotic spice, this Keto Ginger-Lime Infused Crab Salad is a refreshing addition to your low-carb lineup. Perfect for a light lunch or a fancy appetizer, this salad brings together the succulence of crab meat with a tangy lime dressing, rounded out by the warmth of fresh ginger.
Ingredients
12

oz

340 g crab meat, fresh or canned

1

medium avocado

150 g, diced

¼

cup

60 ml extra virgin olive oil

2

tbsp

30 ml fresh lime juice

1

tsp

2 g lime zest

1

tbsp

6 g fresh ginger, grated

¼

cup

4 g fresh cilantro, chopped

¼

cup

25 g red onion, finely chopped

½

tsp

2.5 g sea salt

¼

tsp

0.5 g black pepper

¼

tsp

0.5 g crushed red pepper flakes (optional)
Instructions
Begin by preparing the crab meat. If using canned crab, drain and rinse it thoroughly to remove any excess liquid. For fresh crab meat, ensure it is free of shell fragments and pat dry with paper towels.

In a small bowl, whisk together the extra virgin olive oil, fresh lime juice, lime zest, and grated ginger to create the dressing.

In a larger mixing bowl, combine the crab meat, diced avocado, chopped cilantro, and red onion.

Pour the ginger-lime dressing over the crab mixture and toss gently to coat, ensuring the flavors are well distributed.

Season the salad with sea salt, black pepper, and red pepper flakes if desired. Give it one final gentle mix.

Let the salad sit for about 5 minutes to allow the flavors to meld together. This step infuses the crab with the zesty lime and warm ginger notes.

Serve chilled. This dish can be plated as is or served over a bed of mixed greens for an added crunch.
Notes
For the best flavor, use fresh crab meat and ripe avocados. The dressing can be made ahead of time and stored in the refrigerator to intensify the flavors. For those who prefer a milder taste, the red pepper flakes can be omitted.
Nutrition
Calories:
240
kcal
Carbohydrates:
6
g
Protein:
20
g
Fat:
17
g
Fiber:
3
g