Low-Carb Cranberry Sauce: A Keto Delight
Imagine a cranberry sauce that's not only a vibrant addition to your meal but also aligns perfectly with your keto dietary goals. Our Low-Carb Cranberry Sauce is just that—a delightful condiment that's bursting with flavor yet low in carbs. This recipe is a game-changer for those following a keto diet, offering a guilt-free way to enjoy the tart and sweet taste of cranberries without compromising on health or taste.
Whether you're garnishing your roasted turkey or adding a dollop to your keto dessert, this cranberry sauce brings the traditional holiday flavor to your table with a healthy twist. With fresh ingredients and natural sweeteners, you'll be able to indulge in the festivities without the worry of a sugar crash. This recipe is a testament to the fact that keto-friendly options can be just as delicious, if not more so, than their high-carb counterparts.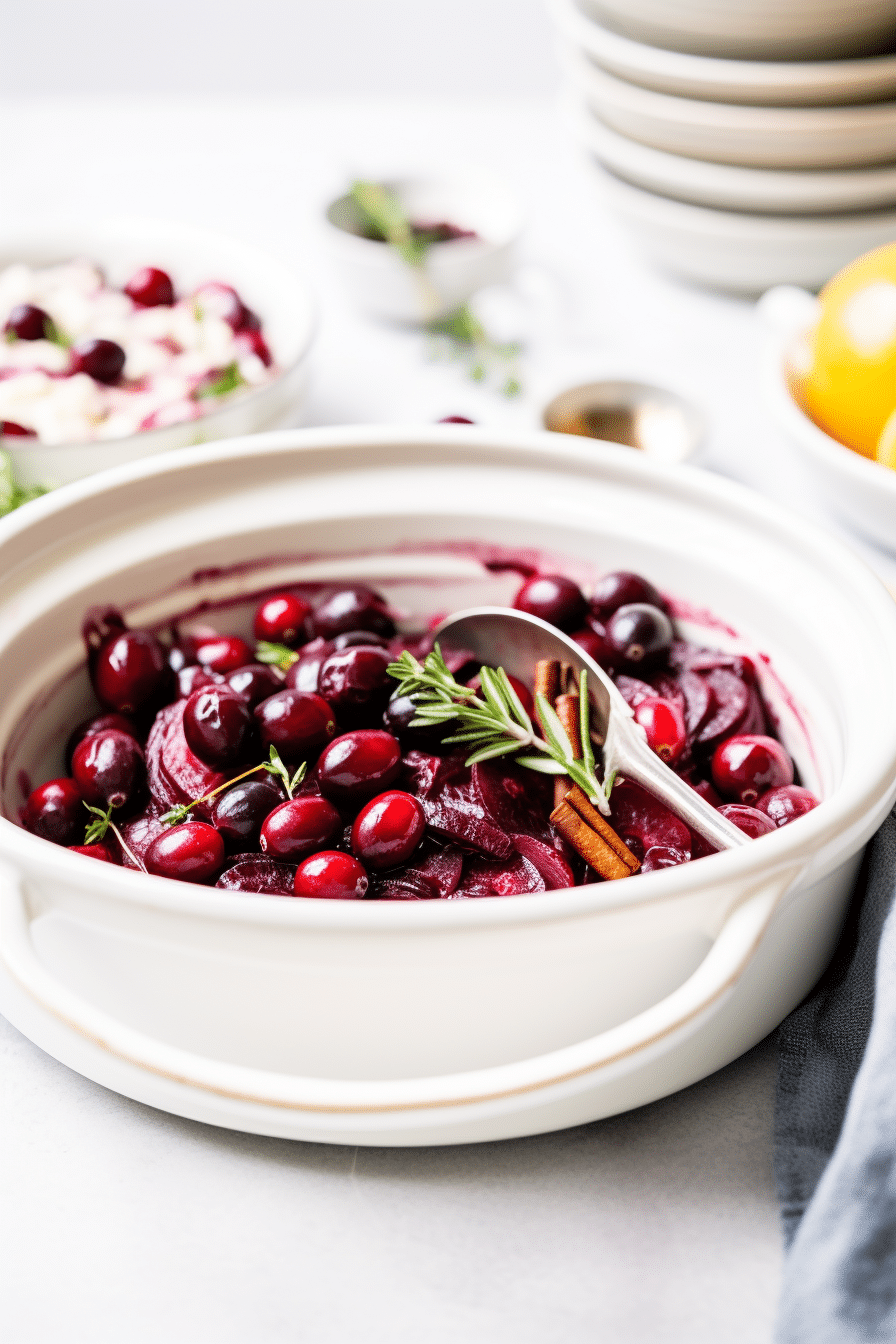 The Story Behind This Keto-Friendly Cranberry Sauce
When it comes to celebrating festive occasions, it's often challenging to find condiments that fit into a ketogenic lifestyle. That's where this Low-Carb Cranberry Sauce comes into play. Born out of a desire to enjoy the classic flavors of the holiday season without the added sugars, this recipe is a labor of love and innovation.
Traditionally, cranberry sauce is loaded with sugar, which can send your blood sugar levels soaring. However, by substituting sugar with erythritol, a natural and keto-approved sweetener, we've created a sauce that's not only low in net carbs but also friendly to your blood sugar. The inclusion of orange zest adds a subtle citrusy depth, while vanilla extract and a hint of cinnamon provide a warm and comforting undertone.
As a keto enthusiast, I understand the importance of balancing macros while not compromising on taste. This cranberry sauce is a testament to the versatility of keto cooking, proving that you can enjoy your favorite holiday flavors while staying on track with your health goals. It's a sauce that will have both keto and non-keto guests coming back for seconds, blissfully unaware of its low-carb secret.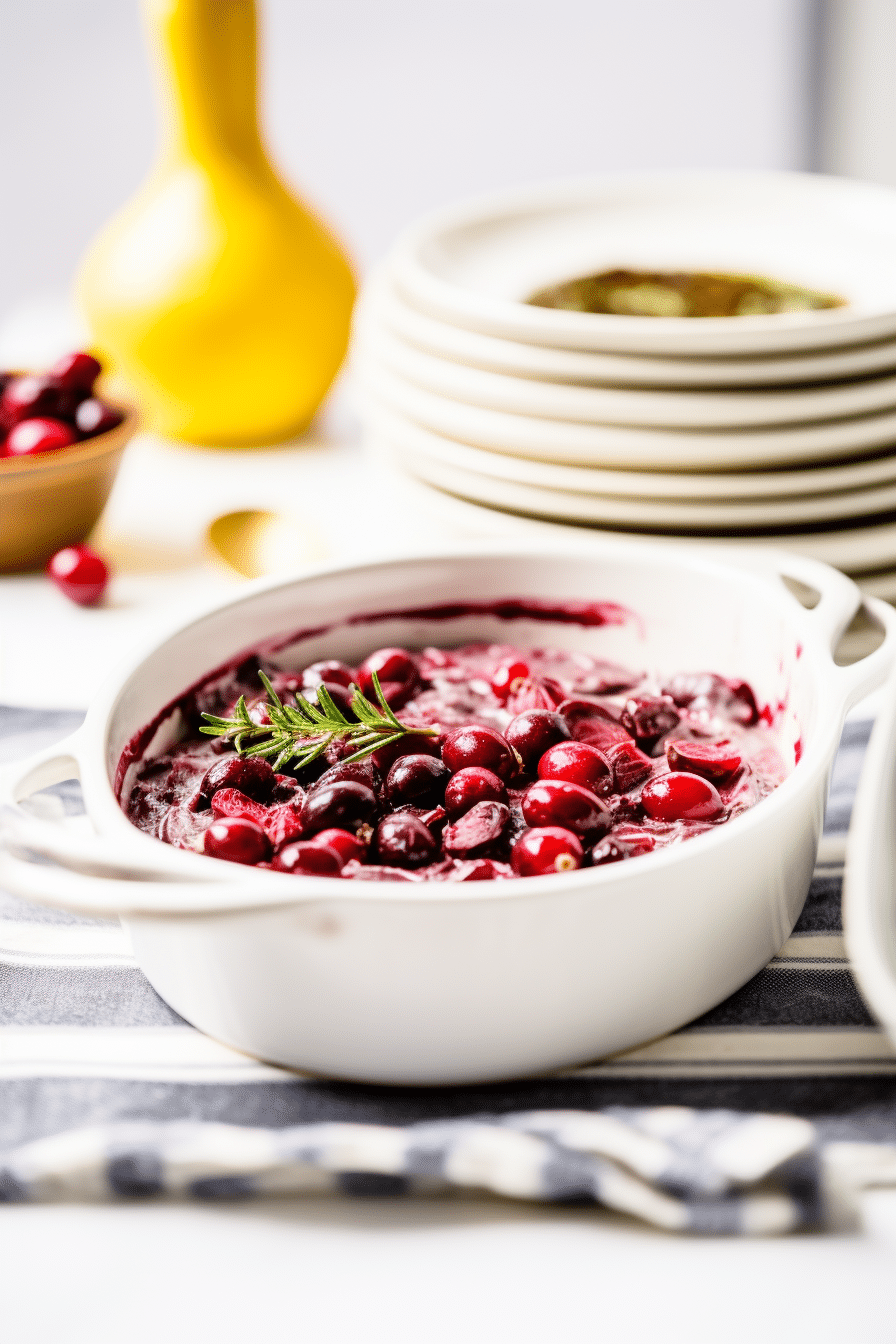 The Art of Crafting the Perfect Low-Carb Cranberry Sauce
Creating the perfect Low-Carb Cranberry Sauce is all about the method. Begin by meticulously rinsing your fresh cranberries, ensuring that any stems or damaged berries are discarded. This step is crucial for achieving a smooth and consistent sauce.
As you combine the water and erythritol in your saucepan, it's important to stir continuously until the sweetener is fully dissolved. This prevents any graininess in your sauce, resulting in a silky texture that's a hallmark of a well-made cranberry sauce.
When the cranberries begin to burst, you'll notice the sauce starting to thicken. This is the perfect time to introduce the aromatic orange zest, vanilla extract, and cinnamon. But be cautious—the essence of these flavors is best captured with a delicate hand. Overdoing it can overpower the natural tartness of the cranberries, which is the star of the show.
Once off the heat, patience is key. Allowing the sauce to cool to room temperature not only thickens it further but also lets the flavors meld beautifully. For those who prefer a smoother texture, a quick blend or mash can transform the sauce to your liking.
Remember, the true beauty of this sauce lies in its balance of flavors and its ability to complement a variety of dishes while adhering to keto principles. With each spoonful, you're not just tasting a condiment; you're experiencing the craft of keto cooking at its finest.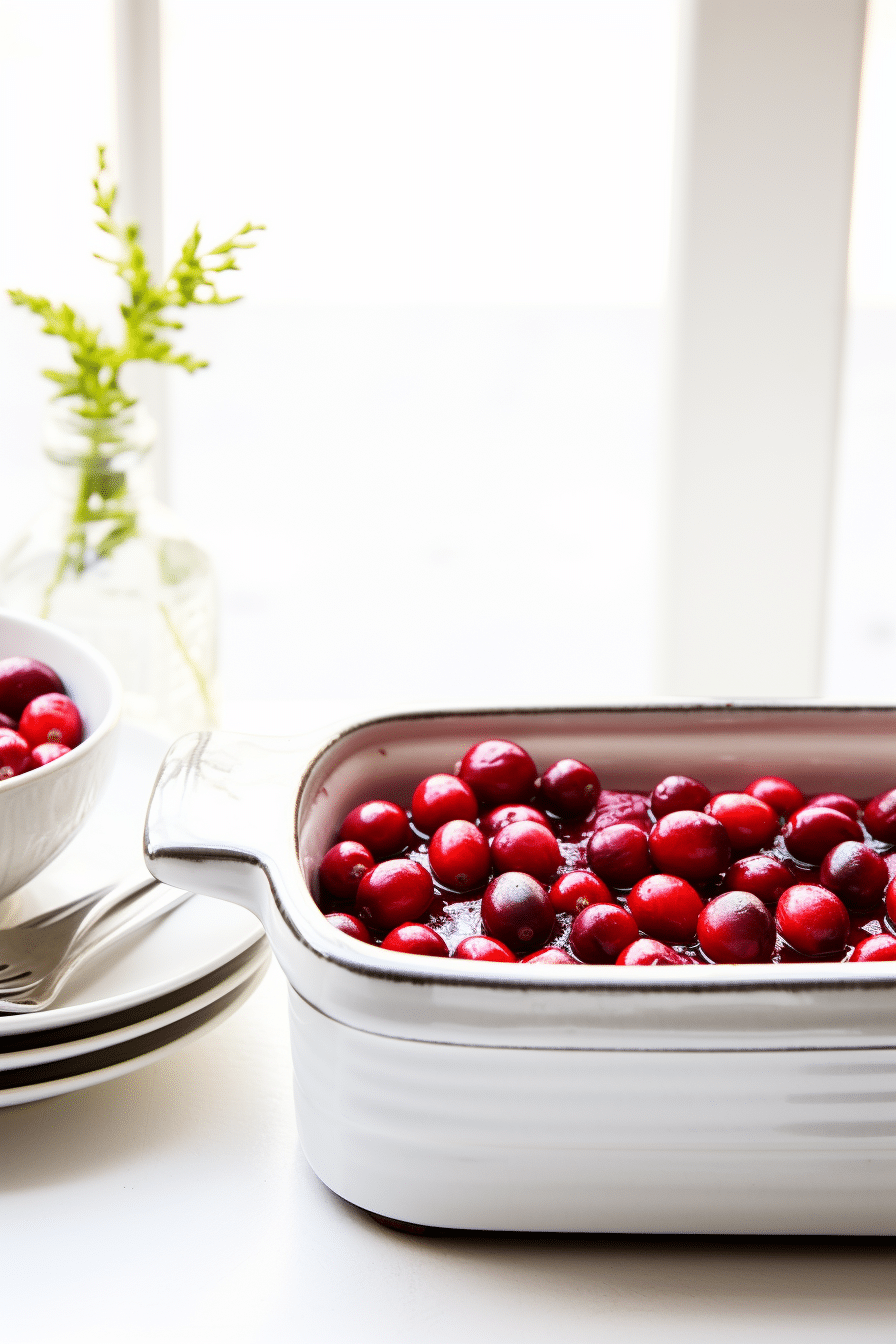 Variations to Spice Up Your Cranberry Sauce
Orange Ginger Cranberry Sauce
For a zesty twist, infuse your sauce with fresh ginger and additional orange zest. The spiciness of the ginger complements the cranberries' tartness, creating a lively flavor profile that's sure to excite your palate.
Jalapeño Cranberry Sauce
Adventurous eaters will appreciate the heat that a finely diced jalapeño brings to the sauce. This variation adds an unexpected kick, perfect for those who enjoy a spicy element in their dishes.
Blueberry Cranberry Sauce
Mix in a handful of fresh blueberries for a berry-rich version. The blueberries add natural sweetness and a deeper color, making for a visually stunning and deliciously complex sauce.
Substitutions for Your Low-Carb Cranberry Sauce
While erythritol works wonders in this recipe, you may prefer to use stevia or monk fruit sweetener. Keep in mind that the sweetness levels vary, so adjust according to your taste.
If fresh cranberries are out of season, frozen cranberries can be a suitable alternative. There's no need to thaw them; simply add a few extra minutes to the cooking time.
For those who can't consume citrus, try substituting orange zest with a dash of lemon extract for a different yet still delightful hint of citrus without the carbs.
Frequently Asked Questions
Can I make this cranberry sauce ahead of time?
Absolutely! Preparing it in advance allows the flavors to blend more fully. Just store it in the refrigerator in a sealed container.
Is this cranberry sauce freezer-friendly?
Yes, you can freeze it for up to two months. Thaw in the fridge overnight before serving.
How can I thicken my cranberry sauce if it's too runny?
Let it simmer a bit longer, or add a touch of xanthan gum to achieve the desired consistency.
Can I use a different sweetener?
Of course! Just be mindful of the conversion rates and sweetness levels of different keto sweeteners.
Is this sauce only for the holidays?
Not at all. Its vibrant flavor makes it a great addition to meals year-round!

## Low-Carb Cranberry Sauce

This Low-Carb Cranberry Sauce is a zesty, tangy condiment that's perfect for any keto-friendly feast. With the right balance of sweetness and tartness, it pairs beautifully with meats or can be used to top off a low-carb dessert. Made with fresh cranberries and natural sweeteners, this sauce is sure to delight your taste buds without the sugar crash.

**Servings:** 8

**Prep Time:** 10 minutes

**Cook Time:** 15 minutes

**Cuisine:** American

**Category:** Condiment

**Ingredients:**
– 12 ounces (340 grams) of fresh cranberries
– 1 cup (240 ml) of water
– 1/2 cup (100 grams) of erythritol or your preferred sugar substitute
– 1 teaspoon (5 ml) of orange zest
– 1/2 teaspoon (2.5 ml) of vanilla extract
– A pinch of cinnamon (optional)

**Method:**
1. Rinse the cranberries under cold water and remove any stems or blemished berries.
2. In a medium saucepan, combine the water and erythritol. Bring to a gentle boil over medium heat, stirring until the sweetener is fully dissolved.
3. Add the cranberries to the saucepan and return to a boil. Lower the heat and let the cranberries simmer for about 10-15 minutes, or until most of them have burst.
4. Stir in the orange zest, vanilla extract, and cinnamon (if using). Continue to simmer for an additional minute.
5. Remove the saucepan from heat. The cranberry sauce will thicken as it cools.
6. Once cooled to room temperature, taste and adjust sweetness if necessary. For a smoother sauce, you can blend it with an immersion blender or mash the cranberries with a fork.
7. Refrigerate the sauce for at least an hour before serving to allow the flavors to meld together.

**Calories:** 25 per serving

**Carbohydrates:** 6g per serving

**Net Carbs:** 4g per serving

**Fiber:** 2g per serving

**Fat:** 0g per serving

**Protein:** 0g per serving

**Equipment Used:**
– Medium Saucepan
– Measuring Cups and Spoons
– Fork or Immersion Blender (optional)

**Other Notes:**
– The erythritol can be substituted with another keto-friendly sweetener like stevia or monk fruit, but you may need to adjust the quantity to taste.
– This cranberry sauce can be stored in the refrigerator for up to 10 days. Make sure it's in a tightly sealed container to maintain freshness.
– If you prefer a more liquid sauce, simply add a bit more water during the cooking process to reach your desired consistency.