Sausage and Herb Keto Stuffing: A Low-Carb Delight
Imagine the rich aroma of sage, rosemary, and thyme wafting through your kitchen, mingling with the savory scent of sausage. That's the essence of our Sausage and Herb Keto Stuffing, a side dish that transforms an everyday meal into a festive feast. Perfect for those following a keto diet, this stuffing ensures you don't miss out on one of the most beloved parts of a traditional meal. With its low carb content and high-fat profile, it aligns seamlessly with your dietary needs while being absolutely delectable.
Whether you're gathering around the table for a holiday or simply craving the comfort of a hearty side, this keto-friendly stuffing hits the spot. It's a recipe that proves you don't have to sacrifice flavor for health, offering a guilt-free indulgence that's as nutritious as it is delicious.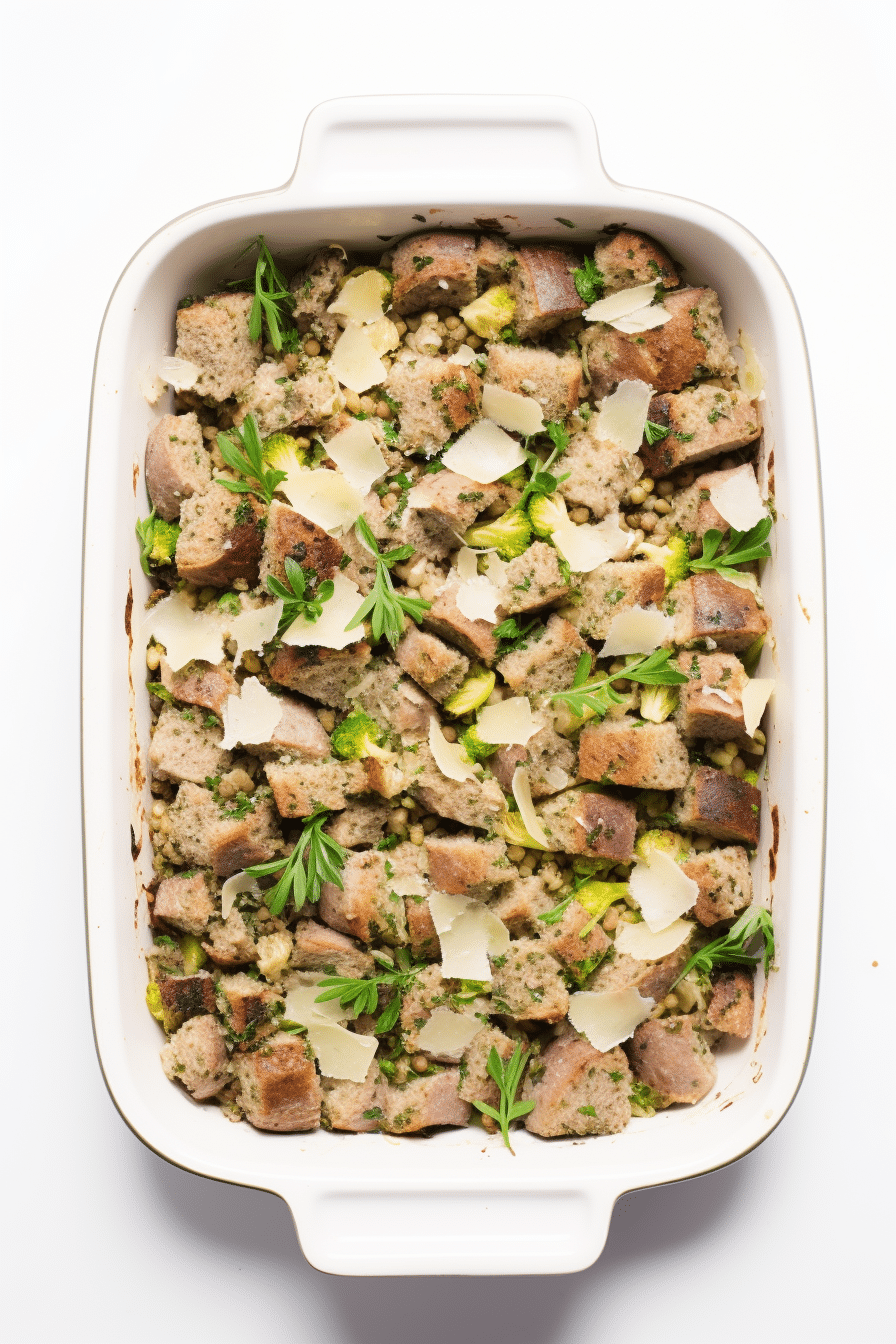 The Story Behind This Keto-Friendly Favorite
When the keto lifestyle beckoned, many feared the loss of classic dishes like stuffing. That's where this Sausage and Herb Keto Stuffing comes into play. Crafted from a desire to keep tradition alive without the carbs, this recipe is a testament to the versatility of keto cooking. By swapping out high-carb ingredients for keto-approved alternatives, you can enjoy the rich, savory flavors of stuffing without breaking your carb bank.
Almond flour replaces traditional breadcrumbs, providing a perfect texture while keeping the dish gluten-free and low in carbohydrates. The addition of ground pork sausage enriches the stuffing with high-quality fats and proteins, aligning with the keto emphasis on these macronutrients. Fresh herbs not only contribute to the aromatic profile but also offer health benefits, including anti-inflammatory properties and essential nutrients.
The beauty of this recipe lies in its simplicity and familiar comfort, making it an ideal keto recipe. It's a dish that doesn't feel like a compromise, rather a celebration of what the keto diet can offer. It's hearty, satisfying, and packed with flavors that resonate with everyone, keto or not. This stuffing is sure to become a staple in your keto culinary repertoire.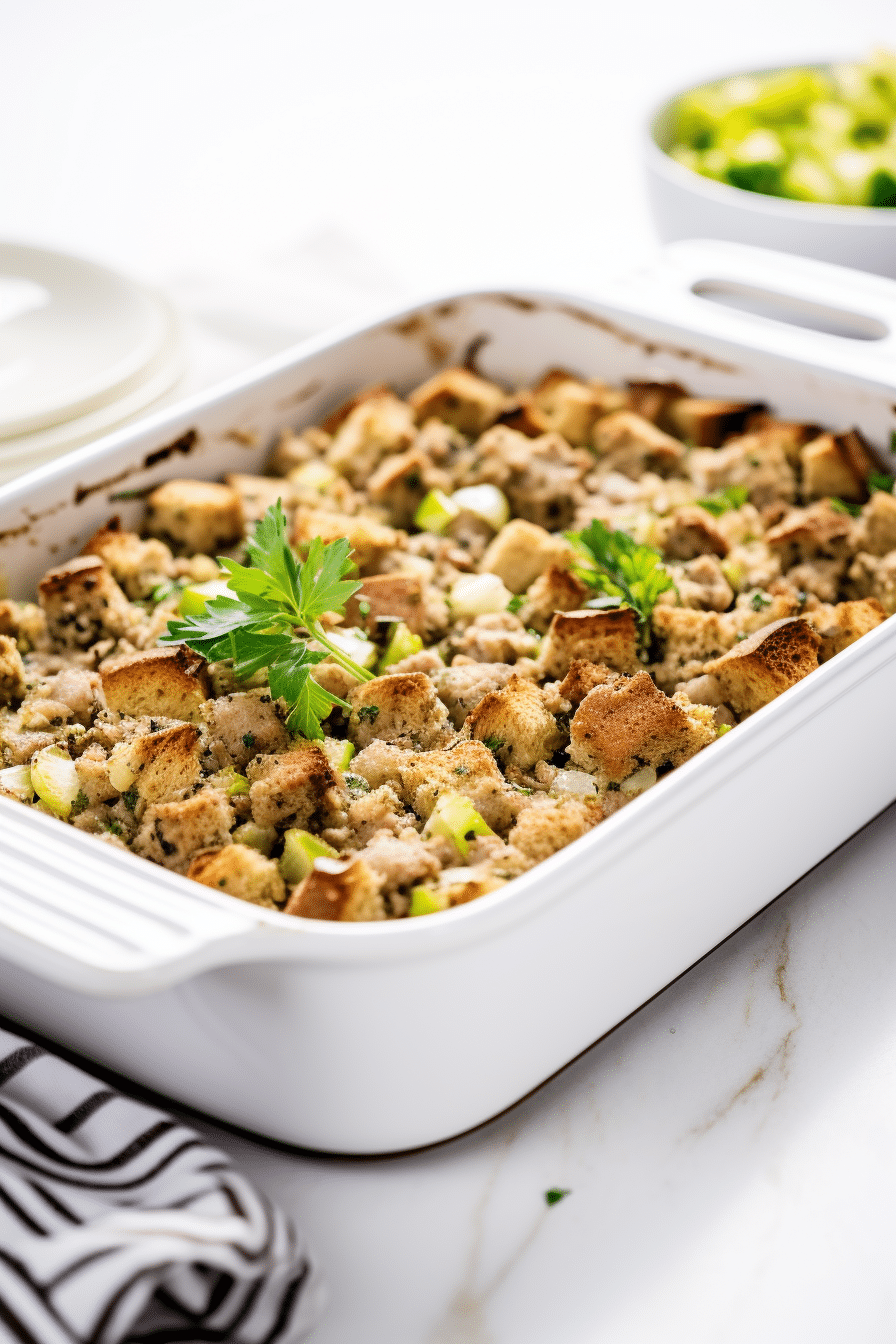 Mastering the Art of Keto Stuffing
Creating the perfect keto stuffing is an art form that begins with quality ingredients and ends with meticulous preparation. Here's a step-by-step guide to ensure your Sausage and Herb Keto Stuffing is a masterpiece each time.
Step 1: Preheat your oven with precision, as an accurate temperature is crucial for an even bake. Greasing your baking dish prevents sticking and aids in the effortless release of your stuffing once cooked.
Step 2: When cooking the sausage, aim for a balance between browning and maintaining moisture. Overcooking can lead to a dry texture, so remove the sausage from heat as soon as it's crumbly and browned.
Step 3: Combining almond flour with baking powder requires a gentle touch. Overmixing can lead to a dense stuffing, so fold in the melted butter with care until you achieve the desired crumbly texture.
Step 4: Eggs are the binding agent in this recipe. Beat them well before incorporating to ensure a consistent mixture that will hold the stuffing together.
Step 5: Gradually adding chicken broth is key. Pour slowly and stir continuously to prevent clumping. Your goal is a moist, cohesive mixture that's neither too wet nor too dry.
Step 6: Folding in the additional ingredients should be done with a light hand. Overworking the mixture can compact it, so mix until just combined to maintain a light, airy texture.
Step 7: Baking time can vary slightly depending on your oven, so start checking for doneness a few minutes early. A golden-brown crust and clean toothpick are your indicators that the stuffing is ready.
Step 8: Allowing the stuffing to cool slightly will enable it to set, making serving easier and enhancing the flavors as they meld together.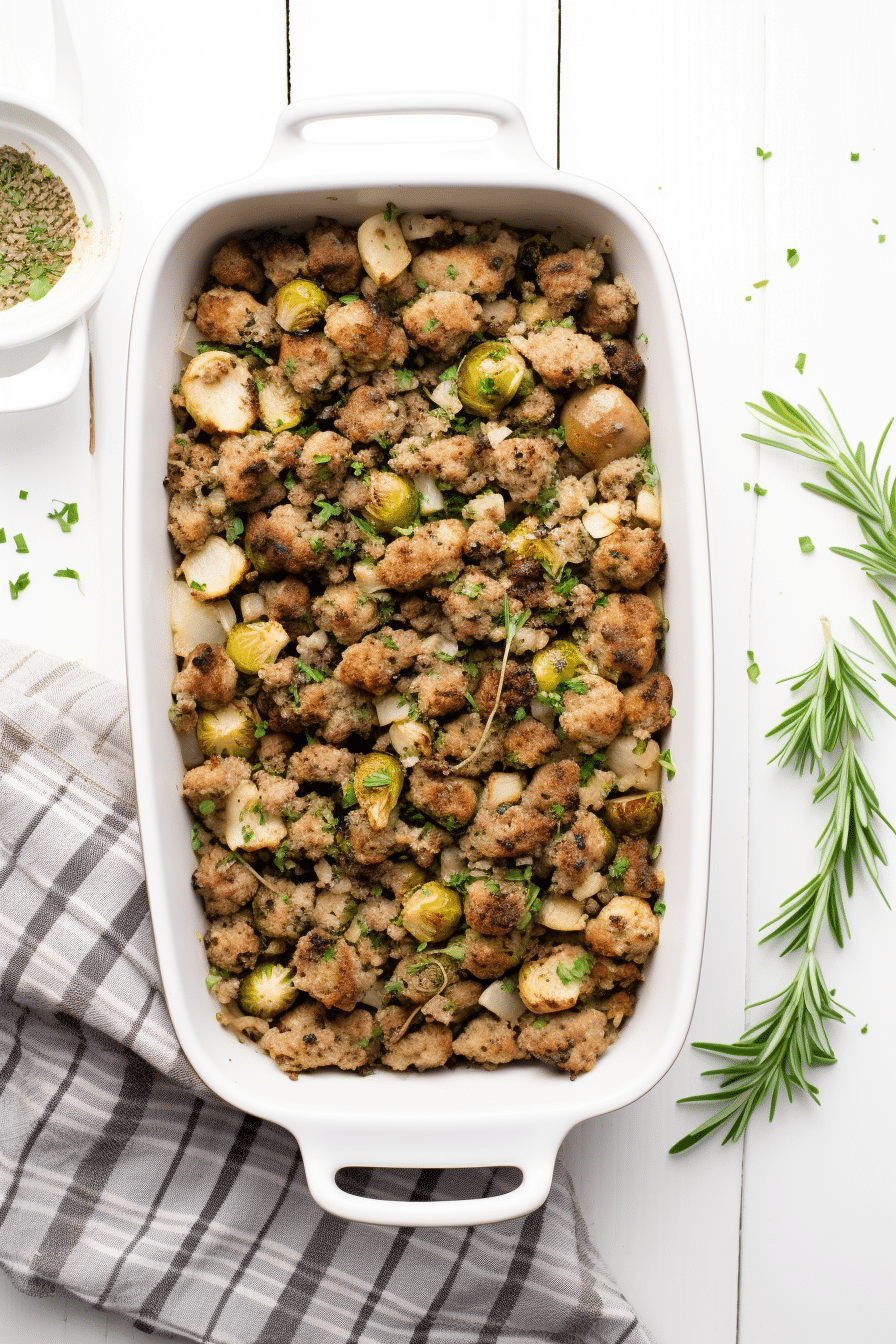 Delicious Keto Stuffing Variations
Spicy Chorizo and Red Pepper Keto Stuffing
For those who enjoy a bit of heat, substitute the ground pork sausage with spicy chorizo. Add diced red peppers to introduce a sweet contrast to the spice, creating a stuffing that's as colorful as it is flavorful.
Chicken Sausage and Fennel Keto Stuffing
Chicken sausage is a leaner alternative that pairs beautifully with the anise-like flavor of fennel. This combination brings a unique twist to the traditional stuffing, offering a lighter yet equally satisfying option.
Italian Sausage and Sun-Dried Tomato Keto Stuffing
Infuse your stuffing with Italian flair by using Italian sausage and mixing in chopped sun-dried tomatoes. The tomatoes add a tangy, umami-rich dimension that complements the herbs and sausage perfectly.
Ingredient Substitutions for Every Keto Kitchen
Adapting recipes to suit your pantry and dietary preferences is a cornerstone of home cooking. Here are some substitutions for the Sausage and Herb Keto Stuffing that keep it within keto guidelines.
Almond Flour: For a nut-free version, coconut flour is an excellent alternative. Remember, you'll need less coconut flour as it's highly absorbent compared to almond flour.
Pork Sausage: If pork isn't to your taste or you're looking for a lighter option, turkey sausage is a fantastic substitute that still provides the necessary fats for a keto diet.
Butter: Those who are dairy-free can opt for ghee or coconut oil. Both provide the richness needed for the stuffing while catering to dairy sensitivities.
Frequently Asked Questions
| Question | Answer |
| --- | --- |
| Can I make this stuffing ahead of time? | Yes, you can prepare the stuffing a day in advance and refrigerate it. Bake it just before serving to enjoy it fresh. |
| How can I ensure my stuffing doesn't come out too dry? | Be careful not to overbake and ensure you add enough broth for moisture. The stuffing should be moist but not soggy before baking. |
| Is this stuffing suitable for freezing? | Absolutely. Freeze in an airtight container and reheat in the oven for best results. |
| Can I add nuts to this stuffing? | Yes, nuts like pecans or walnuts can add a nice crunch, but remember to account for the additional fats and calories. |
| What can I serve with this keto stuffing? | This stuffing pairs beautifully with roasted meats, such as turkey or chicken, and a side of green vegetables. |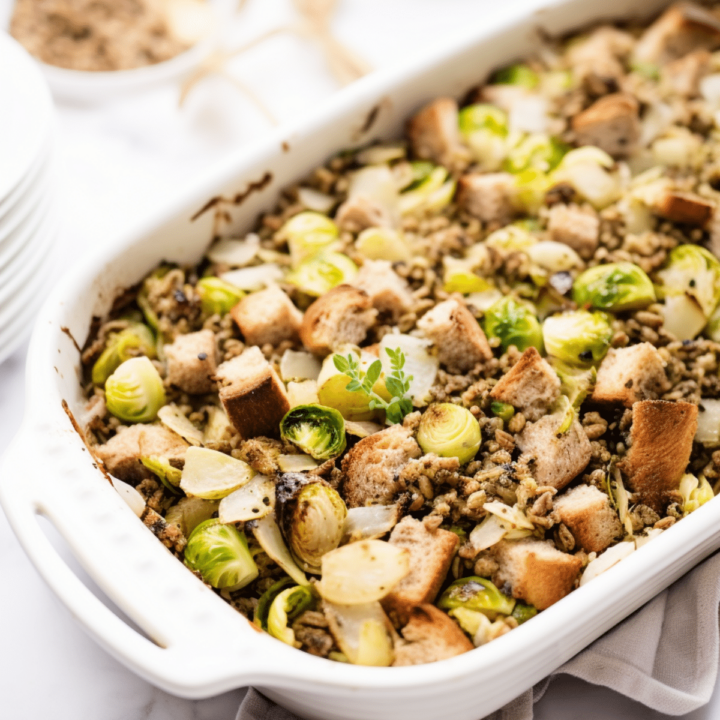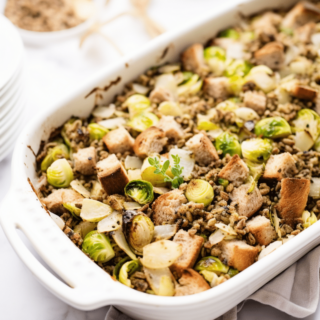 The Best Homemade Sausage and Herb Keto Stuffing Recipe
Kick your keto diet up a notch with this Sausage and Herb Keto Stuffing - a delicious, savory side dish that's perfect for any meal where you want the comfort of traditional stuffing without the carbs. Packed with flavorful sausage, fresh herbs, and a variety of textures, it's a crowd-pleaser that won't disappoint.
Ingredients
- 1 lb

454g ground pork sausage

- 4 cups

448g almond flour

- 1 tablespoon

14g baking powder

- 1/2 cup

118ml unsalted butter, melted

- 4 large eggs

- 1 cup

240ml chicken broth

- 1/2 cup

56g diced celery

- 1/4 cup

25g diced onion

- 2 tablespoons

30g fresh parsley, chopped

- 1 tablespoon

15g fresh sage, chopped

- 1 tablespoon

15g fresh rosemary, chopped

- 1 teaspoon

5g garlic powder

- Salt and pepper to taste
Instructions
Preheat your oven to 350°F (175°C) and grease a 9x13 inch baking dish.

In a skillet over medium heat, cook the sausage until browned and crumbly. Drain and set aside.

In a large bowl, mix together the almond flour and baking powder. Stir in the melted butter until the mixture resembles coarse crumbs.

Beat the eggs and stir them into the almond flour mixture. Then, slowly pour in the chicken broth until everything is well combined.

Fold in the cooked sausage, celery, onion, parsley, sage, rosemary, and garlic powder. Season with salt and pepper to taste.

Transfer the stuffing mixture to the prepared baking dish, spreading it out evenly.

Bake in the preheated oven for 35-40 minutes, or until the top is golden brown and a toothpick inserted into the center comes out clean.

Allow the stuffing to cool slightly before serving.

Notes
- For a nut-free version, substitute the almond flour with coconut flour but be mindful that you'll need to adjust the amount as coconut flour is more absorbent.
- You can personalize this stuffing by adding other keto-friendly ingredients like chopped mushrooms or spinach.
- Leftovers can be stored in an airtight container in the refrigerator for up to 3 days, or frozen for longer storage. Reheat in the oven or microwave until warm.
Nutrition
Calories:
440
kcal
Carbohydrates:
14
g
Protein:
19
g
Fat:
47
g
Fiber:
9
g